---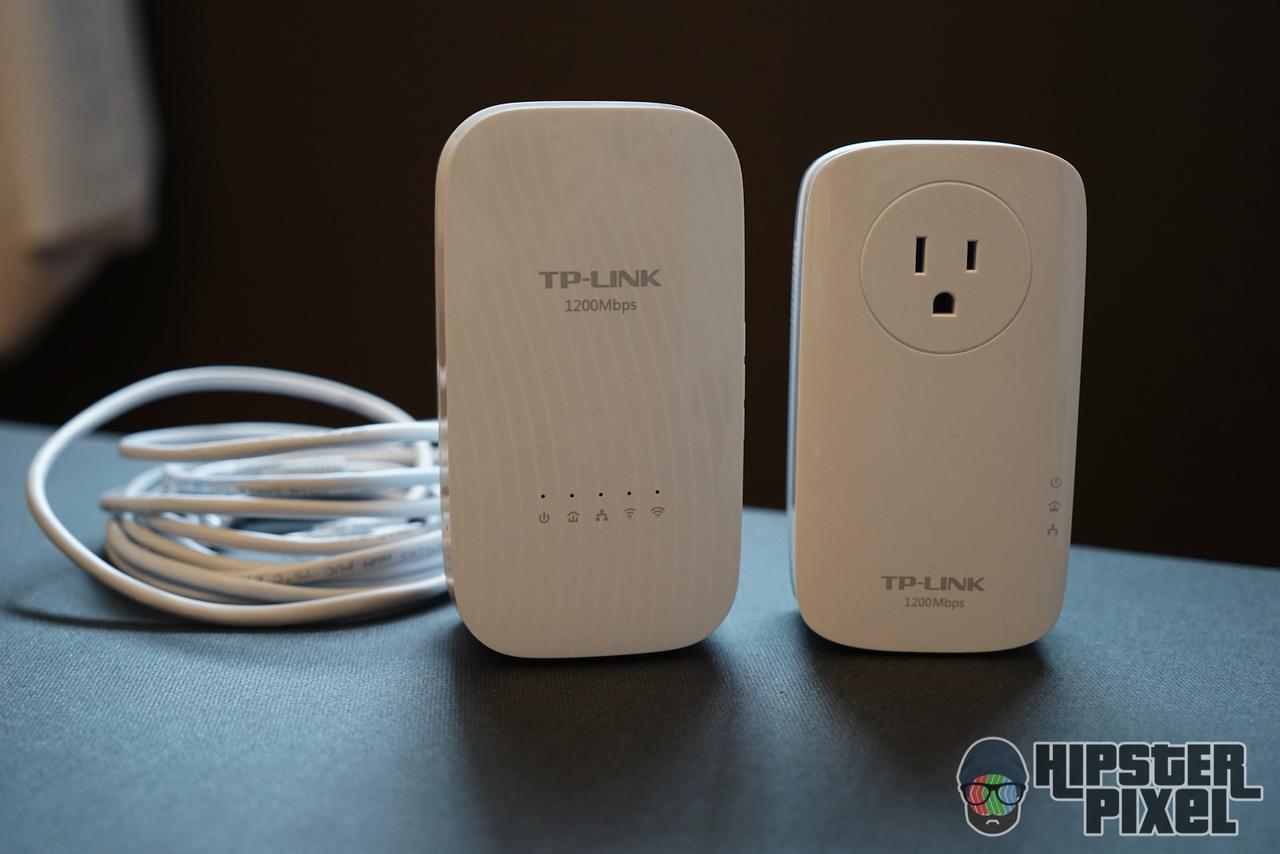 TP-Link Powerline AC1750 Extender, AV1200 Powerline Edition Review
I always wanted to review a Powerline network adapter so after Tyler's review of the TP-Link AC3200 router, I thought it was time I tried just that. TP-Link has a few Powerline products so I figured I should take a look at the most recent, and powerful one, the AC1750 Wi-Fi Range Extender. A 2-in-1 product that features a 1200Mbps Powerline adapter and a 1750Mbits Wi-Fi range extender.
First of all, what is Powerline? It's actually the name of network adapters that transfers the Ethernet signal over your house's electrical grid. Allowing you to link two rooms without the need to drill holes for a network cable. They have been on the market for many years, but too often with very low, 250Mbits or 400Mbits, speeds. It seems that now we can achieve much better speeds.
This is what I'm going to try with the TP-Link AC1750 Wi-Fi Range Extender !
Design
As it goes with any Powerline adapters by any brand, they are big bulky components that are made to be plugged directly into the wall outlet. Not on a powerbar, as it could filter out the "noise" that is used to piggy pack on your electrical grid.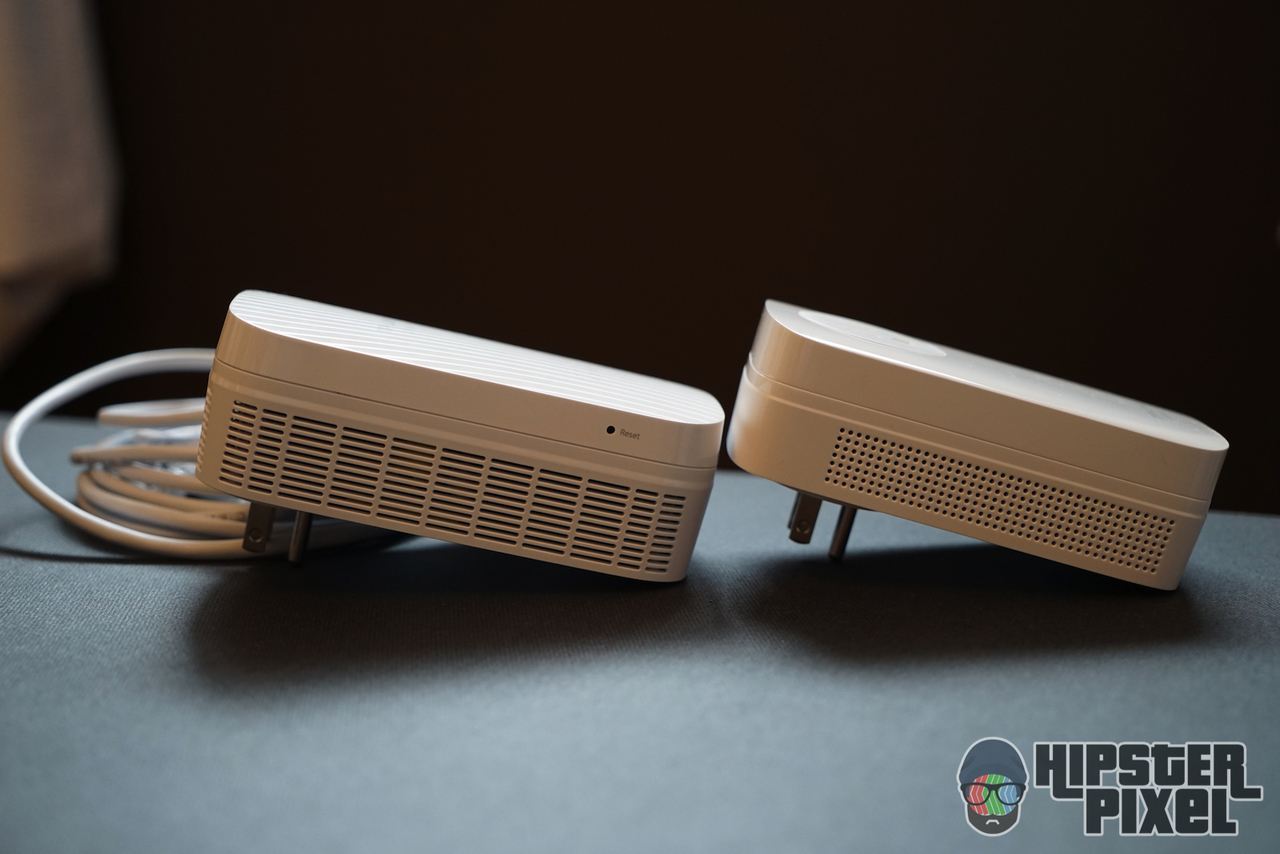 The first component plugs in a wall near your router or near a network port in your house. It also has a standard wall outlet so it does not steal one of your outlets. The second component plugs in somewhere else in your house where you need a network cable. This second unit has three network port that can share the same connection through your electric grid. This second unit is bulkier than the other one and does not provide a pass-through outlet.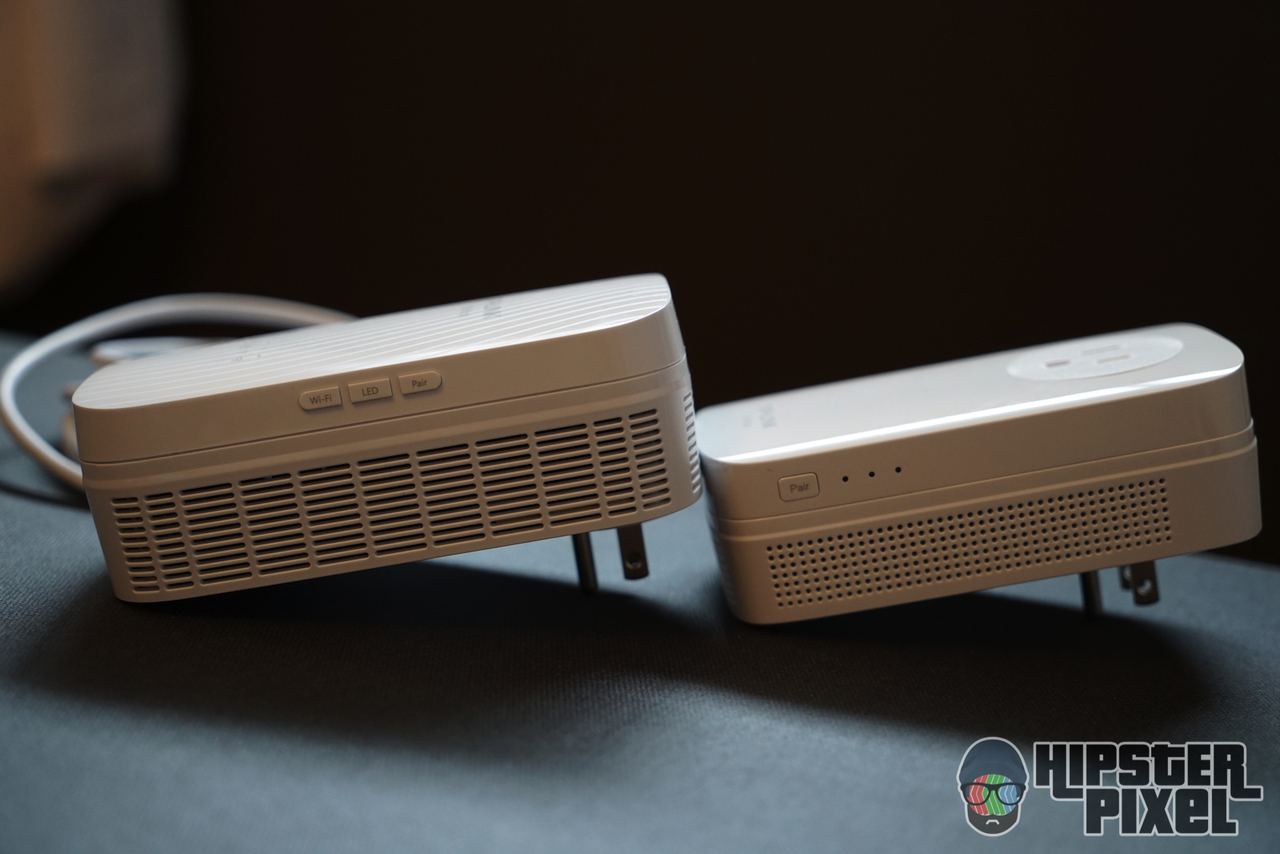 Note that this model is not the fastest TP-Link produces for this specific need. The AV2000 2-port Gigabit Passthrough Powerline Starter Kit provide you with theoretically faster speeds, outlet passthrough on both devices but only two ports.
Features
Dual-band Wi-Fi with combined speeds of 1750Mbps
1200Mbps Powerline Connection
Wi-Fi Clone and Auto-Sync Features
Plug, Pair and Play easy installation
3 RJ45 network jack
Single outlet passthrough on the origin module
No outlet passthrough on the destination module
Performance
The quick install guide is quite simple and allows you to install then in a few minutes. Just plug them, hit the pair button and they will sync up. They take about 30-40 seconds to be fully paired. You can extend your network or have the TP-Link software configured to clone your network. Recent devices will connect to the strongest signal when two networks of the same name are present.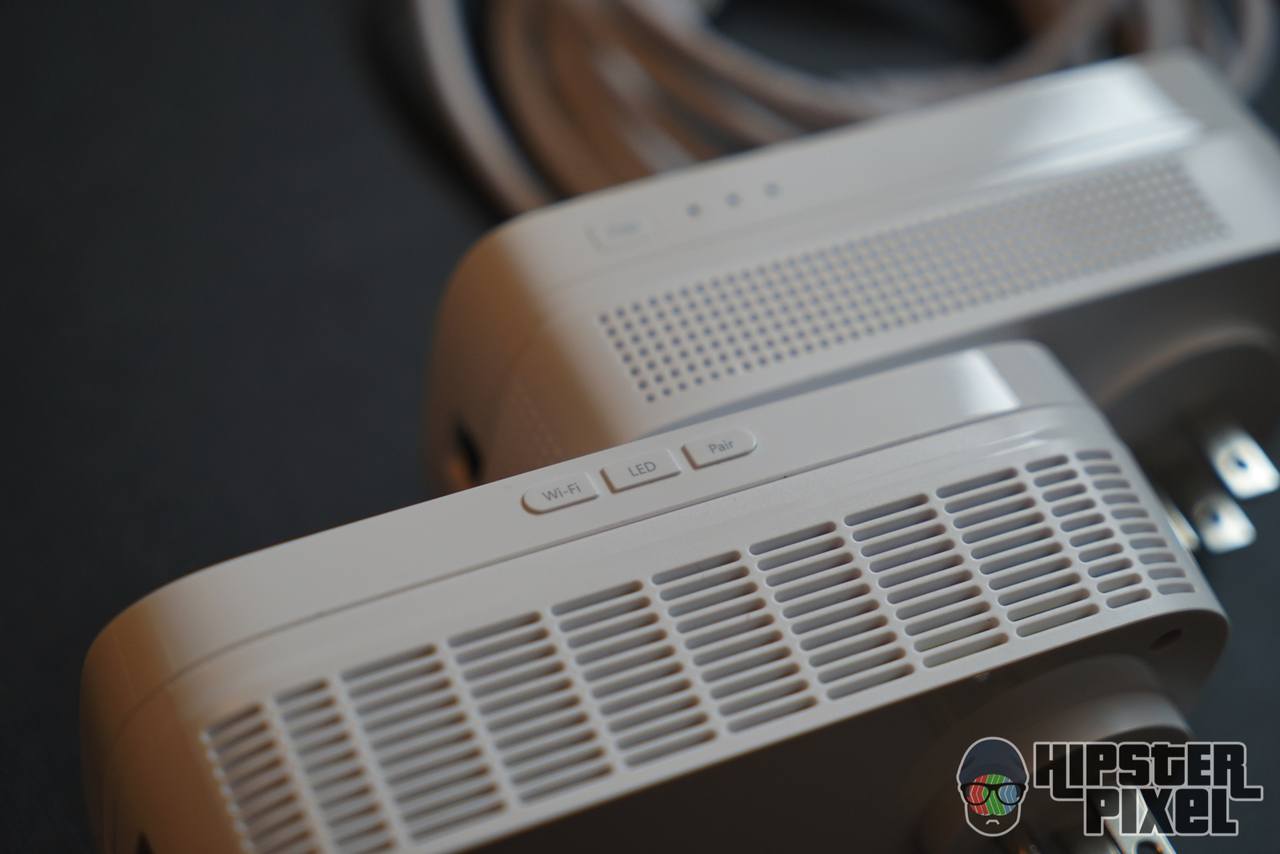 The Wi-Fi setup and configuration screen is accessible via the TP-Link interface. It's clean and concise, and allows you to have complete control on your network settings.
In order to test the performance of the TP-Link AC1750 Wi-Fi Range Extender, AV1200 Powerline Edition, I tested the connection, both wireless and wired from 1) the same room, 2) a room on the floor above, and 3) on a second floor. This way I can accurately test the speeds at different distances.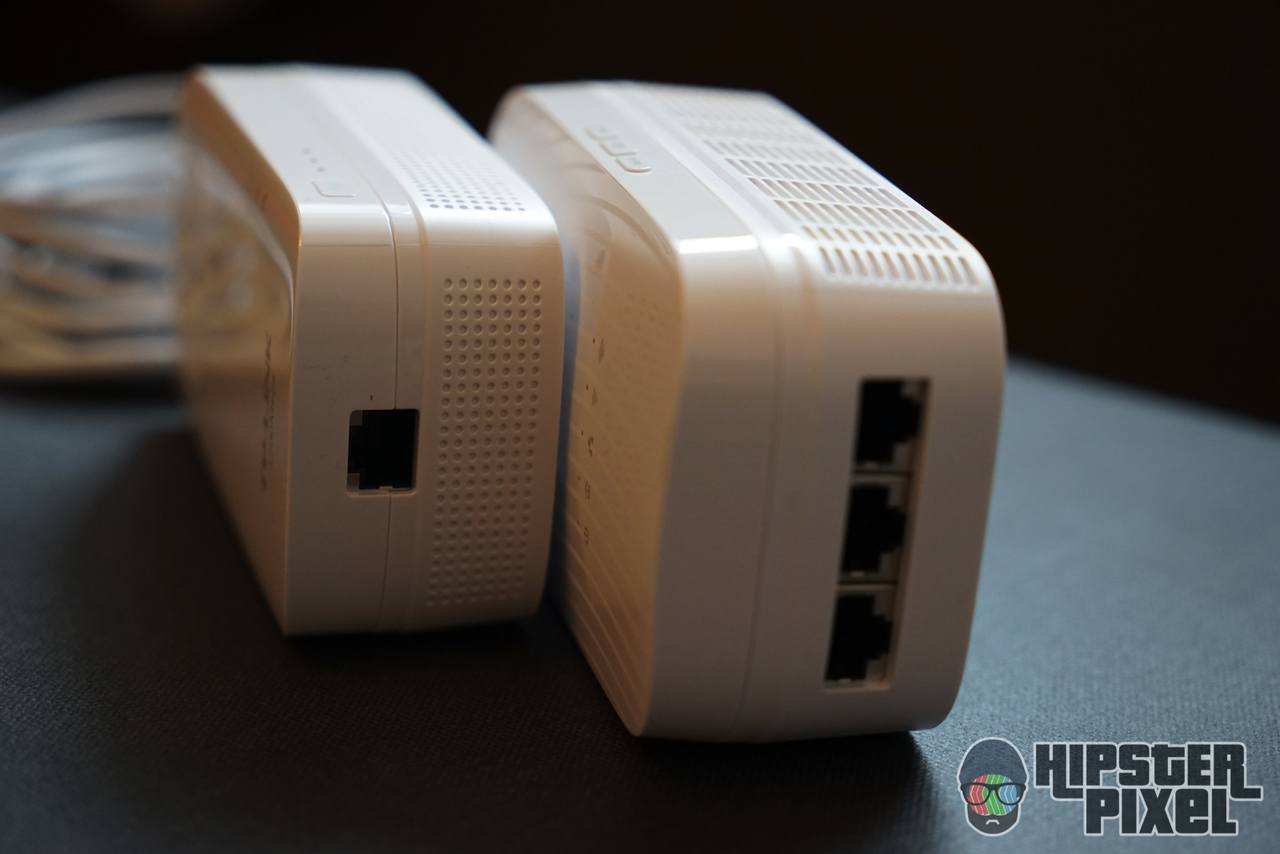 The house used is my one, a 2011 built house up to specs with the current electrical standards.
Same Room, Wired
The first test has both units plugged in the wall on the same room, on different walls. I'm not sure if they are actually on different breaker circuits or not, but this tries to reproduce a situation where you would like to plug a computer or TV in a room where the network cable is not available where the computer/TV is installed.
The connection was very stable going between 31 and 32 MB/s, that's about 240Mbps.
One Floor Above, Wired
Moving one floor above, still wired the speed dropped quite a lot. The signal was still very stable between 10.1 and 10.8 MB/s, or 80Mbps. One floor distance actually cut the speed in three…
Two Floors Above, Wired
Same setup again, but on the second floor of my house, still directly above the basement room where the origin module is installed. This time we seem to be stable and the extra floor does not seem to affect the signal much more. It is oscillating between 11.1 and 11.6 MB/s, or 88Mbps. Why the biggest number? Perhaps the wiring is more direct between the two plugs I used for this test.
Two Floors Above, Wireless
Now, since this device is also used to extend the Wi-Fi signal of your network, it's only natural to test the signal from the furthest point of my house. As a base of comparison, I'll use my currently installed Apple Airport in the basement utility room, where all the (network, cable) wiring converges. From two floors above, I still get a stable Airport sign around 11 MB/s, auto selecting the 5GHz signal.
Using the TP-Link AC1750 extender, installed in the same room where the testing occurred, I managed to get between 3.9 and 9.3 MB/s on the 2.4GHz band, average of 5.2 MB/s. Note that this signal is fairly unstable, as there are many overlapping networks on this band reachable from the second floor. This was expected to have an impact on speed and reliability.
Switching to the 5GHz band, where there is no channel overlap in my area (thank God!), the situation is, sadly, not much different. The signal is not more reliable and I get an average of 3.92 MB/s, with values from 1.23 to 7.17.
For the last Wi-Fi test, I moved away to the opposite of the floor from the destination module. I managed to get 5.21 MB/s on average with values going from 1.7 to 9.7 MB/s.
Results Analysis
What do these number mean? Well, let's take the Netflix speed grid recommendations:
0.5 Megabits per second - Required broadband connection speed
1.5 Megabits per second - Recommended broadband connection speed
3.0 Megabits per second - Recommended for SD quality
5.0 Megabits per second - Recommended for HD quality
25 Megabits per second - Recommended for Ultra HD quality

These are Mbps, so basically you need at least 3.12 MB/s for streaming 4K content. You should be able to stream 4K content using the TP-Link Extender if you are not too far from either the origin module or the router you extend from. As it goes with the Powerline products of all brands, your results will vary depending on many, many factors so you could have much better results than me; or worse.
For other types of Wi-Fi traffic, you should be good with no apparent slowness.
Conclusion
Although it's not the fastest Powerline product out there, it offers a good balance of power and features. The three ports on the destination module make it perfect to hide behind a wall hanged TV with a port for the TV, a media box like  TV and a console.
With transfer rates between 10 and 30 MB/s, the wired Powerline connectivity is reliable and most adapted to distant rooms or same room without the need to pass wires. But if you only require two ports perhaps the potentially faster AV2000 2-port Gigabit Passthrough Powerline would be better suited for your need. If you need a network extender and a power line in one, then this TP-Link AC1750 Wi-Fi Range Extender is a great product to consider!
Review Summary
TP-Link AC1750 Wi-Fi Range Extender, AV1200 Poweline Edition
TP-Link Technologies Co., Ltd.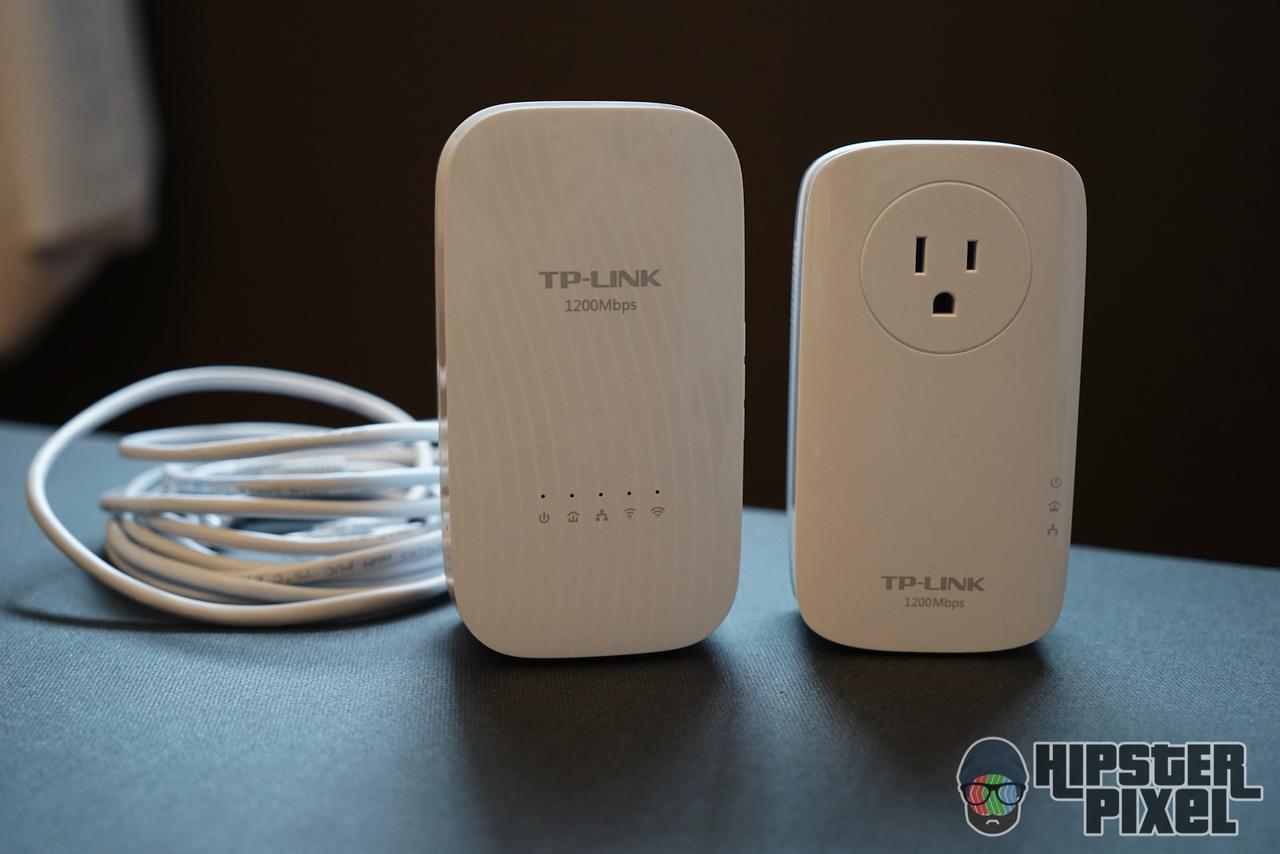 The Good Stuff
Range extender and Powerlinee two-in-one
Three network ports
Good power line performance
The Bad Stuff
Wireless performance average
Very bulky