---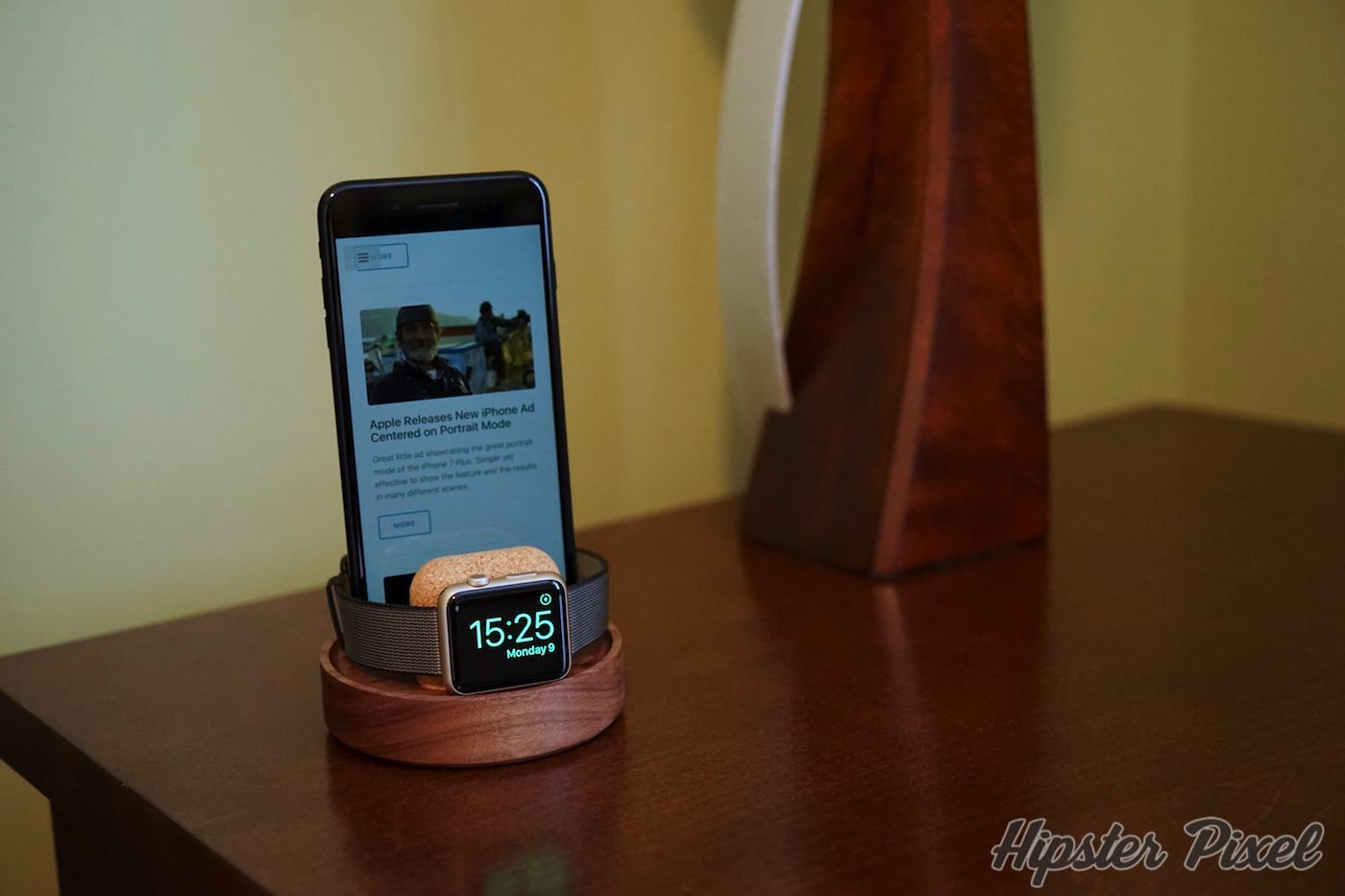 Material Dock for iPhone and  Watch Review
The  Watch being a popular iPhone accessory and the docks being somewhat ubiquitous to a point where Apple made one for its retail stores and for you to buy. It was only a matter of time before we would get combo docks and not long after we finally got one from Studio Neat. The Material Dock is, as its name implies, a dock made of curated materials. This is the first product launched this year by Studio Neat, just before the Canopy. We took this Dock for a spin, here's our full review.
Design
The base of the Material Dock is made of a single milled piece of walnut and the backing pieces are made of cork from Portugal, another natural and fully recyclable material.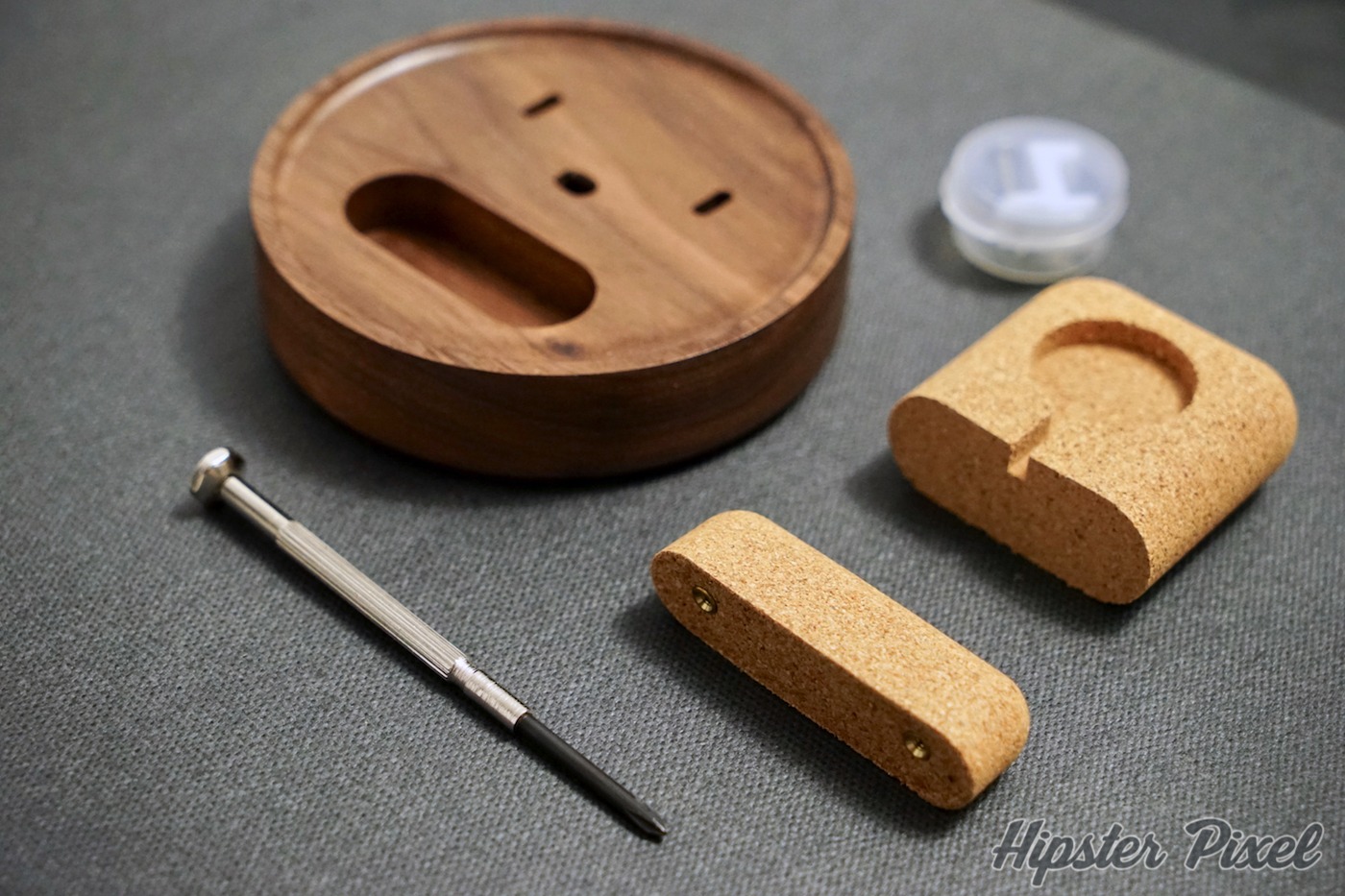 There are two versions of the Material Dock, one square one that is made just for the iPhone and a circular one made for both the iPhone and  Watch. This last gadget rests on its side, this means that you can benefit from the watchOS 2 introduced feature called Nightstand Mode where the Watch displays your next alarm and the time in a smooth green colour.
Packaging
I rarely go over product packaging in detail, but since Tom and Dan, Studio Neat's co-founders, took so much care into this step, I must cover it. This product requires two things from you. Your original Lightning cable and  Watch charging puck, and a bit of assembly. You see this product was mainly milled and requires you to insert and position your cables properly so that they are perfectly aligned. Tom and Dan made a neat video (pun intended) detailing the few steps you need to get through in order to assemble but most of all, align the different parts perfectly to setup your iPhone and Watch.
The packaging is simple yet, it contains all the details and parts needed all the way to the little screwdriver to tighten the few screws in their brass inserts.
Plus they even included a nice smiley face saying Hello!
Features
Two versions available
Uses official  cables (not included)
Includes all the hardware needed
Made of walnut and cork
Fully adjustable for cases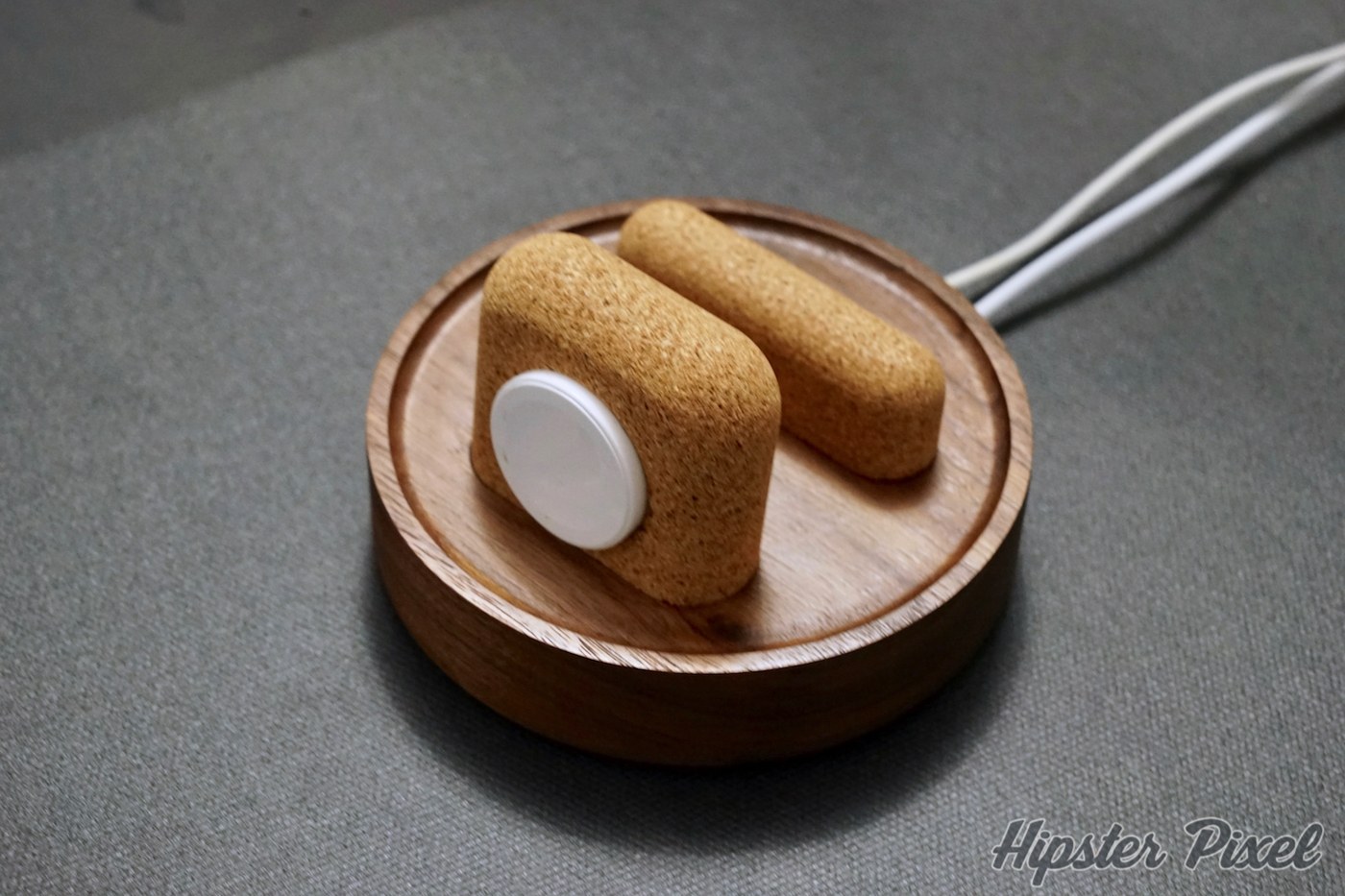 Installation
You basically need to follow a few steps to rout the two cables the appropriate way and tighten the components together with screws and brass inserts. This way once you identified your favorite position, it will be kept as is forever.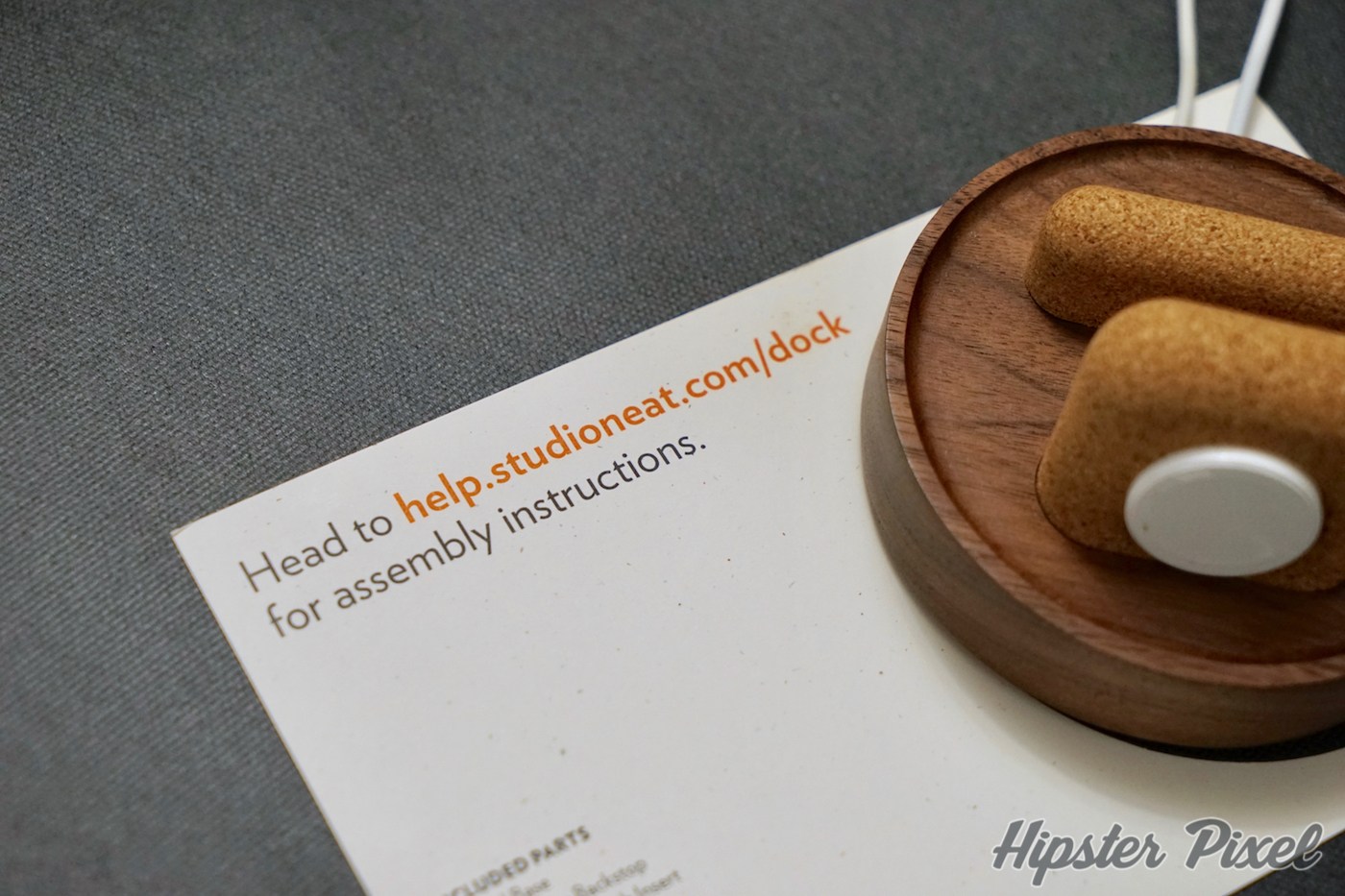 This is very simple steps and I really like the attention to details to make sure the cable is routed in curves so that it stays in its place. Also, the Material Dock has two strips of suction tape that makes sure the Dock stays in place on your nightstand. You can wash those if they lose their stickiness with a bit of water on your finger.
Once installed, you can dock and un-dock your iPhone with a single hand gesture. I sometimes have trouble finding the Lightning port in the dark since there are no lateral "stoppers". Most often then not, I'm quite good at docking but that one time that I'm off centre, I'm really off-centre. If there could be some guides or grooves to blindly install the phone, it would be perfect!
Conclusion
I really love this product! I was a user of the Elevation Dock before jumping in the Plus-size club but never liked how it looked on my nightstand in a prominent wood-based furniture. It looked better in my office, but the Material Dock is much better suited for my type of bedroom and I really love the craft to put in place by the artists at Studio Neat. The docking and undocking is easy and I really love to be able to snooze and turn off the alarm on my  Watch without having to fiddle around in the dark.
Although a great type of wood was chosen, I would really love to see other types of hard wood like maple or ebony, it could be a limited run and for a limited time since it is milled by hand by Tom and Dan.
Review Summary
Material Dock iPhone +  Watch
Studio Neat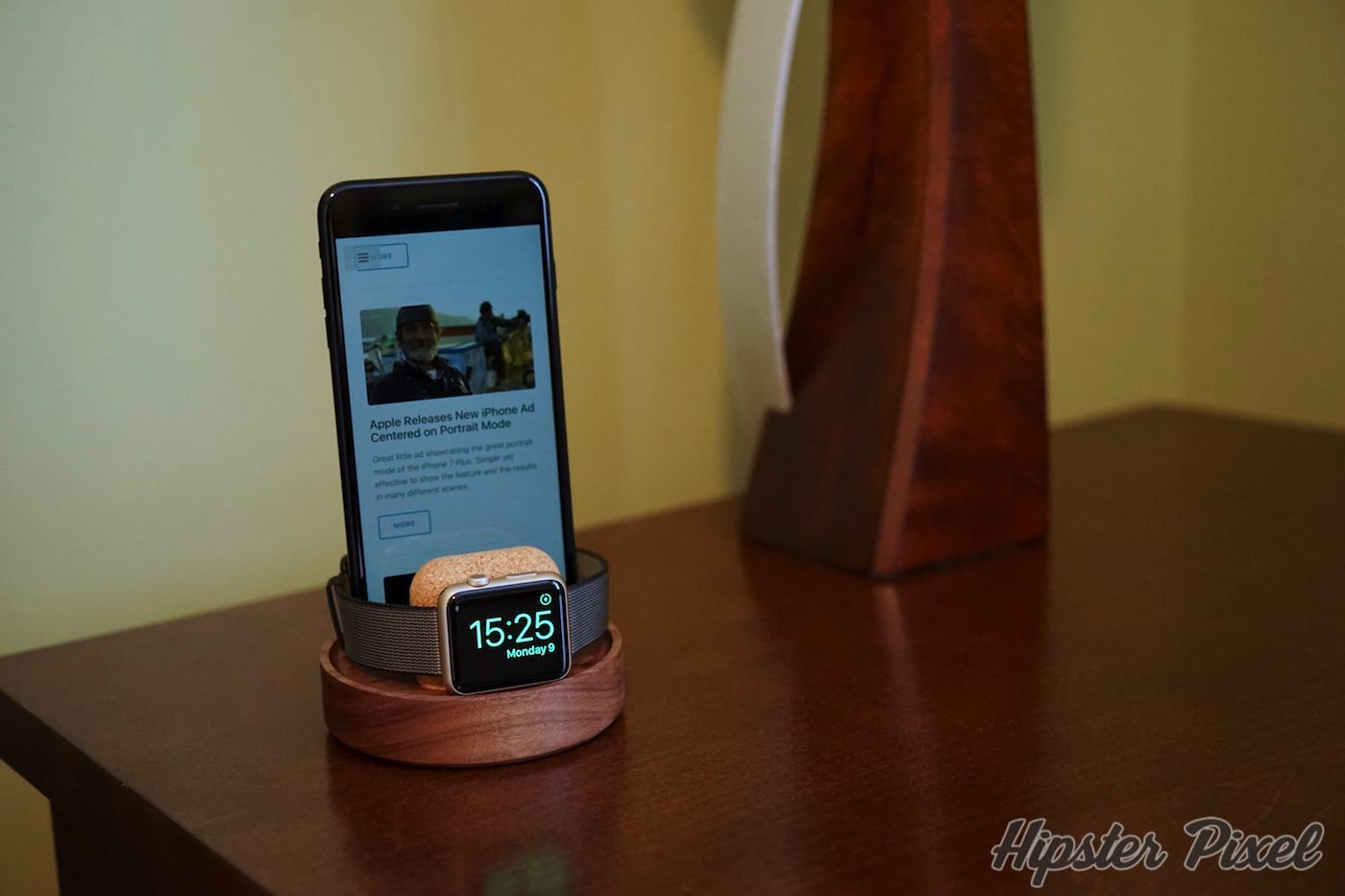 The Material Dock is a dock by Studio Neat for your iPhone and  Watch made of wood and cork with and original design. We tested the combo version.
The Good Stuff
Great design
Smart, simple assembly
Easy to dock/undock
The Bad Stuff
Only one colour/wood type