---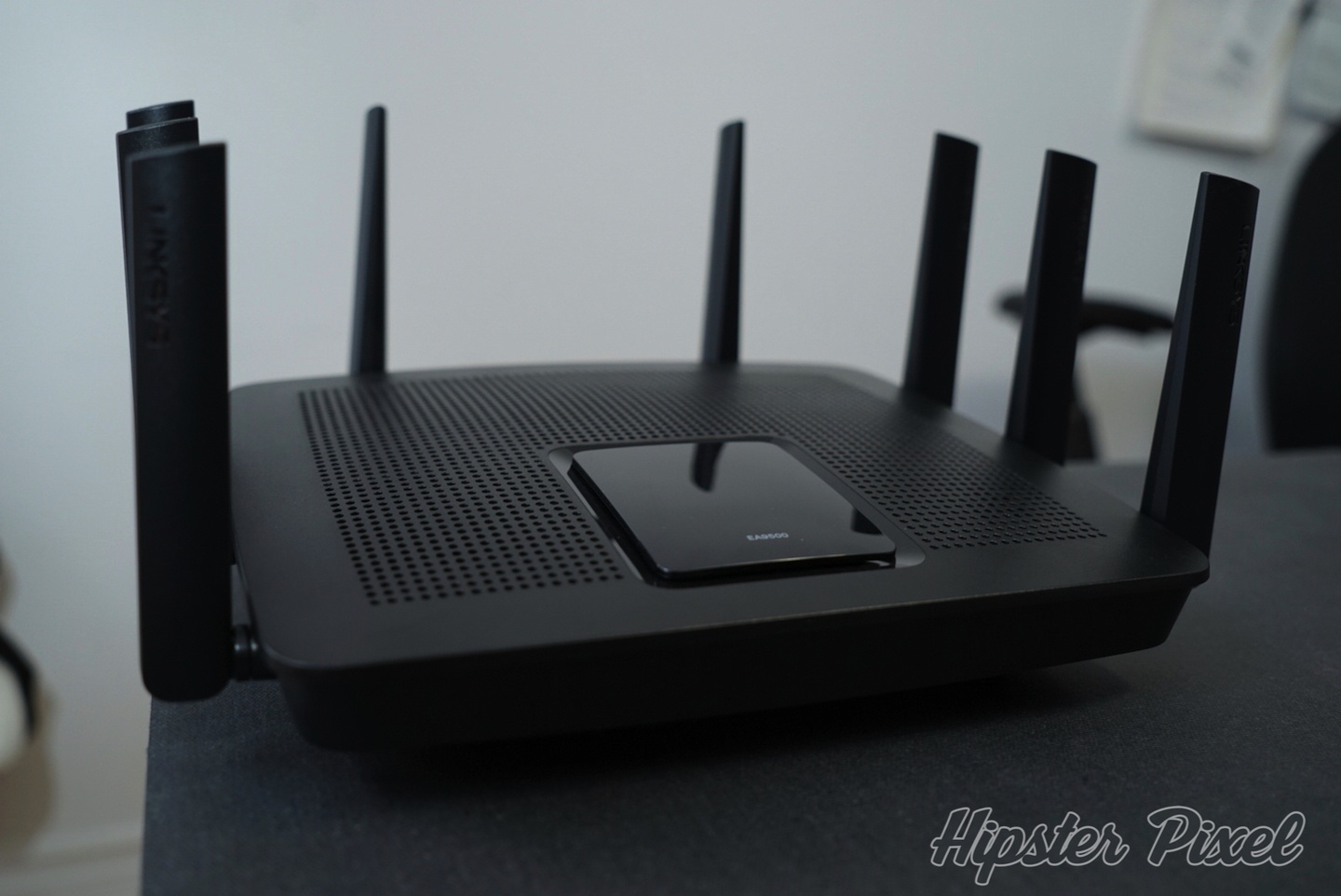 Linksys EA9500 Tri-band Max-Stream Router Review
Following our review of the Velop Smart Mesh Network, I figured we should also take one of the most powerful routers on the market and see how it behaves in comparison to the Velop system and the faithful Airport Extreme router.
The EA9500 by Linksys is a standard multi-antenna router that has the particularity of having lots of them with super powerful internal to handle heavy traffic loads and offer the best performance there is, according to Linksys. It's basically your run of the mill router but larger, heavier and with more antennas.
Design
The EA9500 has 8 antennas, three on each side and two on the back, they are full adjustable with guides at 45˚ and can be even stretched flat. This gives you the ability to play with the antenna setup and get the best reception on multiple floors or on a very wide floor.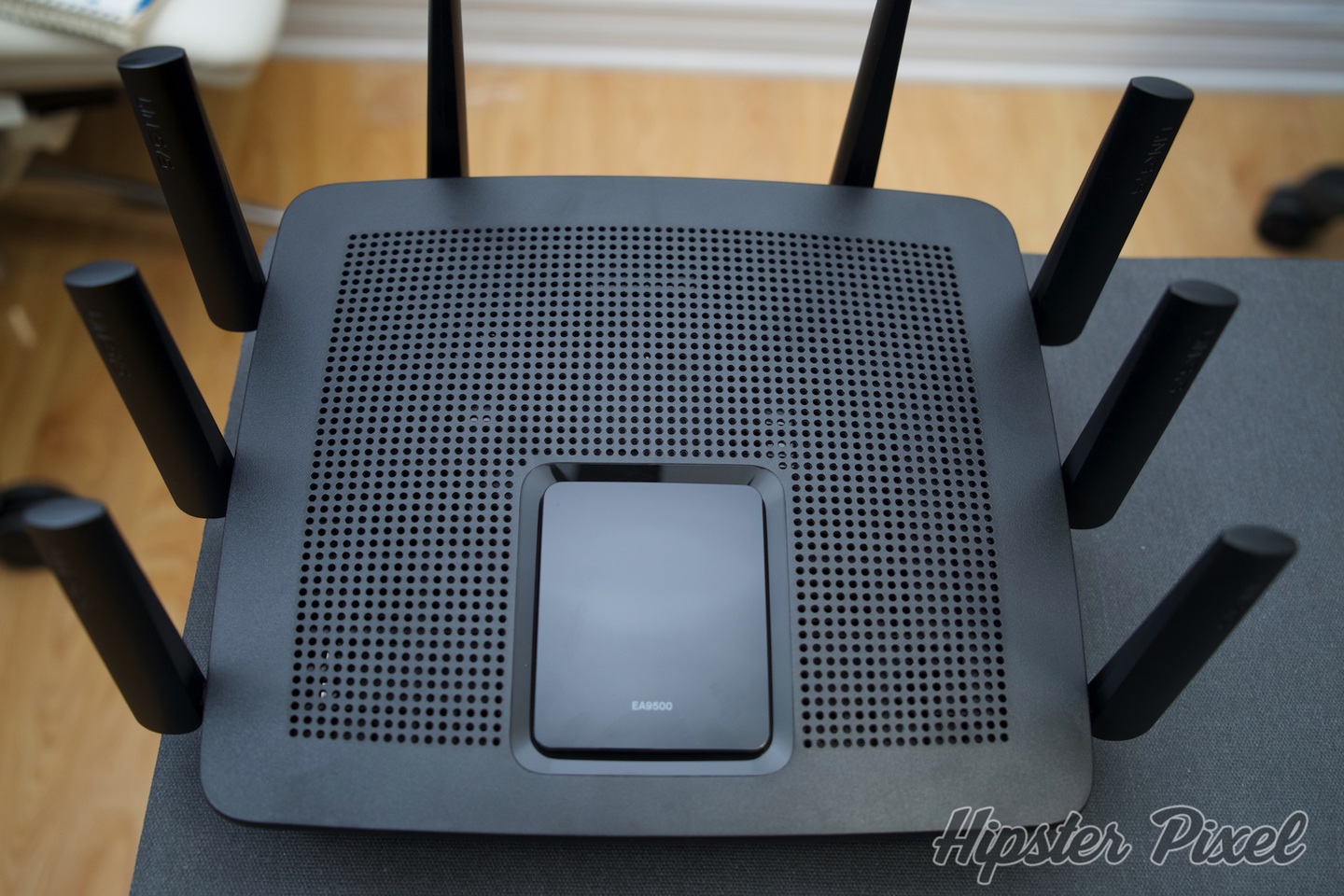 The design is dark and serious and does not stand out unnecessarily; I really like this design. For nostalgic reason the WRT line always gets me but this modern line is as great, in my opinion. On the back side, you got the usual suspects in a high-end router, but since this is a performance router makes this even better. We don't have 4 Gigabit Ethernet ports, we got 8 of them! One USB 3.0 port and one USB 2.0 port for your printer and finally the nice little toggle switch to turn it ON or OFF.
Features
Tri-band and MU-MIMO Antenna Setup
Seamless Roaming Technology
Total bandwidth of 5.3Gbps
2.4GHz is 1000Mbps, One 5GHz of 2166Mbps, Second 5GHz of 2166Mbps
Linksys Smart Wi-Fi app Compatible
3-year Warranty
Performance
As I usually do, I have a setup this router in my machine room, where the Internet access comes in as well as where all the Ethernet cables are concentrated. I have devised a pure network speed setup that transfers data to my Synology NAS over Wi-Fi. This NAS has 4 Gigabit Ethernet ports in Link Aggregation so it's capable of simultaneous 4 Gbps network transfers speeds (that's a theoretical maximum speed of 512MB/s); way above the current Wi-Fi speeds. So I would say it's a good candidate for a wireless test. ;)
Scenarios
Using the iPerf tool, I run a network transfer over the Wi-Fi network from the follow locations in my house:
Basement - Living Room
Basement - Office
Main floor - Kitchen Table
Second floor - Master's Bedroom
Second floor - Second Bedroom
As explained in my Linksys Velop review, this covers the whole house from very close to as far as I can two levels above.
Results
The results below are calculated as MB/s.
| Router/Location | AirPort Extreme | Linksys Velop | Linksys EA9500 |
| --- | --- | --- | --- |
| Basement Office | 50 | 32 | 32 |
| Basement Living Room | 70 | 48 | 72 |
| Main Floor Kitchen | 15 | 28 | 17 |
| 2nd Floor Masters Bedroom | 9 | 18 | 15 |
| 2nd Floor Bedroom | 2 | 6 | 14 |
As you can see the range is both better and the signal stronger with the EA9500 compared to the Velop and the Airport Extreme. The only place where the signal is still better with the Airport Extreme is in the office on the same floor as the router. But then again, I could play the with antenna position to get a better signal to the place where I would need it to be stronger. How much does this affect the signal you ask?
Antennas Position
In a router like the Airport Extreme, you do not have any choice for the antenna placement. However, with the Linksys EA9500 you do have lots of choice as they offer many resting positions and can even be set flat. Using the exact same test, I compared the press shot setup of all straight antennas, versus half of them at 45˚ and finally I went funky with flat, 45˚ and angled to the sides. The router looks like a punk's hair but ¯_(ツ)_/¯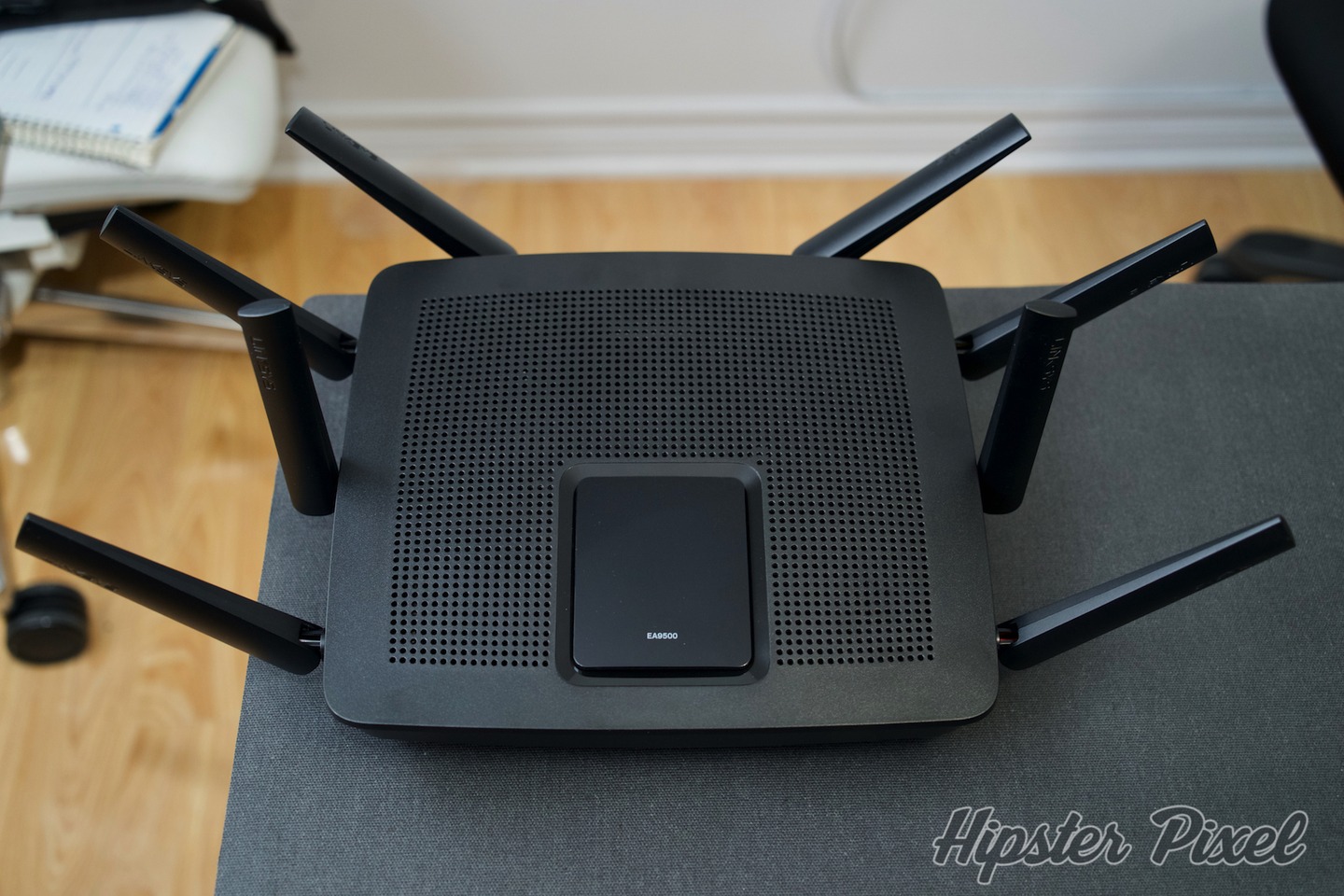 I tried at the furthest position from the router, two floors above and to the opposite side of the house. Here are the results:
| Antennas Position | Straight | Half at 45˚ | All Messed Up |
| --- | --- | --- | --- |
| Transfer Speeds | 11 | 14 | 15 |
It's not breaking the sound barrier (actually it does, microwaves are actually light! So it moves at the speed of light!), but I did see one more bars on my iPhone and noticeably better transfer rates. I strongly encourage you to play around with your antenna configuration and since this model has 8 of them, you can get really creative!
Conclusion
All in all, this is a very strong contender and one of the first to actually beat that mighty Airport Extreme in almost all of the situations. The Linksys EA9500 does offer a much more powerful setup and personalization features. However, if you simply want to replace your router with this model, or any other model, make sure that your network devices are properly reset as I had a very unstable first few weeks and I was almost getting to the point of exchanging my review unit as I thought it had issues. But in the end my network switch needed to be reset up for the Link Aggregation and access to my NAS was now stable and strong.
The 8 ports on the back could make this the main backbone of your whole network and with the included 8 antennas and two USB ports, it can really be adaptable to any house setup. The performance of the router is admirable but requires patience and some technical skills to get the best out of it. I still recommend to go funky with the antennas as a baseline but for more accurate A/B testing you would need some geek cred!
Looking for performance and speed with everything, you can ask for, the EA9500 from Linksys is the router to get!
Review Summary
Linksys AC5400 Tri Band EA9500
Belkin International inc.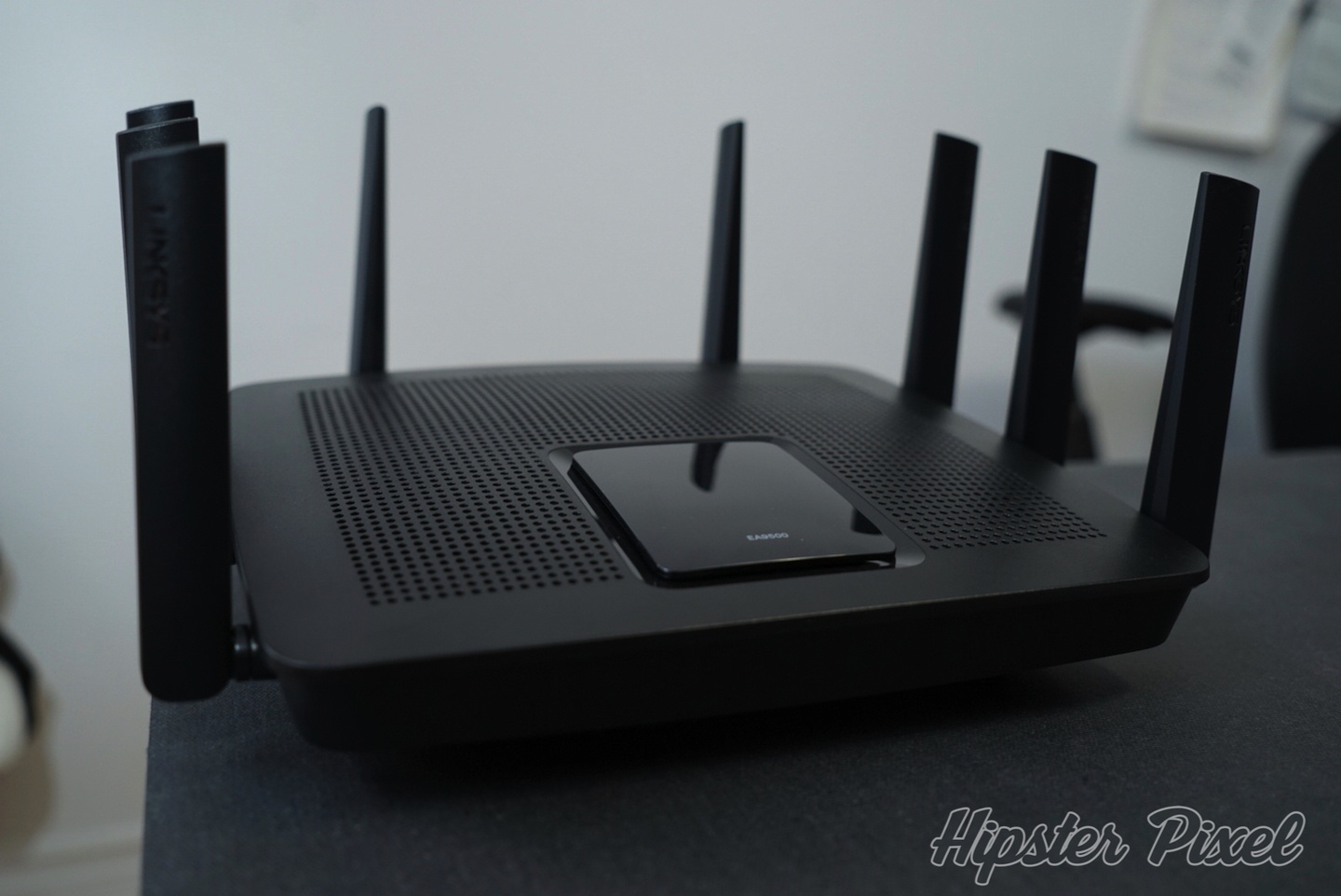 What happens when you stick all the features in a single router? The EA9500 by Linksys has 8 antennas, a powerful CPU and 8 Gigabit Ethernet jacks!
The Good Stuff
Great looking
Flexible antenna setup
Tri-band (including two 2166Mbps 5GHz)
Generous number of ports
The Bad Stuff
Needs skills to get perfect antenna placement
More advanced parental controls