---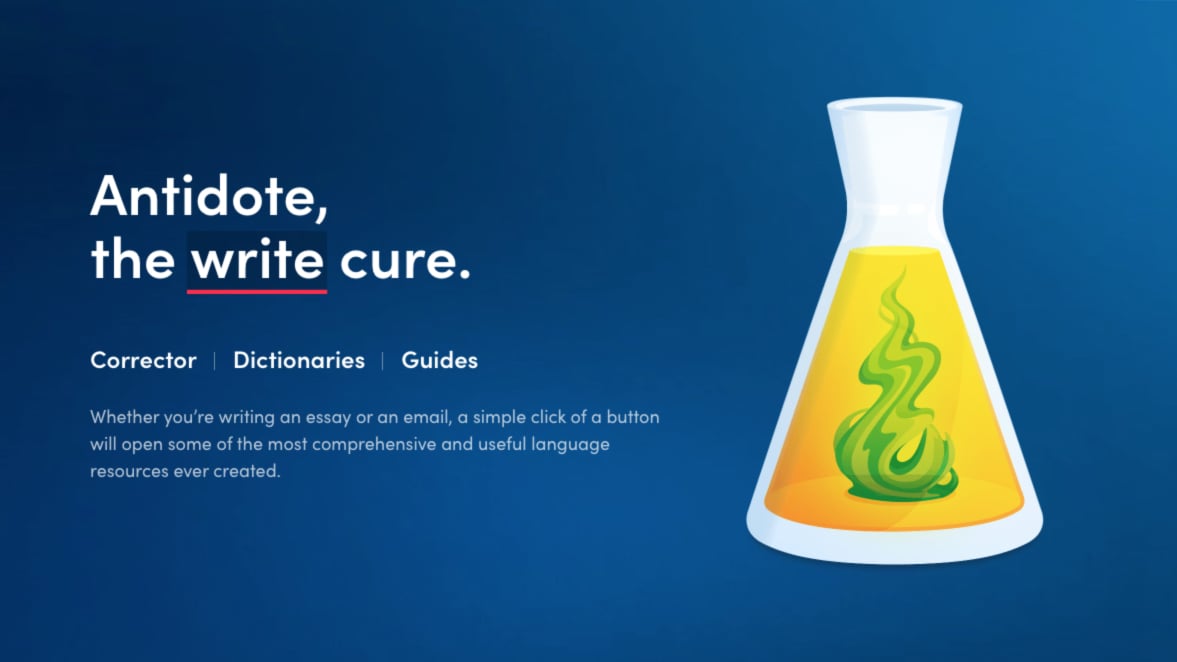 Antidote 10, the Writer's Best Friend! [Review]
When writing articles, there is one single tool that saves your ass, every, single, time. This tools a good corrector, but one that does not simply correct typing errors. It needs to go deeper and understand the meaning of what you typed! For me, this tool is Antidote and has been for over a decade!
Almost every year, you see an update to the software suite and every year I'm looking forward to see what new ideas the team at Druide Informatique has thought of! This year is a big year, Antidote 10 is their latest release with a ton of new features.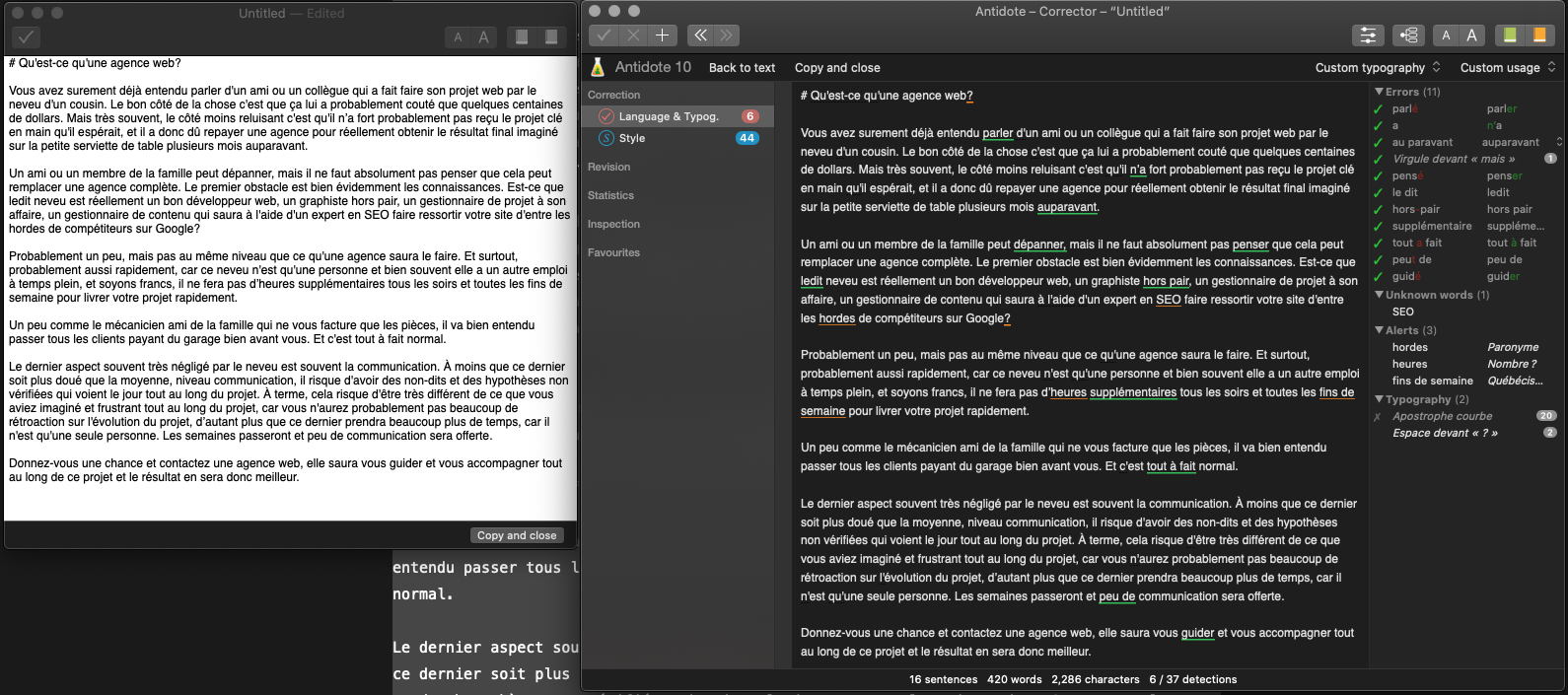 It is not the first year they offer the option to purchase a bilingual version of Antidote, but thankfully they do and for people like me that write both in English and in French, this is a real treat!
Features
Dark Mode is probably the most apparent feature out of the box, but believe me this is not the only one that is new. Just have a look at this page for the complete list.
Faster performance that is felt all around the app is the second one that pops to mind. New words, bigger and better dictionaries, even a new antonym dictionary in English and a ton more smarts makes this version a must-have.
It can now detect distant duplicate words and offer better explanation and examples on how to fix sentence structure. You are asked a few more questions when setting up the software which will help its engine better tailing the correction to you personally.
Performance
I've been using this software for a bit over a month and tested it on both French and English articles I wrote. Not only is it substantially faster, I really find the explanation of the errors more useful than in previous versions. Apart from the quick typos I often make, it highlights certain structures that do not seem wrong on a first read but could really get better. This is where the power of Antidote comes in.
It's capable of finding complex structures and provides an explanation and example that are most useful! Finally, when you are done correcting, the Copy and Close button saves me from typing a keyboard shortcut and closing the app. Subtle, but oh so useful!
I'm not often looking into the various dictionaries, but as usual, they are increasing in size and the offer is getting ridiculously great!
If you compare a text you wrote in Word and then pass it through Antidote, you will get so many more things to fix! Not necessarily a red squiggly line, which means an error, but mostly you'll get orange squiggly lines. These mean you need to pay attention to how you said things. It's really worth it if you are serious about your writing.
Conclusion
Once again, Druide Informatique put out an impressive product that is forever getting better, smarter and now faster. I cannot find a single problem with the app and I am lucky to have it. As I said in the introduction, you must purchase such a product if you are serious about your writing be it in French or in English. Antidote 10 is the product to get and has been for the last decade.
I strongly hope you will check it out, totally worth its price! Available for Windows, macOS and Linux, in either English, French or Both languages; as full price product or as upgrade, you really have the choice! You can even start with one language, and add a module for the other language later.
Review Summary
Antidote 10
Druide informatique inc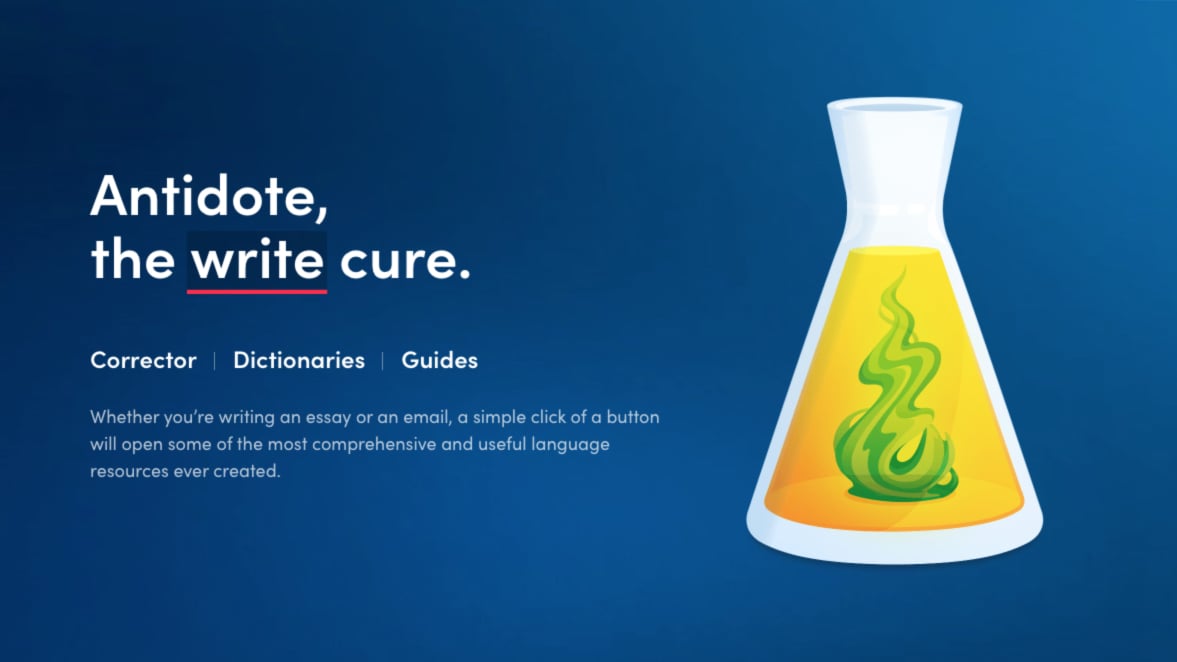 This year's Antidote 10 release is better, faster and stronger than before, with a ton of new features, dark mode and faster speed. Read on to learn what I think of it!
The Good Stuff
More of everything
Smarter analysis
Faster speed
Smart UI changes
The Bad Stuff