---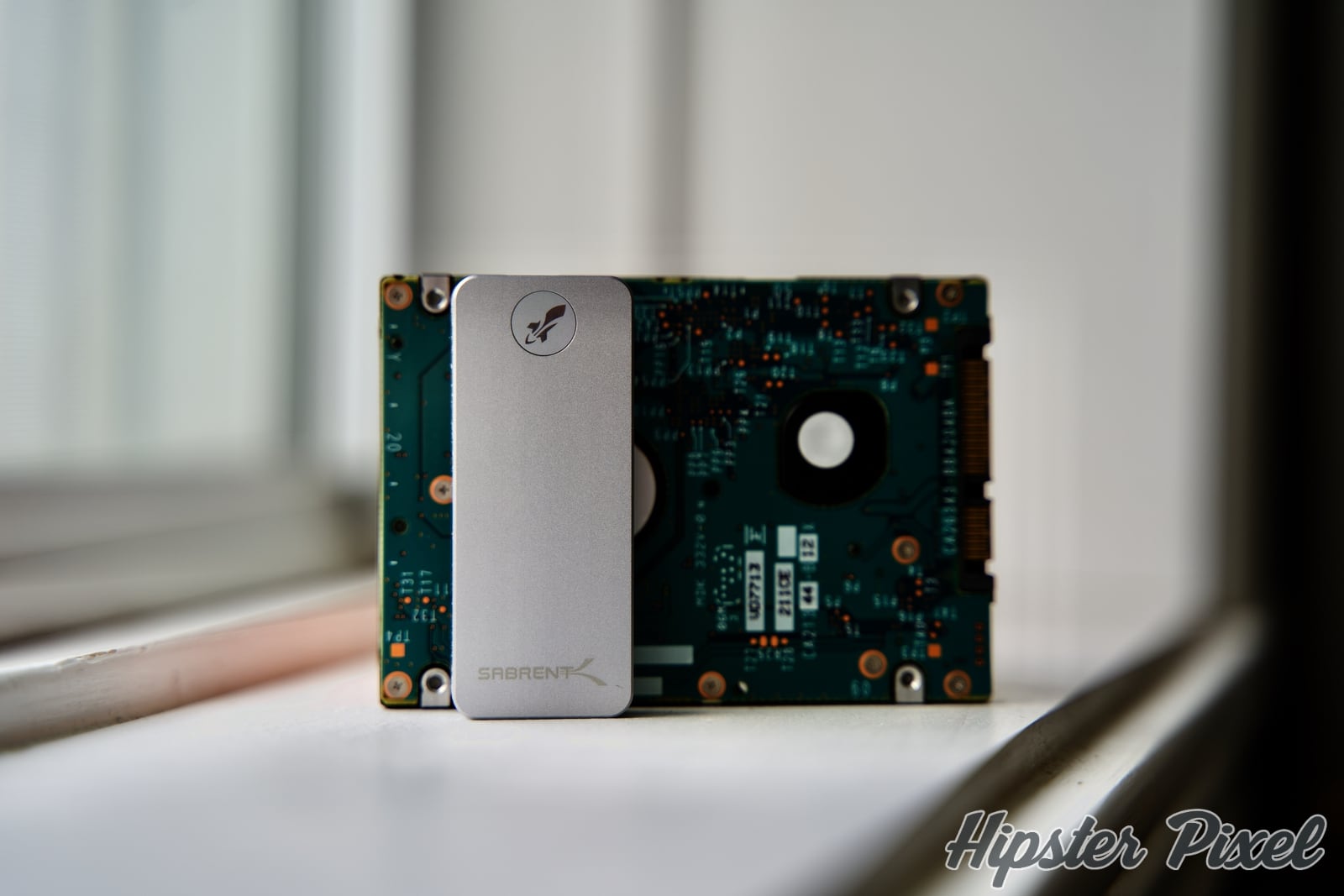 Sabrent Rocket Nano, a Micro Nimble M.2 External SSD [Review]
2020 seems like a year where we will finally be able to carry the full power of Thunderbolt 3 in the palm of our hands! Last year, we got a few small very quick SSDs, but 2020 seems the power keeps increasing as much as their footprint seems to be diminishing!
A few months ago, I tested the CalDigit Tuff Nano external SSD with promises of doing a crazy speed of 1050 MB/s in both read and write! I remember that not too long ago, I was excited about "only" 300 MB/s! The drive was fairly small, with a rubber protection.
But today, I have something even smaller. Its footprint not only fits in your hand, you can actually close your fist around it! 😱 The Rocket Nano by Sabrent is an m2 SSD wrapped in a 100% aluminum case that promises 1000 MB/s of both read and write speeds!
Design
This little guy is quite impressive to look at. The box seems make it seem like it's way bigger, so when you actually open it and see how tiny the external SSD is, you blink and can't believe it!
The enclosure is made of aluminum and act as a heat sink for those long transfer sessions when hundreds and hundreds of gigabytes are moved on and off the drive. It comes with both a Thunderbolt 3 cable (USB-C ends of course) and a USB-C to USB-A cable to maximize compatibility in these evolving times where the USB connectors are changing.
Now, how big is the Rocket Nano? It's only slightly larger than a USB thumb drive. Its length is basically the width of a SATA SSD drive. It's half the width of an AirPods case, and only about 1 cm longer. Here are a couple of shots of it next to everyday items so you can get an idea of its size.
Features
Dimensions: 69.9mm x 29.2mm x 12.7mm (2.75" x 1.15" x 0.5")
Weight: 46g (1.62 oz)
Available in six colours (black, grey, blue, pink, red and gold)
Available in 512GB, 1TB and 2TB capacities
USB 3.1 Gen 2 Interface with 1000 MB/s
Having extra storage is often an expensive upgrade when buying a laptop. Going from 1TB to 2TB with the latest MacBook Pro 16-inch , costs 400$. For 100$ less, you can get a 2TB Rocket Nano ! (pricing in May 2020). If you don't need to have that storage inside your computer at all times, the Rocket Nano is a great way to save a ton of money! And if you need it with you? Well, hide it in your iPod Nano jean's pocket and it will always be with you where you go!
Performance
Of course, the very first thing I did was to run a bunch of benchmarks to see how well this little speed demon behaves! For reference, I was testing the 1TB model in grey.
Using the regular disk benchmarking software, I got speeds on or around that 1,000 MB/s. ATTO Disk Benchmark reported 1,020 MB/s in both read and write, AJA System Test Lite said 963 MB/s in read and 968 MB/s in write and Black Magic Disk Speed Test returned 907 and 915 in read and write speed respectively.
Most of the tools are reporting the advertised speed and that is amazing. Using it as an external SSD at these speeds do not feel like an external SSD at all!
Sustained Transfer
The last test I wanted to make was a long-running transfer of just above 100 GB. Why you might ask? Often times, manufacturers will use a fast SLC cache of various sizes to allow for the maximum top speed for what they think is under the average transfer size. This way, they can save on cost as this fast SLC cache is way more expensive and would triple of not quadruple their costs.
To test this fast SLC cache you need to transfer files that are larger than its size, and note if you see a drop in transfer speed. For this, I'm using the excellent iStat Menu with the SSD option ON while looking at the graphic.
As you can see from the graphic above, I've done three separate transfers, separated by about 1 minute. You clearly see that there is a drop of about 40% after a little while. Looking the macOS file transfer window this happens around the 26 GB mark. Therefore, we can safely assume that there is probably a 26 GB fast SLC cache that gets filled and then the speed drops from around 950 MB/s to 500 MB/s according to iStat Menu.
This SLC Cache can be of any size from a few gigabytes to over 100 GB on more expensive desktop SSD drives. The Rocket Nano has a decent size cache that is around the average size on the market and it beats a few drives out there with smaller caches.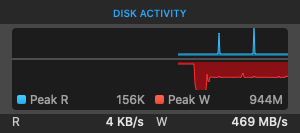 But what does it mean in reality? In a typical day-to-day utilization, you should not see any meaningful speed degradations unless you move over 100s of gigabytes regularly. Opening a photo library or even doing a 4K edit directly on the drive will not slow down since you don't work off ALL of the data at once. I personally rarely move over 50 GB of files in one single transfer, therefore instead of being around 50s for the complete file transfer, it will be about 70s. Not a very meaningful difference.
Temperature
With all the above benchmarking and large file transfer, you might wonder how the aluminum case behaved? Well, it really did its job wonderfully. Knowing that these little memory boards can get so hot, you can't touch them, I have happy to see that the worst temperature I got was offered multiple 100 GB transfer and it was 51˚C. Certainly hot to the touch, but not enough to burn you. And after regular sized copies, it was around 40˚C in continuous use.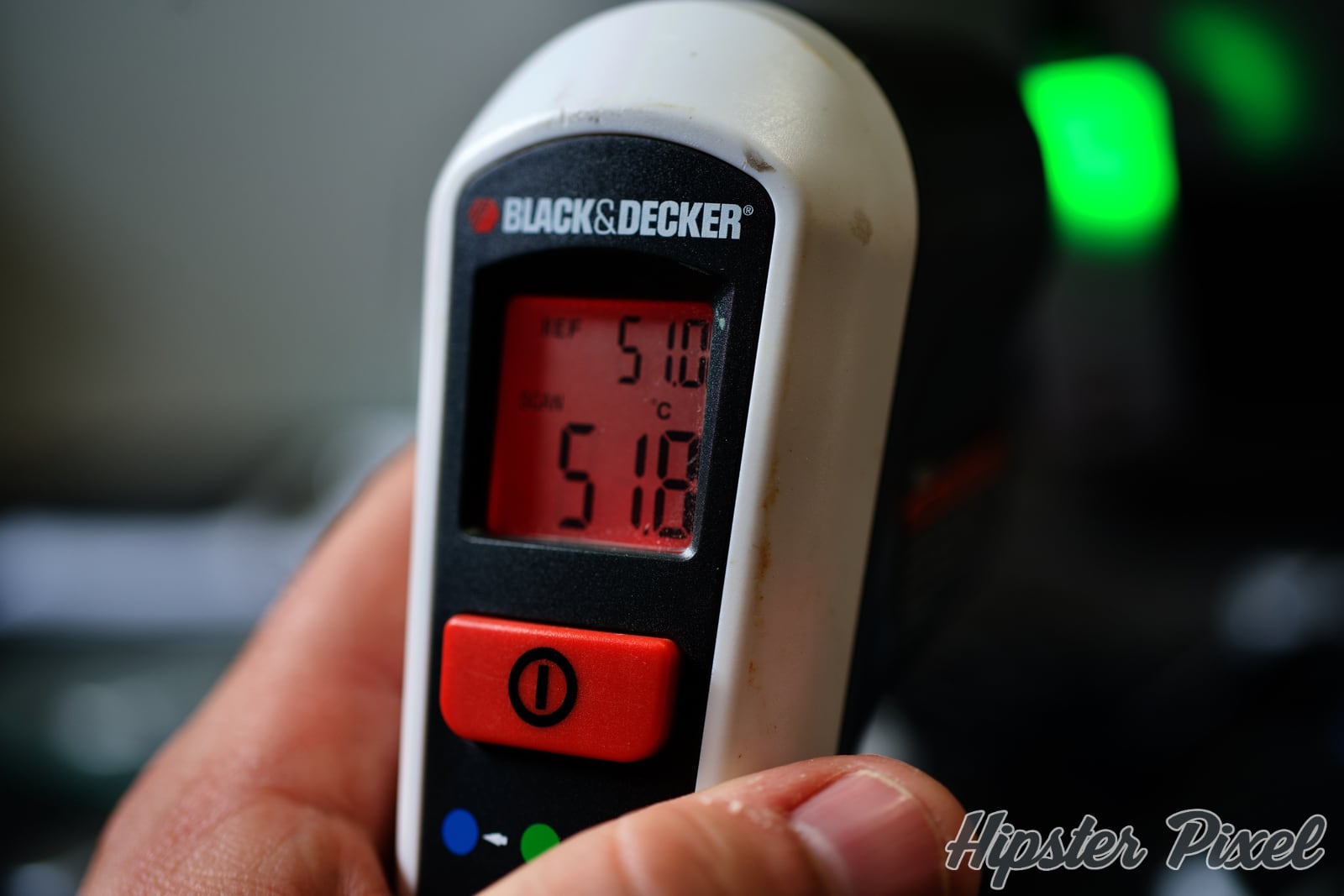 The case/heatsink does a very good job, as knowing how hot SSDs can get, it sure was hot to the touch, but not enough to burn, and it came down quickly after that to only feel warm!
Conclusion
The Sabrent Rocket Nano is a tiny little drive that has performance of competitors 3 and 4 times its size. It's so small that it can fit comfortably behind your laptop, in your jeans pockets, even in the smaller pocket!
With sustained performance of 1000 MB/s, it's just like having another internal SSD Drive. I see absolutely no difference running Final Cut Pro or Photos on it. The only time when you might not benefit from its full potential is if you transfer over 26 GB of files in one single stream. These times, you will see about half the speed due to an SLC Cache of about 26 GB.
All in all, I strongly recommend the Rocket Nano for someone looking to extend the total capacity of their computer. The speed is great and does not allow to see much difference in everyday use, even with professional tools. It does not run hot and with both a Thunderbolt 3 (USB-C on both ends) and a USB-C to USB-A cable, you can use it literally anywhere! As long as the computer is fast enough to drive the USB 3.1 Gen 2 interface! Nowadays, it's the computer that risks not being fast enough!
Review Summary
Rocket Nano 1TB Grey
Sabrent Technologies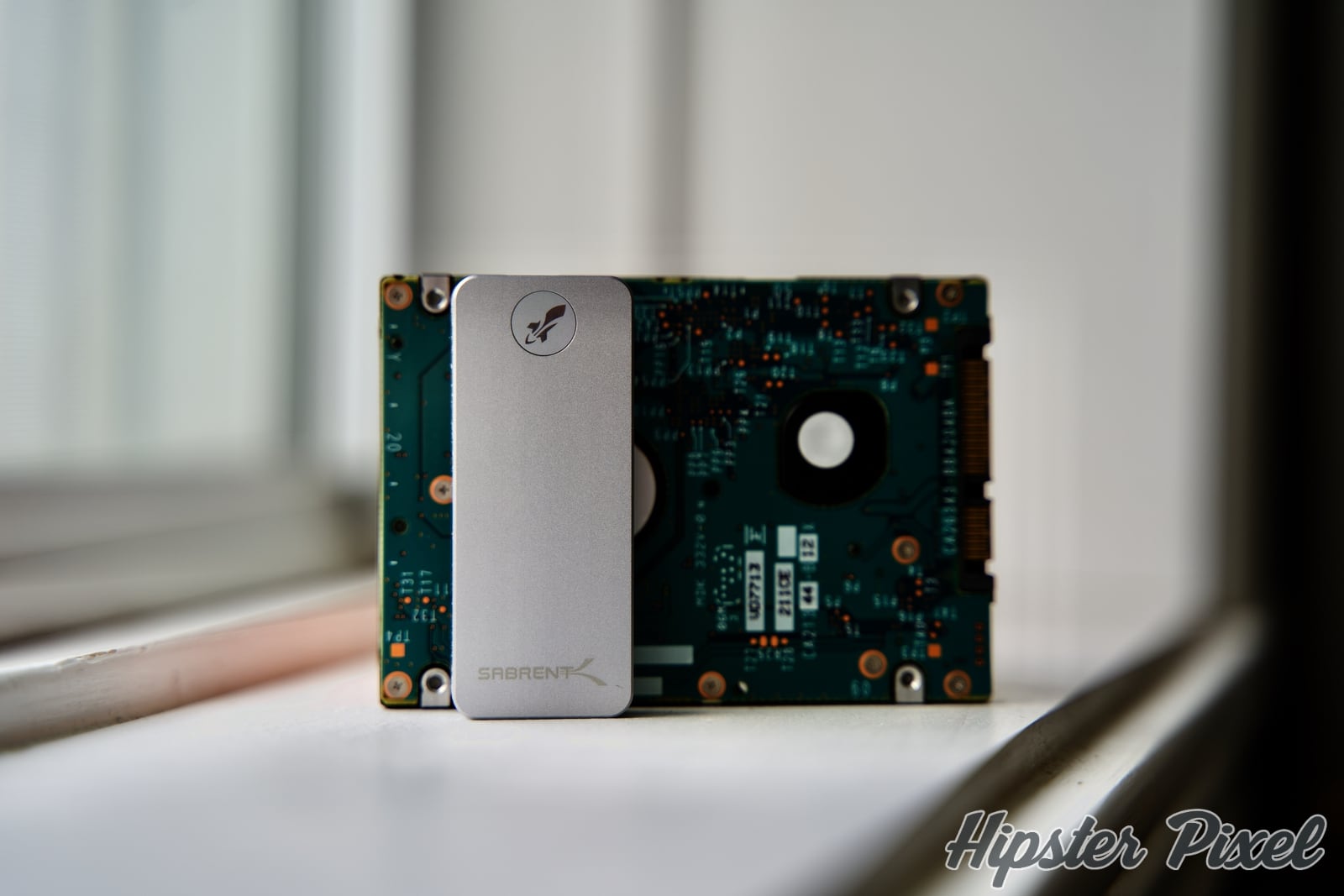 Can such a tiny external hard drive rival with internal SSD speeds? Let's see how the Sabrent Rocket Nano do under my geeky thumbs!
The Good Stuff
Tiny Form-factor!
Case and Heatsink Two-in-one
1000 MB/s Transfer Rate
Super Slick Design
The Bad Stuff