---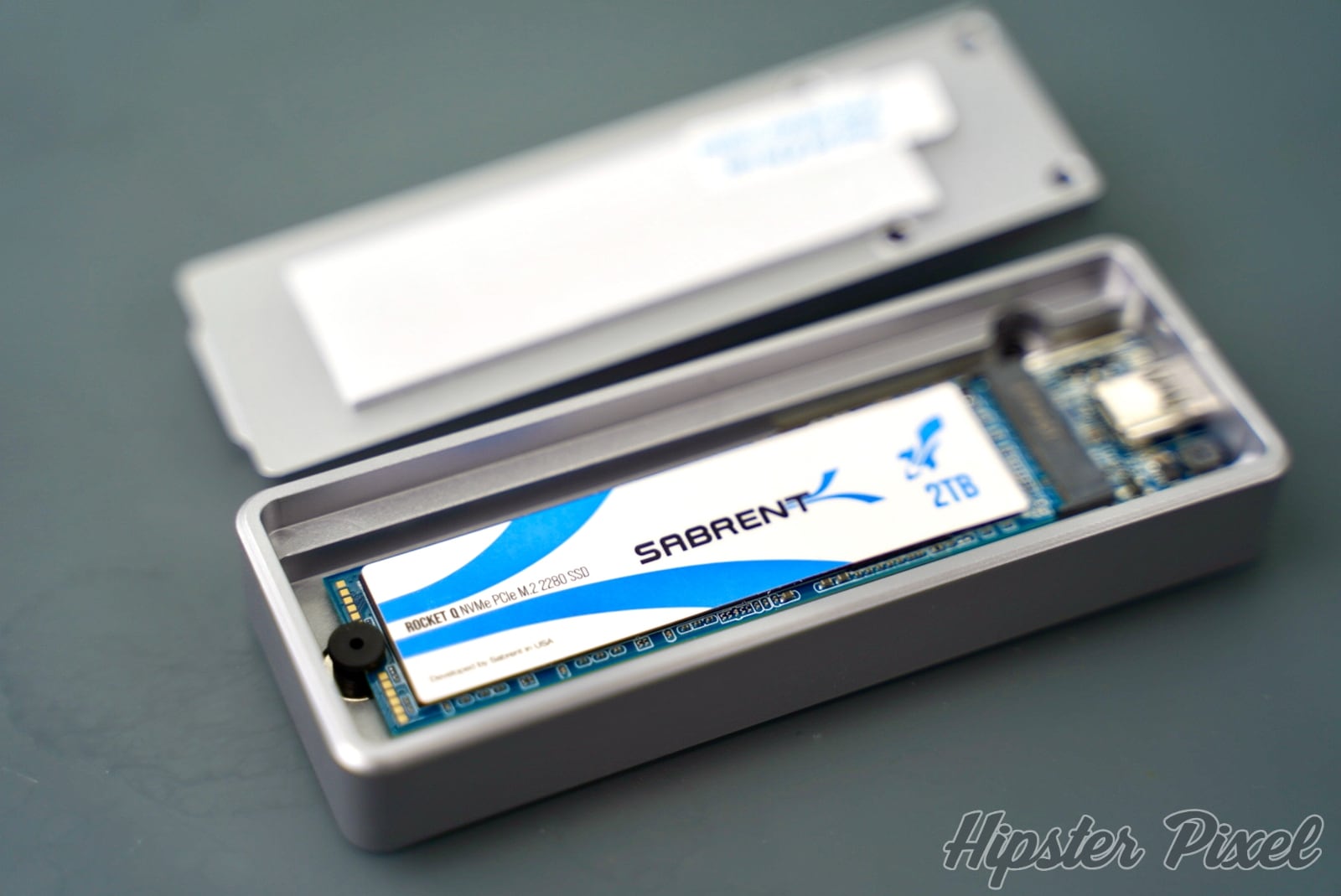 Sabrent USB 3.2 Tool-Free Enclosure for NVMe M.2 SSD Drives [Review]
My initial plan was to use this little enclosure with a cool Sabrent Rocket Q NVMe SSD drive I got, and don't get me wrong it works, however, the drive is faster than the enclosure so therefore things can be much faster! I'll try to find another drive that can actually reach the promised speeds of 2,800MB/s that the Rocket Q can achieve!
But if you have another NVMe SSD that is a bit less powerful than this, the Sabrent USB 3.2 Tool-Free Enclosure is a great little piece of engineering!
Design
The enclosure is made of 100% aluminum, which means that it is actually using itself to dissipate the head generated by high-speed transfers. You simply open the enclosure by turning a little tab 90˚ and the bottom plate pops off. You slide in your NVMe SSD of 2280 size (or less, it also works with 2230, 2242, 2260), remove the plastic peel from the heat pad, and close it back with the back plate.
Your SSD is now ready to be used with the provided Thunderbolt 3 cable, but bear in mind that the hardware inside the case is NOT Thunderbolt 3 optimized, it's actually USB 3.2 and it can "only" do 10 Gbps of sustained top speeds.
In the box, you also have a USB-A cable provide since the enclosure is retro compatible with USB 3.1 and 3.0.
There you go, you have a nice-looking sandblasted aluminum that fits in your pocket. It's not as small as the Sabrent Rocket Nano we recently tested, but it's using the same design principles.
Features
USB 3.2 10 Gbps interface with USB-C port
Retro compatible with USB 3.1 and 3.0
No tool needed, only your fingers!
Heat dissipation through the complete enclosure
Compatible with NVMe M-Key M.2 SSD (sizes 2230, 2242, 2260, 2280)
Theorical maximum speed of 1,000 MB/s
Performance
To leverage the speeds offered by the quick USB 3.2 interface, you do not need a compatible drive, one that can accommodate over 1,000 MB/s otherwise, you will feel very constrained! I've got this great little, itsy-bitsy drive called the Rocket Q from Sabrent . They promise speeds of up to 2,900 MB/s in writing and 3,200 MB/s in reading. Definitely way more than what is expected of the enclosure!
Mounting the enclosure and going through testing was a breeze and there were no disconnection errors during the whole process of trying multiple times, all of the software below. Let's go over the different applications and their results.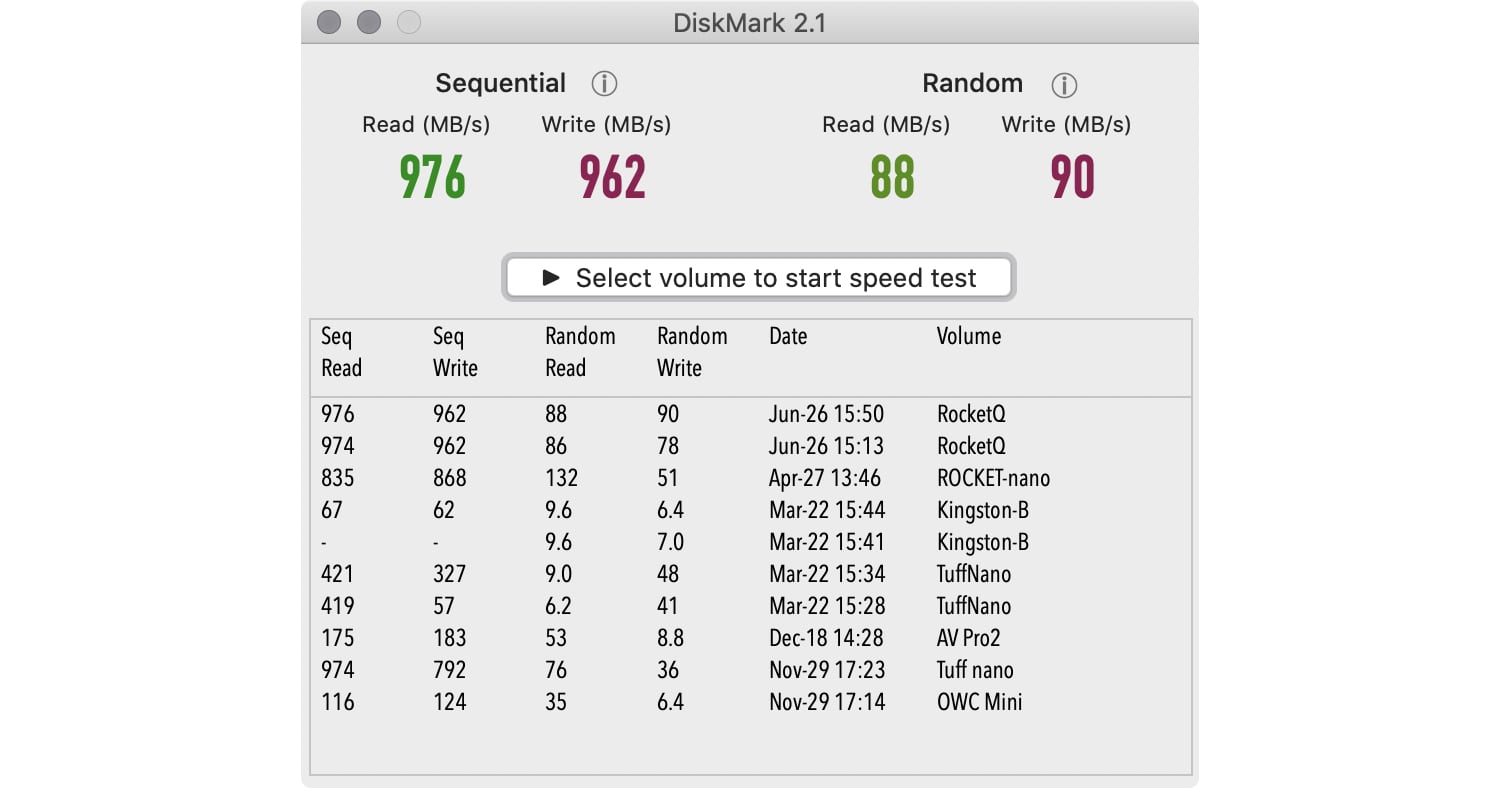 As you can see from the above screenshots, DiskMark reported read and write speeds of 974 MB/s and 962 MB/s, both very close the theoretical maximum speeds of the Sabrent USB 3.2 Tool Free Enclosure.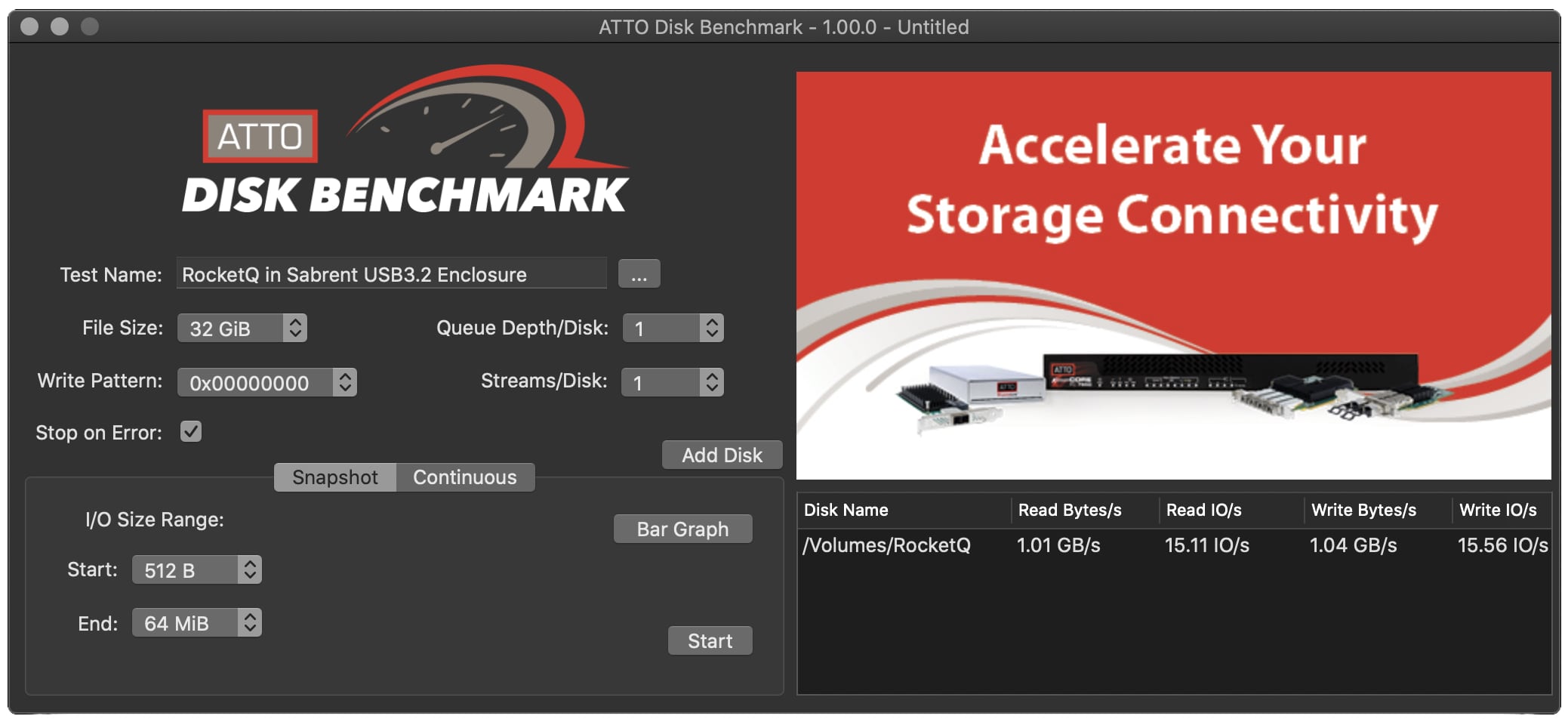 Moving on to ATTO Disk Benchmark, we got a bit faster here with 1,010 MB/s and 1,040 MB/s respectively in read and write speeds. This is pretty on par with the manufacturer's promise.
What does this tell us? Well, if you have an NVMe SSD around that can do 1,000 MB/s or more, the Sabrent USB 3.2 enclosures is a great partner in crime! It will allow you to reach those speeds without any problems!
Conclusion
If you are looking for a solid solution that will allow you to reach the famous 1 GB/s in read and write speeds, the Sabrent USB 3.2 Tool Free Enclosure is the drive to get since it does reach those numbers without any problems. And if you are swapping drives, its tool-free design is such a fun process to go through, and super quick too! The whole enclosure will allow you to dissipate the large amount of heat that the NVMe chips releases, it does become hot to the touch, almost burning, but rarely will you be moving terabytes of data in one single session. In regular use it should only become warm to the touch, and not hot.
Now that I have a crazy fast Sabrent Rocket Q in my hands, I need to push the envelope even further and find another enclosure that will allow me to reach the 2.8 GB/s and 3.2 GB/s write and read speeds that this tiny but mighty drive can do! I'll report soon!
Review Summary
Sabrent USB 3.2 Tool-Free NVMe SSD Enclosure
Sabrent Technologies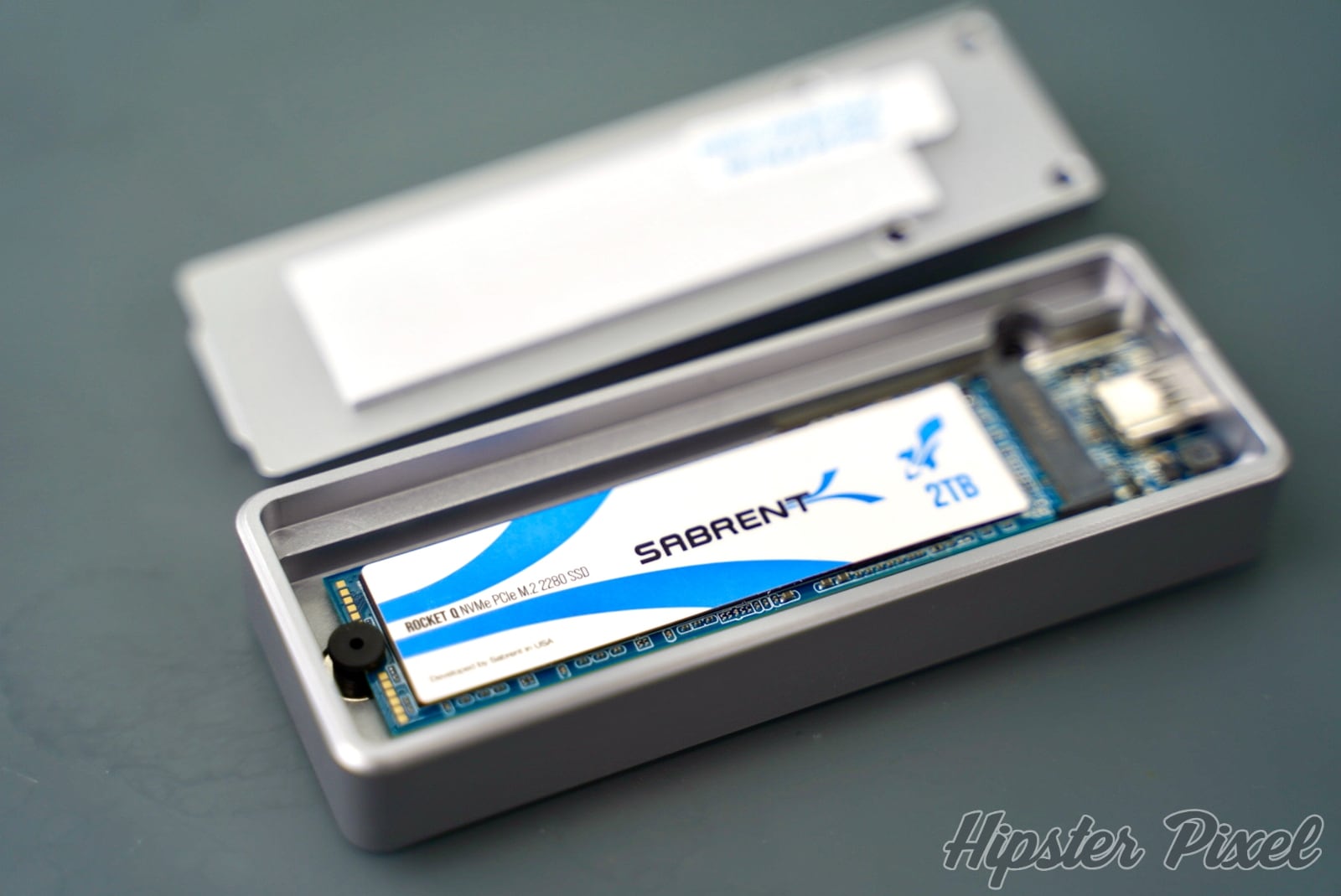 The Good Stuff
Great tool-free design
Solid aluminum
Great heat dissipation
Fast speeds
The Bad Stuff
USB 3.2 is limiting nowadays
Could be even faster