---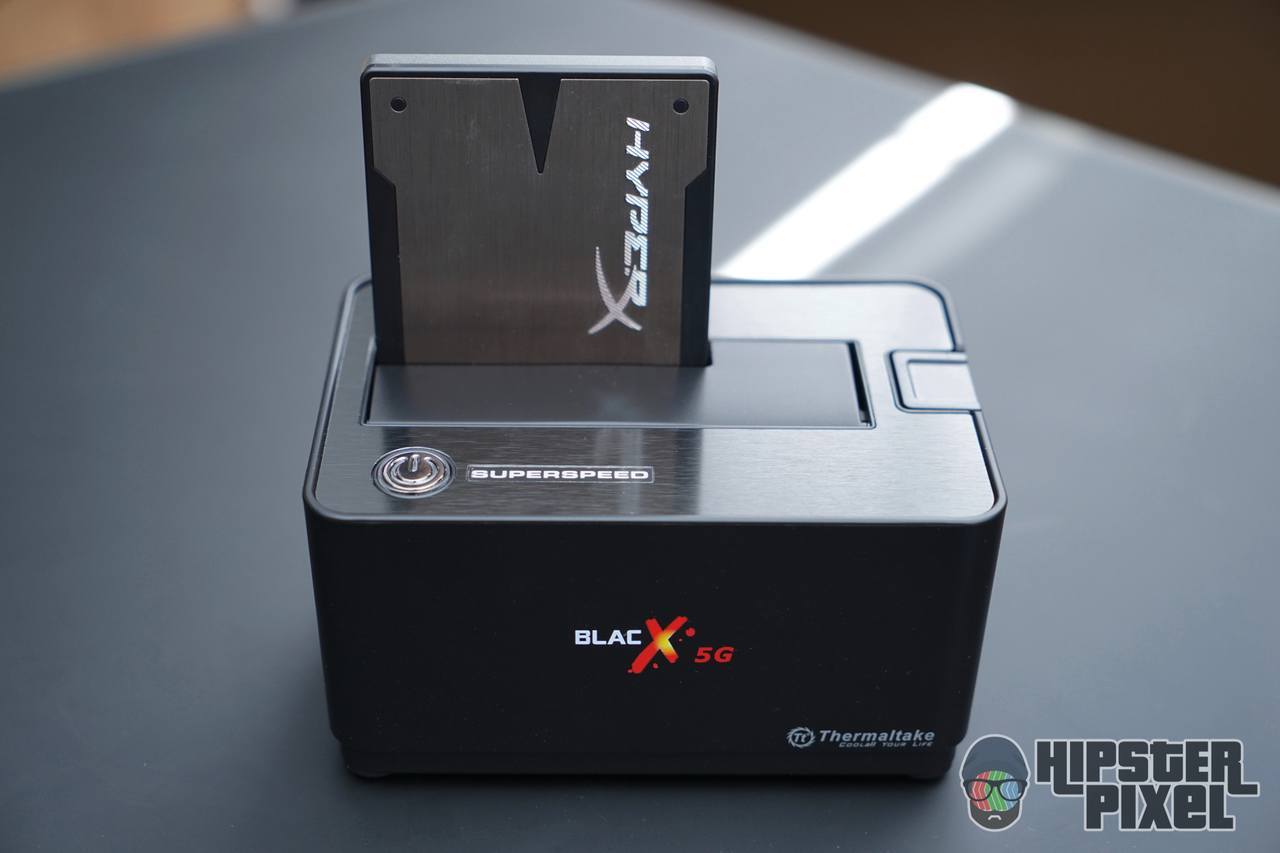 Thermaltake BlacX 5G Hard Drive Dock Review
One of the types of under-appreciated category of products is the hard drive dock. You might not need them very often, but when you do they are a life saver! Or if you are often handling hard drives, be it for backup purposes or for that day when disaster strikes, you need one on hand.
Thermaltake, maker of great computer accessories, has the BlacX 5G HDD Dock Amazon ), a great dock with USB 3.0 connectivity and a few great design ideas not all other docks have.
Thermaltake BlacX 5G Dock
The BlacX 5G wears both black plastic and a metal slate at the same time. The overall look of the dock is very good and it does not feel cheap in the hand. The manufacturer also integrated a simple ON/OFF switch that so many other dock miss.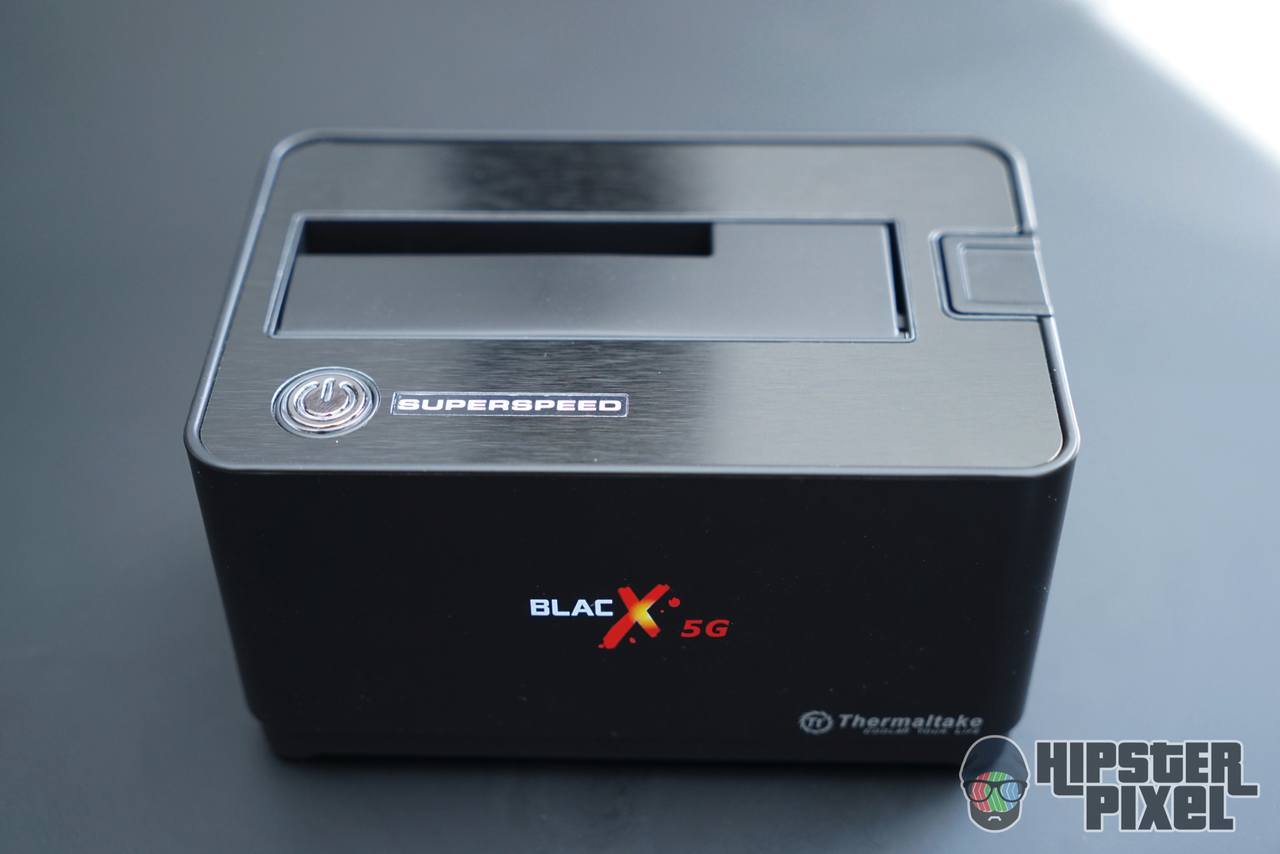 One of the cool perks of this dock is the Super NES style hard drive ejection mechanism, you press a button and a lever pops up the hard drive. This hard drive can be either the bulky 3.5" format or the compact 2.5" format, as long as it has a SATA interface. It also supports all three generations of SATA, SATAI, SATAII and SATAIII.
On the back, you have two simple ports, one for the power and one for the USB 3.0 in all its blue glory. No dip switch, no other types of connection, simple and straightforward.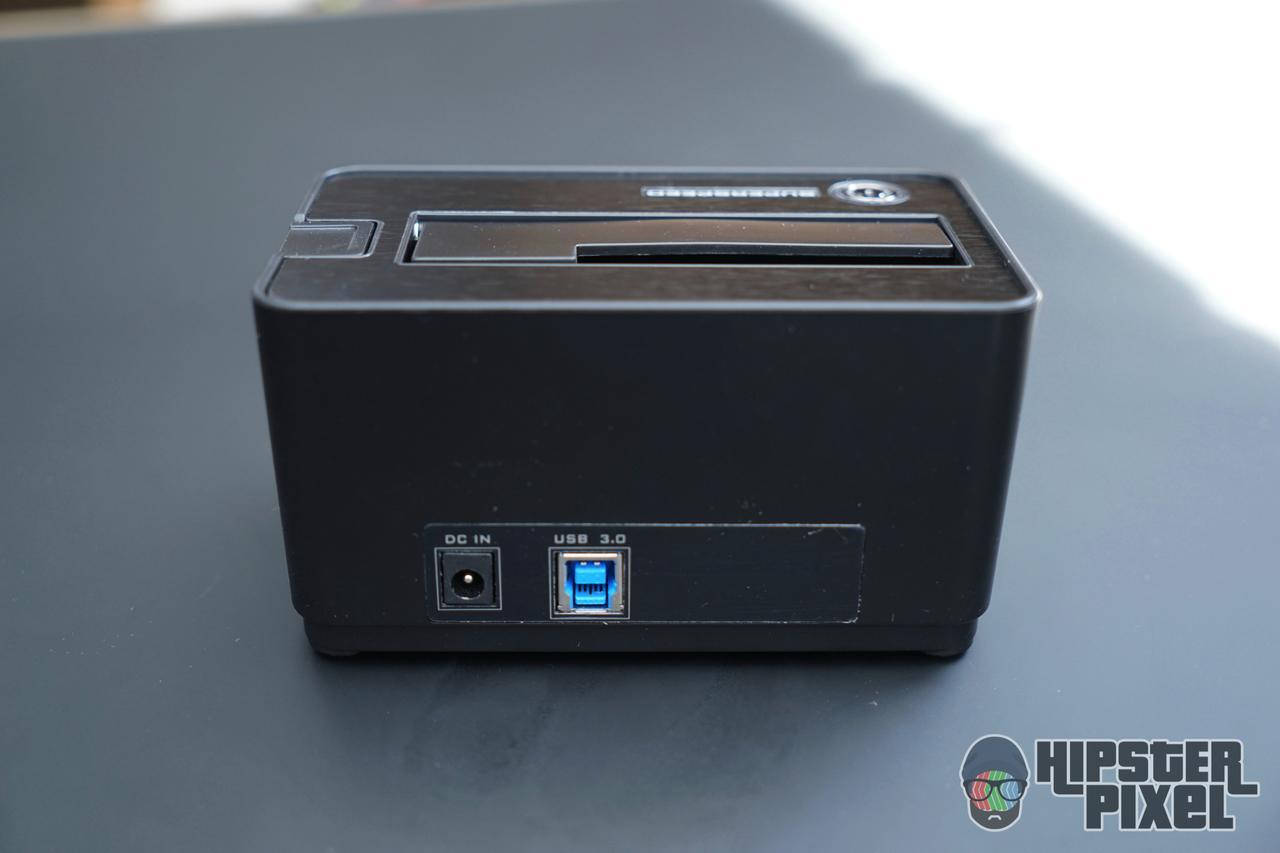 One last thing Thermaltake included in box, two rubber sleeves for your hard drives. One of each size, 2.5" and 3.5". Not sure what they are for, I really like the look of a hard-drive, but that's just me 🙂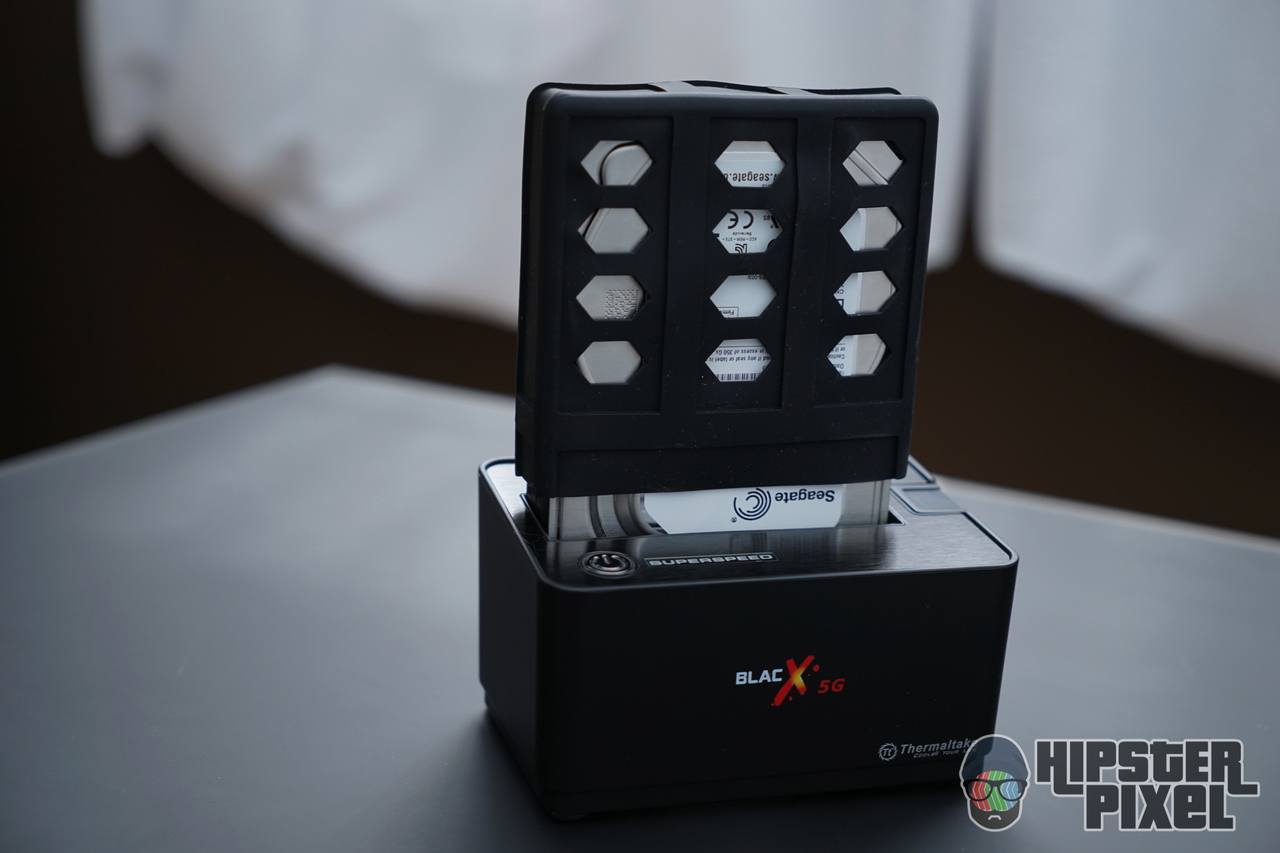 Performance
I took the dock through its paces and it has no issues reaching spinning disk top speeds. The Seagate 2TB disk Amazon ) I had on hand is rated at 159 MB/s and using QuickBench on Mac OS I reached in both read and write tests, 186 MB/s.
When using a Kingston HyperX 3K SSD Amazon ), rated at 555 MB/s read and 450 MB/s write, I reached an average of 417 MB/s read and 356 MB/s write.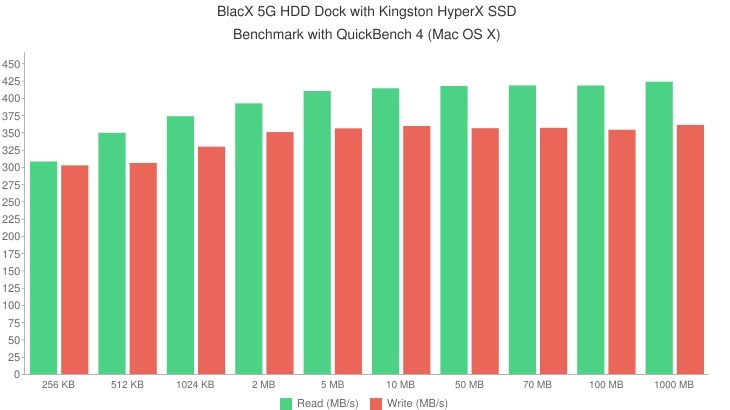 For a 650 MB/s (theoretical) max speed interface, it's really not that bad! So moving a total of 2TB off the disk would take about 83 minutes and writing 2TB worth of data would take about 98 minutes.
Conclusion
If you are looking for a powerful and good-looking HDD dock, you should definitely take a look at the Thermaltake BlacX 5G HDD Dock, it delivers without a hitch!
Review Summary
BlacX 5G HDD Dock
Thermaltake Technology Co. Ltd.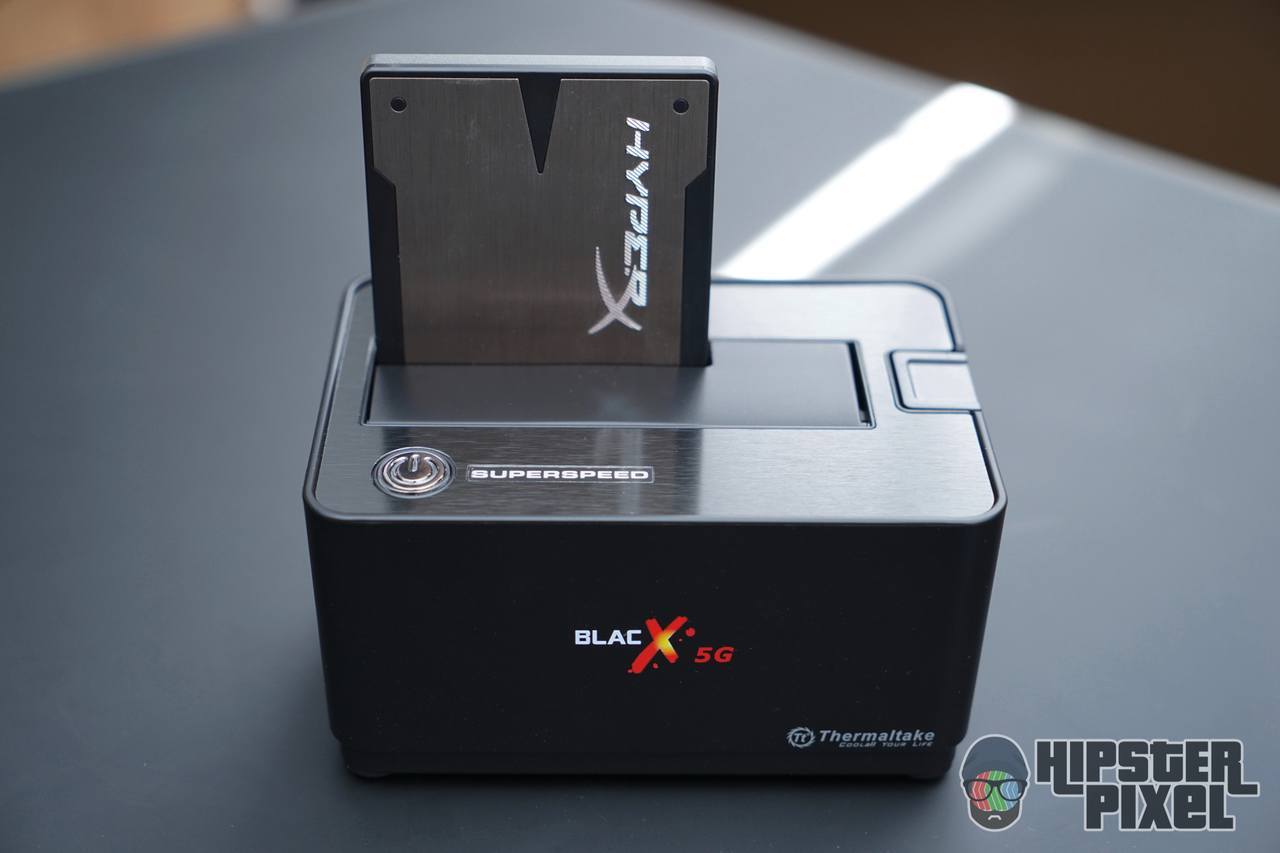 The BlacX 5G hard drive dock is a 2.5-inch and 3.5-inch hard drive dock to help in backups, restore and data transfer on a fast USB 3.0 line.
The Good Stuff
Good looking
Power button
Eject mechanism
The Bad Stuff
Only one interface, USB 3.0