---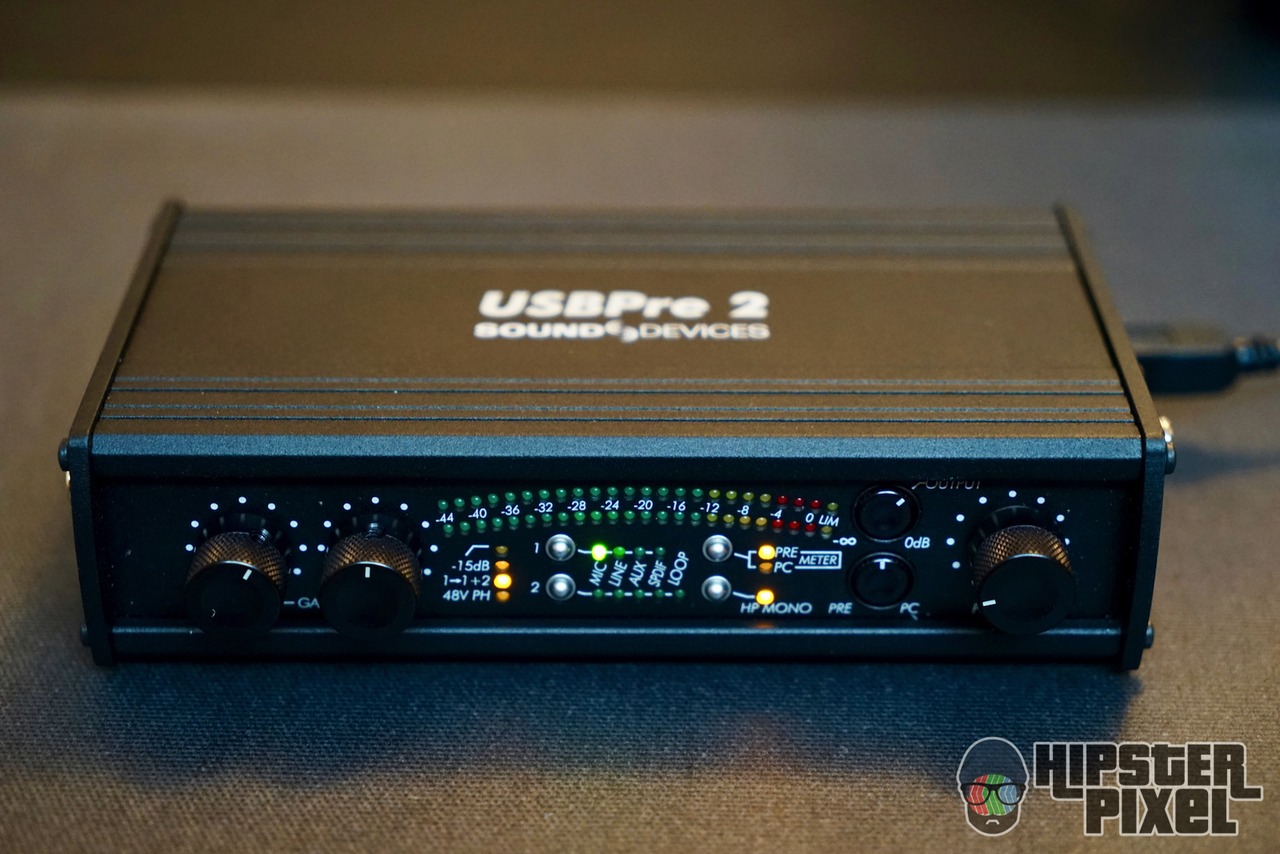 USBPre 2 XLR to USB Interface Review
When you need to take that great audio from a microphone or an instrument and send it to your computer, you need a USB interface that will take the analogue signal and convert it to its digital form. There are many choices that start at 50$ and can go to the multiple of thousands of dollars for a rack-mounted version. What if you are a serious hobbyist and are looking for a solid, reliable solution out there?
The USBPre 2 might just be what you're looking for!
What you are looking for is a device that can convert this signal, but what you are not looking for is something that will introduce noise or distortion to your pristine sound. This is why many solution exists. I think the USBPre2 is a solid contender and after using it for a couple of weeks here's what I think of it.
Design
The USBPre 2 is often described as a solid metal box with lots of nobs and lights. It's pretty accurate, but it's much more than that. It's made of metal and looks like something a car could run over. The front does have signal level meters that can tell you how strong your recording sounds and if you hit the limiter. It has 23 segments and can be toggled between recording or playback.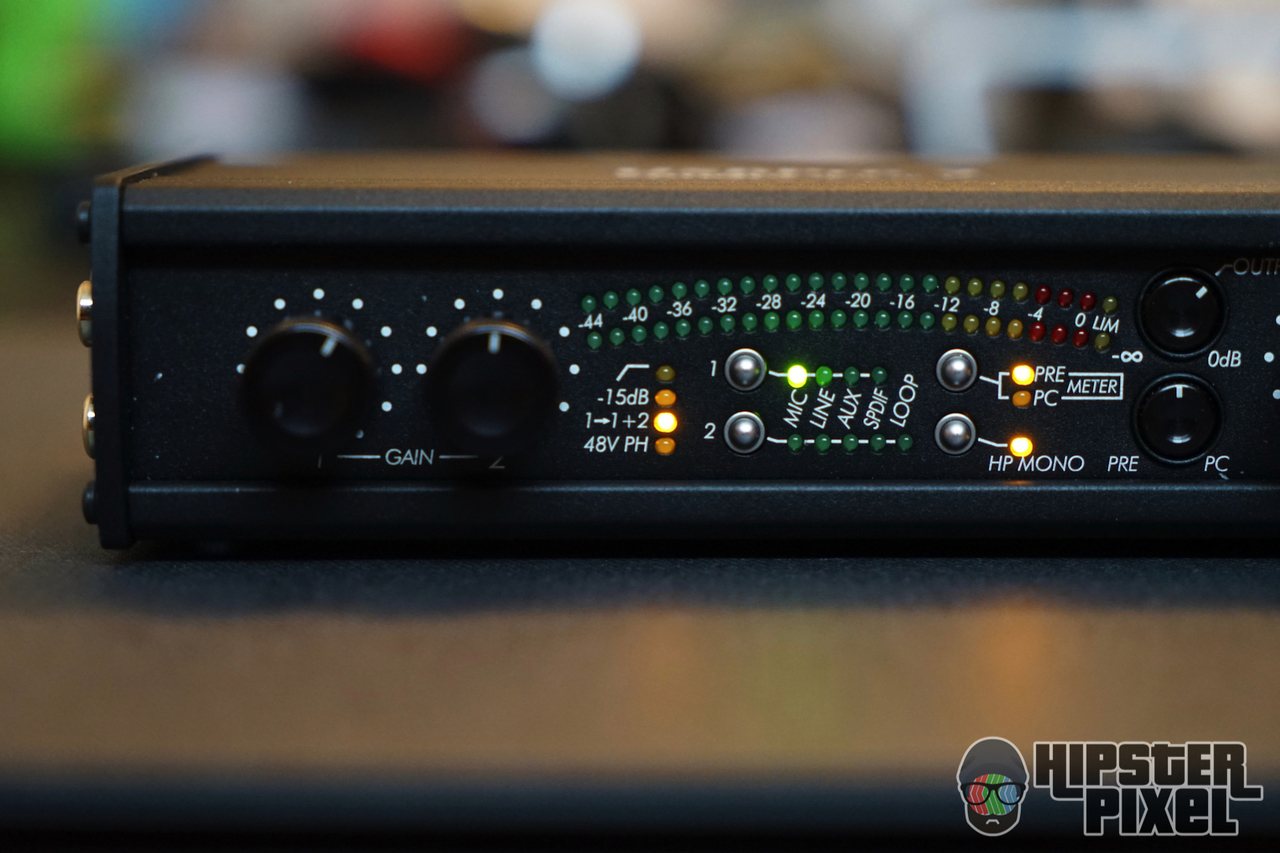 There are a bunch of nobs including a gain control for each of the two XLR inputs, one knob for the output gain control, one knob for the monitor mix control and finally one more nob to control the output of the sound that goes through your headphones.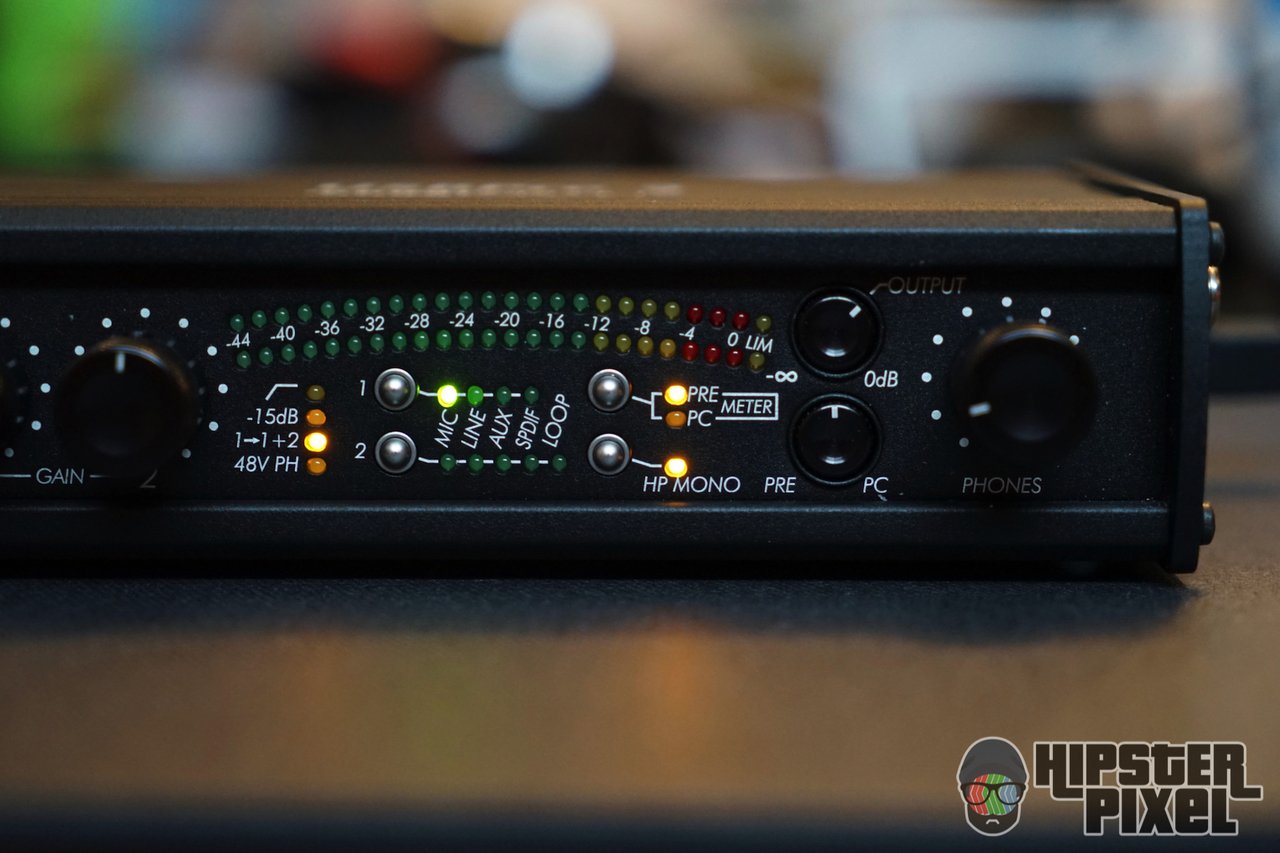 In terms of inputs and outputs it has 2 balanced XLR inputs, 2 Line In and two Aux In ports. All of these are located on the left side of the device. On the back side, you'got the Mic and Line out XLR ports, TOSLink input and output and one of the smartest ideas of the USBPre 2. Twenty, 20!, DIP switches that controls a bunch of features of the interface as well as a bunch of toggles that can change the feature of the many knobs on the USBPre 2.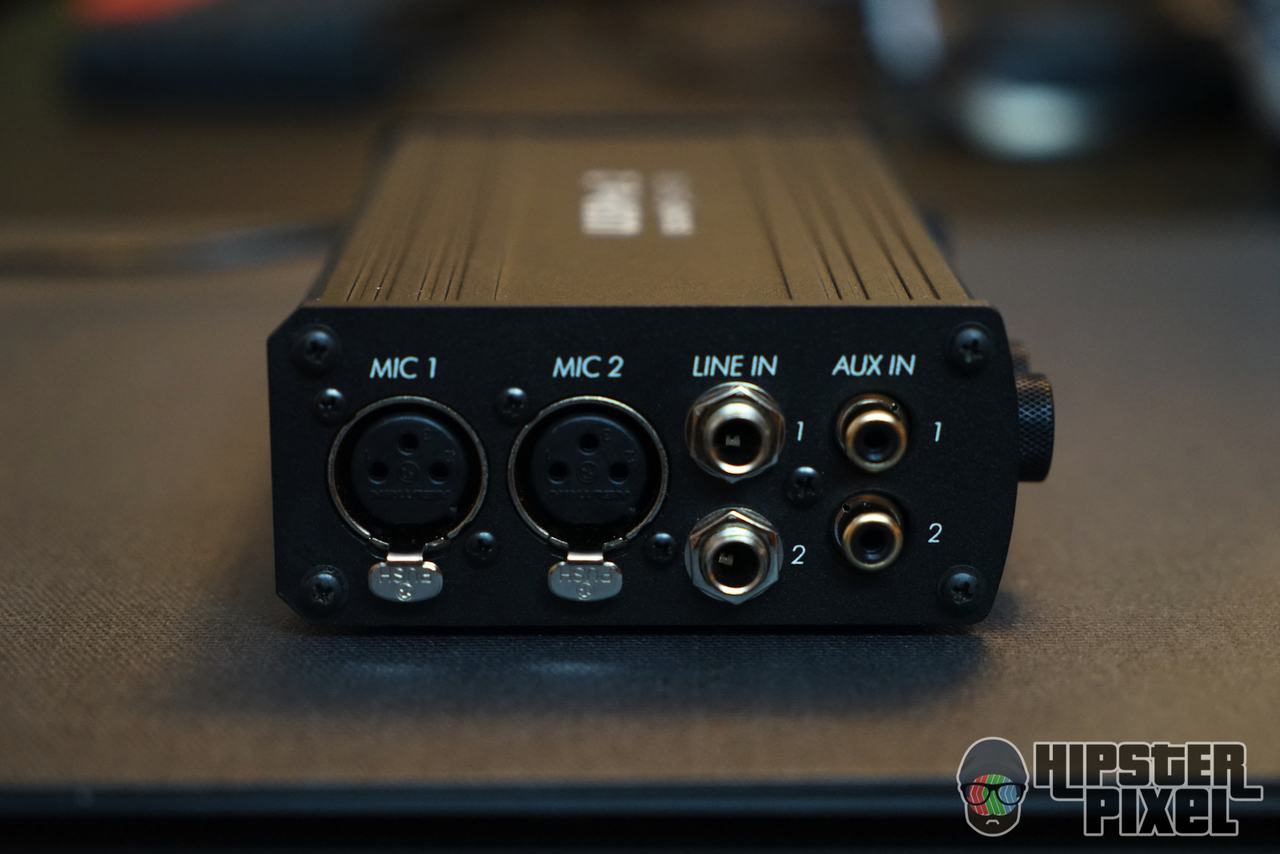 Finally, on the right side, we have many outputs including 3.5mm and 1/4" headphone jack, stereo AUX outputs and S/PDIF outputs, and the last one, but nonetheless, the USB cable that provides the unit with power and allows your computer to receive and send audio through the interface.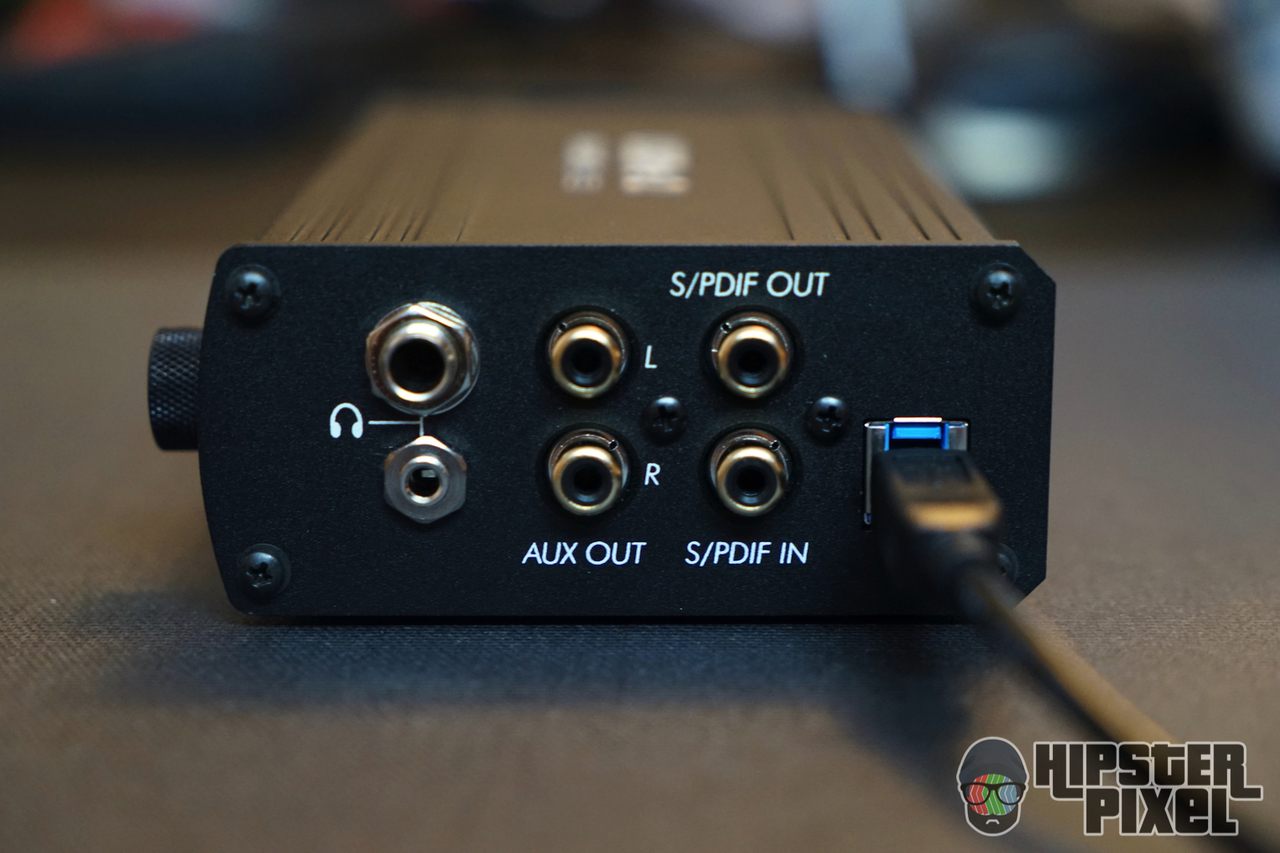 Features
Low-noise microphone preamplifiers
48V phantom power, limiters, high-pass filters, and 15 dB pad
Dynamic range greater than 114 dB (in 24-bit operation)
Flat 10 Hz to 40 kHz (@96 kHz SR) audio bandwidth with very low distortion characteristics
Precision, 23-segment, multicolour LED peak/VU meter
High-output headphone amplifiers can drive a wide range of headphones
Balanced outputs on XLR connectors with dedicated level control
High-strength extruded aluminum chassis
macOS 10.4+, Windows XP/Vista/7, and Linux, class-compliant audio device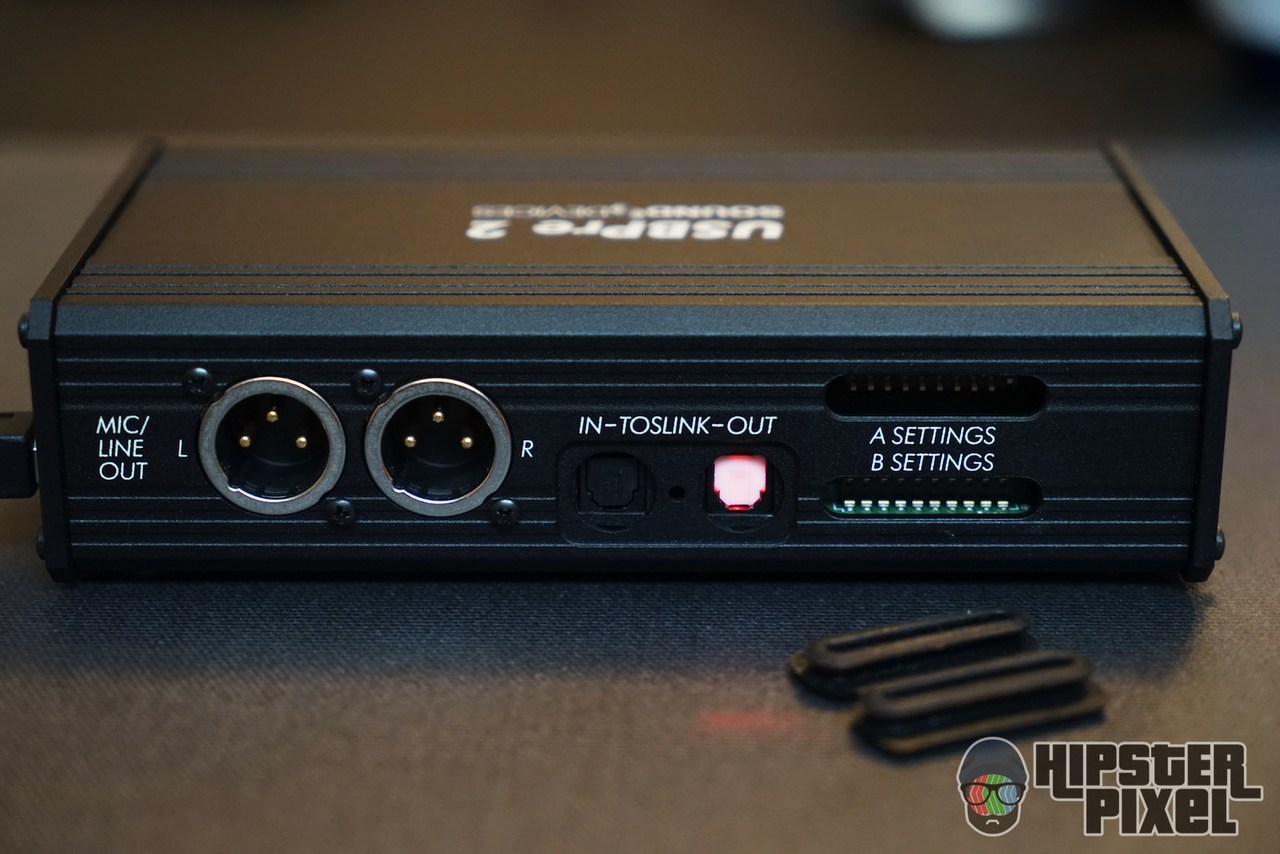 Podcasting Scenario
I'm currently using the USBPre 2 as a USB interface to record our podcast, RGBA.fm, and I've used various types of microphones. I've started with my old Audio-Technica AT2005USB which has both a USB and XLR connection. Then moved on to a Shure SM57, SM58 and then, I finally decided to get a Shure Beta 87A . The great thing with the state of the art preamplifiers of the USBPre 2 is the absence of noise when the microphones are not picking up anything. This is particularly helpful when editing the audio, we do not need to tamper with the audio as much!
The Beta 87A is a power hungry microphone and the USBPre 2 does give it ample power and gain to drive it to perfection.
Setting Up & Settings
Apart from the great preamps, the USBPre 2 is a dream come true for any audio enthusiast or professional as it can really bend to your preferences. Almost every nob can be reconfigured for something else. Remember those 20 DIP switches? Well, that's where lots of the power comes from.
You can, literally from the flick of a switch, enable phantom power (48V) to either or both XLR inputs for power-hungry condenser microphones like the Beta 87A. You can also add a low-cut filter if you are recording on the go in a noisy and windy situation. If you end-up recording loud noise, it even has a limiter built in that will attenuate loud recordings when they reach -4dB. And for those situations, you can also flip a switch to enable the 15dB padding for particularly sensitive microphones or very loud environments.
That's all on the first 10 DIP switches! The next 10 are almost all used to swap the functionality the nobs and controls for an alternate use.
Finally, the last few DIP switches are used to hardware select the sample rate when in a stand-alone mode. When no computer is present, this mode kicks in and follows your guidelines from the DIP switches. Using the last three B-Settings DIP switches, you can select 16, 32, 44.1, 88.2, 96, 176.4, 192 or 48 kHz.
I encourage you to take an evening or at the very least an hour or two to really play with all the settings to make sure you leverage the power of the USBPre 2. I use my Shure Beta 87A with phantom power activated, low-cut set to OFF, limiter set to ON (though I rarely reach it) and dual-mono enabled since I only record from one microphone. I use the USBPre 2 1/4" headphone jack with a pair of Sennheiser Urbanite XL and balance the sound so I can barely hear me when we record. I think my office setting is quiet enough, especially with a super-cardioid condenser microphone, so I do not need the 15dB padding, but I'll be sure to test it a bit and see if I can benefit from a bit less sensible setting.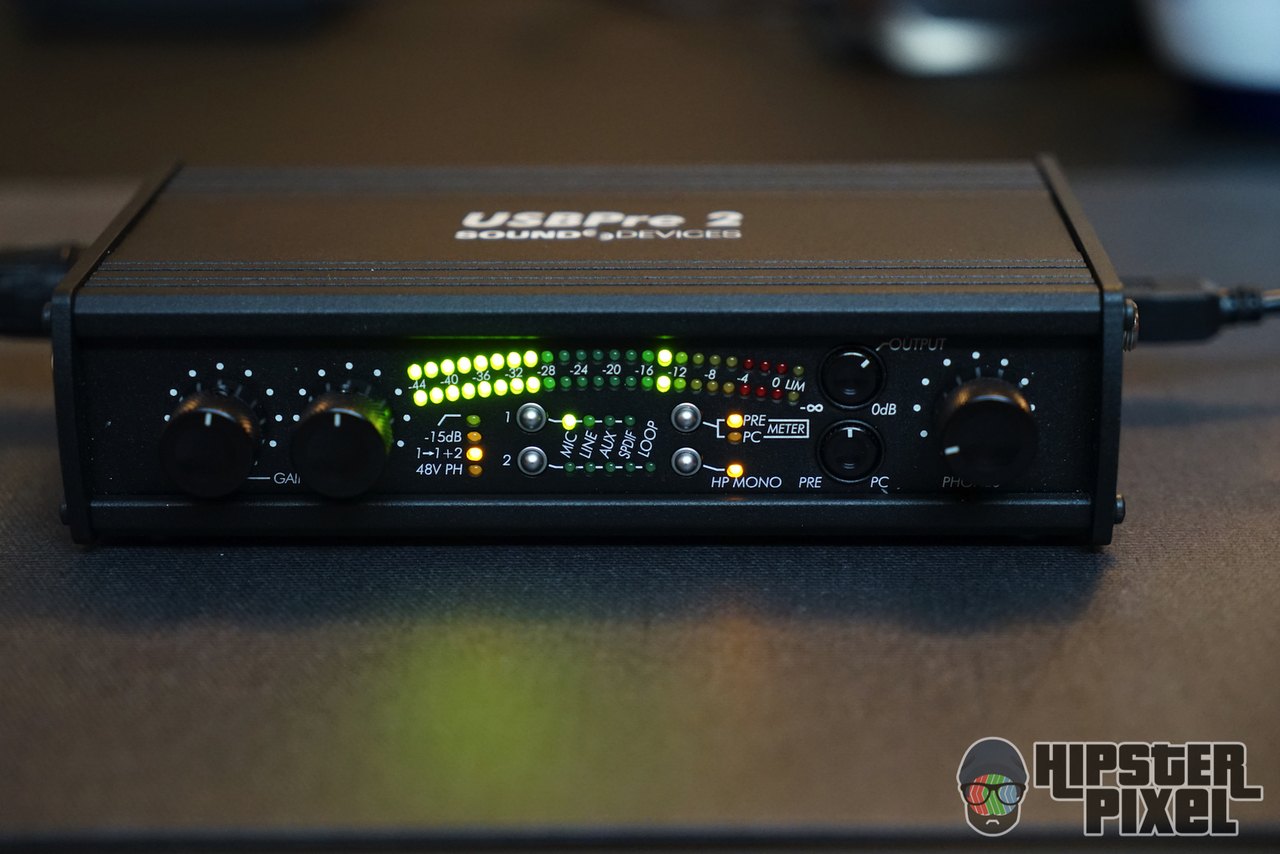 Recording on the Go?
Since the USBPre 2 can be powered by almost any USB devices, it needs 5V current and 500mA max, it can be powered by any computer USB port and even a USB hub. With it's design being mainly input on the left and outputs on the right, the USBPre 2 can be quickly and simply configured on a table for a temporary setup in Stand-alone mode.
Software? What Software?
This is perhaps one of the best things about this USB interface. It does not need any software to enable or control its features. On a recent macOS computer, it's literally plug-n-play! It appears as a sound device in your audio settings and that is it. No need to configure anything else that click the interface in that window to make it active. On Windows, you need a special ASIO driver to enable the high resolution settings it can provide.
Maybe it's because I'm in my thirties and a software developer, but I really prefer a device with all the features built-in and not dependent on software, or OS updates, to break or tamper in any way with the functionality of my gear. For me the USBPre 2 does exactly what it should!
Conclusion
After using the USBPre 2 for many weeks, I can totally understand why people regard this device as being the best USB interface on the market. I tend not to believe these types of saying until I can try for myself. And I did, I was impressed.
Everything about the USBPre 2, from the built construction to the versatility power given by the DIP switch, makes this one of the most flexible and adaptable interfaces on the market. It can really adjust to your setup instead of having to build your setup around it like you do with other interfaces or audio devices. Then, we move on the quality side of things. If you ever recorded audio or video, you know how a simple lack of quality can impact your work and your moral. The USBPre 2 really has top-notch quality and it feels like it can fight off a tank!
This awesome device comes with a price tag that is as great as its features and sadly this is not open to all budgets. The USBPre 2 is a serious interface aimed at professionals. Its cost is not aimed at regular consumers, but since it's so versatile and powerful, it's uniquely placed because similar interfaces are either desk size mixers or rack-mounted. The USBPre 2 can fit below an iMac on its foot.
I've been trying to find a negative point for the USBPre 2, but sincerely, I can't find one. The only thing I would recommend you is to study, really read in depth, the user manual. It contains very valuable information that will help you greatly to learn how to maximize your use of the interface.
Highly recommended.
Review Summary
USBPre 2
Sound Devices, LLC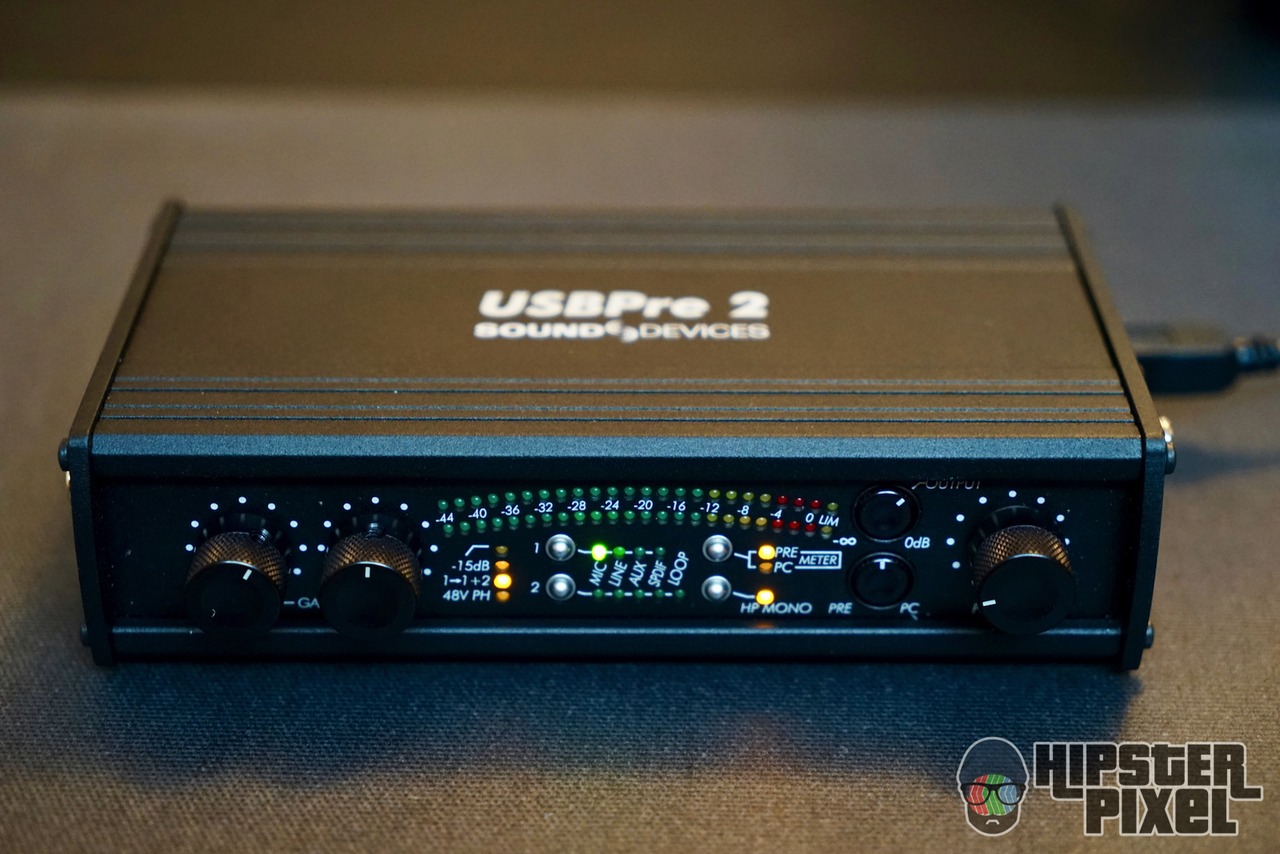 The USBPre 2 is a USB interface that converts analogue audio to digital audio, and offers incredible functionality with quality components that is hard to beat.
The Good Stuff
Built quality
Versatility of inputs/outputs
High quality preamplifiers
Extra features and customization via DIP switches
No software whatsoever
The Bad Stuff
Expensive because you'll want it!