---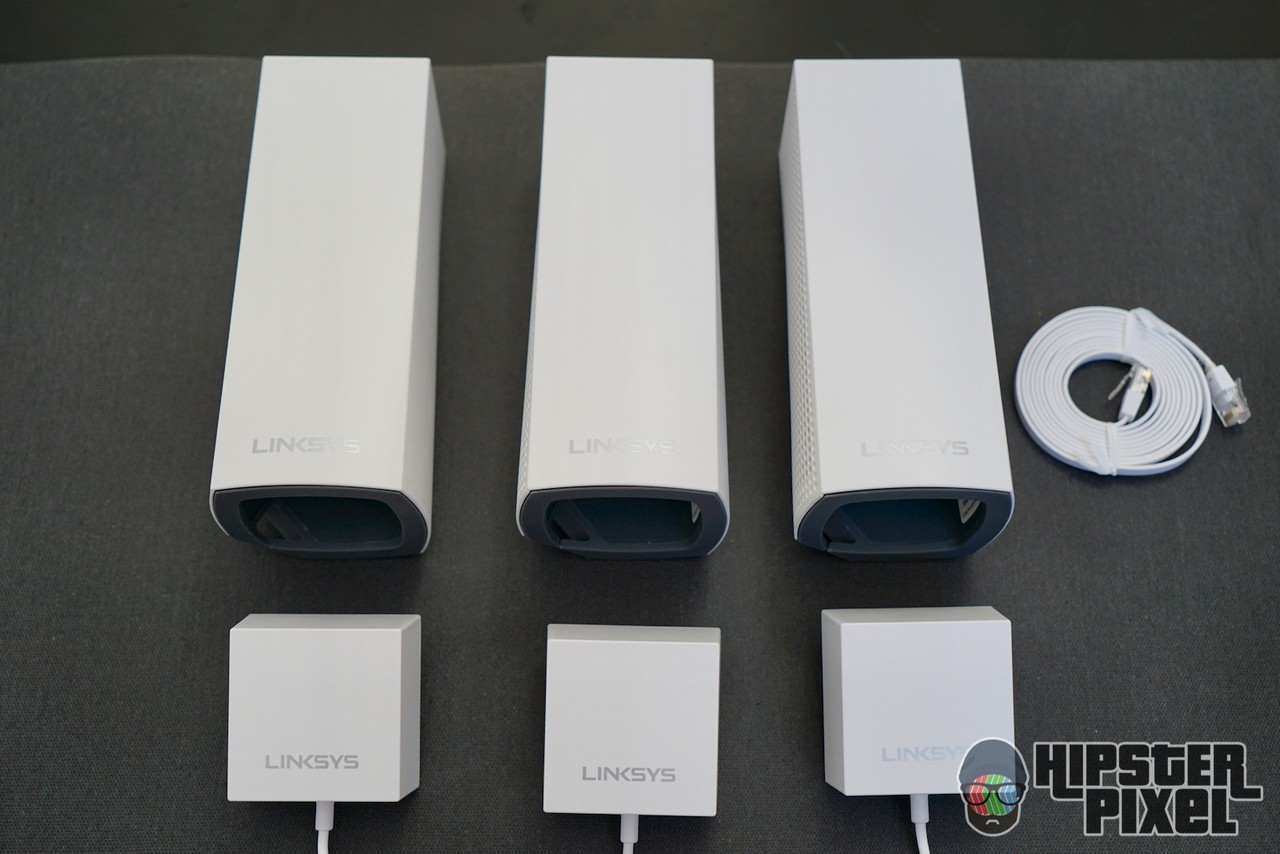 Linksys Velop Mesh Network Review
Some might say Linksys is late to the game, others might say they took their time to get things right. I'm in the latter camp. I always prefer when company spend the necessary amount of work to get a new product out, especially when it's new and innovative. Just look at the care Apple took with the AirPods. They are loved by everyone and often refer as a joy to use.
Linksys just announced their first mesh networking product, it's called the Velop and as you might have guessed, it can grow with your needs or adapt to your house or business, no matter what shape it has.
Design
Linksys has given lots more thoughts to its devices in recent years and the Velop is not estranged to this trend. They come in one, two or three packs, but in reality, all Velop devices are identical. Exact same hardware which includes a quad-core CPU, 4GB of flash and 512MB of memory.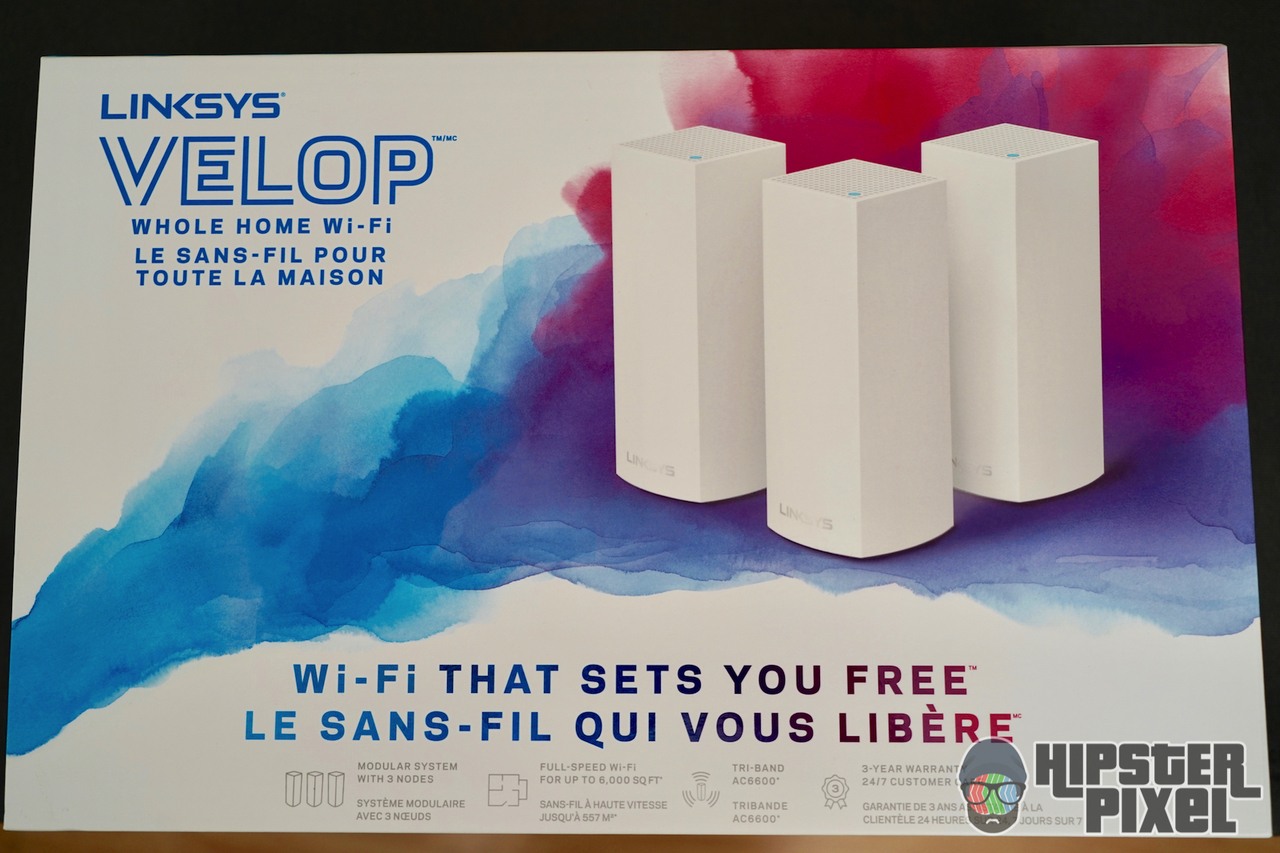 Each little tower includes two Ethernet ports with different configurations depending on the node. The first node uses one for WAN (to your modem) and the second one is for your LAN. All subsequent nodes are using both ports as LAN ports so you can place them near your devices that would benefit from a direct connection instead of their older wireless connection.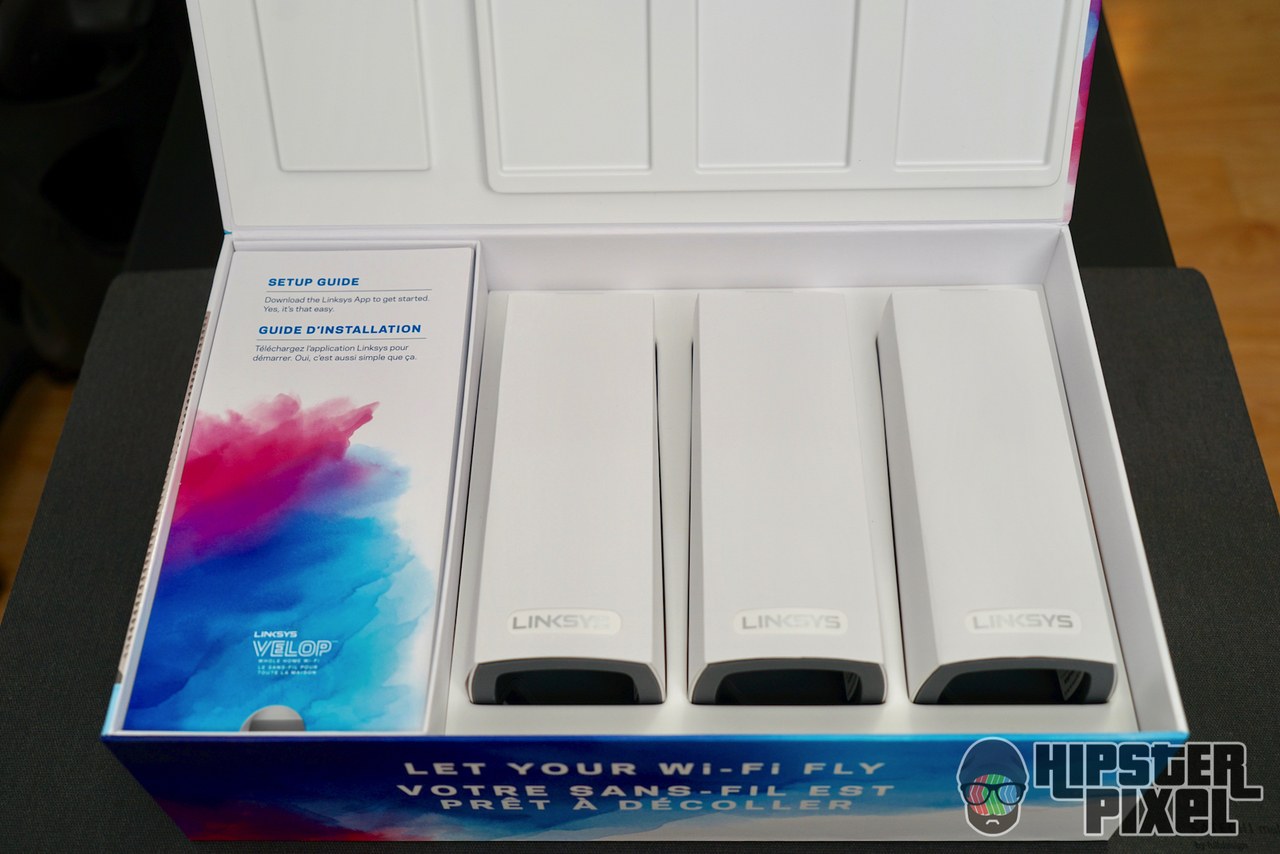 Each tower is a pleasure to look at and fits well in a multitude of rooms. The wires are passing through a little triangular shape rubber holder and the power cable connector is even curved to fit perfectly with cables coming in with an angle. Hats off to Linksys for this design. To help with the setup, Linksys included a pulsing LED on the top of the tower, a LED that stays a solid light blue once the setup is complete. However, it's not a bright sharp light like some other electronics.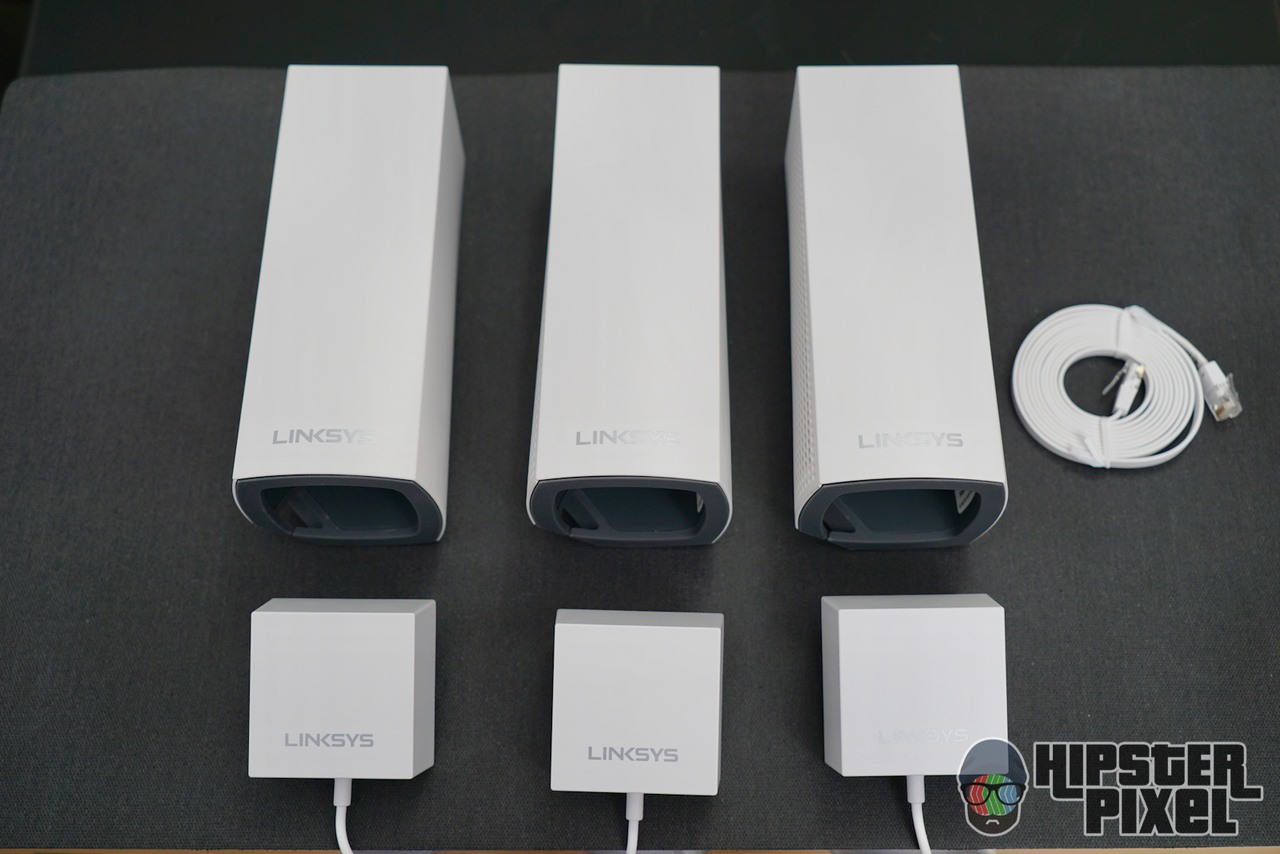 Features
Quad-core CPU with 512MB of memory
2 Gigabit Ethernet ports
Powerful tri-band MU-MIMO 6-antenna setup
Intelligent mesh network
No practical limit to the number of nodes (Linksys tested 12)
Bluetooth integrated to make setup easy
Downstream channel dedicated and non conflicting
Available in 1-pack, 2-pack, 3-pack kits
Compatible with Amazon Alexa (soon!)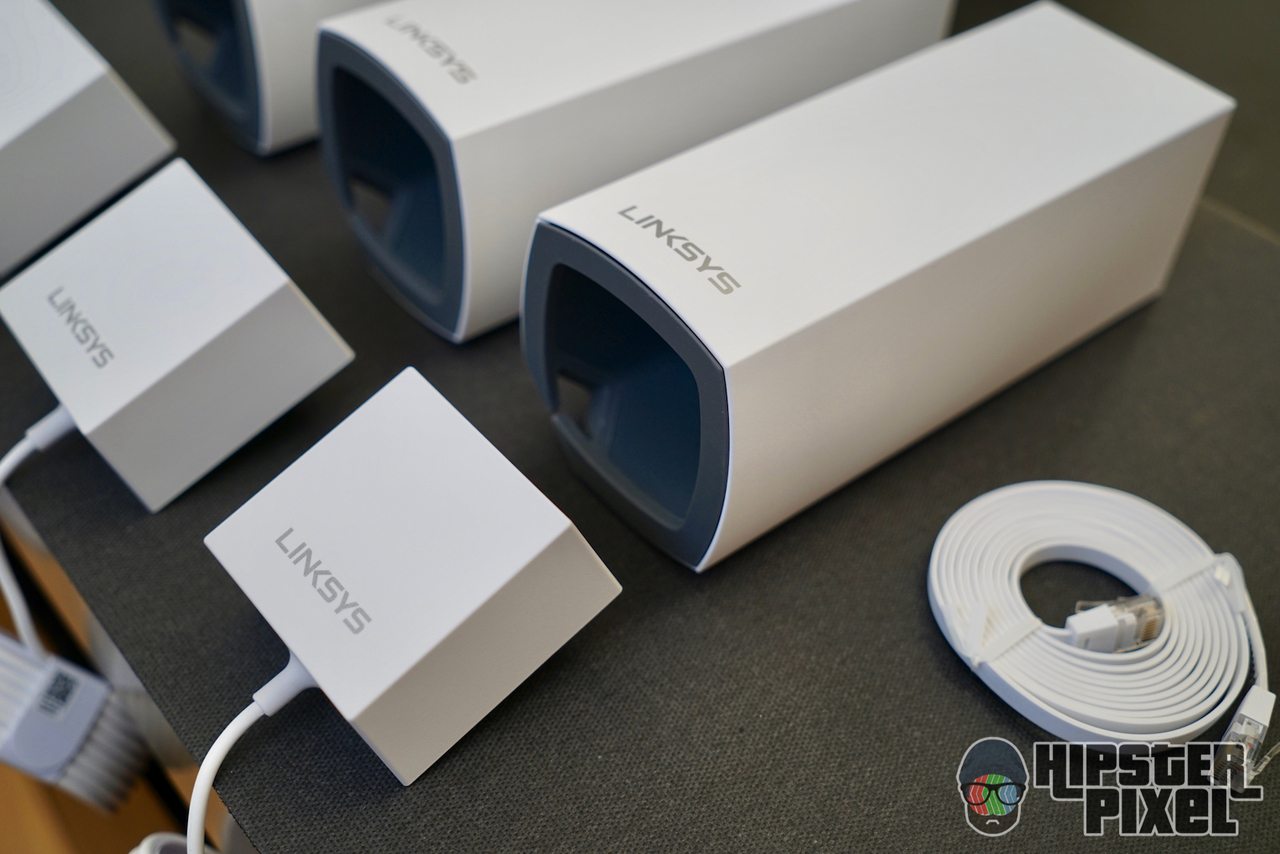 Setup and Installation
If you owned a recent Linksys router, you might have already fiddled with the Smart Wi-Fi app. But often resort back to the good old in-browser configuration panel to get deep into the advanced configuration. The Velop takes a different approach to all this.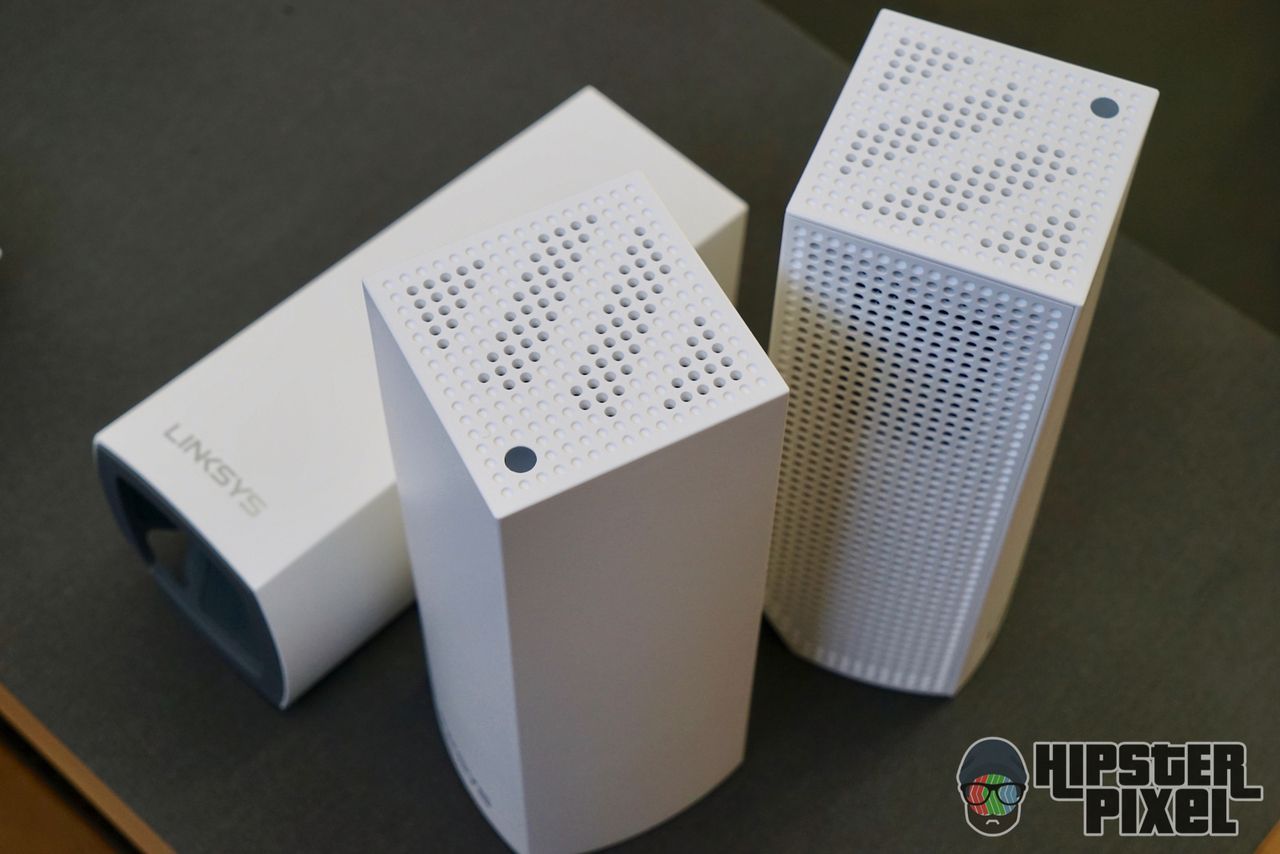 Initial Setup
The setup and installation is an app only and boy is it fun to use! I would not think I would say that one day about a router installation! You effectively do need to connect to a network or fiddle with button presses. The iOS app took me through the process and used Bluetooth 4.0 to discover and do all the configuration!
The whole process can take some time, about 10 minutes for the first node and about 3 for each subsequent node, due to the Bluetooth communication being slow and the Velop mesh network doing its magic to be configured properly.
Linksys takes you by the hand for the setup process and it's a breeze. Nobody should be lost with this easy process. As you can see from the gallery below, they took good care to design an interface that is pleasing to the eye.
Adding an extra node?
I also interrupted the process before adding the third node just to see what would happen if, let's say, I bought a two-pack and needed to add a third one. Very easy, just scroll down to the Setup a New Product to Add Nodes to <Network> and follow the app instructions to add a new node.
Advanced Settings
Well, this one is good and bad. There are a few settings, namely a MAC address filter, port settings and some connection type settings (DHCP, PPPoE, etc). But not as much as the more advanced users are used to.
This is both a good thing and a bad thing. For the regular user, it allows the configuration to be the best configuration possible, but the tinkerer might not like it as much. Personally, I wanted to change the IP range from 192.168.x.x to 10.0.x.x as I have a few devices with static IPs in the house. This was not possible, I therefore need to reconfigure Apple TVs and other devices hooked to network storage to use a different IP address…
More Settings
Parents will be pleased to see that they have controls to block certain sites. However, I could not find the settings to manage a schedule per device. Help information refers to it, so it must be coming in a future update.
There is also a list of 3 devices that will be on a prioritization list. Velop will do benchmarks to make sure they can have the best possible performance and all other devices will use what's left of your bandwidth.
You can also setup a Guest Network and eventually enable it or disable it using the Amazon Echo voice command. The Velop is in the final approval stages so hang in tight!
Performance
Now, to the part that we are all waiting for! I'm currently using an Apple Airport Extreme as my main router. The reason being that even if it's old, it's super reliable and still offers great performance. I own a three-story home, so I have setup the Velop system as such.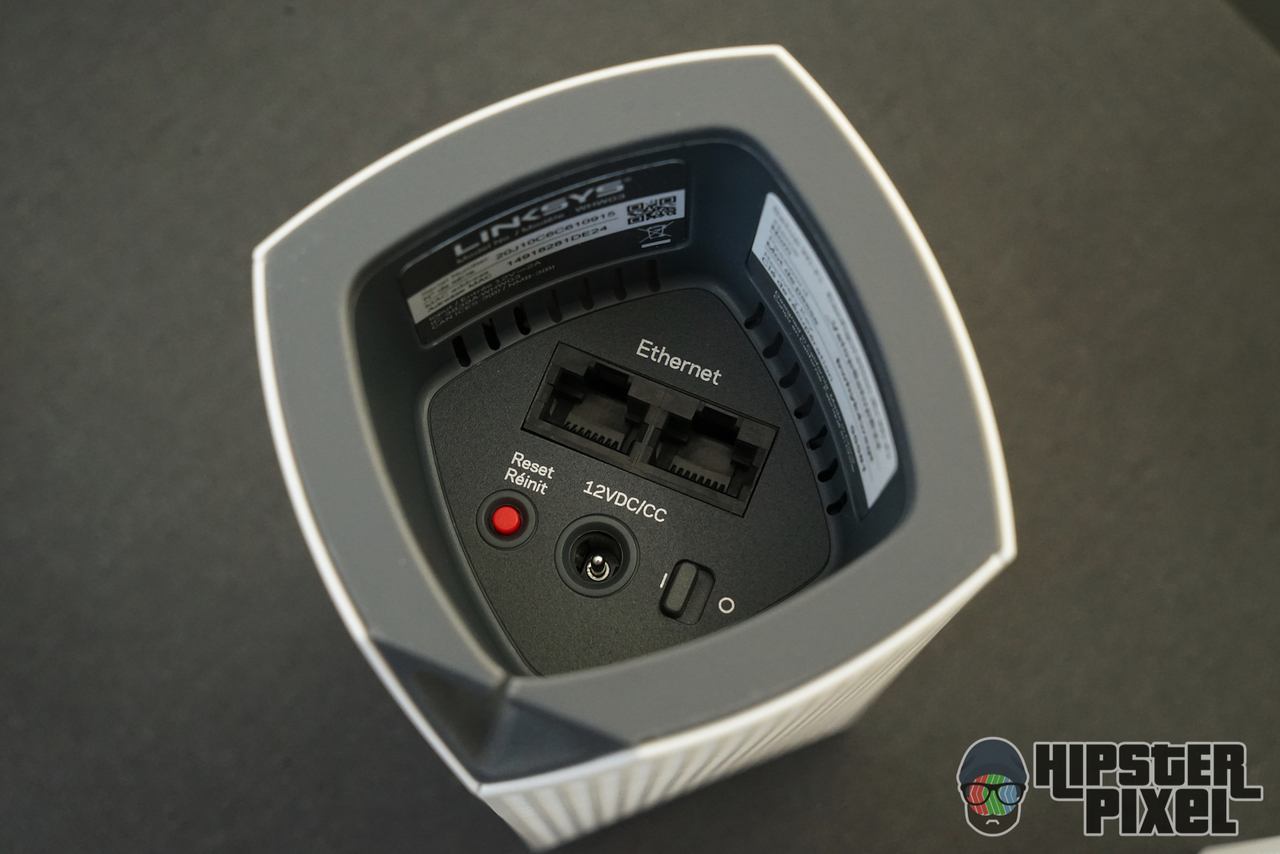 Positioning
The main node is in the machine room, basement, centre of the house. In the direct line of sight of the game room and diagonal to the office.
The second node is placed, on the first floor, far back, close to the patio door in the corner of the house.
The third node is on the second floor, centre position to try to offer a good coverage.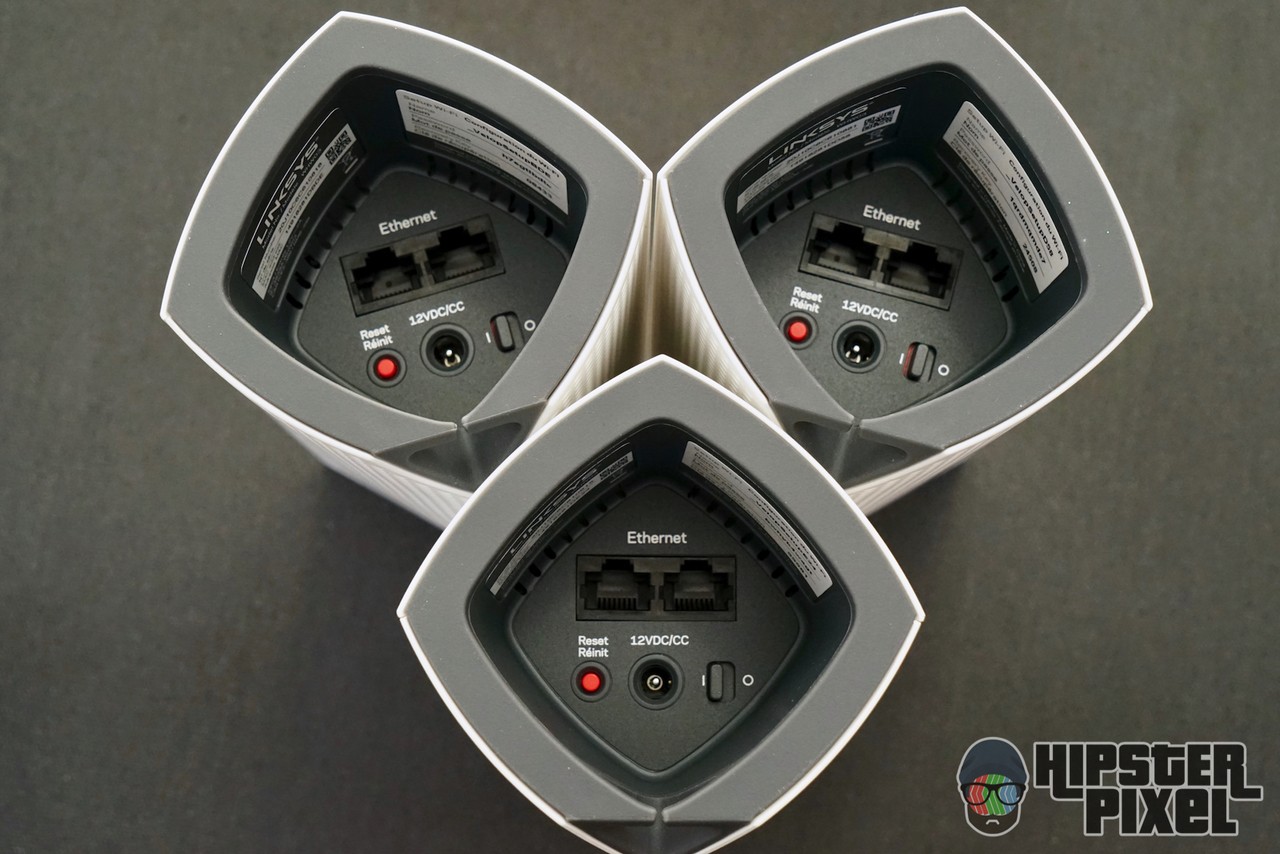 How We Test Speed
I currently have a network attached storage that is using link aggregation to merge the power of 4 Ethernet ports and offer unprecedented connected power. I will post something about this in the future. Sufficient to say that this network storage can be fast, over 300MB/s fast so it makes a good test subject for speeds since it's next to the main Velop node and wired to it using a Smart Linksys switch .
I'm using iPerf to test the speed over the Wi-Fi network. The NAS being the "server" in the scenario and a 2015 MacBook Pro being the client. I'm also testing from various locations in my home.
Basement - Living Room
Basement - Office
Main floor - Kitchen Table
Second floor - Master's Bedroom
Second floor - Second Bedroom
This covers the whole house and can give a good test bed for performance of wireless products. Since it's the only house I have access to, I cannot say what will happen to multi-generation housings that are not necessarily high but instead very long. I think the Velop system might be even better suited for these kinds of configurations from what I can see from the testing below.
Results
The following results are using MB/second as the unit.
| Router/Location | AirPort Extreme | Linksys Velop |
| --- | --- | --- |
| Basement Office | 50 | 32 |
| Basement Living Room | 70 | 48 |
| Main Floor Kitchen | 15 | 28 |
| 2nd Floor Masters Bedroom | 9 | 18 |
| 2nd Floor Bedroom 2 | 6 | 18 |
As you can see from these results, the Velop offer far superior range and speed when further away from the router. As much as twice the speed as the AirPort Extreme. However, it's not as fast when in a direct line of sight with speeds about 28% slower than the Apple router that came out in 2013.
This makes it hard to recommend the Velop as a direct powerful router replacement. If you have a recent powerful router like the Linksys WRT3200ACM or EA9500 you might not benefit from the Velop system, unless you live in a very large house. If your current router does not reach the far end of your house then the Velop is the perfect companion to cover the whole ground!
Note that my house is usually a good testing ground because it incorporates all of the recent isolation standards and they used lots of aluminum in its construction thus affecting greatly the reception. I can't get an OTA signal in without placing an antenna directly in the window and I rarely get 3 bars on my iPhone.
Conclusion
I have not had such fun and nice looking router setup! It's a breeze and I did not have a single issue even though I was using pre-release software. Great job Linksys!
Is this router for you? Well, if you have a large house or housing complex then, yes it is for you. If you wrestle with network extenders, Powerline products and the likes, then you can benefit from an easy setup and great range performance of the Velop.
If you have a good recent router then the Velop will probably not make your life faster but it will take away much of the hassle of configuration and channel swapping. Plus it looks good even on a shelf!
Notes to the Manufacturer
Here's a new section I'm adding with points that I hope will be taken into consideration by the manufacturer for future software or hardware updates.
Ability to change the DNS server is a must
Ability to look at the technical details of the wireless setup (40/80MHz, bands, channels, etc)
Ability to change the channel manually
Ability to change the IP range (192.x to 10.x)
More parental controls (schedule, per app settings, limits in content download, etc)
Review Summary
Velop Mesh Network
Belkin International Inc.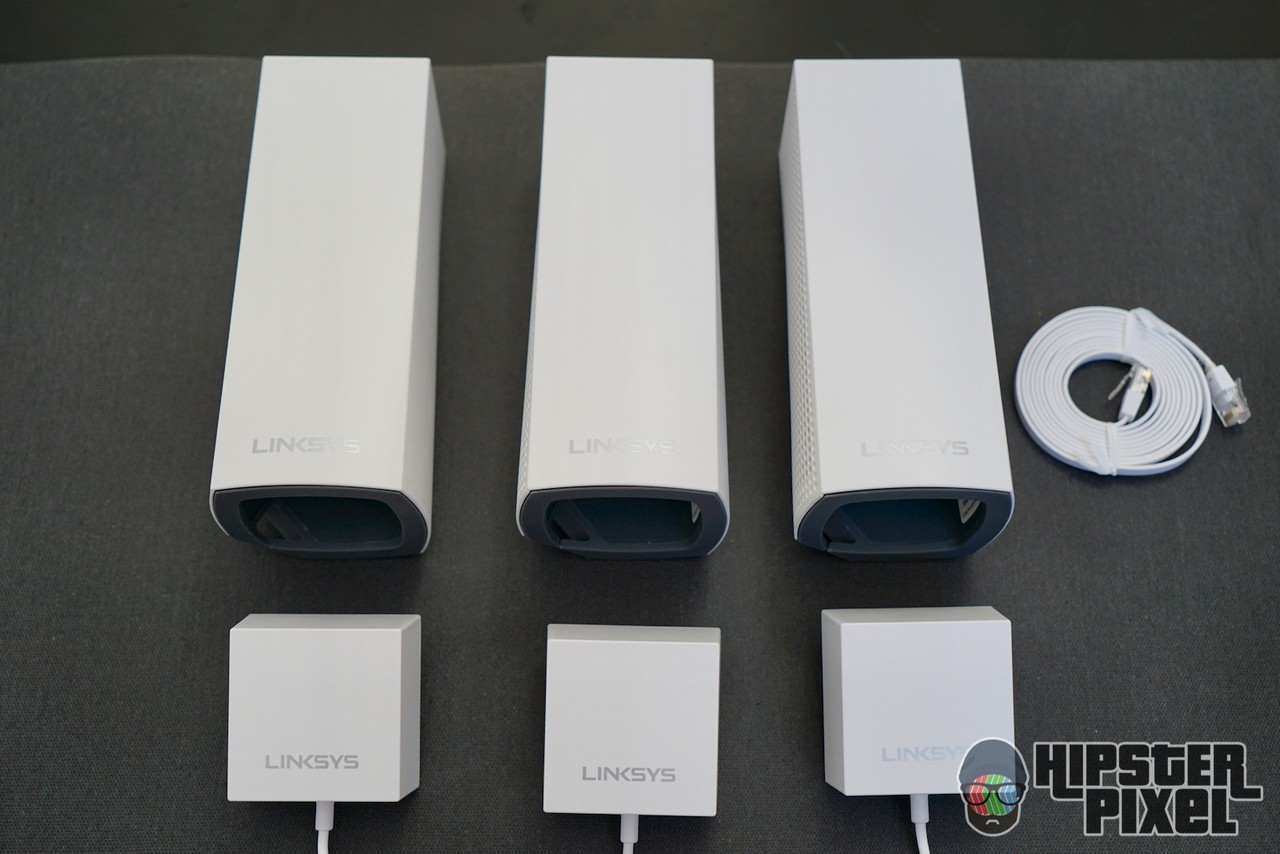 Velop is the first mesh network product by Linksys with independent nodes and an easy setup.
The Good Stuff
Range is excellent
Setup is a breeze
Design is amazing
Included features
Performance in distant rooms
The Bad Stuff
Not enough advanced settings
Line of sight performance is average
The Ratings
Configuration and customization
70%