---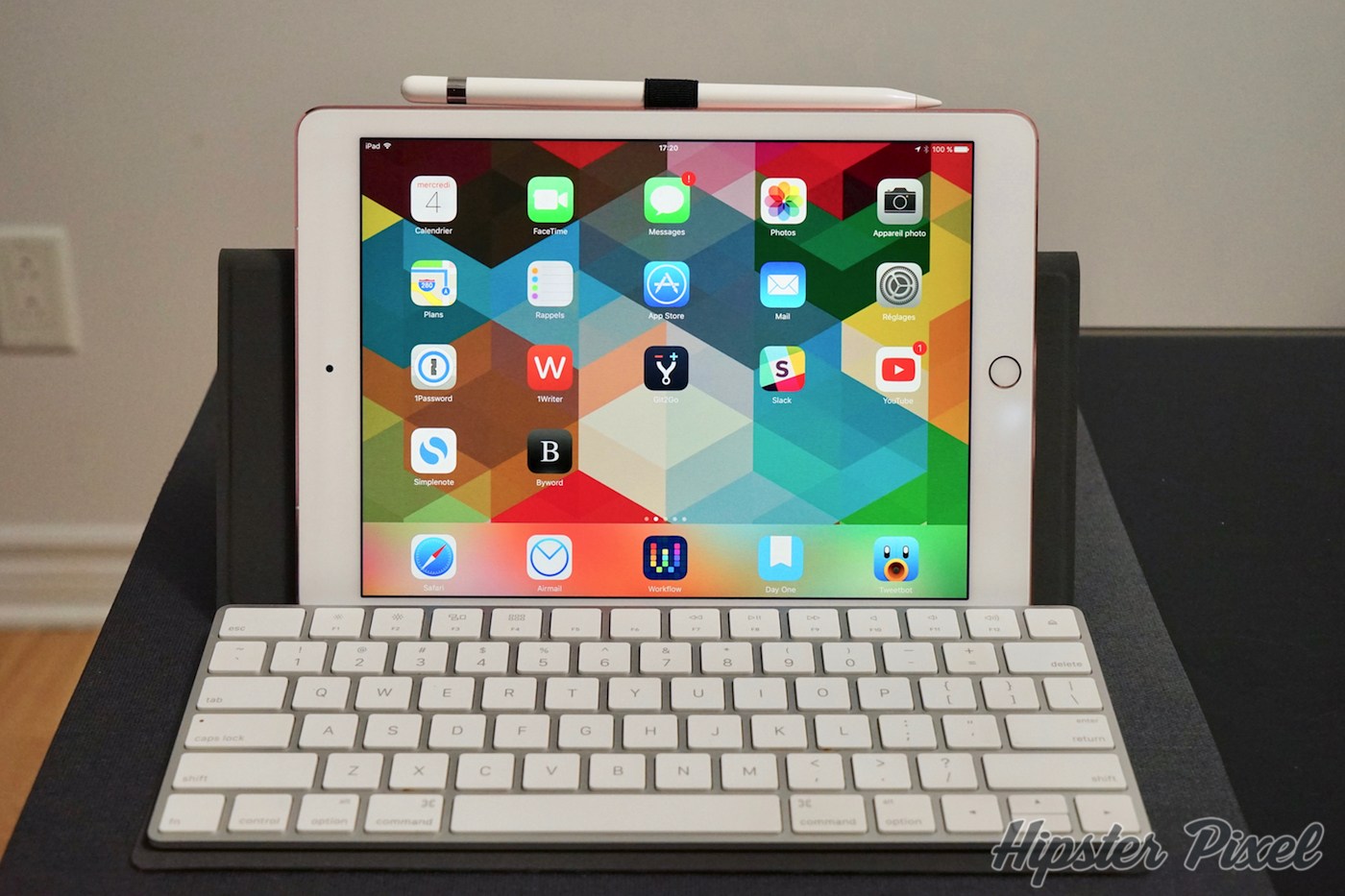 Canopy, a Magic Keyboard Case and Stand [Review]
The Canopy was a fun product to follow during its development phase. We have seen it on certain major pieces before it was even unveiled, then we learned more about its design and challenges thanks to a podcast. Finally, when it was unveiled, it was a clear just by seeing the product page and video what need it will fill and we immediately understood what it could do.
As you might have guessed I'm very interested in product design and development, so all this information is like candy to me! And being a backer of many previous Studio Neat kickstarter campaigns and being the one that leaked the Material Dock, you can see that I had high expectations for this product!
Design
When you open the envelop the Canopy comes in, you are presented with the product in a plastic bag. The keyword here is minimalism as you get the product in what is represented by a slim packaging. After opening the Canopy, you have a simple instruction sheet that explains how to install and snap the leather band in place.
The main part of the product is made of a gray fabric that has a very light greenish tint under 5,000K bulbs (yes, I installed Philips SceneSwitch bulbs ). I have a knack for these little colour variations and find it very pleasing to the eye.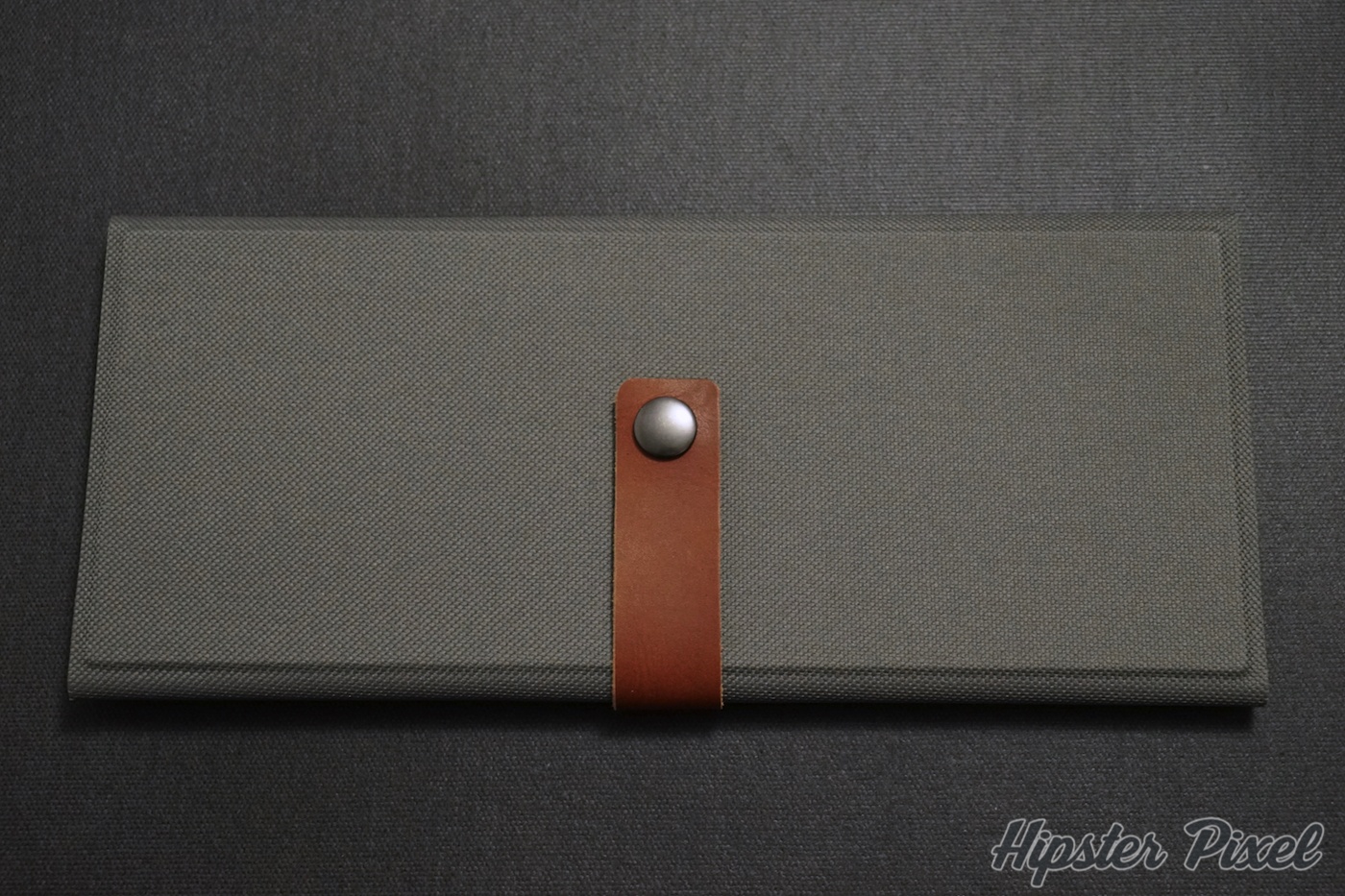 On the lower part, you will find two micro-suction strips, one on each side. This is what sticks to your Magic Keyboard and acts as a semi-permanent solution to keep it on the Canopy. You can always remove it and wash the sticky strips if ever they get dirty from bag lint.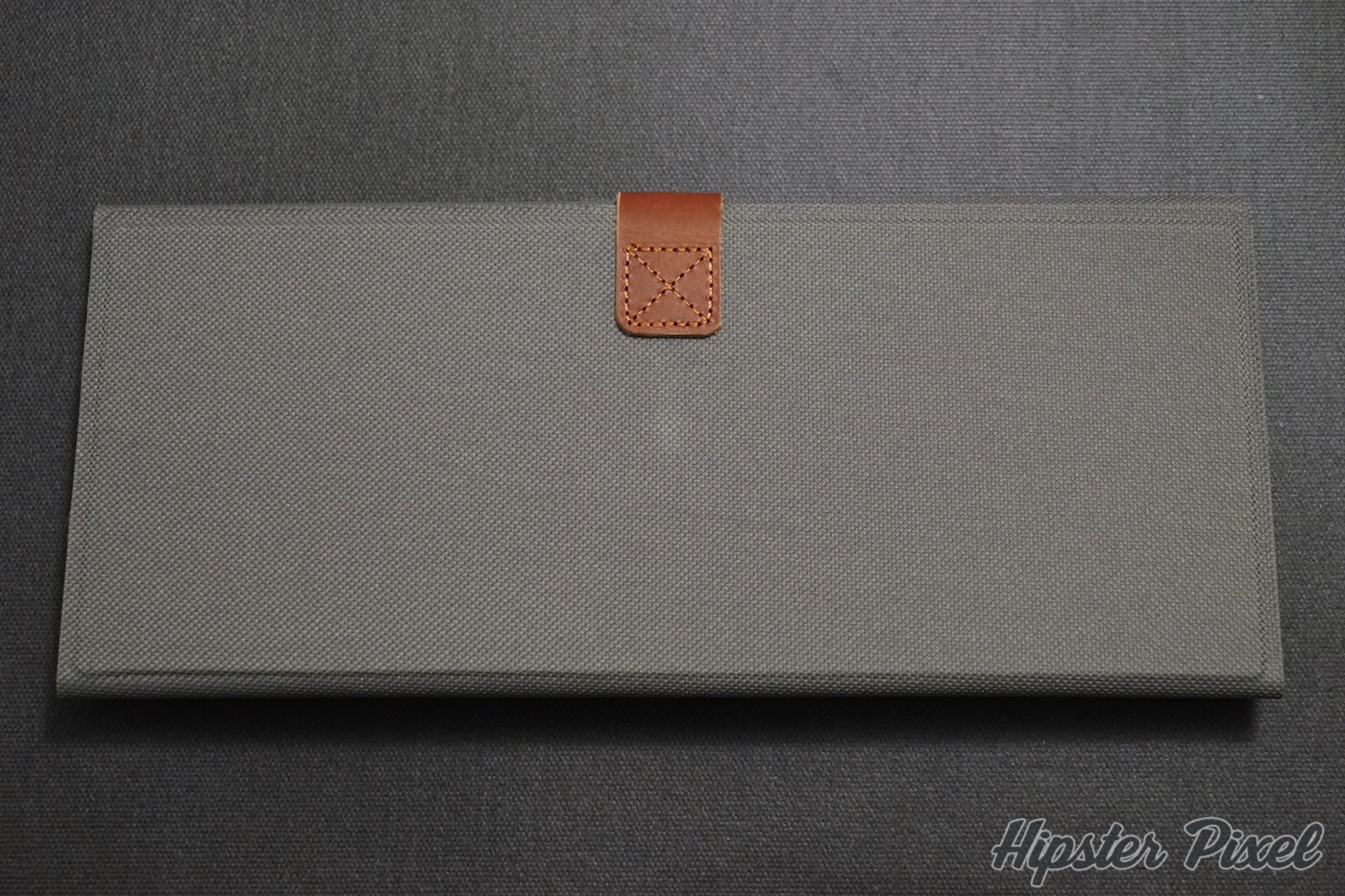 The arch, well the part that acts as a holder for your iPad has a snap on the back where you attach the leather strap for stability. The angle it offers is perfect and never once did my iPad wobble. My co-host Tyler expressed his concern because the edge of the Magic Keyboard is very sharp and with this accessory it rests on the iPad glass. This is the photo that triggered his question.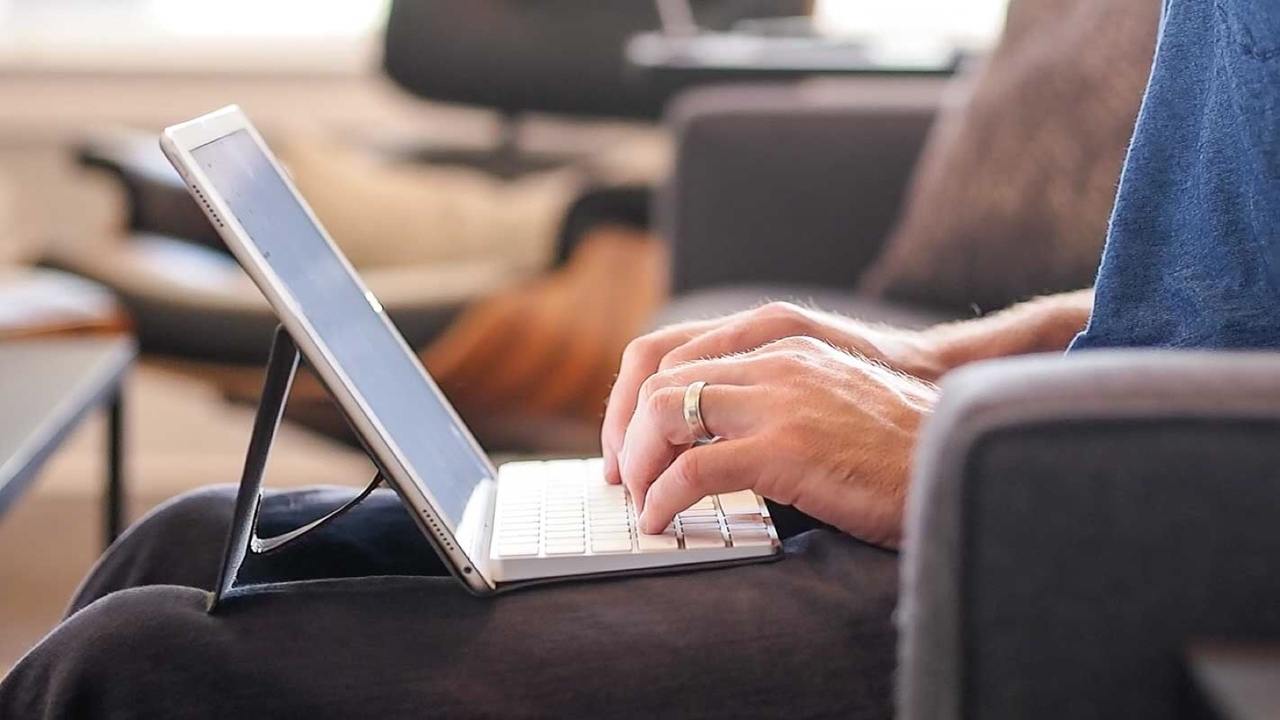 Once I installed my keyboard in the ideal position, I did not find the edge that close to the iPad glass. It's actually just a bit below the iPad edge so it's not rubbing against it. It took two tries to perfectly align the keyboard in the case and it then happened to fit perfectly under the iPad.
The design allows for easy transportation of the keyboard and a stand when you re-fold it back around the keyboard. The snap seems to be solid and should hold on for a long time.
The Canopy is so light and compact that even when I'm not actively using it on my iPad I leave it on to protect my Magic Keyboard as well as prevent unintentional key press when a member of my family passes by the office.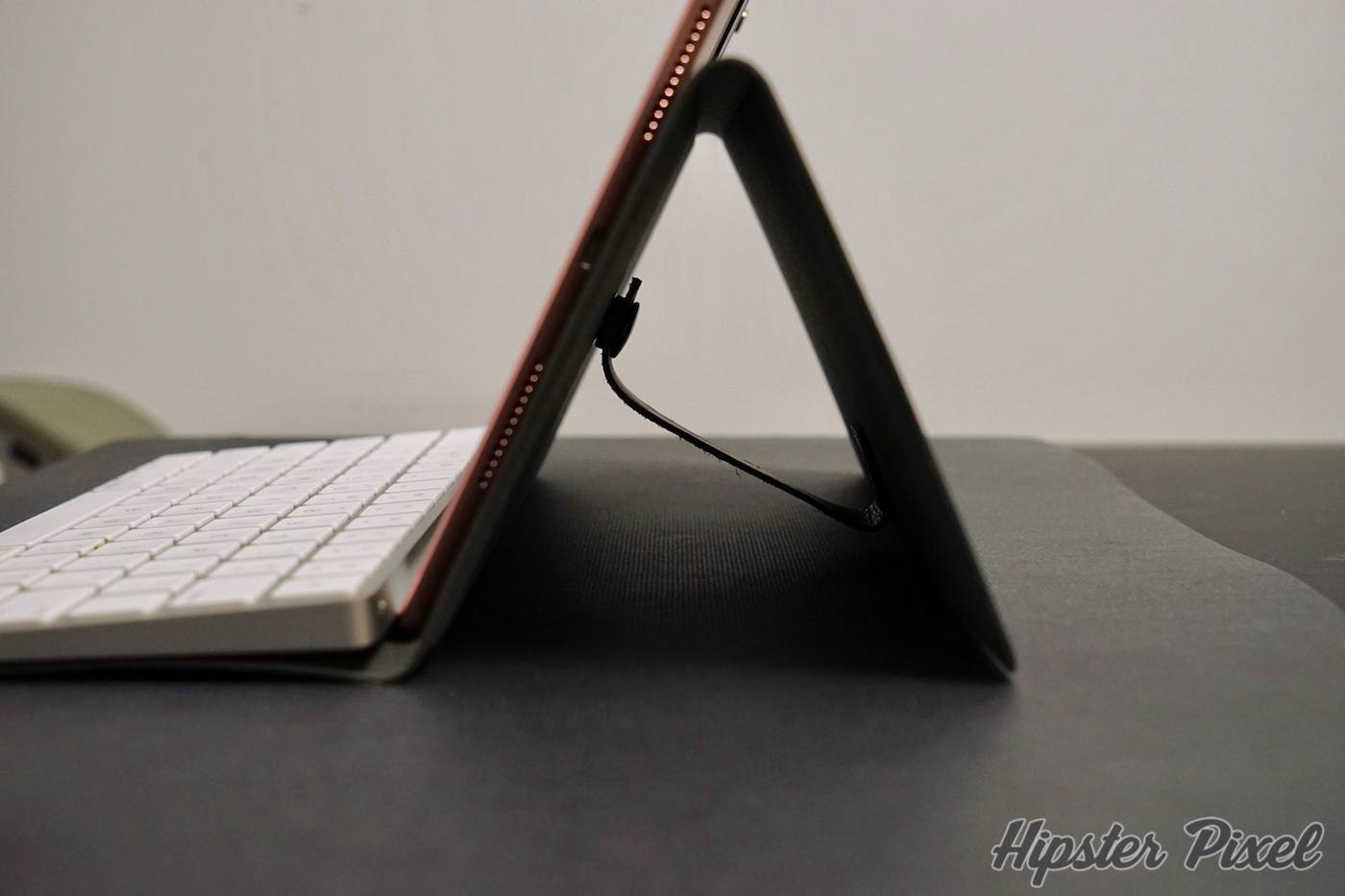 The installation of the keyboard is easy and solid. The same goes for the leather strap is perfectly sized and attach solidly.
Features
Tablet and phone stand, keyboard case, 2-in-1
Fabric exterior, leather strap and metal snap
Reusable and cleanable micro-suction strips
170g of total weight
Conclusion
If you currently have a Magic Keyboard and are looking at a great product to take with you the Canopy is the perfect companion. I can see myself using it all day and have already done so for many hours on end with no problem whatsoever.
There could always be more colours for this type of product as it goes with an iPad that the most recent buyers have chosen a colour for. And you know, people have preferences for this sort of thing. However, the choice Studio Neat made in terms of colour and materials are very good and should not be a problem for most as it's a sober combination.
If you factor in the extra cost for the Apple Magic Keyboard, the total bill tends to run upward, but that Magic Keyboard can also be used with your computer and will most likely last as long as your iPad or Mac. If you already have one, then this is a must buy that you will not regret!
Review Summary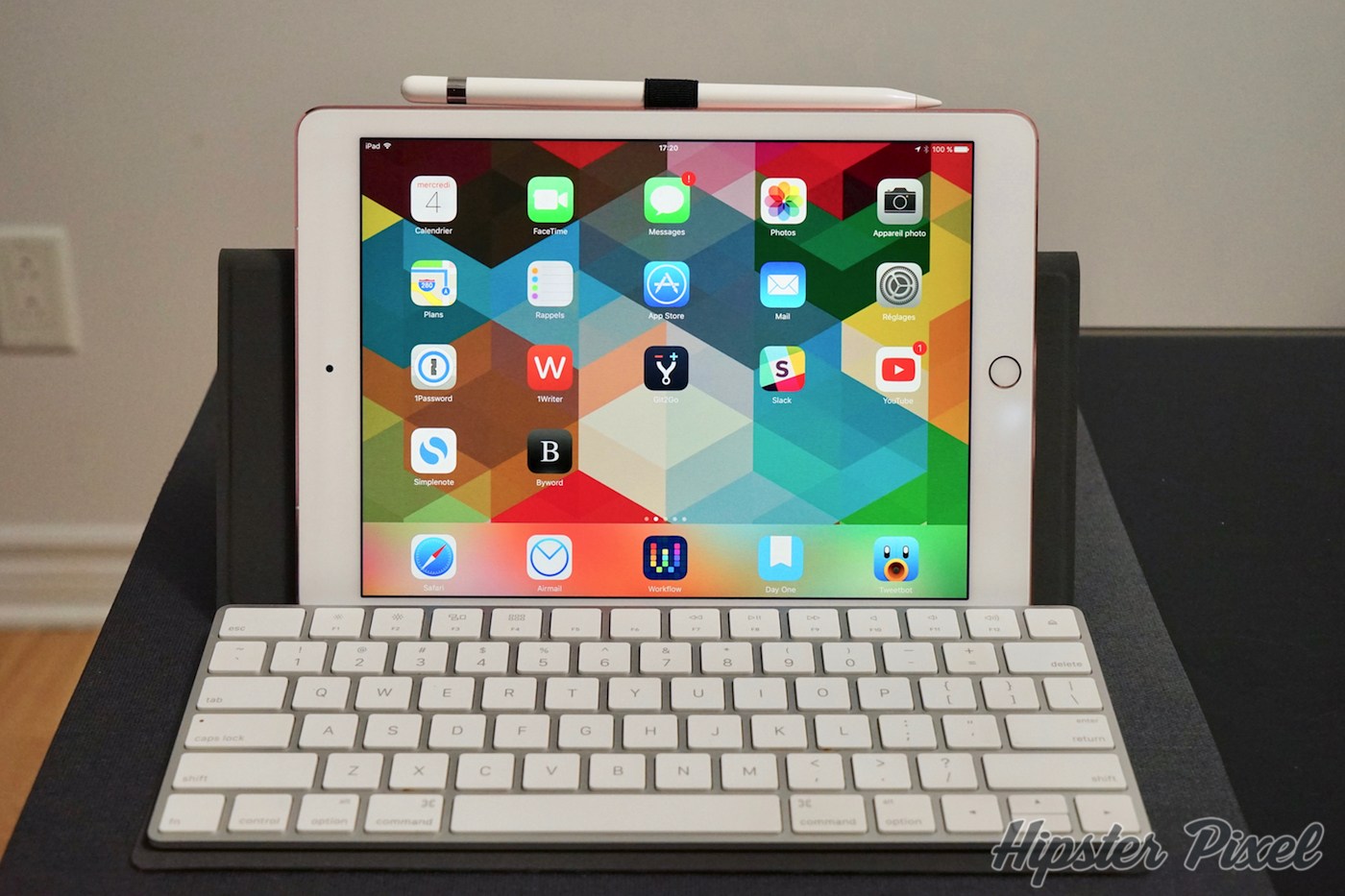 A case for your Apple Magic Keyboard that can also receive your iPad and act as a stand.
The Good Stuff
Efficient, perfected design
Quality construction
Sober, clean colours and material
The Bad Stuff
Single colour/material choice