---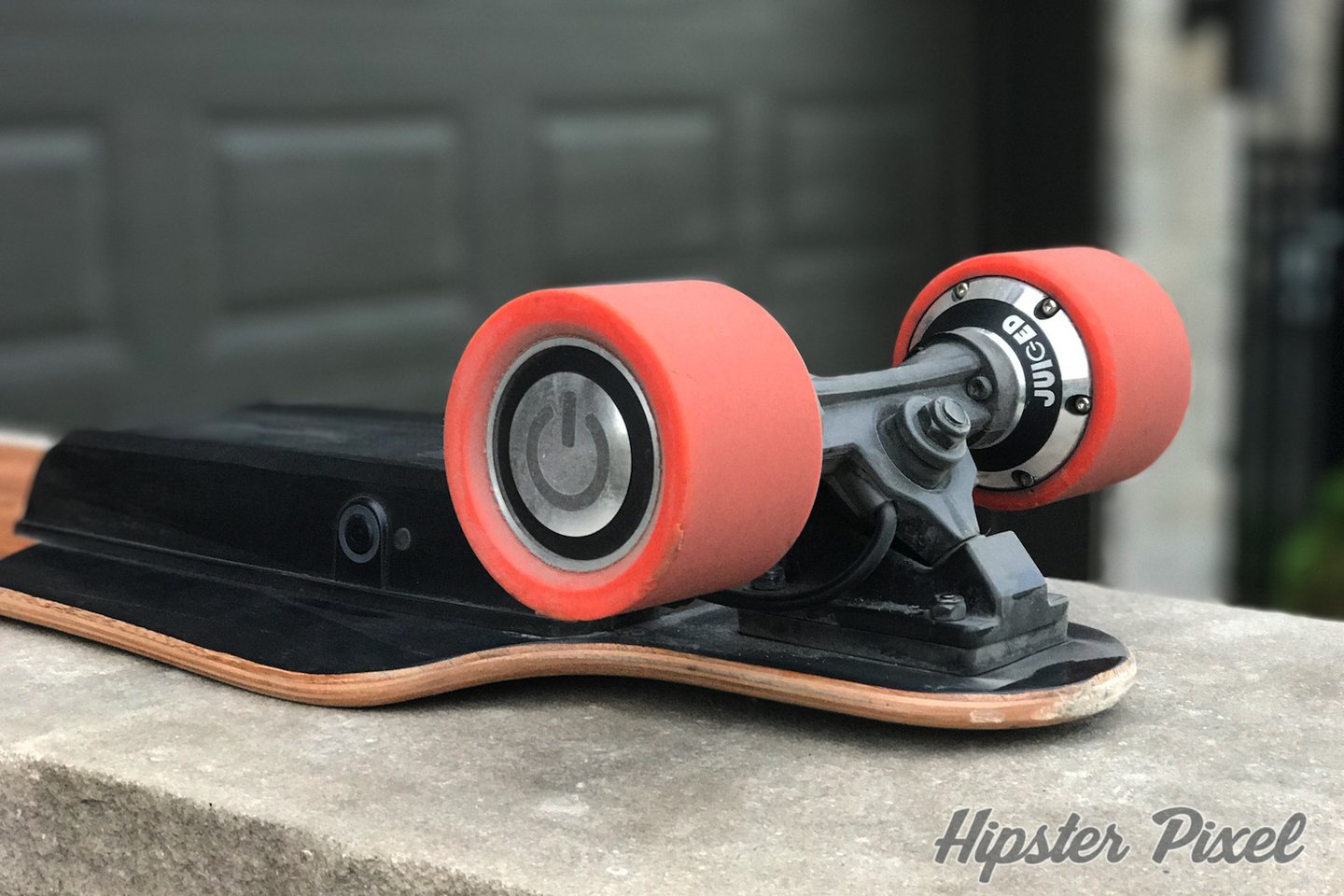 Juiced Board Electric Longboard Review
Electric skateboards are super popular this year and we have already seen many models of longboard that are over 1,000$US if not even 1,500$US. A Canadian company is trying its way at make this dream board, affordable, powerful and really democratized for once!
Juiced Boards are a special breed of electric longboard boasting high-powered hub motors, 4 different riding speeds and a rapid 45 minutes full charge. But that's not the most important, the price tag of 449$ for a single motor and 599$ for a dual motor is what makes this board standout!
Editor's Note . This review of a pre-production dual motor Juiced Board with a few incomplete features and unfinished parts.
Design
The design of the board is very similar to the one popularized by Boosted Board, bamboo longboard with stub nose and orange wheels, but that's only what you see without scratching the surface. The Juiced Board and the Boosted Board are much different when you start looking at them closer.
The Juiced Board has a maple and bamboo board that is stiffer, yet still flexible and efficient for shock absorption. On the outside, the shape and look is great and allows for stability and carving if you desire too. The big 83 mm wheels are especially good in Montreal where we have notoriously bad roads. Just carve around the potholes, this is not an ATV by any measure!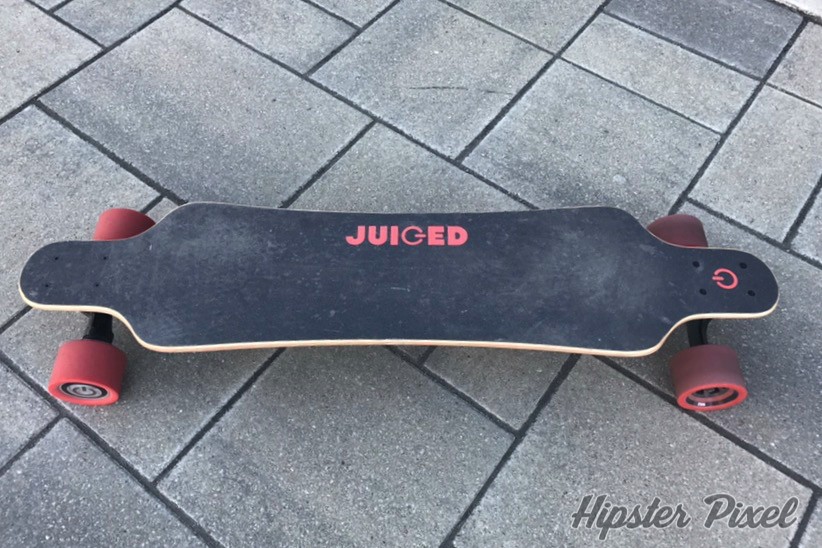 The < 99Wh battery is installed below the deck, on the rear, and has a single button for powering it and pairing the board with a remote. It has one power plug and a USB port that can even charge your smartphone while on the go! However, its main use would be for a system of lights and backlights. Both of these ports have a rubber cap that allows the battery to be completely sealed.
I've seen mentions online that Juiced Boards should not have so blatantly copied the design of the Boosted Board. I agree that they should have chosen another colour as for the shape of the board, we had this shape for many decades and Boosted even get their boards from Loaded which has been making them for a while. I think the real downside is that people stopped me thinking I had a Boosted Board and I had to explain the difference. If it had its own colour, it would have been unique and overall better for the brand.
Remote
The remote has a simple slide toggle used to drive the board forward or stop. Powered by triple-A batteries, the remote has two switches, ON/OFF and Low/High settings. Under the battery compartment is a third switch to toggle between the turtle or hare modes.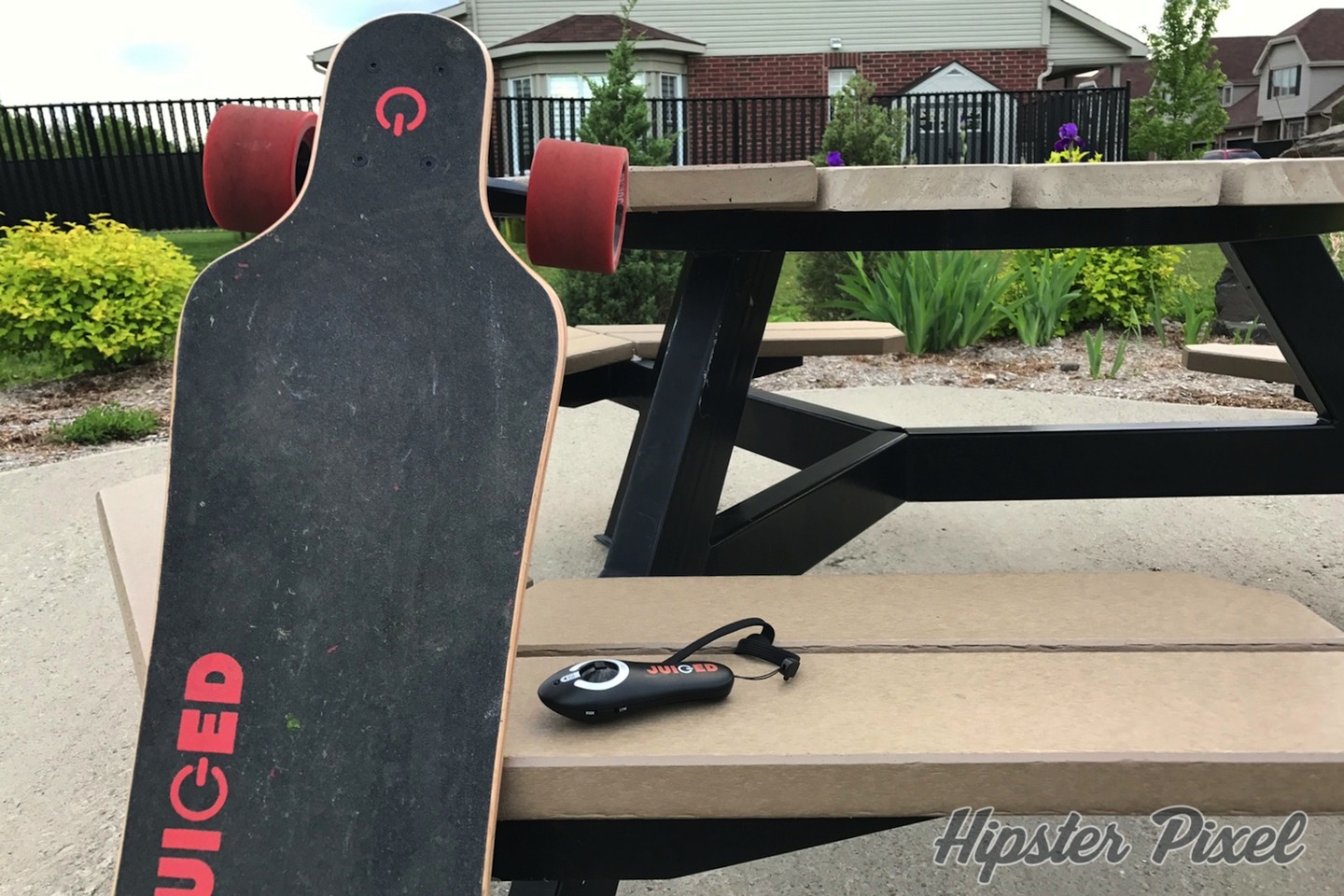 Not included in my pre-production unit is the smoother acceleration on the turtle mode. In the final units, if you are in the turtle mode you will have less of a kick to help you getting used to an electric longboard.
Features
Electric bamboo + maple longboard
20 mph (32 kph) max speed
7 miles range (11 km)
15% grade hill climbing
45 minutes to charge
Regenerative breaking
Water Resistant
Is That Thing On?
When you take it out of the box, you quickly see the quality behind the product. And you instantly reach for the power button! Slide in batteries in the remote and boom you are good to go. You cycle through the modes to hear the hub motor roar and let me tell you it's way quieter than I was expecting!
Technology
Before I get into my experience with the Juiced Board, there are a few things to note that makes this board quite interesting. Apart from the quality longboard deck and wheels that are obvious and the price.
Hub motors are located in the wheels therefore you do not have any strap or mechanism exposed at all. You kick the skate up, carve like you want and even run in puddles of water. The motor being sealed inside the wheels and the battery being encased in what looks like a carbon fibre enclosure, there is no risk of damage running it on wet pavement. Since hub motors in the Juiced Board are less powerful than a Boosted Board, I don't think it's as dangerous to ride on wet pavement. I did a 7.4km (4.6 miles) ride right after it was pouring rain and city workers even cut the grass around the bike path so it was a real puddle and grass fiesta! Not once did I get scared to or skid. Stable all the way.
The battery recharges in 45 min which, in my opinion, is the longest time it should take to recharge such board. I can see myself going to a cafe and taking a 45 min break to eat a snack and drink a good coffee. But when it's getting into the 1h15 like other boards, it's a bit too long, in my opinion.
Riding Experience
This is the part where I mention how great and fun the product is and though I was guessing it was fun, I did not expect to love it that much! Growing up, I was more of a blader than a skater and I did own a skate for a few weeks at one point. But the sheer fun of riding at full speed and carving while doing so is amazing! On a bike path, I could see myself going faster but in reality I spent most of my time in the streets and in Québec they are awful so 32 kph (20 mph) is fast enough.
Braking occurs when you press down on the toggle, it basically recharges the battery while doing so until you are stopped. It does not go backwards so it's a much smoother braking than belt drive systems. I measured the breaking distance at about 3m (12 ft) when going full speed. I had to emergency brake once or twice and it's easy to shorten this distance a lot by hitting your foot on the ground.
But how did I use the board? I wanted to use it as a mean of transportation to and back from work, as a quick "Daddy, we are out of milk" situation, let's go to the mall and back and plain fun let's ride for fun.
The quick ride to the convenience store is simple, quick and not a bummer anymore. It actually makes the ride super fun and gives you small jolt of adrenaline to wake you up :) The ride to the mall was the one I mentioned above where it was wet with puddles of water and freshly cut grass. My pants were soaked and full of grass bits but it was always very fun to do. Especially since there were hills and puddles and it was an almost non-stopped ride.
Finally, the ride to work. This is the one that has the most benefit as it's much faster than to use the subway! Instead of walking 3 minutes, take a subway for about 12 minutes and then walk another 10 minutes (that's a total of 25 minutes), I can do this exact same ride in about 8 minutes and I even cut some time off my initial bus ride since I exit ahead of time and probably save another 5-7 minutes. All in all, the ride is much more fun, partially on a bike path so it's safe and it saves me about 17 minutes twice a day! And I could even pay less in terms of monthly pass if my workplace was not already providing it for me! Saving about 40$ per month from April to October would me 280$ right there!
Performance
I was wondering and have been wondering for a while how my weight affects the performance of the board. After all, with my 115 kg (253 lbs) I'm way over the usual 80 kg used as the reference on various electric board specs. I'm happy to report that even if this is not final and still a pre-production hardware I was able to get very close to the promised numbers!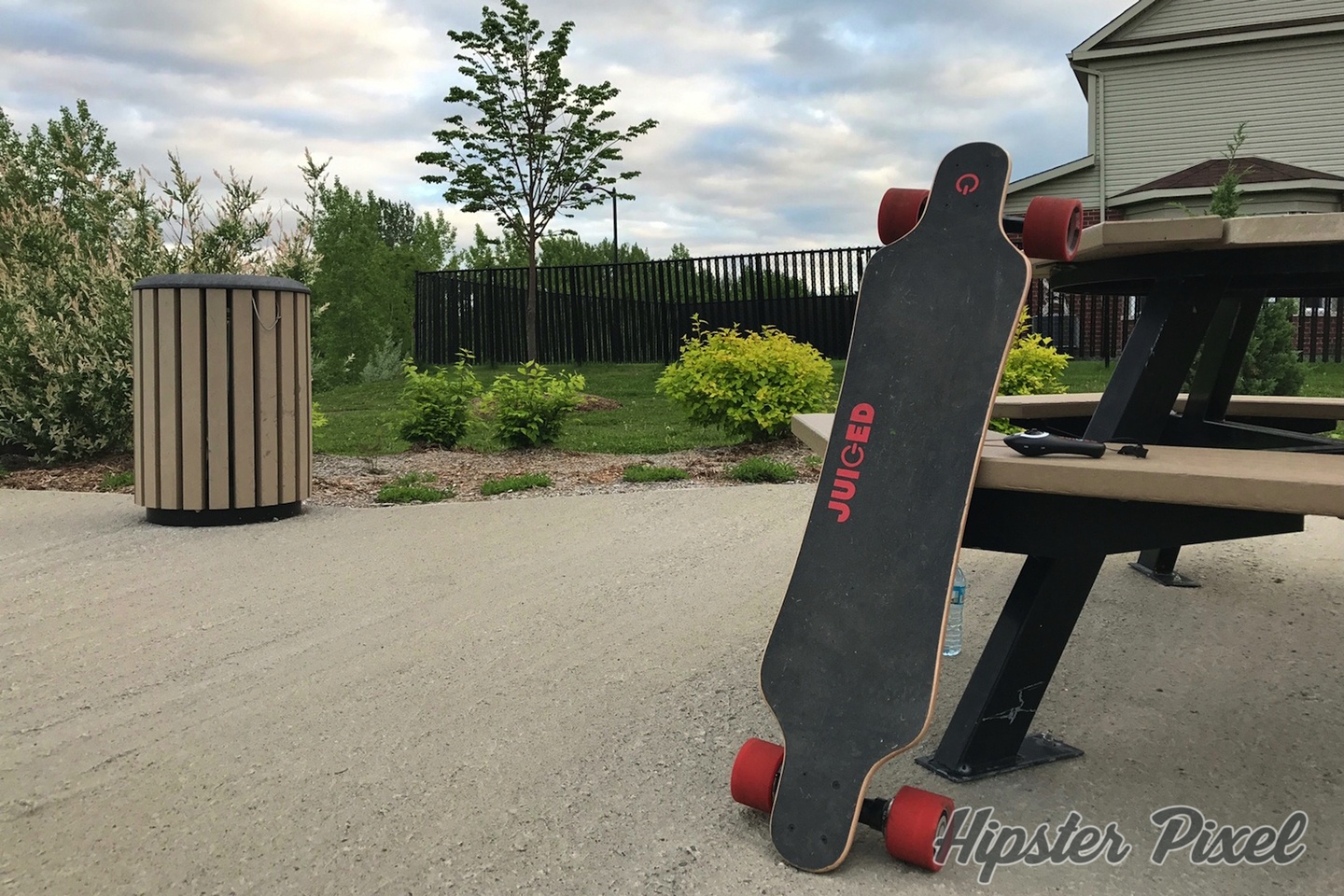 I fully charged the board during the day and at sunset, I took it out to fully test it from 100% to 0%. I was able to reach 29.9 kph (18.58 mph) as my top speed and the whole drive had an average of 24.4 kph (15.16 mph). I had the button pressed down about 99% of the time, only released it when I had to a make 90˚ turns. I was able to achieve a total distance of 10.18 km (6.33 miles). For comparison, the specs sheet says 32 kph (20 mph) and 11.27km (7 miles). All in all, this is pretty impressive considering my weight!
And when I was out of juice, I was able to easily get back home by kick pushing myself as the hub motors work like a regular wheel when you don't have any power. No belt system to slow you down!
Conclusion
The Juiced Board is a great electric longboard that can help with your commute and bring back some fun into small otherwise tedious errands. I would go as far as to say it can save you time and money and probably pay for itself in less than 3 years on bus pass savings only!
The promise the team made was well delivered and I was able to come close to the promised specs even though I'm heavier than the usual guy on the specs. On the longboard side it's a great board, quality woods, great trucks and huge wheels that help with those Montreal pavement cracks. The board is fast enough for cities and the technology of the hub motor is superior to belt systems as you do not need to replace anything and no mechanical parts are exposed to the elements.
I did get to try a Boosted Board a few weeks back and even if it's a more powerful board, the Juiced Board is a much better value for the price. Remember that a dual Boosted Board is 1,300$US and the Juiced Boards dual are only 600$US (it was even 550$US as early bird, when the Indiegogo campaign started!). The way I see this, the Juiced Board is more affordable, has less maintenance and is as fun as a Boosted Board for less than half the price!
Juiced Boards on Indiegogo Juiced Boards' website
Where is the review score Since this is a pre-production model, we do not give scores since the product is not yet launched. If we can get our hands on a final version, we will post an update to this review.
Review Summary
Juiced Boards
Juiced Boards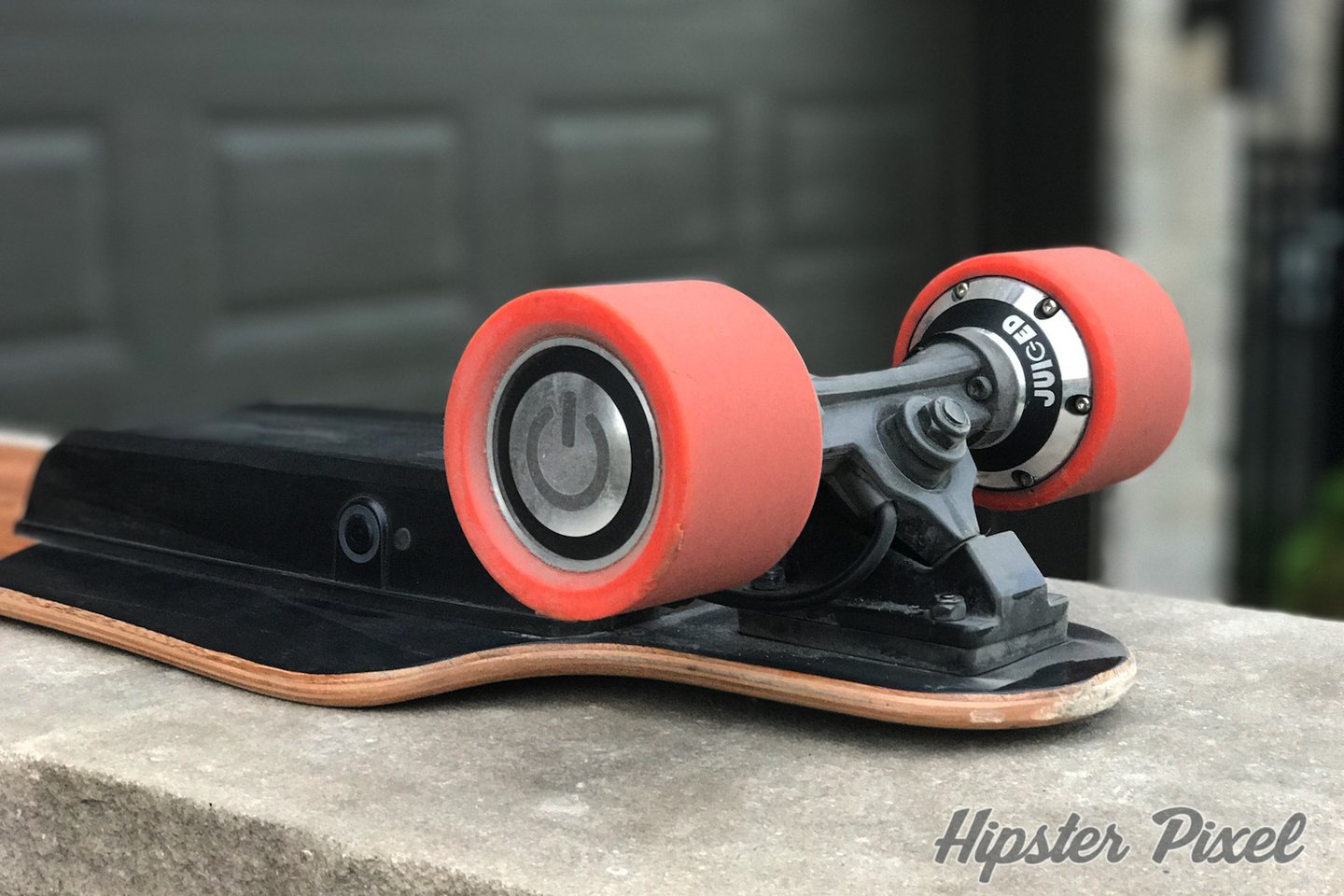 The Juiced Board is an affordable electric longboard that does not compromise on the performance and has top of the line specs.
The Good Stuff
Quality longboard
Range and speed
Perfect for learning
The Bad Stuff
Remote is a bit finicky
No high-capacity battery option