---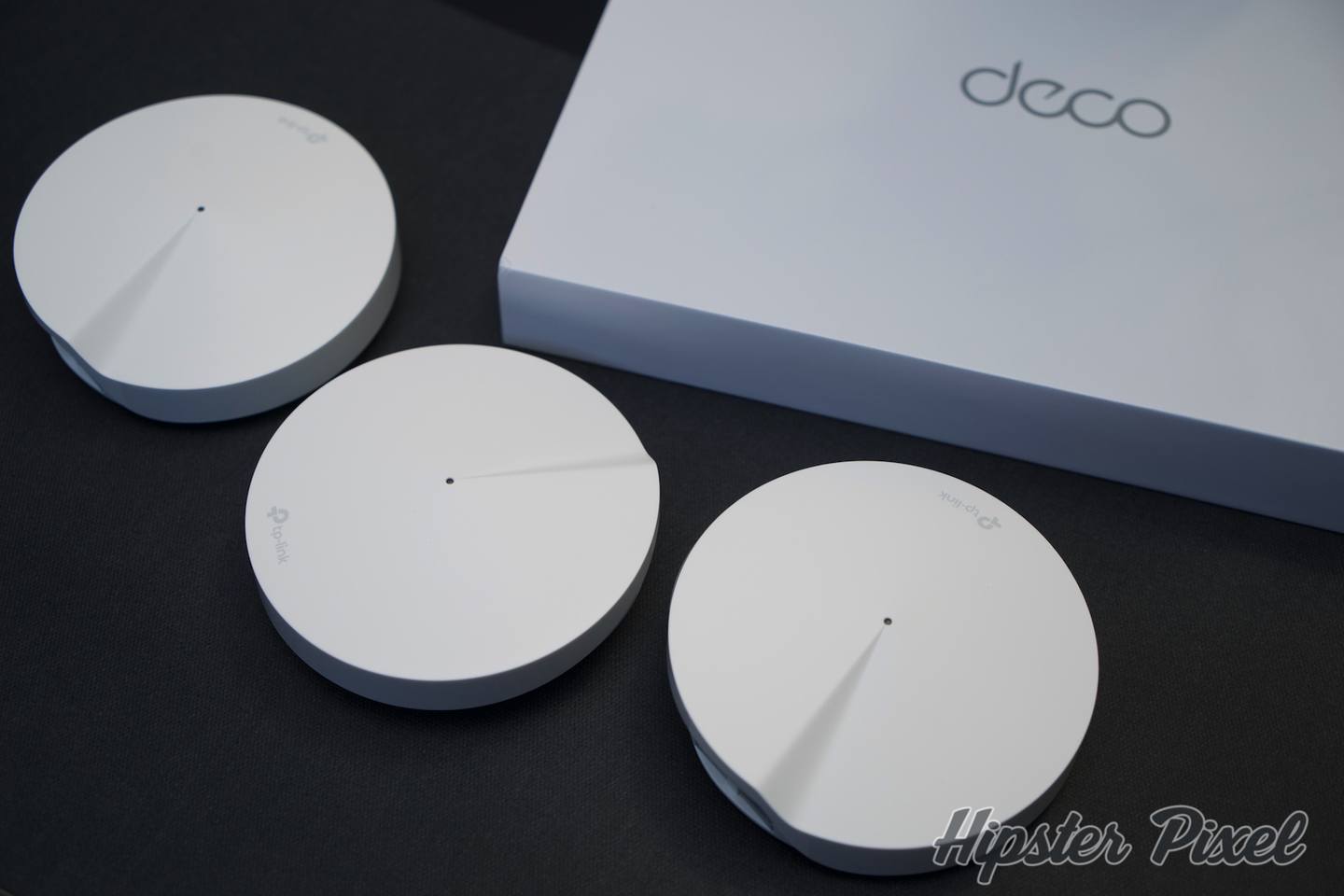 TP-Link Deco, Mesh Networking Differently [Review]
2017 is really the year of the mesh networking releases with the likes of Google, Linksys and now TP-Link with a mesh network offering. Of course we had to take is for a spin, here's what we think about it!
The Deco is a system that includes three or more of these satellites routers that can be added and placed strategically so that your whole house is covered with Wi-Fi. The branding of the Deco even says so: Paint your house in Wi-Fi! Most of the other contenders in this space have chosen a column style shape whereas TP-Link has chosen the "puck" design. At first I was sceptical about this choice given that more space between antennae is normally what makes an array of antennae work well.
Design
In the box, a box that offers an amazing unboxing experience; sadly I'm not yet equipped for video reviews but that might change soon! As soon as you remove the outside sleeve you start an unboxing experience that is very similar to what Apple offers us. The different units are disc shape with a subtle raised portion. It really looks good on any type of furniture. On the back of the devices you have the USB-C port that acts as an A/C port and two Ethernet ports. But really all you need is a single port for the unit close to your router.
Included is, of course, three power bricks for the 3-unit version and a single Ethernet cable. You have all you need to get started easily.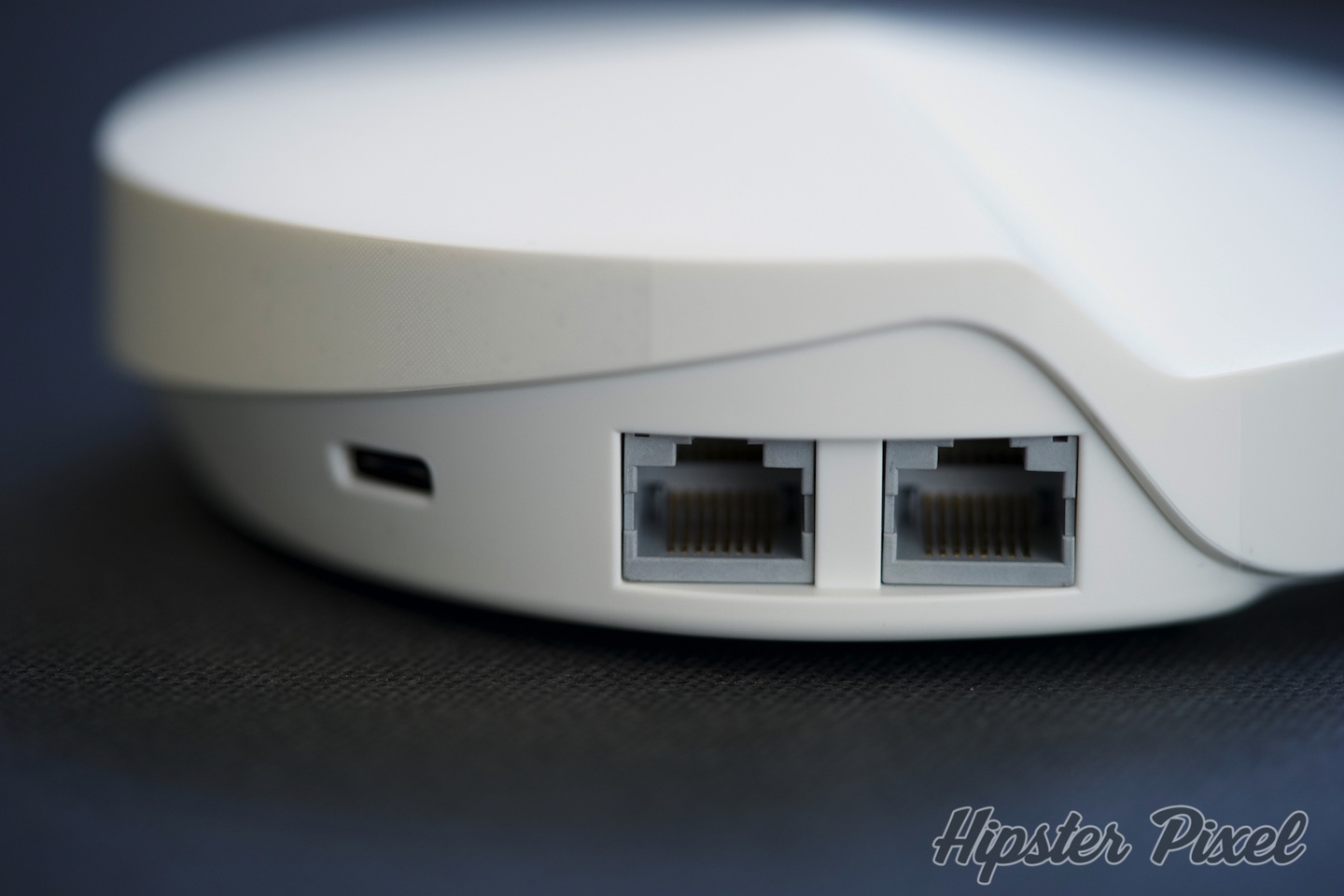 Features
1 or 3 unit packs
AC1300 speed units
Adaptive Routing technology
Online threats protection included
Fast and easy setup using a mobile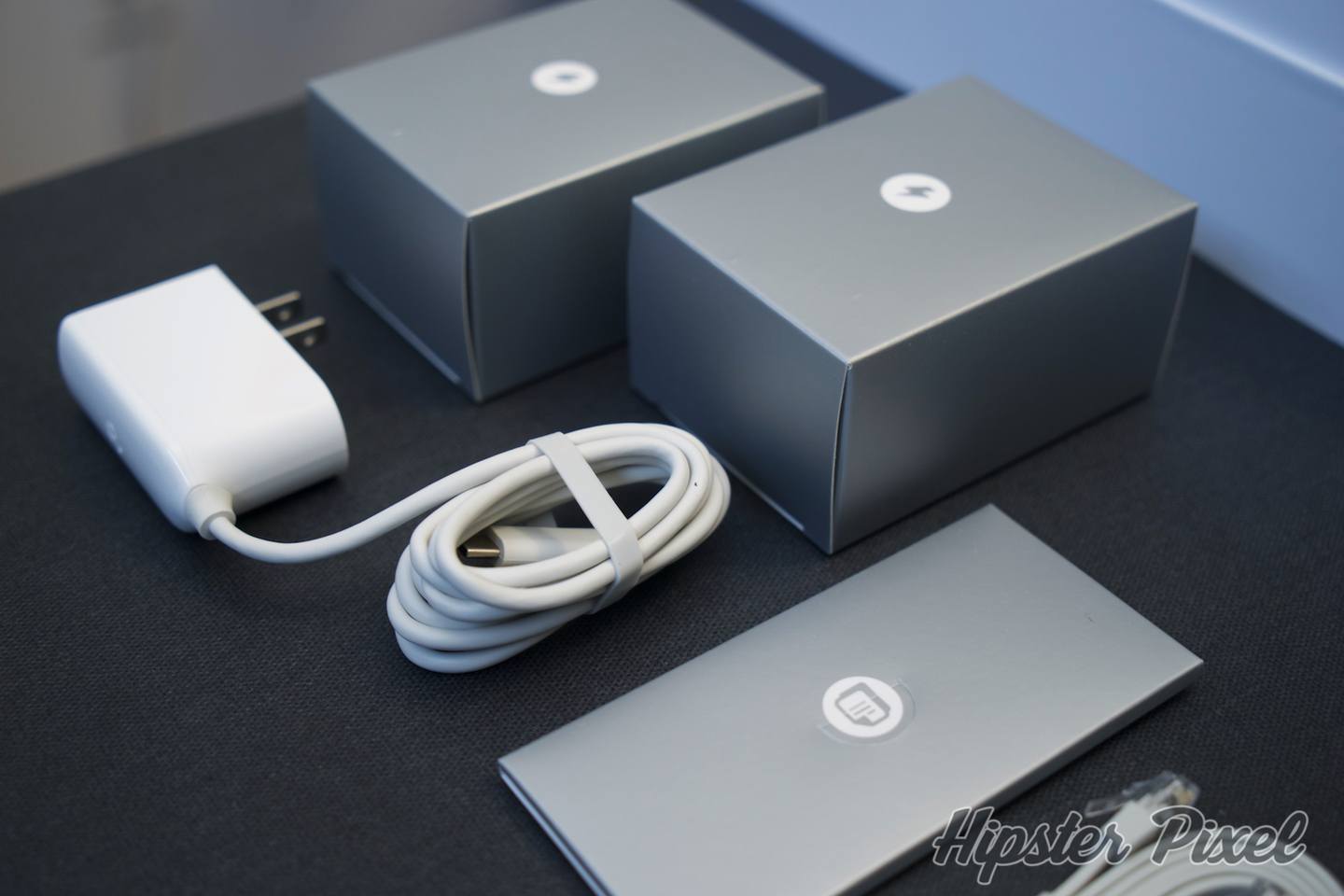 Setup and Configuration
The very first step is to get your mobile phone out and load the app from your App Store of choice. You are then taken to a step-by-step flow that allows you to configure the first node of your whole house wi-fi system. As you can see from the following screenshots, it's as simple as stand close to the plugged-in units (for Bluetooth to work its magic) and do a bunch of Next taps.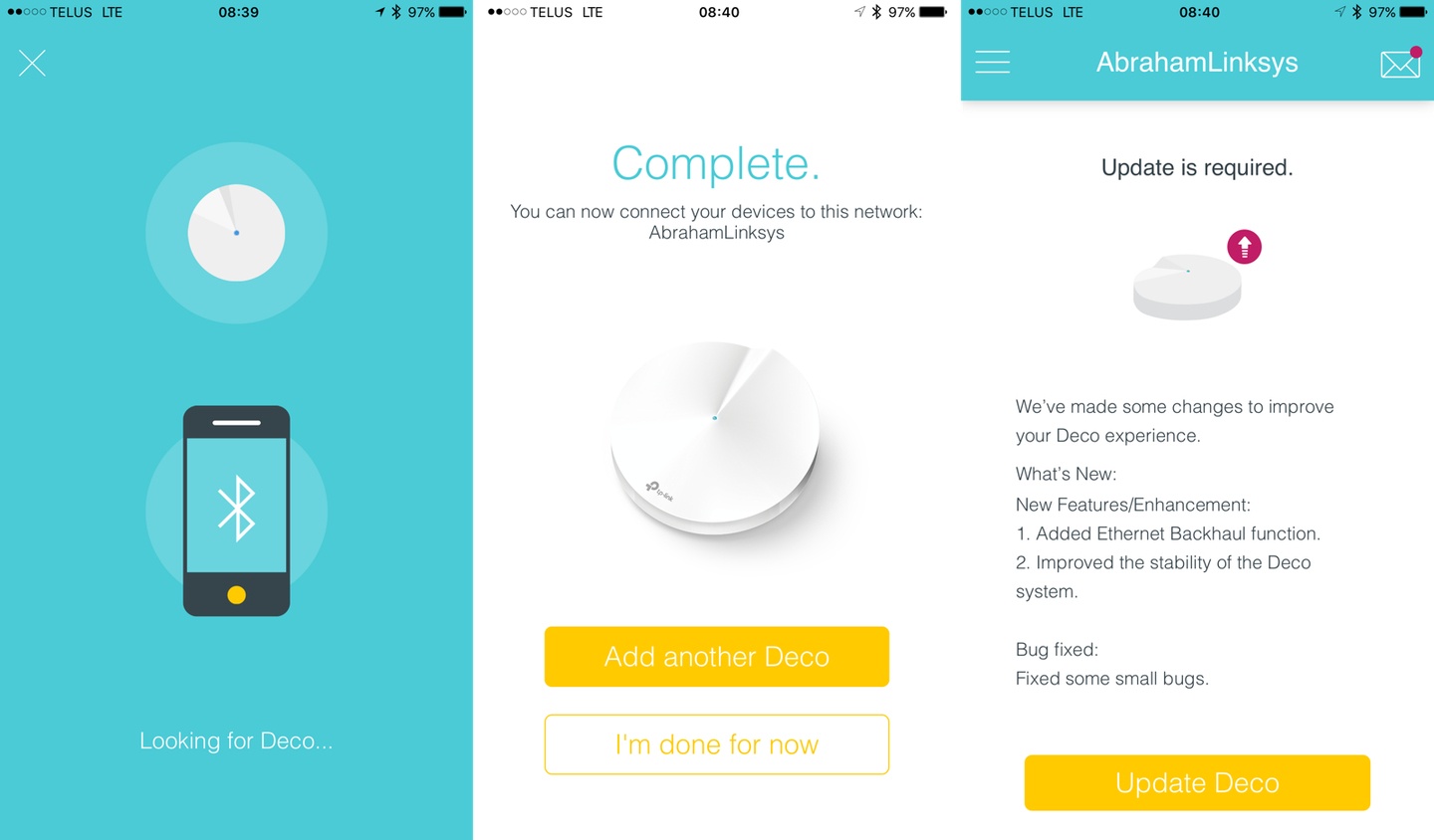 You are then taken to the main screen where you can do a speed test of your network and not your device. This is an important point as your proximity to these nodes will impact the overall performance of your connection.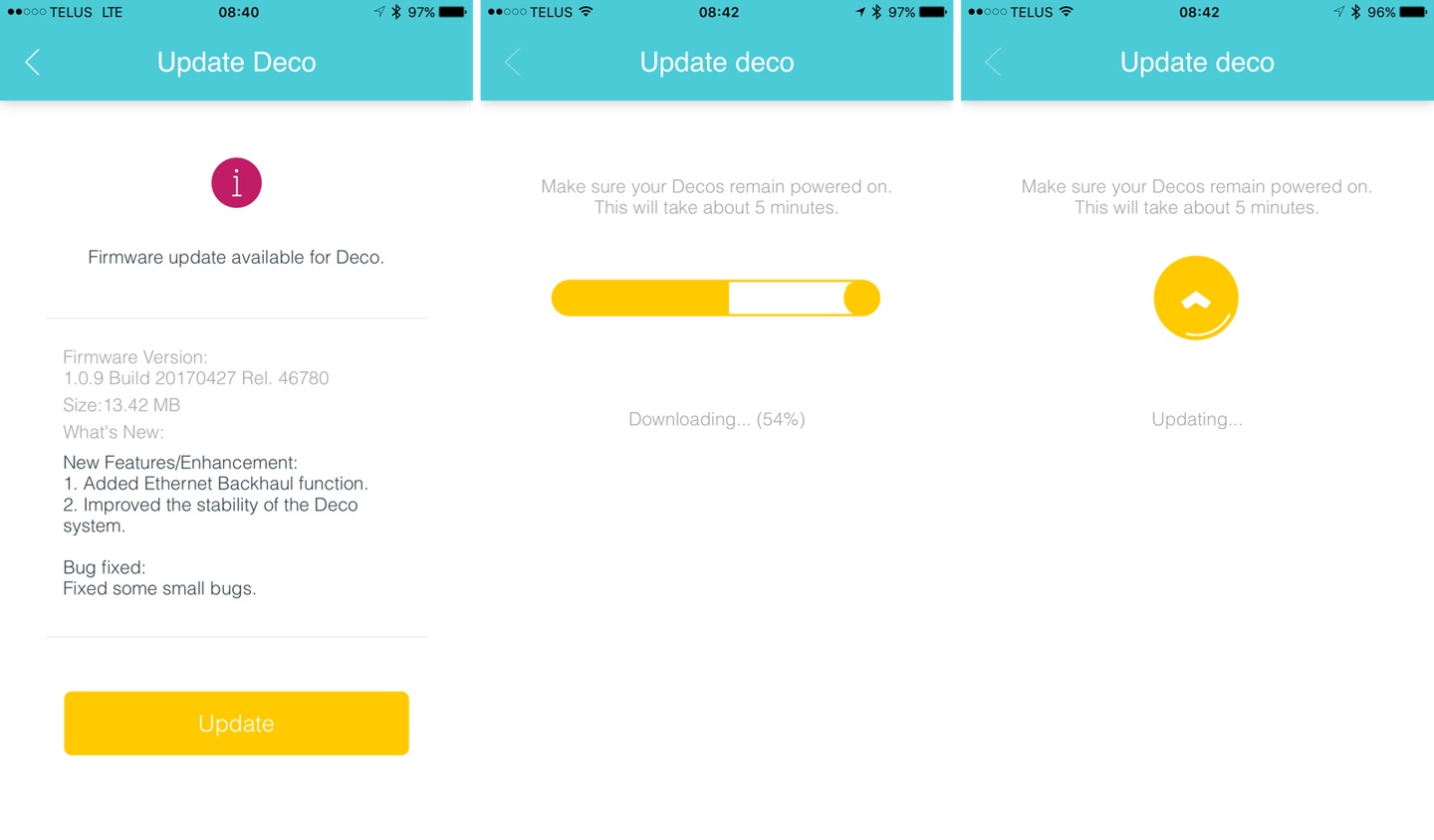 You can then add more nodes. I decided to add the two remaining nodes at the very same place as I did with the Linksys Velop system. One in the "machine room", one in the dining room and one in the master bedroom. The setup was close to perfect except for the master bedroom where it would complain that it's too far from the second node. It's basically just above it and 2-3m away from it. I tried a second time and it registered. It probably needed to optimize the network a bit more to accommodate that last node.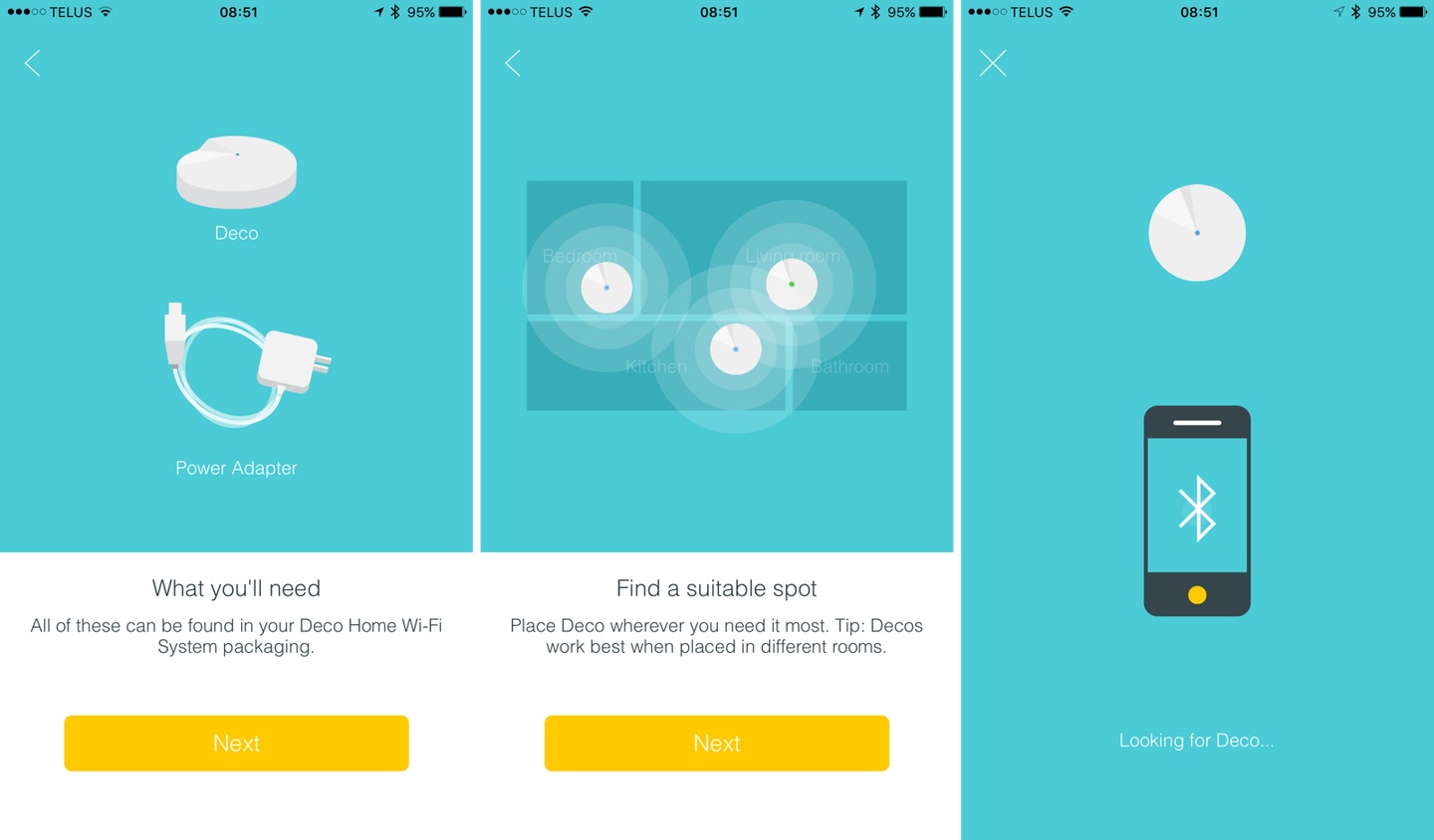 There is no back-channel band on the Deco as there is with the Velop so in order to maximize performance, and if possible, you need to plug each of them in the wall. In this scenario they use the wires to move data from the device to the Internet. I would strongly suggest you do so to benefit from the best performance possible. Since most of the users will not have multiple Ethernet jacks in their homes, I'm not using this feature in the performance assessment coming right up.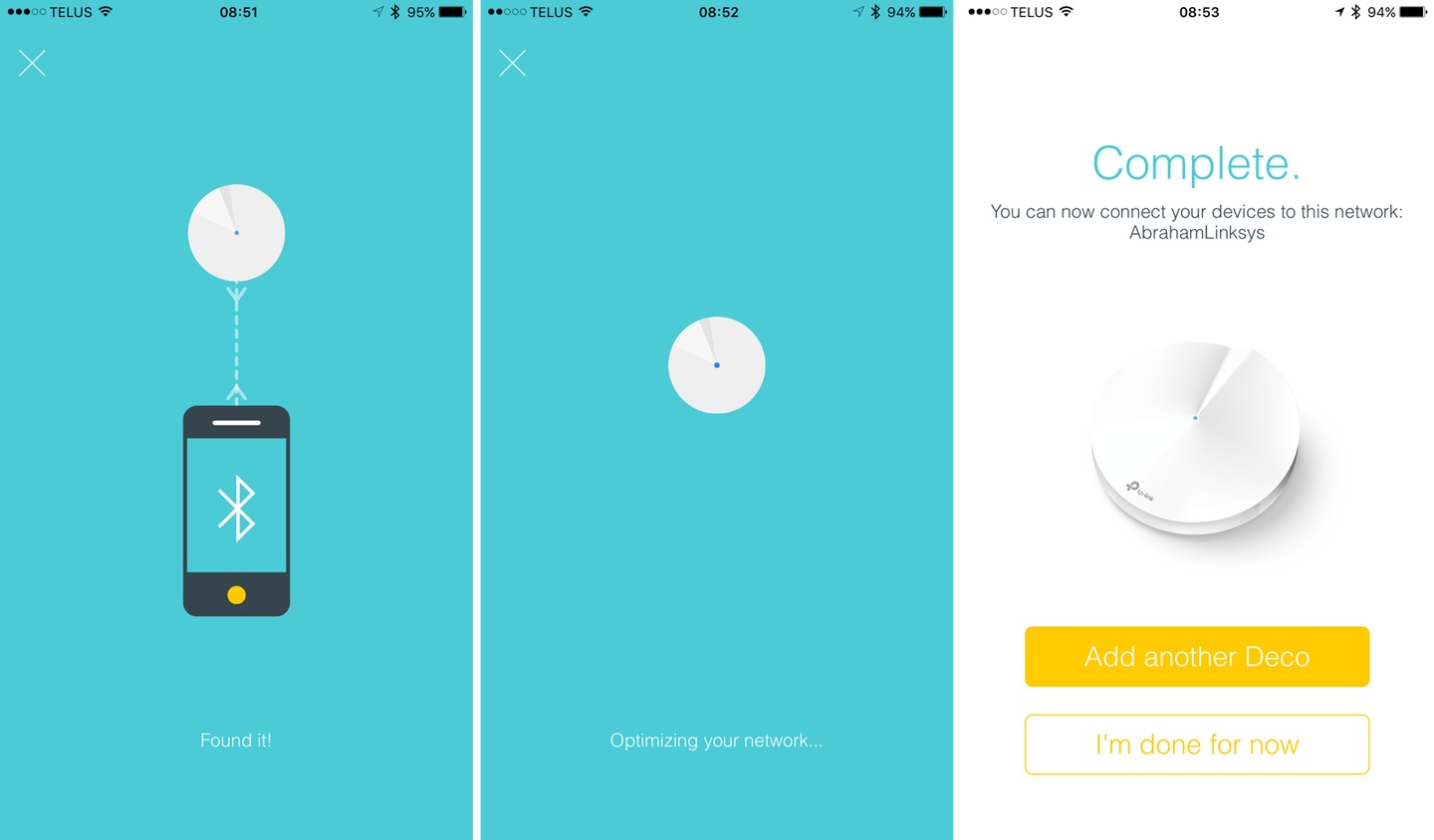 Performance
As it becomes custom, I'm now placing the different units at the exact same place as with my previous tests as well as use the very same setup with my NAS capable of outputting over 1000Mbps of real-life transfer rates. Well above the real-life performance of any wireless devices on the market.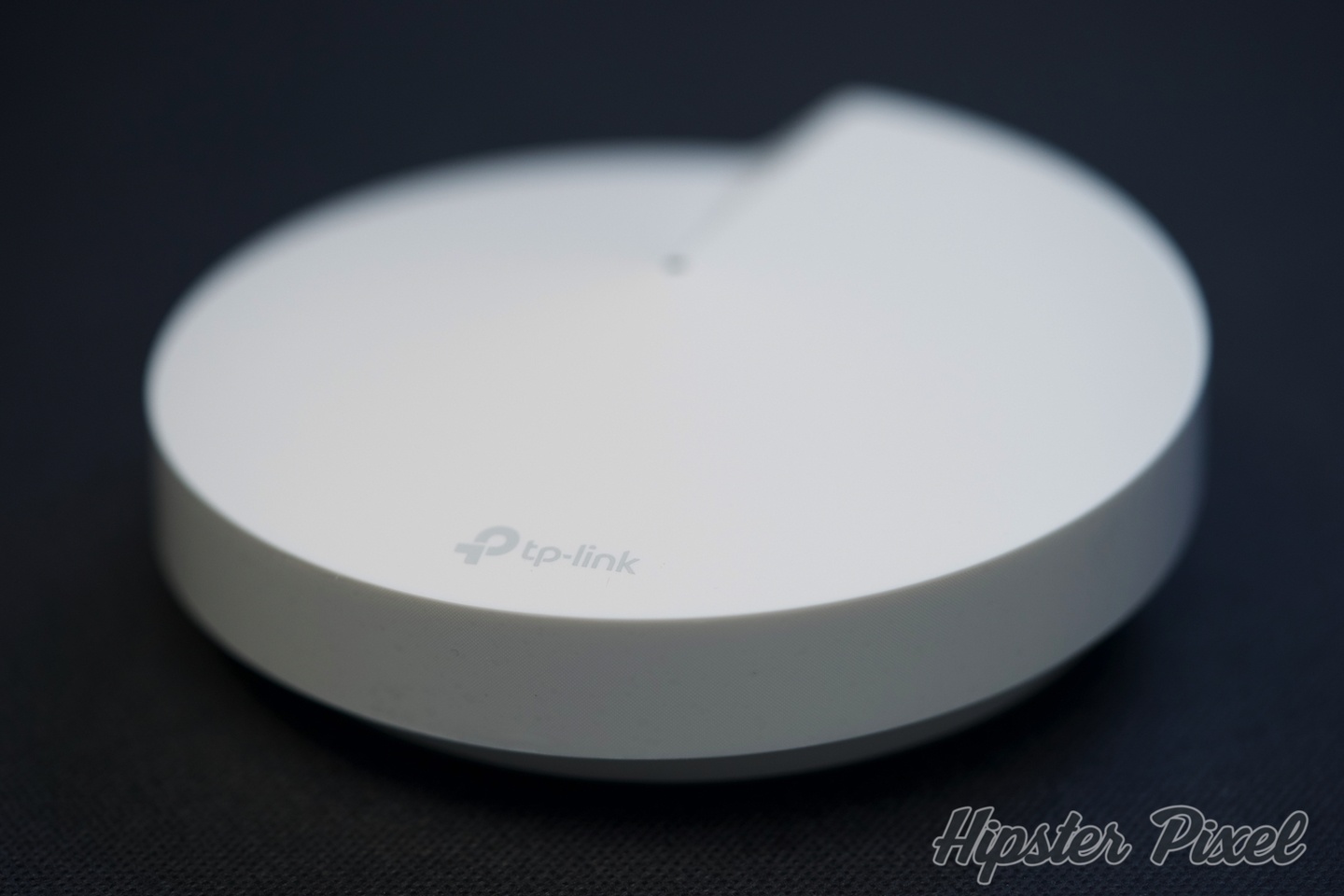 I have also kept the same test area as in previous tests so that you can get a feel for the real-life performance of the router units.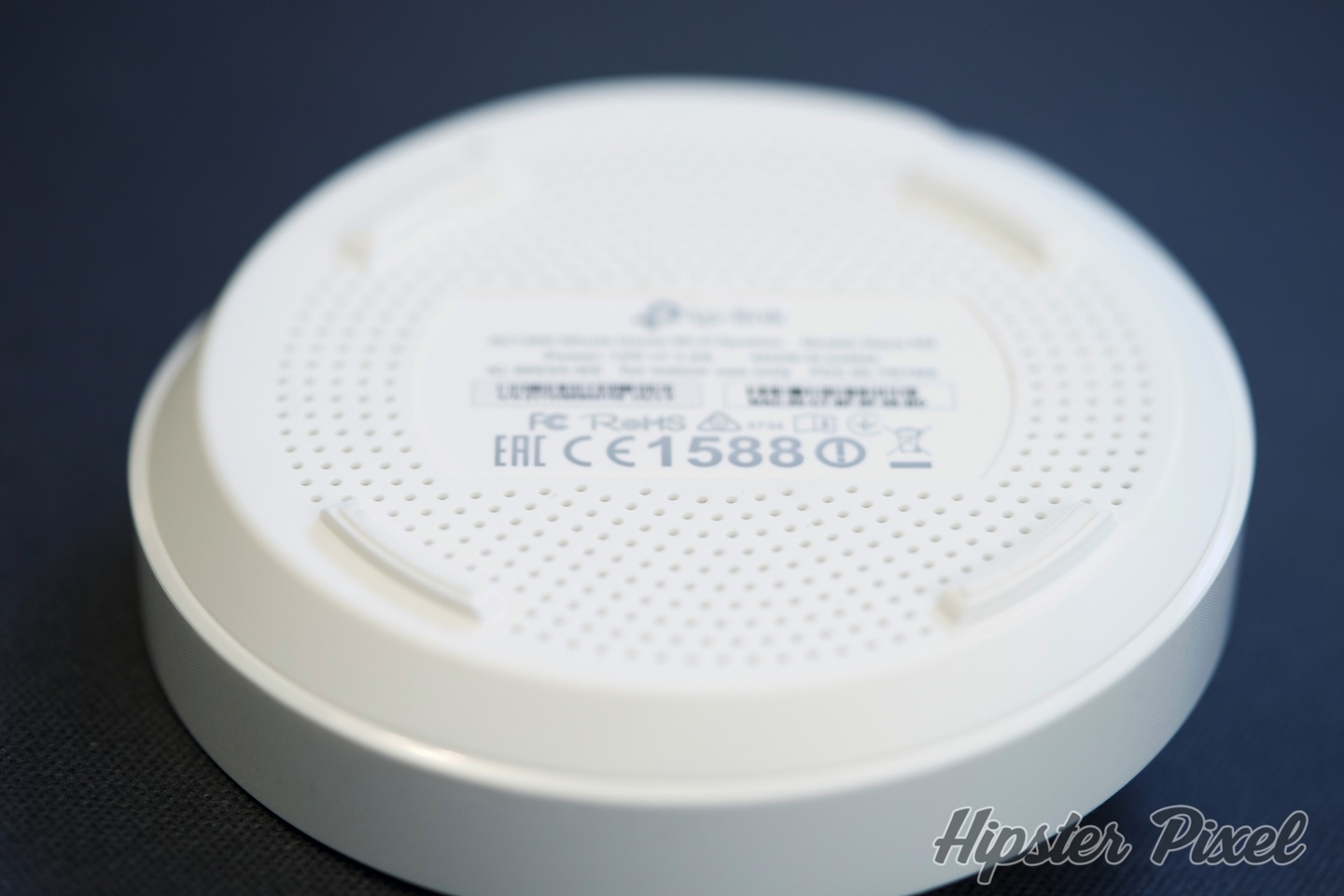 How We Test Speed
I currently have a network attached storage that is using link aggregation to merge the power of 4 Ethernet ports and offer unprecedented connected power. I will post something about this in the future. Sufficient to say that this network storage can be fast, over 300 MB/s fast so it makes a good test subject for speeds since it's next to the main Velop node and wired to it using a Smart Linksys switch .
I'm using iPerf to test the speed over the Wi-Fi network. The NAS being the "server" in the scenario and a 2015 MacBook Pro being the client. I'm also testing from various locations in my home.
Basement - Living Room
Basement - Office
Main floor - Kitchen Table
Second floor - Master's Bedroom
Second floor - Second Bedroom
This covers the whole house and can give a good test bed for performance of wireless products. Since it's the only house I have access to, I cannot say what will happen to multi-generation housings that are not necessarily high but instead very long. I think the Velop system might be even better suited for these kinds of configurations from what I can see from the testing below.
Results
The following results are using MB/second as the unit.
| Router/Location | AirPort Extreme | Linksys Velop | TP-Link Deco M5 |
| --- | --- | --- | --- |
| Basement Office | 50 | 32 | 32 |
| Basement Living Room | 70 | 48 | 52 |
| Main Floor Kitchen | 15 | 28 | 15 |
| 2nd Floor Masters Bedroom | 9 | 18 | 23 |
| 2nd Floor Bedroom 2 | 6 | 18 | 25 |
As you can see from the above results, the Deco M5 are actually surprisingly better in certain scenarios! Faster than the Linksys Velop in almost all scenarios and sometimes even by a good margin. Still not as fast as a dedicated AC router like the AirPort Extreme in close quarters, but as soon as you change floor level you get 2.5 to 12x better speeds! Even when I was on the top level, the theoretical speed got lowered but the experience was not visibly affected. Websites and YouTube loaded as fast as when I was in close proximity to the initial node.
And remember that you can use the wired connection to use it as the back-channel band (connection upstream to the Internet if you prefer). Even if you don't have it for all nodes, one or two could really help!
Conclusion
Once again, appearances are nothing, the puck design of the Deco M5 by TP-Link is better than the cylinder design of much powerful Linksys Velop. The Deco are super easy to setup, as much that any non-tech person could do it very easily with no problem whatsoever. The added security is a plus that can mean a lot for many and you have great parental controls as well as many advanced features that allow the more techie to personalize the setup. Just keep in mind that most of the Wi-Fi settings are handled by the Deco itself.
Overall the Deco, its surprising performance and its ease of use make it the top recommendation I can make for a large (vertically or horizontally) house. If you have Ethernet jacks close to the units, expect even better performances! All this comes at a price though, but there are sometimes sales that are quite interesting. The base price at the moment is $US 299 and $CA 449.
At this moment, Massdrop has the Deco M5 kit for just 199 $US!
Review Summary
Deco M5 Whole House Wi-Fi
TP-Link Technologies Co. Ltd.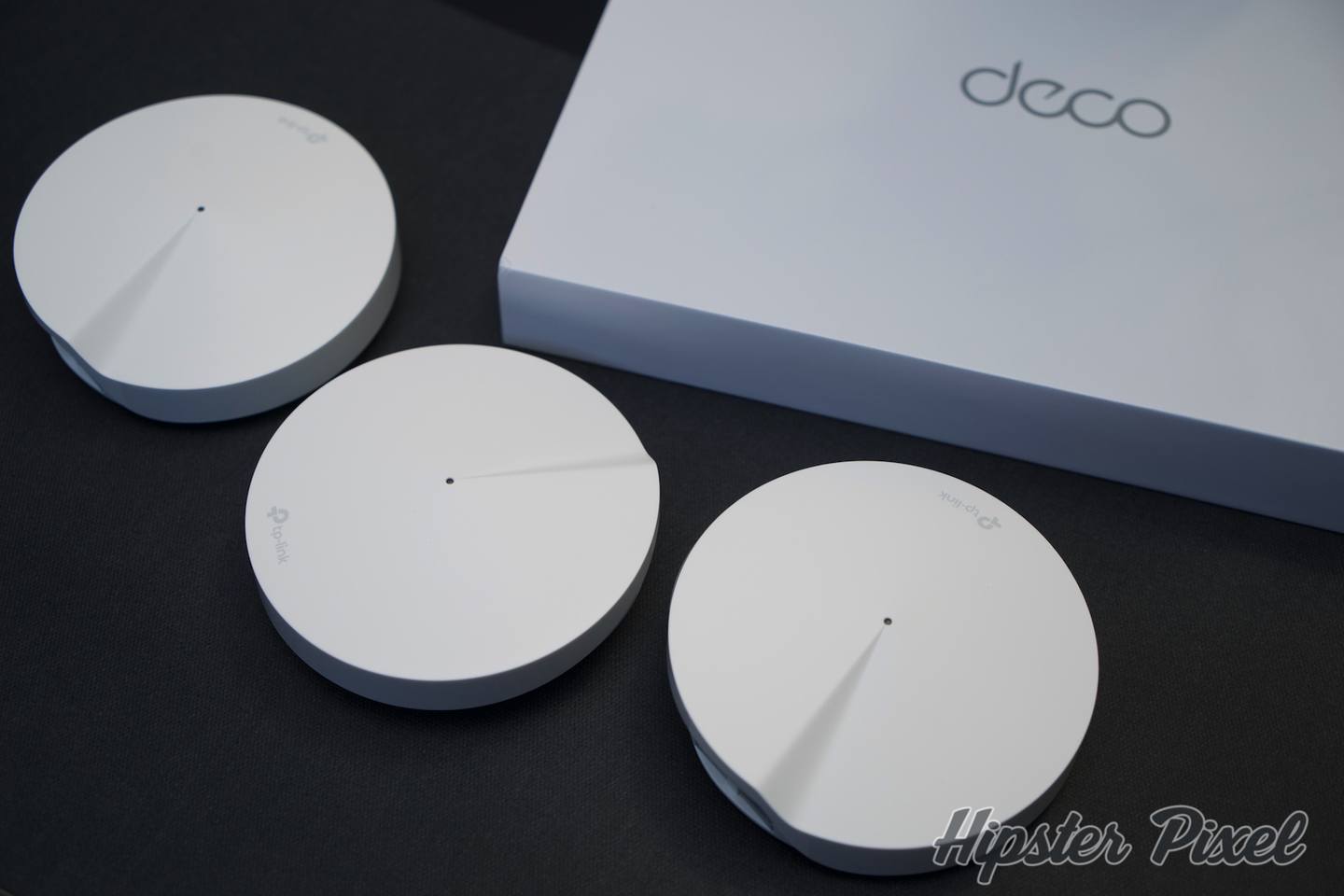 The whole house Wi-Fi mesh network Deco M5 by TP-Link is promising to paint your house in Wi-Fi. Let's see if they do!
The Good Stuff
Easy to setup
Great coverage
Great performance
Flexible options
Security built-in
The Bad Stuff
Expensive
No dedicated uplink band
The Ratings
Configuration and customization
80%