---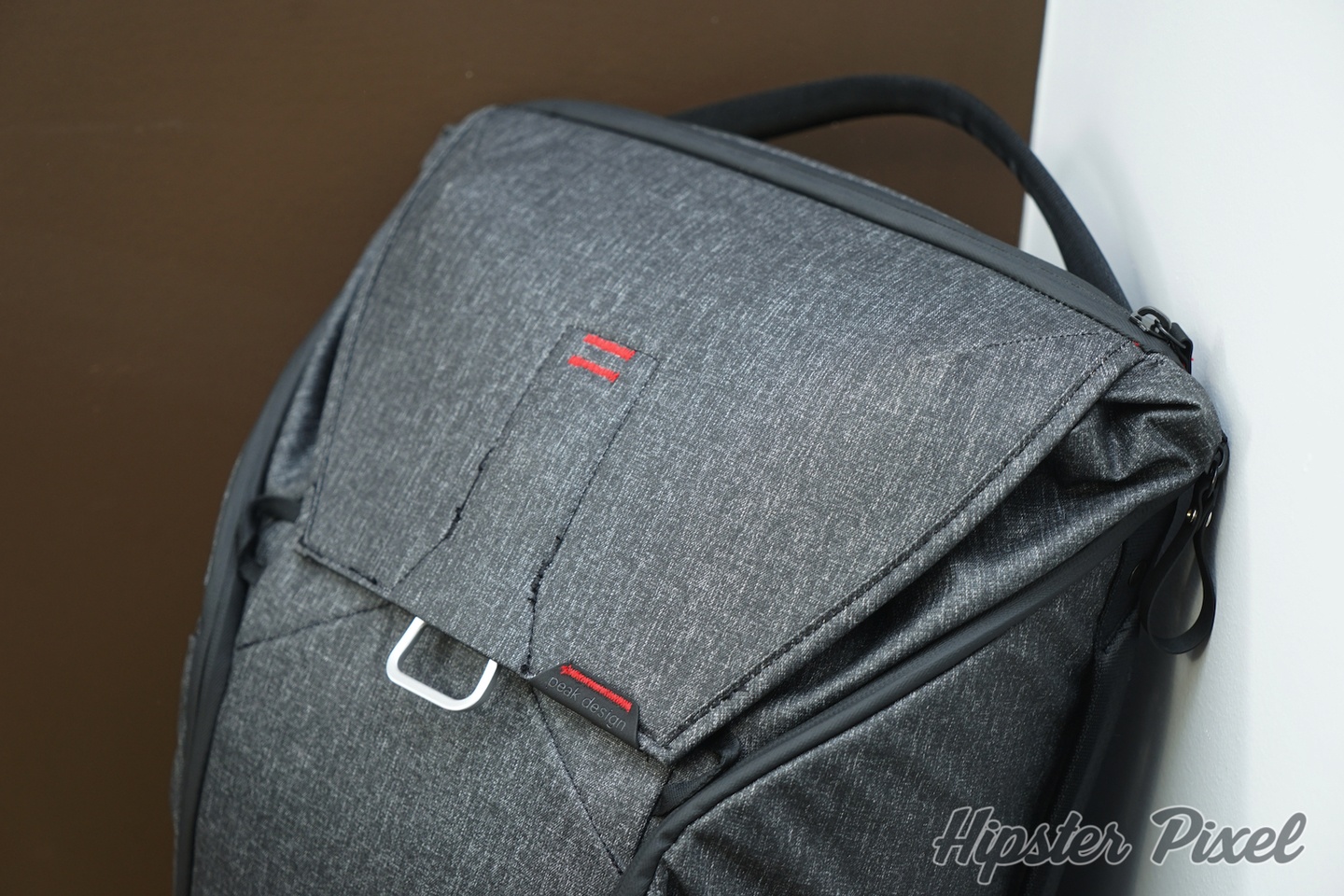 Everyday Backpack 30L Review
It's known that a few products really shine on Kickstarter and other platforms of crowd funding, and in the backpack or bag categories very few reach the same level of the Everyday Backpack . A total of 26,359 backers invested almost 6.6M$ in the Everyday Backpack, Tote and Sling. I saw this campaign go by and reach unprecedented levels of success. But in the end, once in hands of tech reviews and commuters like me, how well does it fare?
I've been carrying the Everyday Backpack in its 30L version , the bigger one, on my back for many weeks. Probably more than I should before I wrote my review, but I really wanted to have a feel for it in various situations. Some days it would be basically empty, other days I would bring my camera with me, some days I would pack it so much I had to play Tetris to fit it all in there. Also, I wanted to give it a run in my commute by bus and by skateboard on my faithful Penny Nickel. In short, I took it everywhere!
Design
If I could put the design of this back into one word, it would be flexible. It's impressive the number of straps, hidden features and compartments that can be adapted in this bag. Let's start from the outside. You have a quality and sturdy weatherproof fabric called Kodra. Available in two colours, this fabric is very good. I had a few falls on my skateboard and even scrapped it against a wall once and I still can't see visible markings on it. Very impressive. On the top and sides, you have a handy handle that allows you to carry the bag.
Straps, clips, lots of them!
In terms of straps you have hidden straps everywhere. Let's start with the chest strap that can be removed if you do not like it. No need to cut anything like other bags! On each side, you have pouches with an elastic and a magnet to keep it closed, and one more hidden strap that allows you to set up your tripod and securely fasten it to the bag. On the bottom, you have yet another magnetically shut pouch where long straps are hidden. These allow you to attach something to your bag, like a short Penny Board , thanks to little loops on each side you can make an "X" with the strap and hold it securely. On the back, you have swivel shoulder straps to adjust to your shoulder size comfortably. And even a space behind the padding to slide the backpack on a suitcase arm for easy carry.
Everywhere you see hooks or clips or parts where straps go through, you have this very thick but light metal part that is much stronger that anything I saw in regular bags. It's kind of a mix between the design and strength of climbing gear but in a soft carefully designed fashion. Very impressive to aptly mix the two!
This comes to the part of the bag that you will most likely use the most. The main compartment is closed by a magnetic hook on a rubber system that does not only shut particularly nicely but also very tightly on a multi-position "scale". You can attach it to 4 different positions depending on how full the main compartment really is. This might seem like nothing, but trust me that what you usually see is bags that advertise a certain capacity but does not keep shut when filled. The Everyday Backpack can be closed securely even on the highest setting.
Laptop Section
On the inside, you have an accessory pouch accessible through the laptop compartment zipper. In there you can store small devices, cables, batteries, SD cards or other things in a soft fabric section. Right next to it you have the padded laptop section that can accommodate laptops up to 16" in size. The cool thing here is that there is actually two compartments, one for smaller size, ideal for a 13" MacBook Pro and one ideal for a 15" MacBook Pro that can be used at the same time. Also, the 13" fits snugly in there and does not actually reach the bottom of the back. This means that the pouch is making it suspend in the air and allows you to drop the bag on its bottom without being scared of breaking your 13" laptop. As for the 15" there is a gap below its pouch and the ground so it's not hitting the ground directly but could be more exposed to a hard drop. This does not mean that the laptop is in a precarious position, there is sufficient padding to protect it. Trust me I fell on my side from my skateboard and all the content of the bag was still in perfect shape!
The belly of the beast
Inside the main compartment is where most of the valuables will be stored. Being a camera bag, this means that it has well-designed separators that can be used to house your lenses and cameras on different levels but also folded as "walls" on a same level. This allows you to store lenses horizontally and vertically for maximum flexibility. The Velcro part is actually micro-Velcro hooks that are less prone to catch dust but still offer a better than regular Velcro grip. Each little adjustable flap is also filled with a shock-absorbing material to protect your gear.
The gear is accessible through the main pouch but once you have it all laid out, you will need to use one of the side pockets to access your gear. These side pockets also contains more compartments that hide more space for accessories, books, cellphones, etc. And it's hidden behind a zipper fabric to keep it all nice and tidy.
What about theft? You must have heard from people getting their gear stolen because it's more easily accessible from more openings. Well, Peak Design thought of this and included anti-theft straps on the zipper so that you can loop it around yet another loop so that nobody can access your gear without tampering with the zipper. This makes it harder so thieves will look elsewhere for easier targets.
Features
Available in 20L and 30L, colours Ash or Charcoal
Made for photographers, commuters, and more
3 FlexFold dividers
Side pockets, laptop pocket, key tether
Many straps to secure stuff on the outside
Patent-Pending MagLatch for main compartment
Wheatherproof and premium materials
Event fits a DJI Phantom 4 or Spark easily!
Performance
Now that I went through the bag in about 1,200 words, what did I think of it?
Like I said in the intro, I used it to lug around big things like a skateboard helmet still in its box, a complete kit of Google gear including a Pixel phone, a Google Home and a Daydream VR kit, all in their respective original boxes with room for an extra external battery. It's amazing that you can fit as much stuff in this. But the magic happens when you actually strap it on your shoulders. It actually feels great even when it's empty or completely filled.
The chest strap and the hidden waist strap make sure you get it all very stable. Even on a skateboard, you can tighten the shoulder straps and get this backpack tighter so it does impact your balance too much. I even wore it for many hours straight and I must say that it was very comfortable.
The organization is very customizable and if you have one dSLR with 2 or 3 lenses, you will have lots of places for more gear. You can even fit two cameras and multiple lenses, so yes, there it lots of places.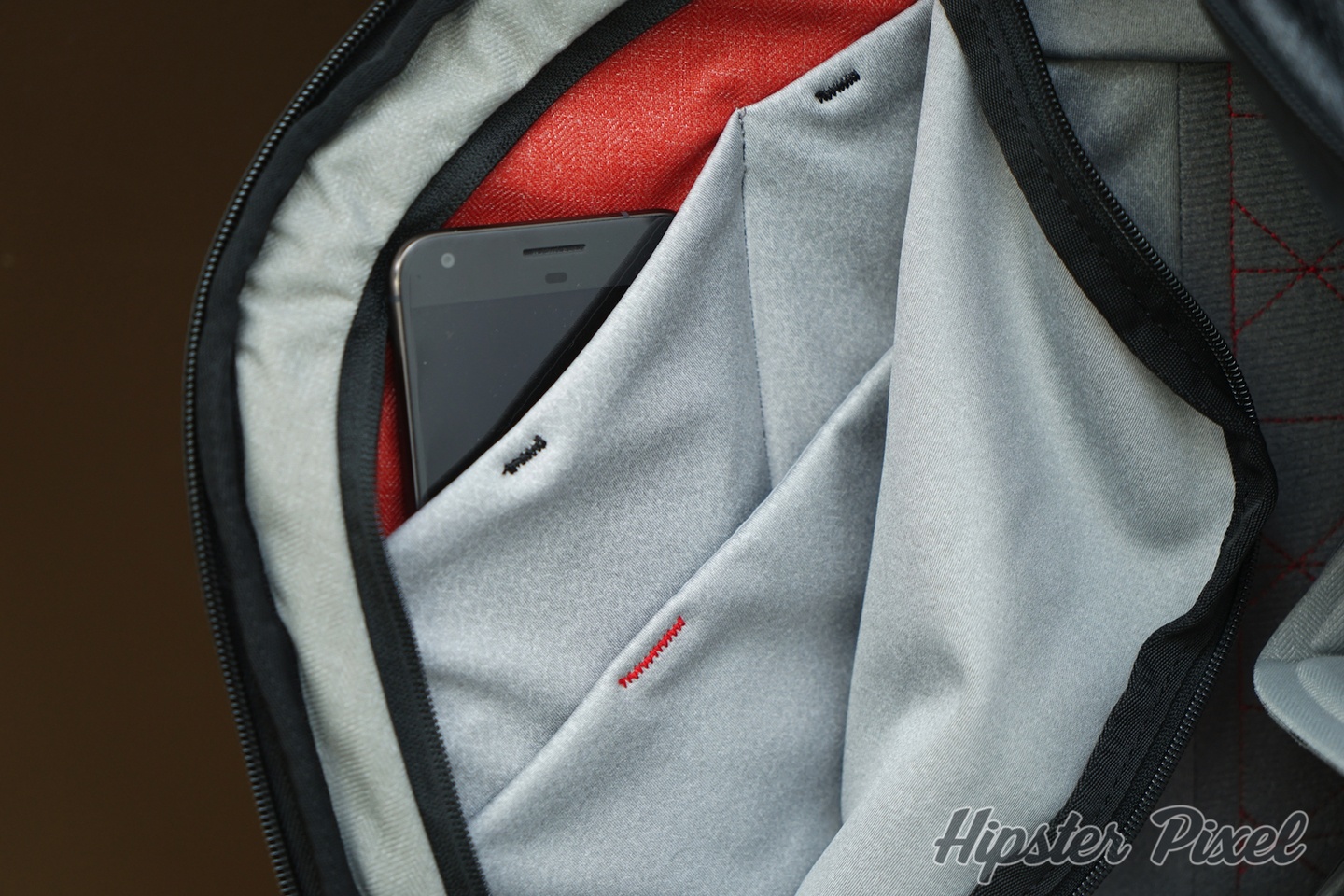 Conclusion
Looking at the website the Everyday Backpack the 20L version is 259$ and the 30L is 289$. Not cheap, but considering you're getting a backpack that can work for you every day of the year and be flexible enough to be a faithful sidekick on all types of situations, it's really like buying multiple bags at once. Or buying a single bag instead of 2 or 3. The only challenge now is to choose between the 20 or 30L format. If you are large like me, the 30L does not look humongous on your back and you can fit more in it, however, if you are smaller, the 20L will still give you all the nice things in a format that fits better with your body shape.
I strongly recommend that you look into this bag for your next purchase, as I was really not expecting that many nice ideas when I watched the video. I mean, it looked nice but it also works amazingly well too! I really adore products that are well designed AND full functional objects. Highly, highly recommended!
Review Summary
Everyday Backpack 30L
Peak Design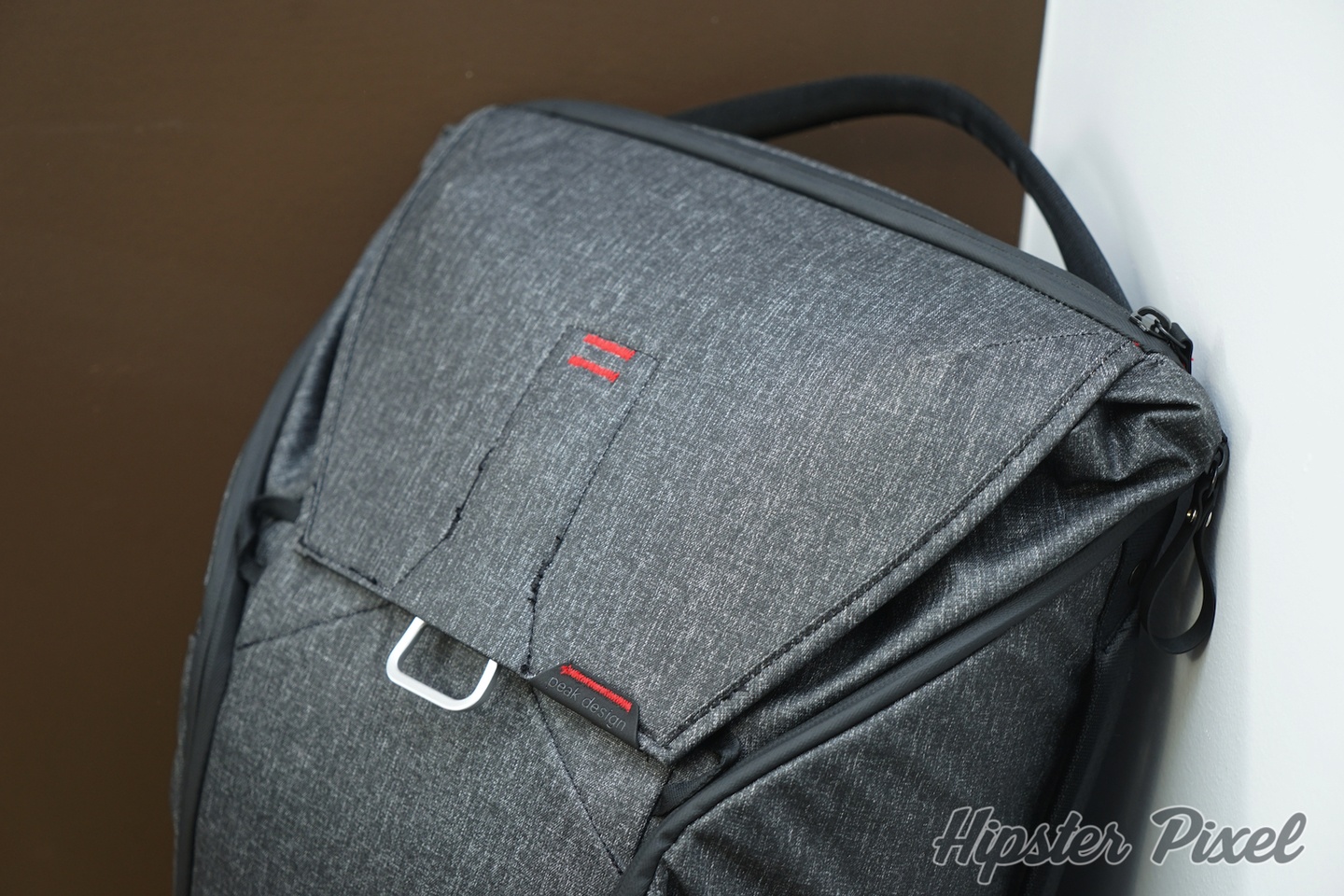 The Everyday Backpack is a commuter backpack with a ton of features, a particular attention to detail and a quality I rarely saw in bags.
The Good Stuff
Quality of fabric, strength
Flexibility, lots of storage, lots of types of storage
Comfort, many optional straps
Amazing design and thought put into it
The Bad Stuff
Shoulder straps could be larger