---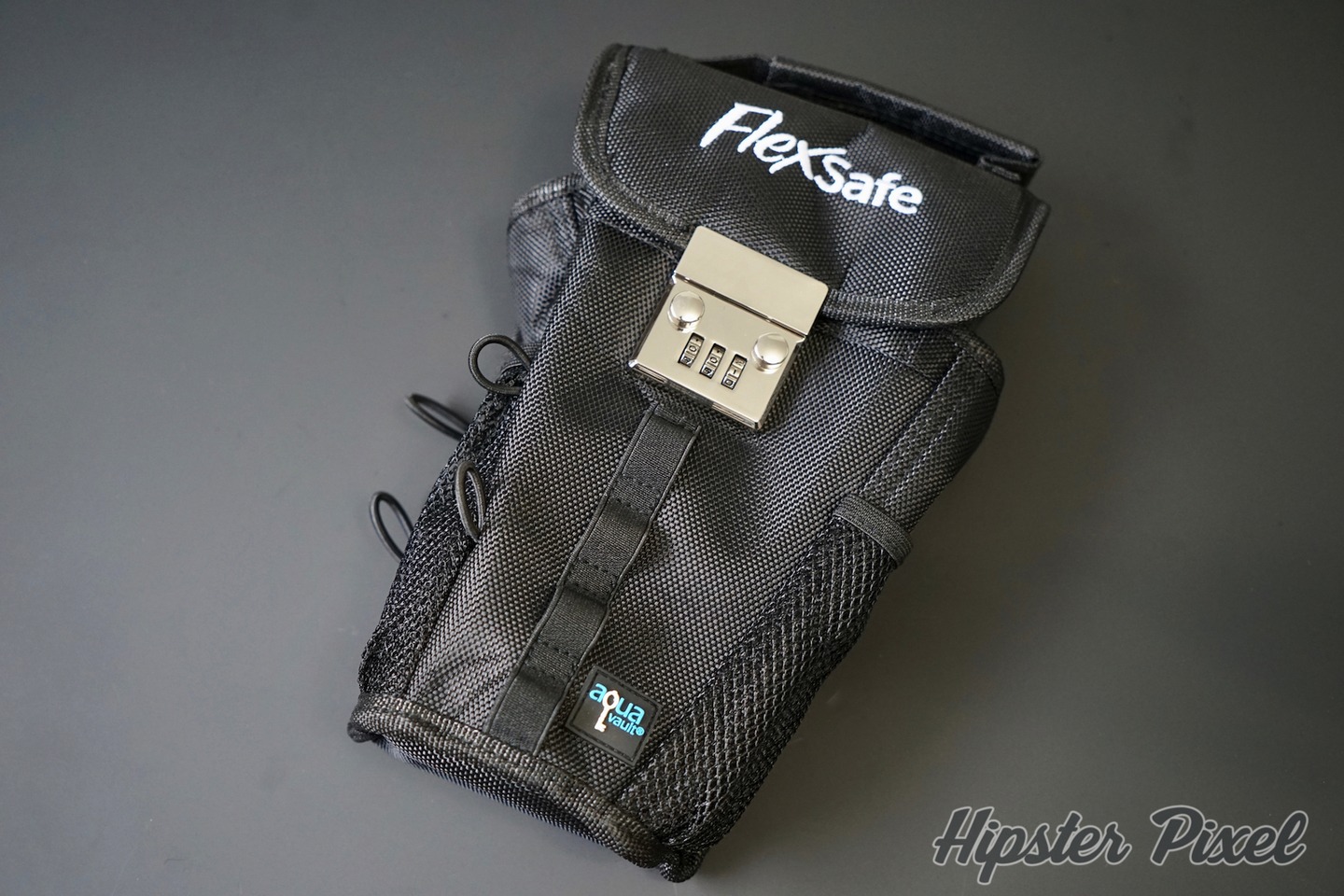 FlexSafe Review, a Must Have Portable Safe
You probably had this situation come up during your travels. You have your iPhone, a GoPro camera or any other kind of valuables hidden in a bag under two or three towels and when you finally decide to go into the water, you keep on turning back looking at your stuff to make sure nobody is trying to steal it. You are there to enjoy yourself, but keep having this constant stress and self inflicted reminder to double check your stuff, from the ocean or pool, and when you get back to your chair. AquaVault has a solution for this situation and a pretty damn good one too!
The FlexSafe is a purpose-made pouch that can hold your valuables and attach itself to a chair, fence, stroller or even bicycle with a 3-digit lock. This way you can store away your stuff in a waterproof, slash proof and theft proof container that can give you the peace of mind you need to really enjoy the time in the water!
Design
The FlexSafe is made of a material that is slashing proof, meaning that a thief cannot easily slash its way through the bag. Also, there are other layers of important materials like an RFID blocking material so that thieves are not able to scan your wallet cards as well as a more rigid material so it can protect your stuff from bumps and bruises.
The main compartment is closed by a thick zipper that folds back on itself when you lock the FlexSafe. This makes sure that once in a close position, you cannot simply unzip the pouch. The locking mechanism is strong and sturdy and accepts a 3-digit number code so you can easily and quickly lock and unlock it. The interior is basically empty, it's a big pouch with no dividers. I have large hands and I could easily fit 2 and 1/2 close fists in there so there's ample room for keys, keycards, wallets, iPhones and a GoPro HERO 5 camera. Basically, everything I had on my last trip 2 weeks ago!
On the exterior you have a bunch of rubber hooks and mesh pouches if you have other non-valuables like swimming goggles, a pencil or other nick-nacks you need to have around. On the bottom of the FlexSafe you have a hole to help it dry if ever water was to get in. And finally, there's a loop to attach it to your belt so you always have it ready for action.
Features
Slash and theft proof number locked pouch
RFID blocking material
Water Resistant
Strong locking mechanism
Enough storage for two phones, two wallets, passports and a GoPro
Performance
As I explained earlier, I was on a trip and I wished I had this exact product as I did have an iPhone and a GoPro with me at almost all times during the week. There were long chairs that would have been perfect for the FlexSafe! The main pouch flap that wraps around a chair, bike frame or stroller is wide enough to fit on almost any tube-shaped object. Even wardrobe poles do the trick, just make sure you can't just remove the pole and take the FlexSafe out!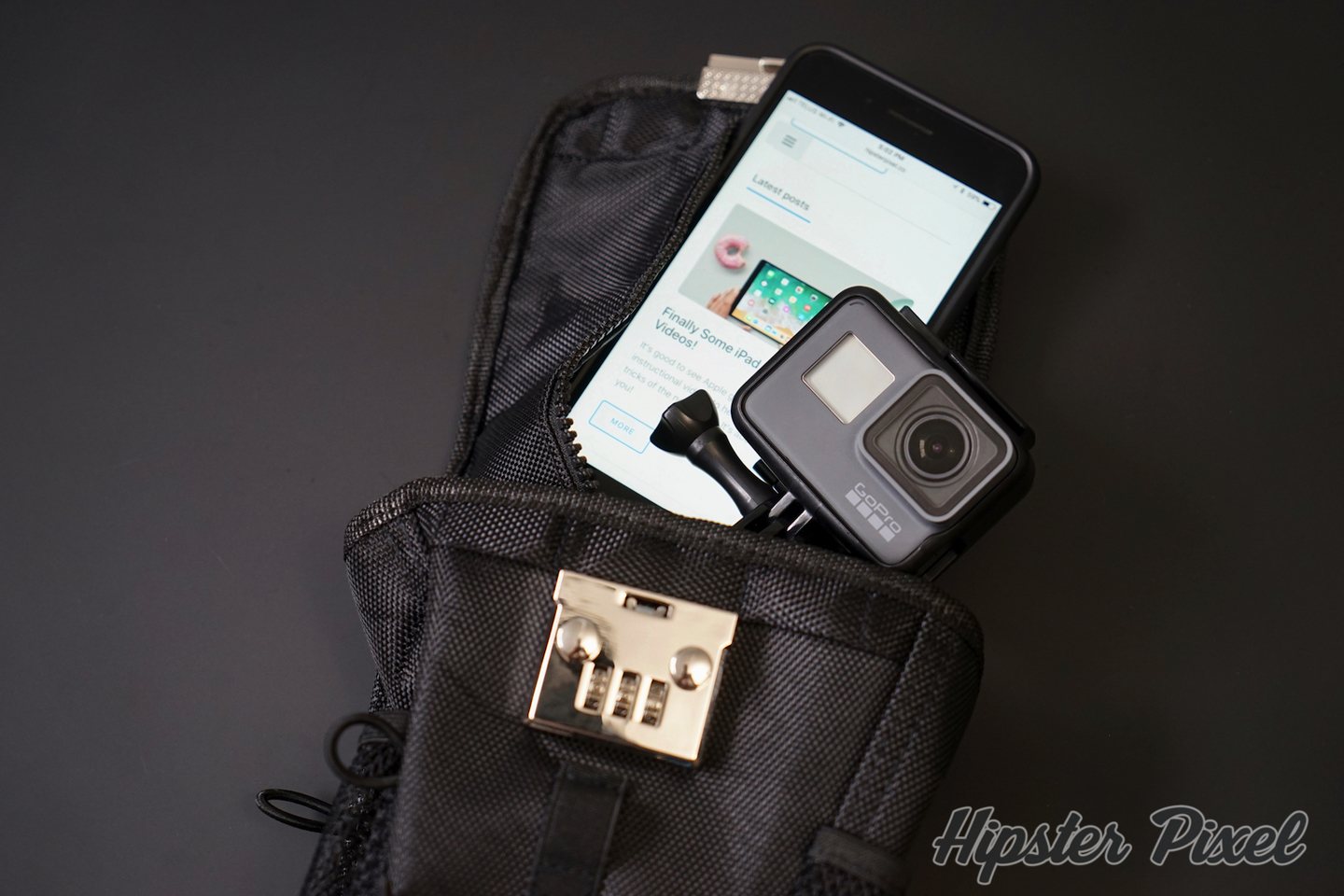 The thickness and strength of the FlexSafe are impressive and I feel reassured that it can hold my valuables safe. The added loops and mesh pouches are great for other random stuff with low value and I like that it has a handle for carrying it.
The only thing I could see updated or made better is the numbered wheels for the locking mechanism. They only go down, you cannot turn them on the opposite direction and they should be bigger or gripper. I often missed my number by one and have to do a full circle again to get it right. Nothing major here, just something I could see better. I'm wondering if the bigger size FlexSafe+ has a larger keypad…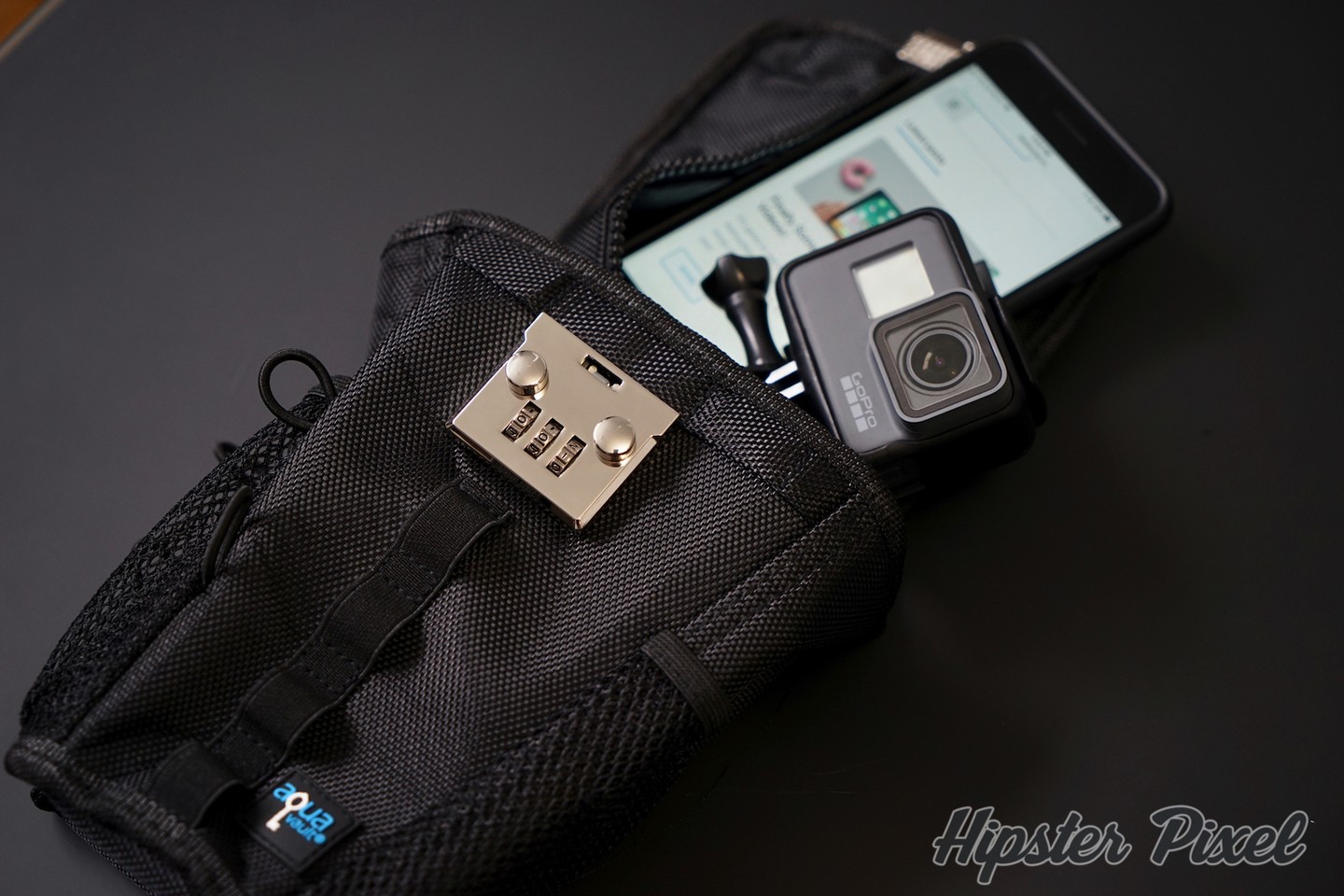 Conclusion
Overall the FlexSafe is a product I strongly recommend as I've spent the last two decades worrying about my iPhone hidden in a back under towels. Thankfully, I was never the victim of theft but I easily could have been. With the FlexSafe I know my valuable will be safe!
The FlexSafe and FlexSafe+ are currently on Kickstarter and you have a few more days to back the project. It's already funded so you know that you'll be getting your reward when they are ready to ship. They have also been featured on SharkTank and accepted an offer from one of the investors. I would strongly suggest you check out the FlexSafe+ as it also comes with a motion alarm that emits a 110 dB alarm if moved. Perfect for your bike or even your electric skateboard when recharging at the local coffee shop!
Review Summary
FlexSafe
AquaVault Portable Travel Safes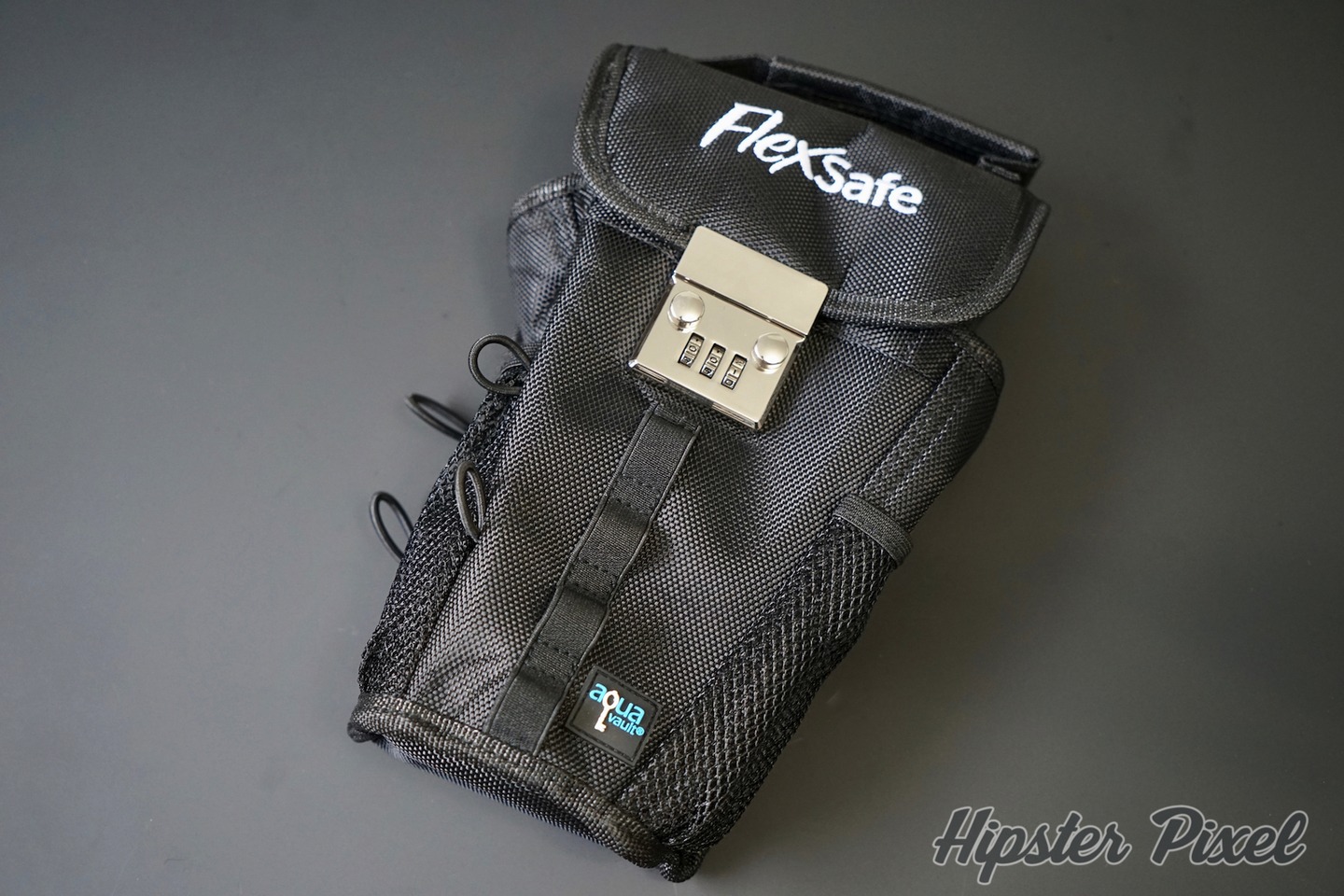 Finally a solution to store your valuables when at the pool or at the ocean, the FlexSafe is a secure, RFID blocking pouch that safely holds your valued items.
The Good Stuff
High-quality materials
Water, slash and RFID resistant
Large enough capacity for many valuables
Great design idea
The Bad Stuff
Locking mechanism number gears could be larger/grippier