---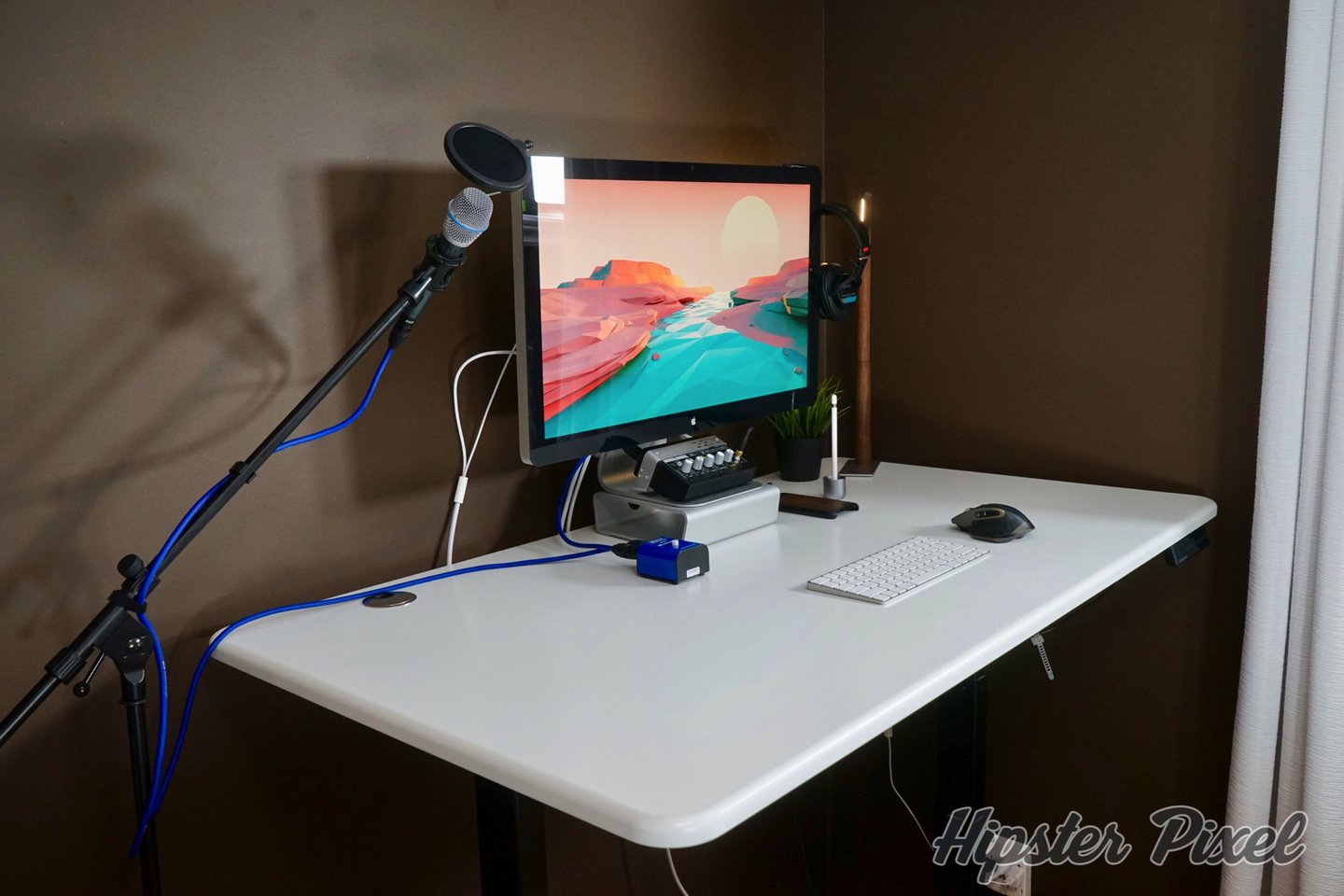 Autonomous SmartDesk 2 Review
Standing desks in modern offices are the new craze and the market know it. This is why you can find some that goes for 100$ all the way to the multiple of thousands. But the real trick is to guess how much you need to put in to really get the maximum value out of your investment. If I would tell you that there is a company that designed a solid system while keeping the price affordable and give you options?
Autonomous, makers of the SmartDesk, ErgoChair and ErgoStool have released this year the second generation of their popular sit stand desk. This time, you have an even better system and many more options to really fit your need and your design preferences.
Design
The SmartDesk 2 is powered by one or two linear actuators (motors) to make sure the desk raises quickly without any wobble. The desk itself comes in a variety of colours as well as three distinct designs. There is the Classic, a 53"x30" rounded rectangle, the Ergonomic of the same size but with a cutout and the business edition exclusive Classic with a width of 70" instead of 53".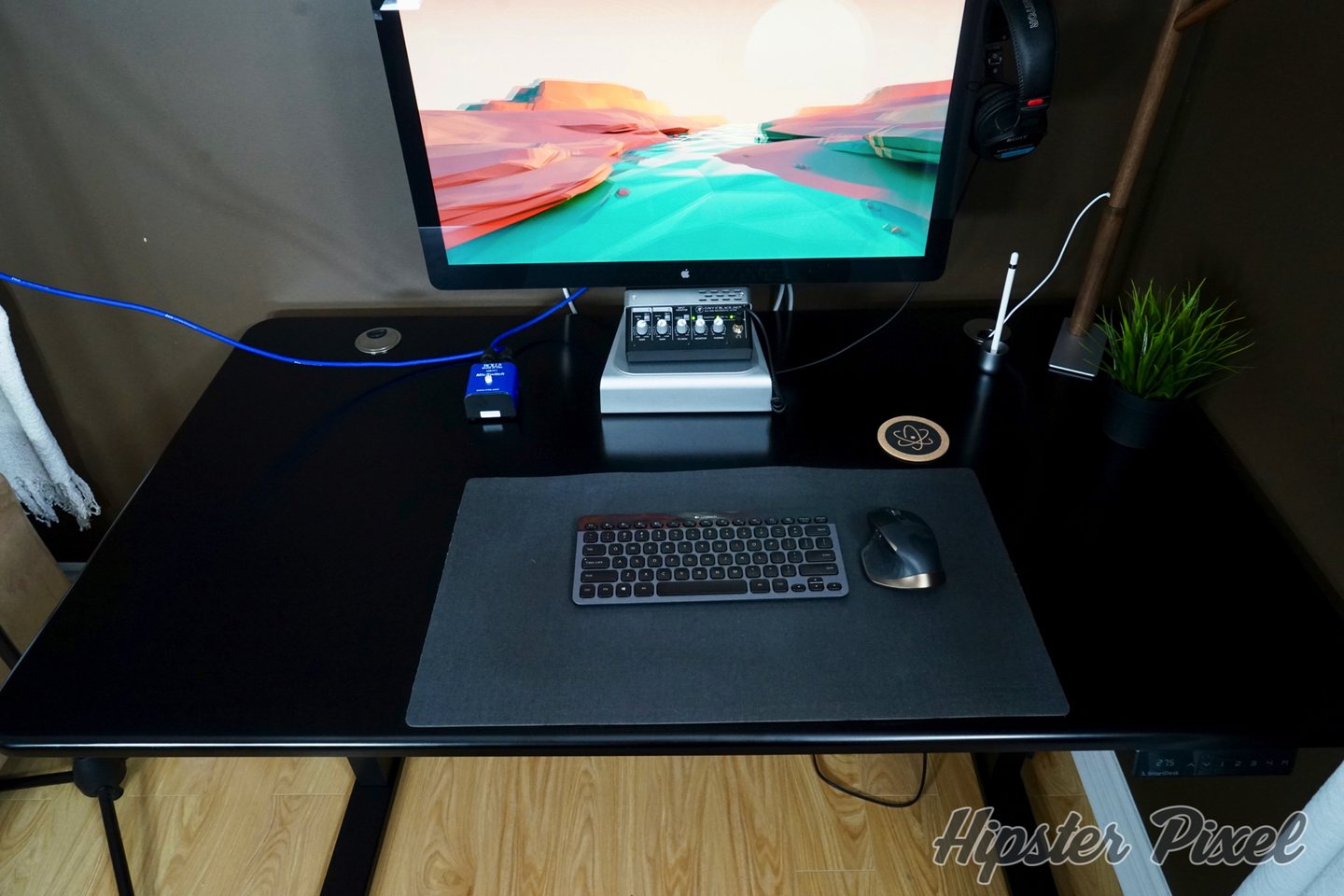 The difference between the Business and Home Editions is mainly that the business edition has two motors as opposed to one for the Home Edition. This makes the process of rising and lowering the desk much faster. In terms of choices of colours, you can now choose between the white, black or grey finish platforms and black, white, walnut, bamboo and light oak for the surface material. Not all colours and design are available together, refer to the SmartDesk Customization section to make sure your dream desk can come to reality.
The panel is located on the front with 4 presets, up and down buttons and the Memory button used to record your favourite position. These are push buttons and they feel sturdy and controls the whole system quite rapidly. You also have to wire holes on the back side that allows for cables to pass through if you need to. I'm more of the type to gather the cables behind the monitor and actually hide those holes with either a lamp or a plastic plant.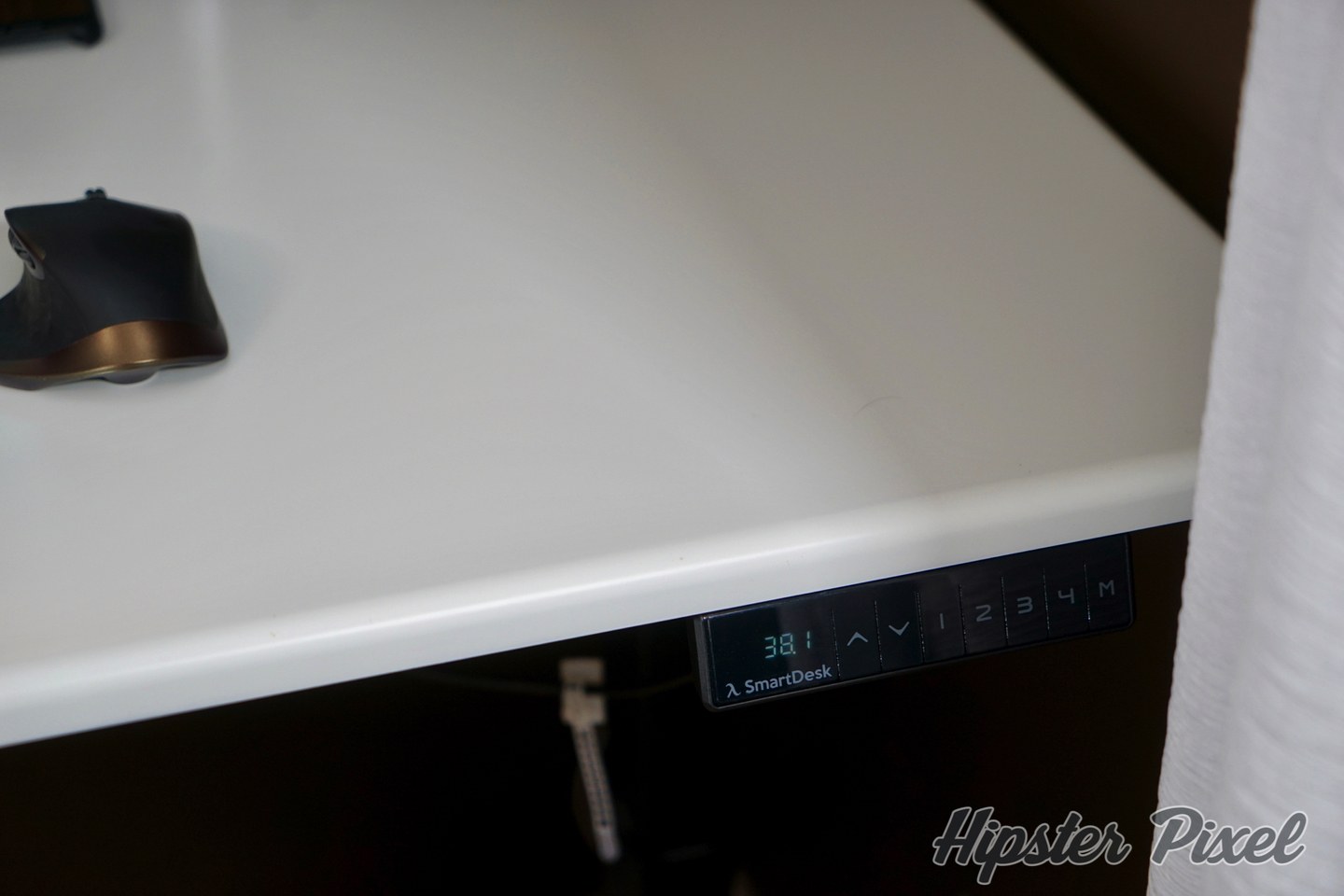 Features
3 designs, 5 colours, 3 platform colours
two types of motorized system
Home Edition: 220lbs lifting capacity, 1-inch/second
Business Edition: 300 lbs lifting capacity, 2.3 inch/second
30-inch deep desk allows for roomy setup
Installation
As you might guess, the first step is assembling the desk on its platform. You will be receiving two boxes when you order your desk as each component is shipped in their own separate boxes. After an ordering mixup, I ended up with two desks, one black and one white. So I figured I should assemble both on the black platform to show you more pictures and experiment more the assembly procedure.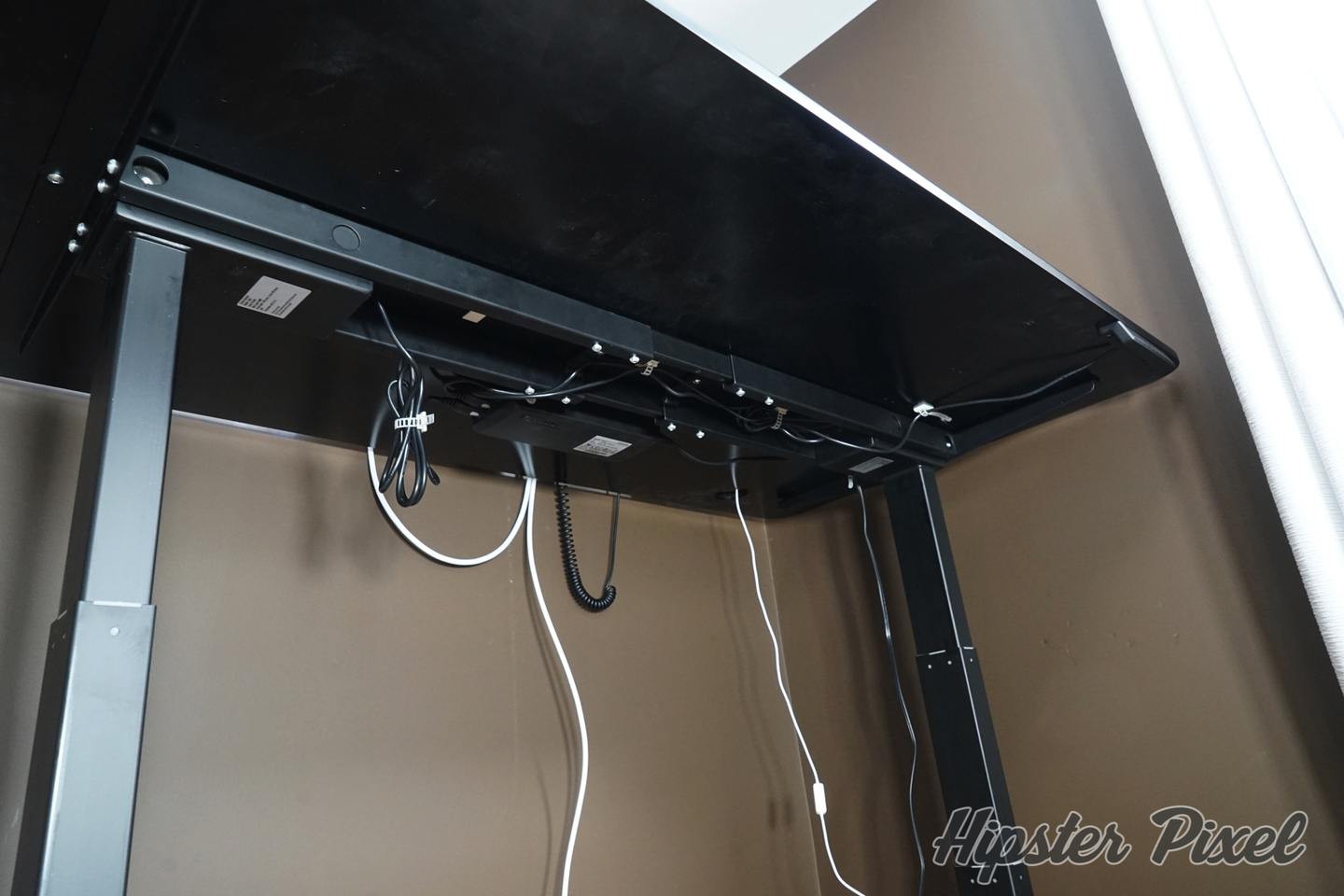 Both legs are held together on an adjustable rail so if you ever want a custom-top desk, you are more than welcome to install your platform on it! Autonomous even has a DIY kit for that exact reason if you already have a top desk that you want to continue using. All you need to do is assemble the legs and rail, and then fix the rubber pads in the 8 holes and start twisting that screwdriver. I do not recommend an electrical drill as you want it to be tight but not too much or you'll lose some of the rubber vibration isolation. The whole process should take you less than 20 minutes with the hardest task being to align everything perfectly. I started with the black desk and then when I moved to the white one, I did it in less than 10 minutes with no instructions. Very easy process!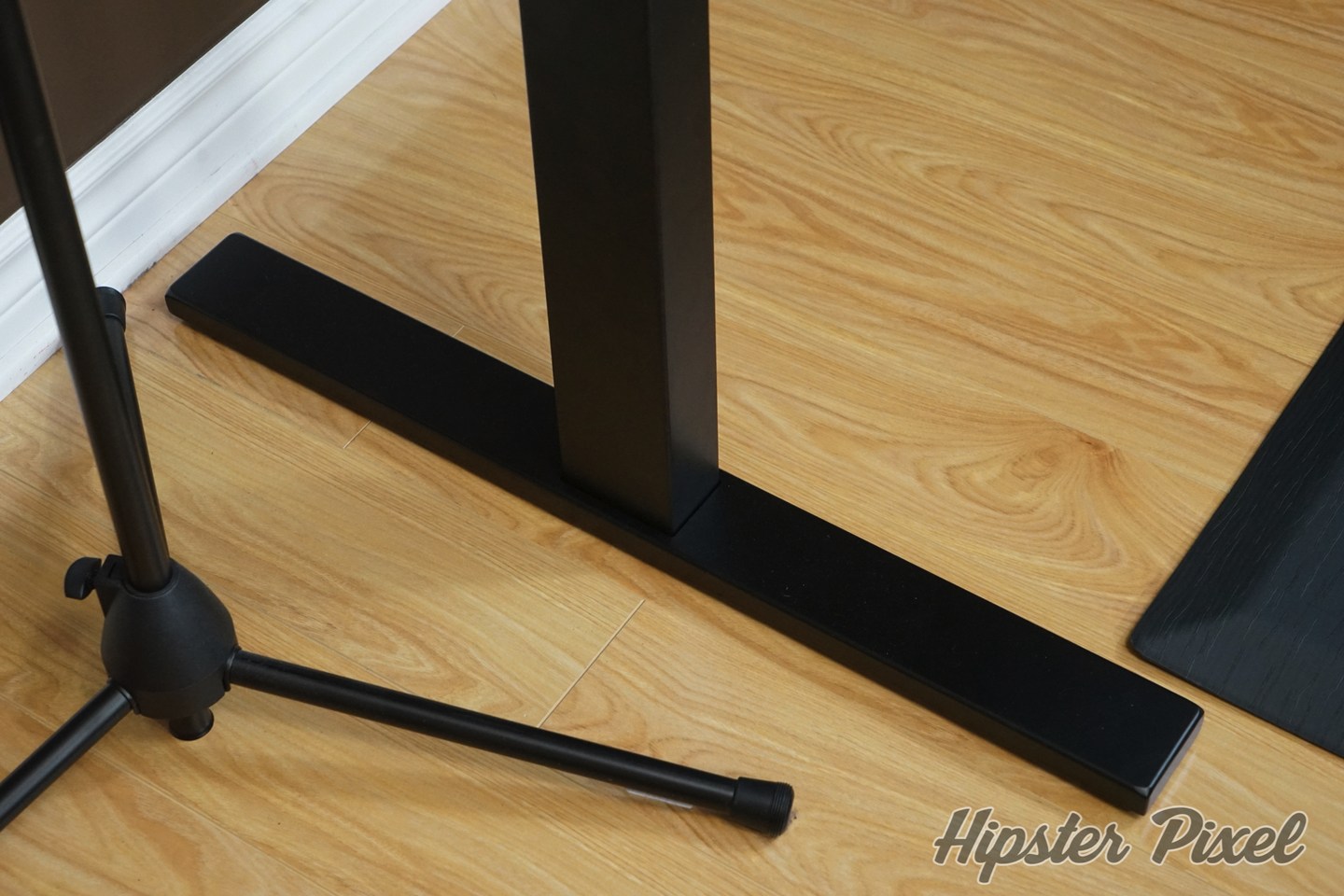 Included in the box is a bunch of cable tighteners with a sticker side. You are welcome to use those, however, after a few weeks, they tend to lose their grippyness. I suggest to either use tie wraps around the rail in the centre section, there is a gap that is perfect for this, or buy 3M cable hooks that have a better chance of sticking up for a longer period. Autonomous also sells a cable tray that measures 35" wide and allows you to install all the cabling there with the powerbar of your choosing. If you are not 100% certain of your setup or if you're like me and have an always evolving setup, I strongly encourage you to get the 19$ cable tray!
If you end up preferring the sticker way, make sure to clean the underside of the desk before sticking your cable organization gizmos as there was a fine dust on both desks I unwrapped.
Sitting or Standing?
As a sit stand desk, you can go from one position to the other in less than 10 seconds; at least between my two favourite positions it takes 9 seconds. I was very new to that whole standing desk trend having only used a colleague's setup for about one hour. I was very curious to see if I could stand up most of the day or even all day. I was very happy to see that I could do such thing very easily and only having soared heels at the end of the day. Therefore, I strongly recommend one of those anti-fatigue mattress if you can. It will make the whole day bearable.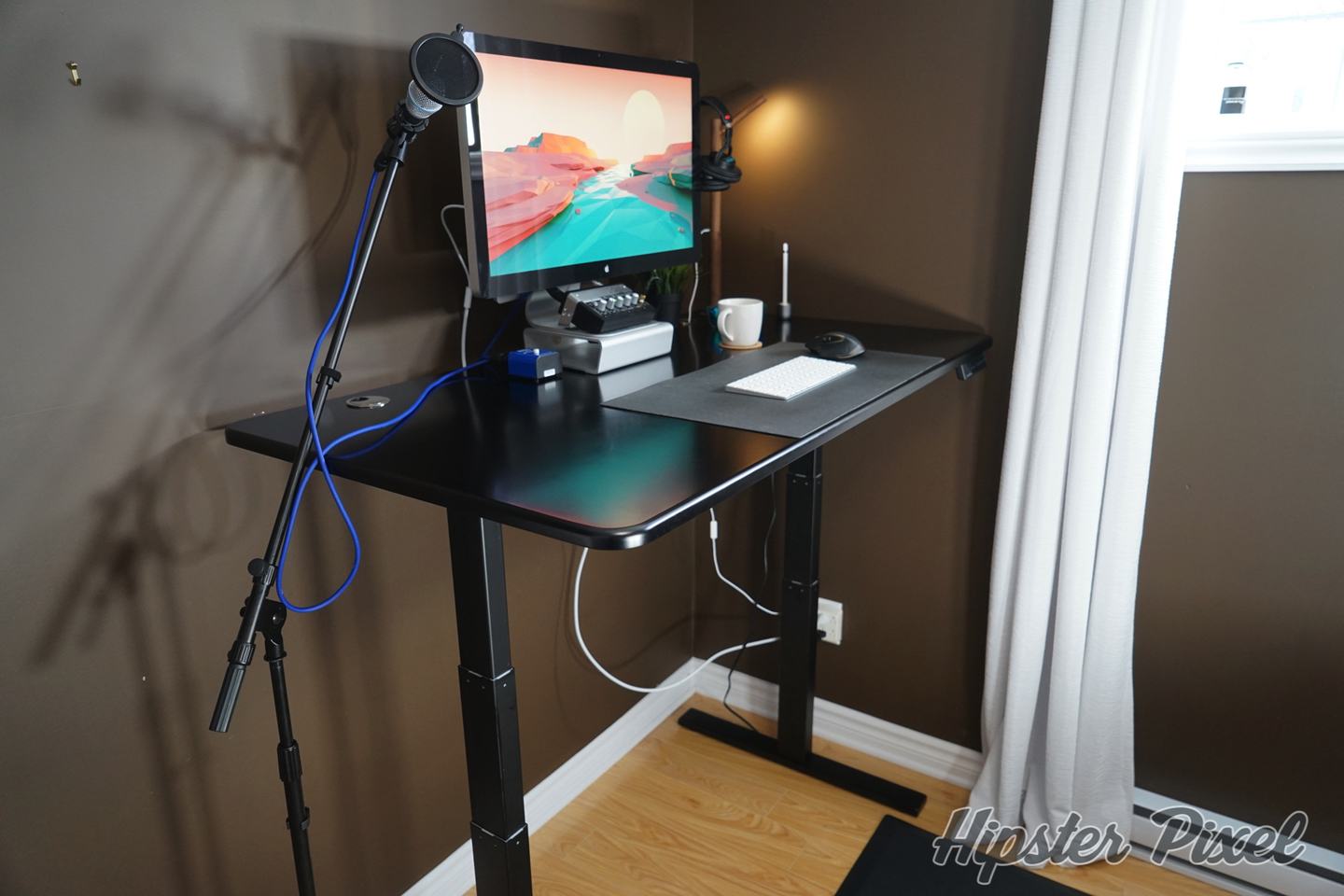 Over the weeks, I had no trouble standing all day long when at my computer, taking only short break to go out and get food or sit at the kitchen to eat. Ideally follow guides available online to get the proper height position for you and you will only benefit from the experience! After all, sitting all day is considered the new smoking!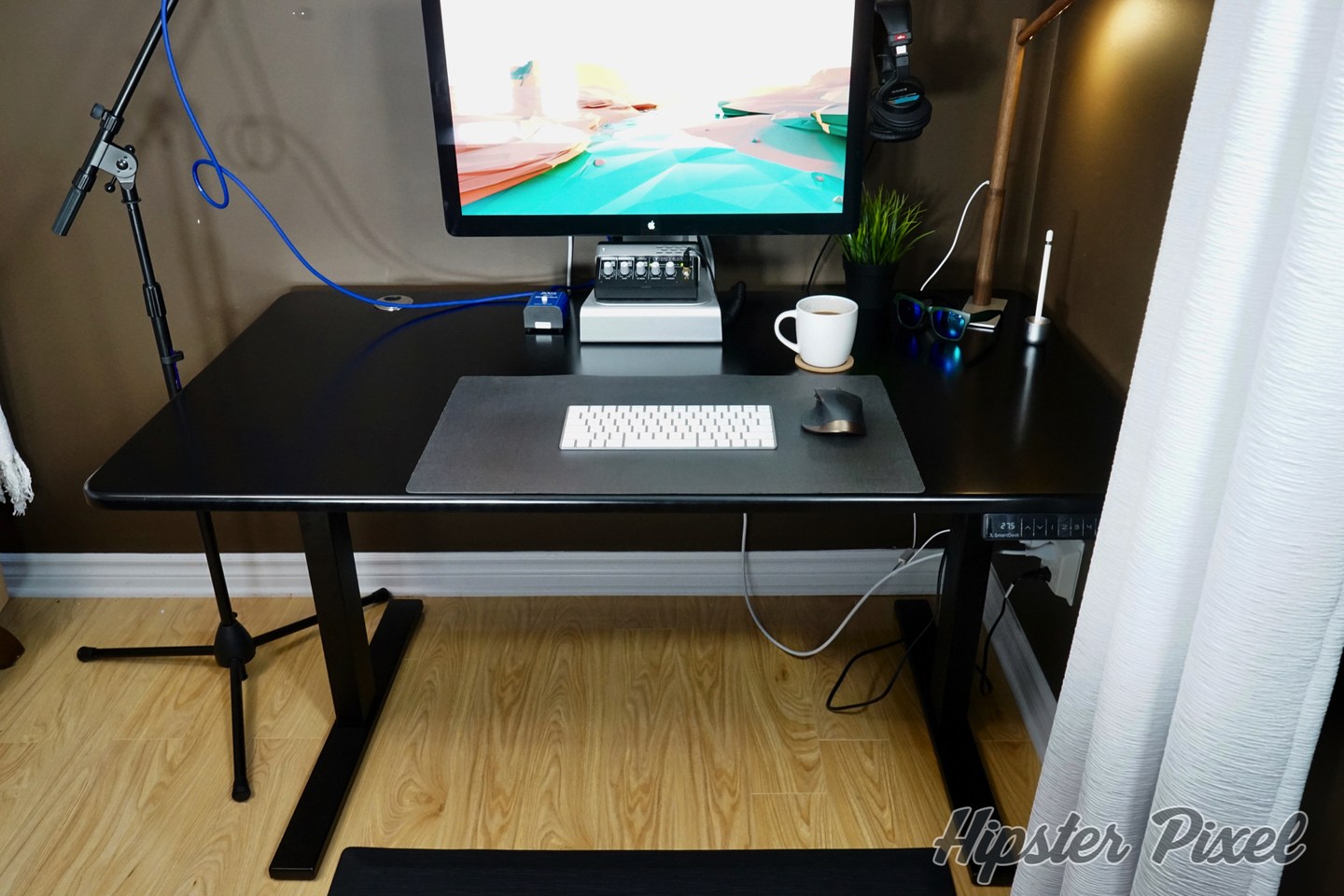 Given the depth of the desk, it's easy to go from the standing position to a sitting one and have space to spare for all of your accessories and peripherals. Also, the depth of the desk allows you to get the perfect distance to your monitor for comfort purposes or even get one of those nice arm mount to hold your monitor in the air.
Performance
The main function of a standing desk is to allow you to work in a standing position. But more importantly is the effectiveness the desk can take you to this position. The first feature is speed and the second is precision. I reviewed the Business Edition, therefore it rises at a speed of 2.3 inches/sec and in a very stable fashion. While moving a coffee or filled glass is in no danger to spill, the desk is super stable and that's including a heavy Thunderbolt Display, an aluminum Elevation Stand and à bunch of other accessories. Since it did not slow down or showed sign of resistance I would be more than confident with a two or even three monitor setup. It's rated at 300 lbs so it can take a lot of gear!
The second aspects, the precision, is when you need a slight adjustment because you removed your shoes or added an anti-fatigue mat. I'm happy to report that you can very slightly hold the UP or DOWN button and get that .2 or .3 inch adjustment to get the perfect height.
Gallery in Black
Gallery in White
Conclusion
After rocking this desk for many weeks, I can now strongly recommend it not only because it's affordable but most of all because of its quality that you normally see in other standing desk over 1,000$! The installation is super simple and can be done in less than 20 minutes, and the colour choices lets you customize the desk to your liking. The performance is great and the motors are powerful enough for that dream multi-monitor setup!
You even have options to get a longer, ergonomic, or more affordable version if you prefer. The DIY kit really shines if you have an existing desk or know of an artisanal piece of wood that would look great without the need to overlook a standing desk. If you are looking to gain from the benefits of working standing up, the SmartDesk 2 is the desk you need as your partner in crime!
SmartDesk 3
During my time with the SmartDesk 2, Autonomous released the SmartDesk 3, the exact same desk but with an embedded tablet computer that track a bunch of things for you like your water consumption, the time you spend sitting and more. This is a very interesting idea and I'm sure many will like an all-around solution like it.
Here's the video if you are curious!
Review Summary
SmartDesk 2
Autonomous Inc.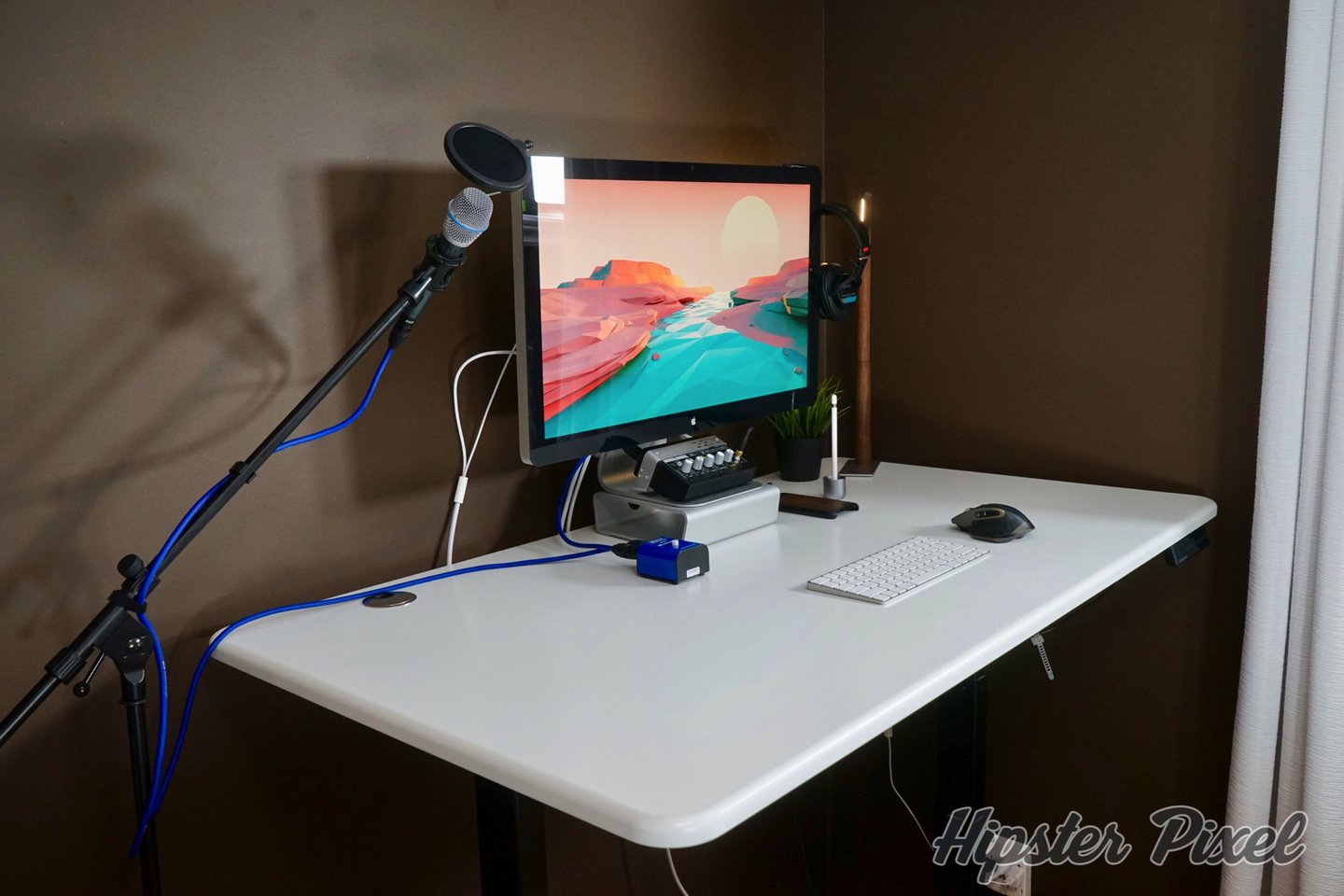 Autonomous are makers of the SmartDesk 2, a standing desk that is affordable, but is it powerful and top quality? Let's find out!
The Good Stuff
Build quality
Color, shape choices
Strength and stability
The Bad Stuff
Not all choices available for Canada