---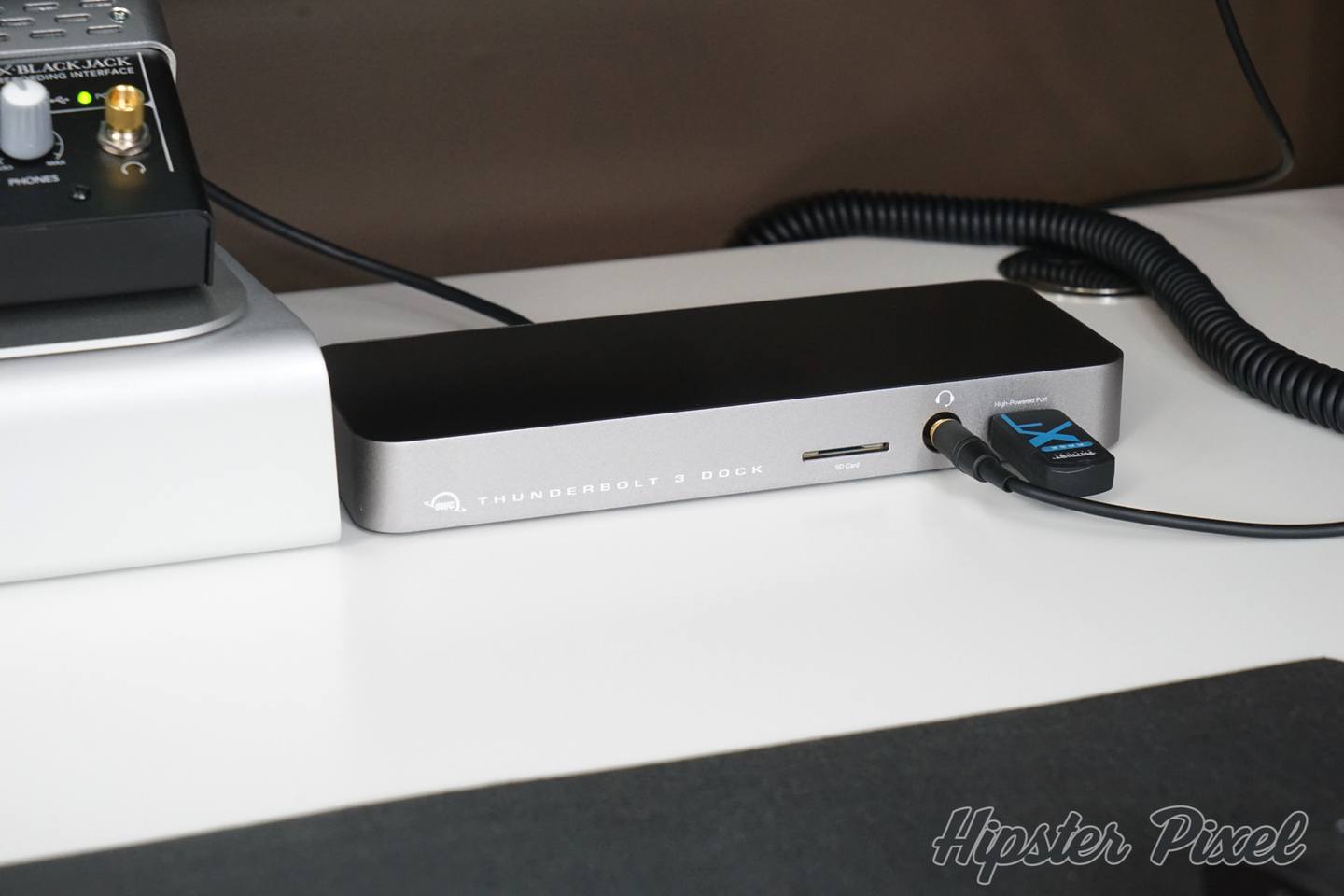 OWC Thunderbolt 3 Dock Review
The world of inter-connectivity is large and full of half measures and lives on top of a mountain of dongles. But what if you're fed up with all that? What solution lies out there that can help you get ahead of the game with performance and functionality? A single product to rule them all, a product to allow you to use all of the lost connectivity from the new MacBook Pro redesign of 2016 and 2017?
The OWC Thunderbolt 3 Dock is exactly what you could consider a solution to all of your adapters, dongles and missing port problems! This new Thunderbolt 3 equipped dock allows you to bring back Ethernet, USB 3.1, DisplayPort and even Firewire 800 back to your MacBook Pro! The Dock comes with its own power adapter so it can even deliver enough power to charge your device while plowing through an SD card full of 4K videos and displaying 5K content on an external monitor!
Design
Following the design aesthetics of modern Macs, the OWC Thunderbolt 3 Dock comes in two colour schemes, Silver and Space Grey to match your most recent MacBook Pro. It also sports a nice dark plastic top to add a very distinguished look to your desk!
As it was the case with the previous generation Thunderbolt 2 Dock, OWC added ports to two sides of the dock. This time, however, the other side with ports is the front. So in the front you have some of the most useful ports that requires regular plugging and unplugging. You have a high-powered USB-A 3.1, a headphone/line out 3.5mm jack and a SDXC card reader. This last one is the one I'm using the most!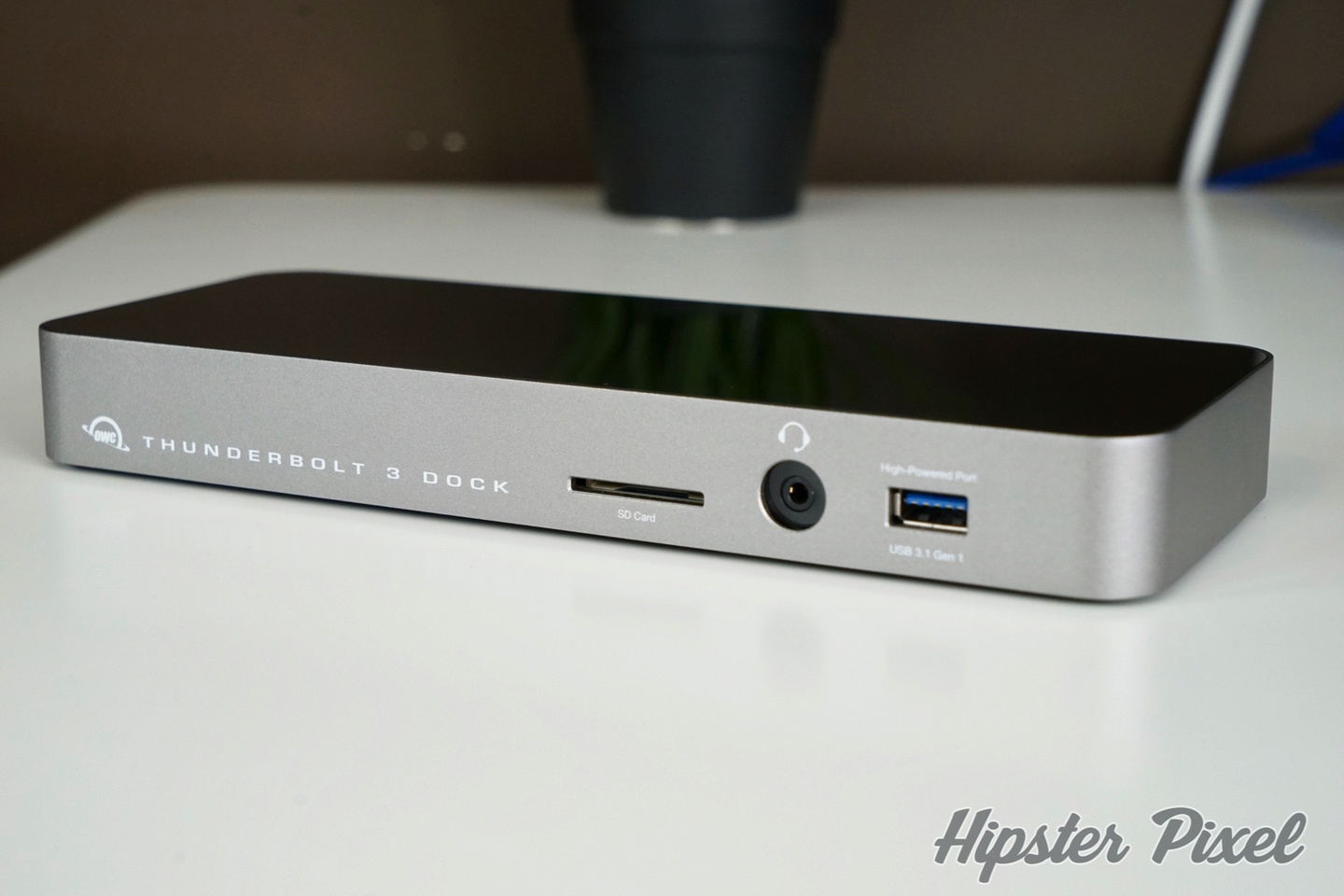 On the back you have four USB-A 3.1, one SPDIF, a Firewire 800 and an Ethernet jack. There are then two USB-C ports but really you only have one left as one is needed to plug the dock into your computer. And finally a mini DisplayPort to allow for an external display. This port is NOT a Thunderbolt 2 port and does not allow you to daisy chain other Thunderbolt 2 devices or use it for file transfer, its for display purposes only.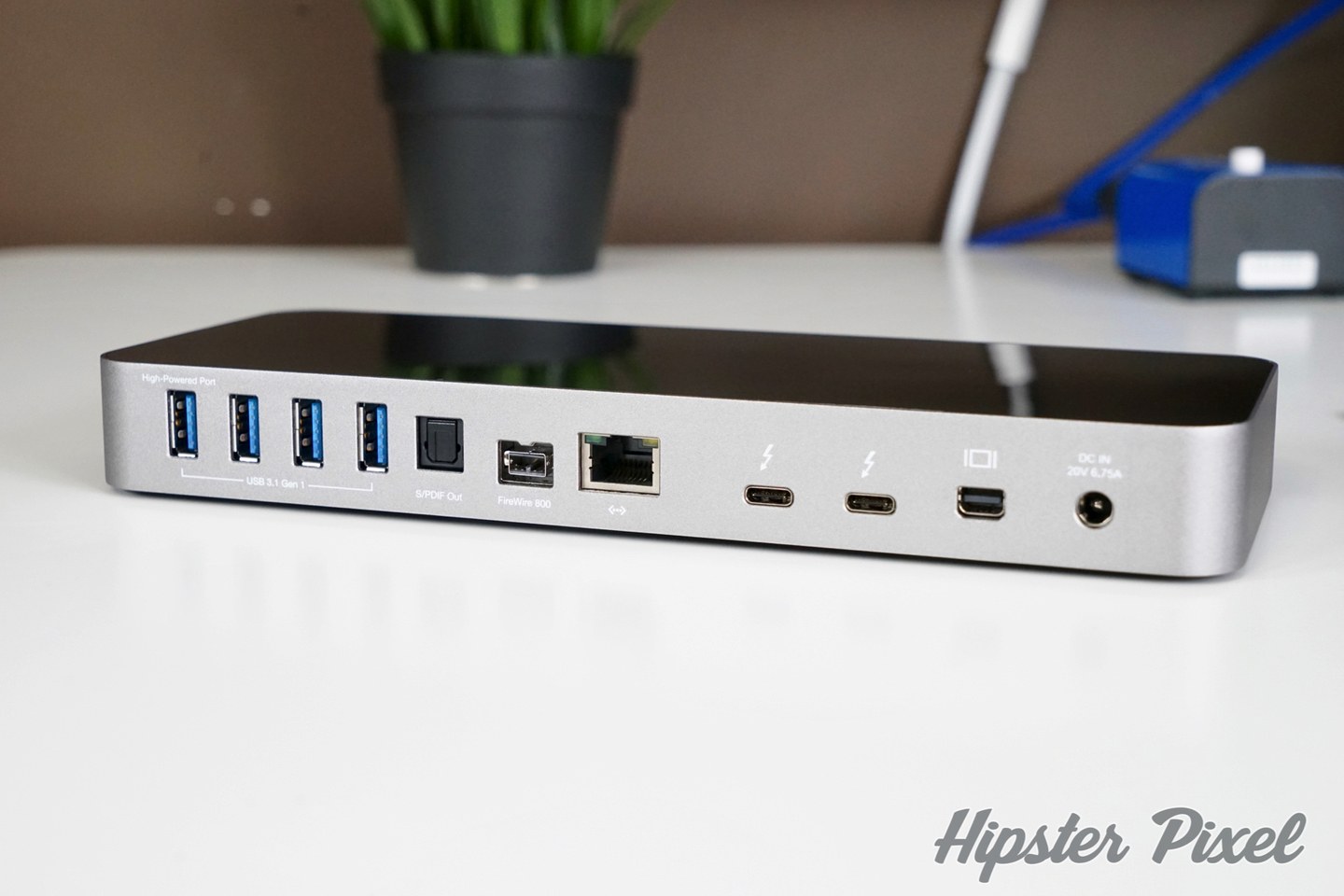 Features
13 ports including USB-C, USB-A, DisplayPort, Ethernet, SD, Firewire and headphone jack
Can charge your MacBook Pro
Can drive a 5K or two 4K displays
Daisy chain up to 6 USB-C devices
2 year warranty
Performance
I wanted to hold on for a long time to this dock before giving my final say as I had great experience with docks the first couple of days but overtime I realized that the reliability was simply inexistent. I'm happy to report that the OWC Thunderbolt 3 Dock does not suffer like these unreliable docks. I've had hard drives installed on it both on USB-A and USB-C ports and they did not disconnect not once.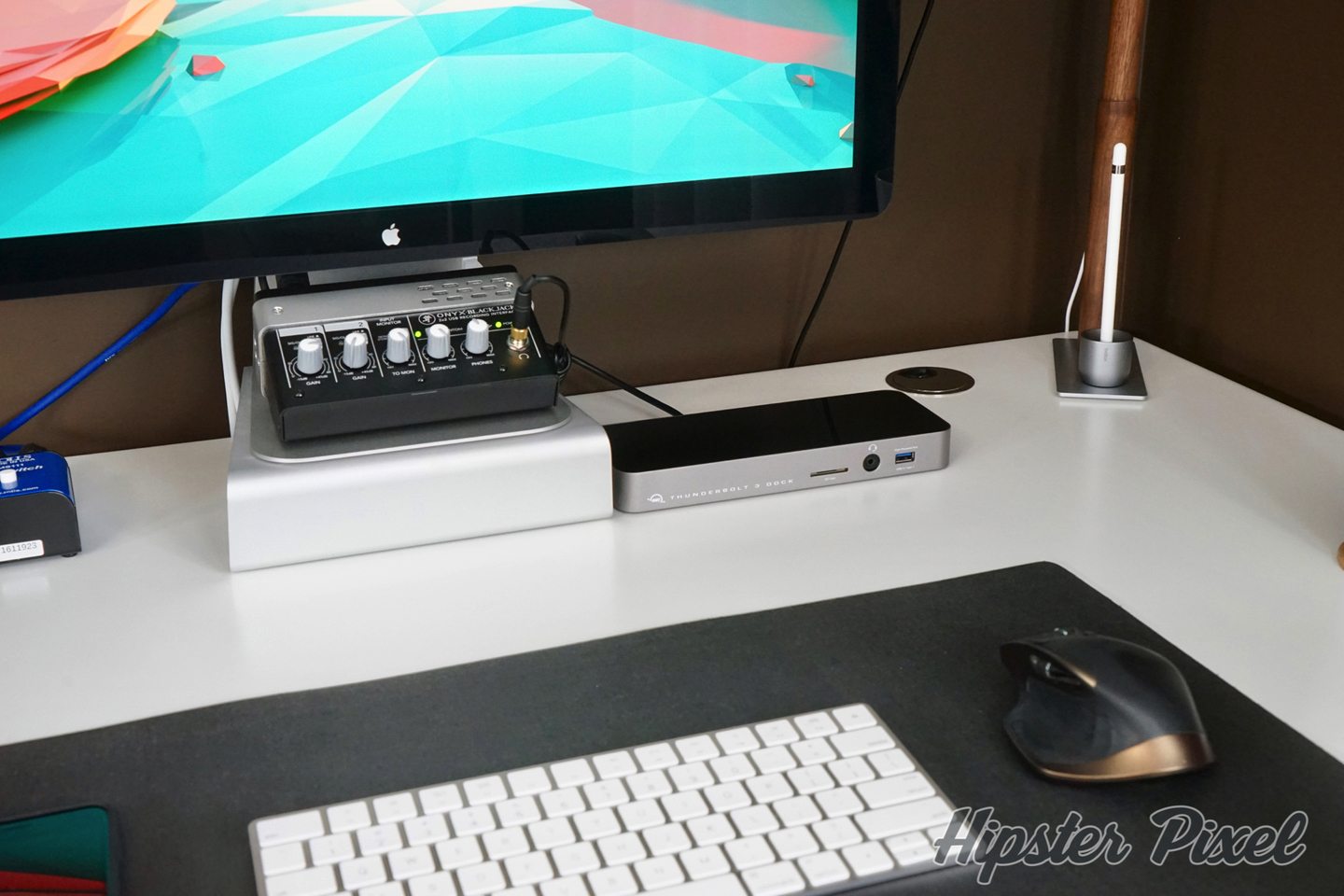 Same thing for the Ethernet, I was able to keep a constant connection to my home office switch while the Dock was kept ON and plugged. I would take my laptop away and back, and always find myself with a waiting Ethernet connection ready to be used.
With a modern Mac, a typical scenario would be to have an external screen and accessories like external drives, perhaps even a USB audio interface, all hooked to the OWC Thunderbolt 3 Dock . Then, when you hook your computer to the dock you should get access to all devices. This part is easy, where usually devices have problems is when you remove and reconnect your computer many times over the course of many weeks. Overtime, many docks will have issues with the network connection or a USB drive will not mount. This is harder to test as you need to use the Dock in your daily setup and put it through a stress test over a long period of time. So, as you might have guessed, I did just that.
After a few months, I'm happy to report that not a single hard drive failed to connect and the network connection is still stable and strong. I only plug the USB-C cable in my MacBook Pro from the OWC Dock and my Thunderbolt Display in another USB-C port. I even moved all of the peripheral from my Thunderbolt Display to the OWC Dock so I could ask it to do as much as possible. I even tested having an SD card plugged in over time, and not a single disconnection or issue happened.
Conclusion
The number of ports is impressive and allows you to add a lot of connectivity in a scenario that weirdly reminds me of those pesky Dell Dockstations for Latitude laptops from my Windows days. You only need to plug in a single USB-C cable and everything is instantly available to your MacBook Pro. Very useful for professionals that have a complete setup and do not want to tag along half a dozen adapters and dongles.
Given how stable the connection is with all the peripherals plugged it, the OWC Thunderbolt 3 Dock allows me to really only connect a cable to get access to it all. And best of all, once all is plugged, I can really forget it, as I know, it will keep a reliable connection to the mounted drives and the network. Something that is not easy to achieve in a world of varied external devices.
The design of the dock is amazing and fits perfectly the new colours of MacBook Pro to really be a good desk companion for your setup. The options are great and allow for a good range of connectivity, I only wished it would allow for one or two Thunderbolt 2 ports as I still have a few devices that are using this technology and I don't feel like adding dongles to the OWC Dock. There is a single mini DisplayPort that can be confused for a Thunderbolt 2 as they use the same connector but it's really only meant for display purposes.
Overall, I strongly recommend the OWC Thunderbolt 3 Dock. I've been a user of the Belkin Thunderbolt Dock and Thunderbolt Dock 2 for years and out of them all, the OWC dock is the one I prefer with its sleeker design and most of all rock-solid reliability!
Review Summary
Thunderbolt Dock 3
Other World Computing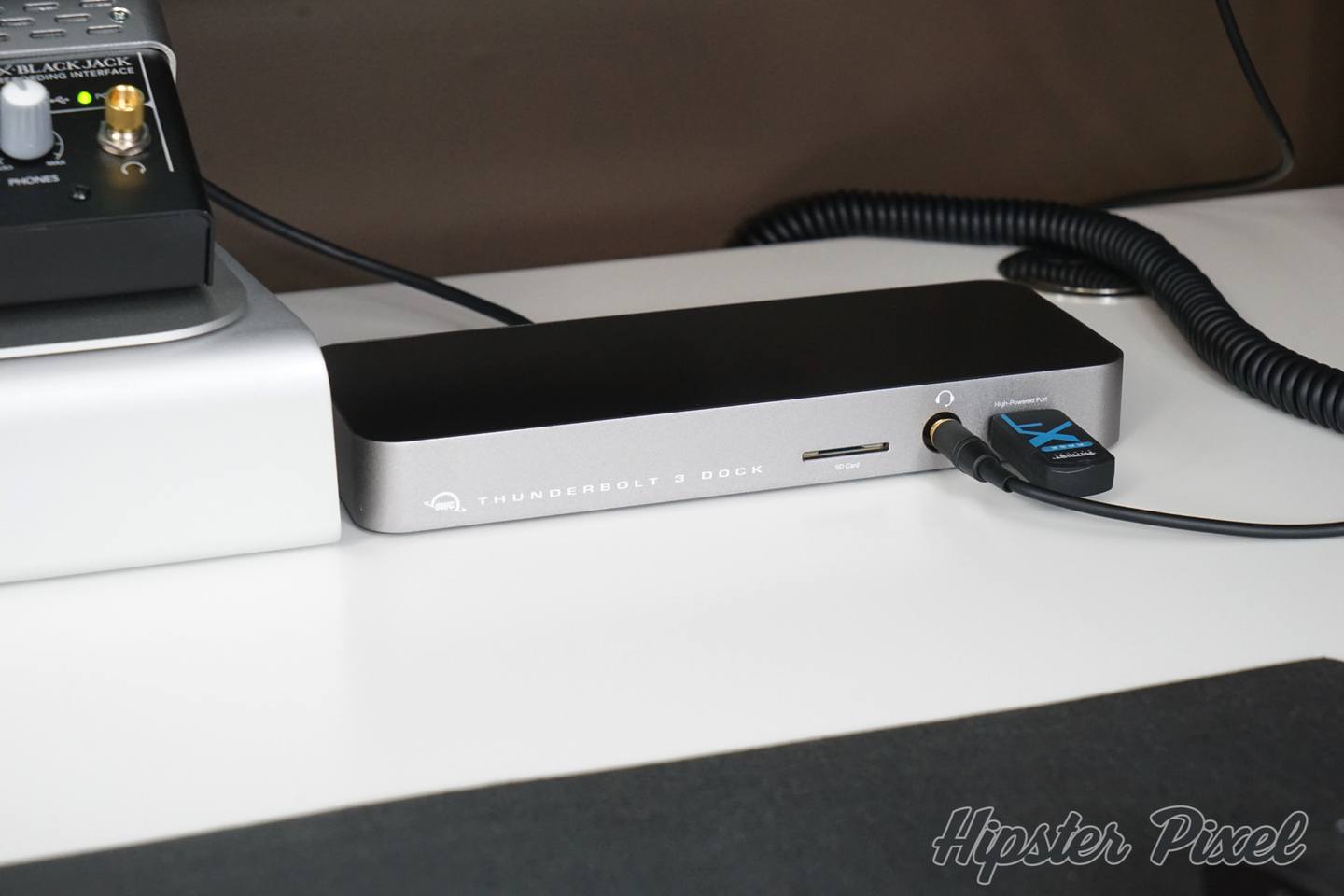 The OWC Thunderbolt 3 Dock is offering the promise of a plethora of ports, all concentrated into a USB-C cable. Does it really offer the performance it promises, and most important of all, does it provide a reliable experience over months of daily use?
The Good Stuff
Slick design, modern
Matches well a MacBook setup esthetic
Great range of ports
Performance is high
Reliability is perfect
The Bad Stuff
No Thunderbolt 2 ports
No HDMI port