---
Exway X1 Full Review, Faster Than a Boosted Board!
This is not my first rodeo on an electric skateboard and I've come to be quite used to the hub powered world of electric skateboard. When seeing what people were sharing about the Exway X1, I was really wondering if this board was all that mighty and great as the early videos showed it to be…
I've been riding an Exway X1 for many weeks now, and after camera troubles, I'm finally able to film and edit my review. If that's what you like hit the Play button in the hero image and read this through afterwards!
Design
The X1 is a stiff deck electric skateboard that actually includes everything you need INSIDE the board and not under the board like Boosted or Juiced actually does it. Sure, you do lose the flex of the deck, but you also gain waterproof capabilities! The Exway X1 is rated IP55 and can survive puddles, rain and more. The only real downside is that you will need to clean your bearings more often.
The deck also has a nice concave shape that really helps with the overall control of the board when turning corners and carving around obstacles. I felt great on the Boosted Board, and the Exway is as great and it does not have the very nice Loaded deck. One particular component that so often have problems is the trucks. Often times, you will see cheap trucks being used on electric skateboard and in the worst scenarios, they can break and be very dangerous. Exway actually partnered with Seismic, a real skateboarding truck company to make sure they have top quality parts that will not break. Believe me, I've put more than 200 km on the Exway in Montreal where we have cracks and potholes that will put lots of strains on trucks when you hit them hard at 40 kph!
The wheels are 80mm with a durometer of 80A, great wheels for city riding as they absorb lots of the vibrations. The board has also shockpads preinstalled to help with this. The only downside to this diameter of wheels is that the PU around the hub motors is too thin for hard road conditions. The Exway X1 comes with 83mm PU around the motors. After 50 km I already had cracks on them, because 83mm is not thick enough to absorb vibrations like the front wheels do and is too thin therefore, it cracks more easily. Not a single crack on the front wheels, but lots of cracks on the hub motor PU. Thankfully there is a spare set in the box and we can already get 83mm wheels and 85mm wheels on the Exway store! This will help greatly!
The Remote
The remote is very similar to the Boosted Board remote which, in my opinion, is the best remote out there in terms of control. The deadman switch and the wheel are just perfect. The Exway team took notice of this and built a very good quality remote. It does not have a deadman switch, but the wheel is almost as good. I'm also in love with the small screen that can not only display the battery of both the remote and the board at all times (thanks to a recent firmware update) but also show which mode you are on and the speed at which you are going!
This screen is incredibly useful and I don't know why not more companies integrate such a nice feature in their remote! Finally, the remote has a matte finish that holds very well in hand, sadly it can easily come off. It does not impact the performance, just that it looks a bit more beat up. Personally, I like it a little bit beat up, it shows that it's been used!
There is only one wheel for speed and one button to turn it ON or OFF, change the mode from 1 to 4, or even set the board to reverse.
Features
40 km/h (25 mph) top speed
15 km (10 miles) of range
4 speed modes
Curved deck, 93.5 cm long (36 inches), 24 cm wide
Seismic 45˚ professional trucks (90A bushings)
Customizable modes and firmware updates through mobile app
80 mm/80A wheels standard (85mm option replacement online)
83 mm/80A PU around the motors
Waterproof (IP55 rating)
Performance
The performance of the board is quite simply amazing. If you were not looking, you could basically say that this is a belt-driven system! It's even more powerful than a Boosted Board! I could not accelerate as fast as a Boosted Board but I could go much faster than a BB v2! But where this product really shines is with every little detail that was carefully thought and rendered into a fully featured board, waterproof and high performance!
Speed
In terms of speed, we can very easily know what is your current speed thanks to the speedometer inside the remote and clearly displayed on the screen. The board is rated at 40 km/h and I was able to reach very easily 38-39 kph with all 250 pounds of myself. It also accelerates fast to reach that top speed. This number is corroborated with speed radars in my neighborhood, they report the same speed. To be fair to the Exway X1, I also need to compare this speed with the Ride App, the mobile app that allows you to track your ride. With the Winboard and the Koowheel, I had to use this app since neither of them had any speedometer and at that time I did not have yet the speed radars.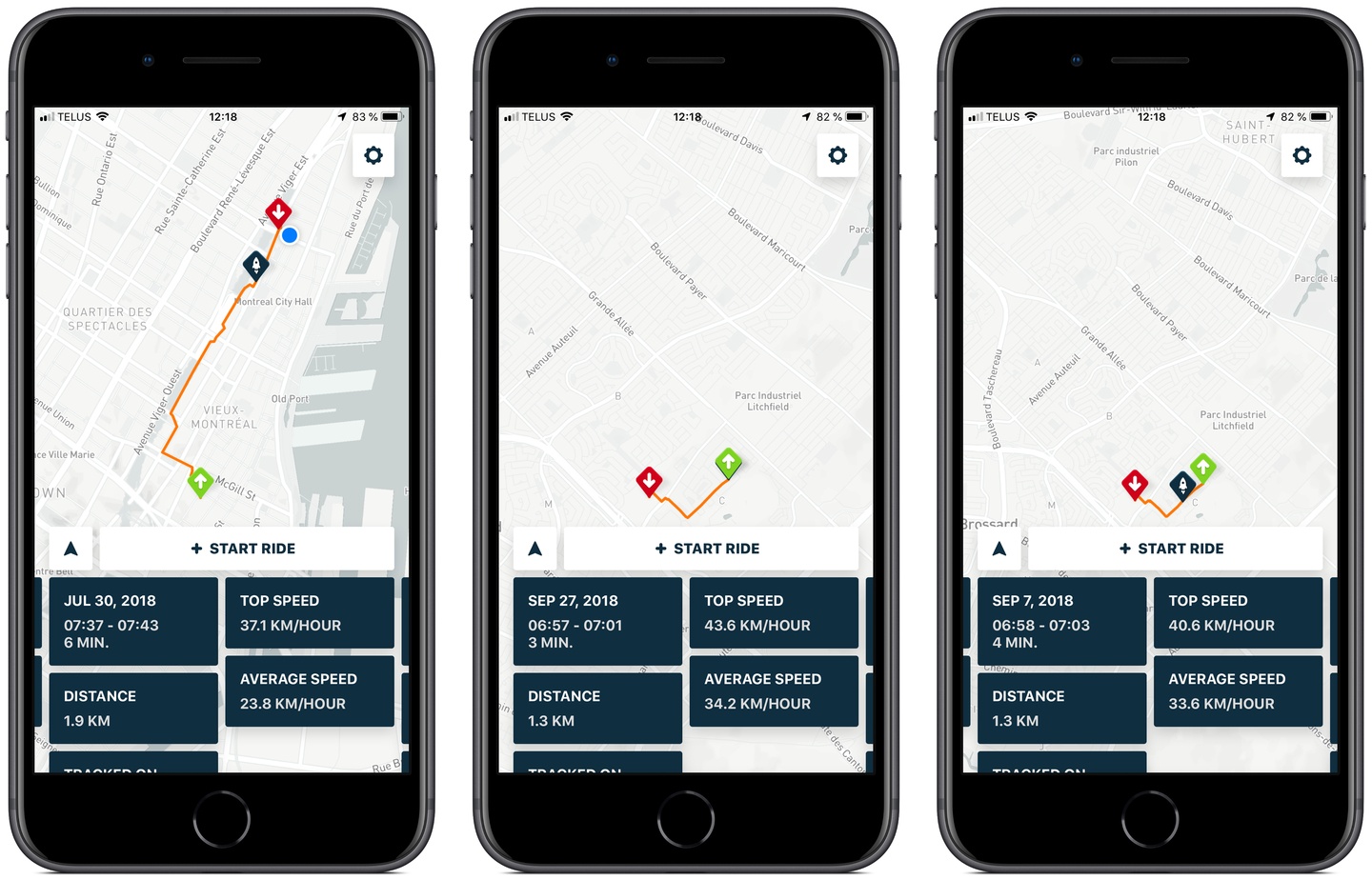 I can reach 43 km/h according to Rideapp! Quite a bit more than the 38 km/h I got with the Koowheel using the speed hack!
Range
As for the range, the manufacturer promises 15 km (10 miles). As with Boosted Boards, and all other boards, it all comes down to the way you ride, how many times you stop and how fast you go. I love speed and I do stop at red light, therefore, my maximum range is not as high as that promised 15 km. I always ride on the 4th speed with all customization options set to 100%. Also, I like to carve. In short, I have two speeds: stoped and full steam ahead.
For my style of riding (and with my weight on the maximum of what's supported), I can get about 4 to 5 km of range. But if I know I need to go further, I change the remote back to 3rd speed where I have set the acceleration to 80% and 75% maximum speed with a 100% on the breaking for security reasons. This way I can increase my range alot and reach about 8-10 km depending on the road conditions and riding style. If you really want to reach the full 15 km, you might need to go back down to the 2nd speed but for me this is too slow.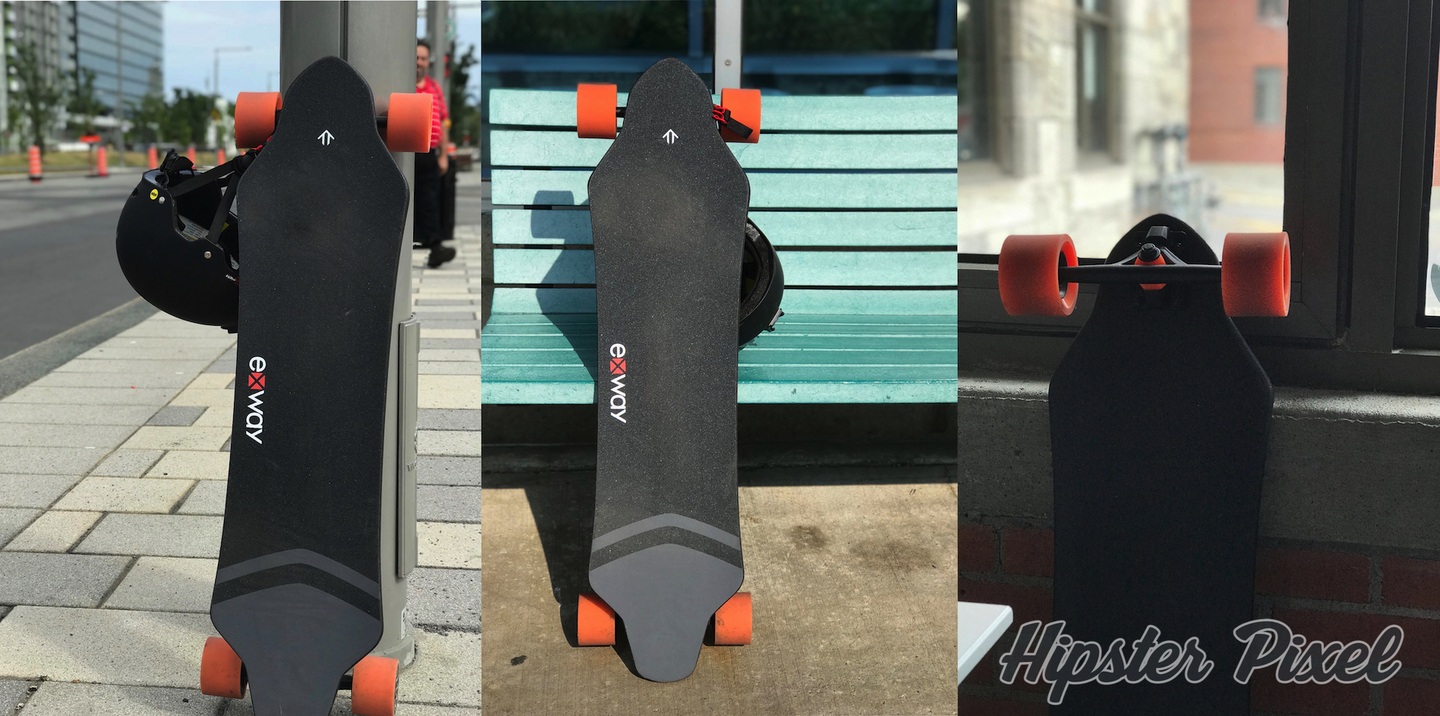 Charging
I prefer to ride hard and fast and charge once I get at work. Using the charger, you can go from 0 to 100% in 2h. I usually have about 20-30% on the battery left when I get to work so in about 1h and a few minutes I get my board back to 100%. Brand new from this week, you can now get a quick charger that charges at 160% the rate so you can do a 0 to 100% charge in 35 minutes! This way you can stop to get a coffee, take a few sips while reading the news and your board is ready to go once again!
The remote will need a charge every 2.5 weeks for me if I ride the board 5 km in the morning and 5 km in the evening. I would love the vibration to be less intense, if often time give me a scare when I'm concentrated on the traffic around me.
Riding Experience
The Exway comes with a concave deck, great Seismic 45˚ trucks and bushings and a very comfortable wheel base. All this adds up to an amazing riding experience. Second to a Boosted Board that uses a flexi Loaded deck. The Exway deck is not flexible as they decided to install the batteries inside the deck to offer a nice waterproof rating. Carving is a pure joy and it really feels like you're riding a cloud! If the streets are freshly paved!
Acceleration is great, especially when your board is fully charged and breaking is good. It's not great because I'm a heavy guy and when coming at about 28 km/h I find it lacks breaking power to come a full stop. I nonetheless feel safe riding in traffic in Montreal.
Voltage Sag
This brings us to the only downside of the Exway, the way the battery management system and battery behave when you reach the 30% mark or lower. At full charge, when I get out of my house the power throughput of the BMS is amazing. I really fly, accelerate super fast and get to that 38 km/h in a few seconds. After riding for a while, when I get close to the office, I'm in the 30% range and I now see that that the acceleration is much slower. It still goes and I can still climb small hills, but you definitely feel it.
Yesterday was an awful day with constant wind at high speed and I got to work in the 10% range, it was still going but very slow. It's like I was down to the first or second speed at about 16-18 km/h. There's really no solution to this unless you stop to recharge with that new Quick Charger that can do 100% in 35 minutes.
I remember having the same issue with the Boosted Board v2 but not that strong of an impact though.
Waterproof
This is for city riders a real gift from above! No more riding around puddles or fearing drops of rains. The Exway can resist water splashes with its IP55 rating and I can confirm having ridden it on wet pavement and while it's raining. It even happened yesterday that I crossed a rain patch on my way home.
It works perfectly and I still feel the bearing are great, not perfect, but great and that's after riding the board for over 270 km. The only danger really is to yourself as the slick wheels will slip if you turn too fast or if you try to carve. Watch out and wear protective gear!
Maintenance
Given that the design of the board provides protection from the elements, there is not much maintenance to accomplish. You basically have the bearings to clean once in a while and perhaps the grip tape. All the electronics are embedded inside the board and apart from the bearing nothing is exposed.
You might need to change the bushings on the board depending on your weight. They come with 90A durometer bushings and I have just received 98A purple bushings that should allow for a better riding experience. Right now I need to super tight the trucks or else the board wobbles when I go fast. I'll be sharing a video shortly about the bushing replacement and the maintenance I will do to my Exway board.
Conclusion
Overall the Exway X1 is the best hub motored powered electric skateboard for the masses! With its affordable price of 888$US at the time of writing these words, you get an amazing board designed to be low maintenance, resist water damage and provide sufficient speed for the most demanding customer.
If you are lighter than the 250 lbs I weight, you will even have more fun with faster and longer range than I had! If you can, get the 83 mm or 85 mm wheels and a Quick Charger as believe me, you will not want to stop riding it! The 80 mm PU on the back wheel is too fragile so if you need to ride into the city with awful pavement, you should seriously think about the 83 mm wheels at the very least!
I don't have any major issues to report that are exclusive to this board and my overall satisfaction is very high. I strongly recommend this board to anyone that is looking for a board that can grow with them if they never rode one in the past. It will offer a great experience once you are used to eSk8s.
Notes to Manufacturer
I write these reviews for geeks like me, the great guy or gal that will be purchasing this product so they know the type of experience this product provides. This section is aimed at the manufacturer and lists a number of enhancements of fixes that would greatly benefit the product.
To make this board perfect, you should offer it with options for different wheel size when purchasing the board. You just added new 83 mm and 85 mm wheels yesterday so I'm super happy about this as I was going to strongly recommend doing so! The voltage sag is not something you might be able to do much about with the current configuration but it's something that you should really look into for the 2019 update of this board (or your next Exway X2 board if one is planned!) Perhaps offer replacement bearings as this is really the only part that will eventually need replacement.
Review Summary
Exway X1 Electric Skateboard
Exway USA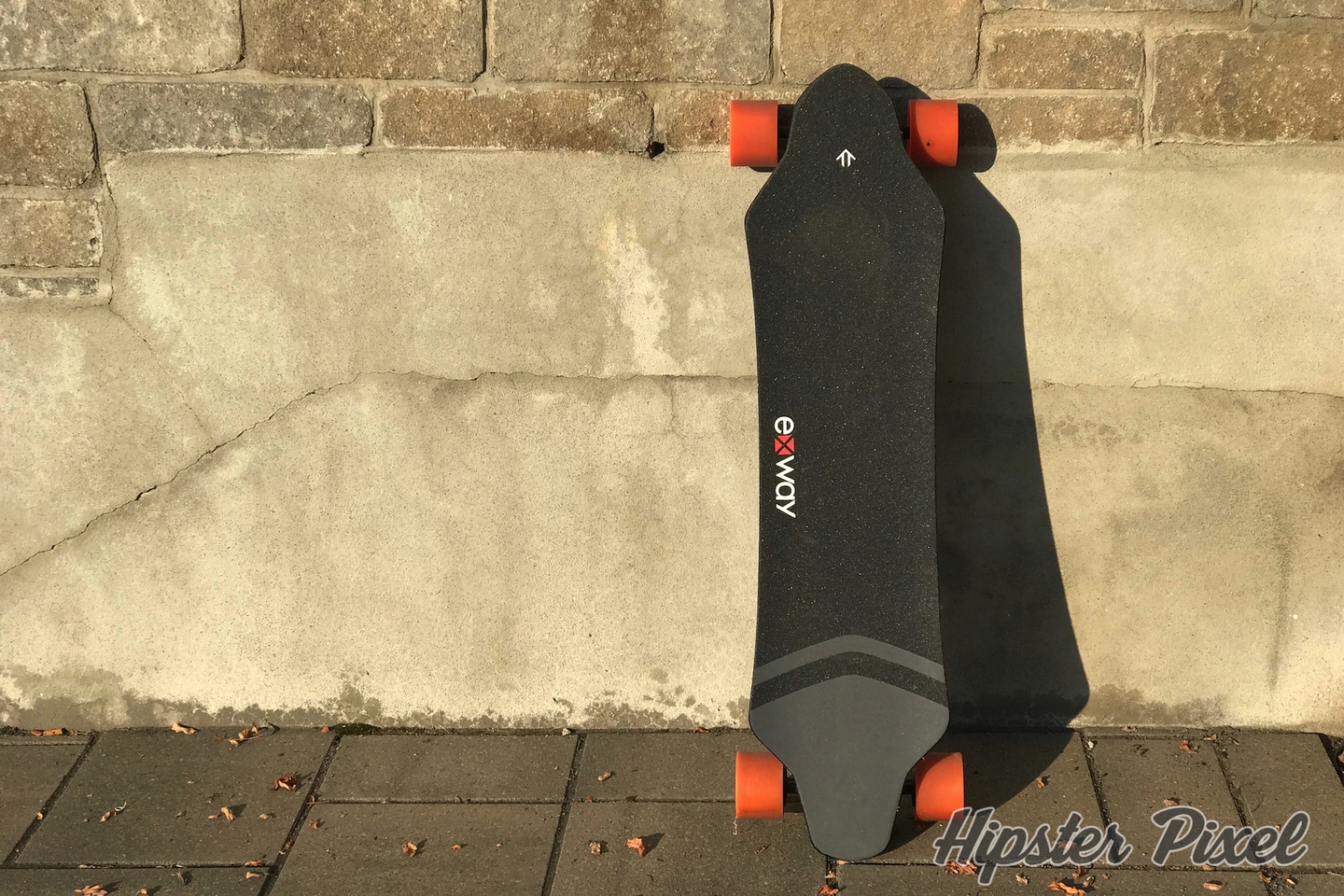 An electric skateboard made for the masses with water resistance, low maintenance and amazing performances!
The Good Stuff
Great design
Great performances
Water resistant
Low maintenance
The Bad Stuff
Breaking could be stronger
Backwheel PU should be thicker
Voltage sag impact performance < 40%