---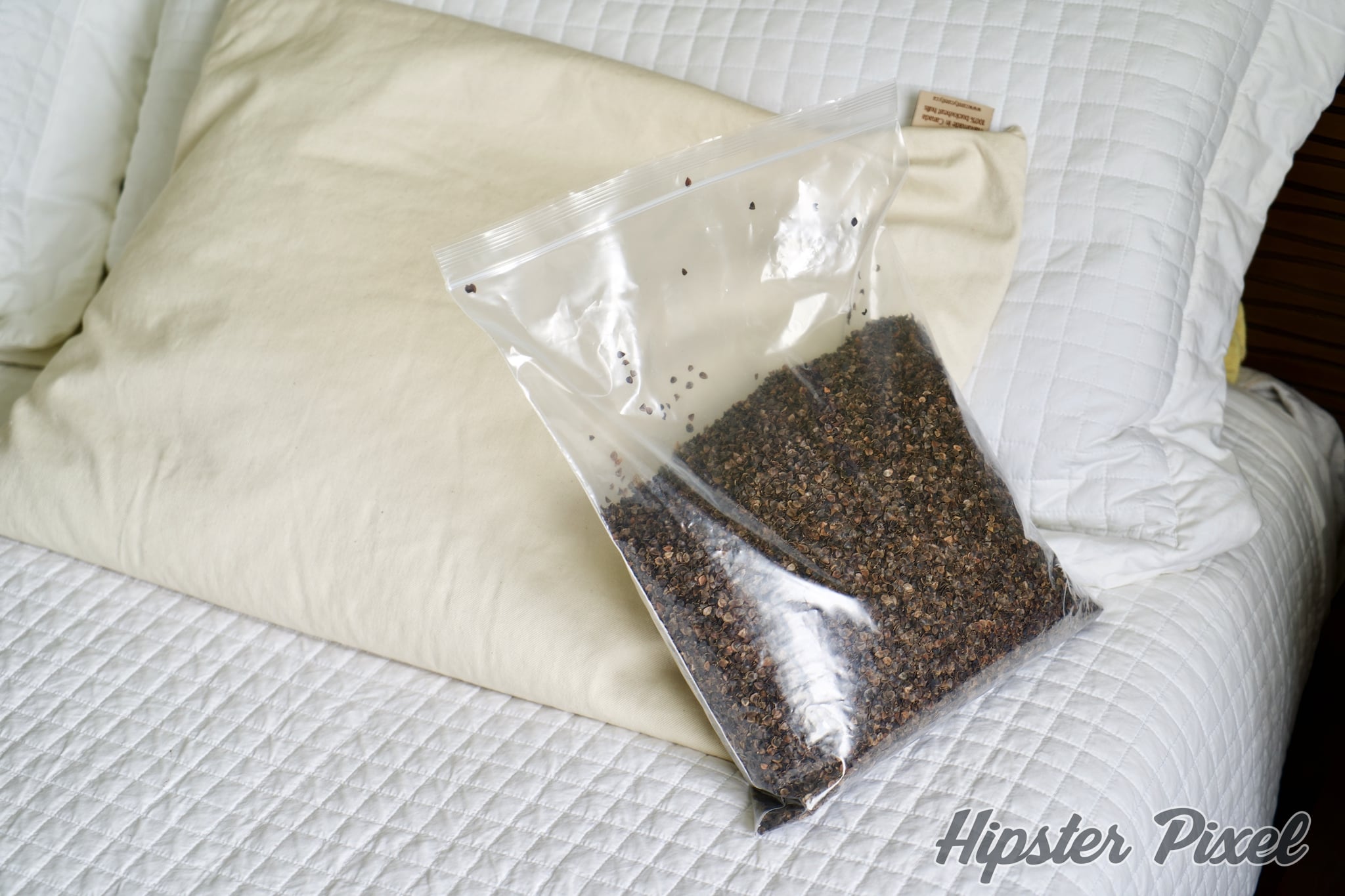 ComfySleep Organic Buckwheat Hull Pillow Review
Over the last two decades, I really tried all kinds of pillows. It all started with a down-filled pillow that I got from my dad that I kept for way too long, then I moved to memory foam, latex foam, shredded latex and back to another type of memory foam. Then, I tried a water-filled pillow that eventually leaked… so I was back to down-filled pillow, this time with a mix of feathers and down for added support. And finally, I discovered the ComfySleep Buckwheat Hull pillow .
Why all that change? Comfort is the reason. I'm a side, stomach and back sleeper so I need a pillow that does a good enough job of supporting me, while at the same time, not put too much strain on my neck when I'm sleeping on my side or stomach. This is probably the longest quest I made around comfort in my whole life! Most of the mentioned pillowed ticked one or many boxes, but none of them actually were great and all of them eventually gave me neck pain, shoulder pain or back pain.
The latest contender is something that Japanese slept on for the last couple of centuries, a bag full of buckwheat hulls. ComfySleep actually provides this in a very thick and nice casing made of organic cotton twill. Let's see how this pillow worked out for me over the last month and a half!
Design
The ComfySleep organic buckwheat pillow comes in four sizes, Standard, Classic, Classic Plus and Traditional. They are not as large as one would expect since the material is not down or feathers. I was provided by ComfySleep the Standard size pillow with an extra 2lbs of hulls, as well as the Classic Plus , same length as the Standard but a fair bit narrower.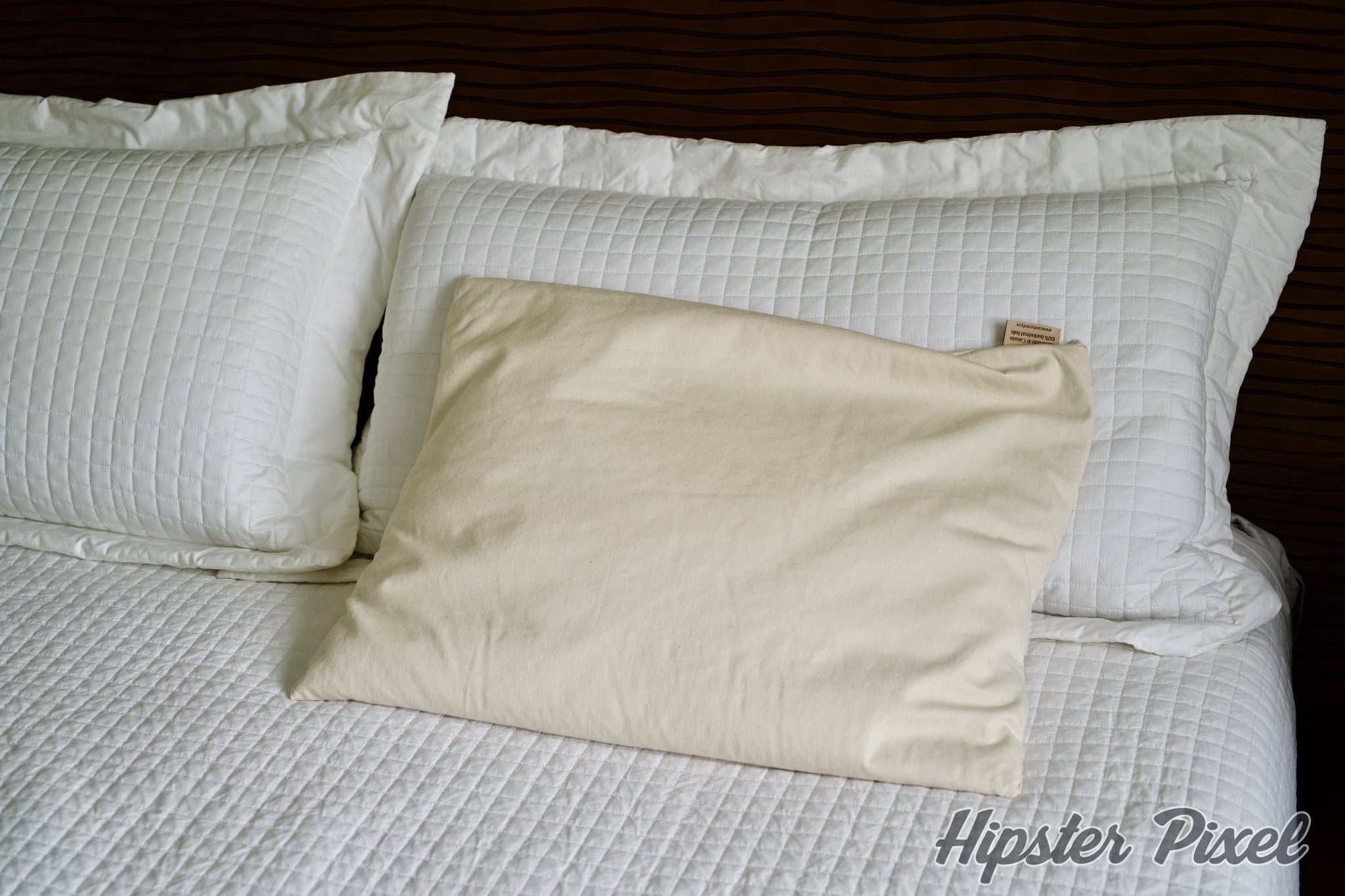 The pillow is made of a predefined quantity of buckwheat hulls, a dry ingredient that is perfect for supporting your head and neck while at the same time being able to move freely around to adapt to your back and neck line. The casing is also made of organic materials, cotton twill this time, that has a strong zipper. This makes sure the content does not come out of the casing while you sleep.
And if you need to add or remove some of the hulls, you simply unzip and remove them with a large soup ladle. Each product comes with extra hulls because overtime, they might lose some of their thickness and adding some back will bring back the optimum comfort level.
Features
Filled with thoroughly cleaned, organic buckwheat hulls
Buckwheat grown in Canada
Provides complete head and neck support for restful sleep
Casing made from durable, 100% organic cotton twill
Zippered opening allows for addition or removal of buckwheat to achieve your perfect level of support
Breathable so that you sleep cool
Family-owned business
Experience
When you first open the box, you are greeted with your pillow already filled a pre-defined amount of hulls and a large Ziploc bag with extra hulls. You can first start to sleep on the pillow as it and see how comfortable you feel. Then over time, you add or remove hulls to fit your preference.
I first started with the Standard pillow , thinking it's the recognizable shape. After a few days sleeping on it, I realized it was too large for me, pushing me too far down my bed and I was having my feet dangling out of the bed. I have a king-size bed and I measure 6 ft. I could have removed some of the filling but instead I decided to try the Classic Plus, a pillow with the same length, but narrower in design. I LOVED IT!
This Classic Plus size can be used as a side pillow for people that want to have something next to them, or between your knees if you need a straighter line all along your body. In my case, I used it as a pillow and realized on the first night that it was perfectly filled and perfect size for me!
You need to know two things about buckwheat hull pillows. The first one is that they make noise when you move around or reposition your head. I did not find this annoying and I even heard people describe it as soothing (👋🏻 iMyke!). The second thing is that this material allows you to actually shape the pillow, but it actually holds in place! At first it's eerie, but then you realize how great this actually is!
I often turn from back to side or stomach, and I then move some of fabric to fill the arch of my neck and have full support from head to shoulders and it's actually quite soothing to feel this kind of support!
Conclusion
If you are like me and tried a tone of pillow or are still searching for the Choosen One, have a look at ComfySleep Organic Buckwheat Hull Pillow , it's amazing and I could not be more excited for a pillow! The comfort level is through the roof even for a strong guy like me! It adapts and supports you to sleep perfectly. The extra hulls allows you to adjust comfort out of the box and over time if you feel the hulls have diminished in their abilities to hold you up correctly. You can even buy extra hulls for the coming years if you need more.
I really like the casing, the hulls, and the overall quality of this product. I strongly recommend this pillow to anyone. Period. After many decades, I finally found the type of pillow my body needs!
Review Summary
Organic Buckwheat Hull Pillow
ComfyComfy Canada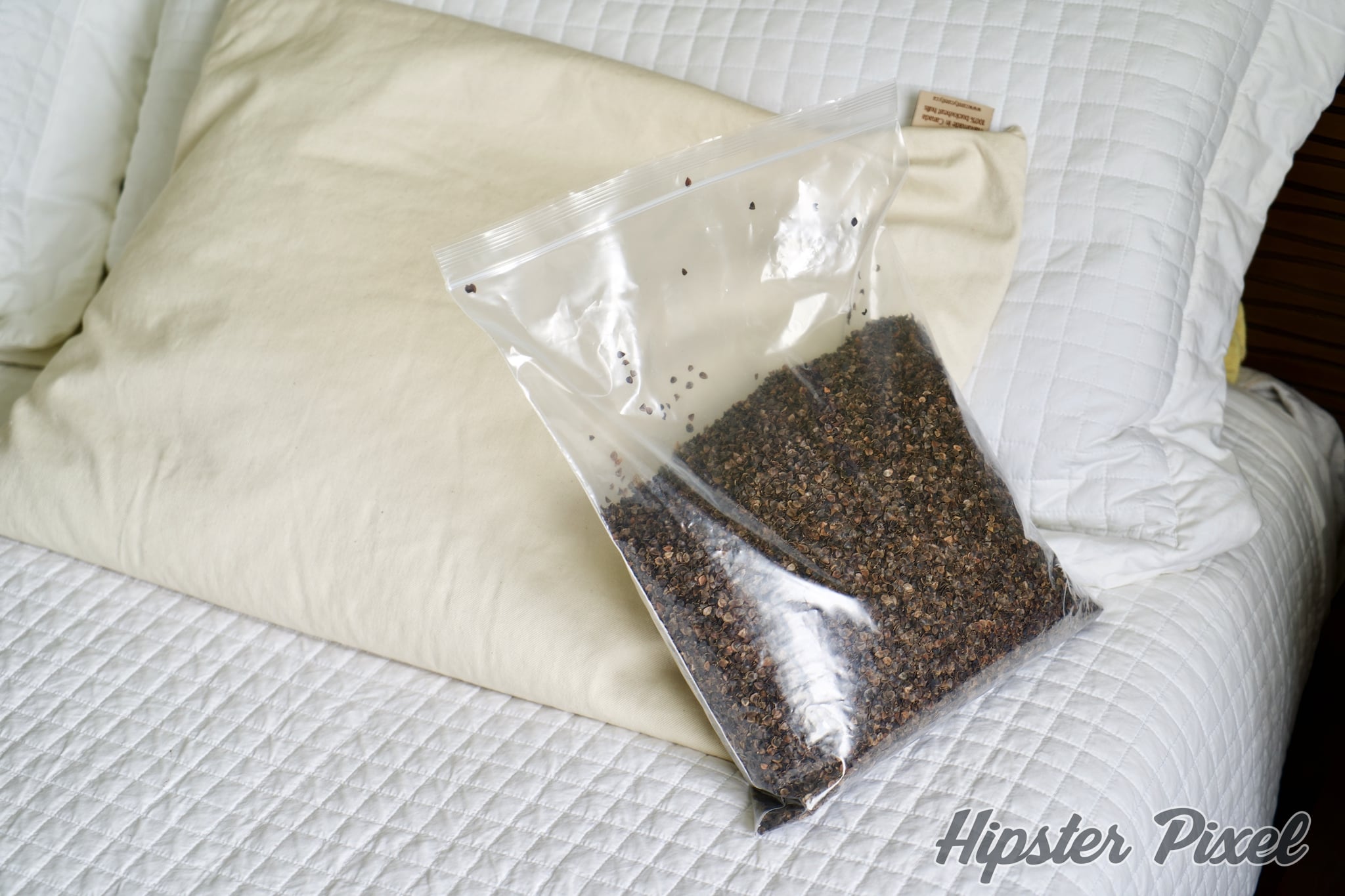 The Good Stuff
Comfortable
Offers actual support
Organic materials through and through
Customizable (add or remove hulls)
Various size pillows
The Bad Stuff
Heavy when you need to do your bed? (can't think of anything else!)