---
DJI Osmo Action 4K Action Camera Review
The market for action camera has gotten much wider over the last couple of years, but rare are the actual real contender to the GoPro king of the hill. But this might change with the addition of the Osmo Action by DJI , famous maker of drones and gimbals.
This time around though, no gimbals, no hardware tricks like the Osmo Pocket , it is an action camera pure and refined!
Design
At first glance you might think that the Osmo Action is but a copy of the GoPro design, but when looking closer at it you realized that DJI stood on shoulders of giants and perfected the recipe.
The shape is very cubic and even comes with a similar snap-on case but every part of it is improved. The snap-on Case does not kill your fingers when you try to open it. It's much easier to open while at the same time, it's still as sturdy. It also has little holes where LED lights can shine through. The camera itself is similar in that it has top and side buttons, on top we have the power and record button, and on the side the Quick Setting button that allows so switch between modes or toggle the front screen.
Yes, there is a front screen to that camera!! In my video review displayed at the top of this review, I've used the feature considerably to record the review of the camera. It's a square screen but it makes sure you actually know if you are aiming well at yourself for vlogging or for a friend to double-check your helmet attachment angle.
The two filmmaker things that the Osmo Action does incredibly better than GoPro is with the USB-C adapter to plug-in an external microphone. It's not a dongle of credit-card size like the G, it's a short adapter that does not dangle needlessly. The second feature filmmakers will really like is the use of a screw-on glass element that can be swapped for an ND filter or Circular Polarizer without any force. On GoPros you can swap the front element but it's hard and does not feel like it was actually designed for that purpose. PolarPro are selling a kit of 5 polarizers for the Osmo Action.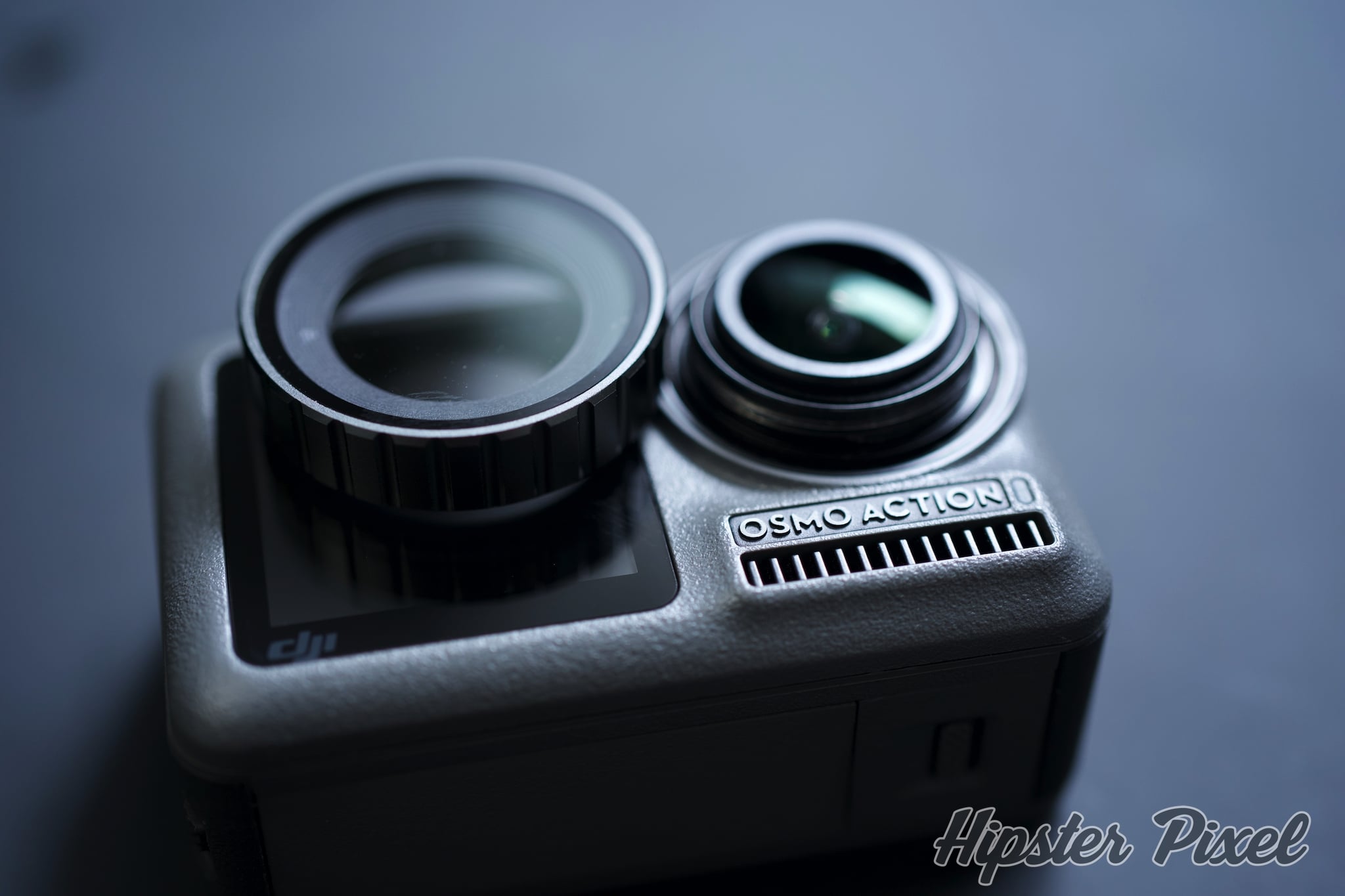 The case is compatible with regular GoPro attachments so feel free to reuse all of your current GoPro gear!
Features
Dual Screen
RockSteady Stabilization
4K HDR Video
8x Slow Motion
4K60p Recording
Waterproof up to 11m
Performance
I took this little camera for a spin, as you can see in the video up there, I had fun testing its capabilities. Let's go over the main features of the camera but first what is the general feeling of DJI's first action camera?
This camera is a charm to use. The touch screen is responsive and I was able to find all of the features I was looking for very quickly. The only one I had to Google was how to activate the front screen. You need to long press the QS (Quick Switch) button, or tap the rear screen with two fingers. You can also use the voice control, but I prefer to actually press buttons, it's much faster for me.
Dual Screen
The front facing screen is a good idea to film yourself, be it for a vlog or just when sing a selfie stick. It can also be useful for a friend to make sure everything is centred or angled perfectly. No more guessing game and I love it! Of course, the screen is square but as long as you centre your subject it's all good.
There is a weird delay when recording that is only happening when recording. I tried to capture this while recording. It's probably due to the camera working very hard to capture audio and video and it lets the actual front display with a delay to focus on the real thing, you know, recording high quality content!
RockSteady
This is what I was looking forward to the most! The Osmo Action uses a software approach to image stabilization that looks great on product video and I really wanted to know how good it really is. I must say, it is really as good as on the product shots! When walking it removes almost all of the movement, your body makes and if you were to walk slowly rolling your feet from heel to toe, you could most probably remove all of the movement!
The output recording is still in 4K, therefore, it's not a feature you can only use in 2.7K as some GoPro forces you to do. You have full 4K resolution and 100Mbits of data to work with. Amazing!
Walking, running, skateboarding they all work great! Even when doing lateral moves, the camera follows and stabilizes the footage. DJI really outdone themselves with this stabilization feature! It's much better than the GoPro 6 I have at home. I have not tried the GoPro 7 which is the current model.
And what about 60p? Well, good news, you can have RockSteady enabled even with 4k60p footage! Once again, you do not need to choose between high framerate or stabilization!
4K HDR Video
This is where you have to make a choice, sadly. Either you go with the awesome RockSteady stabilization or you go with the better dynamic range of HDR videos. In a perfect world we would be able to have it all, but for a first version of their action cam, I feel this is not too bad.
HDR videos will have to be stabilized in post or only when you are on a steady playing field. The HDR video do add a bit of depth to the image and the shadows are better defined, while the sky is very blue and not overexposed. You can see my review up the article for video examples. I would not choose HDR over RockSteady, that sweet stabilization is so good! But if you know the camera will be stable, go for the HDR, always!
8X Slow Motion
The 8X Slow Motion feature is great because you Quick Switch to it and record, that's it. It does all of the heavy lifting internally. The output is an HD file with about 25Mbits at 30fps. You can very easily add it to your timeline with no configuration or basically no configuration. Personally, I still prefer 4k60p to get 2.5X slowed down but preserve the 4K resolution. But if you are capturing very, very fast action, it might be worth it to switch to 8X Slow Motion.
Conclusion
Overall, the DJI Osmo Action is one killer product! It just got on the market and already it was priced more aggressively than the GoPro HERO7 Black with 50$ less at 349$ (469$CA) and it packed in so much feature that it can rival the King of the Hill that GoPro is in the action camera market.
The RockSteady stabilization is so powerful that it really is impressive to see. Everyone I showed footage too was very impressed! Plus you get to have 4K HDR or regular 4K60p if you like to. The 8X Slow Motion is a cool go to feature that is confusion and configuration less that makes an awesome little HD clip with zero hassle.
The camera is incredibly well designed, I love the round threaded filter, the snapping case that does not destroy your nails when you to remove the camera from the case and even the more advanced features like 4K HDR and RockSteady leave you impressed. The microphone situation is good but could be made better but you could always use an external mic with a cheap USB-C adapter so at least you got this going. I strongly suggest you look at the DJI Osmo Action as your next action camera for all the boxes it ticks for a first-generation product, this is impressive!
Review Summary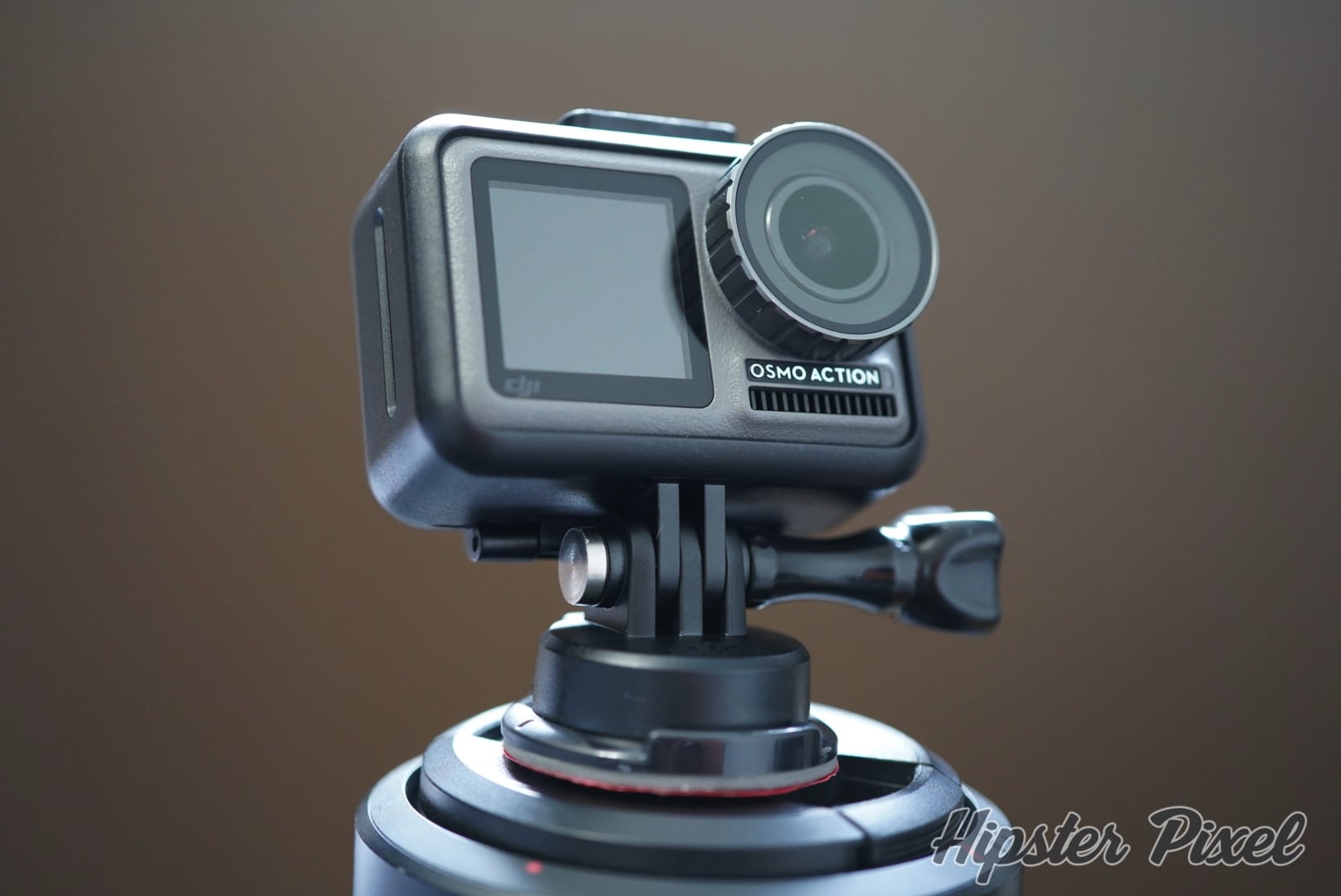 This first generation of action camera by DJI, is it a bomb or a bust? Let's find out if the Osmo Action can kick the King of the Hill out of its throne!
The Good Stuff
Great Design
RockSteady is impressive
4k HDR, 8x Slow Motion are great!
Filter thread, cheap mic adapter
The Bad Stuff
RockStead or 4K HDR, not both
Some framerate combination with features not available