---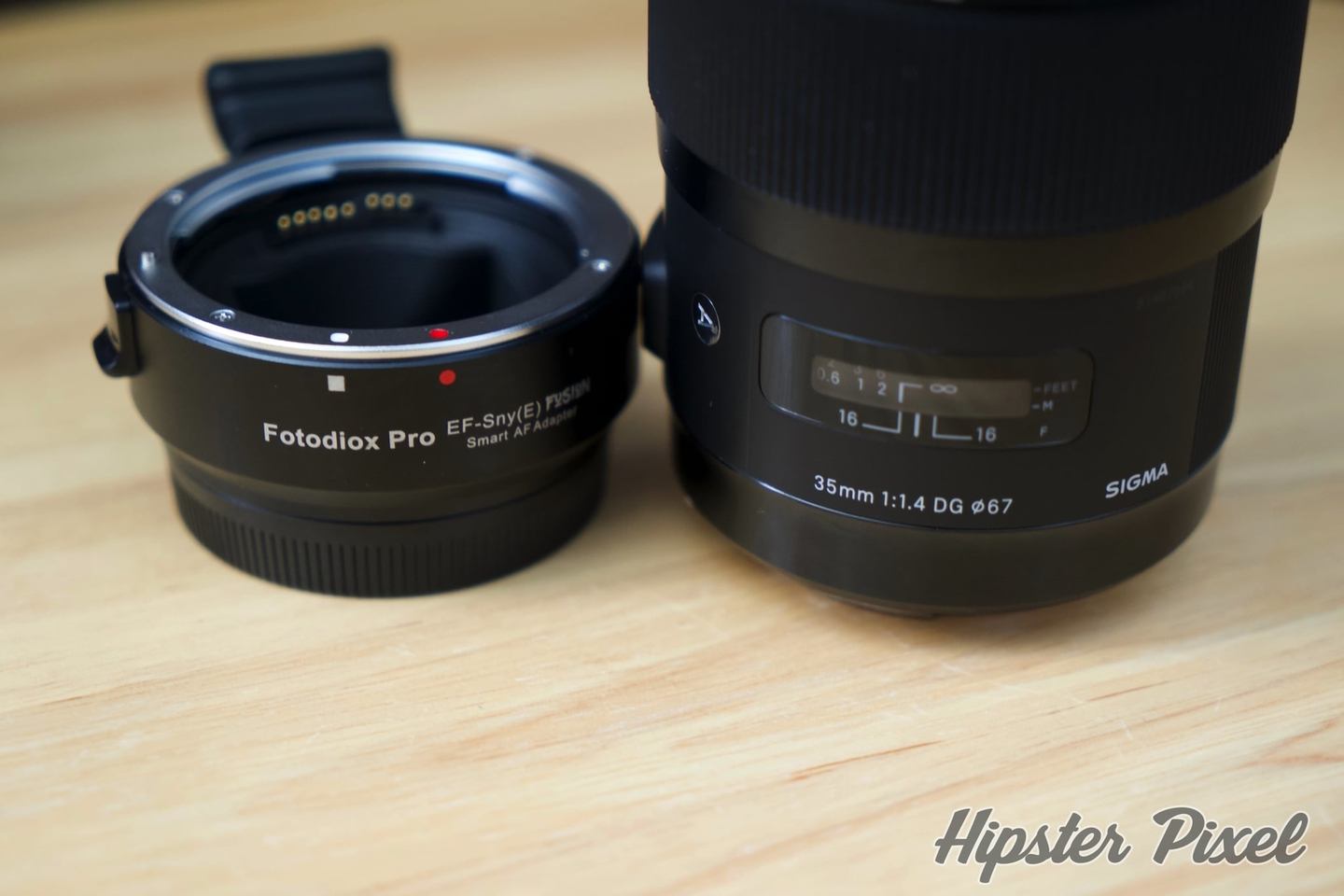 Fotodiox Pro Fusion Adapter for Canon EF to Sony E Mount Review
Coming from the Canon world, I still have a few lens around and recently my local photo rental shop did not have the Sony lens I was looking to buy. Therefore, a Canon EF to Sony E mount adapter would have been nice! Well, thanks for the good folks at Fotodiox I have gotten two of them a few weeks prior!
The Fotodiox Pro Fusion Adapter allows you to connect EF lenses to a Sony camera and still keep the autofocus working! This is great because there are a ton of "dumb" adapters that simply line up the two mounts and allows you to manual focus. The Pro Fusion has some smarts inside it allowing it to work with most lenses.
Design
The design of this adapter is quite simple and fits really well sandwiched between a camera and a lens. The metal is of a very nice quality and the added lens mount hole makes for a good mounting solution for tripods.
There is not much to it other than that!
Features
Canon EF/EF-S Lens to Sony E Camera
Works with Full-Frame & APS-C Formats
Enables Autofocus and Auto Exposure
Retains Image Stabilization Functions
Control Aperture from Camera Body
Performance
Even though it says it only supports Canon glass from 2006 and more recent, I had a nifty-fifty from the eighties around. That 50mm f/1.8 MKI as it's called. It does not have a very nice focus system, it's noisy and slow, but it actually worked! The phase detection could be turned ON but it's contrary to the manufacturer suggestions, you might experience problems with certain lenses. If you are looking for the equivalent lens for today, it's the Canon 50mm f/1.8 STM , it has a much better focusing system compatible with video but the whole thing is made of plastic.
But in my case it was working very well ! As good as on the Canon Rebel XTi camera I had! I did have some problems with focusing at some point and had to power cycle my Sony A7 III .
Then, I rented a Sigma 35mm f/1.4 with once again a Canon EF mount. This time I had issues the first few seconds of using the lens and adapter, but after a power cycle everything was working nicely. The focus is not perfect, it's slower than it is on a Canon body but it works very well! I did a full photo shoot of my daughter and her friends in a custom Instagram frame I built.
Even after shutting down the camera, the next time it would work fine. I was told I should disable phase detection to have it work fine, but with or without this enabled, I got the same results. From the documentation, they do mention to use it with more recent lenses, as lenses from many decades ago might not work well. That EF 50mm f/1.8 is the MKI, thus it was released between 1987 and 1990, I thought it would be too old, but it worked perfectly.
The documentation also recommends Canon lenses more than other brands like Sigma and Tamron, so it's a thing to think about. Here is, in short, the ideal types of lenses you should use with this Fotodiox Fusion EF to Sony adapter:
Canon brand lenses from 2006 and more recent
Works best on Sony Alpha α6300, α7 II, α7R II, α7 III, α7R III E-Mount cameras
Non-Canon lens might have autofocus issues
Continuous AF and video AF are not supported
Conclusion
All I can say is your milage may vary. Like I said earlier, an old Canon lens from 1990 worked fine and a Sigma 35mm also had no troubles. But if all of your gear is recent, this might be a quick and inexpensive way to move from Canon to Sony without the need to re-purchase all of your lenses. Sony lenses are notorious for being expensive, so this is a great solution to this problem!
It is not perfect, not does it work as fast or as well as the Metabones EF to E-Mount (Fifth generation) , but it's not 399$ either. The firmware of the Fotodiox Fusion is not upgradable, so if you are looking for something that can evolve over time, look at the Fusion Plus which is sold for 199$. A bit more expensive, but if you rely on newer features like Eye-AF or AF-C for video shooting, it might be a more adapted product.
Overall, I really liked the experience with the Fotodiox Fusion Adapter Canon EF to Sony E-Mount, it worked better than I was expecting, even with very old lenses. I'm planning to rent a Canon EF 70-200mm f/2.8L IS III USM in a few months and I will use the Fusion mount for sure. It opens up more possibilities with local rental stores that usually offer more Canon than Sony products.
Review Summary
Fotodiox Pro Fusion Adapter Smart AF Canon EF to Sony E-Mount
Fotodiox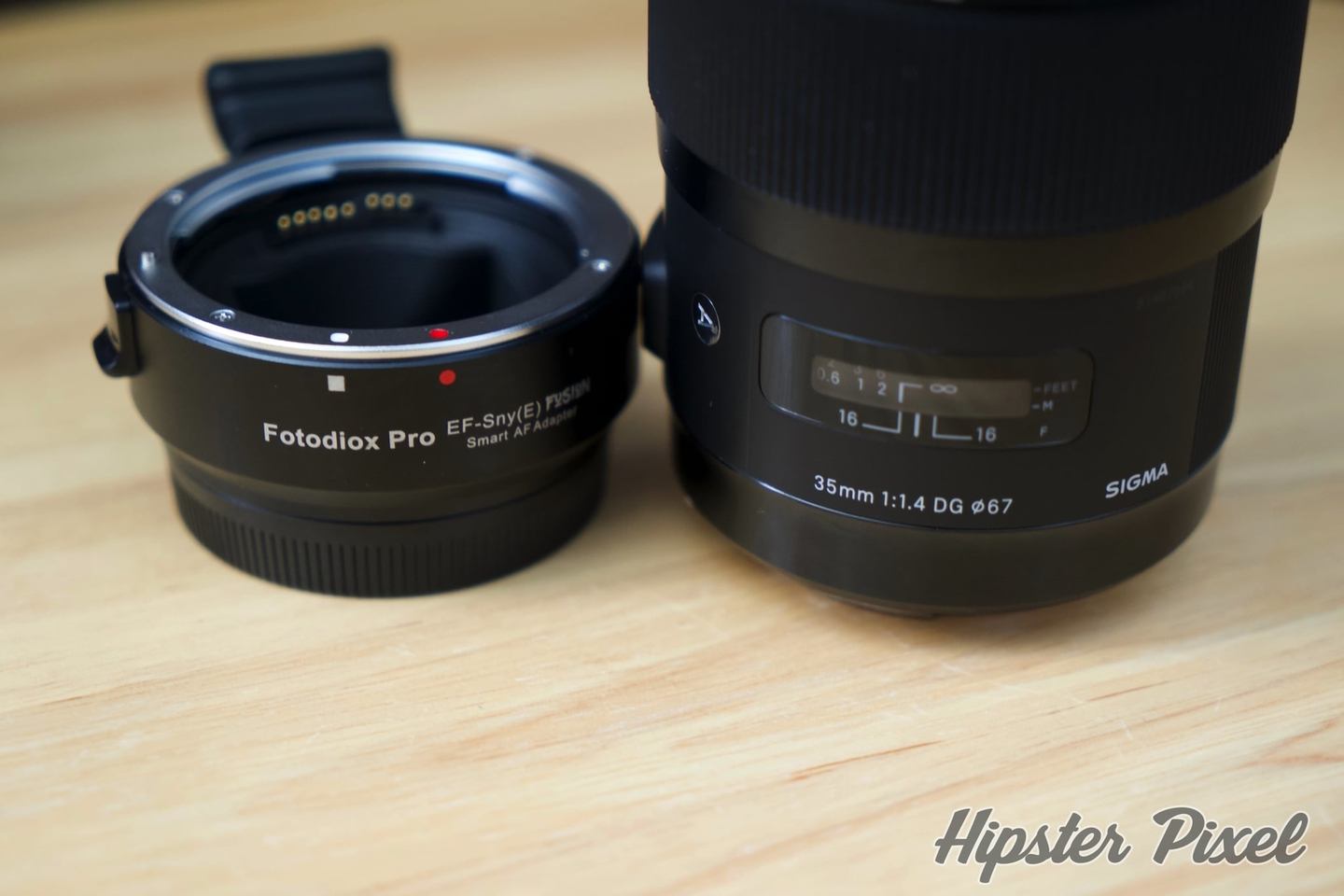 The Good Stuff
Simple, no fuss products
Plug and play
More compatible than expected
The Bad Stuff
A game of chances with older or non Canon lens
Not upgradable
Slower AF