---
Twelve South AirFly Review
With the arrival of the AirPods on the market, I've noticed people have started to expect a better user experience with their devices. It should be intuitive and just work. Kind of like all of Apple's products of old, sadly they have steered away from this for many of their later products. With the AirPods in your hands, you would prefer them to work with everything around you, but often times, all you have is a 3.5mm jack. Be it on the Nintendo Switch, in the plane across the country or even some television sets.
Don't worry, Twelve South has got you covered! The AirFly is their response to exactly this, a small device that pairs with your AirPods over Bluetooth and connects to a dumb device via a 3.5mm jack. Now, I bet you start to see all of the possibilities opening in your mind!
Design
The AirFly cannot be more minimalist, it's a small rectangular device, very similar to the shape of the iPod Mini from the early 2000s, but more compact. It has a single button that allows you to pair devices and turn the AirFly ON. There are two ports on its side, one micro-USB to charge it and one 3.5mm jack to plug in the provided cable.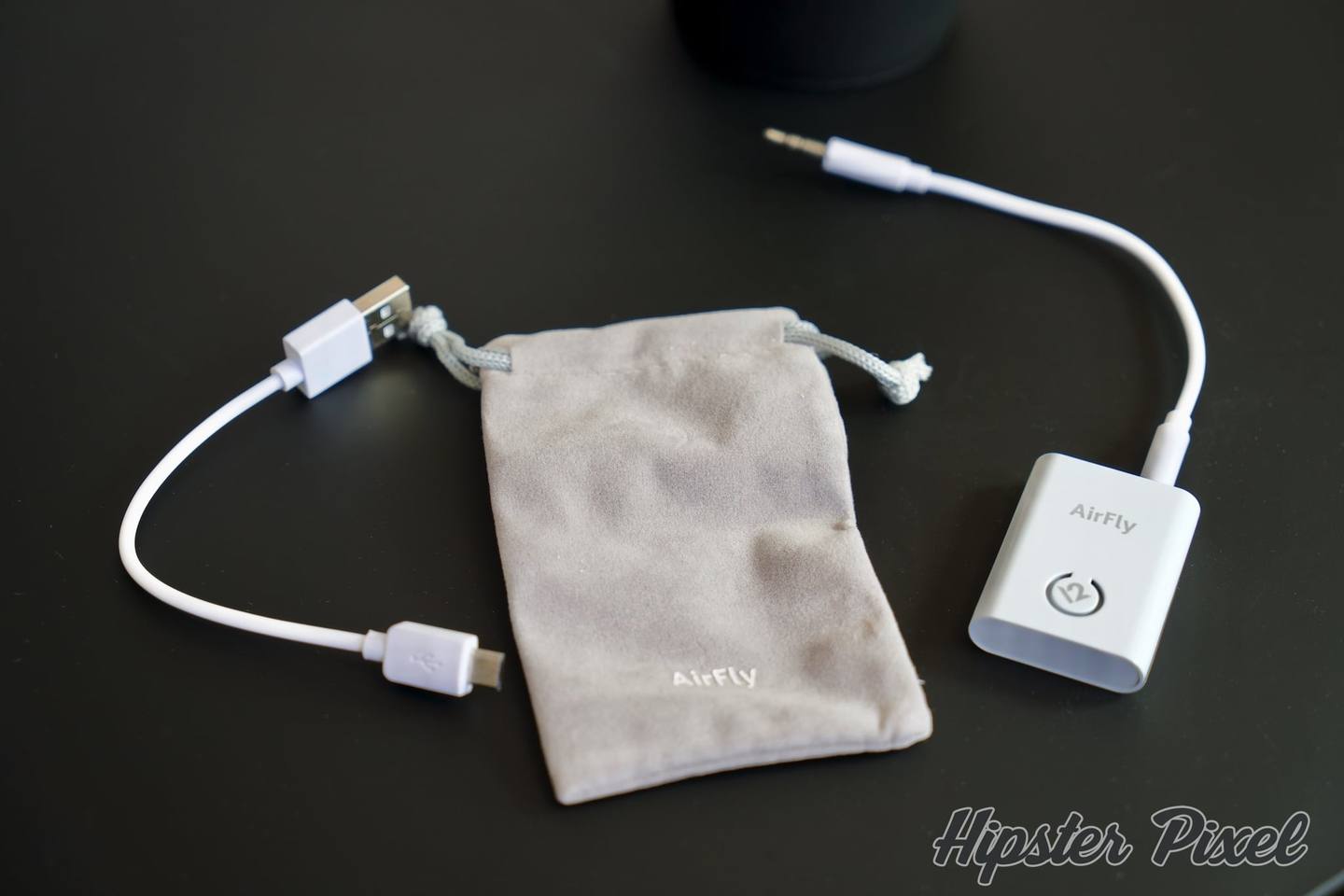 It comes in a small gray microfiber pouch for transport. That's really all there is :) Simplicity at its best. The only thing I kind of wished was that it would either use Lightning or USB-C as the charging port. I don't really have other devices that required a micro-USB so it's an extra cable to tag along during trips. With USB-C being the go to replacement and Apple having even embraced it, it feels more natural over micro-USB.
Features
Use wireless headphones with non-wireless devices
AirPods compatible
8-hour battery life
Performance
Setting this up could not be simpler, simply hold the single Airfly button down for 10 seconds until it flashes amber and white, then quickly to the same thing on your AirPods or on your Bose QuietComfort 35 II headphones , wait a few seconds and the AirFly button should now be solid white.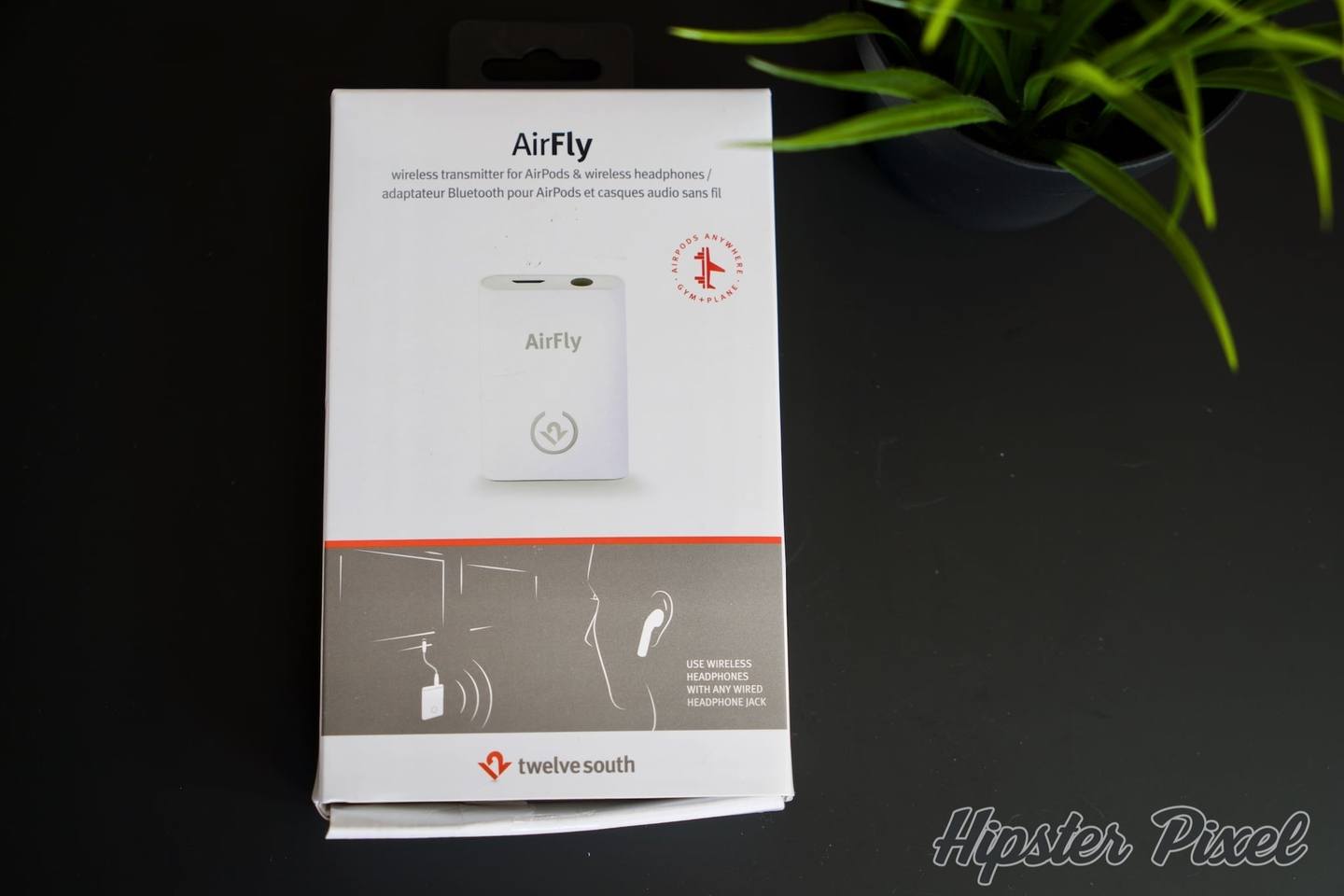 You can now plug the 3.5mm cable of the AirFly in any dumb device like your television or the in-flight entertainment system of the airplane.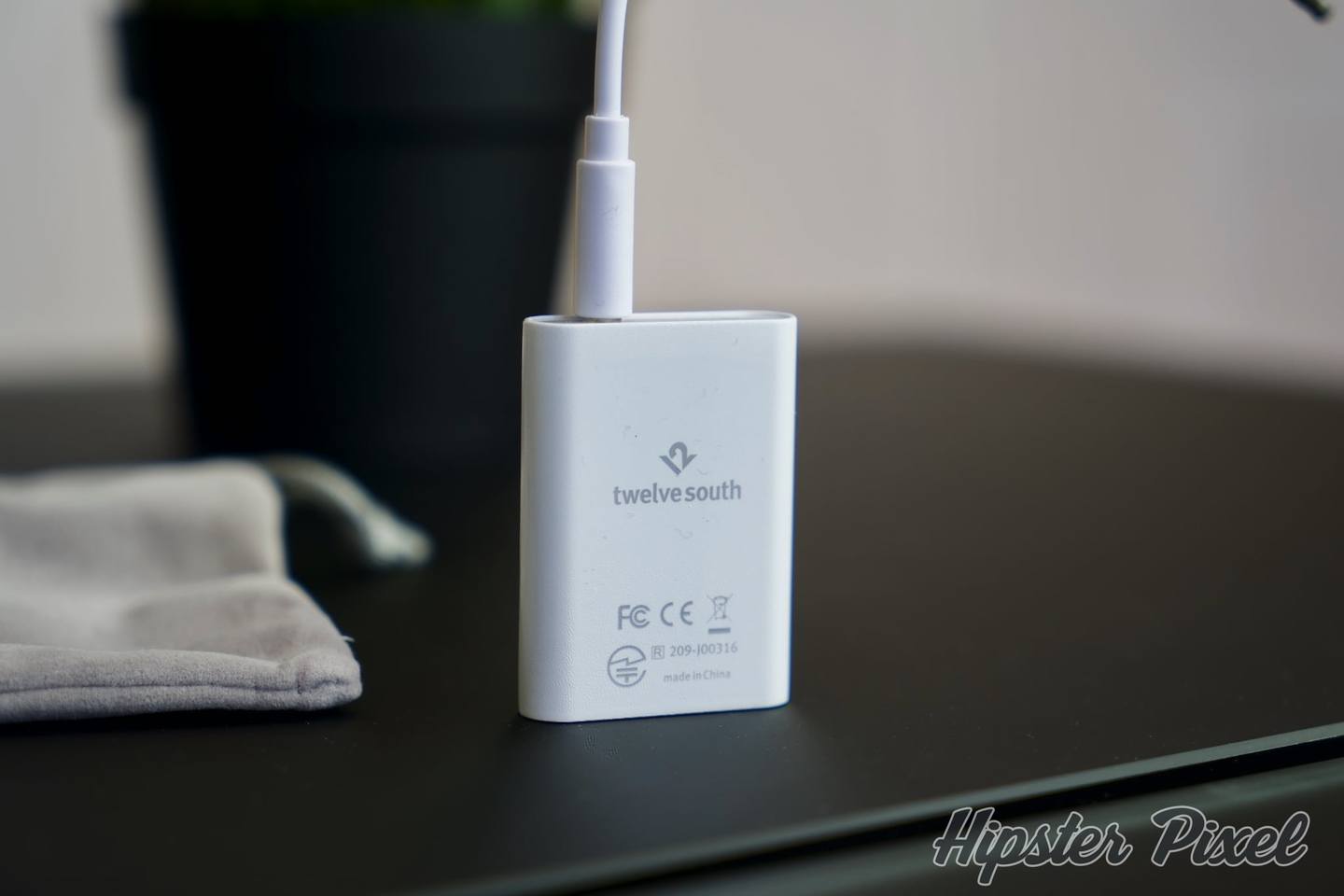 It works exactly as advertised and really brings out the fun of not having dangling cables during your entertainment. For a Nintendo Switch , I would recommend thin Velcro to attach it behind the console but also still fit in the dock. Otherwise, it's simply dangling there. In terms of battery life the 8 hours is accurate.
Conclusion
Setting it up was a piece of cake, using it is marvellous, I really have nothing negative to say about the AirFly . On my wish list, there is a USB-C port and cable, as they are simply better in terms of usability and if I push this even further, having no cable at all with induction charging, it would be even better. Just drop the AirFly on a charging mat and you're fully charged in an hour (or maybe even less since the battery seems to be quite small).
Twelve South once again made an amazing product that I highly recommend. A joy to use, just like the AirPods ! It's not perfect, but very close to be! If only it had USB-C and induction charging this product could not be better!
Review Summary
AirPods are great, but I wish I could use them for non-Bluetooth devices. Twelve South answered the call with the AirFly!
The Good Stuff
Great Design
Simplicity
It just works!
The Bad Stuff