---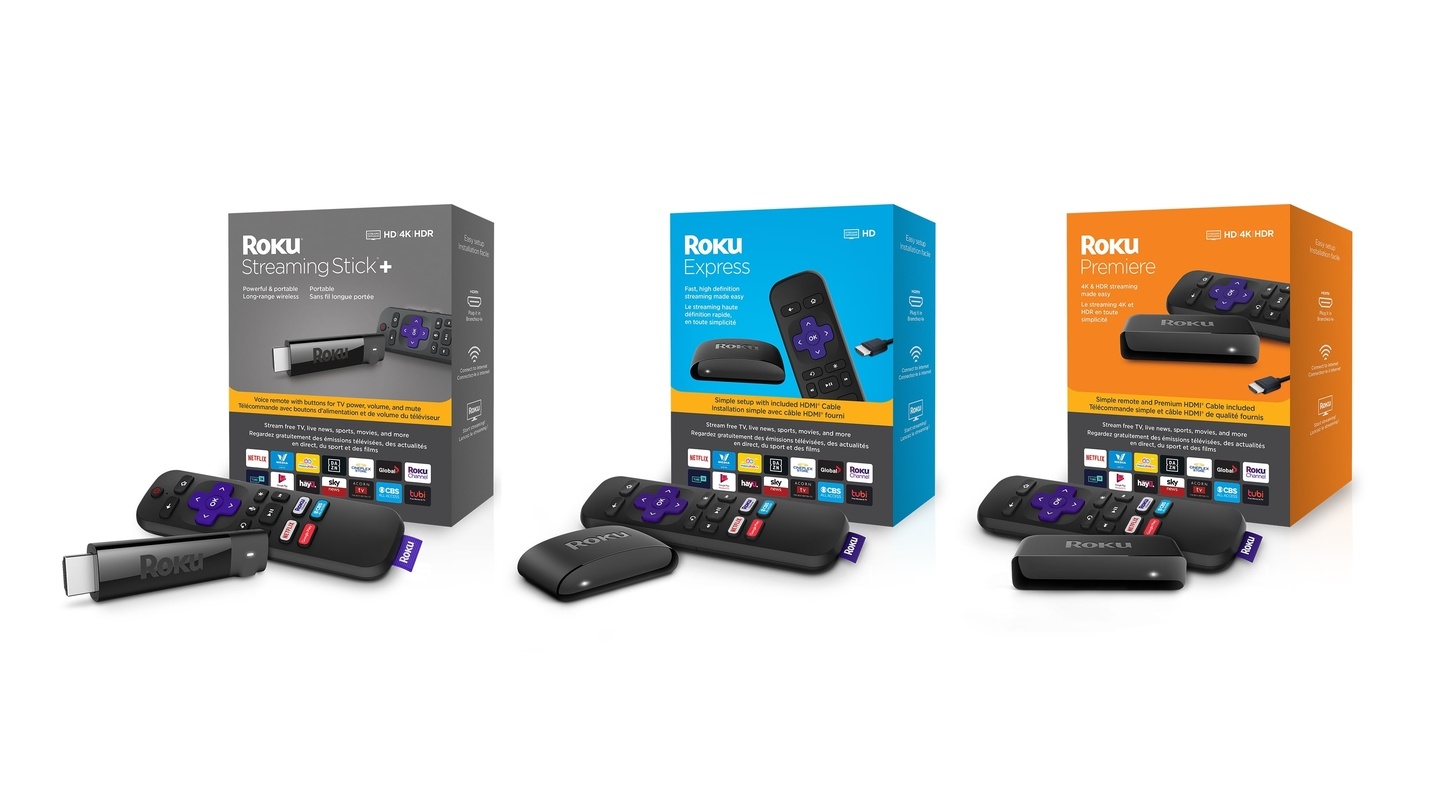 Roku Launches New Roku Express, Streaming Stick+ and the Premiere
Roku just released updated versions of their streaming devices with the Roku Premiere that provides 4K HDR video out to your television and better Wi-Fi, all this for only 49$CA.
If you are looking for something as good but with HD resolution, take a peek at the Roku Express that sells for only 39$CA. It comes with a nice remote and all the cables you need right in the box. Plus you can now use the Private Listening through your mobile or even Voice Search also through the app.
And finally, the Roku Streaming Stick+ is a great solution for when you are on the go at the hotel or at relative houses, you can quickly plug it in the HDMI port and get your content super easily. For 89$CA, this baby has the nice 4K HDR image and a long-range wireless receiver. It also has the remote with the microphone embedded so you can do quick voice search through the remote. It's also ideal for wall-mounted TVs since it basically takes no room around your television.
The Roku Channel: Live Linear
Here's the pitch:
No subscriptions, fees or logins are required to access hundreds of free movies, TV shows and documentaries, with a selection of box office hits and TV shows featured every month.
This sounds great :D You have access to a ton of content, for free! Here's a list that compiles some of these examples:
Law & Crime ‒ Watch the courtroom drama unfold live and get in depth legal analysis on the day's biggest crime and legal stories.
Now This ‒ Now This is the most watched mobile news brand in the world, providing the latest in video news, investigative reports, interviews and original series.
AllTime ‒ AllTime aims to bring you the most informative, fascinating and engaging top 10 videos.
TMZ ‒ Get your daily dose of pop culture from the TMZ channel featuring programs such as TMZ Sports, The Hollywood Beatdown, TMZ TV, TMZ Chatter and more.
AFV ‒ America's Funniest Home Videos (AFV) shines the spotlight on hilarious videos to bring you America's 'real-life' funny moments captured on video.
Fail Army ‒ FailArmy is the world's number one source for epic fail videos and hilarious compilations.
Pet Collective ‒ The Pet Collective is home to the top trending clips, most entertaining memes, and funniest animal videos.
People Are Awesome ‒ People Are Awesome is the number one destination for amazing, original videos and compilations of ordinary people doing extraordinary things.
Adventure Sports Network ‒ Adventure Sports Network (ASN) is the worldwide leader in adventure sports, outdoor, lifestyle and travel.
Food52 ‒ Come on by the Food52 test kitchen. Our award-winning editors and kitchen experts—like Genius Recipes's Kristen Miglore and Dear Test Kitchen's Josh Cohen -are here to help with dinner tonight, weekend meal prep, cookie emergencies, you name it.
Tastemade ‒ Planning your next adventure abroad or at home? Tastemade shows you how it's done. Whether expanding your palate or your itinerary, Tastemade presents even more of the things you love. Hundreds of hours of original shows, streaming straight to you.
FilmRise Free Movies ‒ Catch film stars like Owen Wilson, Emma Stone, Morgan Freeman and more in our massive selection of free blockbusters.
FilmRise Crime ‒ The best Crime TV to satisfy the sleuths among us.
FilmRise Classic TV ‒ Catch primetime smash hits like 21 Jump Street and Hunter all day long.
All in all, these are solid products with incredible prices so if you were looking to get your hands on a Roku streaming product now it is the perfect time to do so!