---
Unlimited x Loaded Tesseract Race Complete Electric Longboard Review
After trying many boards with various quality of parts, it's very refreshing to see a collaboration between brands with a great reputation and an engineering company that has a powerful motor and battery kit to offer. Unlimited Engineering partnered with Loaded to offer a few kits that include a Loaded board, Paris tucks and even Orangatang wheels!
This is our review of the Unlimited x Loaded Tesseract Race Complete, a dual motor, dual battery that can go faster and offer a crazy acceleration matched by few boards on the market!
Design
The board I was provided for review is a Basalt Tesseract , a W-shape longboard made of solid, quality wood. This is one of the best boards I have seen and its quality is very refreshing compared to cheaper boards with a no-name part. Attached to this board, you have a nice set of Paris V3 180mm trucks, yes, both trucks are actually skateboarding trucks. No cheap copy here.
The wheels are Orangatang Caguamas in 85mm and 80A durometer in the front, and actual Orangatang Happy Thane PU in the back around the hub motors. First time I've seen actual Orangatang PU on an electric skateboard. Even the bearings are Loaded Jehu bearings !
Basically, this board has 100% legit skateboarding parts. Then, you add the dual motors and dual battery made by Unlimited Engineering, a powerful kit of motors that can reach speeds of 42 kph and a range of 21 km. With that power, you can also climb a 20% incline hill.
Race Kit Features
42 kph top speed
21 km max range
4 kg standalone, 7.8k with Tesseract board
2 x 90 kWh batteries
2h30 charge time
Speed
One of the first things people usually want to know is how fast can this thing go. Not that it's a safe thing to do to always go fast, but often times, you do get a nice flat stretch of street and it's cool to push it to the max!
The advertised speed is 42kph, but while I was writing this review, an update was pushed a limited the speed to 37 kph until further notice. I did the update unknowingly while I was ramping up my comfort on the board and thus I never got to experience that 42kph.
Out of the limited 37kph I was able to reach 35kph on the remote and 39.8kph on the RideApp. Just a tiny little bit slower than the Exway (40.6kph) but much faster than the 30-32kph on the Boosted Mini X.
I was just hoping the update would be available before the snow got here so I could test this sweet 42kph… The app even says the custom mode is up to 50kph… so there is much more power to be given at a later date.
Range
The advertised range for this dual battery, dual motor model is 21km and given that I've mostly ridden in either Pro or Custom mode, I only travelled about 11km in the end of the fall season. That's a little less than when it was the end of summer where I could easily do 12-13km in the Pro mode.
Moving down to the Eco mode, or Beginner mode, I can see myself reaching 21km easily… but when you are used to speed… it's hard to go back down. To me the board, fully charged in summer is good to get to work and back, I did so a couple of times and I had about 20% left on the board after a total of about 11km travelled.
Note that once you get into the 20s you do get some battery sag and you won't be able to ride as fast as when the board is fully charged. It's surprisingly still going faster than I was expected in those lower percentage digits.
Comfort
This is where things get very interested. It's rare that you get so many quality components on an electric longboard. We start with a stiff but large, and comfortable deck, the Loaded Basalt Tesseract. This is a bit bigger than my ideal size, but I really like the quality of the deck!
Then, we got some sick Orangatang Caguamas in their orange hue. With a size of 85mm and 80A durometer, these were wheels I wanted to try out for a very long time. And I understand the reactions of people when they started to use them on their electric skateboards! These are amazing wheels, they have a nice contact surface, a smooth durometer that allows to absorb lots of the road bumps and at 85mm we have a good balance between speed and torque.
The board comes with a few rising pads that also helps a bit. Overall, the board is a lot more comfortable than what I was expecting given the weight and the thickness of the Loaded Tesseract.
You could perhaps add thicker or mushier shock pads or go even larger in terms of wheel size to help with the bumps. Or change the board to be a Loaded Vanguard just like the first two Boosted Boards.
Remote
At first I did not think I would love the remote because of its size and shape, but once it's actually in your hand it's quite good. It has a nice screen to show your battery level for both the remote and the board, as well as the mode you are in. In the video above, you can see the screen refresh rate seems weird, but with your eyes you don't see this, it's perfectly fine.
The remote has two extra features that are quite useful, cruise control and boost. The cruise control works as expected, it allows you to release the throttle and has the board continues on its merry way. I don't really like cruise control so I did not use it much apart from testing it to see if it works as advertised.
The boost feature is quite cool, it allows you to get a quick acceleration jolt just like when you use a mushroom in Mario Kart! It has a great acceleration but it's not too jarring, I really like it! The sad thing is that it does not work in the Pro or Custom modes if they are already at the top speed. The reasoning is that it allows you to accelerate just like the Pro mode for a few seconds. If you are already in Pro mode with the top speed, then you cannot go faster. Still very useful for when riding in Eco mode and you want a big boost!
Maintenance
This is very easy with this board as 90% of it is just regular skateboarding parts. The front trucks, wheels, bushings and bearing are all legit regular parts and in the back you have regular trucks, bearings and bushings. The only part that is non-standard is the motor and the Orangatang Happy Tang PU sleeves. But the way you attach a motor is exactly the same as if it was a regular skateboard wheel.
The battery units are self-contained and don't need any maintenance, the only thing you might need to look into once in a while is the motors themselves, one of my motors probably came a bit loose and turned around the trucks axle putting tension on the cable and ripping the cable rubber a bit. This is because the motor itself is attached only by the bearings to the trucks. If you look at other esk8s, you see that they often time have a peg or a non-circular shaped truck to make sure the motors are well seated and don't move.
Conclusion
The Unlimited x Loaded Race complete kit is an amazing board with an amazing set of components. Some will say that this board is very expensive and they would not be wrong. When the Boosted Stealth is 1,599$ and you look at what you get in terms of a Tesseract Race Complete kit at the same price, it's actually more than what the Boosted Stealth is. Better speed, better range, less maintenance and almost all the components are skateboarding parts.
Of course, if you compare it with the Exway X1 Pro at 1,150$ it sure is more expensive, but you get to choose your board, get some renowned quality components and close performance if Unlimited releases the update to bring back the speed to the maximum the board can achieve.
I would also look into this if you already have a longboard and you wish to reuse it, as you can save 150$ and only have to bring your board and your trucks. Or you can always change the board later to a longer or shorter model for a season. Given that the price of Loaded decks are around 150$, you kind of get free trucks, wheels and bearings if you get the complete kit. Good value for that 150$!
The partnership between Unlimited Engineering and Loaded made an awesome board that is more interesting than many boards out there. Albeit on the more expensive side of things, you do get an amazing package that should last you a very long time! I highly recommend this electric longboard!
Review Summary
Unlimited x Loaded Race Complete Kit
Unlimited x Loaded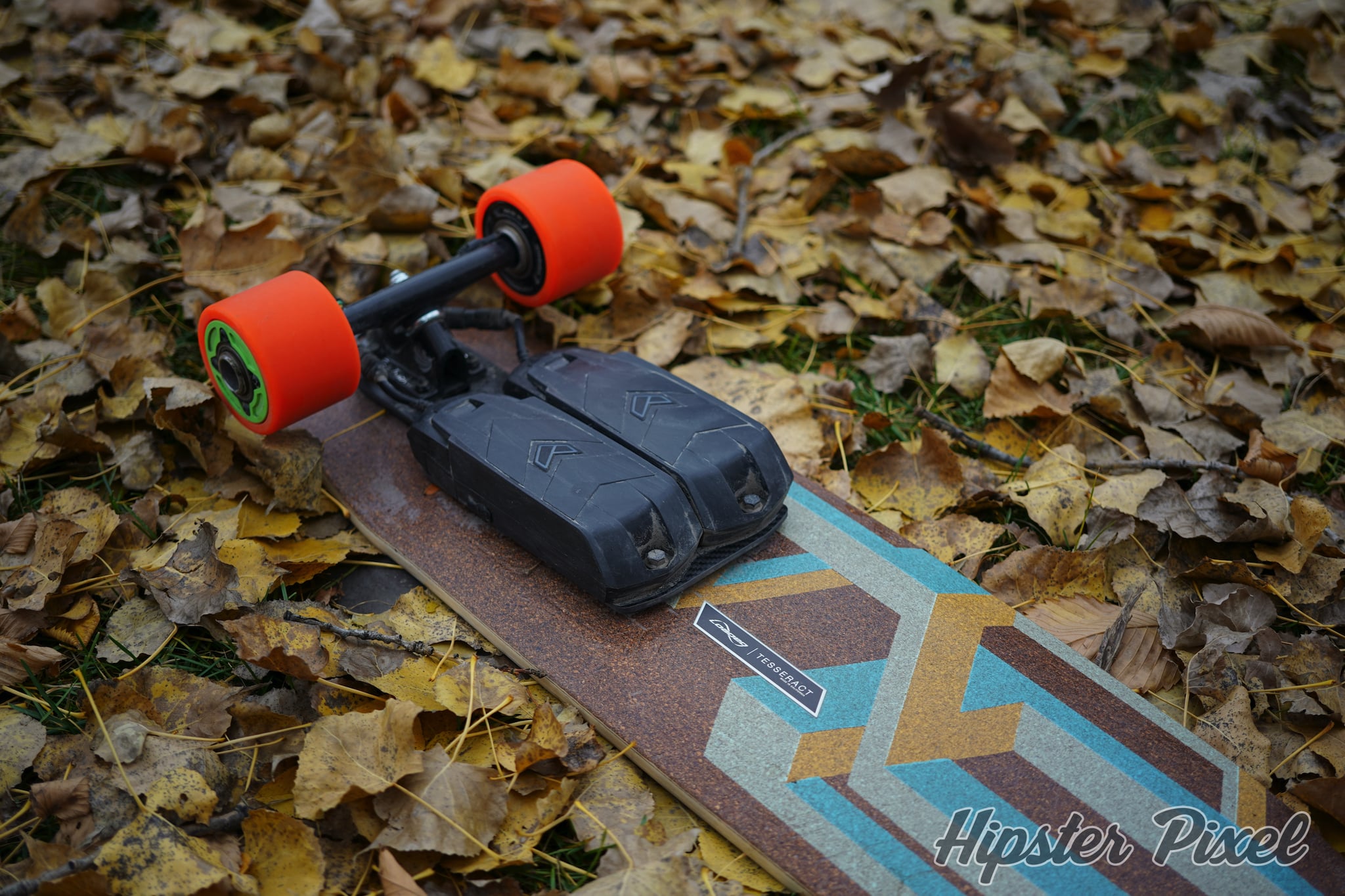 The teams behind the two companies presents the Unlimited x Loaded Race Complete, an electric longboard powered by a versatile motor kit attached to quality brand name skateboarding parts! Let review this crazy kit!
The Good Stuff
Incredible Quality
Strong torque
Great top speed
Great range
Flexible
The Bad Stuff
Motors might need a better attachment mechanism
Race kit by itself not worth it, get the Complete
Expensive