---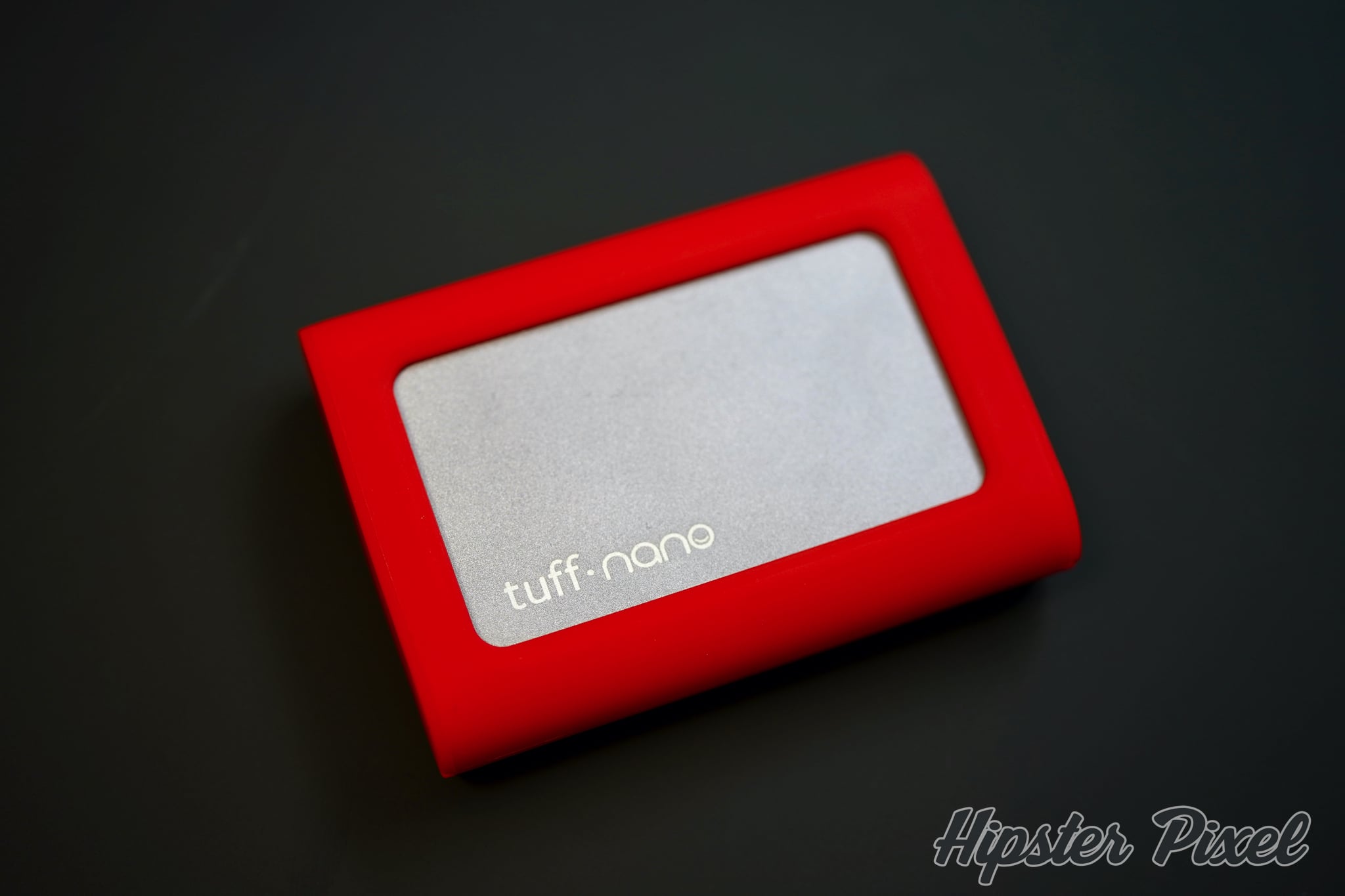 CalDigit Tuff Nano, Compact Speed Demon [Review]
Even if your Mac has 1TB or even 2TB, you will eventually need more storage. Sadly, you can't simply swap out the hard drives like in the good old days of the black MacBook; checkout this sick video from 512px after you read this review! You can attach an external hard drive, but chances are you won't get much faster than 100 MB/s, so forget about manipulating your photo library or even editing videos. You need something fast, you need something almost as fast as the internal SSD of your MacBook Pro!
CalDigit just released the Tuff Nano , a compact shockproof NVMe SSD drive that can reach new highs in terms of transfer speed. So much so that it should not feel "external" at all!
Design
The Tuff Nano is as if the smaller sibling of the Tuff external drive got exposed to gamma rays and because the Incredible Tuff. It's about the size of a credit card and comes with a rubber bumper that absorbs shocks. It's also rated IP67 and is using a USB 3.2 Gen2 interface to get the fastest speed possible thanks to its built-in NVMe solid-state architecture.
But unlike other external rubber adorned drives, this one is no slouch. According to CalDigit, it can reach 1055 MB/s, yes, + 1GB per second of file transfer speed! 🤯
It comes in a hard plastic case, very useful for storing it away in a shelf and two very short USB cables. The first one is USB-C on both ends, and Thunderbolt 3 compatible, and the other is USB-C to USB-A.
Features
Pocket-sized USB-C SSD
Shockproof
IP67
USB-C/Thunderbolt 3 and USB-A cables include with hard case
1000 MB/s of transfer speeds
2-year warranty
Available with 512GB in black, green, blue, red
Performance
The SSD mounts very quickly to macOS, but that's clearly not why you are coming here :) Just before I jump into the performance, I must say that I dropped it a couple of times. I'm so clumsy, sometimes I'm wondering if I don't have toes in the place of fingers… It survived the drops, yes multiple of them. Not a scratch.
I like the protection, but without it, it also looks very slick!
Alright, alright, I'll talk about the performance! So my trustworthy old pal QuickBench is part of the casualties of moving to macOS Catalina, the guys and girls behind it abandoned it years ago and sadly, it had to die. If I could have a second Tuff Nano, I could have booted of a version of Mojave on it… 🤔 CalDigit, did you read that? 😜
I used three different software to test the speed of the Tuff Nano, AJA System Test, BlackMagic DiskSpeed Test and ATTO Disk Benchmark.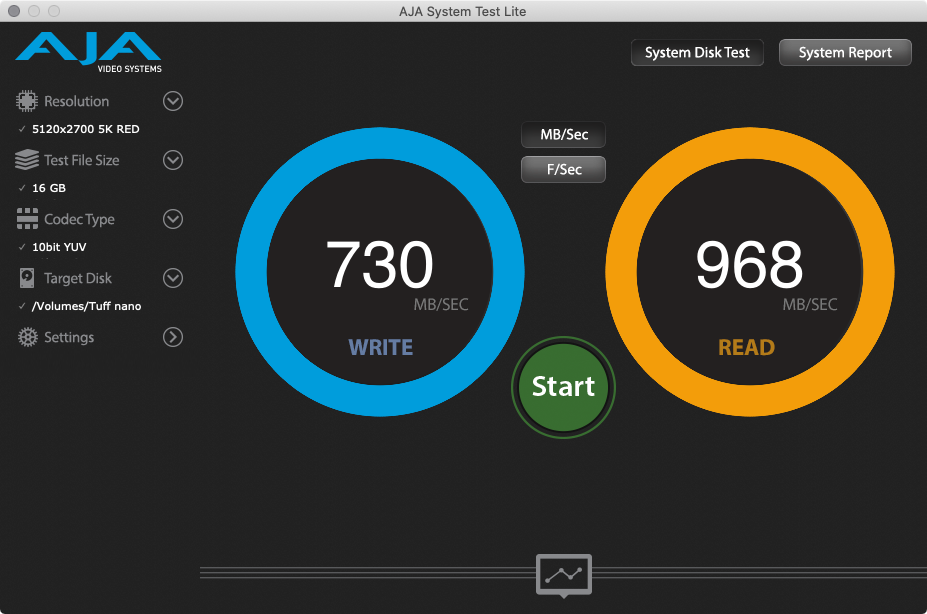 AJA reports top speeds of 968 MB/s read and 730 MB/s write, both quite fast and barely under the advertised top speed of the manufacturer.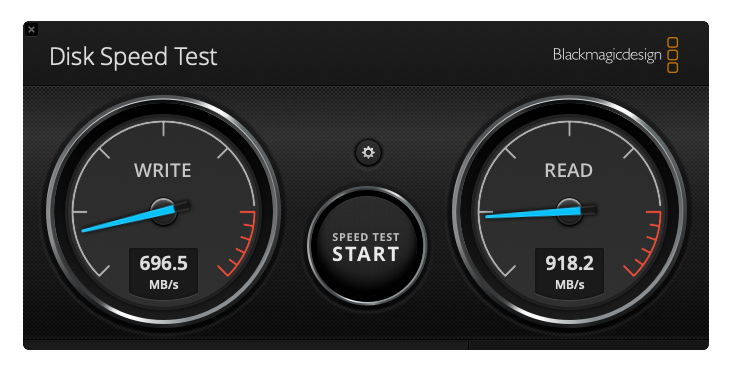 Here, with BlackMagic DiskSpeed Test we get slightly slower results than the previous test with 918 MB/s read and 696 MB/s write. Still very impressive.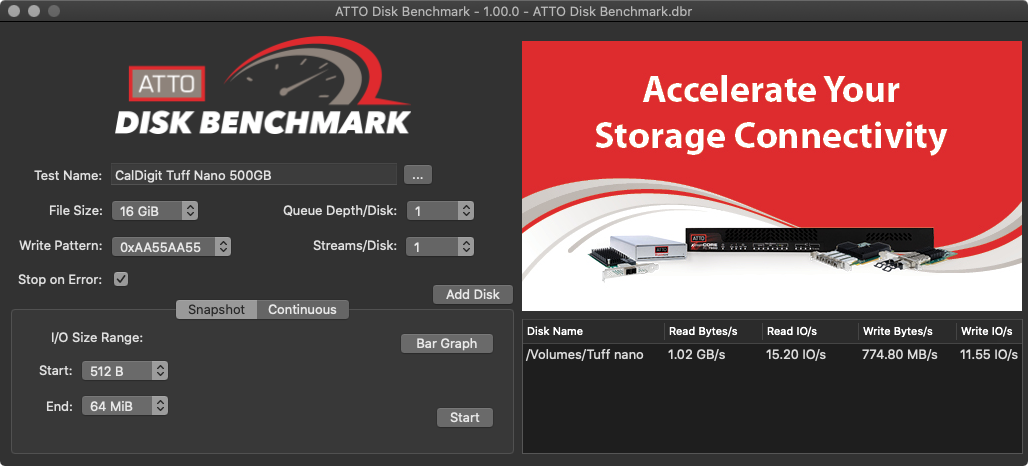 And finally, ATTO DiskBenchmark reports the fastest results of the bunch with 1,020 MB/s read and 774 MB/s write. We crossed ~Warp 10~ the Gigabit limit! This is the first external storage device I test that surpassed the 1,000 MB/s! Very impressive! 👏
Conclusion
The little, but immensely powerful, Tuff Nano from CalDigit really is a speed demon, wrapped in a soft candy-coloured shell that can prevent loss of data if dropped. But the greatest thing about this little drive is that I tested it while as the source of all my files for a Final Cut Pro project, and I could not see any difference compared to my MacBook Pro internal SSD. It was as fast and as responsive as the MacBook Pro.
This means that you can basically extend your non-expandable MacBook Pro storage in a form factor that is so compact that it fits in your jeans pocket. The model test is the 512GB and I'm sure I read a 1TB model was coming out eventually, but I might have dreamt it. CalDigit, please bring out a 1TB model! This would be incredible for large video editing projects!
Fast, sturdy, versatile and colourful, what else could go as perfectly with a Macintosh?
Review Summary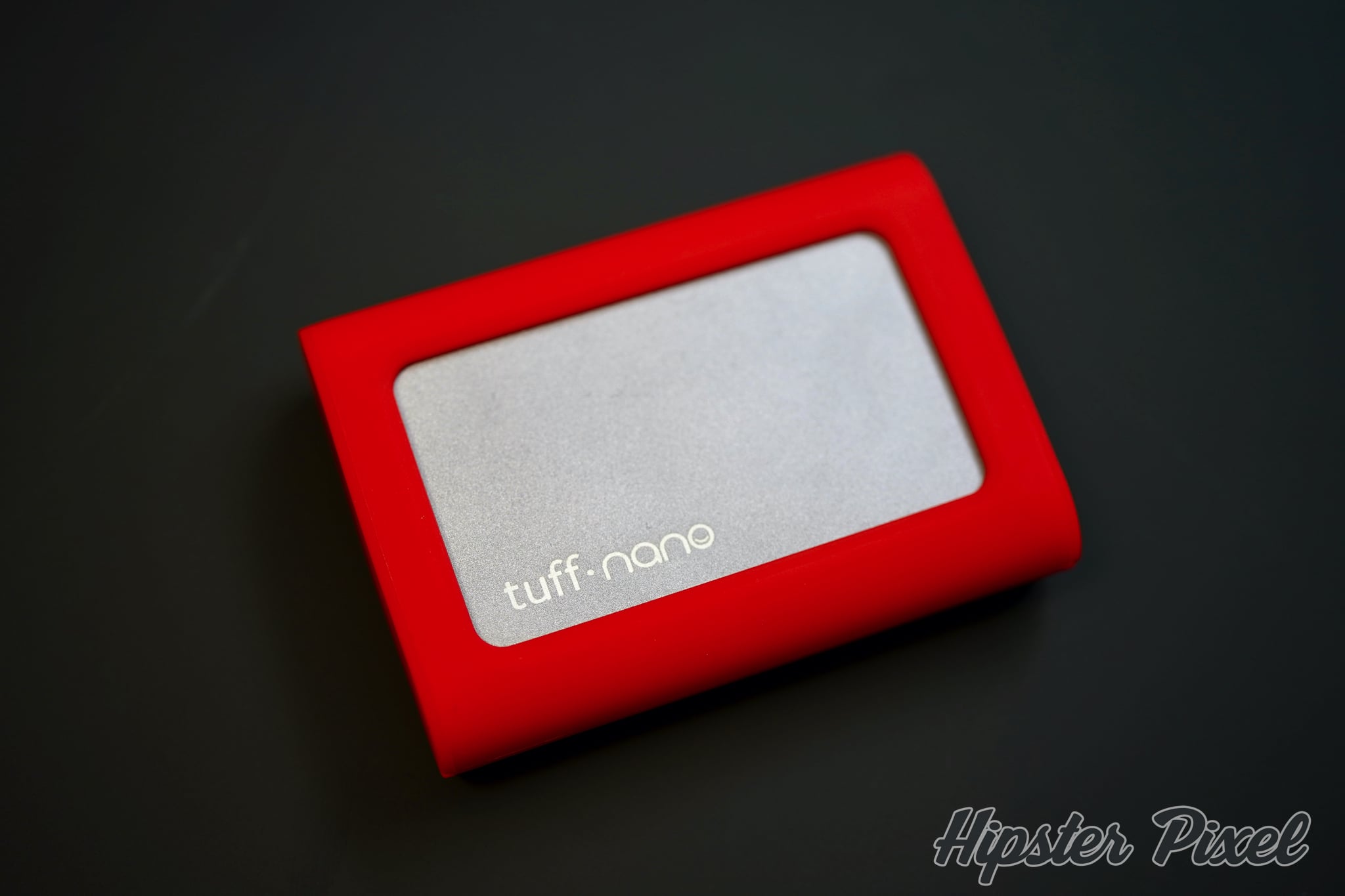 Sometimes you read numbers and you say to yourself, wow that's pretty fast. And then you try it out. 🔥 It's incredibly faster than you expect it! This is what the Tuff Nano from CalDigit feels like!
The Good Stuff
Incredible Speed
Shockproof
Colourful
Two cables plus a hard case
The Bad Stuff