---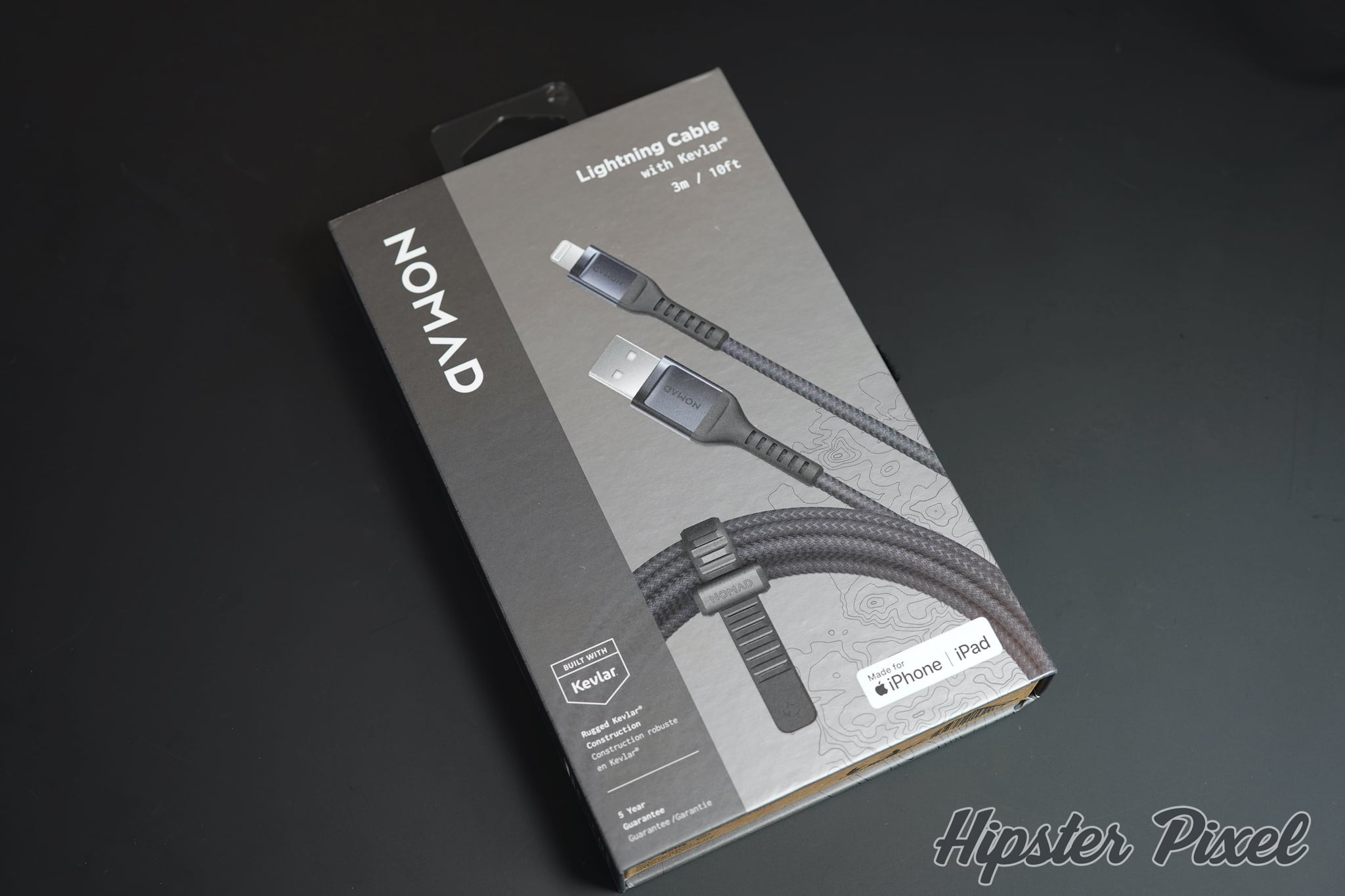 Nomad Lightning Cable With Kevlar Review
Are you breaking Lightning cables all the time? I have three kids so yes, we are breaking cables. The feel more like consumables now that I think of it 🤔. There is a solution to this, and not one that is just functional, it also looks damn sexy! Nomad makes great leather products, but they also made killer cables. The latest line of Kevlar reinforced offers an intricate design as well as a great looking, almost matte black everything!
Design
The Lightning Cable with Kevlar (3m) is the model I tested. It's also offered in USB-C to Lightning, with either 1.5m or 3m and as the Universal Cable; a cable with Lightning, USB-C and micro-USB on one end.
This cable has a very peculiar construction. It's not only wrapped in Kevlar, but it also has Kevlar in the central code, a thin but super-resistant line of Kevlar in the middle that make sure it can withstand being pulled and wrapped around things for years!
The cable being solid is great, but if you're like me you know that the connector is usually where cable breaks, splits or completely gets destroyed! This is why Nomad chose to use metal alloy connectors attached to a thick rubber part that allows it to bend slightly, but it's also strong enough to absorb lots of force. This tells me that it will resist over time and not flake out like very flexible versions of other Lightning cables.
Features
Kevlar central core
Kevlar outer braid
Metal connector plugs
Thick rubber flexible ends
MFi Certified
Performance
I've only had this cable for a few weeks, but I did try to abuse it by pulling on it hard, flexing it, playing tug-of-war with a bear… Ok, maybe that last bit is not true but I did play rough with it. Still works like a charm!
Giving regular everyday wear, I am sure this cable will stand the test of time. The only culprit I can see is the Lightning connector that could eventually either go bad as those PINs can be abused since they are not meant to withstand as much abuse as Kevlar!
However, in all my years of using a Lightning cable, I never got a PIN go wrong, but I had many cables break near the plastic connector, so in reality it might not even be an issue.
Conclusion
The Lightning Cable with Kevlar by Nomad is one good-looking cable with its dark colours and with its awesome construction with Kevlar in its core and its braided exterior, this cable will be here in many years! I have no problem imagining this cable still going strong, even after years of abuse by my kids!
As a bonus, it also looks great in a car! With the leather and the dark vinyl of a car, this can go very well with this cable!
Review Summary
Lightning Cable with Kevlar (3m)
Nomad Goods, Inc.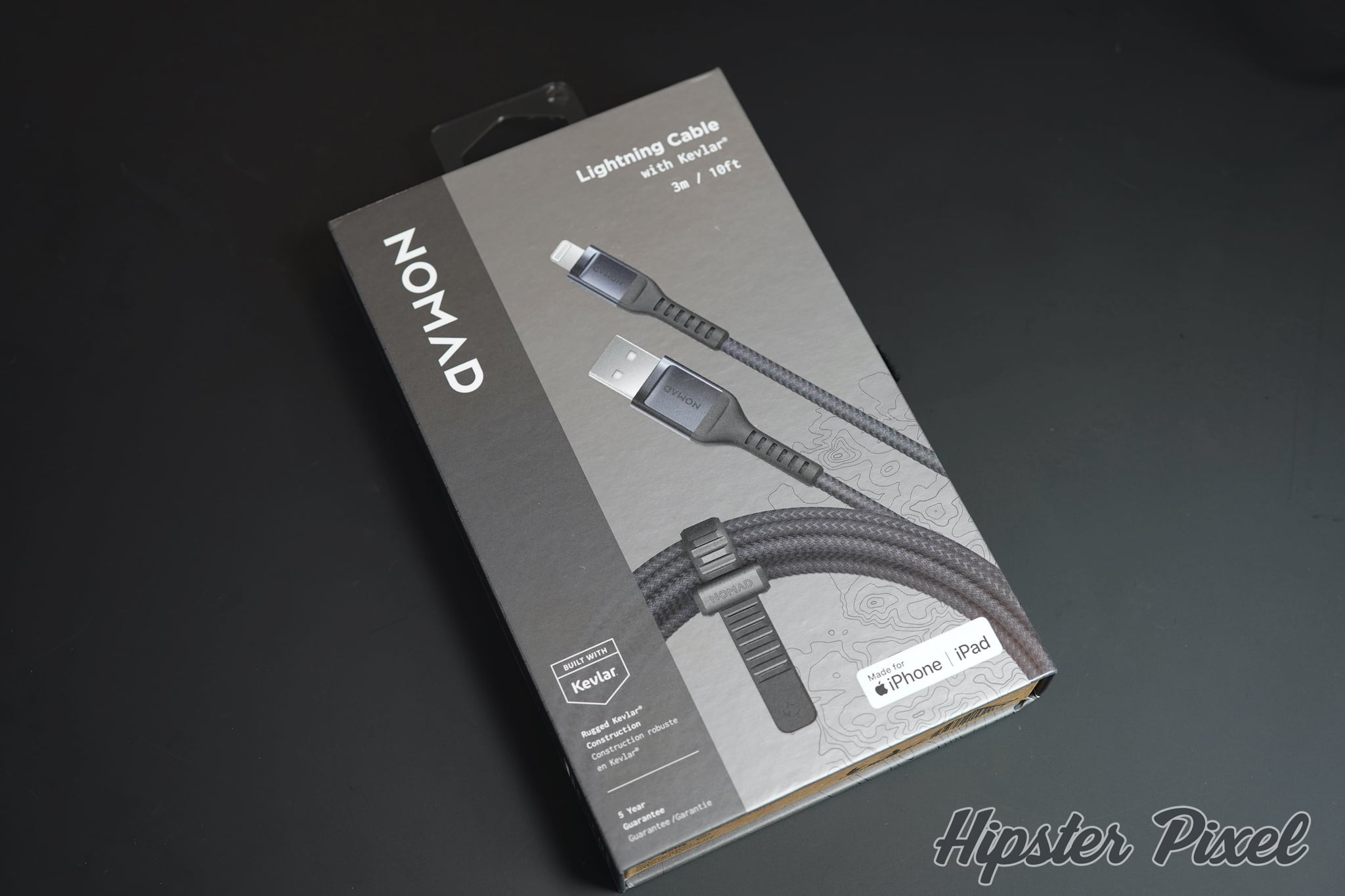 Nomad is offering a solution to the frail Lightning cables of this world with a Kevlar Lightning cable. Here's what I think of it!
The Good Stuff
Solid, very solid
Great design
The Bad Stuff