---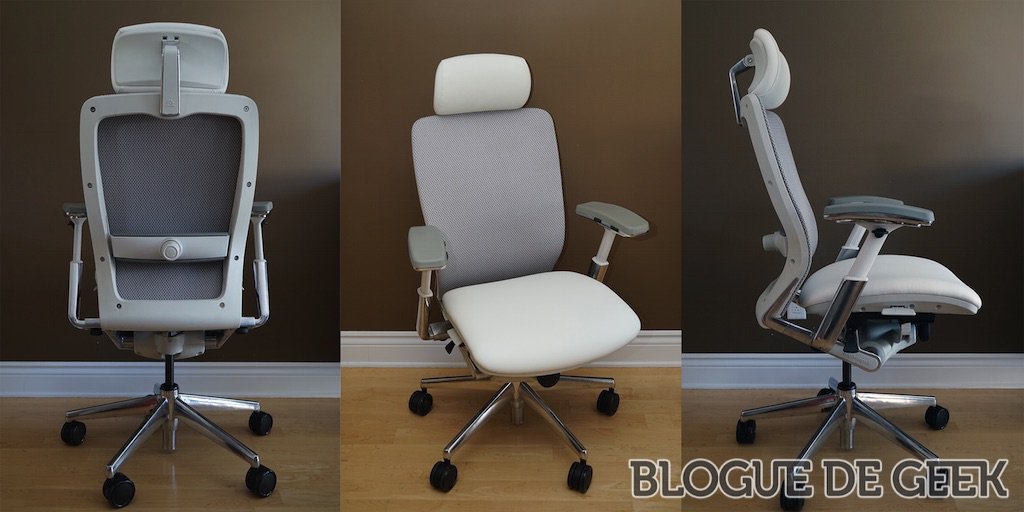 Nightingale IC2 7300 WH Office Chair Review
I originally published this review on Blogue de Geek in French.
After testing a first office chair model, Nightingale offered me to try another very different model, a model with a more modern look. At first glance they are right, this model offers a special combination of fabric, leather and mesh. But there are many other differences.
First of all, let's talk about the model number. The chair is called IC2 7300, WH means "white" and D means adding an optional headrest. So the model tested is knowned as IC2 7300D WH.
Design
In comparison with the CXO 6200D the 7300 IC2 is less impressive (in terms of size and weight) and we see it as soon as the box comes out of the truck. It is much lighter and the reason is mainly the use of plastic instead of metal on several components. Rest assured, none of these components have poor build quality, it is not a barter where we can be losers.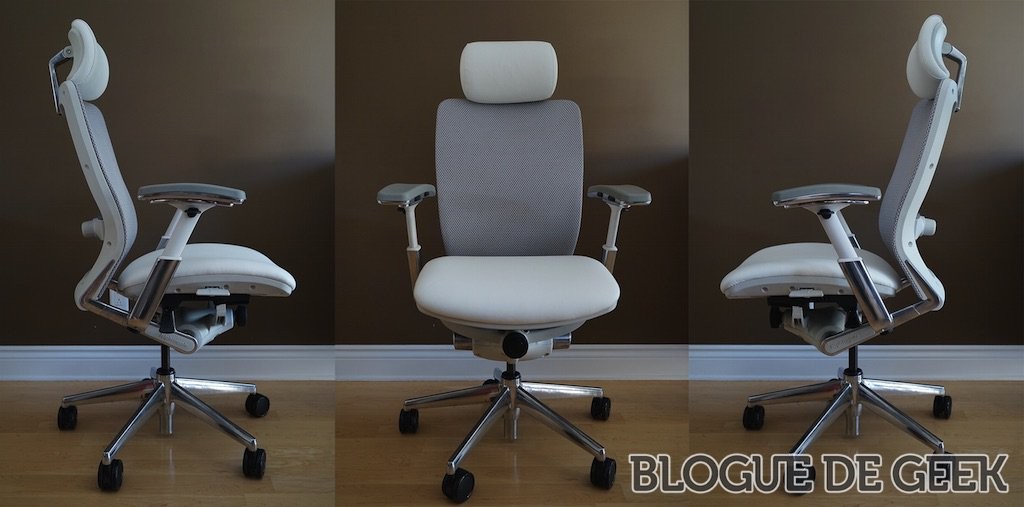 The IC2 7300WH uses a main axis made of shiny metal as well as the five branches for the wheels. The width of the branches ratio versus chair height is slightly smaller than the CXO and it's probably not a bad thing if you don't like getting your legs on the castors. The seat can be covered with leather or fabric and the back rest with elastic mesh (named Ablex) or leather, all choosable options according to your taste.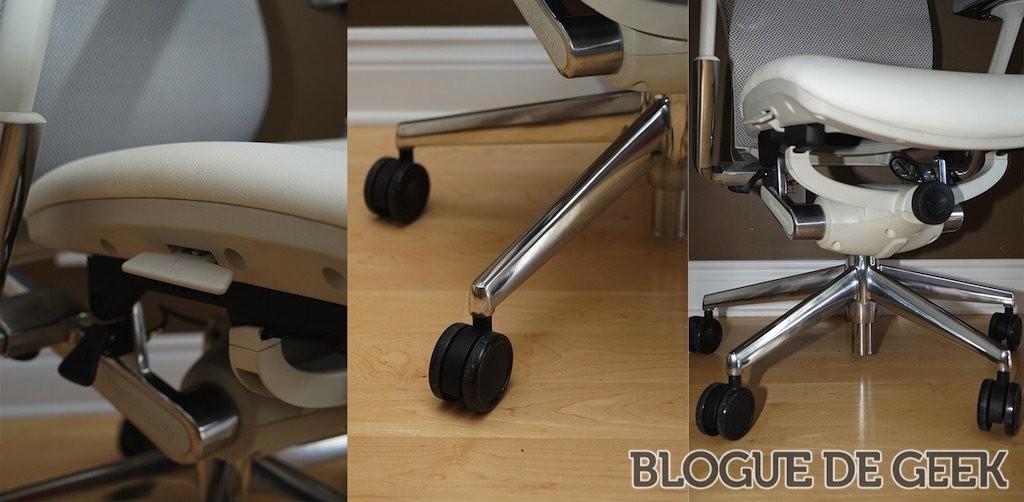 Features
Ergonomic chair with 11 adjustments and features
Choice of foam covered with fabric or leather
Adjustable headrest on two axis, optional
Limited Lifetime Warranty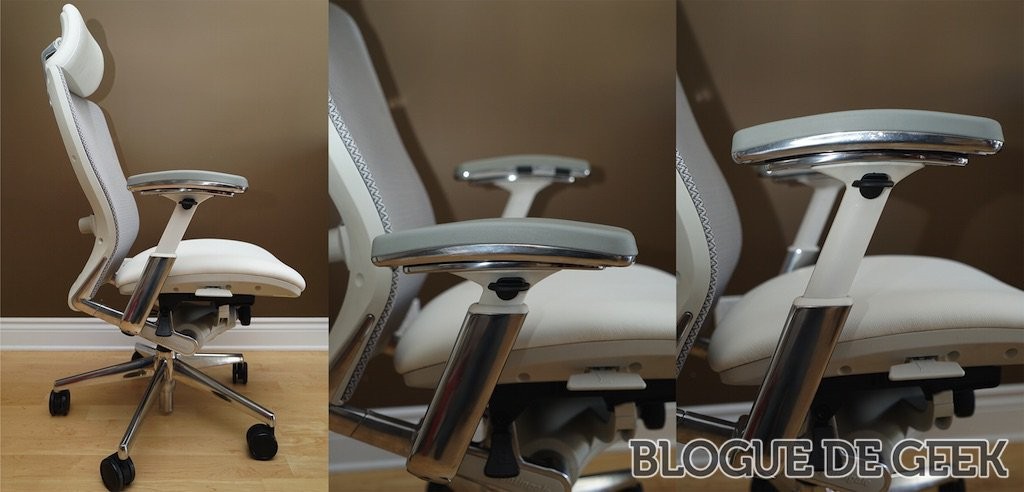 Performances
The assembly is the first step you take with the chair and it can even be done without instructions. A single page explains how to attach the headrest and other than that it comes fully assembled (the central axis included!).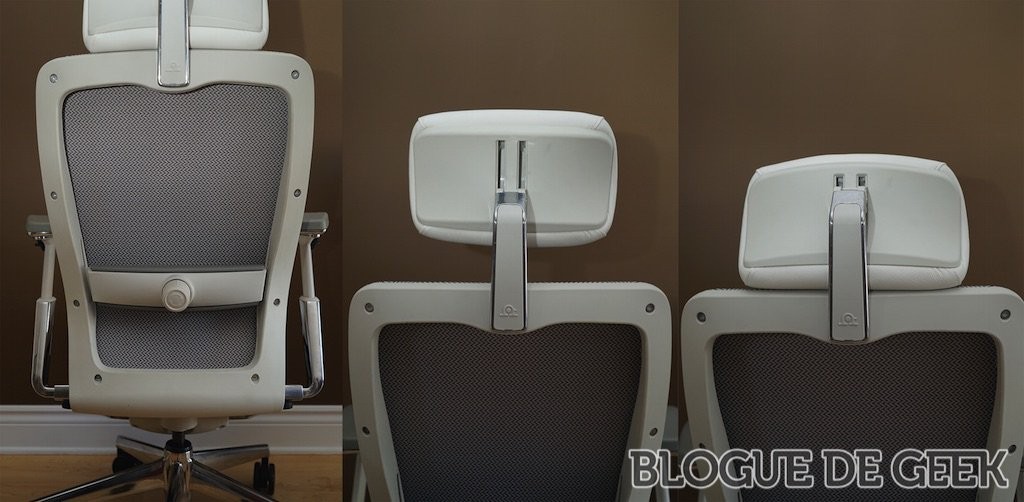 This chair offers a wide variety of adjustments. The first one is obviously the height, but a very nice feature is a rocking mode resistor that can be adjusted infinitely. By turning a knob, it increases the resistance until your weight can not tilt the chair. Nightingale calls this the Galileo mechanism. We can also adjust the seat depth by making it move from the front to the back …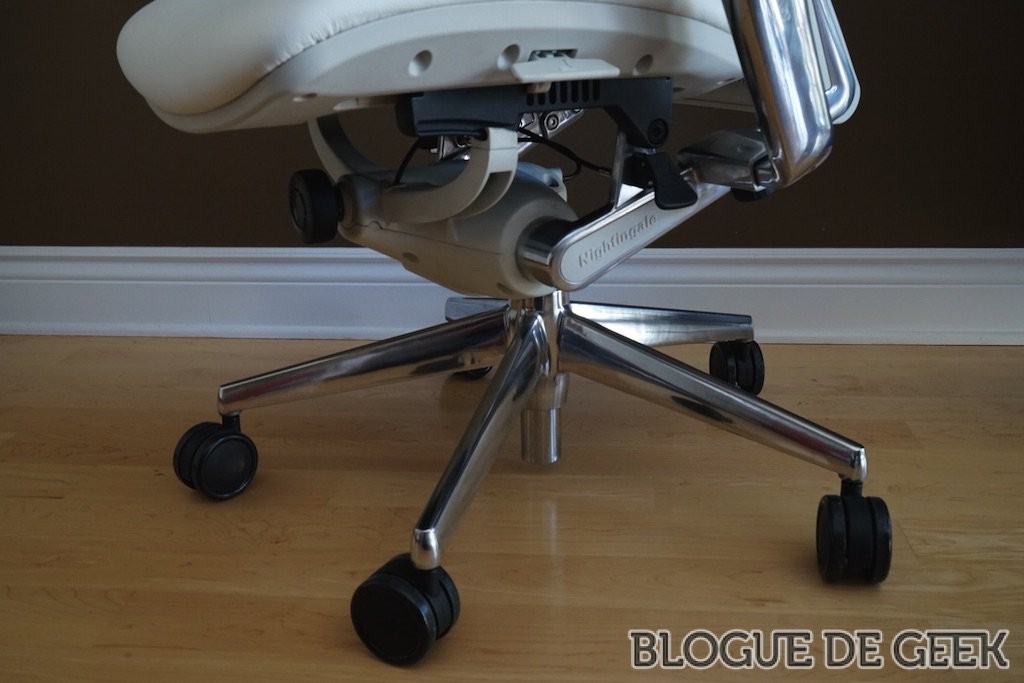 An adjustable lumbar support in the X and Y axes, from top to bottom and from rear to front is included. The arm rests are adjustable according to the width direction, forward / backward, up / down and left / right. They call this 4D adjustment. Finally, if you have opted for a headrest, it can be adjusted up and down and rotate on its axis to provide the best angle to your head and adjust when you balance yourself back on the chair with the Gallileo feature.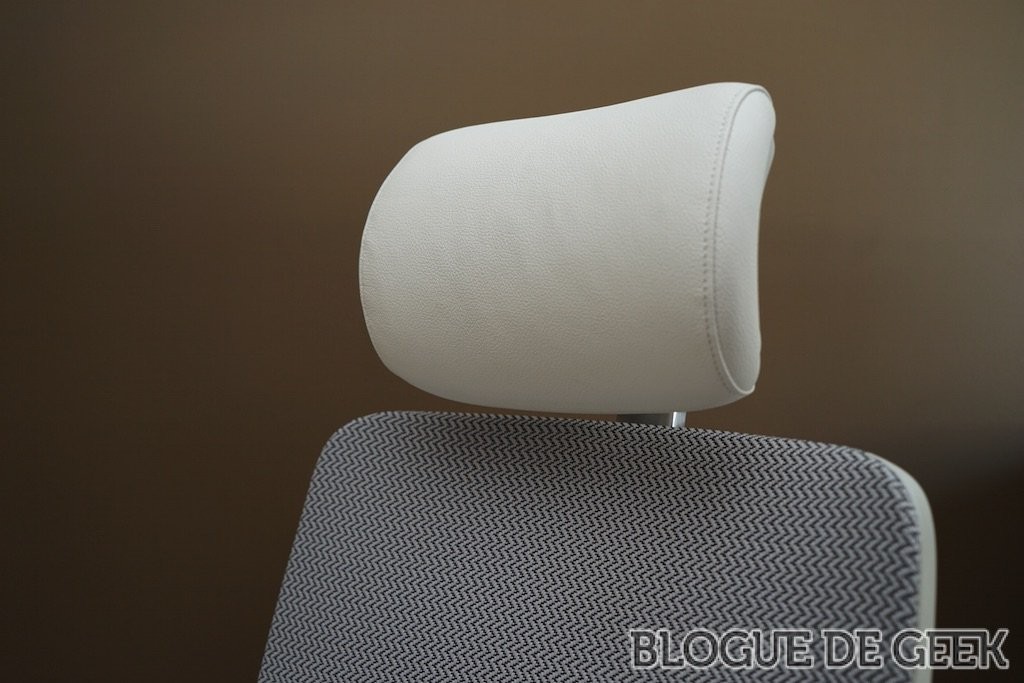 All theses adjustments make the IC2, a very comfortable and very customizable chair. Being more configurable than other models, you also have the famous memory foam that I loved so much about CXO 6200, the back rest can be made of Ablex mesh or leather. The final price of the IC2 can vary greatly depending on your selections.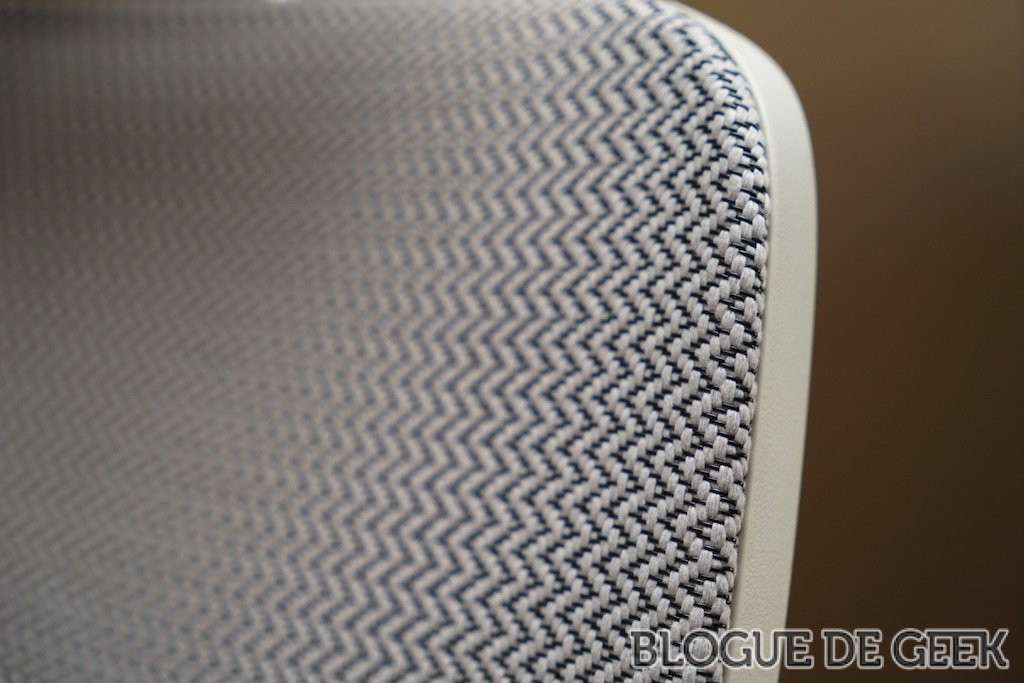 We instantly see the same build quality as other products from Nightingale, the chair is a good balance between strength and weight to be stable without being ridiculously heavy. Even adjusting the headrest has improved in comparison with the CXO 6200. It is more difficult to move and it's a very good thing, once adjusted it keeps its position.
The back rest is significantly narrower than I imagined. This is not a problem for many people, but I prefer a larger back rest to properly support my shoulders. Especially when I rock the chair backwards. The armrests are very convenient, because in addition to the 3 axes, we can remove them or bring them closer to the seat. Also, they can drop much lower, enough to get under the desk. Very handy when a kid has to use the office!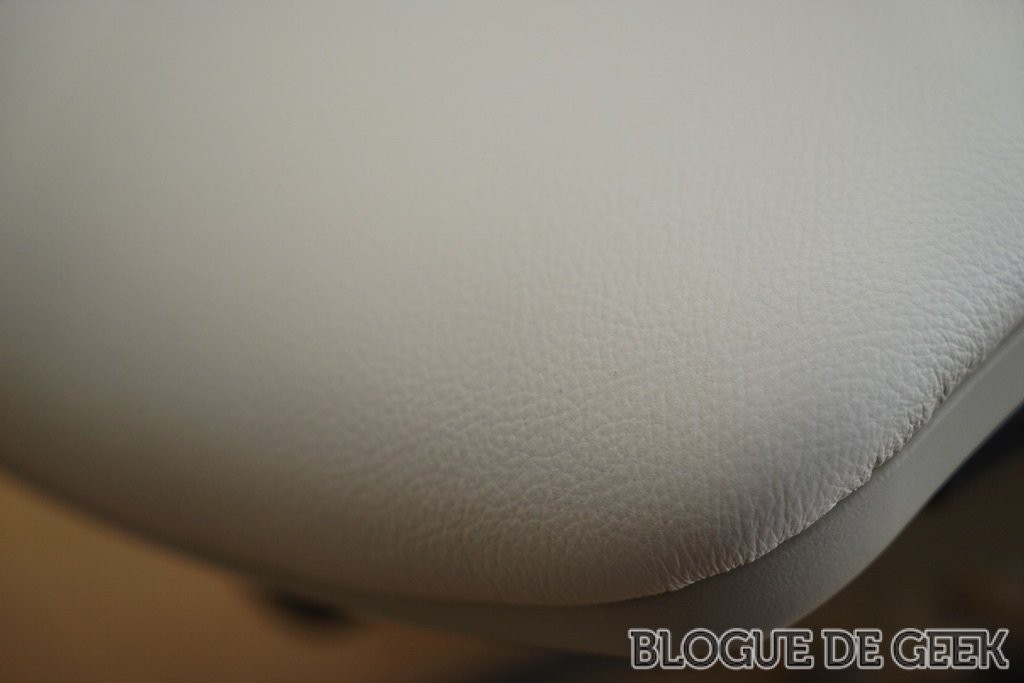 The seat of the chair tested was covered in leather, a good quality leather well assembled and firmly molded to the shape of the seat. This seat has a concave shape, like a bucket type seat, very comfortable upright, but as I often place a leg under theother, this becomes very uncomfortable. This chair is not suitable for fans of a (bad) position.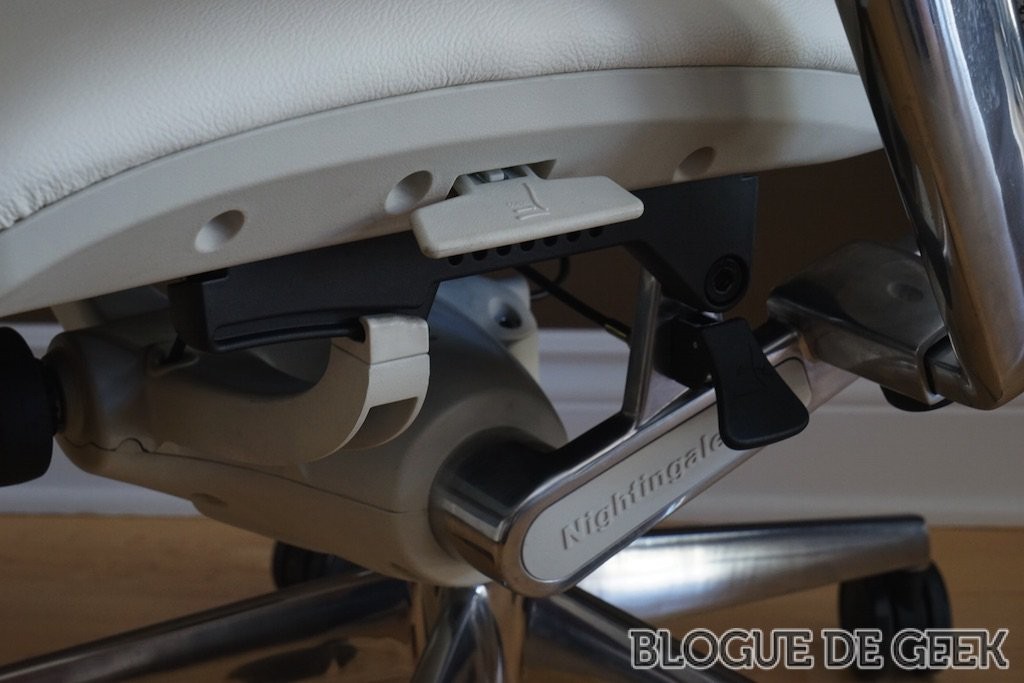 Pluses and Minues
Pluses ➕
Great number of adjustments
Strong and confortable tilting mechanism
Seating comfortable
Many adjustments for headrests and armrests
Minuses ➖
Seating unsuitable for those who cross legs
Supports back not sufficiently large
Leather is nice quality but can stain easily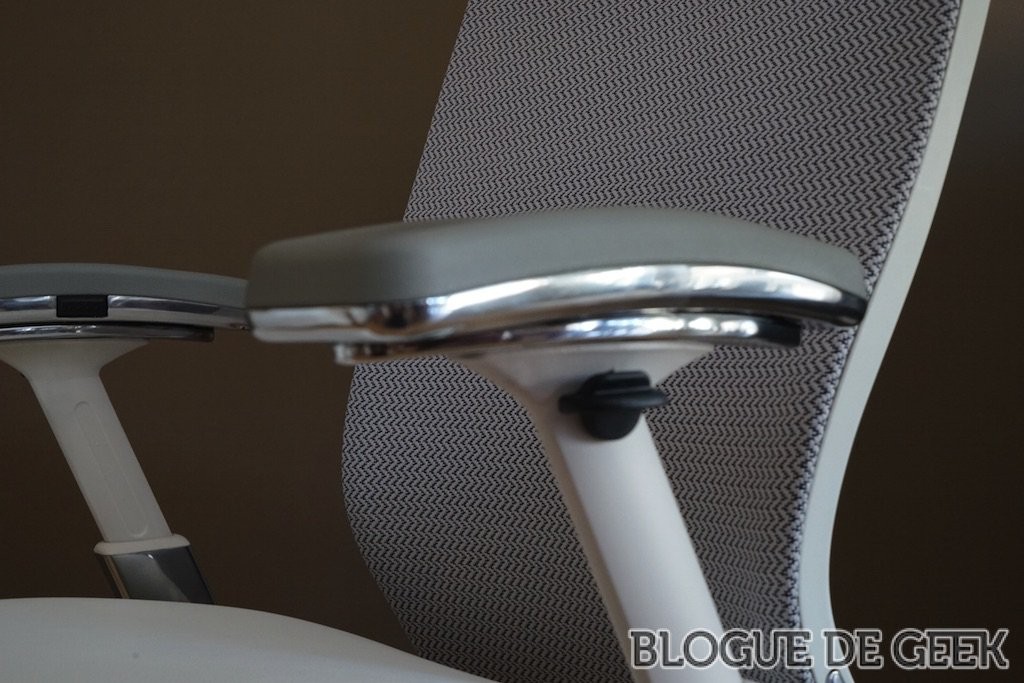 Conclusion
Again Nightingale offers a high quality product that, considering its options, the IC2 7300 WH] more configurable and therefore more affordable than many other models. We loved its feature set and its very customizable nature, more than many other more expensive chairs. The back rest, lumbar support and the headrest are virtually perfect. The seat is also perfect for an upright position, but not for someone who crosses his legs.
The big news is the tilting mecanism and I must say it is something I really appreciate during an intense debugging session where stretching this way allows to take a step back and kill a persistent bug.
As tested, this model is also very design and will easily fit in any office. Just be sure to try the chair in the store to be sure that you will be comfortable with the various positions you take when you get home.
Review Summary
IC2 7300 Ergonomic Chair
Nightingale Corp.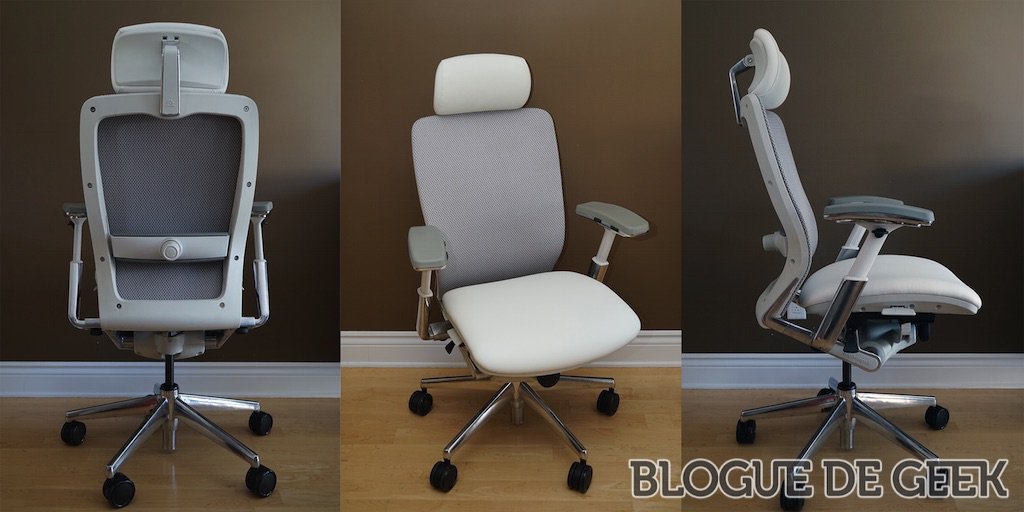 Modern performance chair created by Nightingale. It includes several features normally available on much more expensive models while adding a tilting mechanism and several improvements to armrests and headrest.
The Good Stuff
Great number of adjustments
Strong and confortable tilting mechanism
Seating comfortable
Many adjustments for headrests and armrests
The Bad Stuff
Seating unsuitable for those who cross legs
Supports back not sufficiently large
Leather is nice quality but can stain easily