---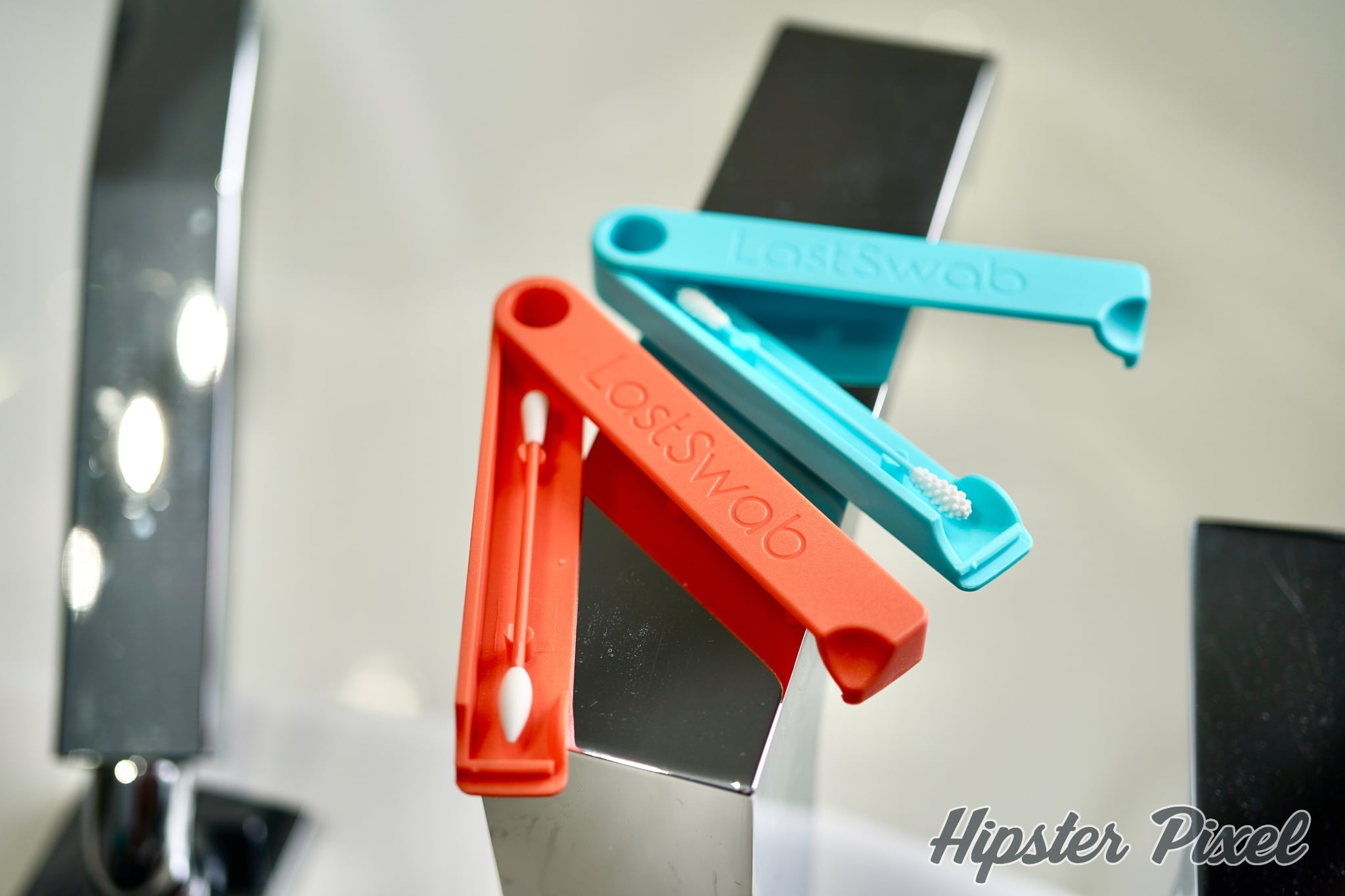 LastSwab, a Solution for Disposable Cotton Swabs [Review]
This is not a product category that I often review, but after realizing how many cotton swabs we go through in a year, I decided to look for a solution. And one that I could talk about here for you to discover.
I present you the LastSwab , a silicon tipped reusable swab that allows you to simply clean it after use and stop wasting and polluting the ocean with disposable cotton swabs. As it is the case with many of these great ideas, it started with a Kickstarter that raises 706,811 US$ to revolutionize the way we clean our ears and how we do makeup! If you would like to learn more about other LastObject's projects, head over to their website!
Design
The LastSwab comes in two flavours at the moment, the Basic rounded tip cotton swabs with little bumps to catch the ear wax, and a makeup version, called Beauty , that is slick and has more of a pointy tip, more flexible and softer.
Both versions have a very flexible core to prevent you from putting too much pressure in your ear and thus helps prevent injuries. To help with storage and to keep it clean while not in use, they come in a nice carrying case that feels more like a œuvre d'art display than anything else!
And did I mention they in many, many colours? Seven different colours for the basic model and six colours for the beauty model!
Features
Reusable product that replaces 1,000 cotton swabs
Comes in a corn-based carrying case
Two models and 7 colours
Performance
We are a family of five so we consume lots of cotton swabs, I was looking forward to a good replacement so I asked to test both the Basic and Beauty versions. I've got two teenage girls and a wife so I figured I should probably have them test the Beauty model!
I have been the one mainly using the Basic model and after having it for a few weeks I really like it! The first thing you realize is that the LastSwab has a grippier feeling than cotton swab that can grab all of that ear wax! You let warm water flow on the tip and a quick rub removes it all.
The tip is very comfortable and I like the little scratching it does to my inner ear! If you ever have an ear itch, the LastSwab is great for that too! The main difference between a cotton swab and the LastSwab is the effectiveness of removing every last bit of ear wax. You see the LastSwab leaves a film in your ear canal, keeping the natural protection ear wax provides without the grossness of it. Cotton swabs removes everything and can even easily be irritating your ear canal if you rub it too hard. At first I thought I did not "feel" as clean, but after multiple weeks, it is not the case. You feel as good as with a regular cotton swab.
As for the Beauty version of the LastSwab, the girls in my household actually were not using cotton swabs for their makeup, but the corner of a foam sponge to do some medium precision application. Moving to the LastSwab was actually a revelation for them and they have already asked me to get them one each! The great thing with the LastSwab is that they are flexible enough to be comfortable, but stiff enough to allow for ease of control when applying makeup. The other end being rounder offers another tool that is easy to use, clean and re-use.
And given that the tips are made of silicone, you can easily clean them, dry them and try again where a sponge could easily be ruined after a single use (or require drying time after cleaning it).
Conclusion
The idea of a reusable swab is very interesting, especially if you tend to use multiple ones. The numbers add up rapidly and if you start thinking about where those end up, it's not very long before you start feeling awful and try to look for a solution. The LastObject team behind the LastSwab has created a very interesting product that is both effective and very well designed. It works great and is easy to cleanup under hot water. I would go as far as say it does a better job than the cotton swabs because it does not try to clean your ear canals out of all their ear wax. It leaves a very thin layer that can do its job, you know, protecting your ear canal from infections and other bad things.
The two models, the Basic and the Beauty , make this a tool that can be part of the everyday life of those in need of a practical and ecological solution for their makeup.
Both are really like by my family and they have voiced their interest in each having one with their own colour! Sadly, I don't see a Family Pack of LastSwab Basic or Beauty… (hey LastSwab, make a family pack!)
Overall, I really like the product, and I strongly recommend it for anyone that cleans their ears! This makes a lot of you so you know what you need to do!
Review Summary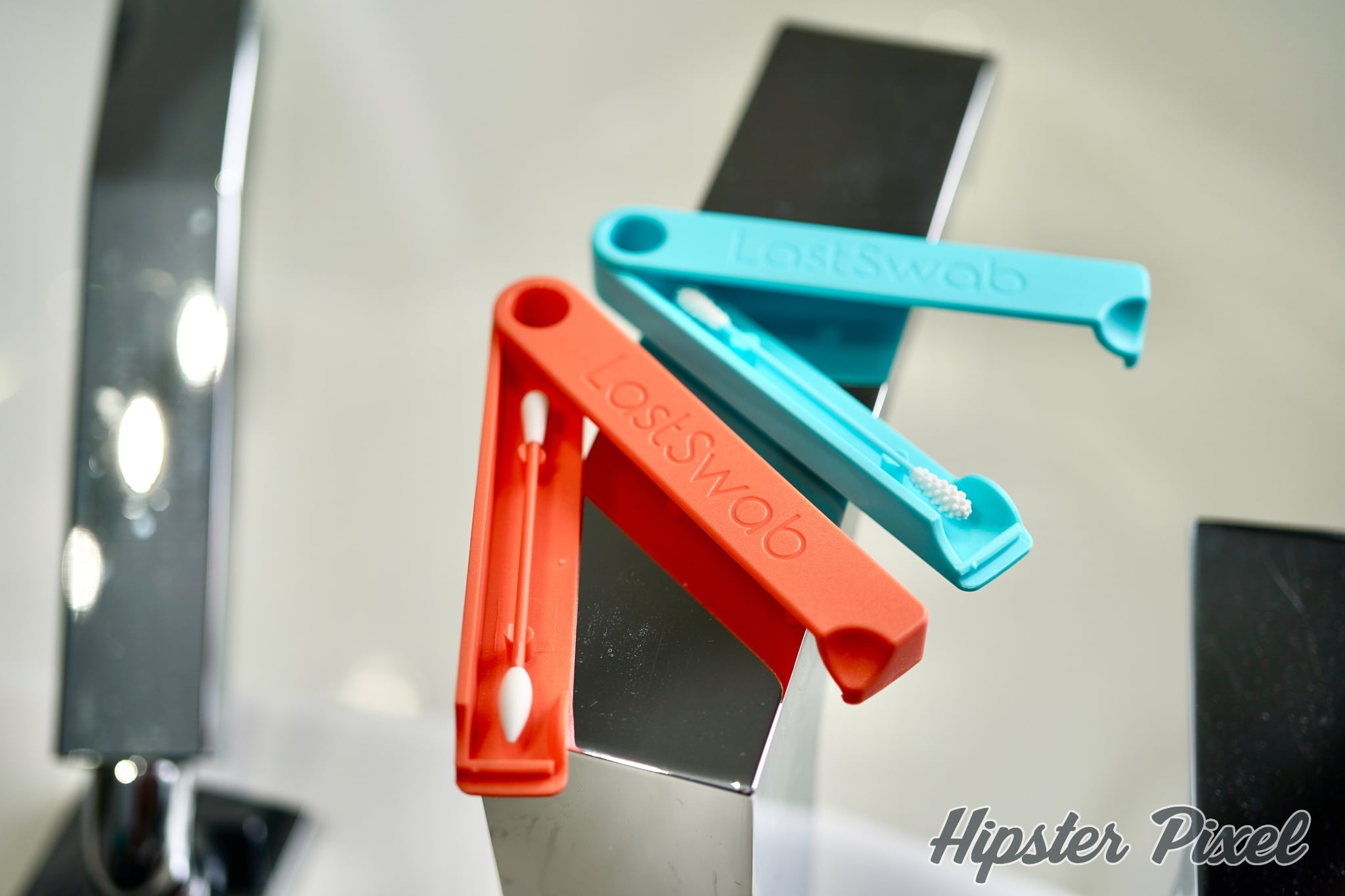 How can we reduce out waste, more specifically the cotton swabs we throw out? LastSwab is taking a swing at it with the Basic and the Beauty!
The Good Stuff
Colourful Design
Smart case design
Reusable and effective
The Bad Stuff
Expensive for a large family (we need packs!)
There should be 2-packs with both models