---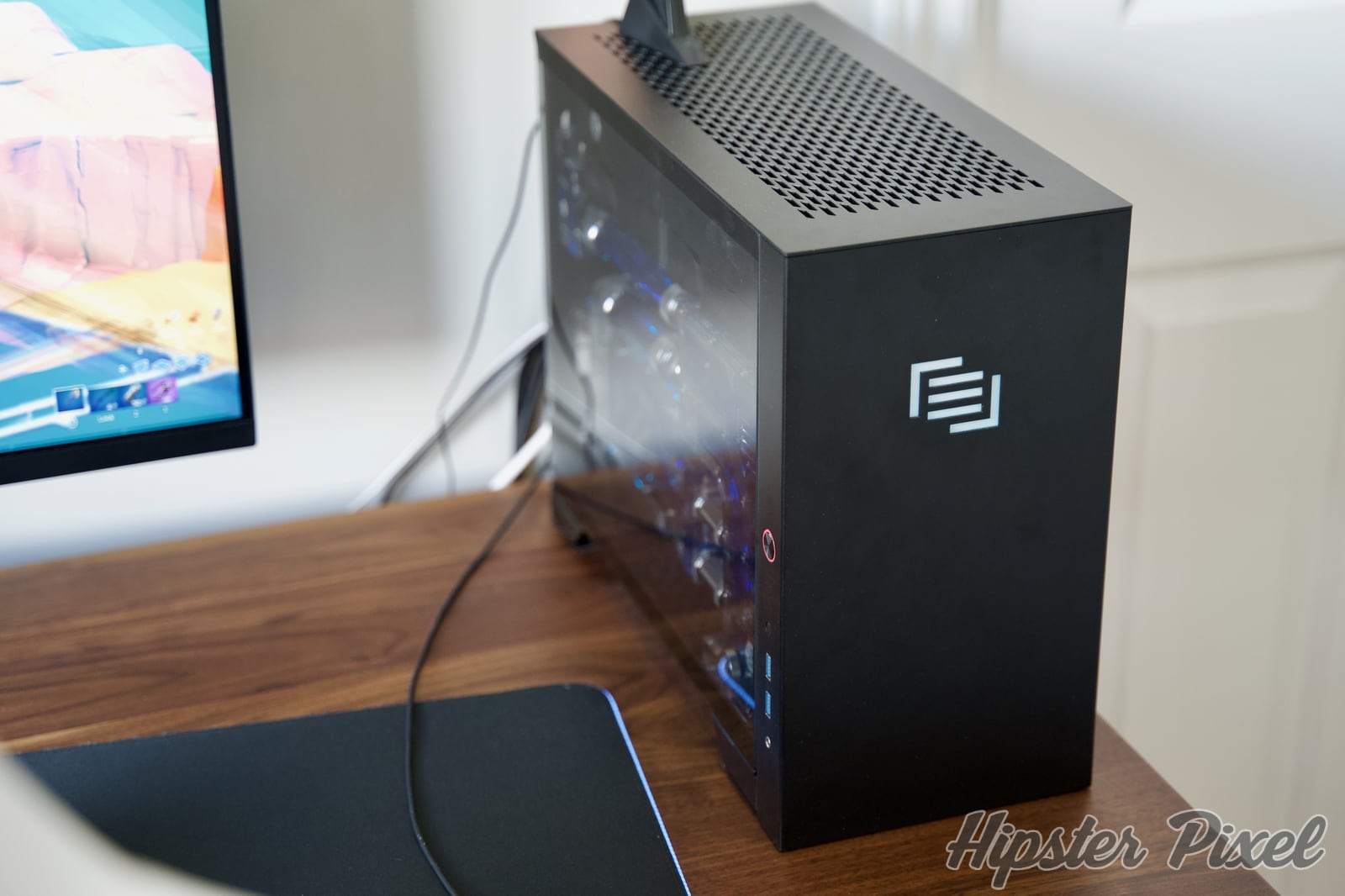 MAINGEAR TURBO, a Small Yet Impressive Desktop [Review]
As you know from reading this blog, I'm a very devout fan of all things Apple. However when it comes to gaming we all know that unless you want to find very few games on Steam or emulators of classic consoles, your options are quite slim…
With all the Windows machines out there, it should be easy to buy one, right? Sure, but what about getting the best components? What are the best components? How do you water cool a PC or a graphics card? Sure you can roll up your sleeves and start the research phase, buy a ton of components and hope for the best… but for anyone like me that is used to compare specs and get something that, famously, Just Works™ there is something you might do and I must say the solution is very, very sweet!
Buying a Gaming PC, not one you buy all the parts for, but one for which you select all the parts for and someone way more experienced than me or you, can build it, test it and give a nice little seal of approval that it works as intended and won't leak! After some research, I selected, and completely paid for, a MAINGEAR APEX TURBO gaming desktop!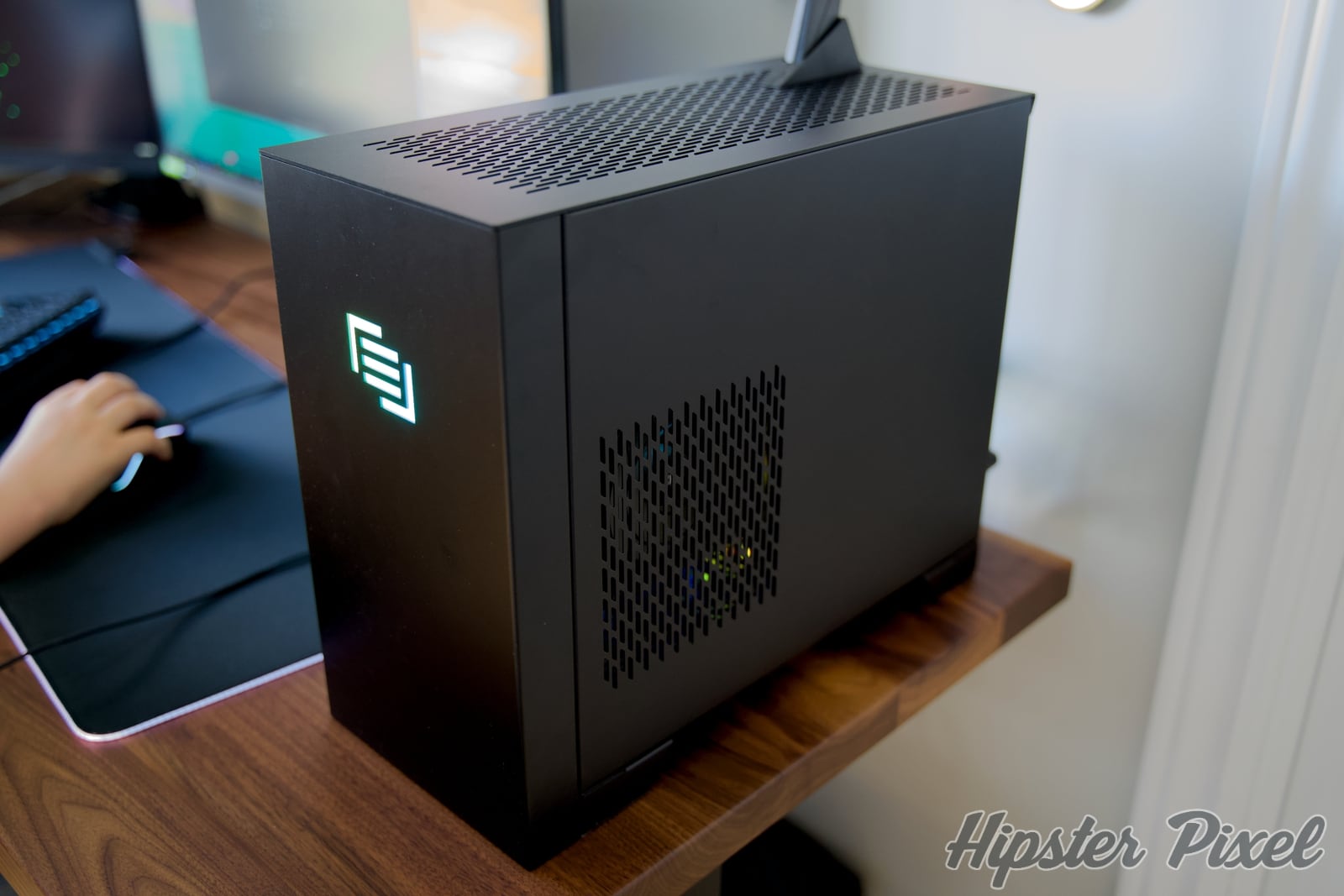 For you Ayden
This Gaming PC was for my son who suffered through the worst year of his life battling a very nasty tumour that metastased in his lungs. This meant chemotherapy and radiotherapy for over 9 months, all this while being confined to our house due to COVID and not being able to see friends and families. It was the worst year of our life so we decided to offer him his dream Gaming PC and Streamer kit. Once he gets a little less shy, he wants to try to do reviews too :)
What is the APEX TURBO?
The APEX TURBO by MAINGEAR is a Mini-ITX size desktop computer, think of it as a smaller than what your regular old tower PC looked like. But don't let the size fool you, this little guy can pack quite a punch!
The APEX in the name means that it uses the proprietary cooling Integrated Cooling System that adds an open loop that cools both your CPU and your GPU, so this means that for your selected GPU they will remove the casing and the fans, and use a custom-made water block for your specific model of GPU that is precisely fit to cool it with liquid.
This takes all of the heat from both your CPU and your GPU and passes the heated liquid in a radiator where the heat is removed and pulled from not only the water, but the case too. At the end of the radiator, the water is colder and ready for another passage through your CPU and GPU water blocks. This is a very fancy, and effective way, of moving the heat away from your components!
Design
This is not only affected by choosing the APEX TURBO chassis, but also all of the components and customization you selected. There are many options like having an automotive quality paint for the exterior case or even your logo painted on the side of the computer! We haven't gone through with these options though and kept it simple and cool with clear tubing, transparent blue coolant and blue braided cables.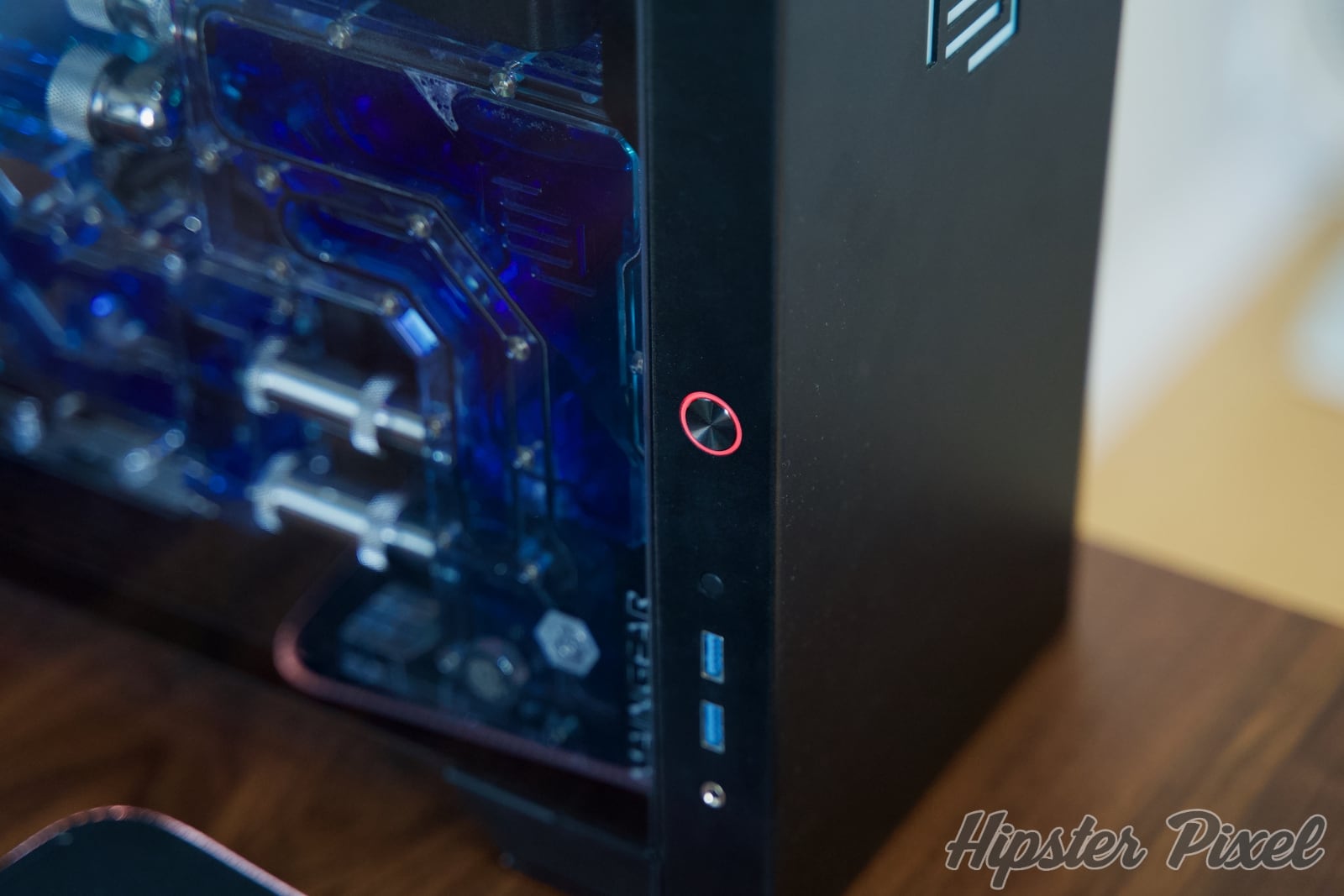 The case is black and it looks awesome! It has a big power button that can also serve as a shutdown trigger and it has a few USB ports on the front as well as a headphone jack. We choose to have LED everywhere so not only is there in case lighting, but the RAM also has LED lights and the fans too! This way, all this can work in unison and offer a great light show!
The back of the computer is what a back of a computer looks like, lots of ports, the graphic card with its multiple DisplayPorts, the motherboard has on-board Wi-Fi 6 so we can add a small antenna there and the rest is quite normal.
Of course, you'll see the design from all the nice photos I took of the computer, please excuse the cable management, this part of the project is never really done…
Specs
This is basically how I customized the TURBO. It took a while because NVIDIA loves to sell their graphics cards to miners… and the whole order took just over 3 months to be shipped here!
MAINGEAR TURBO Chassis in black, with RGB Lighting and RGB Fans (buy)
CPU: AMD RYZEN 9 5900X - 12-Core - 3.7 GHz (Boosts to 4.8 GHz) (buy)
GPU: NVIDIA GeForce RTX 3080 Founder's Edition (buy)
Memory: 32GB HyperX FURY RGB DDR4 3600MHz (2x16GB) (buy)
Motherboard: ASUS ROG Strix X570-I Gaming w/ WIFI (buy)
MAINGEAR APEX Cooling with Blue Coolant and Transparent Tubing
Power Supply: Corsair SF750W (buy)
Drive: 2TB Seagate FireCuda 520 Gen4 M.2 NVMe (buy)
Microsoft Windows 10 Pro
Price: 4,599 $US
Of course to go with this computers, there are a bunch of accessories that we purchased seperately. Since you are probably as curious as I, here is the list:
Setup and Configuration
Well, I need to mention it but there is really nothing to report here. The TURBO arrived ready to create the admin account on Windows Pro and this was it :) Nothing else to install apart the games and software. All I had to do was plug it all in and bingo!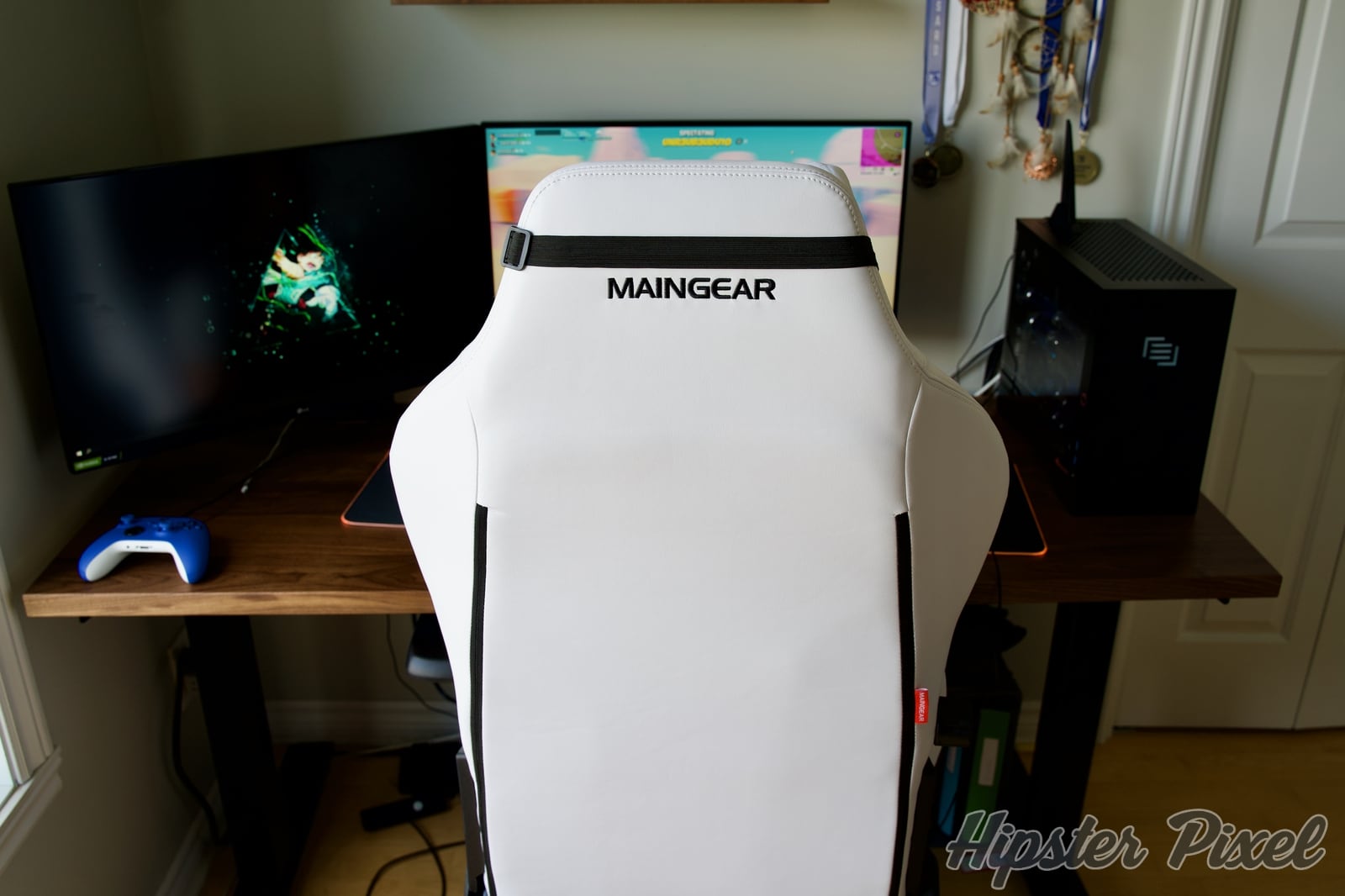 Of course, we had to install a few software from Razer to get some lights going with the various peripheral we have and the tower LED. But really, a few drivers updates and that was it!
Performance
Of course, being a MAINGEAR product it comes all pre-assembled and tested in their labs to offer the best possible performance without risk to your system. This means that it can sustain the maximum performance, non-stop, without being thermal throttled thanks to the APEX cooling! Also, the system is not overclocked by default from MAINGEAR, this is a discussion you need to have with them prior to them shipping your computer of after through their support.
So right from the get-go, the CPU temperature never crossed 90˚C. Usually the maximum temperature it gets is around 82-86˚C, and the average around 75-78˚C. This is valid through all of the benchmarks below.
For transparency reason, I will link to the result whenever possible so you can see for yourself that the results are legitimate.
UserBenchmark
Using this test, the MAINGEAR TURBO is performing better than 60% of the machines tested. The CPU is rated 106% with a strong single-core performance, while the RTX 3080 got 185% as its score. The FireCuda 520 M.2 SSD got an outstanding 372% score thanks to its incredible speeds and the Kingston memory received 117%.
UserBenchmarks: Game 193%, Desk 109%, Work 219%
CPU: AMD Ryzen 9 5900X - 105.8%
GPU: Nvidia RTX 3080 - 185.1%
SSD: Seagate FireCuda 520 SSD ZP2000GM30002 2TB - 372.1%
RAM: Kingston HyperX DDR4 3600 C18 2x16GB - 117.5%
MBD: Asus ROG STRIX X570-I GAMING

3DMark
I ran two tests with 3DMark, the Time Spy and the Night Raid; both returned with a score that is better than 99% better than all other results! 😮
Fun fact, the average temperature of the CPU was 64˚C and 65˚C respectively.
GeekBench 5
One benchmark that I'm very used to running on various Mac, GeekBench 5. This one does CPU and GPU benchmarks with various frameworks (OpenCL, Vulkan and CUDA). I will be comparing the TURBO with an iPhone 12 Pro, a Macbook Pro 16-inch 2019 with a Core i9-9980HK with 8 cores and a few extra devices for the fun of it! The RTX 3080 is very much optimized for CUDA however, that is not possible to be tested on iOS or macOS devices, so I will only compare the OpenCL results.
CPU Benchmarks
This one covers single core and multi-core and you can see how it compares to a 16,000$ MacPro, a MacPro with the same number of cores and a MacBook Pro and the new M1 Macs.

As you can see, the Ryzen 9 5900X is quite a beast and easily beats the 12-core Xeon processor in the Mac Pro with the same number of cores. The 28-core comparison is not really fair, but I put it here for fun since it's a machine that costs almost 3 times as much as this custom TURBO!
GPU Benchmark
Here, of course, the RTX 3080 shines with the CUDA benchmark, but since it cannot be ran on other hardware I got my hands on, I am going to compare OpenCL here.
And now let's compare my result with other Vulkan compatible cards on the market.

As you can see the RTX 3080 is not a slow card! And just so you know the score with the CUDA test is 193,445 as you can see here.
CineBench
Now, another benchmark that stress tests the CPU. I ran the same scene here in single-core and multi-core configurations. Here's how the Ryzen 9 5900X performed!


Here once again, great results, much better than an 8-core i9 CPU, but not quite to the level of a 24-core Xeon though! In Single Core though, it's at the top of the list equal to an 11th Gen Core i7 CPU.
Game Benchmarks
For this last benchmark, no more synthetic benchmarks, let's look at what this little gaming PC can do with a great game like Shadow of the Tomb Raider, Definitive Edition and Fortnite!
Shadow of the Tomb Raider
Launching the game's demo and going into its benchmarking tool built-in gave use these results. My son has Windows set to French so you might not understand all the details.
As you can see from the above, in the lowest settings possible we got an average of 326 fps (or 259 fps as the 95th percentile) on the GPU and 158 on the CPU only. If we crank up those graphics and get the GPU to be more solicitated, we now reach 197 fps on average for the GPU and 172 fps on the CPU.
Fortnite
For fun, we have played Fortnite with different graphic profiles and during a game we could reach the following number of frames per seconds when pushing the computer to its limits.
| Test Scenario | FPS | Max CPU Temp | Max GPU Temp |
| --- | --- | --- | --- |
| Lowest Graphics | 600 fps | 90˚C | 66˚C |
| Lowest Graphics Lock @ 240fps | 240 fps | 88˚C | 56˚C |
| Highest Graphics with Ray Tracing | 75 fps | 91˚C | 73˚C |
As you can see, there is some ample performance we can work with. And when setting the maximum fps to what the display can actually do, 240fps, we keep the CPU around 89˚C and the GPU at a cool 55˚C!
Noise Level
This is one area where MAINGEAR put lots of thought into this little chassis. Not only are the fans spinning very fast to expel the heat, it does it in a way that really minimizes noise. Even when the fans are revving up very high you don't have that much noise. My MacBook Pro 2019 that is very much thermal constrained puts out almost as much noise as this bigger, meaner machine!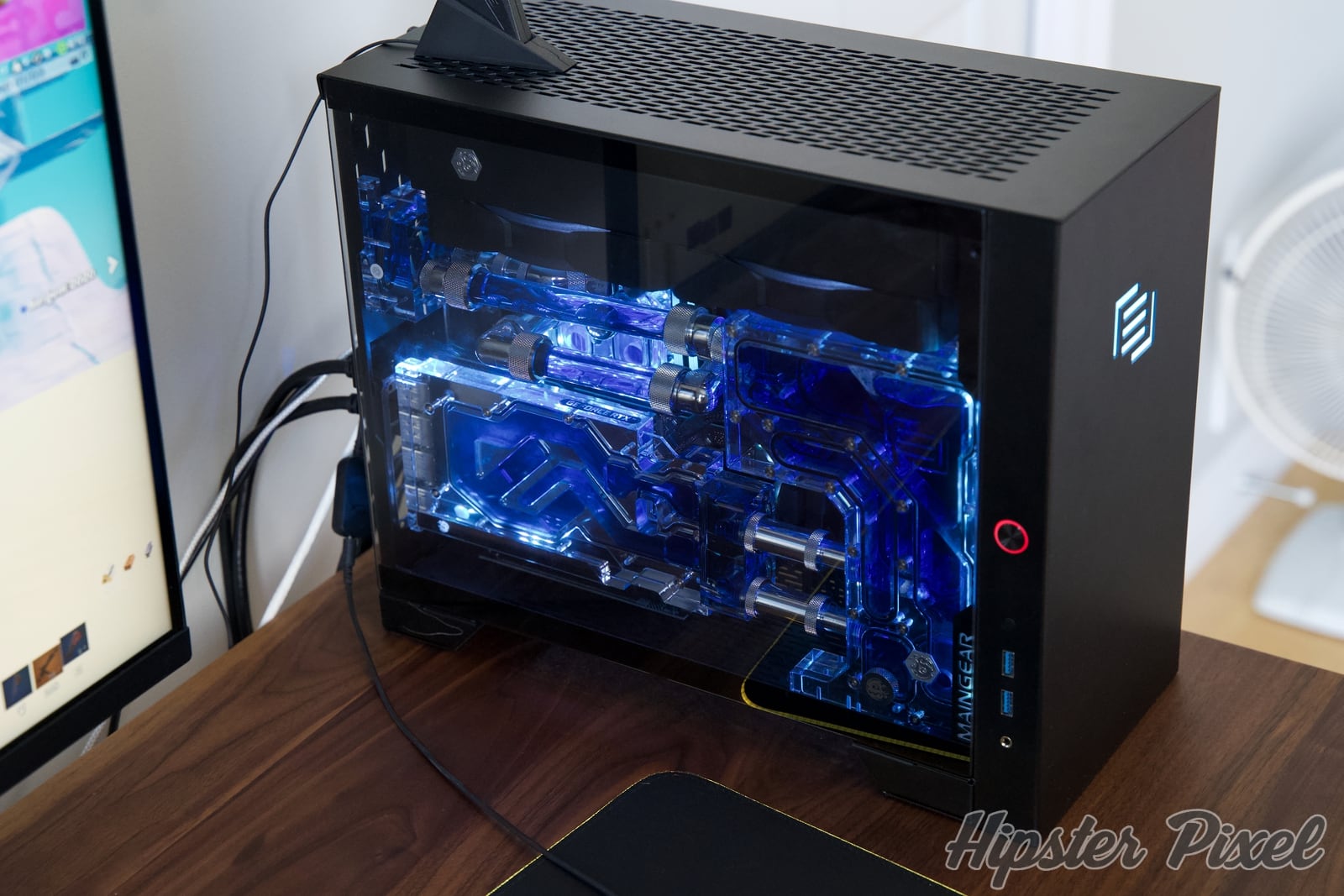 In terms of vibration, everything is solid, heavy and does not budge. For anything else than gaming, that tower is basically silent.
Conclusion
As you can see, I am very, very pleased with this machine! Our son is using it on two 1080p displays so there's enough power to play with the graphics at the maximum level and still have plenty of room to stream and record his gameplay without breaking a sweat!
The design of the TURBO is so nice to look at! It's a very pretty case and the quality is up there. The service from MAINGEAR was amazing also and I must say that I strongly recommend you their products, especially if you do not know how to build a gaming PC like this one with liquid cooling. You will pay more than if you get all the parts yourself, but you will also have a fully tested PC and no compatibility issues, and more importantly no water leaking!
The MAINGEAR TURBO is the little brother of the bunch, but they also have many more products as computers come in all shapes and sizes. Their gaming laptops were also recently refreshed with the RTX 30-series based mobile GPU. Check them out!
Review Summary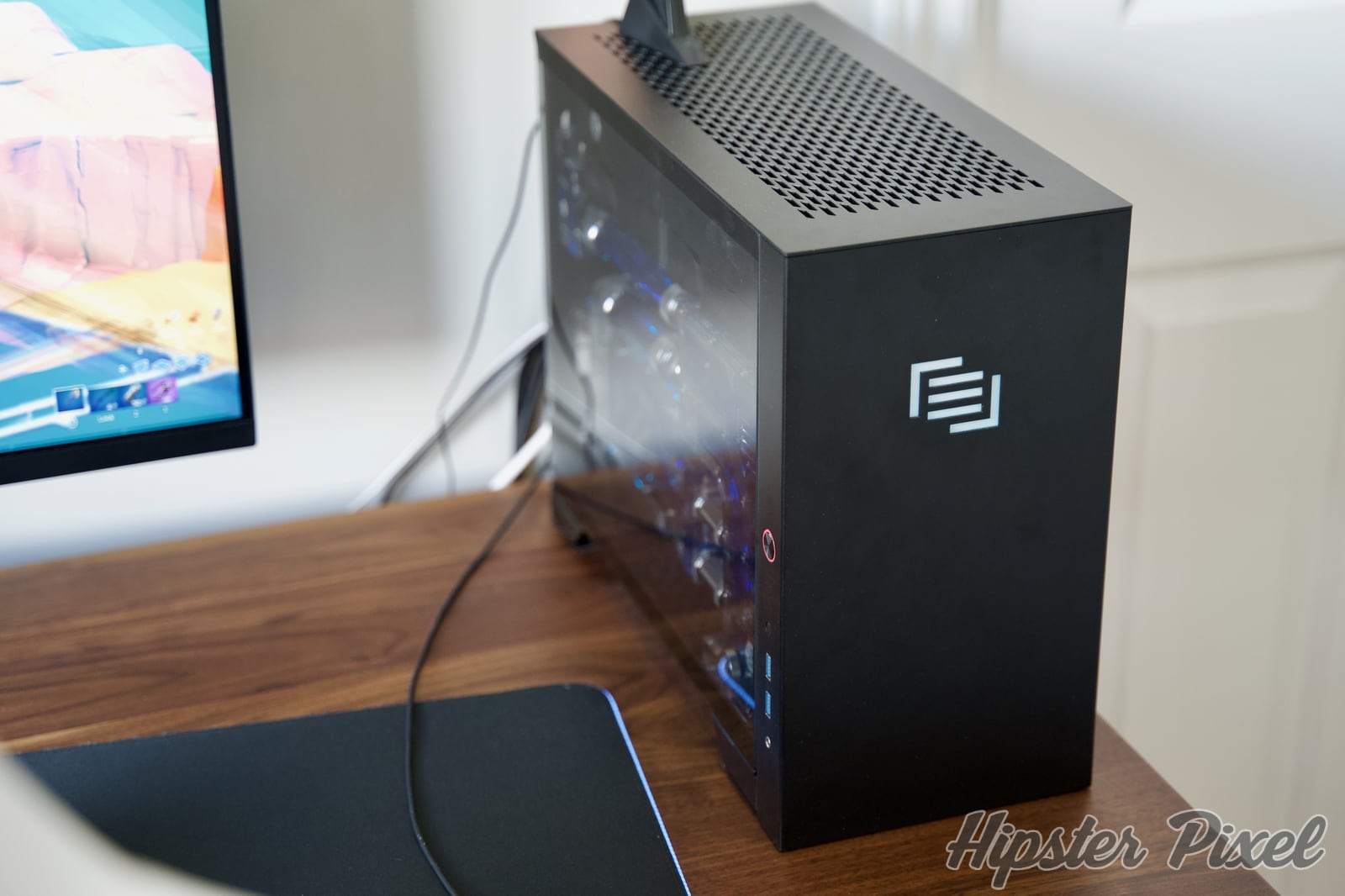 When you want the best, but don't want to learn how to customize gaming PCs and how not to ruin your PC with water cooling... check out this MAINGEAR TURBO, a Mini-ATX gaming PC with APEX coolant that will pack a punch just as well as his bigger Full ATX brothers!
MAINGEAR TURBO Gaming Desktop
MAINGEAR APEX VYBE Gaming Desktop
The Good Stuff
Great Design
Heavy, solid, stable
Very Customizable
Efficient Cooling
The Bad Stuff