---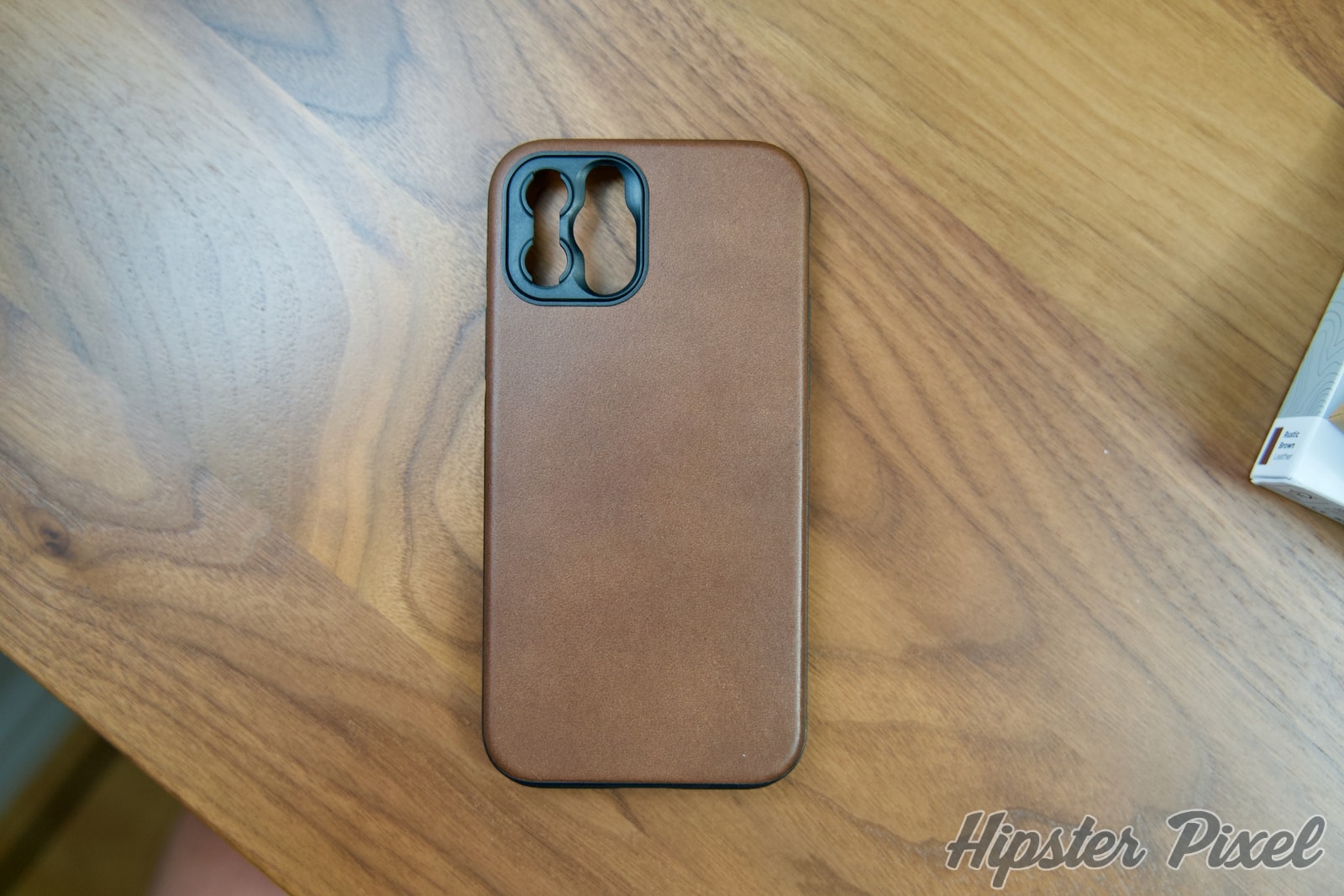 Nomad Modern Leather Case for Moment Lenses [Review]
This is a known fact, when mixing two good things you almost always get a better thing as the result. So when Nomad announced that they were releasing their Modern Phone Case with the Moment lens attachment, I was surprised and excited! I've been using Moment cases for years, and kept swapping case to use the Moment lenses I take with me most of the time.
This new Modern Case for Moment is kind of like the best of both worlds? Or is ?
Design
If you read my previous Modern Leather Case review, you know how I feel about this case. This new version is very similar but it's not identical! A keen eye will notice how even if it looks identical, there were very slight adjustments made to the way the case fits and the button feels.
The buttons are a bit clickier than the previous model. They feel better and a bit more assertive, if such a thing could be said of a case button!
The real change here is instead of the regular hard plastic ring around the camera array, we now have the Moment Lense attachment piece. The exact same piece that is offered with most Moment compatible case. It's a hard plastic ring that can be popped out and replace if ever you damage it, for example. It's holding on there very strongly and cannot fall by mistake, you really need to pull it hard to remove it.
Features
Compatible with Moment M-series Lenses
Ships with both Moment lens interface and standard camera ring
Black Horween leather from the USA
Develops a rugged patina
Thin construction
MagSafe Compatible
10ft drop protection
Performance
Setting an iPhone 12 Pro in there is easy-peasy. Just like the other Nomad cases, you insert your phone and even if hard at first it's a perfect fit. Then, your phone is not only protecting from 10ft drops, it's also adorned with a supremely good-looking Horween leather back!
👩🏻‍🍳😘
Now, this case is just as good and, I would even say, slightly better than the non-Moment iPhone 12 Pro case I tested a little while back. Proof that Nomad does not sleep on their laurels and continue to iterate, on and on, towards always better products!
What about those Moment lenses? Well, they work great! The adapter being "the real thing" is perfectly moulded and fits great! Lenses are well attached and I'm not afraid of them dropping. Especially that anamorphic lens, which is expensive, and would be very sad if it were to break….
The only downside is one that is common to every case using this removable attachment. It's not as hard and solid as the one from previous generation that was moulded as part of the case. I have an old Walnut iPhone case from Moment and it has that connecter that is integral to the structure of the case. It's sturdier and cannot be ripped apart. The one in the Moment Case for iPhone is exactly the same thing, so it's not a problem by the case manufacturer it's the idea of having a removable part that makes it inherently a little bit more fragile than say a Moment Rugged iPhone 11 Pro Case. This last one has it as part of the structure of the case.
This is also one of the cases that has that MagSafe ring inside it, therefore it's fully MagSafe compatible and can work everywhere MagSafe does.
What About iPhone 13?
Well, I was waiting a bit before publishing this review, many weeks actually as I was expecting the iPhone 13 Pro version to be released but it's still nowhere to be found. Probably because Nomad wanted to get the precise device specs before working on the next iteration. Expect this iPhone 13 Pro version to come very soon, though.
For all of you with an iPhone 12 Pro like me, you may use the link here to buy the case! And maybe the wide-angle lens, or the anamorphic lens from Moment at the same time?
Conclusion
As a case by itself, the Modern Leather Case for Moment a great case! It protects your device very well, believe me I'm Mr. Clumsy and I dropped my iPhone 12 Pro soooo many times, and it is still perfect! The case itself got a little corner damage but the phone is still pristine thanks to it! The addition of the Moment lens adapter allows me to quickly add a sense without the need to swap cases and just for this, it's marvellous!
I now have the best of all worlds, world class protection even for folks with 10 thumbs like me, sexy Horween leather and the Moment lens adapter to get a lens on with one fast twist motion! It's even better than last year's Modern Case, so frankly, what else could you ask for?? I rock this case day in and day out, and I've never been happier for my well-protected iPhone 12 Pro!
Review Summary
Modern Leather Case for Moment
Nomad Goods, Inc.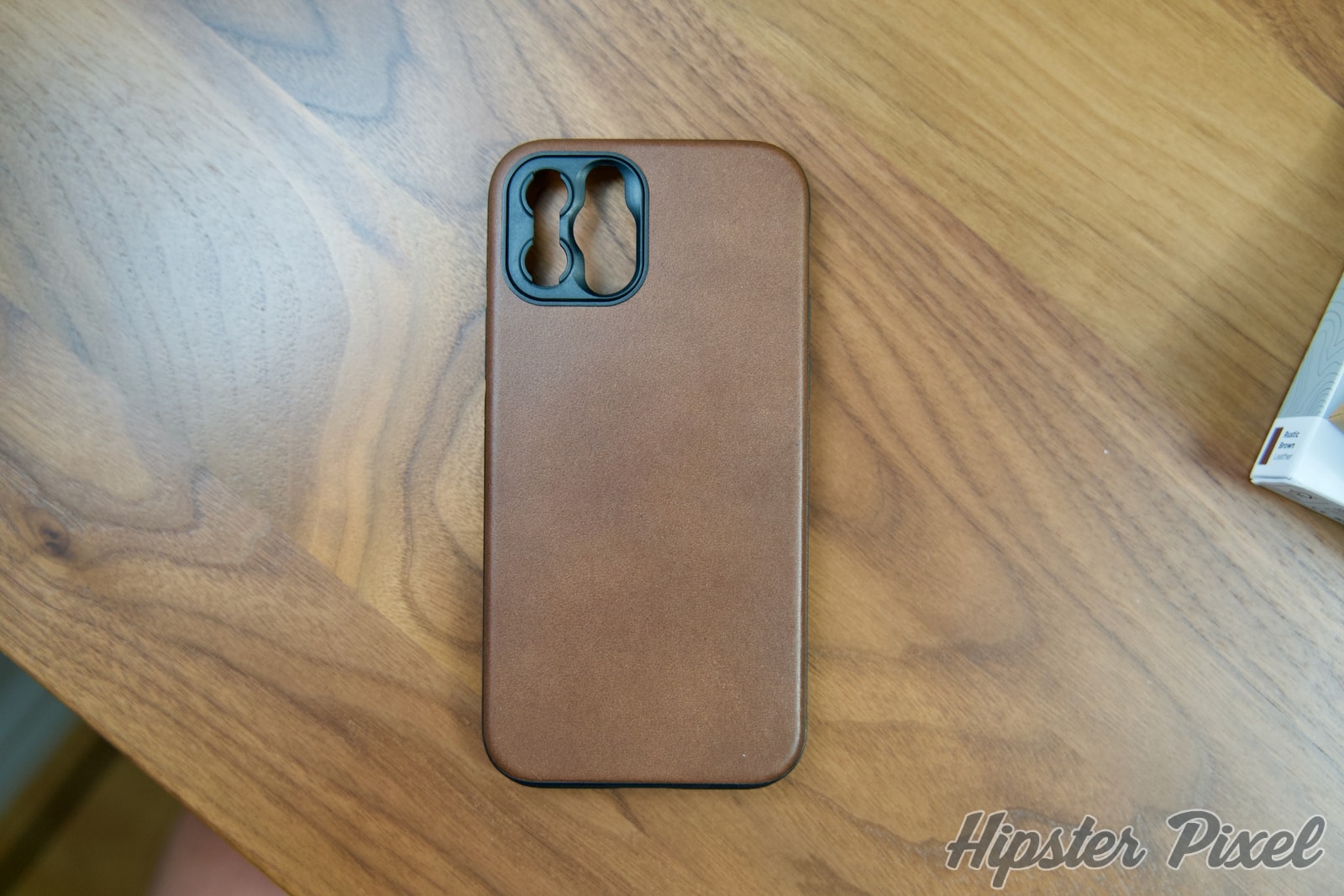 What do you get when you mix a Nomad Modern iPhone Case and a photographer's day dream? A Modern Leather Case for Moment with a nice sense adapter, all-in-one!
The Good Stuff
Sexy Horween leather case
Perfect fit
Fall protection, trust me I tested it!
Moment adapter to quickly add a lens
The Bad Stuff
Just a little bit weaker than moulded case