---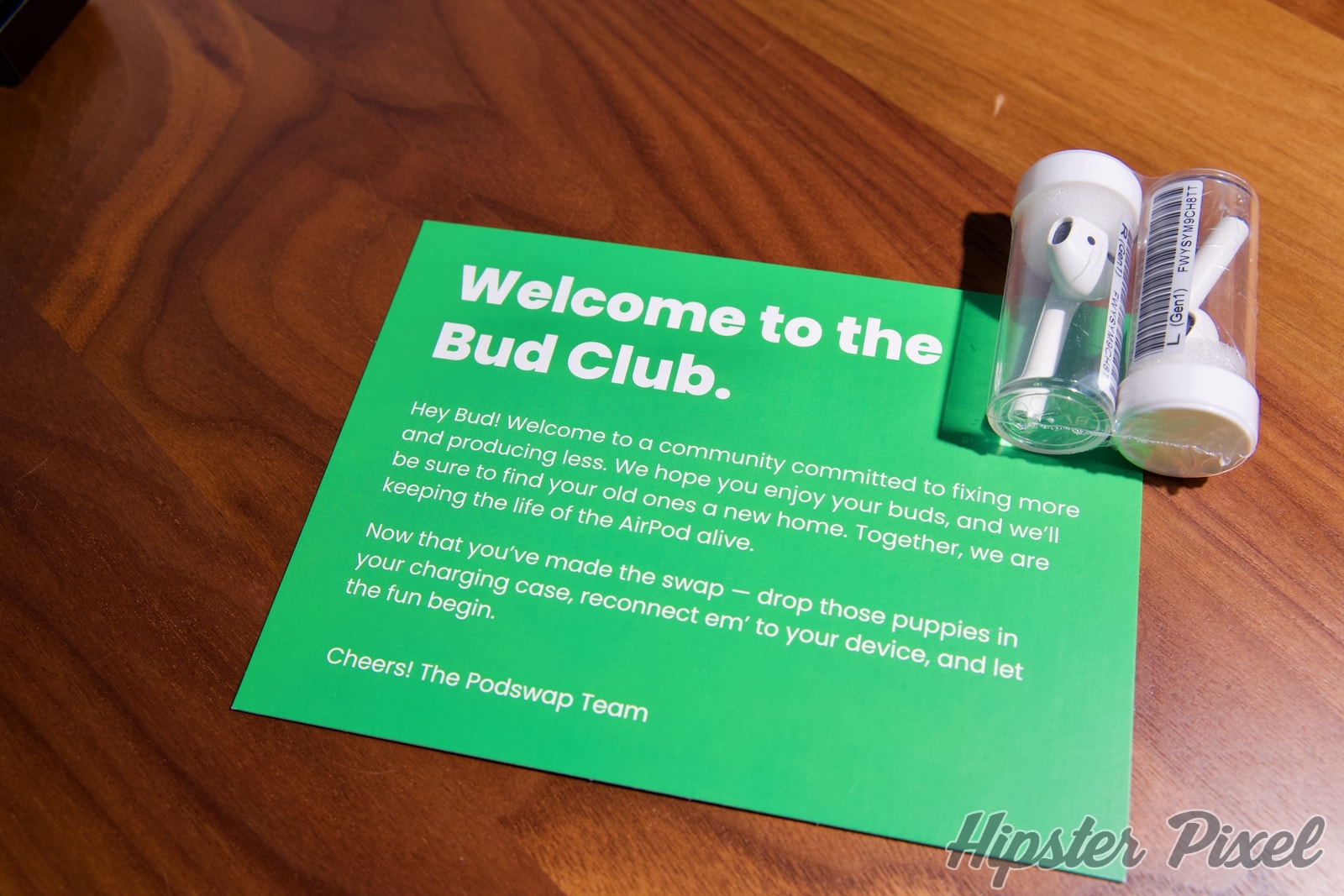 PodSwap for Old AirPods With Awful Battery Life [Review]
If you have old AirPods from the first or second generation, by this year you probably noticed their battery was not what it used to be. Those long Zoom meetings that last over 1h are hard on your little earbuds and they can't really keep up anymore. The solution you might think is to replace them with a brand-new pair, but that is definitely wasteful as the charging case is fully working and the rest of the AirPods are also fully working.
Then your next reflex is to look at an Apple Battery Service, which for AirPods and AirPods Pro will cost you 100$ (130$ in Canada) for both buds. Quite an expensive trade, probably because Apple ends up giving you refurbished AirPods in exchange and nobody know what happens with your old ones. They are most probably recycled for some of their material.
If that all feel very wasteful, you are right. Recycling is good, don't get me wrong, but what is even better and fixing broken tech and reusing it! This is the mission of the founders behind PodSwap!
PodSwap is a service that exchanges your low battery capacity AirPods with a new set with fresh batteries! You get the new AirPods by mail in a nice little box and send back your old ones so they can replace their batteries and send them to somebody else in need of longer-lasting AirPods!
Process
Head over to the PodSwap website where you can select either 1st Generation, 2nd Generation or a new option for a swap upgrade from 1st to 2nd Generation. No AirPods Pro nor 3rd Generation at the moment, but I'm sure that as soon as they can get their hands on a first batch of them they will be offered!
Note that the service is currently only available in the USA.
Once you received your package in the mail, the box will contain two little containers with AirPods with fresh batteries. A few stickers, a little rubber AirPods case silicone sleeve and instructions to help you pair the new AirPods. I really appreciate the attention to detail. In the containers there is a small foam to make sure the pod does not move around and get scratch. Given that the mail can be quite an adventure for electronics, this prevents any damage from the trip, and the bubble wrap also helps for that!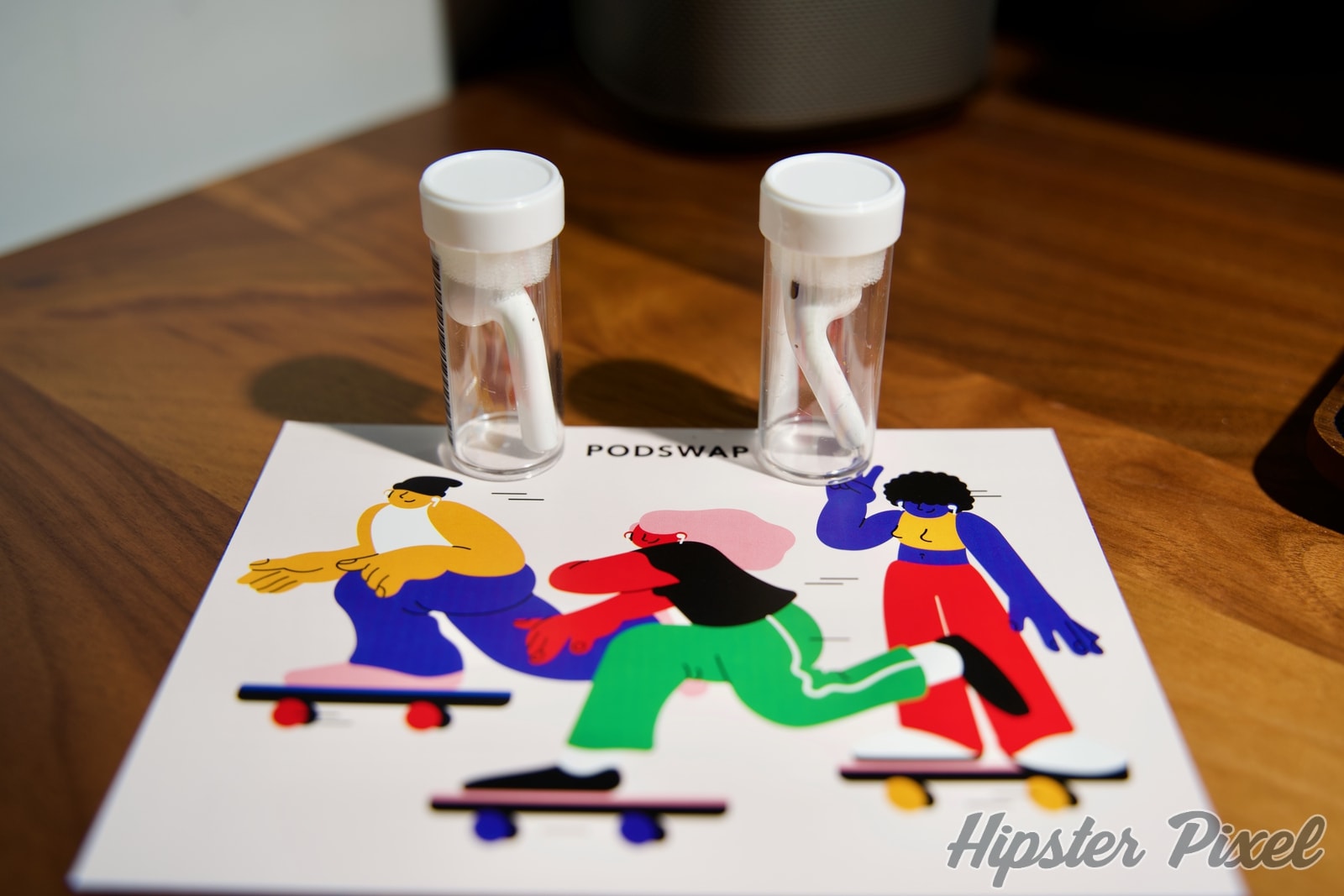 The whole pairing process is very simple, you just put the new AirPods in your case close the lid a few seconds, open it up and then hold but back button on the case for 30 seconds, this will reset them and back on your home screen you can pair them like new AirPods.
Don't forget to go to the Bluetooth settings and update your personalization settings! For me the Play/Pause is important!
Then, do not wait because you do not want to get charged if you don't return the old one fast enough! You have 5 days to return them! Put them in the little containers, wrap them in the bubble wrap, tape the box and affix the label. Send them through USPS and you're done!
This is a good time to remind you that the PodSwap service is only available in the United States. No soup for you Canada (and the rest of the world)! Let's keep our fingers crossed they will expand, globally!
Features
Stupidly Simple Process!
Nice packaging, easy instructions
Very nice design and visuals (I'm a sucker for that!)
AirPods were clean and looked pristine
Experience
The ordering, receiving and sending back the old ones was as simple as making an Amazon order and returning a product. No, actually it was even simpler since the return label was already in the box!
The idea is genuinely good and it feels great to be able to simply exchange your low battery AirPods with a pair with fresh batteries. Knowing that they will not end up in the trash and be reused by somebody else in the near future is great!
The whole process is fast and effective, and the price is very reasonable when compared to Apple. And knowing that this is helping an innovating small business thrive, is even better! The AirPods were clean and looked basically knew.
Conclusion
If your AirPods battery life is not what it used to be, I strongly recommend PodSwap! For an affordable price, you know your old AirPods will get a second life and you will get a pair that feels basically new! The process could not have been simpler and faster, it's worry-free and the product you get is of superior quality.
I've tested them in long Zoom meeting and instead of getting about 30 minutes I can go well above 1h15! And while working around the house, I also get many hours of music without the little "doo doo" signal popping up!
Not long ago, I wondered if they would eventually do a swap upgrade, where for a slightly greater cost, you would get 2nd Generation AirPods for your 1st Generation AirPods and I'm happy to say they have now offered that service! For 79$ instead of 59$, you get a set of battery-fresh 2nd Generation AirPods!
They have also started to offer phone swaps, through their PhoneSwap.com sister site, where you send in your old phone and for a fee you get a newer refurbished model! Head over to their website to learn what type of trade you can do!
Fun Fact. They are clever, the logo is the same with the P,S,P entangled because PhoneSwap and PodSwap have the same letters! They're smart! 😝
Review Summary
AirPods Replacements
PodSwap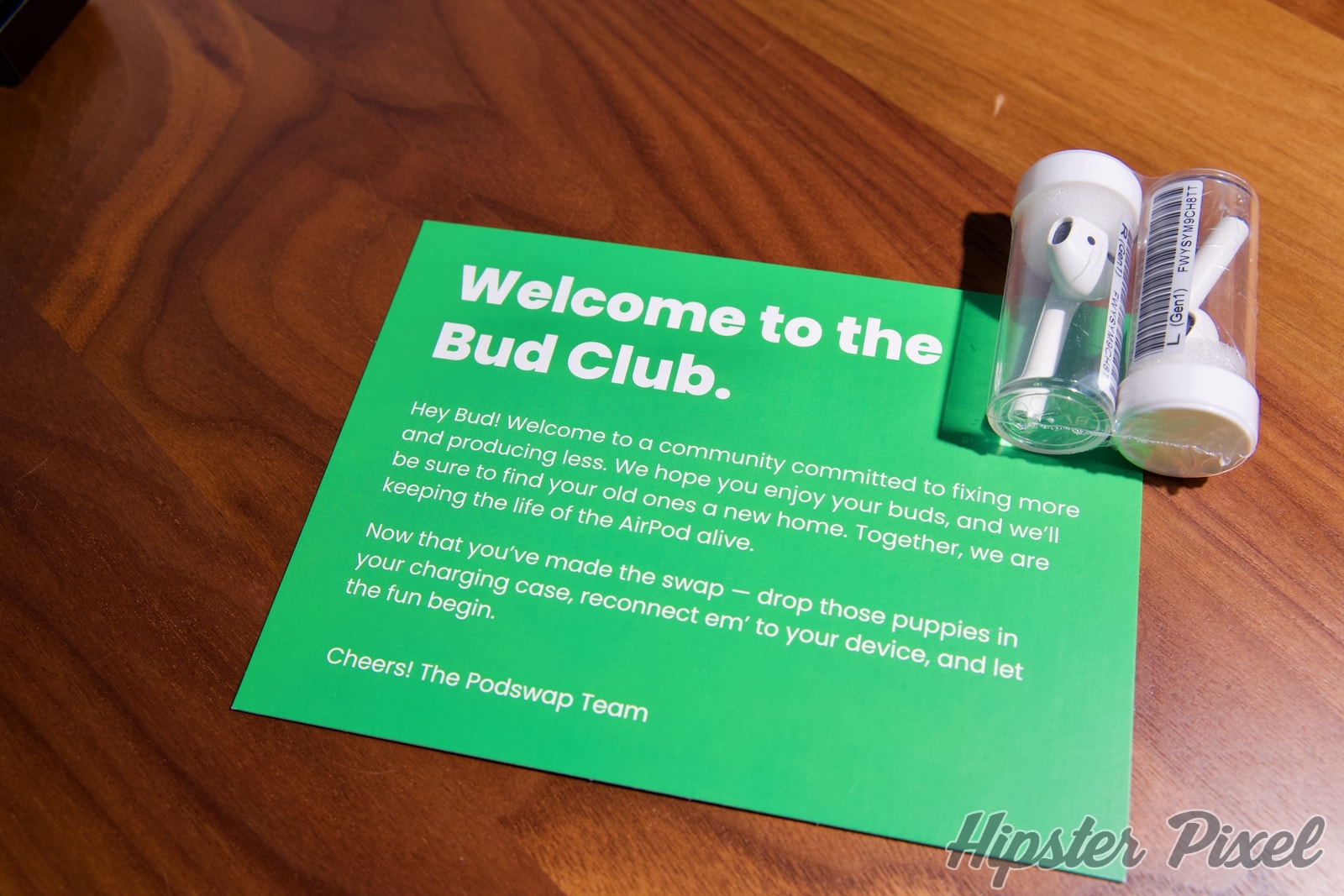 PodSwap is a service that exchanges your old low-battery AirPods with a pair of refurbished one with brand new batteries in them. You order a pair for a reasonable fee, you receive them and you send them your old ones. Simple, effective and good for the environment!
The Good Stuff
Super simple process
Clean, professional service
Instructions are simple
The Bad Stuff
No AirPods Pro as of yet
Now I want to swap all my electronics!