---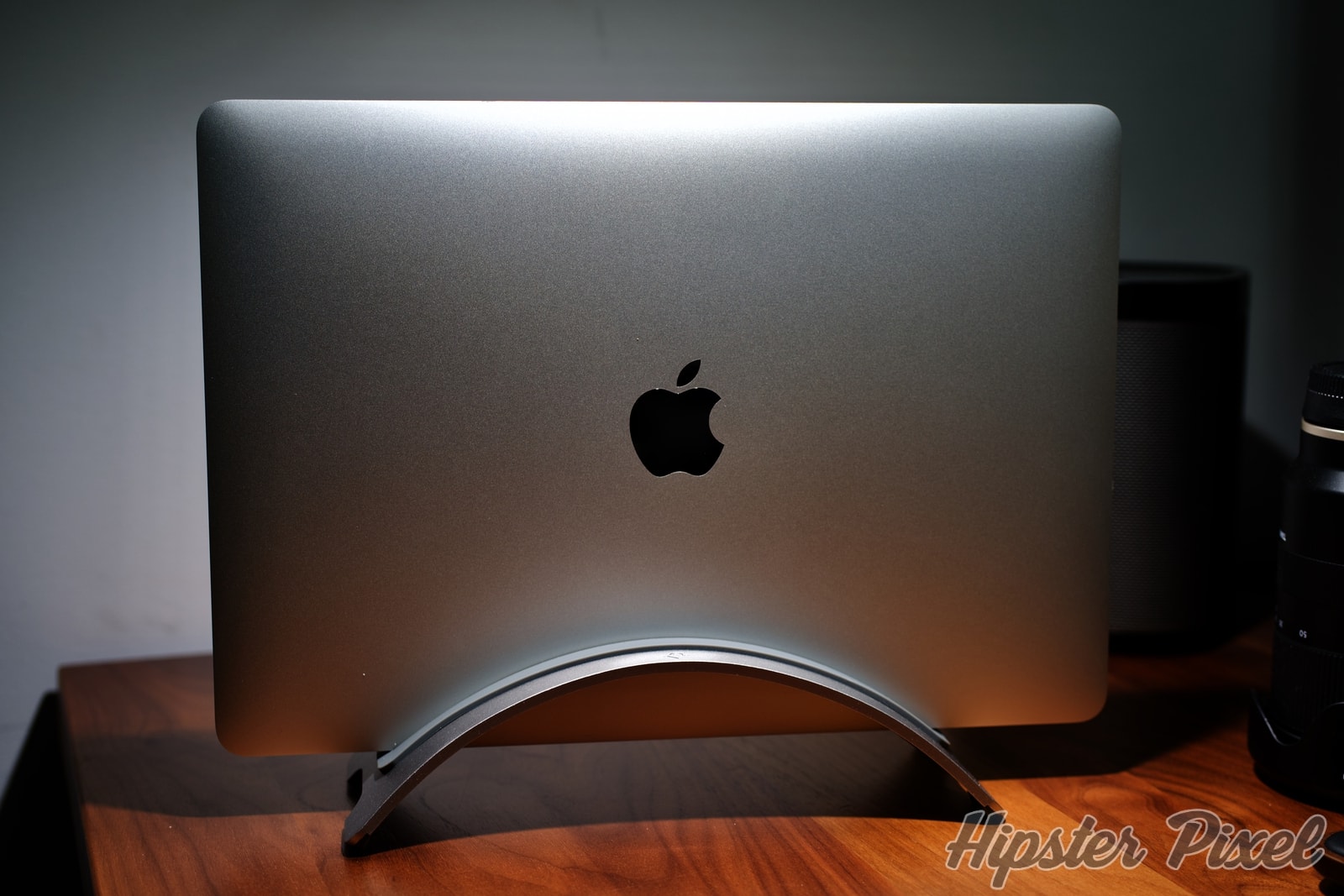 Twelve South BookArc Review
The TwelveSouth BookArc is so simple that it makes you wonder why there were not twelve other companies that came up with it years and years ago. No electronics, just a simple yet perfectly designed product that allows you to keep your computer next to your display without taking up space real estate on your desk.
Design
The metal arc receives a custom-sized rubber part that allows you to customize the fit perfectly to your Mac. No matter what model of MacBook you have, there is a sleeve for you. It comes with three inserts named D, E and F compatible with:
(D) 13-inch MacBook Pro (USB-C, 2016-2019)
(D) 15-inch MacBook Pro (USB-C, 2016-2019)
(E) 13-inch MacBook Air (Retina, 2018-2019)
(E) 13-inch MacBook Pro (USB-C, 2020)
(F) 13-inch MacBook Air (Retina, 2020)
(F) 16-inch MacBook Pro (USB-C, 2019)
(F) 14-inch MacBook Pro (M1, 2021)
The only current MacBook laptop NOT compatible is the newest 16-inch MacBook Pro (2021). There is a mailing list you can add your email to and get notified once the new rubber sleeve is available. The 14-inch however are compatible.
Features
Two colour finishes (grey and space grey)
Compatible with 7 MacBook models
Two extra inserts available for purchase (older models)
Space-saving design
Performance
The main thing you need to look at for this type of device is the look and the fit and finish. The look is amazing and it really looks like it's a device made by Apple. The aluminum is perfectly matched with my old Thunderbolt and looks perfect next to my new Studio Display.
In terms of fit, you must use the appropriate insert or else you will force things and risk breaking your Mac or scratching your desk by pulling on the Mac. Over the last few months, I used a 2020 M1 13-inch MacBook Pro and it fit perfectly. I've also gotten two 16-inch MacBook Pros, both M1 Pro and M1 Max, and both don't fit. I'm awaiting the new insert for them to fit. Probably called "G", I hope it's available soon.
Depending on your type of desk, I have a stained walnut desk, you might think that this support could scratch your desk, but TwelveSouth thought of that too. They added four little rubber feet to it so it stays where you put it and do not risk messing up your desk.
Conclusion
If you are like me and you use a big display, but not the display on the MacBook Pro, then running it in clamshell mode and putting it aside is what you want to do. However, it can take lots of space real estate. The TwelveSouth BookArc can save you lots of space and mostly hide your MacBook behind the display. It can do so with awesome looks, a small but smart design and it can match your MacBook colour if you'd like it too.
I highly recommend the BookArc, and to me it joins an ever-increasing list of great products by TwelveSouth.
Review Summary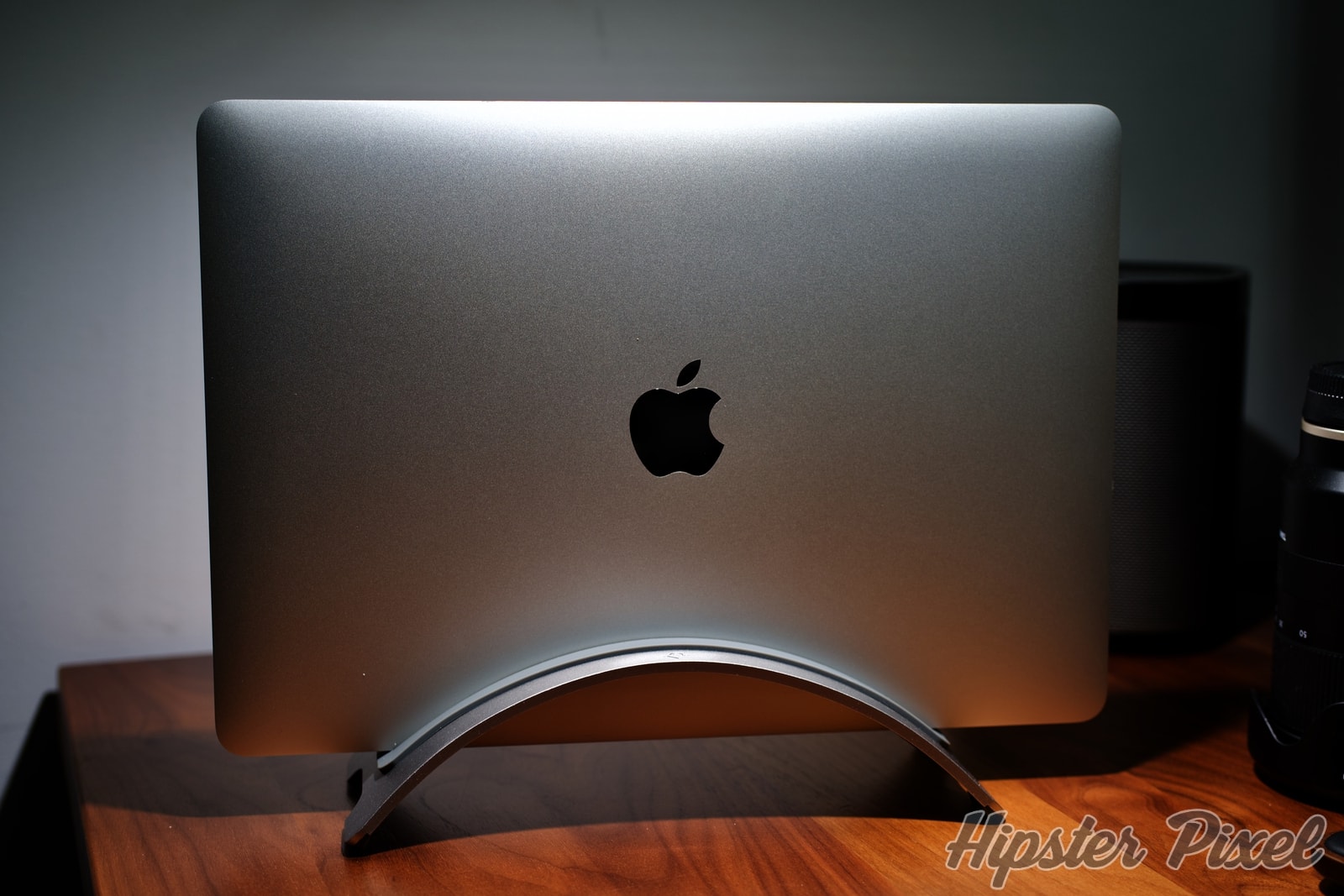 A classic space-saver dock for your MacBook that can be colour matched and fit perfectly in your nice desk setup.
The Good Stuff
Colour Matched
Same Finish as MacBooks
Safe for MacBook
Safe for the Desk
The Bad Stuff