---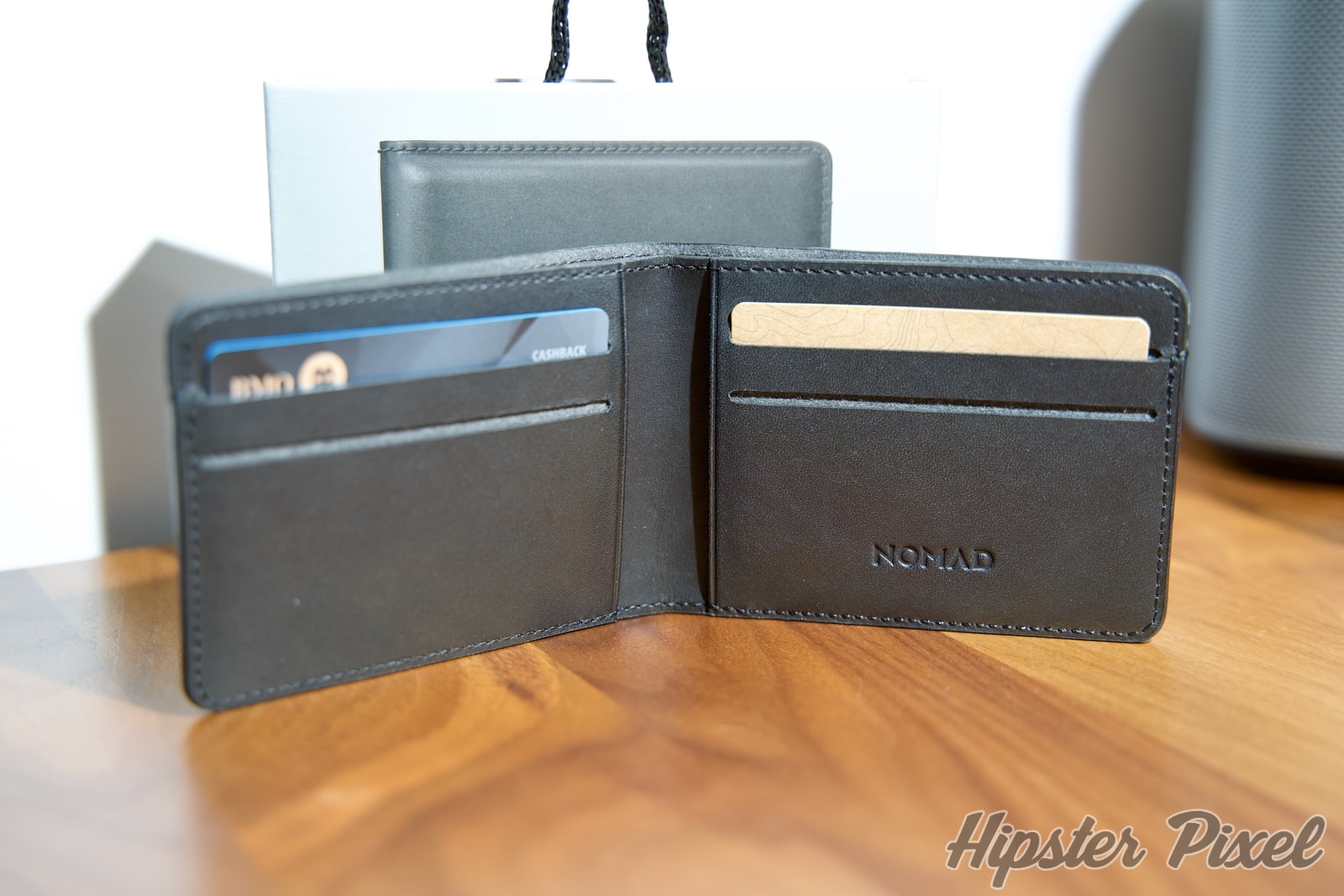 Nomad Bifold Leather Wallet Review
It is not rare that my eye stops to look at leather wallets. Probably because I myself dabble in leathercraft, they often look interesting but too often don't have much to surprise. When Nomad announced a while back that they were releasing leather wallets, I was curious but wrongly figured it would be once again just a plain leather wallet.
Oh boy was I wrong!
I won't bore you will all the reasoning behind every design decision they took and why it's good that they did. Let me just say that the Bifold Wallet by Nomad is designed and crafted like very few other wallets on the market.
Design
The first thing you realize when you get to open the little felt pouch is that this is made out of quality leather. This leather is dense and the assembly makes it so it's a sturdy little wallet. It should keep its shape for a long time.
Using thin leather like this that has a firm temper with layers of fabric shows an incredible craftsmanship that is not given to any manufacturer doing high yields like Nomad. Often you will only see artisan-made wallets with this kind of attention to detail. Or cheaper wallets will be made from thicker leather, which in turn prevents you from having so many pockets, because every pocket is an extra layer of leather/fabric.
The craftsmanship displayed in this product is impressive. Not only is the material of high-quality, but the assembly of it, the stitching very close to the edge, but not too much, shows that they took great care into making a very precise plan and successfully executed it.
One tedious step usually involved in leather craft products is the burnishing of the edge, which means that once the leather is stitched together, you have an extra time, consuming steps of polishing the edge with a polishing agent, like Tokanole. This is the kind of steps that you have to do over and over again in order to get an increasingly beautiful and mirror finish on the edge, if you go to your local small businesses and craft exposition, you will see that they rarely finish the edge because it can take as much time as doing the rest of the wallet or leather piece. The Nomad bifold actually has a great edge that seems to be heat finished. A quicker process that still makes it so that fused pieces of leather will hold well together. Commercial wallets either do a poor job at it, or completely skip this step.
Not only is the construction and the finishing of this product very high scale it is also at the same time, something that is not always done by competitors. It takes extra time and can impact the overall profit on each unit. Nomad did not seem to cut any corners here! It has lots of card pockets, inside pockets below the cards main pockets, a bill compartment, and even an outside pocket for your often use bus pass or card.
Features
Holds 15 cards without being a thick boi
1 outside card slot
Fits unfolded bills (CA$ fits well!)
Thermoformed leather shape
Horween leather from USA
Will develop a rugged patina
Performance
I've taken this wallet for a spin for multiple weeks, and I must say that I am not surprised because I know Nomad makes great leather products, but I'm impressed by the quality and strength of the product. I filled it with cards, I filled every single pocket, I have a lot of bills in there, and it really keeps its shape. It is well designed and everything is easily accessible, even cards that barely show out of their pockets are easy to take out, and in the same time being tucked in like that, they look great.
As with any leather products, the outside leather is started to gain a patina, meaning the leather started to show a little bit of age, common wear, which is indicative of a good leather product. The shiny exterior does get small scratches, but overtime with proper care it is almost restored to its original condition by buffing out scratches and making them more homogenous to the rest of the leather.
I'm very picky with my leather products, being a small-time leather crafter myself. I am looking for a flaw or something that no man could've done better in this product and frankly, I can't find it. Usually the precision of the stitching or the edge finishing is where you see companies skimp out on quality and time. But in this case, Nomad really outdone themselves with a great quality product.
For example, the way the bill flap is attached to the inside part of the wall. It requires a stitching point but the way they did it they made it continuously along the line of the other stitching and it's almost transparent. To put this simple you need to think how your stitching will go in while also thinking that there's going to be a part that is going to be floating in this part requires its own stitching to. I know it's a very clear, but let's just say that you have two pieces of leather, both requiring stitching together and not together and that makes it very complicated. You need to plan ahead and you need to know exactly where your stitches start and end in order for them to fit perfectly once you attach both parts together.
Conclusion
Overall, the Nomad Bifold leather wallet is very impressive! It perfectly combines quality product, thoughtful design, and an incredible attention to detail with regards to final assembly edge, burnishing, and even edge creasing on the interior pockets. A very, very small thing to do but it highlights the attention to detail that this product has.
Once again, I'm trying to find a flaw and I can't. This product could retail for twice the price and would still be worth it given that the quality is there, and it clearly will be long-lasting. Every part of it is perfectly assembled, which will make it even longer-lasting than just by using quality materials.
Nomad makes multiple types of wallets. You should definitely look them up as I'm pretty sure that they are made the same way as the Bifold Wallet, it really depends on your preference of the number of cards and shape of the wallet, but in the end, if they put in the same care and attention to the other products, this is a kick-ass line of wallets that you should really look into!
I know I've said this multiple times about Nomad products, but once again, attention to details, quality and craftsmanship makes for another amazing little product that I strongly recommend!
Review Summary
Bifold Wallet
Nomad Goods Inc.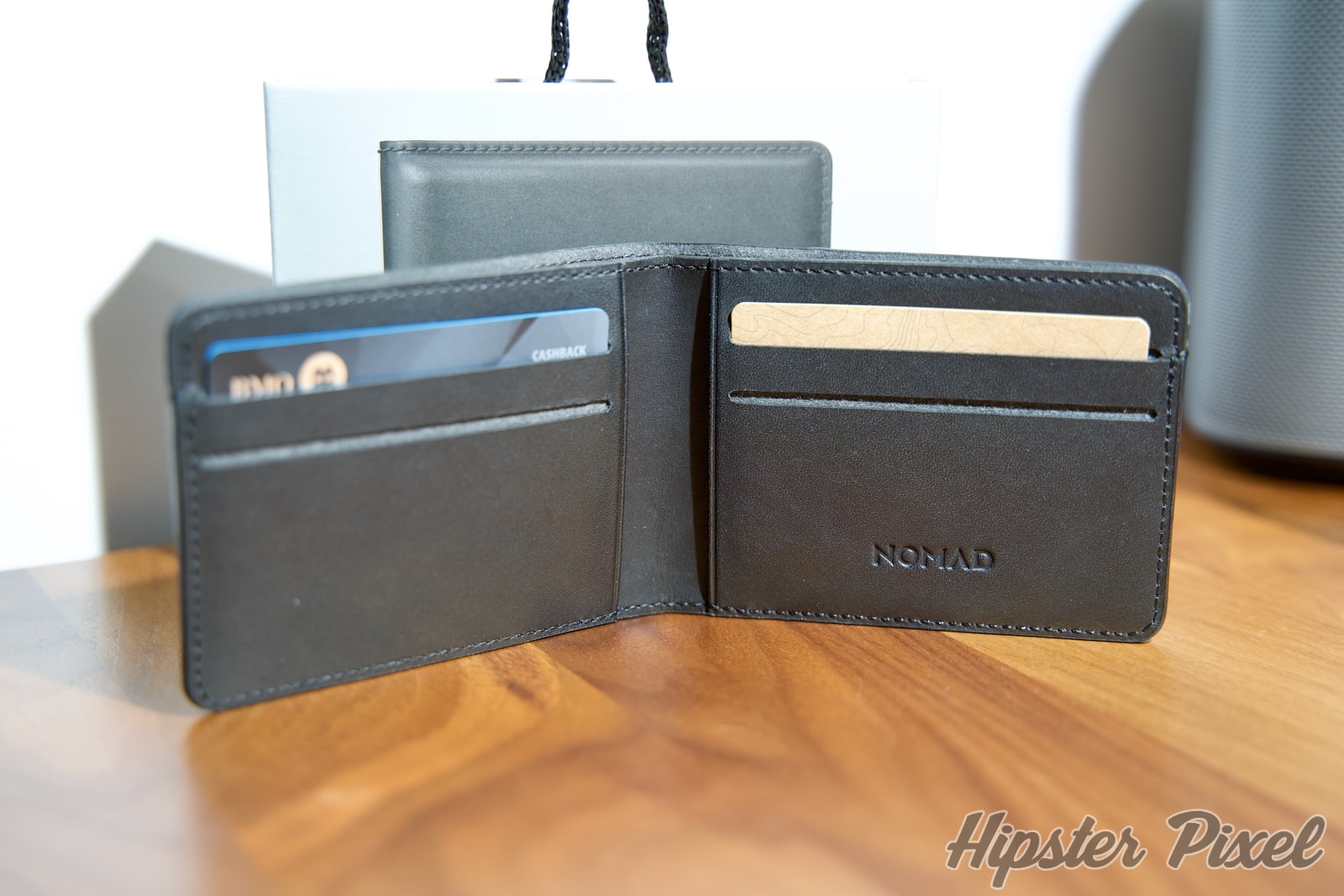 The Good Stuff
Expert craftsmanship
Quality components
Perfect balance of feature and size
The Bad Stuff