---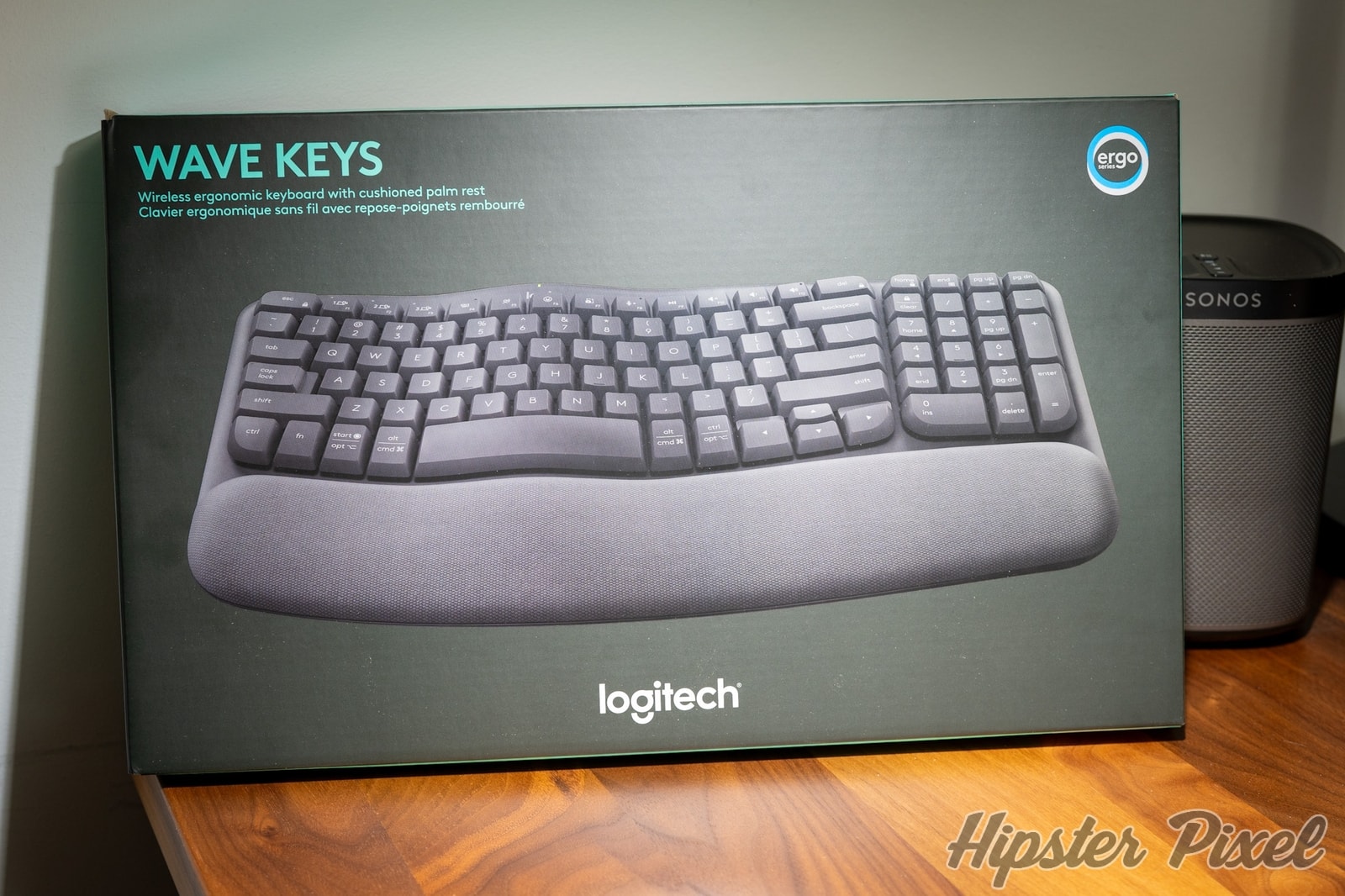 Logitech Wave Keys, a New Innovative Ergonomic Keyboard [Review]
Having suffered from carpal tunnel compression syndrome in the last few years, I am not shy to say that I have experimented with many different keyboards. It does not help that I wanted to stay in the mechanical keyboard family. But due to the pain they caused me I had to stay away from most of them.
You see, pressing hard on a key with lots of resistance, like Cherry MX Black key switches, gave me lots of fatigue, very rapidly. And if I continued even pain. This is why I switched between multiple keyboards including a Cherry MX Leopold custom keyboard, my old faithful Logitech K810 that is one of the first Logitech keyboards with multiple device support, a Microsoft Sculpt, and then I finally landed on a Logitech MX Mechanical Mini.
I must point out that I'm on the MX Mechanical Mini because I did end up going through surgery last winter. I do not know if I could have used it with the pain I used to have.
This brings us to the new Logitech Wave Keys, a new take on what can be considered an ergonomic keyboard. The team at Logitech used a very diverse team of designers and engineers not only to make the keyboard but to challenge themselves into taking a closer look at every aspect of the keyboard from the materials, to the shape all the way to using sensors to make sure the muscle strain was minimized as much as possible.
Design
Like its name implies, the Wave Keys is a following a wave pattern where the G-H section for the keyboard is the highest and flattening out when going outward from the centre. The keys are placed in a U shape so that your wrists don't need to be forced into using a rectangular layout.
I also noticed that the keys are much closer together than on other keyboards like the Microsoft Sculpt. The Sculpt looks like it's trying to fill the "usual" space real estate by stretching its keys to fill the void as opposed to the Wave Keys where it only takes the space it really needs. Even going a far a bringing in the NumPad closer to your hands so that you need less movement to reach it or your mouse (if set on the right side).
The Wave Keys also has a nice wrist rest that follows the same wave design and shape. Here the material team shines by offering a material that feels very comfortable with just enough bounce but not too much. It also does not tend to get as hot as other wrist rest I've used in the past. You may also raise the keyboard with two little legs giving you 4˚ of inclination. I've never been a big fan of such legs as I always found them to be worst in terms of ergonomics.
In this case it does not seem to bother me as much. It does raise a tiny bit my hands, but I can see people using that if their keyboard is located slightly higher than mine on their office desk. To me flat is perfect as my elbows are 90˚ on a straight line.
Features
Ergonomic wave design
Compact layout with smooth membrane key switches
Memory foam wrist rest
Logi Bolt adapter provided
3-year battery life with two AAA batteries
Bluetooth compatible with multi-device profiles
Compatible with Windows, macOS, iPadOS, iOS, Android, ChromeOS and Linux
Performance
The setup is always very easy with Logitech. After having issues with Logitech devices and Mac computers for years, I've always preferred to use the perfectly reliable RF dongle over those years, I can safely say now that I have been using multiple Logitech keyboards and mice with standard Bluetooth and zero issues over the last few years.
This is also the first device I encounter that comes with one of the Logitech Bolt USB connectors! It basically works the same as the previous orange connector but it has the benefit of using modern technology to reduce latency as well as fully encrypt communications between your computer and peripherals.
The Logitech Wave Keys is a complete all-in one precisely engineered keyboard with the palm rest already attached to the keyboard. The first thing you will feel is that palm rest. It is not some cheap no-brand thing, it's a memory foam rest that feels incredibly comfortable to use. It strikes the perfect balance of support and bounciness and you will be happy to learn that the finish is kind of matte, therefore if you have a mishap, you can clean it much more than the usual foam palm rest. The shape, of a wave, of course, also helps to position your wrist in a comfortable location with your fingers aimed at the correct keys.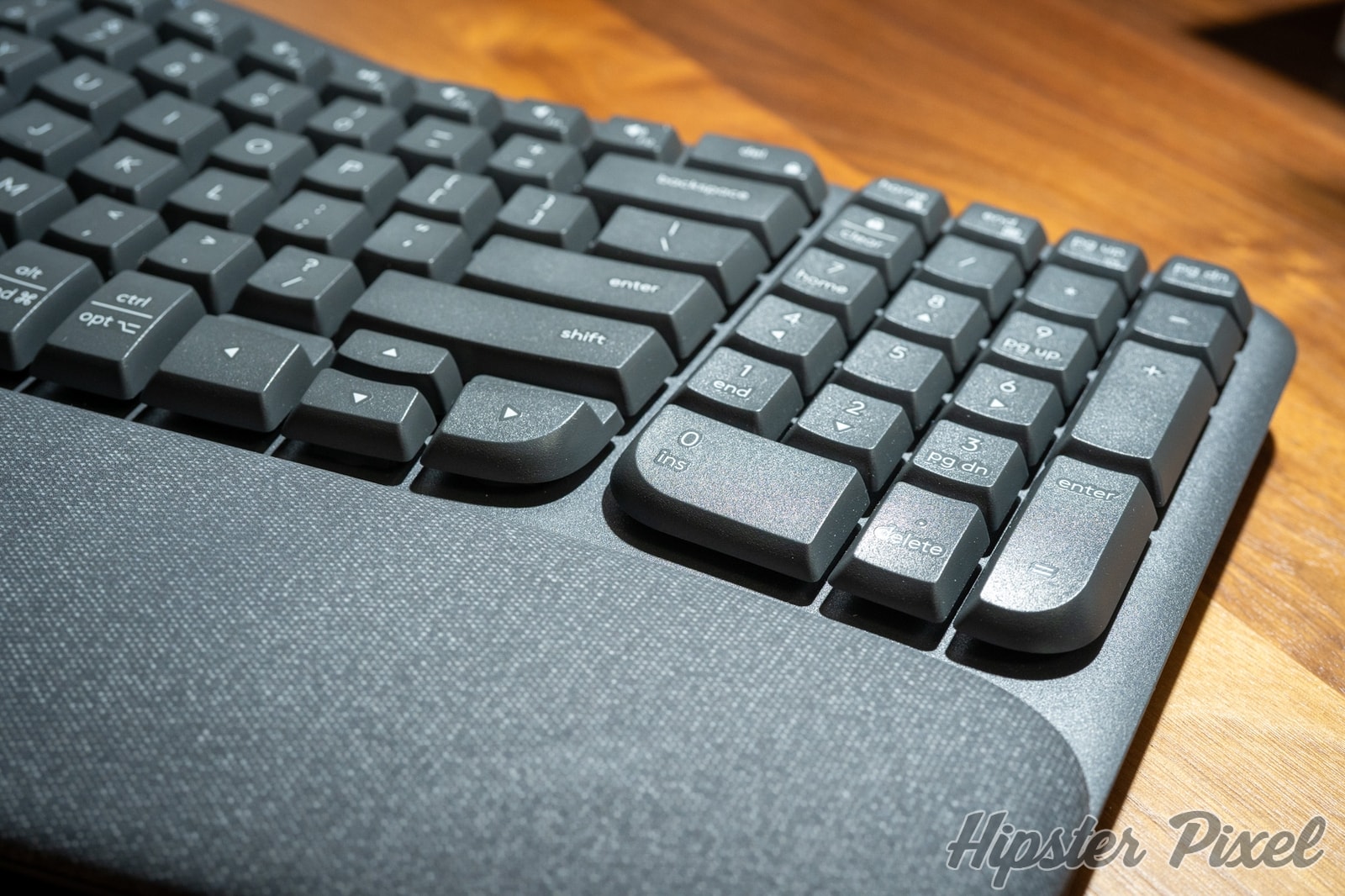 Talking about the keys, once again the wave shape makes resting your fingers on a comfortable position, ready to tackle the great work of the day. You don't have any clique key switches; here, they feel like membrane key switches, almost completely silence with just enough bounce to be fun to type on.
The thing that requires the most getting used to is the overall size of the keyboard. You see, compared to other ergonomic keyboards, Logitech wanted to get everything closer together so you hand travel less. This also brings the mouse closer to you and also requires less travel. The more travel you have to do the worst it is for repetitive strain injuries.
I never use the numbed, so I would have preferred a version without it, or possibly make it optional like on the Microsoft Sculpt where it is a standalone device. It would have saved even more travel distance without it. The Ctrl, Fn, Opt/Start and Cmd/Alt keys are so that the keyboard works with both Windows, Mac and Linux computers. Since I'm on Mac computers, that Fn key is in the way especially since I've been used to the MX Mechanical Mini for Mac.
I hope this keyboard gets very popular and they make a NumPad-less version for MacOS specifically!
The Wave Keys also comes with the Easy-Switch feature that allows you to press a key and switch paired computer or tablet. As well as the modern take on shortcut keys that can really help you in your day-to-day activities. The emoji picker key, dictation and systemwide Mute Switch are some of the keys that I've gotten very used to! With the help of the Logitech Options+ software, you can customize these or other F-keys further with custom actions. You can also do Smart Actions which can open apps and trigger customized actions!
Conclusion
The Logitech Wave Keys is a marvellous keyboard, refined just like an old wine with solid features and distilled to the essentials while still adding a good amount of modernity through flexibility and software. If you are looking for an ergonomic keyboard that not only does what it says on the tin, after all it's even certified by the United States Ergonomics group, but goes even a step further by selecting recyclable materials, offering a novel wave shape that is a pleasure to use, as well as a solid typing experience, the Wave Keys might just be the perfect keyboard for you!
I tend to like to push manufacturers further, like when the MX Keys came out I was hoping for both a mechanical version of it, and as short NumPad less version. And I got those! So now, Logitech make a NumPad less version that is "for Mac" without the Fn key on the left side!
Review Summary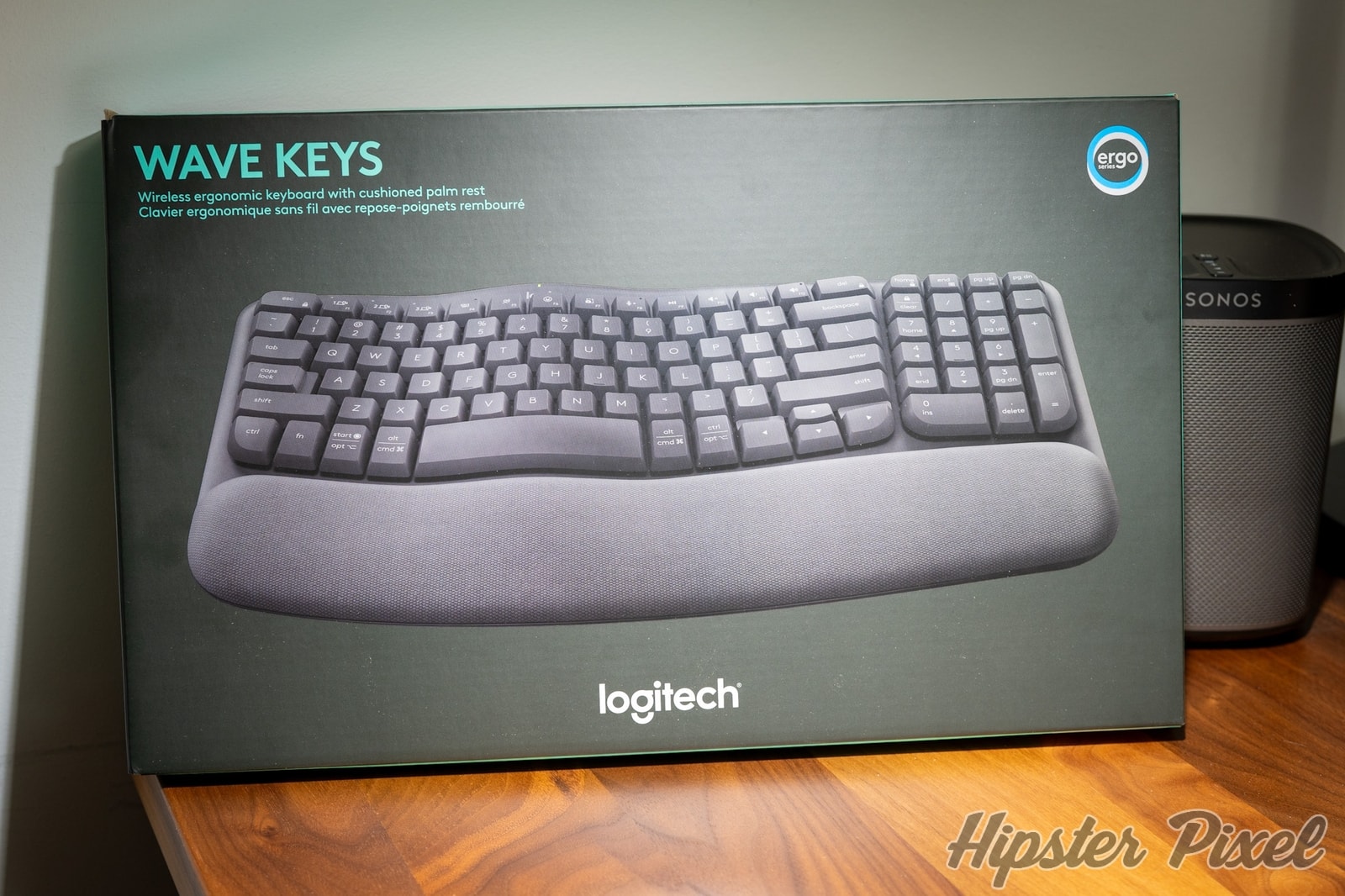 A refreshing new design for an ergonomic keyboard that tries a few novel ideas and distills them in the shape of the Logi Wave Keys.
The Good Stuff
Wave shape is comfortable to use
Typing experience is great
Compact design
Quality materials
Long battery life
The Bad Stuff
NumPad is in the way
Not a "for Mac" layout (extra Fn key for example)