---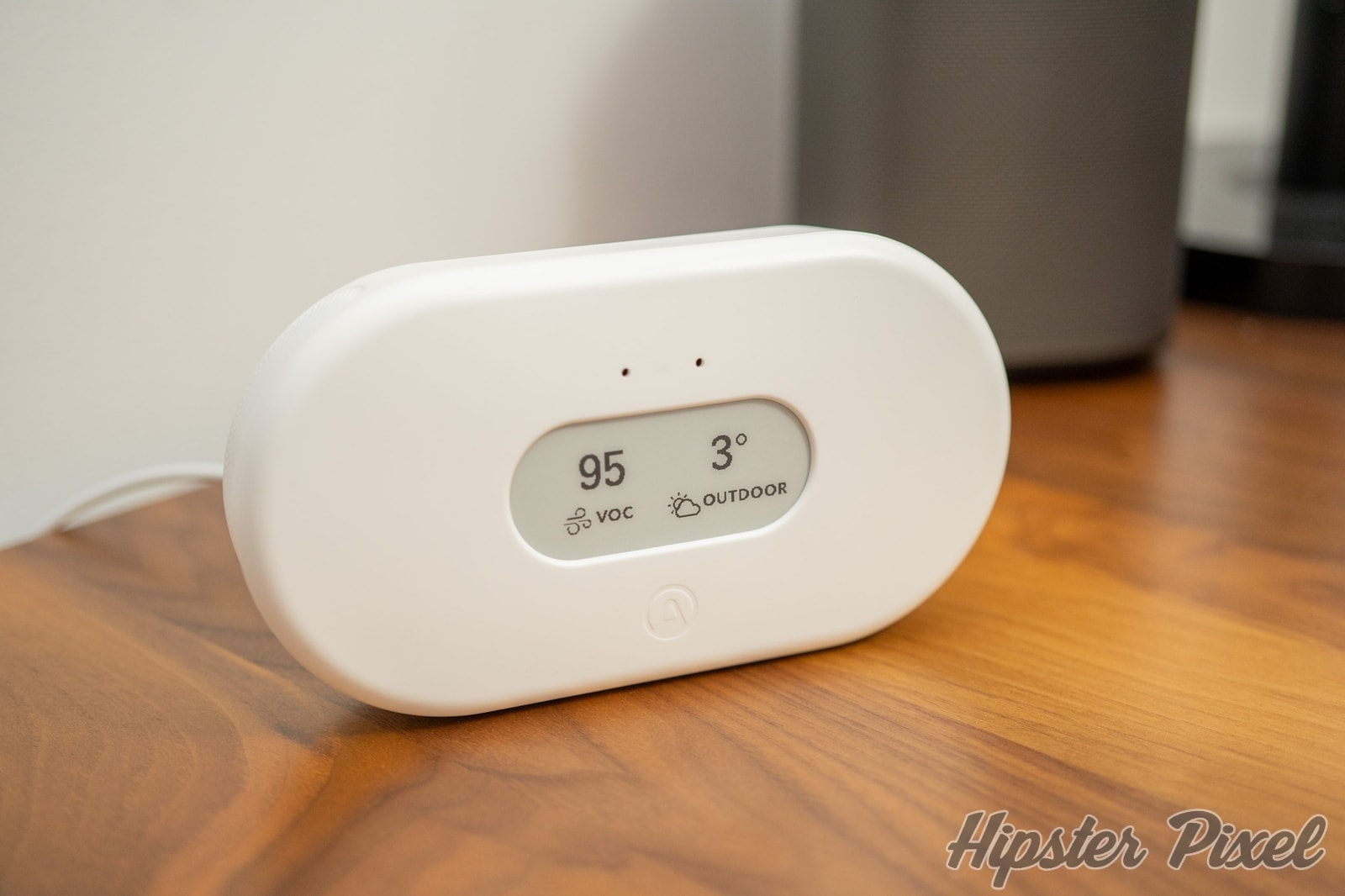 Airthings View Plus Review
When it comes to air quality inspection to pin-point specific health issues or why some seemingly clear days you feel allergic or have a headache, Airthings is quite a good partner in crimes. I've already raved about the Wave Plus that allows me to keep track of the radon gases in my basement and top floor, as well as VOCs and CO. The tiny little brother, the Wave Mini keeps track of humidity in the corner of my basement living room so I know when to crack open a window or the air exchanger to make sure I don't go up on the mold scale.
The only pollutant I was not able to keep track of is the famous PM2.5 and PM1.0 air particulate. This usually comes from car engines, or forest fires and what a better year to test that than this summer where in the province of Quebec, we had many of those pesky fires. As we normally do, but this year, the wind brought the smoke down south and gave weird Bladerunner vibes to New York.
Design
The Airthings View Plus is a different kind of product compared to the other products from Airthings. This one is wired and has an interactive display! Two new features that make this product quite interesting!
The wired nature of the product makes the View Plus makes it so that it acts as a syncing engine between all of your devices. This way, your data is synced every few minutes and you can actually receive valuable notification in a reasonable amount of them. When I reviewed the Airthings Wave Plus, it was one of my concerns that the notifications only happened when I pulled to sync in the Airthings app. Defeating the purpose of getting those when they are needed.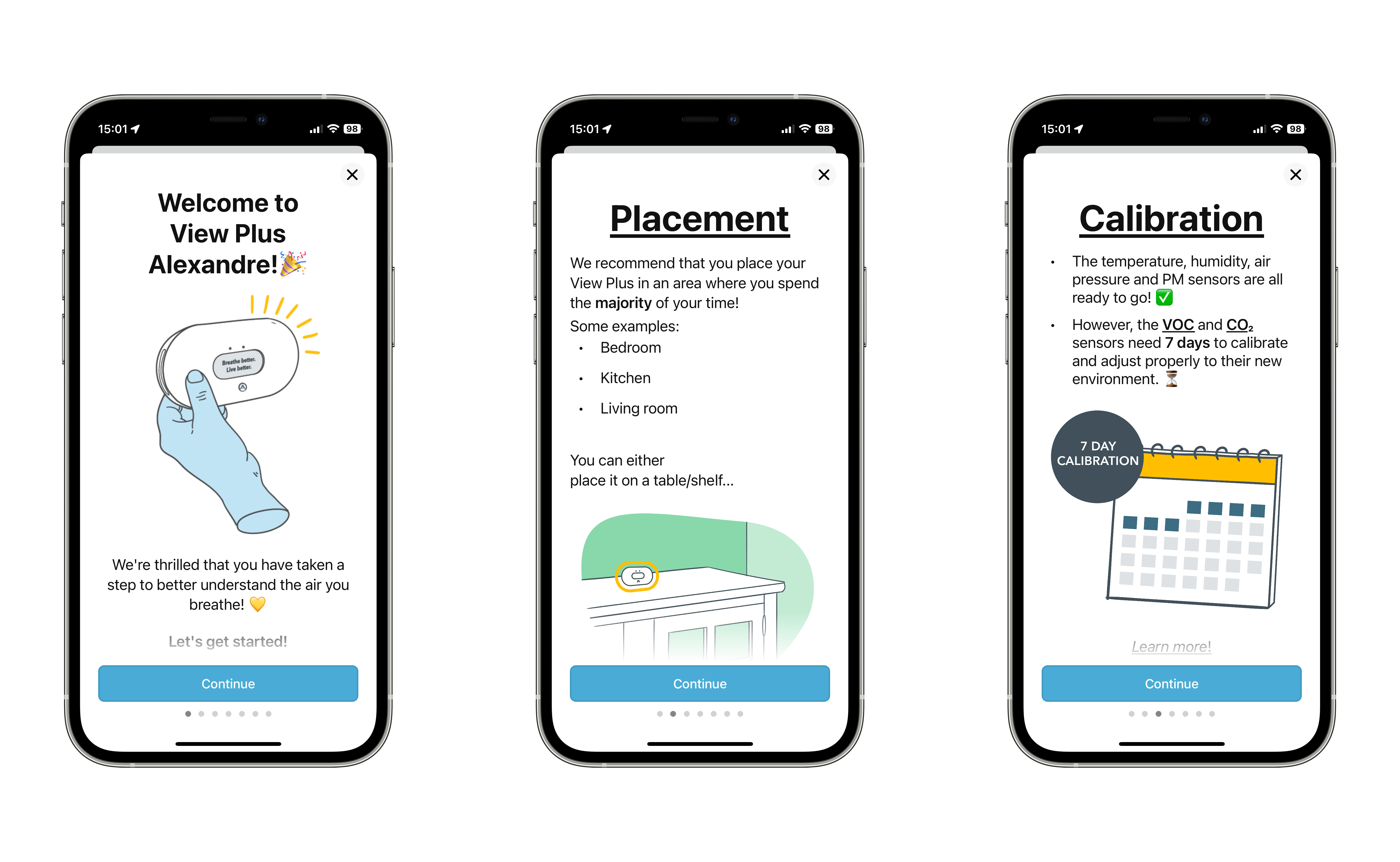 The front display always displays the two most important metrics of your choosing when there are no specific metric that is over the green zone. Whenever one or two of your air quality components get too high, the display is updated to show this. For example, I had the radon and PM2.5 displayed for me since I live in a place where radon could be a problem if not well ventilated. And since we got those forest fires this summer, I was curious about the PM2.5.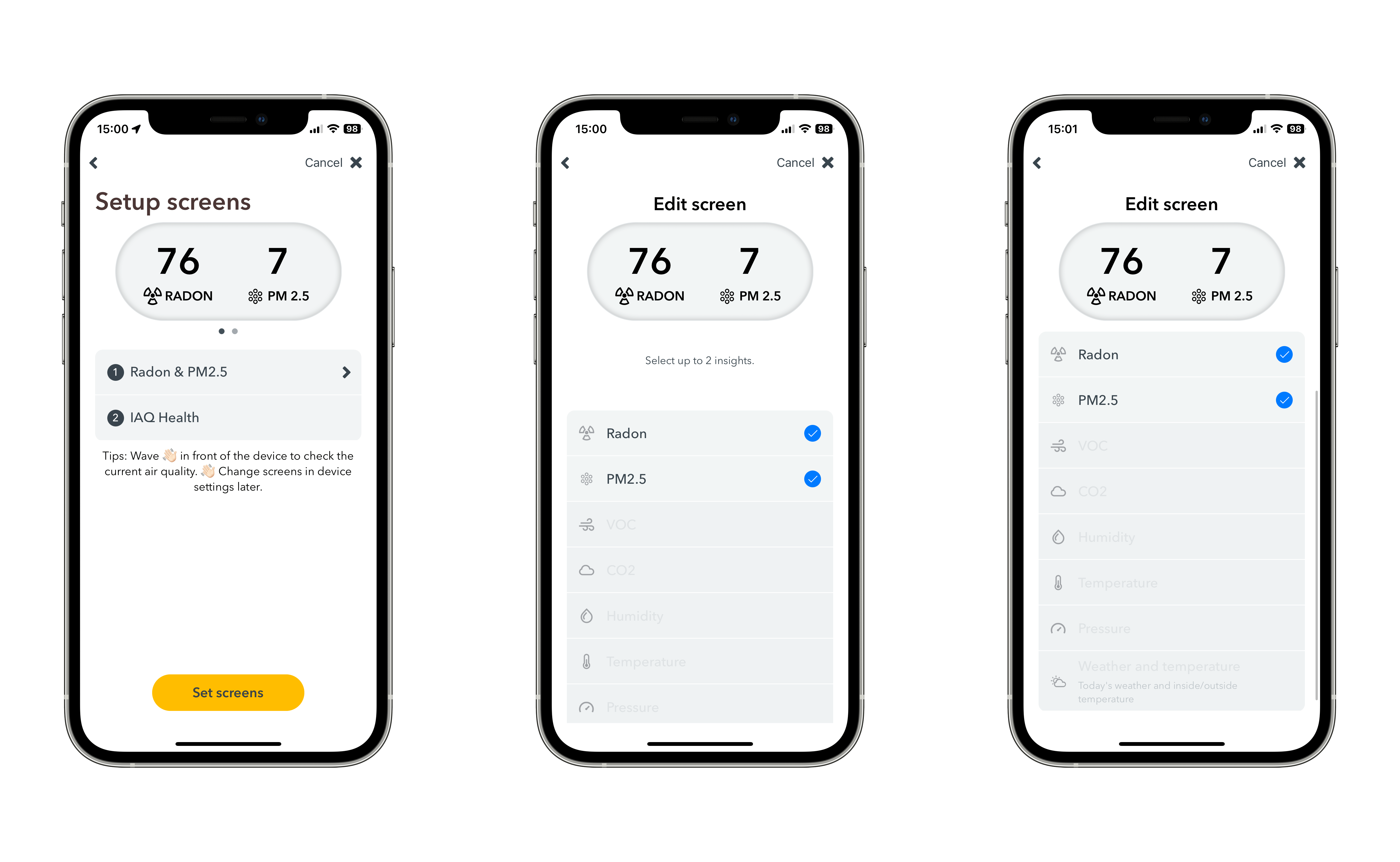 If you wave your hand in front of the unit, it will cycle through and show you the Air Quality index. The only downside I can see is that sometimes I would like to know a bit more about a 3rd metric, so having the flexibility to add more sensor data on the screen would be welcomed. Not all setup situation requires you to look at the device from afar. Therefore, if I have it on my desk, it's close enough that smaller font size with more information displayed would be possible.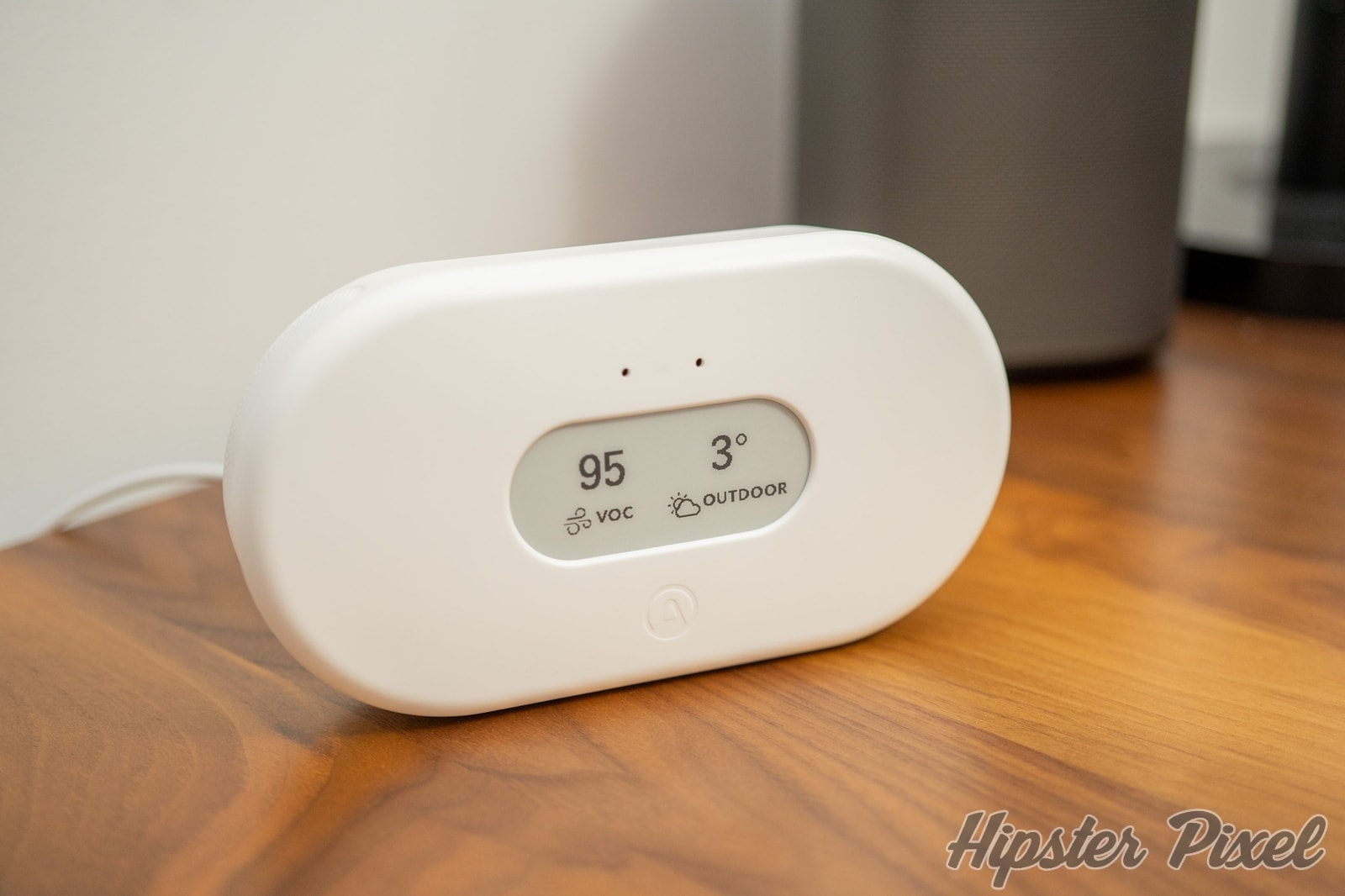 Features
7 sensors including radon, PM 2.5, CO2, VOCs, temperature, humidity and air pressure
Wi-Fi connected, acts as a hub
5-year warranty
up to 2 years on batteries
integration with IFTTT, Alexa and Google Assistant
Performance
The first thing I did was set it up as a dedicated unit in my living room. So you understand my setup, I have a two-floor house with a basement. I have a Wave Plus unit in my son's room, a Wave Plus in the basement office, a Wave Mini in the basement living room, and finally the View Plus is located in the living room of the main open-space floor.
This way, I can have accurate measurements on all three floors where most of the activity happens. The View Plus was configured very easily, just follow along the instructions and then it acts as a standalone unit just like the View Plus.
If you would like to set it up as a hub, it is strongly recommended that you do so with the unit plugged in the wall. This way you can have it sync as often as needed on an automatic schedule. This way, any Airthings in the house will report the information in a live fashion to you through the mobile app.
As with any unit, you can set whatever metric alerts you by flipping ON or OFF one of the 6 data points (air pressure is not part of the list).
Forest Fires
Given that we very rarely have bad air quality around Montreal, it was kind of a first and pretty crazy metric to follow from day to day. Getting multiple notifications about bad air quality. The air was yellow tinted, so yeah it was not great.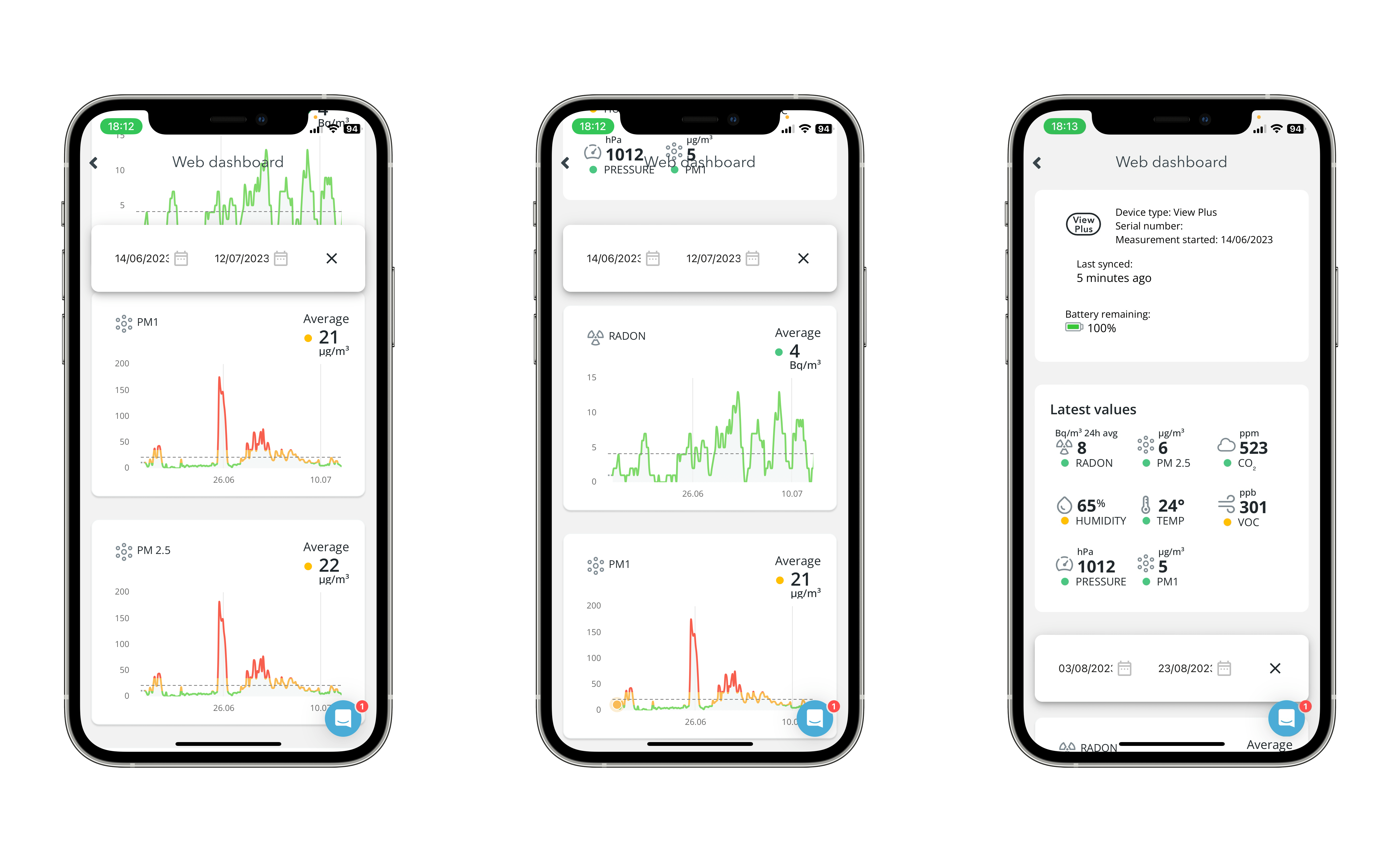 It was fun, however, to be able to put a number to what would be bad air quality and know when to close the windows and run outside air through my home HVAC filters. This is especially important for asthmatics folks and other folks with difficulty breathing when the air quality goes down. The Airthings View Plus allows you to monitor the situation and when you see a trend going up, you can act quickly before you start having difficulty breathing.
Closing down for vacation
We spent 3 weeks on vacation and during that time, the house was all closed down. No air exchanger was running, and no windows were left open. This is kind of the worst-case scenario where you get VOCs and radon to accumulate. Here's a sample from my Wave Plus in the basement office. You see radon reached 589 on the left screenshot, and then after a few hours of opening up the windows, the number decreased a lot but was still very high. And finally a few days later, everything was back to normal on the right screenshot.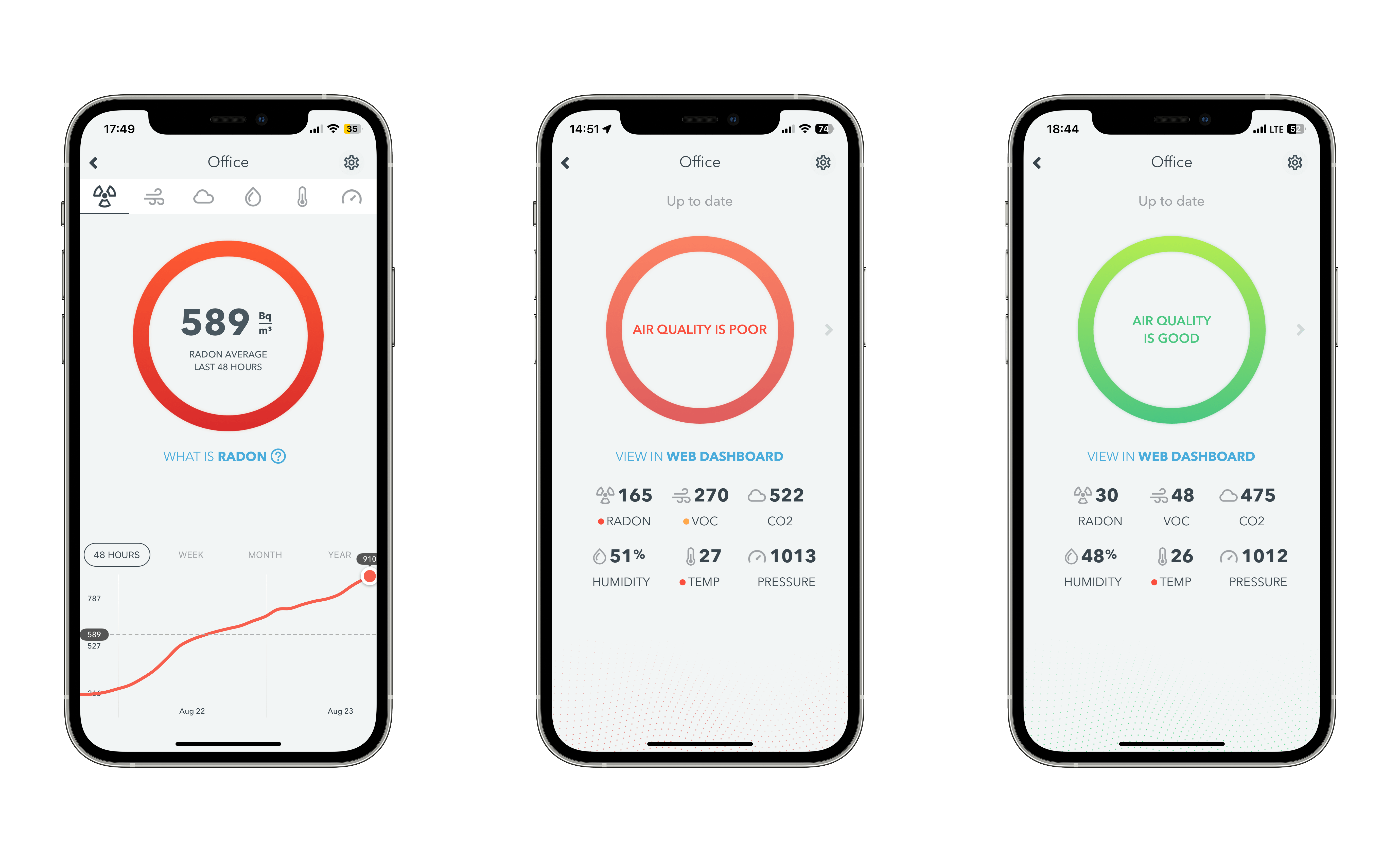 I read that once in a while it is good to bring the devices outside for them to reset as a new baseline will be recorded. So this is what I did after a few days when the numbers were still not back to normal.
Effective Sync
I was not sure when I received the View Plus that it could be uses as a Hub, but thankfully it can! The only difference is that the Hub is wired with an Ethernet cable while the View Plus is wireless. The View Plus does the same thing, but has other sensors like PM2.5. If you have a few devices or you are in need of reliable notification when the sensor triggers past a certain level, I strongly recommend the View Plus over the Hub.
The Hub looks like it would be useful to many, but seems to have restrictions that might irritate some. The View Plus does the same thing; plus it does not need to be wired with an ethernet cable, and it has built-in sensors basically acting as a better Wave Plus with a Hub rolled into one.
The notifications are now being triggered every time they should since all my devices are not synced with the View Plus.
Conclusion
If you are looking for a great array of sensors to understand your home air quality better, and pinpoint specific issues, the Airthings View Plus is the device to get. It is more expensive than the Wave Plus, but it offers the PM1.0 and 2.5 sensors that are very useful information for those suffering from asthma or other respiratory issues and has an included Hub functionality. So basically it's close to the price of a Wave Plus + a Hub.
The small e-ink display is easy to read and adapts to show you the sensor that reports the worst situation in a timely fashion so at a glance, you always know what is up with your air quality.
Having a Hub integrated really helps with getting timely notification when your air quality changes as opposed to hours later when the Bluetooth sync kicks in. You do need to keep it wired to the wall for the most of up to date, and short sync intervals, but if you need them, it's usually easy enough to find an outlet not too far. It can run on AA batteries too, but you will get an increased sync interval, and depending on the number of Airthings devices in your home you might need to change the batteries more often.
To me the clunkiness of the View Plus and family of products was only related to the data syncing issues I've been facing. They always worked, but I had to manually pull to refresh and get the new data in otherwise it would be out of sync most of the time. The PM2.5 sensor is the only sensor my house was lacking and now I can track everything I need to track with the View Plus! It's really a charm to use, and to look at. The View Plus is definitely the most refined product from Airthings yet!
Review Summary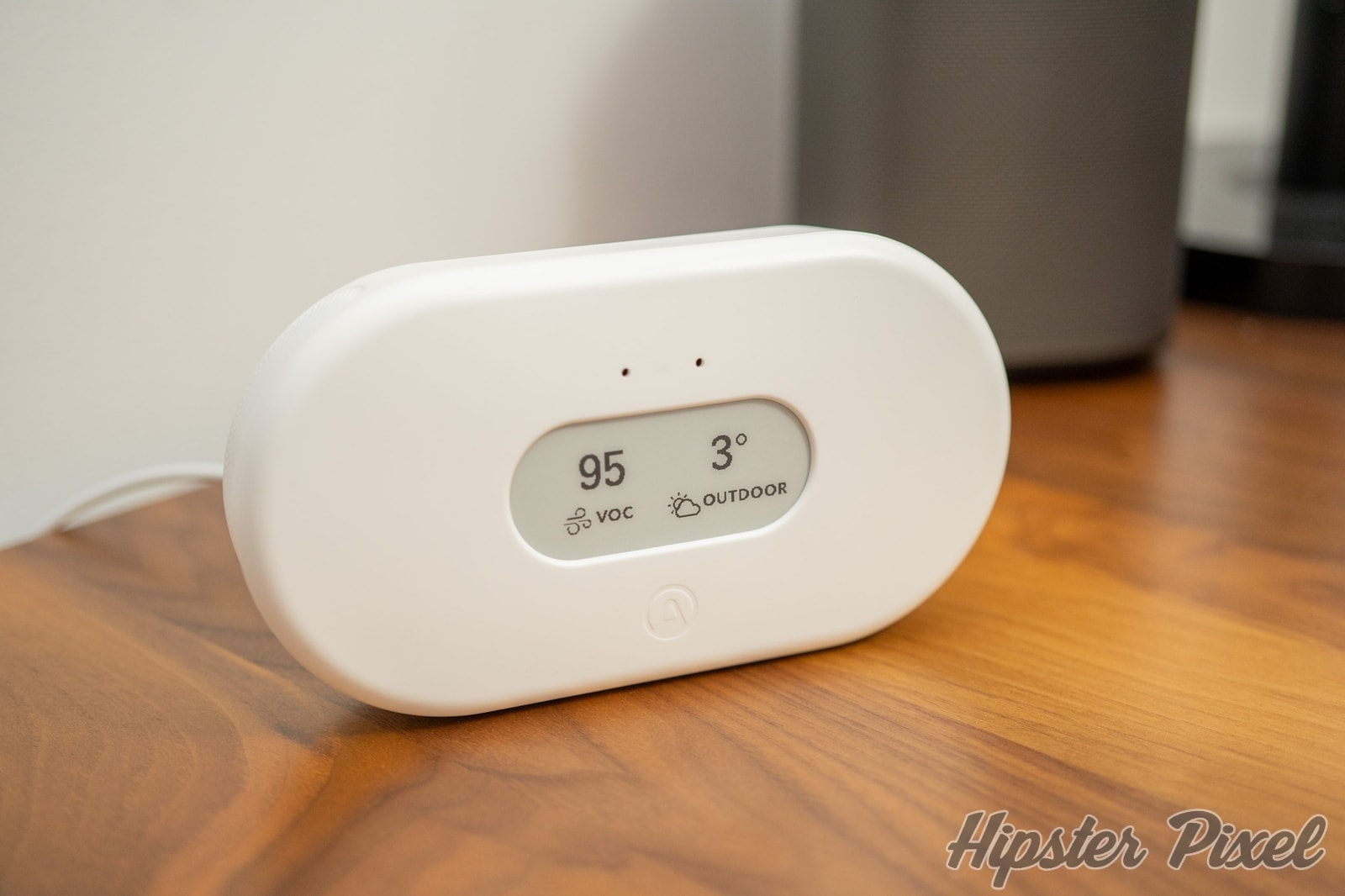 An air quality monitor with superhero features, the Airthings View Plus surprises with not only VOCs, radon and PM1.0 and PM2.5 sensors, but it also acts as a Hub!
The Good Stuff
Great display with useful information
Packed with all the sensors
Battery or wall connected option
Acts as a Hub to sync regularly
The Bad Stuff
Expensive product
Only two metrics showed at all times