---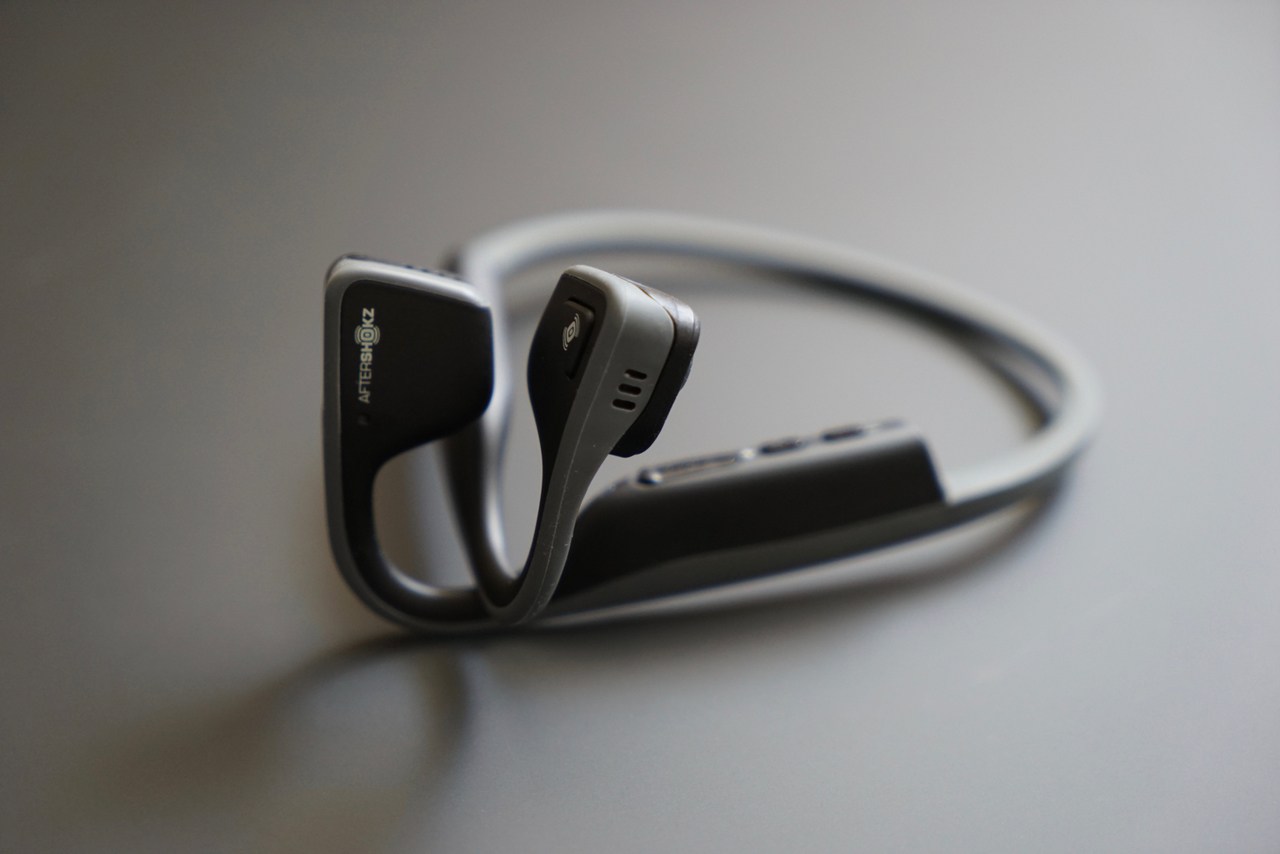 AfterShokz Trekz Titanium Bone Conduction Headphone Review (and Contest!)
There are many different headphones on the market, but rarely do you happen to discover a product that is trying something truly different. Of course, many great quality products are available and some of those headphones are simply put amazingly like the Sennheiser Momentum Wireless. But some other product try something completely different. The Trekz Titanium by AfterShokz is powered by bone conduction speakers that actually transfer the sound through your cheekbones.
🎁 Looking for the contest? Scroll directly to it!
But why the cheekbones? This way your ear canals are free and you can both hear your surroundings and your music at the same time. Headphones are dangerous (for you) on certain types of vehicles or simply on a bike because they isolate you from the dangers lurking around every corner. The Trekz Titanium is designed exactly for this type of situation.
Design
The Trekz Titanium are a sporty type of headset that is worn around your neck and hooked on top of your ears. The "speaker" is supposed to be positioned against your cheekbone or the surrounding areas, but not on your ear canal! I've seen different person wear it differently and it all comes down to your preferences, and the more I use it, the type of audio you listen to.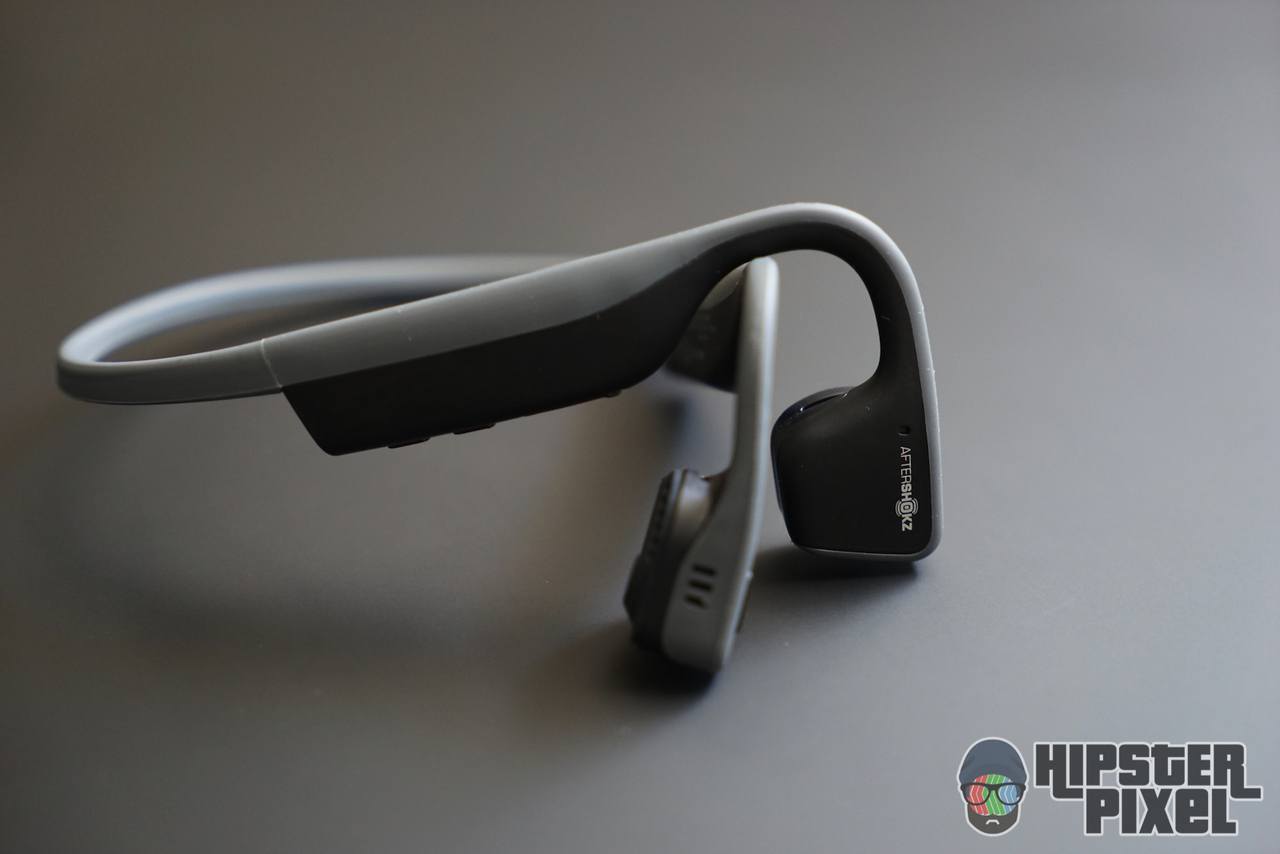 Being made for sport, they are protected and can resist sweat, dust and moisture, from workouts to wicked weather thank to their IP55 certification.
You control the playback using the single button on the left ear for play and pause. On the right side, you have the power button as well as the volume up and down buttons. Right next to those you have a hidden micro-USB port for charging.
Included in the box is a pouch, micro-USB cable, earplugs and a pair of FitBands, little rubber adapters for smaller heads.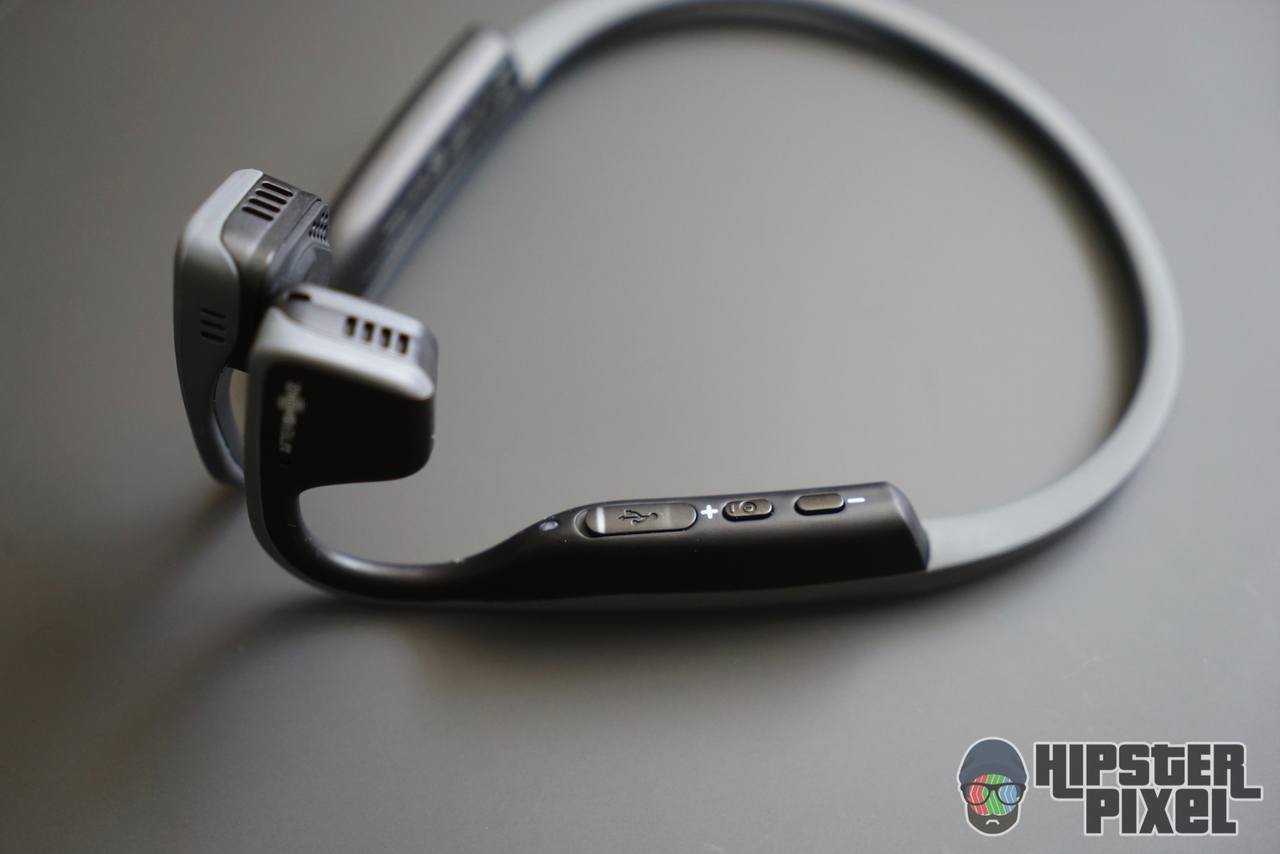 Features
Bone conduction technology delivers music through your cheekbones
Lightweight and flexible for durability and portability
OpenFit™ design ensures maximum situational awareness
PremiumPitch+™ guarantees a premium audio experience
IP55 Certified and BT 4.1
6 hours of play time
Noise cancellation microphones
2 year warranty
Performance
After using the Trekz Titanium for a couple of weeks, I can definitely see their use for the situation when you must be alert and or interact with other individuals once in a while.
The obvious scenario is while riding a bike, you must be aware of surrounding traffic and the headset does a great job of letting you hear the full traffic around you and your music or podcasts at the same time.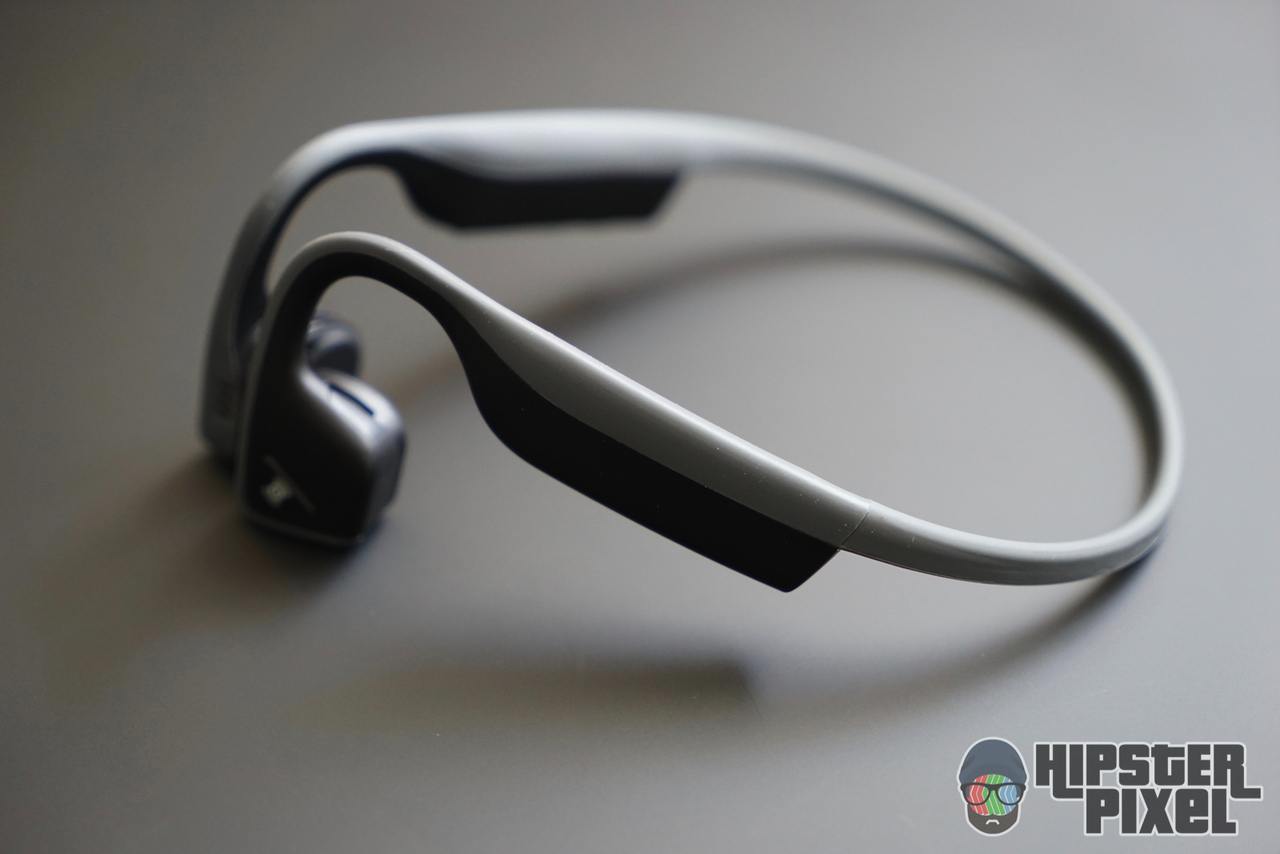 The technology itself is quite interesting and at first the feeling is weird. You really ear the music coming from inside your ears but at the same time you can ear somebody talk to you, both at the same audio level. The other important bit is the placement of the headset. The sound changes radically depending on where you rest it on your ears.
If you are expecting amazing sound, well don't. The sound has to go through your head and because of that you can never have the same effect of sound bouncing in your ear canal and being amplified and reversed through a big ear cup. That said, the sound quality is substantially better than I was expecting. Especially for a sporty headset and simply rests on your ears.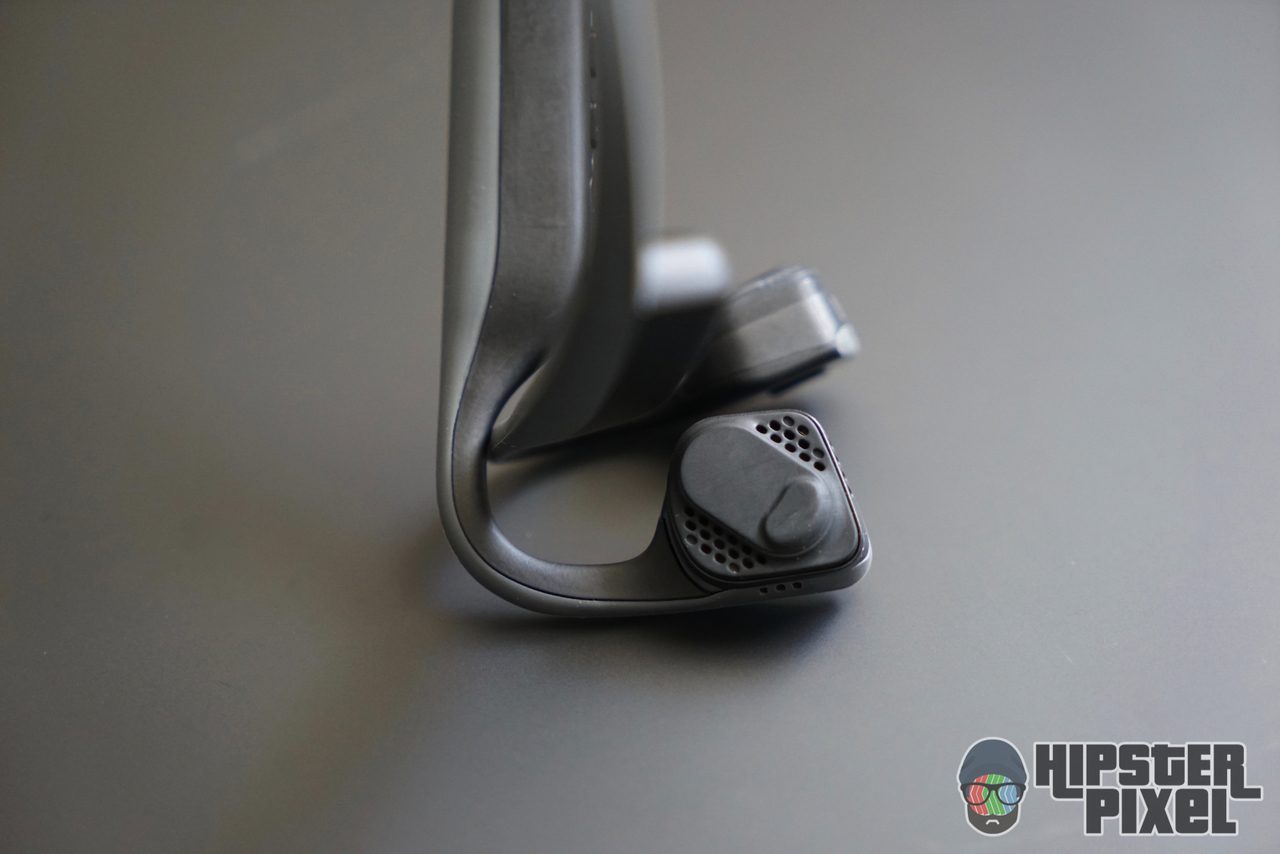 Since the Trekz Titanium are fighting for your attention the same way environmental noise is, they are very hard to enjoy in very noisy environment. You crank up the volume and depending on the type of audio you are listening too, the speaker starts to vibrate quite intensively on your cheekbones. The volume control is independent from the one on your mobile device. Meaning that if you put your device volume at 100%, you can still lower the amplification on the headset directly. I have found this type of control very useful to find the ideal volume and amplification so that I can hear the audio but not feel the vibrations.
One particular useful scenario for me is when I'm doing the dishes or preparing a meal in the kitchen. I can go about with podcasts playing using the Trekz and if my kids need something, they can simply talk to me and I don't have to pause my audio and ask them to repeat their inquiry.
The advertised 6h of continuous play is realistic and they do charge from 0 to 100 in just above one hour. Plus, you can usually go on for the day by plugging them 15–20 minutes in the morning.
Conclusion
If you are looking for a solution to listen to music while biking or any other type of situation where you need to be aware of your environment the Trekz Titanium are a great headset to consider. After a couple of minutes you can be sure that they will reliably play your music or podcasts in a very comfortable way. The sound reproduction is much better than you can expect, but do not expect this to beat a $300 pair of pro headphones. Be realistic!
The headset is comfortable and light, and the 6h of battery life enough to last through the day. You can get them in three colours Ocean (blue), Ivy (green) and Slate (grey) for $129 but for lucky Canadians there's a sale on Amazon.ca for $114!
The only downside is that when you are in a noisy environment you tent to increase the volume and that leads to strong vibrations that are often caused by base heavy audio. A user-selectable EQ to reduce the base and the vibration would be great for these situations.
Contest!
AfterShokz is kindly offering a pair to a lucky Hipster Pixel reader living in Canada, USA, France or Belgium! All you have to do is follow the AfterShokz media accounts and share this post using the widget below.
Hipster Pixel Trekz Titanium Giveaway
Review Summary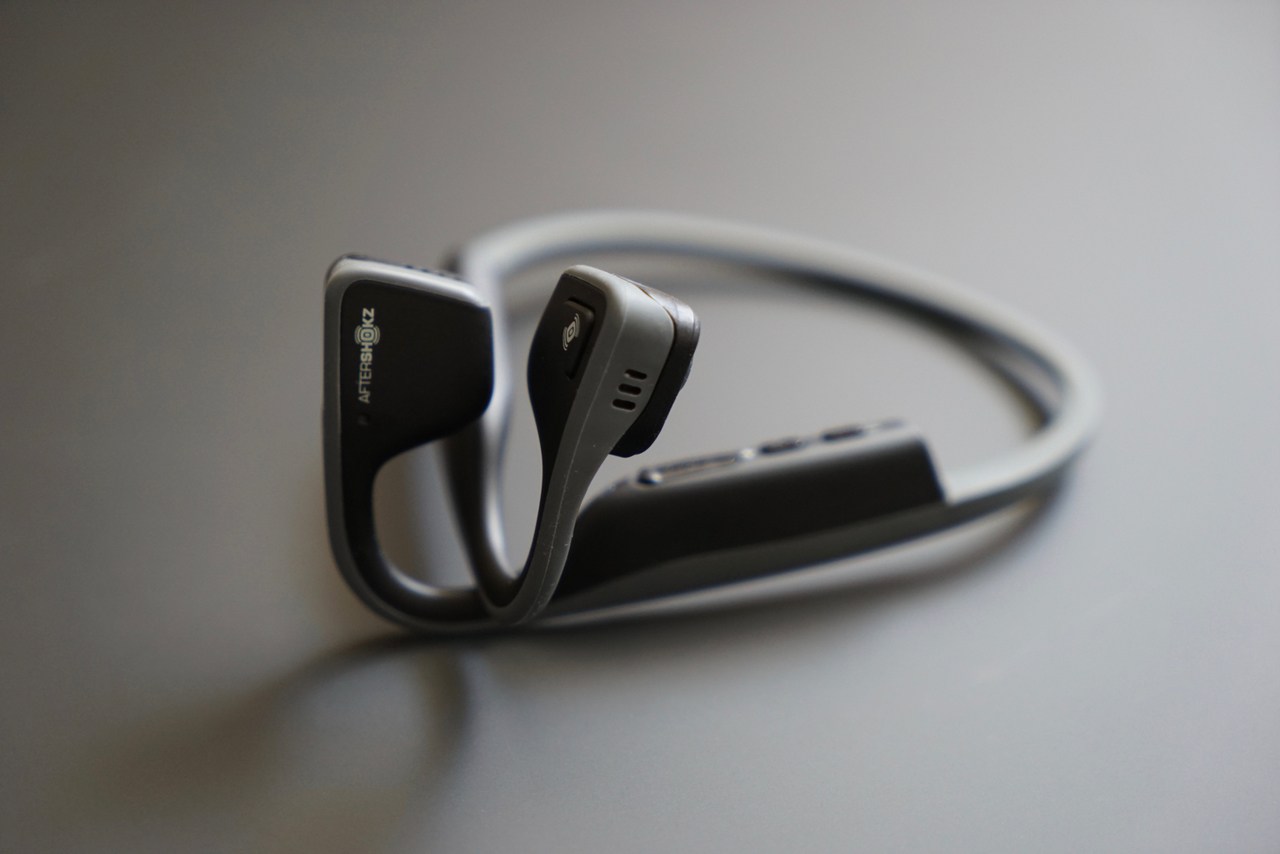 The Trekz Titanium is a bone conducting headset for sports and for situations where you need to be alert of your environment.
The Good Stuff
Comfort & lightness
Effective bone conduction
Ease of use
IP55 Certification & warranty
The Bad Stuff
High volume generates too much vibration