---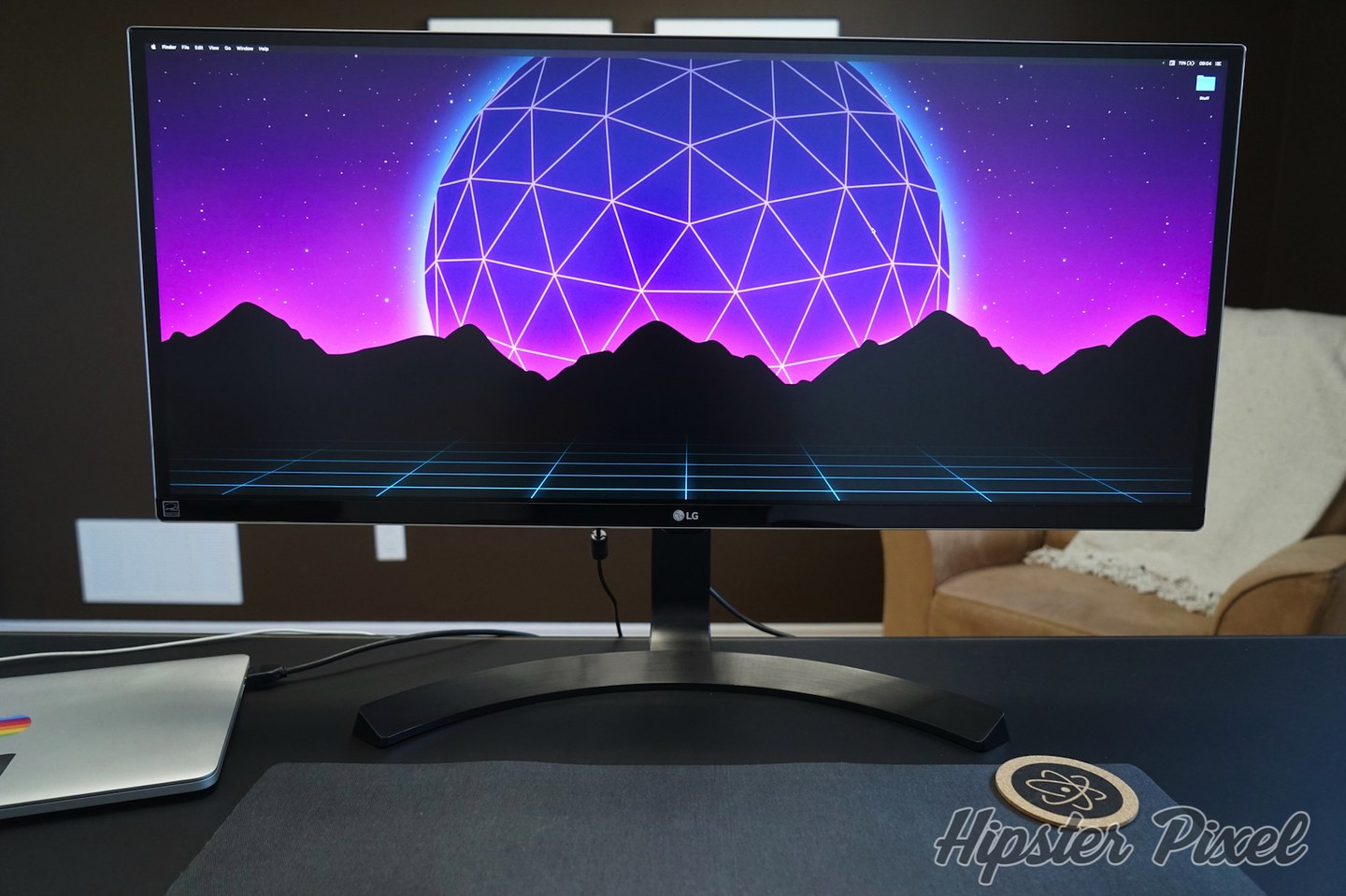 LG 34UM88 Review, Is It a Revolution?
Bigger screens have already been linked to higher productivity. This was true when we moved from 15" to 17 and even 27", but can this trend continues into even larger screens and can a change in the screen ratio make an impact just like the one on the LG G6?
This is the bet that LG took with its widescreen series of screens. They have been at it for many years and have offered a diverse array of screens to cover all the different segments on the market. The 34UM88 is LG's version of a wide, straight, high-resolution screen that is packed with almost all of the features of recent displays.
It's not a gaming monitor per se with a 144Hz refresh rate, but more of an office, designer or developer's desktop display.
Design
As you might have guessed by now, the 34UM88 is a 34-inch widescreen monitor. Instead of the regular 16:9 screen ratio we are used to, LG has gone the route to a wider monitor instead of a multiple display setup. The ratio is 21:9, and it has a resolution of 3440x1440, this is very important as other models might now have the same pixel density.
Many screen only have 1080 lines instead of 1440, which is not enough to be considered a high quality panel, in my opinion. When there is only 1080, there is some fuzziness to the display that simply disappears once you go higher resolution. Now, I know this is not as pixel dense as a 5K display, but without going as far as 5K is this 3440x1440 is the way to go!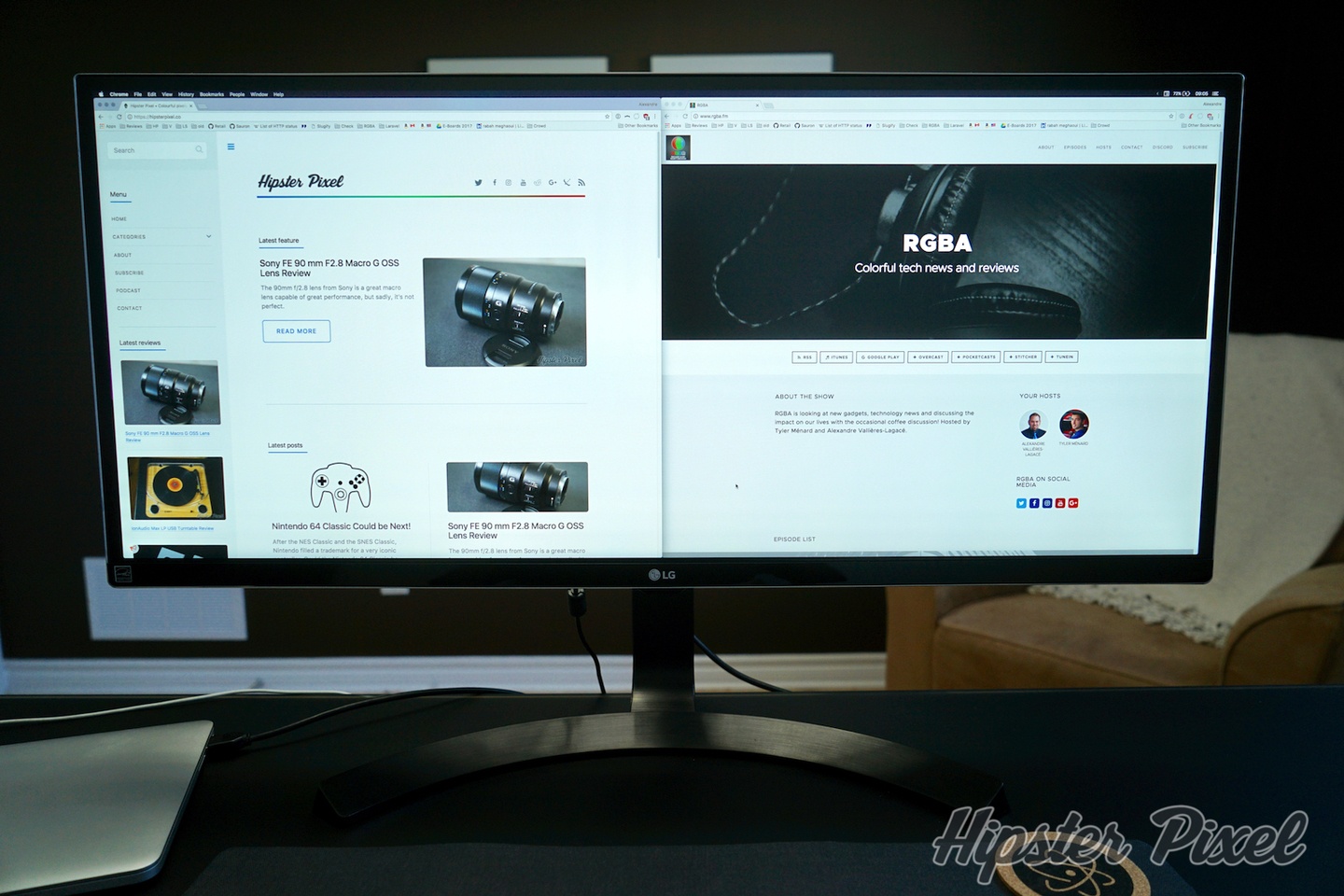 The display is set on a large semicircle foot that can be easily adjusted vertically and tilted back and fort. I think the best way to demonstrate this is with a GIF. Here you go!
All of the controls are located in the front centre below the monitor so you do not see buttons or unnecessary lights. Good placement and the user interface is actually not that bad to use. Of course I would not spend my days in it, but you can easily change the volume and the input with a single motion on the tiny joystick.
In terms of inputs, well there are lots of them. And the great thing is that you have many different types. Two HDMI inputs, one DisplayPort input and even a USB 3.0 hub is integrated so you can plus your devices directly in your monitor and only have one USB 3.0 cable to plug in. And there are even two Thunderbolt 2.0 ports!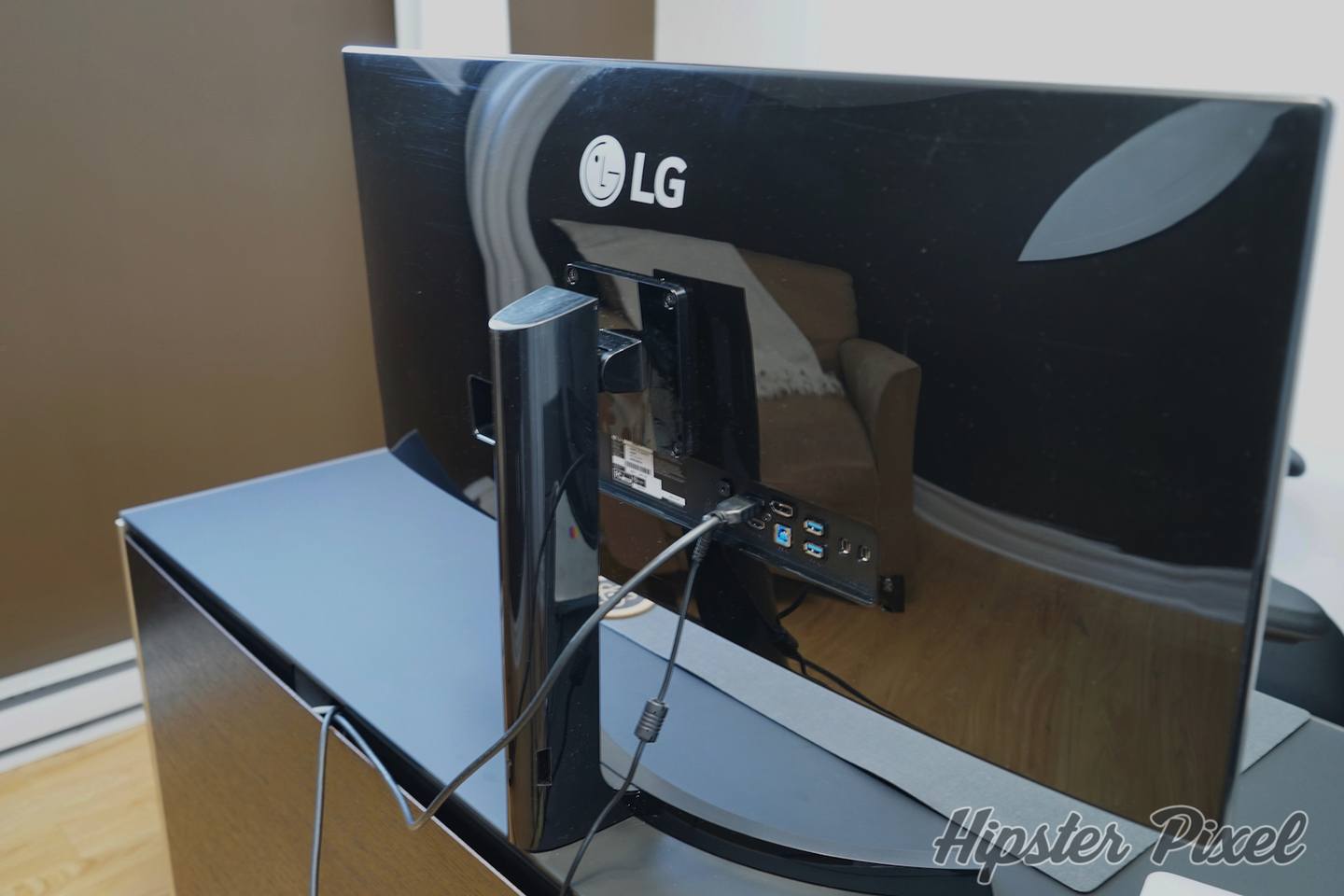 Features
34-inch, 21:9 ratio, 3440x1440 resolution display
2x Thunderbolts, 2x HDMI, 1x DisplayPort
sRGB over 99%
USB 3.0 QuickCharge compatible
Black stabilizer, Game mode and FreeSynch for gamers
Performance
The first thing I said when I got the screen installed on its foot is, WOW! That 34-inch real estate is no joke! You have an amazingly wide screen that offers you more space than you ever needed! It's like somebody added an extra 5-6 inches to the side of my 27" Thunderbolt display!
The initial setup and configuration went very smoothly thanks to the nub to navigate the menus. Once I was ready to use it, I took it for a spin for many weeks. And I can safely say that it's great, but you need to know what you are getting into!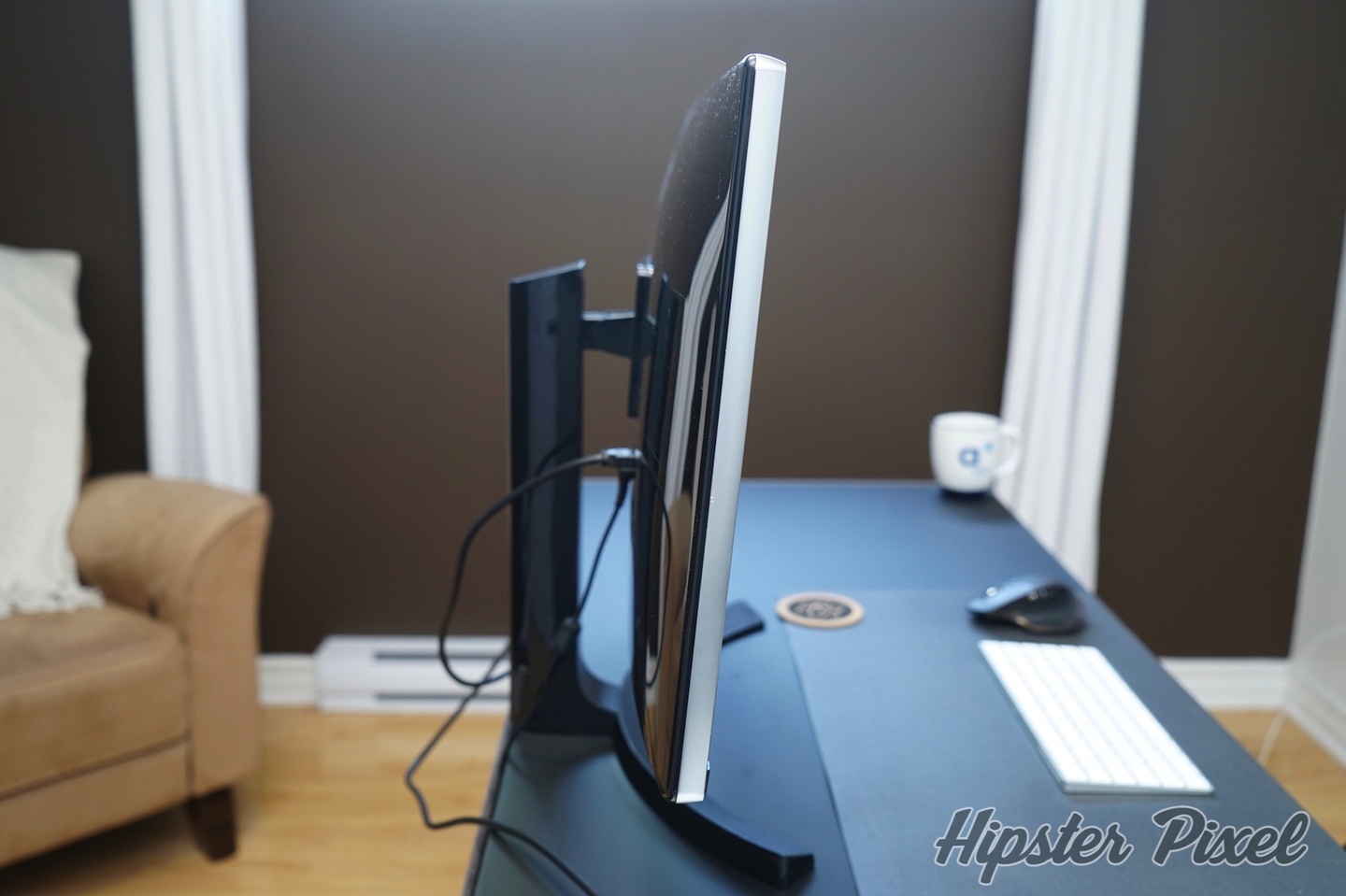 More screen space seems always to be a good thing, but I came to realize that my desk is not suited for such a big monitor. My desk is only 24-inch deep and because of that, the screen is too close to me. After long session of working, I started to feel pain in my neck and shoulders since I kept on looking left and right during the day and since the monitor is so close to me, my head was actually travelling too much.
I recommend a desk that is at the very least 30-inch deep, or install the screen on a swivel arm that can push it further that its resting position on the desk. This way your neck won't work as much.
Colours, screen, resolution
Once you actually start to use this widescreen format, you kind of wished you had it since forever! The extra space totally replaces the need for a second monitor for me and I will keep this in mind when shopping for my next monitor! The 34UM88 has the "good" resolution as explained above, where you have the same density as regular high resolution monitors like a Thunderbolt display but you gain an extra few inches on each side.
I do not recommend other wide 21:9 monitors that have a 1080p resolution or 1280p as you will definitely see the pixels and have fuzziness to them. This is not the case with this 3440x1440 display! The pixels are not noticeable unless you come very close to it and the 10-bit colour rendition makes this display accurate when working with graphical tools and well rounded for everyday office use. No weird contrast here, simply something balanced and easy on the eye.
The screen can be tilted and raised easily, but I still wished it was a bit stiffer as the screen easily wobbles on its foot and this can be irritating when you have a standing desk and raise your monitor.
Conclusion
After a couple of weeks of using the LG 34UM88 display , I'm totally sold on the design esthetics of a widescreen 21:9 ratio display! The added surface makes for a better than a two monitor set up and you can even "fake" it with the Screen Split 2.0 technology where your monitor is recognized as multiple monitors and have a virtual separation in the middle. Personally, I prefer to have my windows close to the centre and only glance at information on the side, but if two very close monitors are your thing this technology allows it.
Once again, LG surpasses the competition with a great display panel with a high resolution, great colour depth and techniques perfect for the gamer, the graphic designer and the everyday office. If only the foot could be more stable and all of our desks deeper (or have a swivel arm), this would be a perfect monitor for everyone! Consider this display when you will upgrade your office, as it has a lot to offer!
Review Summary
34UM88 Display
LG Electronics inc.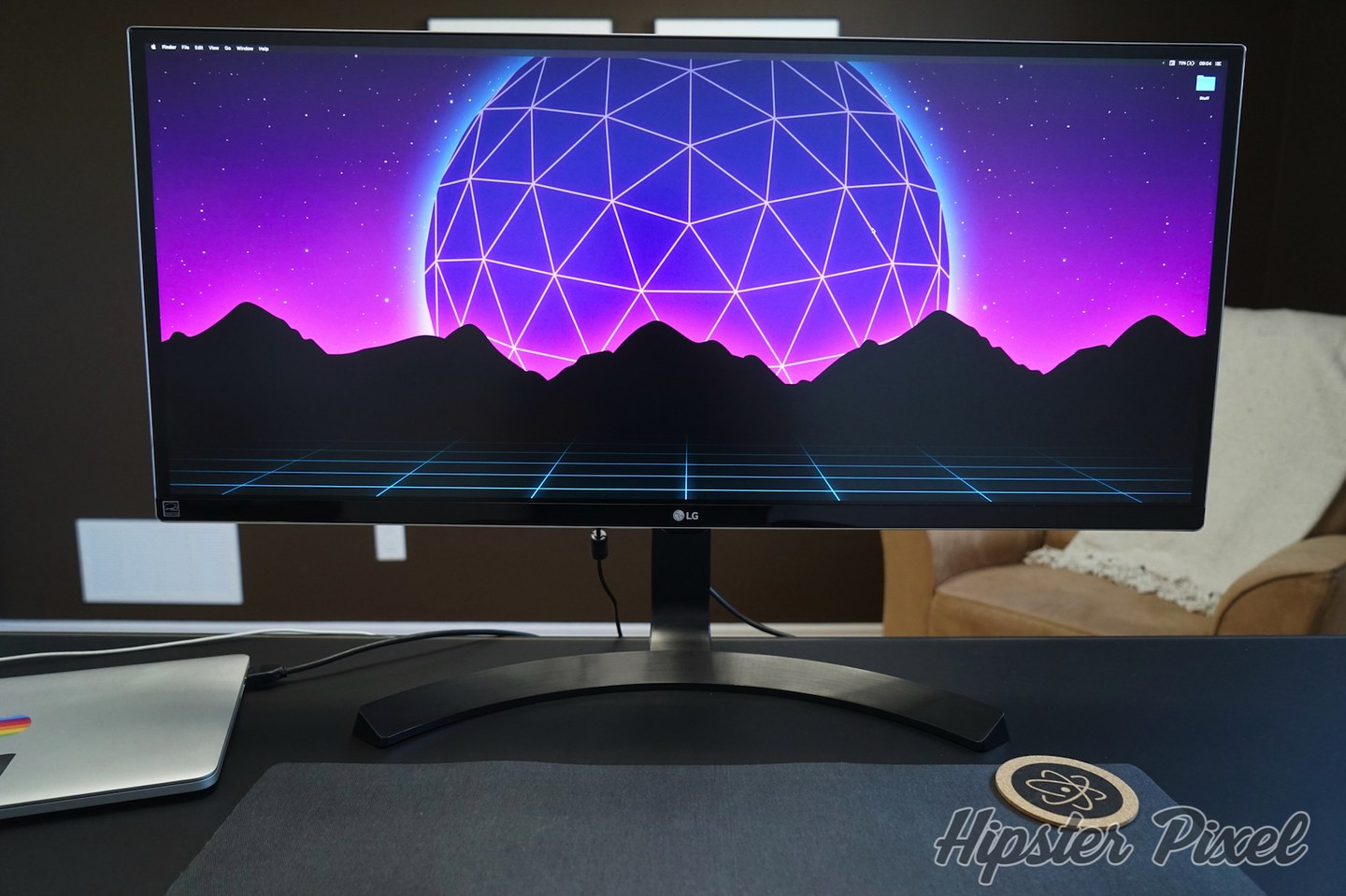 What if I told you that more screen is better? What about 34 inches of display? The 34UM88 from LG is offering quality and a very large screen real estate, but is it really better?
The Good Stuff
Display panel quality
High resolution, colour rendition
Generous ports, USB hub integrated
Screen Split technology
Gamer ready
The Bad Stuff
Screen wobbles
Requires deep desk to reduce neck strain