---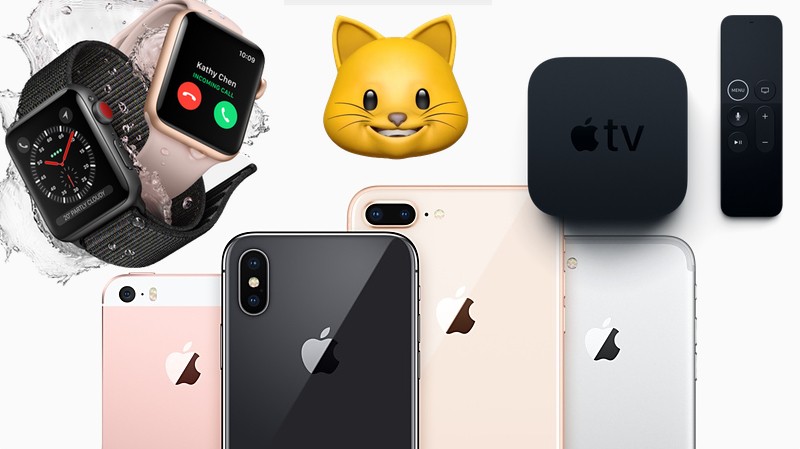 September 2017 iPhone Event Impressions
Now that the dust has settled on all of the iPhone event announcement, I thought I would share my thoughts on all of it. As I explained earlier this week, I was afraid too many secrets were leaked and sadly I was right. Sure we did get new information that was missing from the leaks, most of all the story behind each product and many of the details of the software side. However, the ten pole features were all known in advance and accounted for.
This could have been the best keynote in years as it was packed with new technologies, new techniques, new UX paradigms, but sadly we knew a lot in advance. This really sucks for the people that worked on this as the crowd reaction was not as intense as it should have been. I really hope Apple will have this tied down from now on, it's so much more fun when we know nothing or almost nothing!
Steve Jobs Theatre
The first product presented was the theatre itself where everything was happening. Custom designed and built following Apple's strict guideline, it seems to be a marvellous place with luxurious leather seats, and even power outlets embedded in the seats row. There is also a circular elevator enclosed in a glass wall. The walls, the staircase, everything was thought of meticulously and it shows. I really love the design of the place and I'm assuming the sound is also very good in the main room.
The conference started with a very emotional video of the theatre with a voiceover of Steve. Tim was quite emotional when speaking the first few sentences; and so was I.
Apple Watch Serie 3
This was mostly what was expected, a new Apple Watch with a circle of colour on the crown. Most probably the exact same size as previous generation with newer chips, faster processors, and LTE. Finally, the Watch can be used without the tether and by itself. I'm betting this will result in a much better experience if it handles its own notification by itself.
New features are coming to check up if you have a possible heart condition and you can now only buy the new Series 3 with or without LTE and the Series 1 watch. No more Series 2. Carriers already started offering plans in the US with a 10$ plan to add the Watch LTE to your existing plan, with Verizon waving off the cost for the first three months.
The Watch is substantially better with LTE and, of course, we got new watch bands! One that is very intriguing is the Nylon loop. A mix between the Milanese loop and the Nylon bands. It's called the Sport Loop and it looks great!
Apple TV 4K
As expected the Apple TV is now capable of handling 4K. More powerful and looking exactly the same, the Apple TV got its long-awaited update. Sadly, it's once again more expensive than it ever was. The 1080p Apple TV is already hard to justify in terms of price, now the new 4K one is 179$, 30$ more than the other one priced at 149$.
Both Apple TVs now have a white circle around the Menu button. Nothing regarding the Siri Remote if it was made better in any way. It's still all a mystery. I'm going 4K this year and will most probably get one as it would not make sense not to have it when you invest so much money in a great 4K display.
In terms of content we can expect Netflix and Amazon to come with great 4K content and the good news for those who already paid for HD iTunes movies, some (most?) will come with a free 4K version.
Order it on the 15th, ships on the 22nd.
iPhone 8 and iPhone 8 Plus
Basically, similar design as the 7 and 7 Plus with the addition of a glass back reinforced by steel (now I want to see drop tests and smash tests…). The devices are also more powerful with the new A11 Bionic chip with 6 cores. They say a 70% improvement.
First iPhone with Apple's own GPU with a 3-core design and optimized for Metal 2 and machine learning app. The camera gets a new 12 MP camera, still optically stabilized. The 8 Plus camera is also optically stabilized, that's a new one.
One of the cool software features is the Portrait Lighting that can adjust the lighting in real time when you take portrait photos. It does not just blur the background, it lights up the face like a studio or gives it highlights. The video capture now does 4K at 60 fps and 1080p is now at 240 fps. Of course, the Bionic chip is optimized for AR games and apps!
Wireless charging thanks to a Qi integration is coming to both iPhones. Apple decided to use the standard instead of making its own so IKEA furniture and other already available charging mats will be compatible as long as they follow the Qi standard. Touch ID is still there, Bluetooth is now updated to 5.0 and the iPhones are available in 64 GB and 256GB configurations for 699$ and 849$ for the iPhone 8 and 799$ and 949$ for the iPhone 8 Plus. You will be able to order them on September 15th and deliveries starts on September 22nd.
Overall, this feels a lot more like an iPhone 7s than an iPhone 8 to my eyes. But the naming scheme is somewhat complicated now. More on this later.
iPhone X (ten)
This was the One more thing of the show. The thing that Tim said will be the next iPhone for the following decade. This new iPhone is exactly as the rumours pointed out. So much so that we already have cases on the market for it and it's not even out yet!
So, first of the name. Apple wanted to make a statement with this one and they choose 10 as its name. This makes us jump over 9, just like Windows. And really messes up the naming scheme for next few years. People were thinking of the iPhone X as just another phone thus the Pro moniker was mostly expected to be used. Apple's story on the X is that it's a new line of iPhones and should be considered something apart. Probably it's one that will start a new lineage of iPhones so starting next year, you might only have the iPhone name back, as it should. I could see an iPhone SE and iPhone X-based line of phones or two sizes of an iPhone X. But that's for the next 12 months of rumours and talks. Let's get into the iPhone X.
Full frontal glass, 5.8-inch diagonal of pleasure. The notch is there including all of the Face ID sensors and front camera. That camera gains a new 7 MP sensor with an f/2.2 aperture and even, thanks to the depth sensor for Face ID, the Portrait Mode!
The Face ID technology is the one that is the most intriguing as it leverages a system that illuminates your face using infrared and 30,000 dots to identify your face. Apple said that Touch ID had 1 chance out of 50,000 that it could be tricked, well Face ID has 1 chance out of 1,000,000. So mathematically much more secure and yes, it works with a hat, with a scarf and glasses. Not sure about sunglasses, this is something to be tested! It also learns as your face changes when, for example, you grow a beard.
Home Button can now RIP. Instead you rise to wake your phone, you see the lock screen and when you swipe up it uses Face ID to authenticate. It's seamless and super fast. Really impressive. I can't wait to try it with twins. :P
The new display is using an OLED panel with True Tone technology, HDR that is Dolby Vision and HDR10 compliant. This should make it an amazing display with a much better battery life. Apple says it has 2 extra hours of battery life compared to the iPhone 7. This one is hard to put into words as there is not a definitive number that defines battery life on an iPhone. Many different numbers for different activities are hard to compare, but given that it's sporting an OLED screen there are many electrons saved in the process so we are bound to have better overall power consumption. That screen with a black background will be bonkers for saving energy. I can see the resurgence of black icons everywhere. ;) Also, there is a Quick Charge mode where you get to 80% in 30 minutes. That's impressive and I look forward to see all the details!
The iPhone X wil be 999$ for the 64GB model and 1,149$ for the 256GB version. Ordering happens on the October 27th and delivery stars on November 3rd.
Animojis and Stuff
Animojis is nice but will quickly pass as a fad, kind of like the "Sent with laser" which nobody does anymore, or the heartbeat or drawings on the Apple Watch. Cool tech demo, but not more than this.
The Airpods, still hard to get in many Apple Stores, are getting a new Qi compatible case. That's cool :)
Overall, this was a solid event overcast by too many reliable leaks from Apple itself. I loved the event and I really love the iPhone X but that secrecy thing must be enforced so that these events really feel surprising and astonishing! The only problem I see is the higher price for everything, even iPad Pros just got a 50$ increase this morning. I understand the investors wanting more money, but I think at 999$ it's too much for a phone, especially since many will like to change it every year.