---
Eero Pro Wi-Fi Mesh Network Review
The eero mesh network system is offered in two main varieties, the 2nd generation Eero which we reviewed not too long ago, and the eero Pro Wi-Fi system . This second system consists of three "main hubs" instead of a single main hub and two Beacons. This system is recommended for larger, or longer houses with 5+ bedrooms or if there is an Ethernet wire accessible.
This will be a short review as almost everything about the setup and looks have already been discussed at length in my 2nd Generation eero system review.
Design
Same box design as the other system, well thought of and using quality materials. Each unit is hiding its USB-C based power cable. Also included in the box is one Ethernet cable of an interesting thickness. Larger and sturdier than what we normally see included in router boxes.
All three units are identical, they all have a USB-C port and two Ethernet ports. This means that you have to think where this little device is going to be resting. Also, it is possible to use your Ethernet wired network to power the eero units and rely less on a wireless backbone.
Features
Tri-band WiFi radios, simultaneous 2.4GHz, 5.2GHz, and 5.8GHz wireless
Dual auto-sensing Gigabit ports for WAN and/or LAN connectivity
No nightlight
Performance
To really give you accurate numbers I'm going to use the same technique as before, this means to connect to my Synology DS1515+, a network attached storage unit connected directly to the main node. This allows me to test the transfer speed to a device that is capable of bursting a few hundred megabytes per second.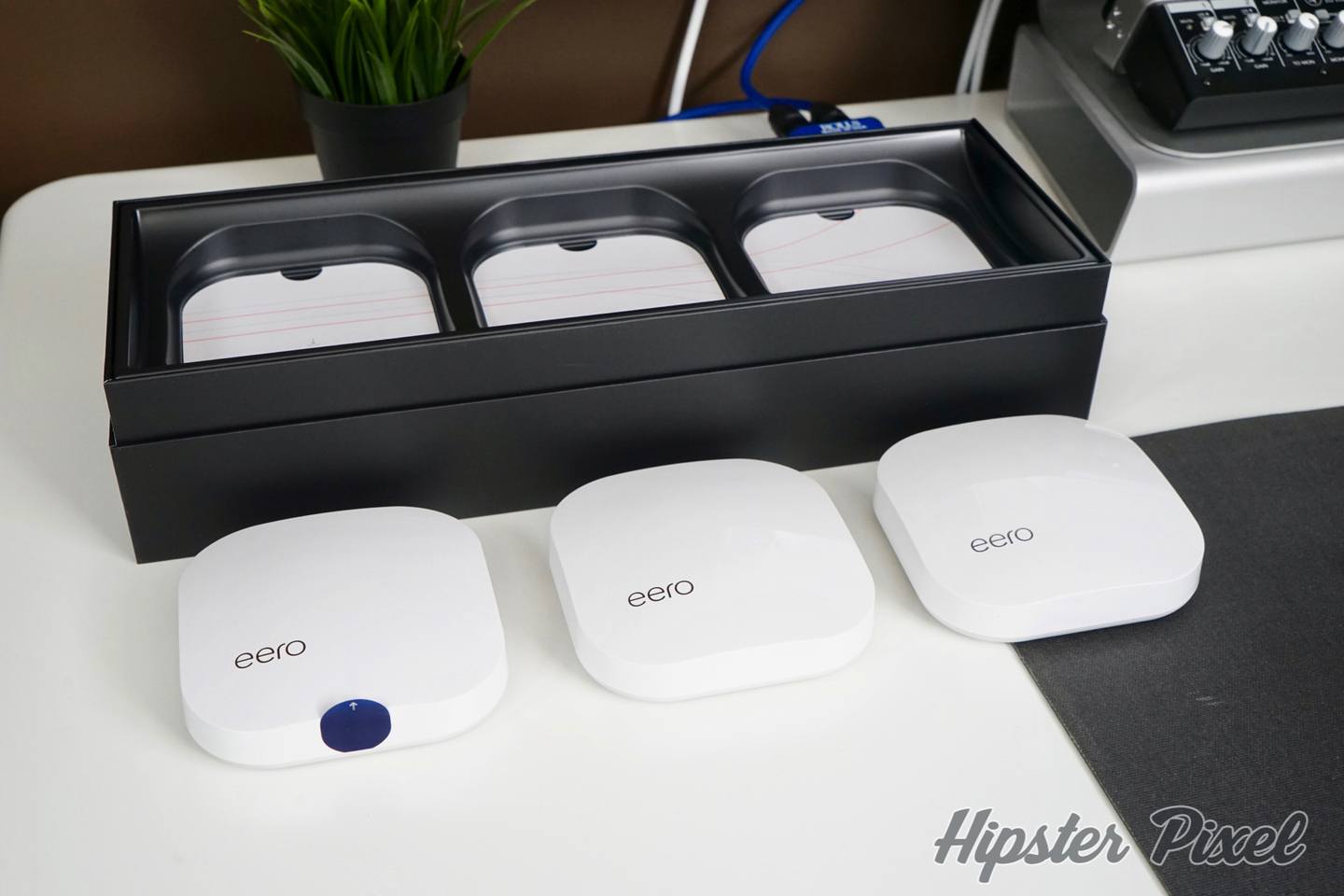 Since these devices have an Ethernet port, I'm going to do two test scenarios. The first is to leverage only the wireless capabilities of the eero Pro and do the usual benchmarks. The second scenario will be using an extra wired eero unit to see if this changes the performance of the network.
1) Wireless Scenario
After testing the eero system in a wireless fashion, here's the results compared to other mesh networks and the 2nd Generation eero kit .
| Location | AirPort Extreme | Linksys Velop | TP-Link Deco M5 | eero 2nd Gen | eero Pro |
| --- | --- | --- | --- | --- | --- |
| Basement Office | 50 | 32 | 32 | 23 | 25 |
| Basement Living Room | 70 | 48 | 52 | 27 | 49 |
| Main Floor Kitchen | 15 | 28 | 15 | 27 | 25 |
| 2nd Floor Masters Bedroom | 9 | 18 | 23 | 22 | 26 |
| 2nd Floor Bedroom 2 | 6 | 18 | 25 | 20 | 22 |
The performance is much more stable and faster than the regular eero system, especially when you have a direct line of sight to the first eero unit, the laptop can choose to connect to the second node instead and not suffer from performance reduction.
I can reach close to 50 MB/s and the rest of the house is reaching the 25 MB/s, a very strong number only rivalled by the TP-Link Deco M5. After having the network set for a few weeks, I once again did not have a single reliability issue requiring a reboot of any kind. Just like it's small brother, the eero Pro Wi-Fi kit is super stable and fast.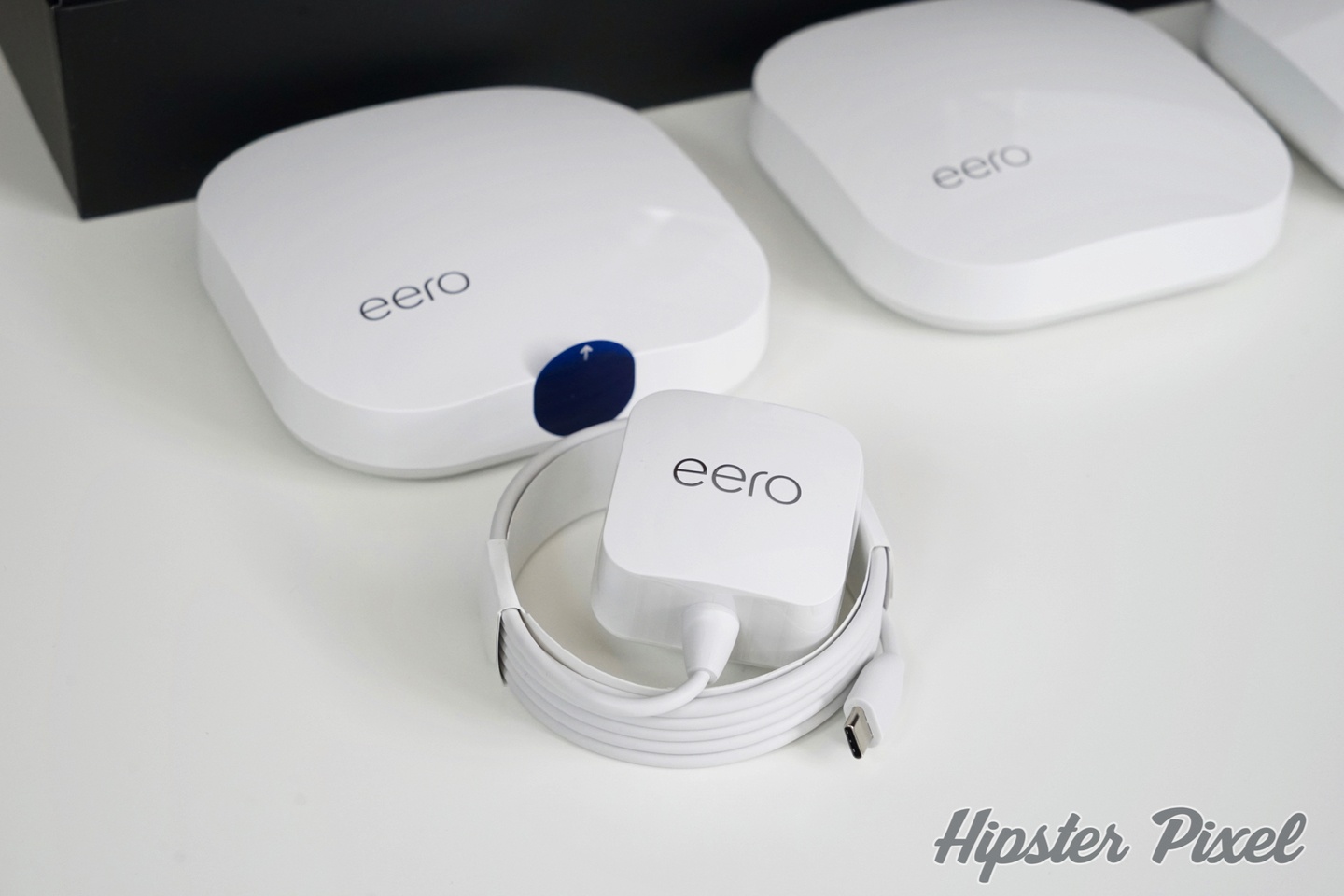 2) Wired-Assisted Scenario
Since each of the eero units have two Ethernet ports, we can help them by wiring them to the home Ethernet network and thus all network traffic is accelerated. Now, I was wondering how much effect this will have. It's by no means required and you can simply use the eero units as wireless units.
So I plugged one of the units on the main floor of my house with an Ethernet cable. The 2nd floor unit does not have any Ethernet jack in proximity so I'm assuming the best performance will be mostly located on the main floor of the house but there might be a slight increase on the second floor too.
| Location | eero 2nd Gen | eero Pro | eero Pro Wired | Change |
| --- | --- | --- | --- | --- |
| Basement Office | 23 | 25 | 25 | 0% |
| Basement Living Room | 27 | 49 | 56 | +14% |
| Main Floor Kitchen | 27 | 25 | 42 | +68% |
| 2nd Floor Masters Bedroom | 22 | 26 | 25 | -3% |
| 2nd Floor Bedroom 2 | 20 | 22 | 29 | +32% |
As you can see from these numbers, the performance increase is substantial on the levels where the wired unit is located. It also has a slight increase when you are directly below or above the wired unit. This seems to indicate that the eero systems prefer a wired node opposed to a non-wired node, a smart performance choice that tries to offer the best performance possible.
Security
Remember the KRACK Wi-Fi WPA2 hack that was discovered not too long ago? Well, I mentioned on our podcast that you should check your router manufacturer for a firmware update. Well, it so happens that eero has regular updates and about one monthly automatic update. An update that happens overnight when your network traffic is at its lowest. The eero team developed a fix in just a few days and were able to patch 100% of the eero networks in under a week! I think this is the fastest and really the safest network out there! Kudos to eero for this great deployment!
Conclusion
The regular eero Wi-Fi system was already great and the eero Pro Wi-Fi system is even better. If you are craving for faster transfer speed either because your Internet provider offers you 200Mbits and above speeds, the eero Pro is the system to go. It's not the fastest on a direct line of sight, other routers like the Airport Extreme can be faster, but on a multi-level house the eero Pro system is unmatched in great speeds and most of all, reliability!
Never once did I have to restart my network because of some glitch, and we even had a few thunderstorms that are known to affect routers in my house. If you have a wired house, then you are in for an even better experience since the eero Pro will leverage as much as possible the wired nodes over wireless ones. You also get a speed increase that goes from 14% to 68%, which is really awesome!
I strongly recommend the eero system for anyone who really wants to treat their home network as a utility. You set it and forget it and, as Apple famously said, it just works!
Review Summary
The eero 2nd generation is great, and there is something even better, the eero Pro Wi-Fi system is much more powerful and even uses Ethernet to increase your speed!
The Good Stuff
Reliability
Security with self-updates
Better performance, wireless
Even better performance, wired
The Bad Stuff
Units are not wall mounted