---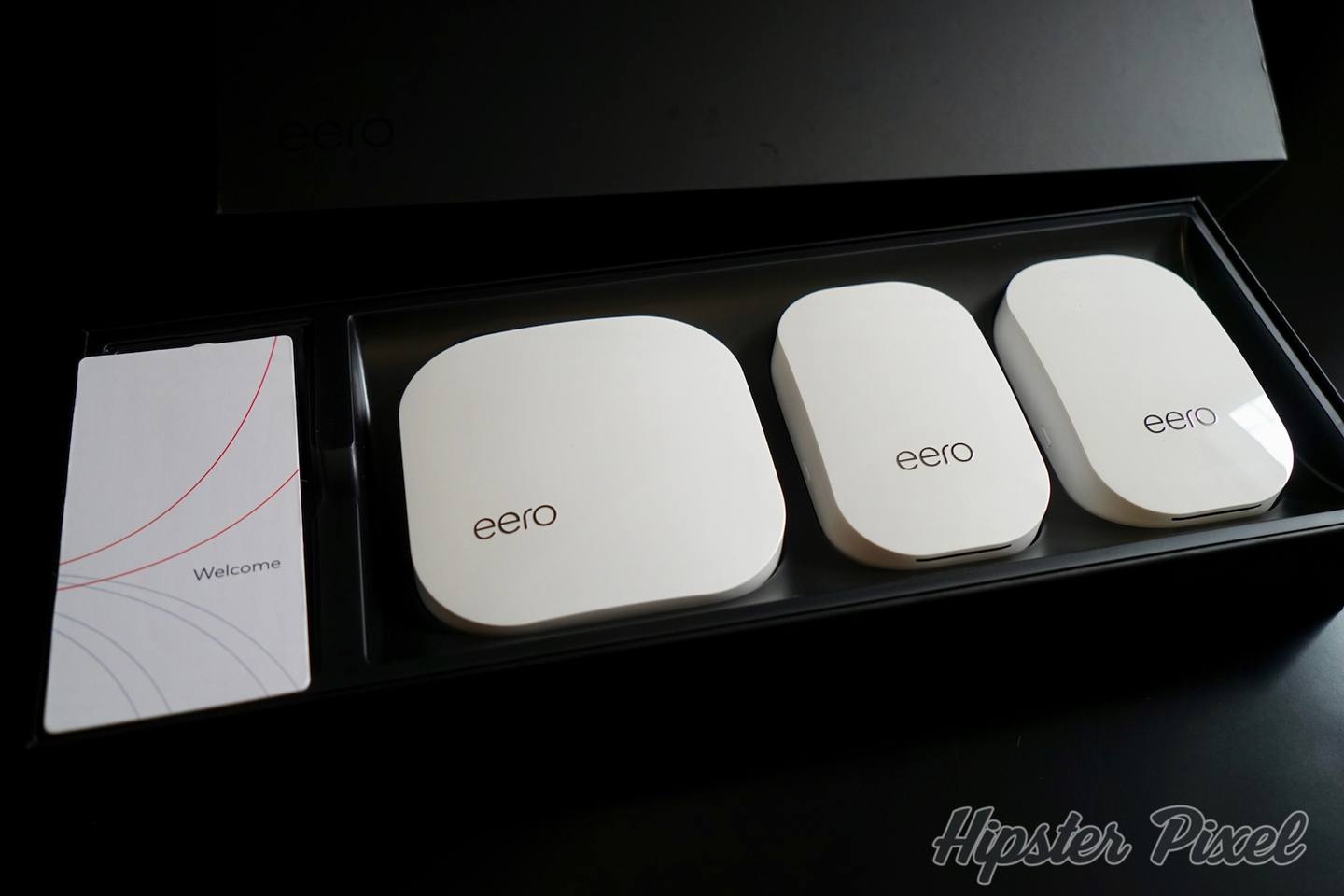 eero Mesh Network 2nd Generation Review
After many years of waiting, the grand daddy of mesh network is finally available in Canada and, you have guessed it, I had to take it for a spin since I'm kind of on a roll here with consumer mesh networks after reviewing the Linksys Velop, the TP-Link Deco M5 and a bunch more routers.
The eero system is now at its second generation and builds on all they learned over the last few years with the very first consumer mesh network. This time around they are offering two types of kits. The first one contains a eero unit and two Beacons, and the second kit contains 3 eero units for Pro-level performance. I currently have the 1 eero + 2 Beacons kit installed.
Design
The design is very similar to the first generation eero and even to the Deco M5. A rounded square with a USB-C port for power and 2 Ethernet jacks goes close to your modem and by pluging your local Ethernet cable in there you allow it to have access to the Internet.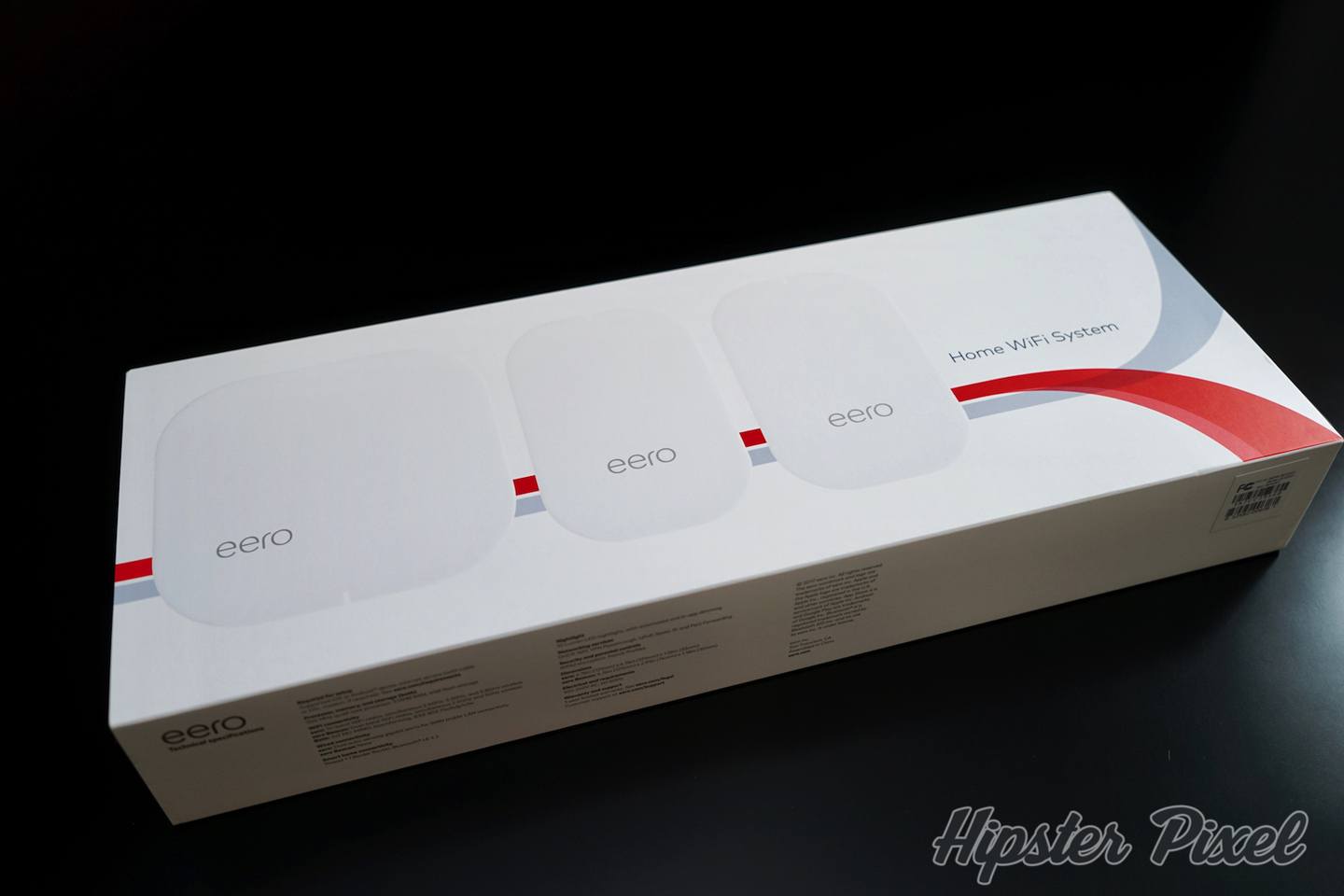 The Beacons are what allows eero to extend the base network to other parts of the house. These smaller units do not require cable and include the electrical outlet prongs on their back. You simply plug them on your wall outlet and that's it! It even comes with a 10 lumens nightlight that gives out a gentle glow if you happen to install them in a hall or in a corner that can benefit from some late evening lighting. If not, you simply turn it off in the app.
All that is nicely packaged in an Apple-esque box with a great design. I love tha the packaging is minimalistic and shows you exactly what's inside the box.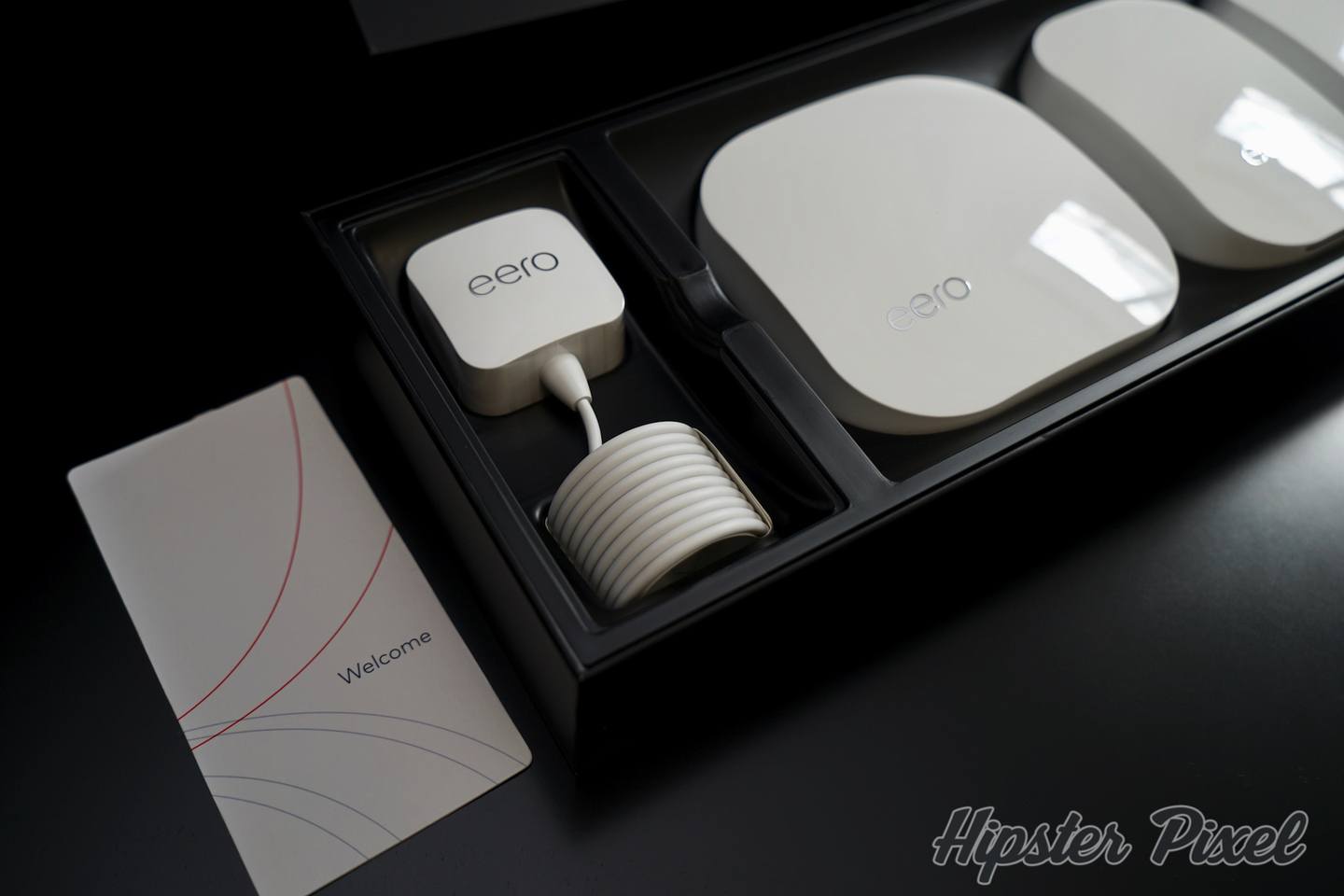 Features
eero main unit
Tri-band WiFI radios with 2.4GHz, 5.2GHz and 5.8GHz
2x2 MU-MIMO beamforming antennaes configuration
Supports 802.11a/b/g/n/ac eero Beacon units
Dual-band WiFi radios with 2.4GHz and 5GHz
2x2 MU-MIMO beamforming antennaes configuration
Bluetooth 4.2 LE for fast setup
Nightlight
700 MHz quad-core processor, 512MB RAM, 4GB flash storage
Setup and Onboarding
As you can see from the specs, it still packs in quite a punch of power with the quad-core processor. But what we really want to know is two main points. First, how easy and reliable is the eero and, secondly, how fast is it really? To be fair to all of the contestants, I've used, once again, the same installation schema with the main unit in the basement in the machine room next to the cable modem, the first Beacon on the main floor close to one side of the house and the second Beacon on the second floor at the opposite side of the house. Up until now I though this was the ideal setup. More on this later.
The first thing you need to do is launch the mobile app on your phone. The setup process, just like on the Velop and on the Deco M5, will use Bluetooth to quickly pair each new nodes with the eero system. You are presented with a super simple and very clean configuration wizard that takes you by the hand to setup your network. Here's a few shots that sadly does not give them justice as all of the screens are slightly animated with accent colors. This has to be the most beautiful wizard I had the opportunity to look at. Both the Velop and the Deco M5 have very nice UI, but eero raised them a few bars!
Setup was fast, actually much faster than the competition by detecting eero Beacons in 1-3 seconds instead of the 10-20 required by the other mesh systems. Then, the step where they are added to the main system was also much faster. All in all, I did not feel like I was waiting. Even the booting of the Beacons, until the LED flashes, is something that takes not much more than 20-30 seconds. Overall the complete setup took less than 5 minutes. Then I had a firmware update to do and over the last two weeks two more of those. eero cranks out update regularly as I can see, this is a good thing!
Location is Optimization
During the setup process, eero takes a second to explain to you where to install your Beacons for optimal performance. I was sure that by using a Z shape setup where nodes are at opposite sides of the house would be the ideal scenario. It appears that I was completly wrong about this. eero suggests, for multi-stories houses like mine, to use an "I" shape setup. Where all the beacons are centered in the house vertically on each level. This gives you a radius that is supposed to cover the whole floor.
Given that I did not use this type of setup, I'm going to do two important tests here. The first one will be using the same locations for the components as I did with previous mesh systems and the second test will use a repositionned placement as suggested by the eero app onboarding.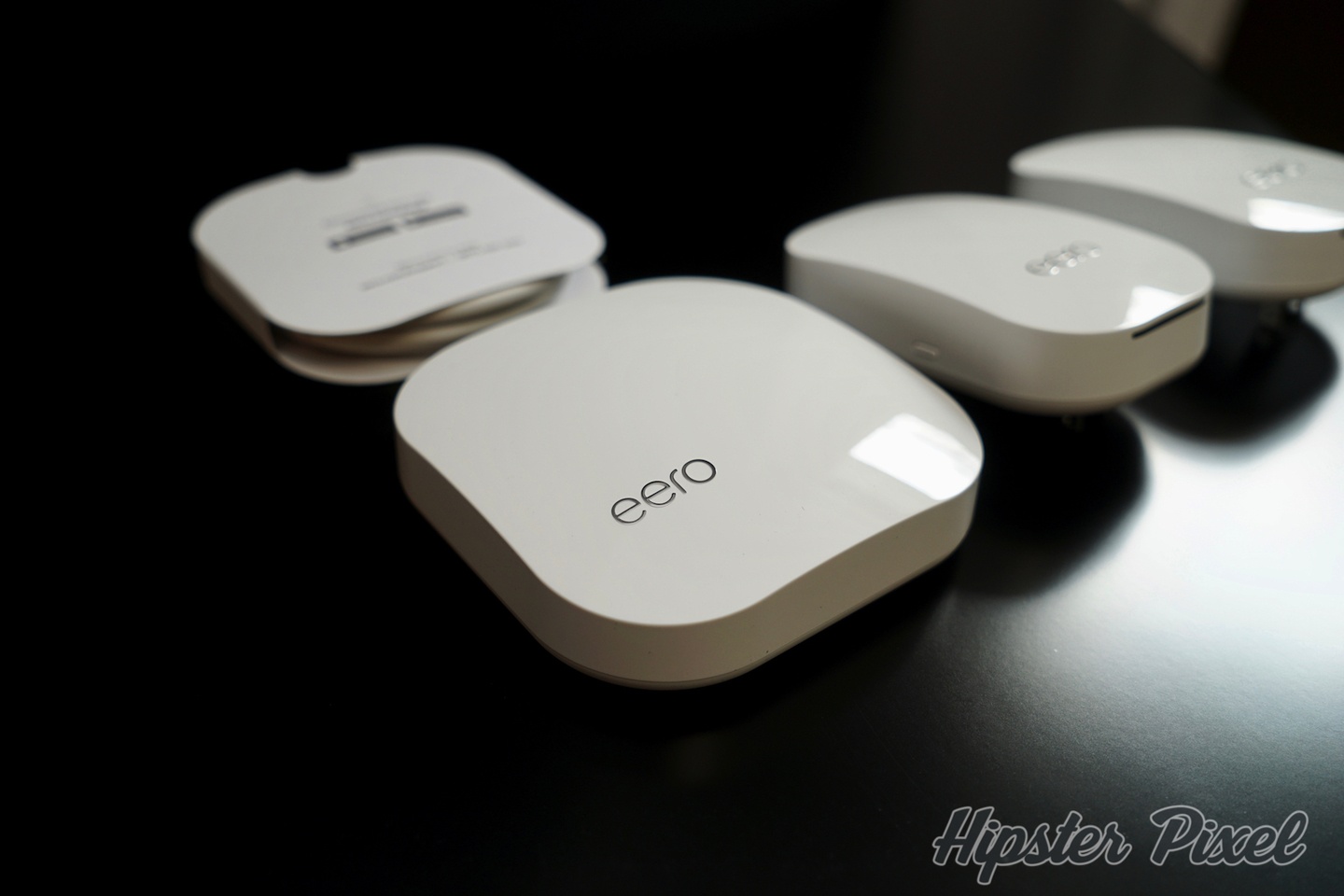 Performance
Once again, I'm using iPerf between a MacBook Pro 13" (Mid 2015) and a Synology DS1515+ NAS with four Ethernet ports to test the transfer speed over the WiFi network. As I did before, I will be testing it from the basement living room, basement office, main floor kitchen, second floor master bedroom and second floor bedroom. The following numbers are in Megabytes per second (MB/sec).
Poor placement
I learned that I was not setting up my mesh networks properly. :( During the setup, the eero iOS app setup assistant informed me about ideal location for the type of house I have and I realized that by setting the nodes near the center of my house, as opposed to each end, the performance would be better. Here's the usual table of speed with the poor placement and better placement.
| Router/Location | AirPort Extreme | Linksys Velop | TP-Link Deco M5 | eero 2nd Gen | eero 2nd Gen Optimized |
| --- | --- | --- | --- | --- | --- |
| Basement Office | 50 | 32 | 32 | 18 | 23 |
| Basement Living Room | 70 | 48 | 52 | 19 | 27 |
| Main Floor Kitchen | 15 | 28 | 15 | 20 | 27 |
| 2nd Floor Masters Bedroom | 9 | 18 | 23 | 22 | 22 |
| 2nd Floor Bedroom 2 | 6 | 18 | 25 | 11 | 20 |
When I first setup the Beacons with the poor placement, I was very surprised to see these numbers. I did many runs of tests, and tried to understand why I was not getting better speeds. From all the chatter online, I was expecting the eero system to be as fast as my Airport Extreme, but from every corner of my house.
I was sincerly expecting much faster speeds, especially since my home connection to the Internet is 200/30 which allows me to reach 25 MB/s on download speeds; and I often reach 28 MB/s. Something I can't achieve everywhere in my house with the eero system when using the same location as I did with the other mesh network systems, the fastest speed being 22 MB/s on the master's bedroom. Whis is conviently placed one room away from a Beacon and directly above another one.
Proper Placement
However, once I setup the two Beacons at the recommended location, centered on each floor instead of in the corners, I had much better speeds! Up to 82% faster on the 2nd floor and an average of 47% faster is indeed much better! Keep this in the back of your head when you setup a mesh network in a multi-stories house. Center is the key!
Granted, not everybody has a 25 MB/s home Internet plan so these speeds might not be required for you. Nonetheless, it's better to be optimized than not!
Reliability
Regarding the second major point I listed earlier, the reliability, this is where most of the routers I tested failed. I often have problems when using the routers for longer periods than what my reviews usually allow me to. Over a few weeks, you normally do not have much problems with routers, but once you start considering them as a utility, they need to work 100% of the time. If not, the wife and kids will quickly jump on your back for having a poor networked houshold!
I do consider my network to be more complicated than average. I have a network that includes anywhere from 15 to 25 devices connected at all time. Three network switches always ON, about 10-14 wired devices and almost as many smart gadgets, tablets, computers, iPhones and more wirelessly connected. So reliability for me is of prime importance.
Up until now, the most reliable router was the Airport Extreme. It only require a reboot once every 7-9 months, something I never was able to achieve with other routers. Some even required me to reboot the router 2, even 3 times a week when many devices started to loose a connection to the Internet.
I've only been rocking the eero 2nd generation for just over three weeks and I did not have a single node disconnect or device loosing connection. I applied a single firmware update and never rebooted the device. Something that makes me thing that reliability is amongst the best out there. I still can't say if it's up to the Airport Extreme's reliability but it sure looks like it's aiming to be.
Conclusion
The setup process is amazingly simple, super fast and frankly great looking. I can say with confidence that the eero 2nd Generation is the simplest and fastest to configure mesh network out there. Even when you need to customize your network and have over 20 devices on it like me. Adding Beacons is a real charm and takes less than a minute, much faster than other mesh networks. And the app even goes the extra mile to make sure you position your nodes correctly (I was not), to extract the best performance out of them.
With speeds of 20 to 27 MB/s, the eero system does not replace wired Ethernet but allows you to leverage 200Mbits Internet connection properly. But what it lacks in supreme velocity, it makes up in reliability. Never once did I need to reboot a Beacon or the eero main unit. And if you really want to squeeze all the performance out your eero, check out their Pro Wi-Fi system that includes three eeros main units (tri-bands each, instead of dual-band like the Beacons). I would be very curious to see how much faster a Pro system is compared to the Home system. :)
Overall, the eero 2nd Generation is now on the top of my list in terms of reliability, flexibility and general performance. Extra points for making me realize I could better place the Beacons, while the competition only checked if the signal was strong enough for them to communicate. The price is also a bit high, but in the range of the Linksys Velop and other similar products. Nonetheless, for the same price I strongly recommend the eero system for anyone that has reliability or deadzones in their house.
Review Summary
eero 2nd Generation
eero inc.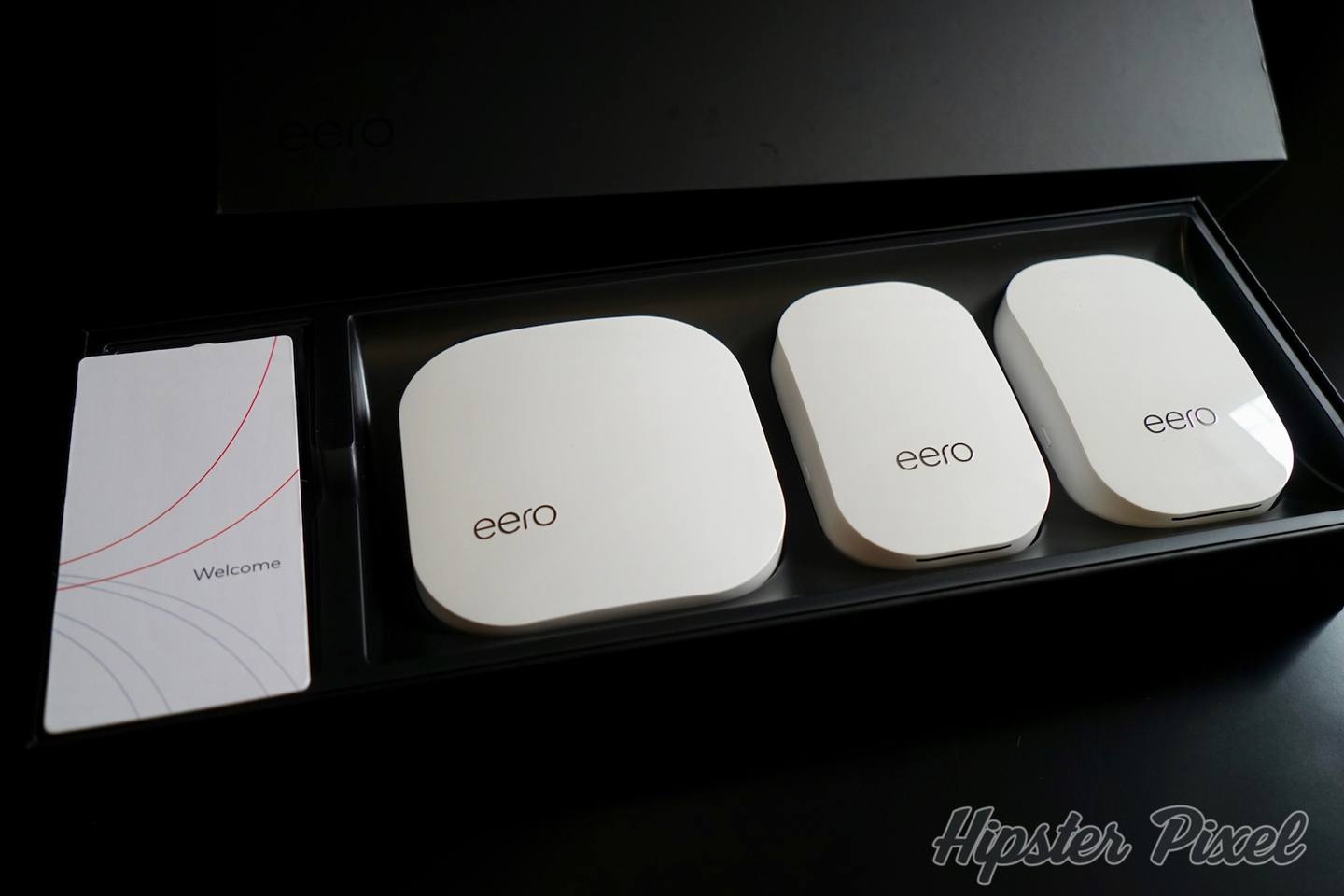 The Good Stuff
Simplest, fastest setup out there
Very reliable
Great design, useful night light
Flexible kits, 2, 3 or 3 Pro units
The Bad Stuff
Performance could be better
Price is slightly high