---
Juiced Board Dual 2018 Beta Review
I had loads of fun with this one. The Juiced Board that I reviewed last June is getting an update for 2018. The new version is faster, stronger and early quieter! I was lucky enough to ride it on the very last days before we got that usual winter snowstorm weather.
Note that this is a Beta 2018 prototype and will most likely change in the coming months before the final version is ready!
Editor's Note This is a Beta prototype version therefore no scores will be given as it has incomplete or unfinished features.
Design
The design is to the naked eye, exactly the same. Longboard style with some flex and a nice battery compartment. The difference is in the battery and on-board computer. This board has now 40% more torque, meaning that it accelerates much faster and can reach higher speeds. While the polyurethane is the same, 83mm 85A, smooth and shock absorbing for those awful Montreal streets, the hub motors are unchanged (all the magic happens in the on-board computer). The allow for that better torque and they also are almost silent! Well, as you can see in the video above, they are not silenced on a table, but when riding in the street they really make less noise than the wheels riding the pavement!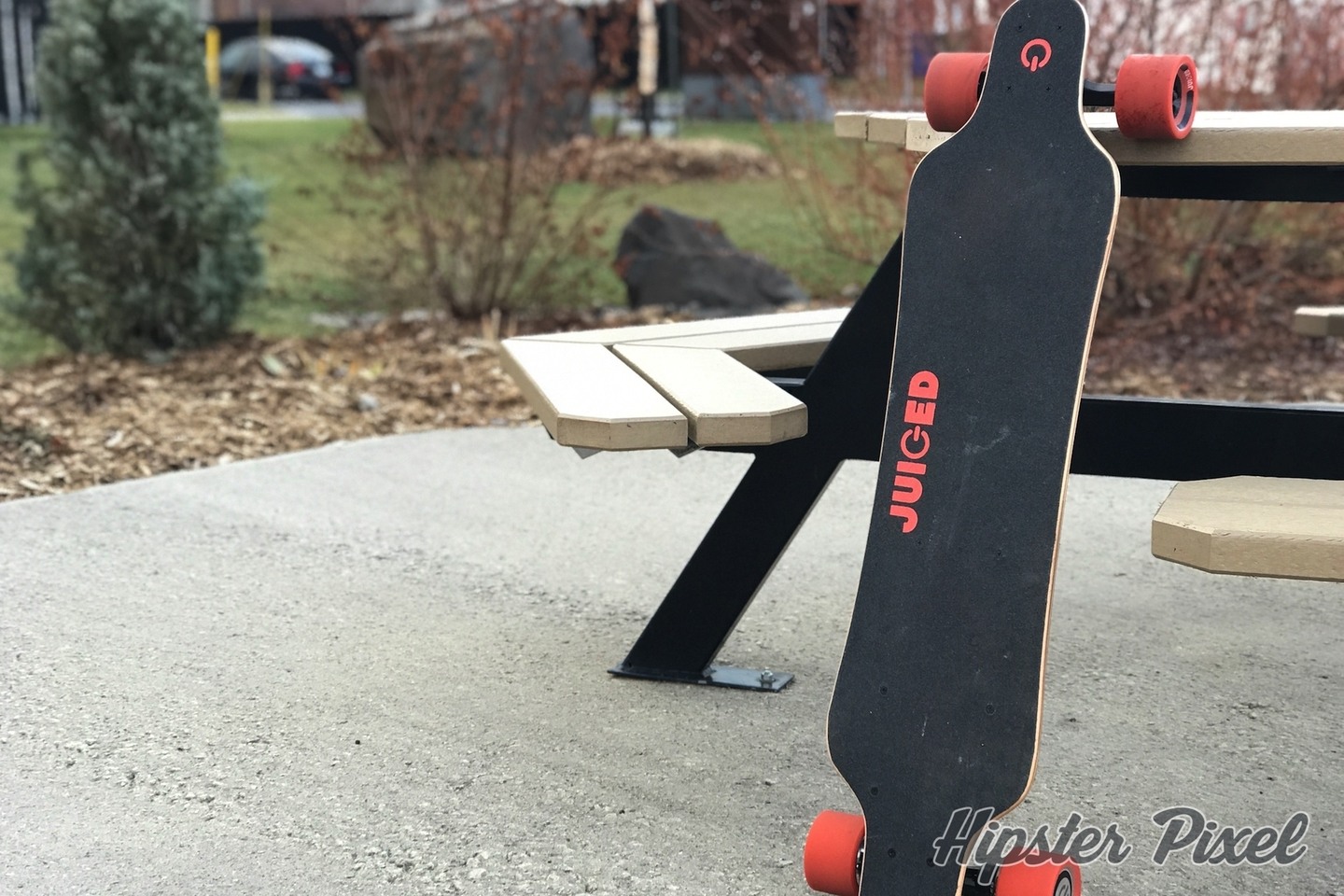 Features
40% more torque
Quieter hub motors
Gentle acceleration curves
All of the great things from the original Juiced Board
Performance
I was not able to ride this board for super long, basically the guys from Juiced got back to their Alberta HQ and had already gotten a bad snowfall. So they asked me if I wanted to take it for a spin until the snow hits Montreal. I sure did!
I rode the board daily for a week and then got that damn snow. :( I was able to reach 34.7 km/h on a straight street. About 5 km/h more than the 29.9 km/h I got last June! I will take these 5 kph anytime! Also, the stronger torque allows you to reach that top speed quicker and that's the best new feature!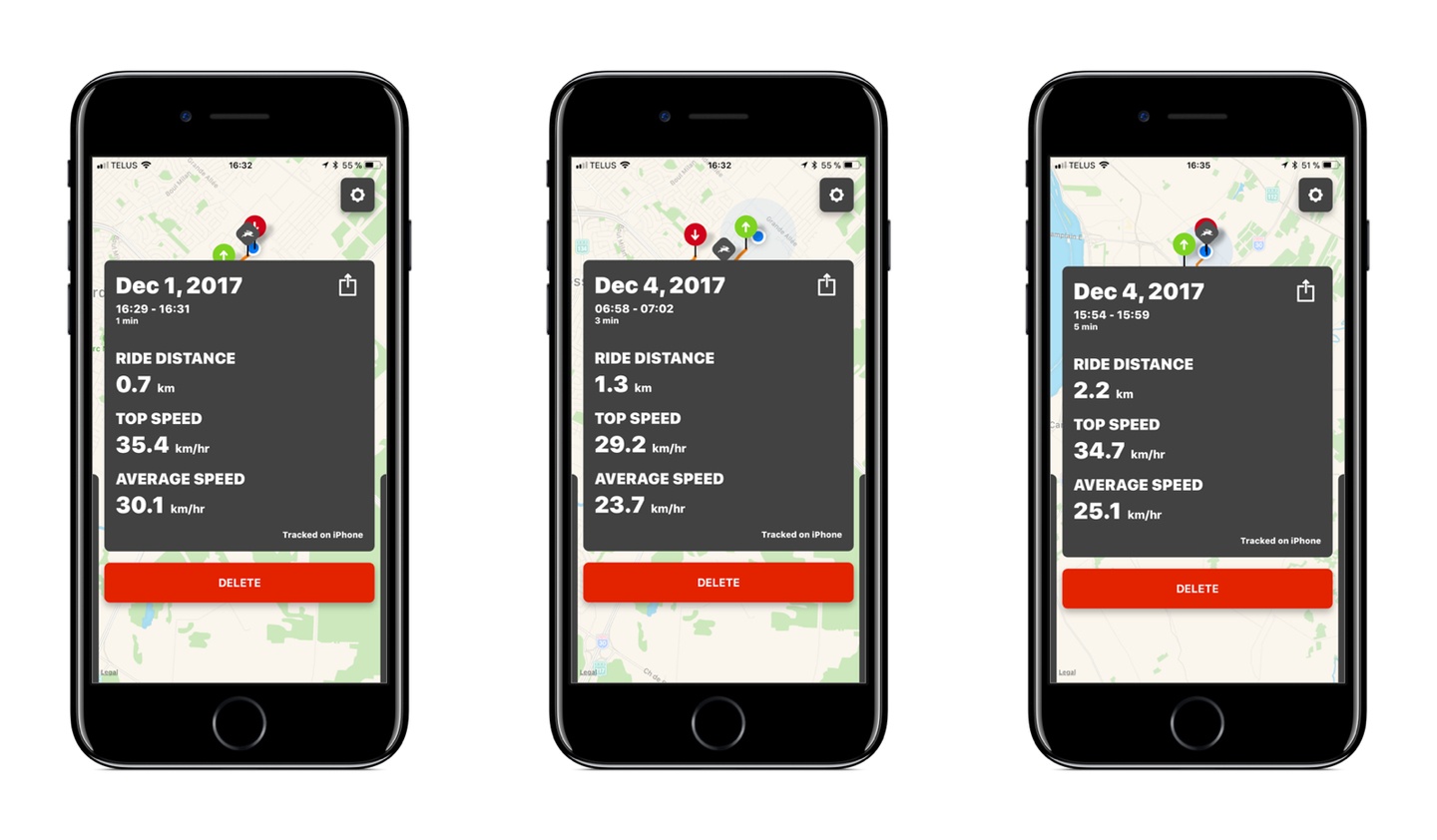 Ride App on iOS
While riding the Boosted Board, I loved the instant acceleration the board gave me and I never really got something like this on a hub motor powered skateboard. However, we are now very close with the new 2018 prototype Juiced Board Dual!
The outside temperature was between -10˚C and -2˚C so I was not able to really test the range of the board since cold weather really kills batteries. I was still surprised to be able to go to work from my house, a 4.4 km ride (2.73 miles), and still have the board's LED blink green. Which means between 50% and 100% of capacity. I did not have enough time to ride it without recharging during the day so I can't tell if I would have gotten a 8.8 km range, more or less.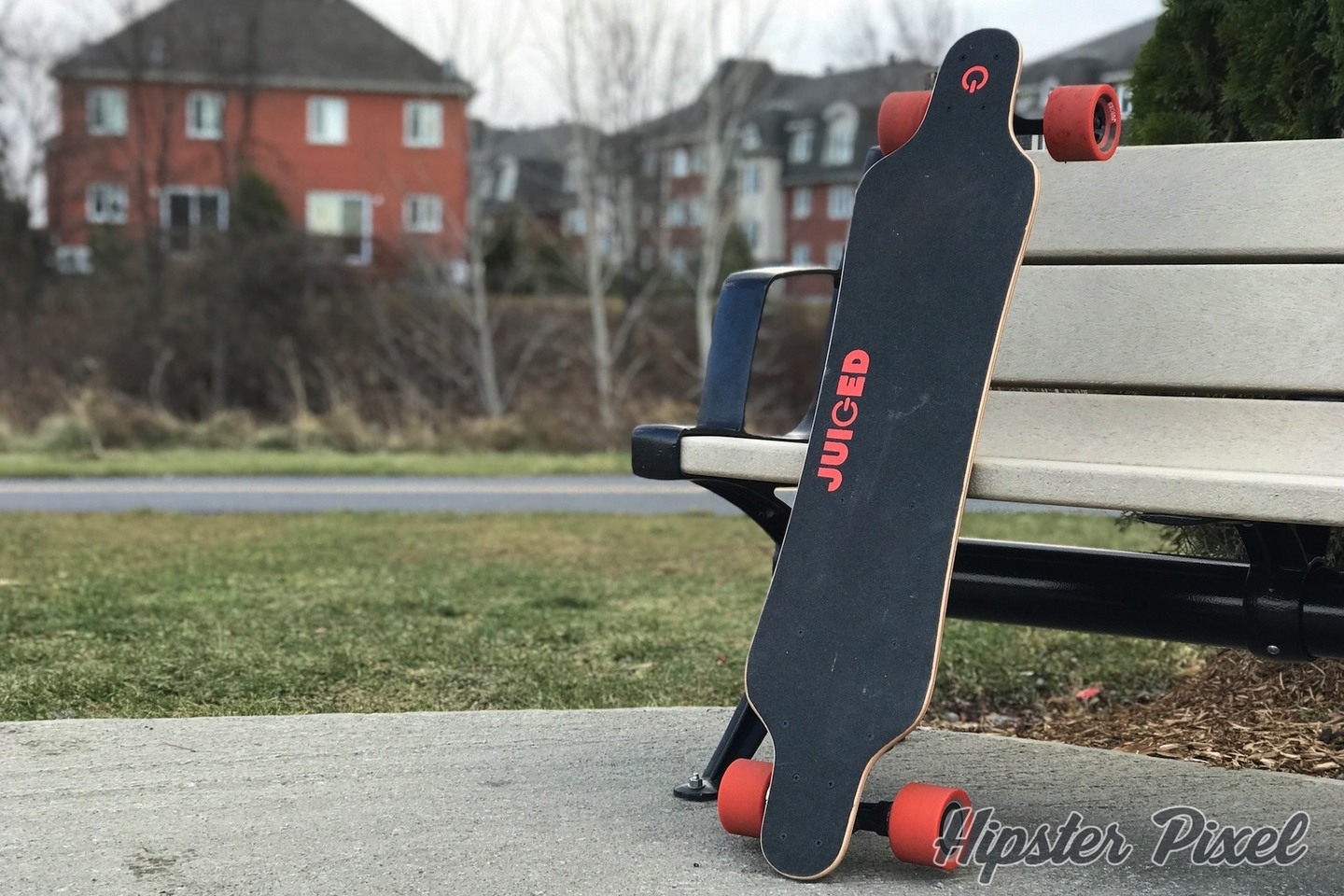 The new acceleration curves are better suited for beginners or to limit your speed in more crowded areas like campuses. My son that never rode a skateboard was able to get by quite well on the Turtle Mode set to Low. The acceleration was gentle enough not to throw him out of the board and the top speed is also limited so he does not get hurt.
When you gain confidence, you can move on to the next speed mode and, in my opinion, get the real fun out of the Juiced Board!
Conclusion
The fast charging in just above 60 minutes, the quality deck and the overall amazing experience are still there and I really enjoyed the few days with the Juiced Board Dual 2018 Beta. I just wished for a gray Christmas so I could ride it a few more weeks, this did not happen. I know it's selfish :P
As things are, this new prototype could really well be a final product. I really hope the team at Juiced have accessories lined up for this year. A larger battery would be amazing as well as waterproof bearings since the board itself is waterproof!
Expect another review once the final version comes out later this year (no official date yet). For a 799$ electric longboard, all this performance is quite impressive and I can foresee a great future for these boards!