---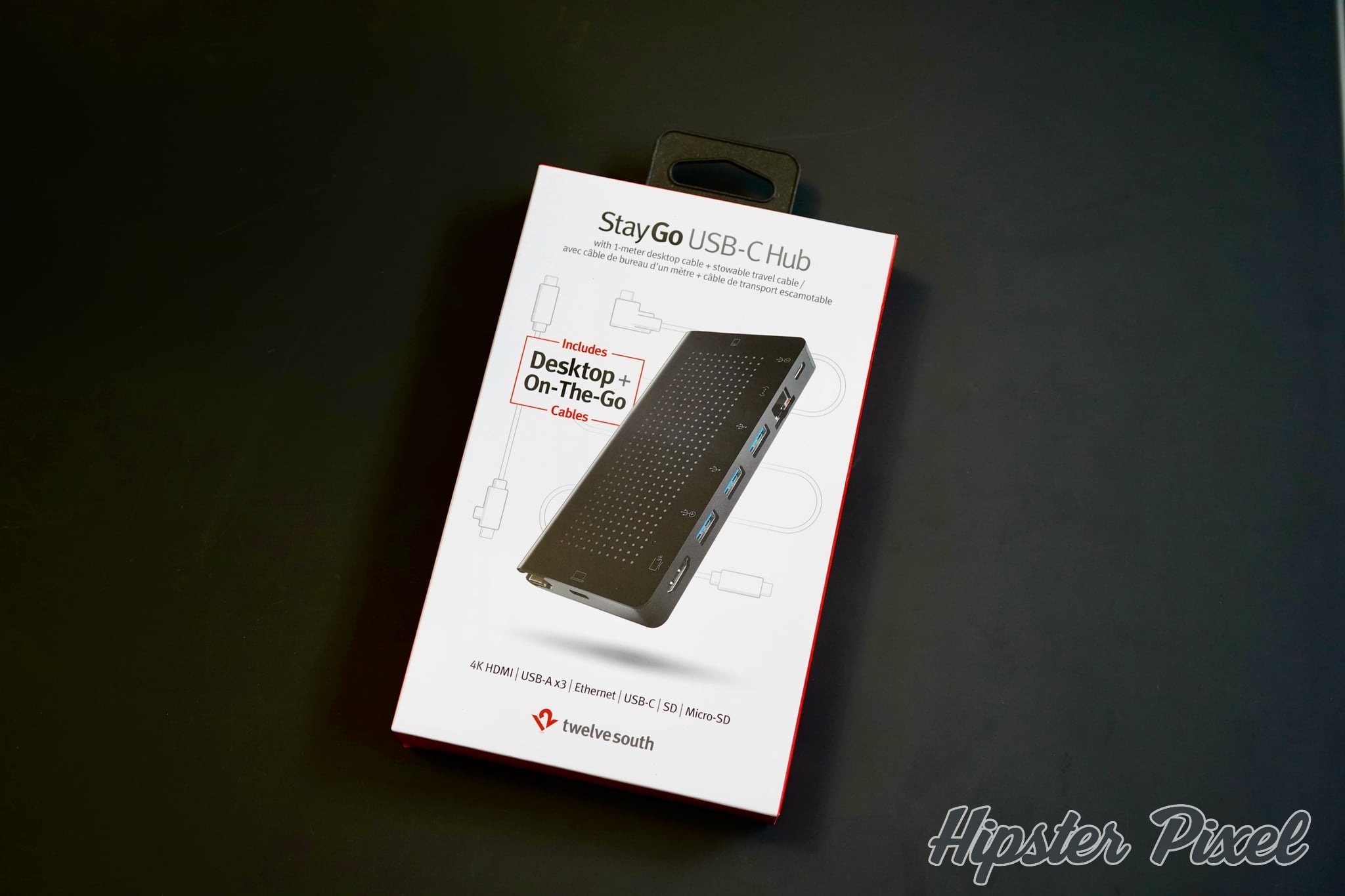 Twelve South StayGo USB-C Hub, the Hub to Rule Them All [Review]
There are a lot of Thunderbolt 3 and USB-C in the market and they usually look like a thick slab of aluminum powered by a large power brick. They are ideal for your home office or office, but that's where you will set them and you will never travel with them.
That a pity and often time, on the go, I have the same needs as when I'm at home. I need to connect devices to my USB-C port MacBook Pro but there are no good portable docks and I don't like bringing a complete kit of dongles when I work outside…
The StayGo USB-C Dock by Twelve South is a solution to both at home and on the go, get it? StayGo? So let's see if this hub really fulfills the promise of being a good home dock and a good on-the-go dock and as I'm a geek for numbers, let's run a few benchmarks with it!
Design
The StayGo is a small size dock that still offers great connectivity for the size but it's special power is how I how they decided to manage power. Instead of using a super thick power brick, they are reusing the power brick that comes with your MacBook Pro and offers 85W of passthrough power. And the cable to plug it into your Mac is hidden inside the dock! So when you are going out, you simply take the dock with you and you don't need to think about the cable or have a weird dangling cable that's in the way.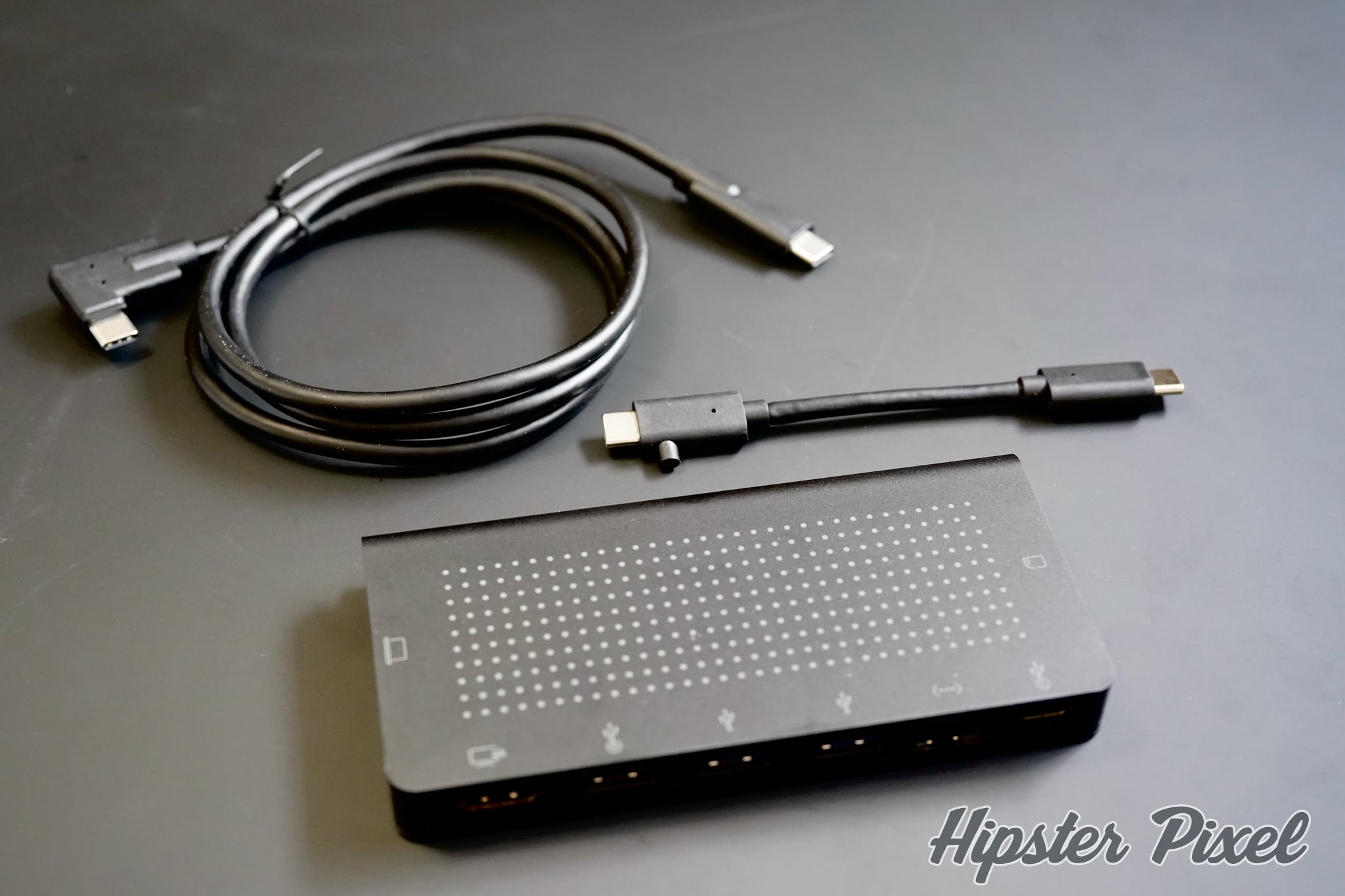 The whole dock acts as a heat sink for the heat generated through its use and it's one of the only, if not the only one, with both a microSD and SD card reader. Three USB-A 3.0 for your fast external storage and one of them gives out 7.5W for charging your phone. The HDMI shoots out 4K video at 30Hz and the Ethernet jack is a Gigabit port that can do 1,000Mbps.
But where this little shines, is that it comes with one right angle USB-C cable for the desk and it can even store a short USB-C cable inside itself for use on the go! So you just grab the StayGo and run! No need for extra cables!
The matte black design is great and it feels amazing in the hand! Great design, great looks!
Features
Compact form factor
Power pass through (70W for your Mac)
3x USB-A, 1x Gigabit Ethernet, microSD and SD card ports
1x 4K HDMI at 30Hz
Now power cord
One integrated short USB-C cable
Performance
Let's first talk about the power performance of the StayGo. From the marketing document, Twelve South says it's offering a passthrough of 85W for charging a MacBook Pro. This is very good as it closely matches what the 2018 and before MacBook Pro 15" were requiring. The new 2019 16-inch MacBook Pro requires 96W so you might not be able to run it to its fullest speed without seeing a few percentage points drop. For a compact dock like this, it's not bad at all and a good compromise. Worst case, when you leave your computer to eat or make coffee, it will regain the lost points.
When I plugged the MacBook Pro charger, it displays 86W of charging current (for an 87W charger). And when I plug it in through the StayGo, I have 72W displayed in the System Information. The way it works is that the 85W are passed through, but the StayGo needs 15W to function, so you are left with about 70-72W of charging power to your laptop.
As for external drive performance, I hooked up my CalDigit Tuff Nano buy it now ), a disk that can do 974 MB/s and 792 MB/s in read and write speeds to one of the regular USB3 port of the StayGo. I got 419 MB/s and 57 MB/s in read and write speeds, but then when I used the powered port, the one that can provide 7.5W Fast Charging, I got 421 MB/s and 327 MB/s in read and write speeds. So if you need speed with an external SSD, make sure you use the powered port as it's much faster than the other ones. However, it's nowhere near as fast as a Thunderbolt 3 port which can basically double the bandwidth speed. Remember that the USB-3 ports are the 9 Gbps type, a lot slower than the 40Gbps of a Thunderbolt 3 port.
As for the microSD and SD card ports, yes you have both so you don't need to carry an extra microSD to SD card adapter, they are the UHS-I type that can do about 104 MB/s. With a Kingston SD card rated for 90 MB/s and 80 MB/s, I was able to reach 67 MB/s and 62 MB/s, not quite the maximum power of the card but close.
Given all of these performance numbers, it's clear to me that the StayGo does not try to be the fastest or more powerful dock, after all it does not require a huge power brick as does the other big boys like the OWC Thunderbolt 3 Dock or the Elgato Thunderbolt 3 Dock . The StayGo is also not the same price, and all of its specs are detailed on the website for full transparency.
Conclusion
The StayGo is a marvel of design giving how much it packs in such a simple case. It's the fastest, nor is it trying to be it. It's a "good to great" performer that has the smarts to be very useful on the go or on your desk. It offers the possible and flexibility to be all you need on the go, no need for those damn dongles and at the same time, it can be the dock for the office where you have Ethernet, an external monitor and a few external disks. This is where it shines, it is more flexible than any other small docks on the market, and it still can offer great performance to be able to resume work on the go without any need of dongles.
If you need the superpower of a Thunderbolt 3 dock, then either you wait to be home and use all the dongles your MacBook Pro needs, or you acquire the OWC or Elgato docks. Note that instead of being 99 $US these models from the two companies are about 300 $US.
Overall, the StayGo does what no other docks do well, be practical both on the go and at home, while giving enough ports, power and performance to be well rounded for most of the setups out there, even professionals on the go!
Review Summary
StayGo Dock
Twelve South LLC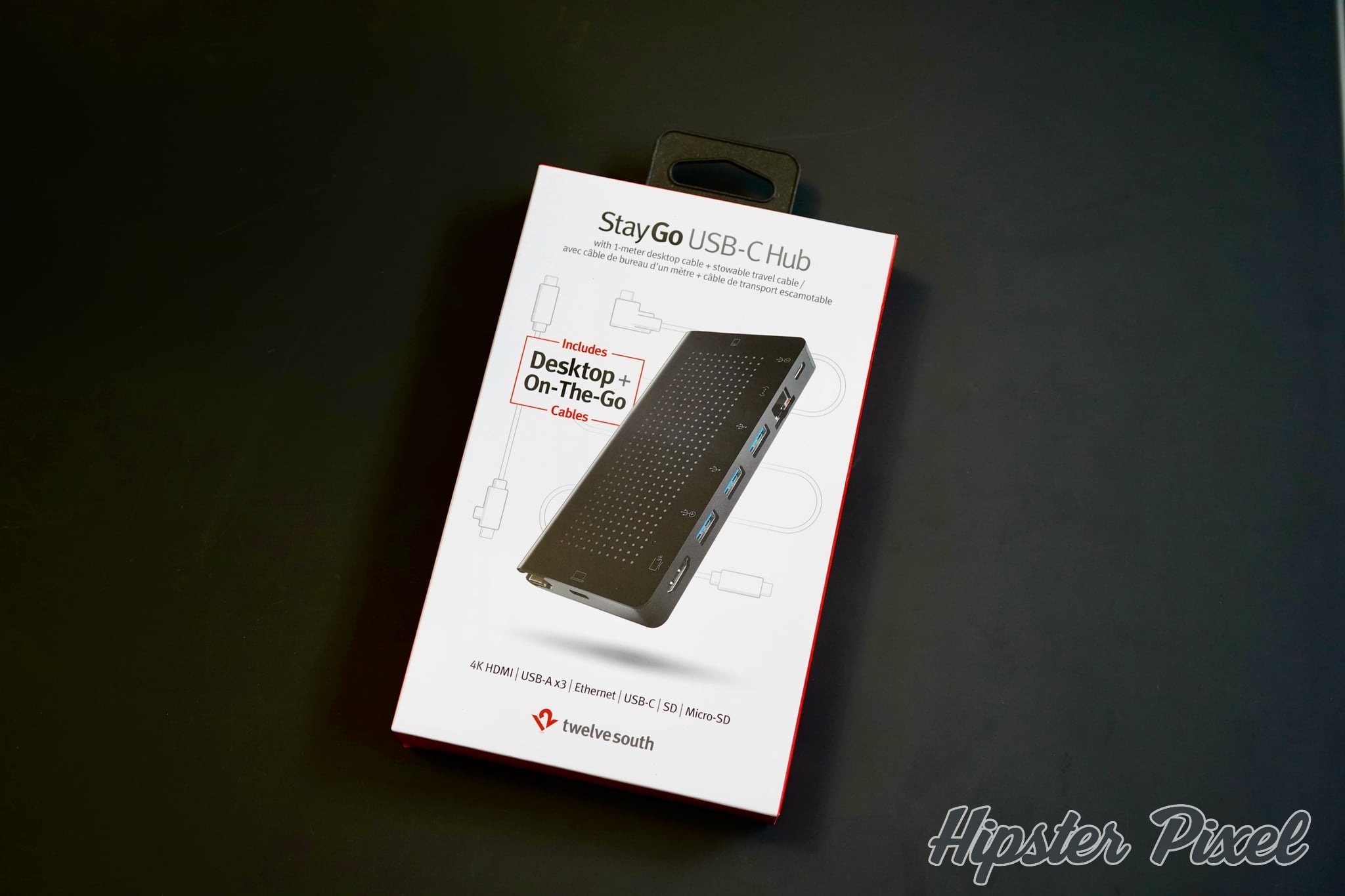 Imagine a dock that can be good at home and on the go, while allowing you to leave all your dongles at home. A dream? No, it's the StayGo by Twelve South!
The Good Stuff
Great design
Lots of ports
Seperate microSD and SD ports
Embedded cable for on the go usage
Good performance
The Bad Stuff
Pros would like a faster model
HDMI 60Hz would have been much better