---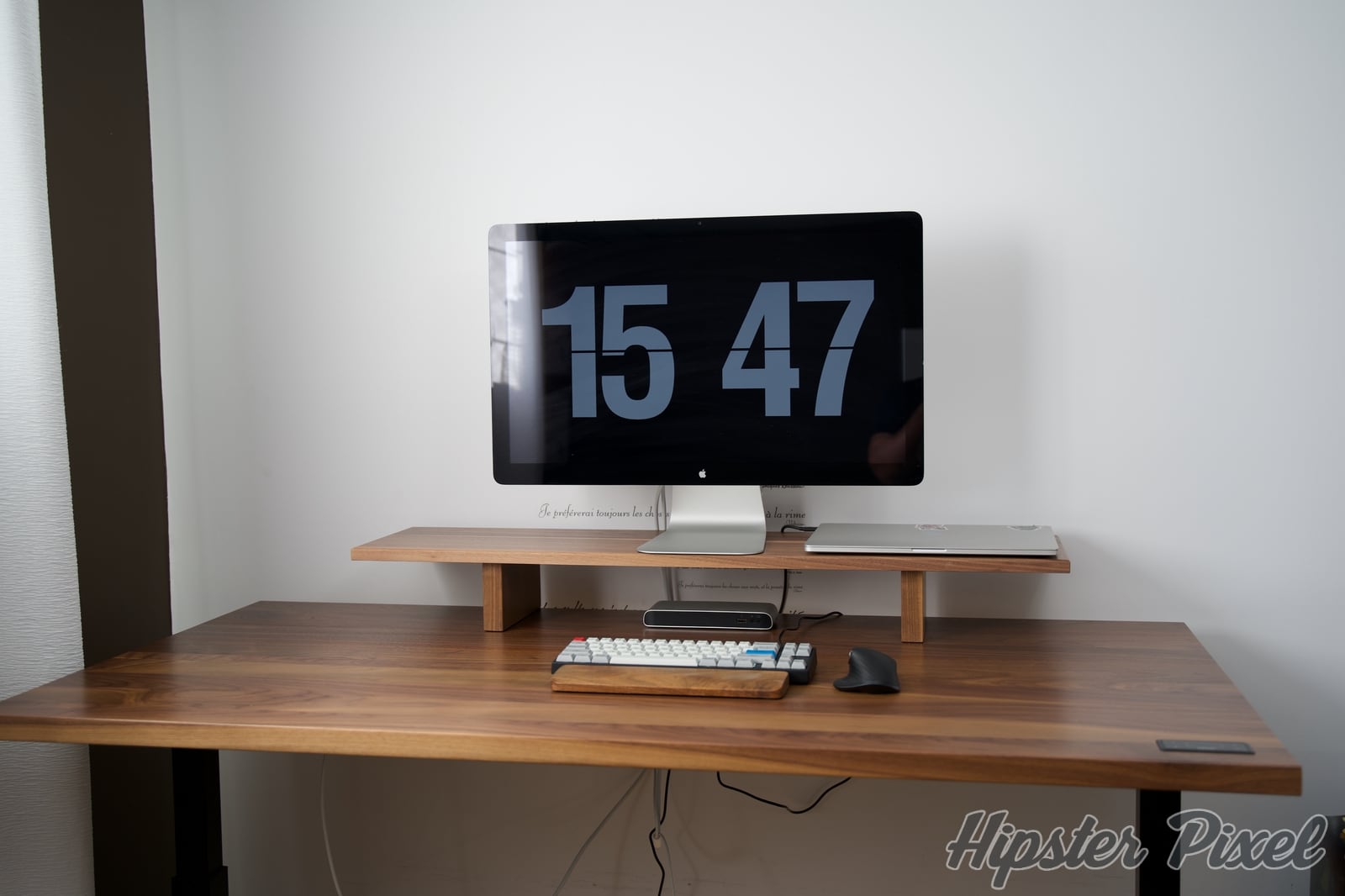 ergonofis Sway, a Solid Walnut Sit Stand Desk With Panache [Review]
As things are with 2020, we had to work from home and as much as I like my little single-room and BDI Sequel L-shape desk, it's not enough for two people working from home, every day. There goes the search for a new better desk, ideally not as big so that we can both work in the same room.
A few years ago I reviewed the Autonomous SmartDesk 2 and that got me hooked on standing desks. As much as I loved this desk, it had to go, once again for the lack of space. In that small office, we already had the BDI Sequel desk and a Dutallier armchair. At work, we were in the process of expanding the office space and renovation, therefore we had temporary desk on top of which I had a PrimeCable Ergo Riser. Still, I would work standing for the whole day. I love this way of life.
So when looking for a new desk, I kept with my usual pattern of looking for hardwood and ideally, locally made. This is where Ergonofis enters the ring.
ergonofis is a office furniture company based in Montréal that leverages the know-how of local wood working shops to build incredible wood top sit stand desks. Their systems are not only low-noise, but they can go higher and lower than most of the competition while offering a stable desk (even with dual monitors and a wooden shelf), and they make this incredible, low profile, control pad that is installed inside the top desk.
I selected the ergonofis Sway with a black frame and a walnut top desk. But before I jump in the details, let's go over the other products that ergonofis makes.
Design
There are three types of desks made by Ergonofis, the Shift, the Sway and the Alive desk. The Shift is a laminated top desk with a mat finish that resists fingerprints. The Sway is made of hardwood in maple, birch or walnut and the Alive features a walnut or suar live edge.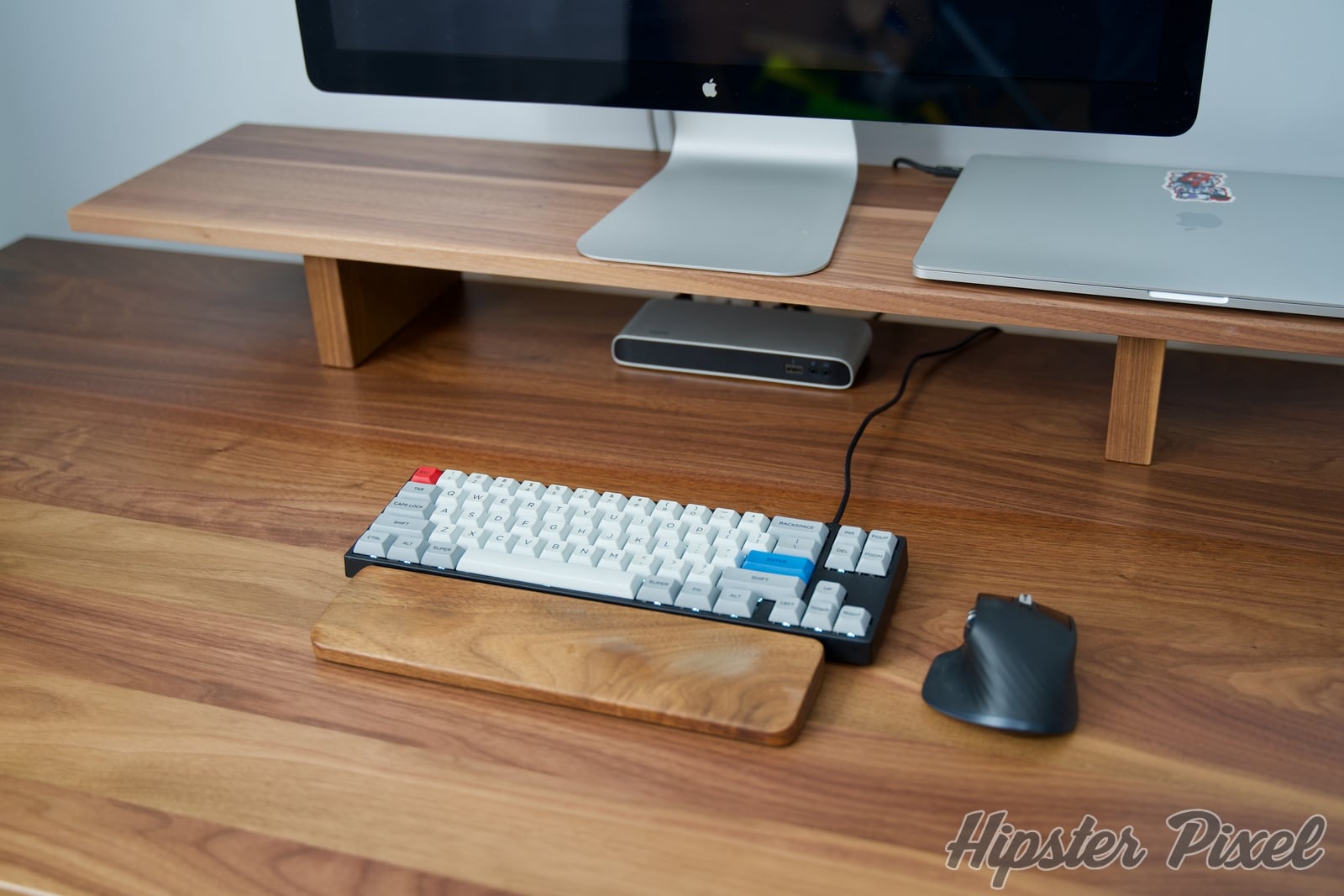 Of course, I choose the walnut as I'm a sucker for this essence of wood. I have a complete living room set from Verbois, the MPD Collection, in their tainted walnut colour. I also have another few Puzzle Collection tables from Verbois as well as a dining room table, once again with walnut. No need to tell you that I REALLY love walnut!
The Sway Desk is a 30 x 60 inches desk with a solid walnut top desk of 1 1/4" thickness that is finished with a clear mat lacquer. This means that you are able to enjoy the walnut grain while at the same time have a finish that does not attract fingerprints.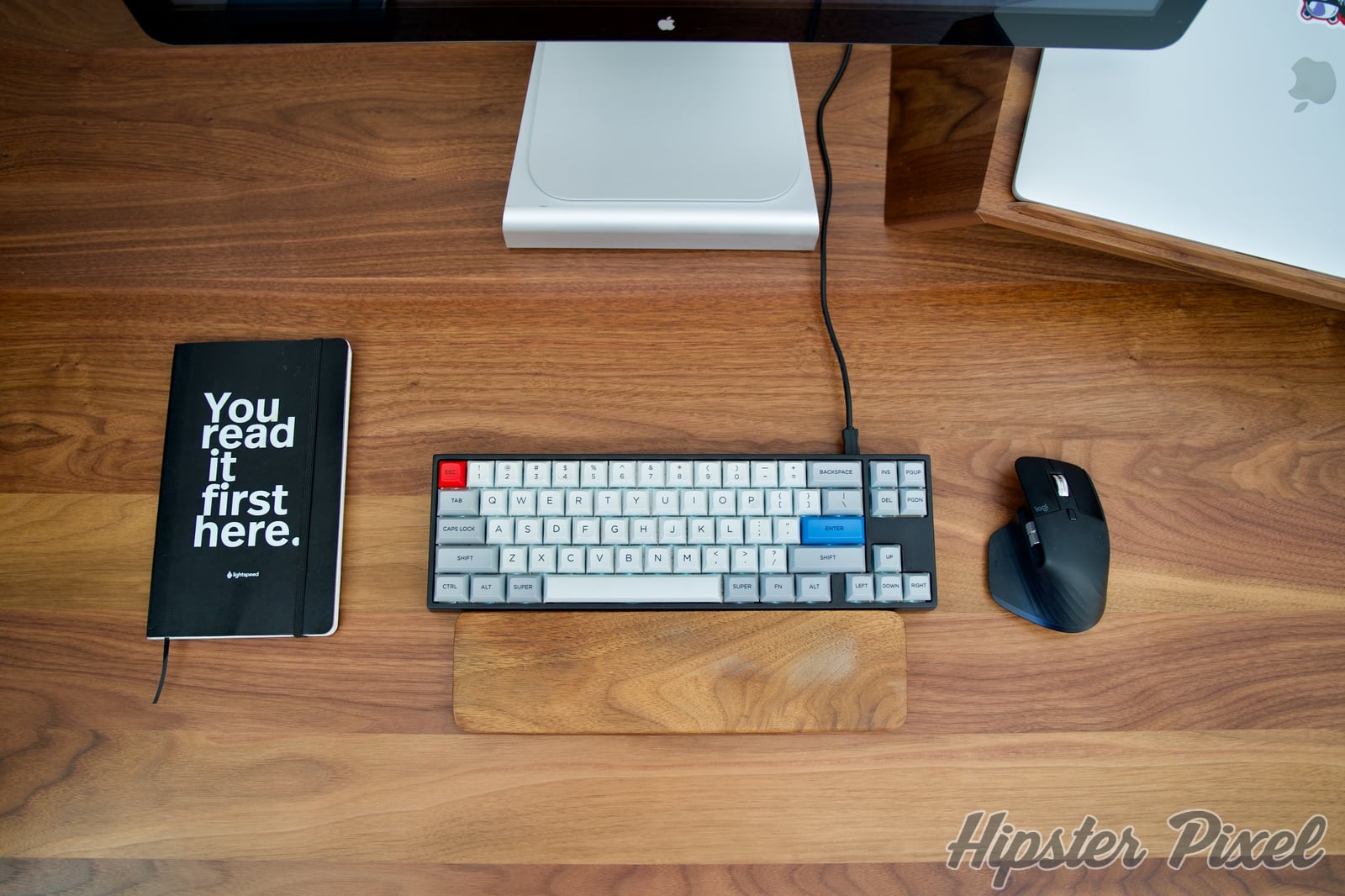 The sit-stand mechanism is installed using pre-drilled holes to remove any guess work and it is rated for 300 lbs of lifting capacity. It goes higher and lower than other sit-stand desk I tried and does so with a very low humming noise. The cutest and, frankly one of the features that made me really love the Sway, is the control pad that is built inside the top desk. Nothing protruding in the front, only a small 9cm x 4cm control pad with 5 buttons. Two memory presets and a nice digital display that feels good to use.
Accessories
I chose the model without any grommets and I decided to add the desk shelf to support my laptop and display and has a nice way to add accessories under the shelf like my elgato Thunderbolt 3 dock . Once again, the shelf is made of solid walnut wood to match with the desk. As it is with natural wood, I did end up with a slightly lighter tone of wood for the shelf than for the desk. I prefer the desk colour that goes a bit more towards the brown side.
And finally, I opted for the Neat filing cabinet, a two-drawer cabinet for standing next to me and store away files and knick-knacks. The front of the filing cabinet is also made of wood, walnut in my case and the rest of the cabinet is black. Once again, I really love wood accents. It's also a bit brighter than I would have liked, some of the parts of the top drawer are quite blond. Not a huge problem, it's something you need to expect when you order natural wood.
Features
1 1/4" thick solid walnut table top
Clear matte catalyzed lacquer
Dimensions of 60" x 30"
Predrilled holes for installation
Handmade in Montreal
Dual motor sit-stand system with 300 lbs capacity
Height adjustments from 22,7" to 48,7"
Two memory adjustment
Collision detection system
Travel speed of 1.5"/s and < 45 decibels of noise
Installation
Given that I have some experience, I figured that this would not be very hard. It sure was not complex, but I did get a bit of resistance from a few screws. You see you install the legs "guides" first using wood screws and then you slide in the mechanical legs. They are attached with 6 screws to afix them to the guides. Looks simple enough, right? Well, sometimes the screw does not want to go in, sometimes you can do most of the work with just your fingers. And the most challenging one is the one closes to the exterior sides of the desk where you have about 90-120˚ of torsion with the Allen key.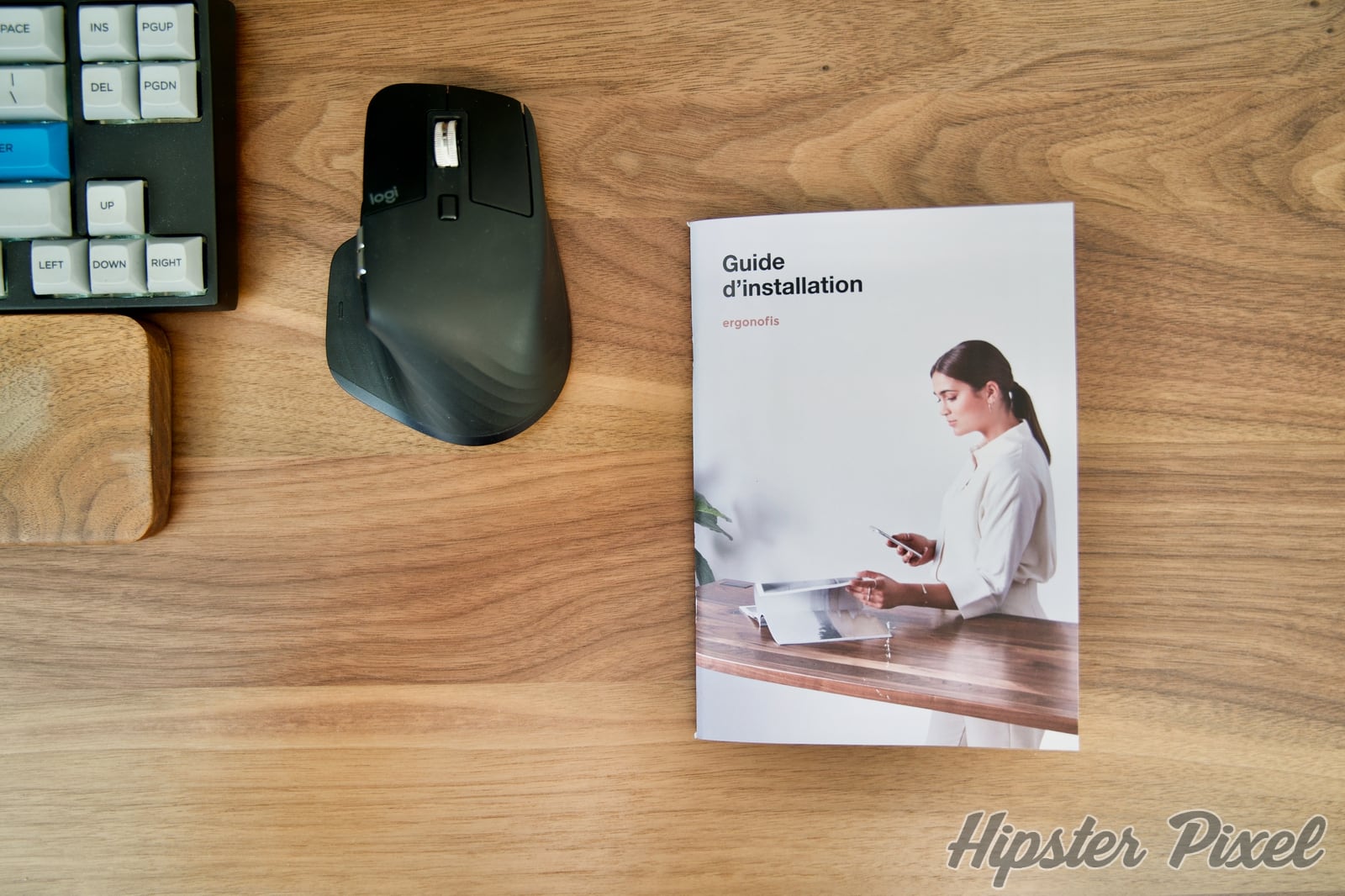 Overall, with the few pesky screws, it too over 2h to do assemble the whole thing with basic cable management. It's very simple to do, I just got a few screws that were slowing me down. Once completed, though the thing is incredibly sturdy! There is a rod that goes along the length of the desk, right down the middle that sits on top of the leg guide and leg plate hat really adds lots of strength to the whole thing (after all it's about 5-6 extra wood screws on each side!
Configuration
Once you have finished doing the grunt work and you flip your table on its legs, you need to initialize the system. The instructions are very clear on how to do this. Bring it to the lowest setting and then you are ready to go!
I'm amazed at the number of features you can do with this seemingly simple keypad. It has only four visible buttons, plus the Ergonofis logo is a hidden fifth function button. Not only can you save two presets (sitting and standing), you can raise and lower it with the arrow buttons, but you can also have access to more features to make sure you do not damage your workspace.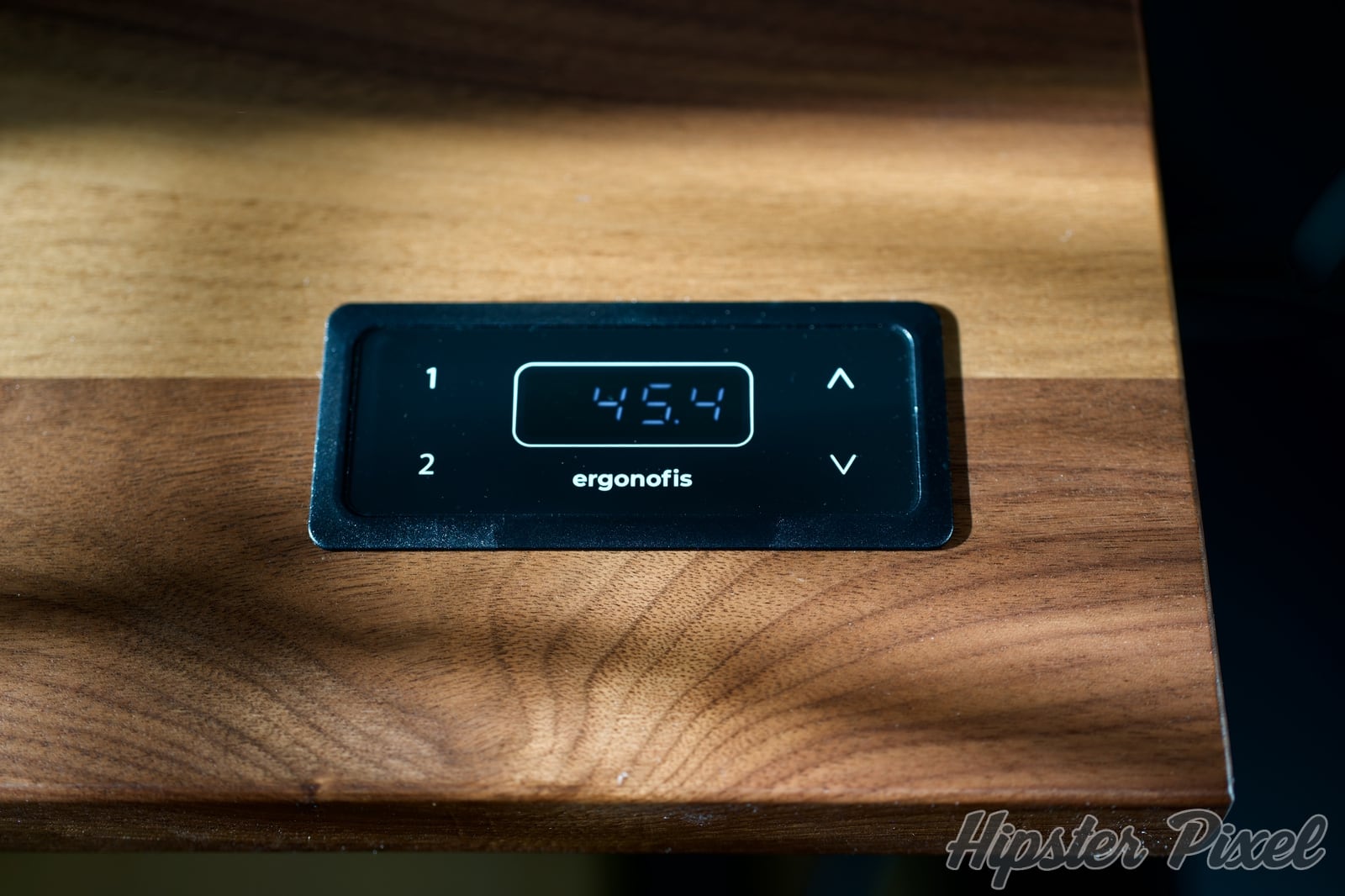 Anti-collision System
The anti-collision system allows the desk to detect a resisting force when lowered or raised and it stops and reverse for 1/2 inch. Very useful when you are still setting up your office, you might think that something next to the desk might be just a little bit under it.
I myself triggered it a few times when trying different configurations.
There is also the possibility to set a minimum height for when you have the Neat Filling Cabinet under your desk. In theory the desk can be lowered down to 22.7" but the cabinet needs 27" of clearing. Once set to this height, you can rest assured that the desk will not damage the cabinet or vice versa.
Setups
I was not sure if I would opt for the Desk Shelf for my monitor or reuse my old Elevation Stand and put the laptop on the Laptop Stand by ergonofis. So I tried both and here you can see the pictures.
The first setup allows me stay minimalist and have my laptop closed focusing exclusively on my work while having a nice place for my Elgato Thunderbolt 3 Dock right below the display, centred on the desk.
The second setup introduces a bit more aluminum in the mix and allows me to keep my laptop opened or closed next to the main Thunderbolt monitor. I've gone with the second setup for over a week but ended up going with the first setup after that. I'm still rocking this setup for now while I gather more accessories. Expect more pictures soon!
Conclusion
After using the ergonofis Sway desk daily for a few weeks, I must say that it's a very refined experience. Not just because of the real wood, but also because the system gives out very low noise and moves very fast. The fact that I can get the desk higher and lower than the competition helped me doing nice product shots, which you've already seen on the site. I really, really love the inlay control panel, this makes a huge different not only esthetically but also functional since I can't rip it off by walking too close to my desk.
The desk really is a beauty, I can't put enough emphasis on this. The wood grain, the colour and the mat catalyzed lacquer is just perfect! I would not change a thing on it! The other accessories are also quite impressive, the walnut really brings the whole kit together!
Installation took more time than expected but after that you are set to rock one of the most amazing offices out there! Now, I love minimalism and all, but I think I need a few more accessories, perhaps a new keycap set for my mechanical keyboard, a leather desk pad… so many ideas!
I would strongly recommend the ergonofis Sway desk, and all of their products, they are proudly made in Montréal, Canada and they love their craft it really shows!
Review Summary
Sway Sit-Stand Desk
ergonofis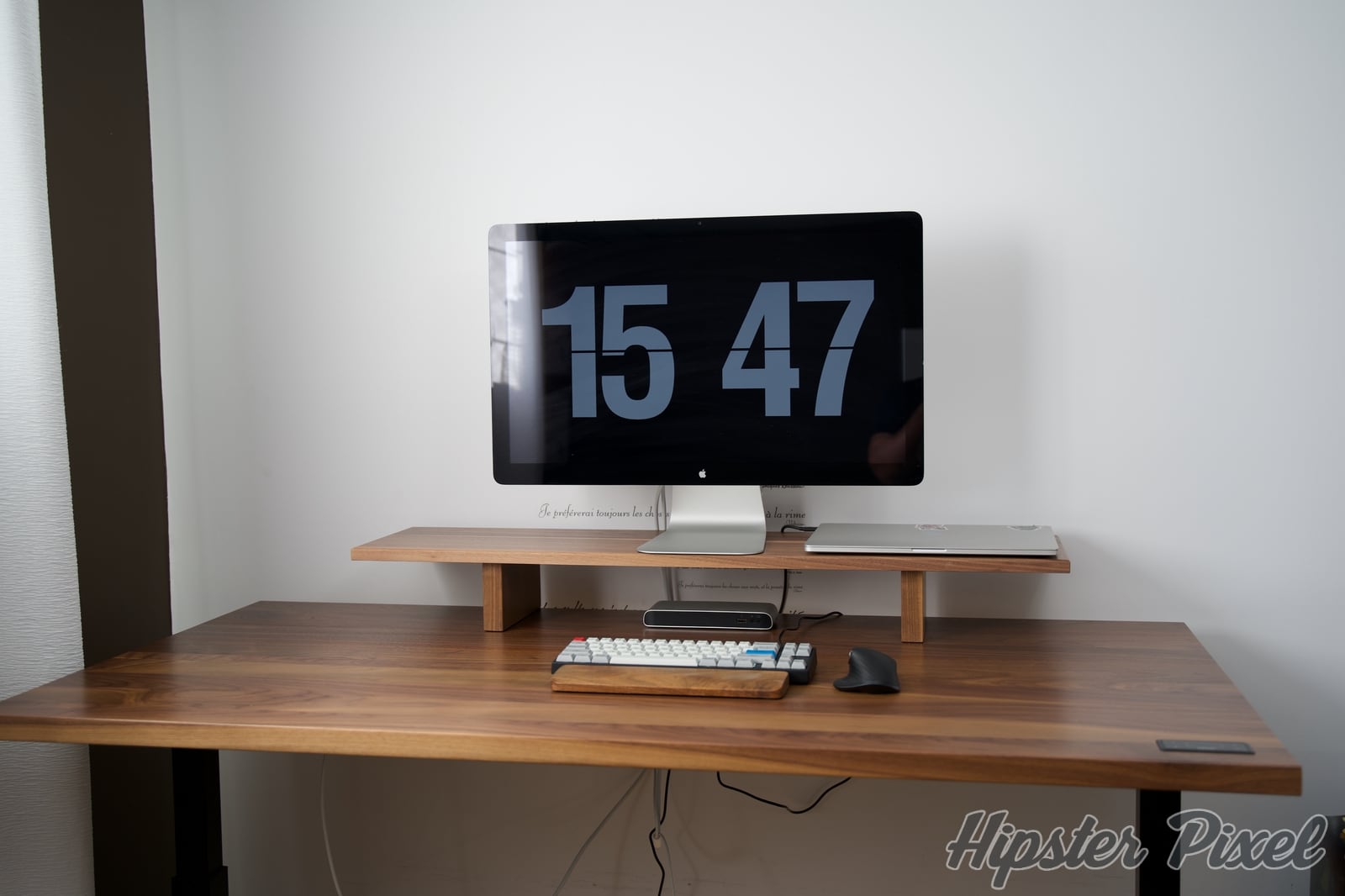 Mixing quality craftsmanship and modern aesthetic is never wrong, the ergonofis Sway is made of solid walnut by people that know how to design and build incredible furniture. Add a desk shelf or a laptop stand and your office will be one of the most amazing out there!
The Good Stuff
Incredible materials
Great design
Sturdy and stable
Great matching accessories
The Bad Stuff
Installation could be perfected