---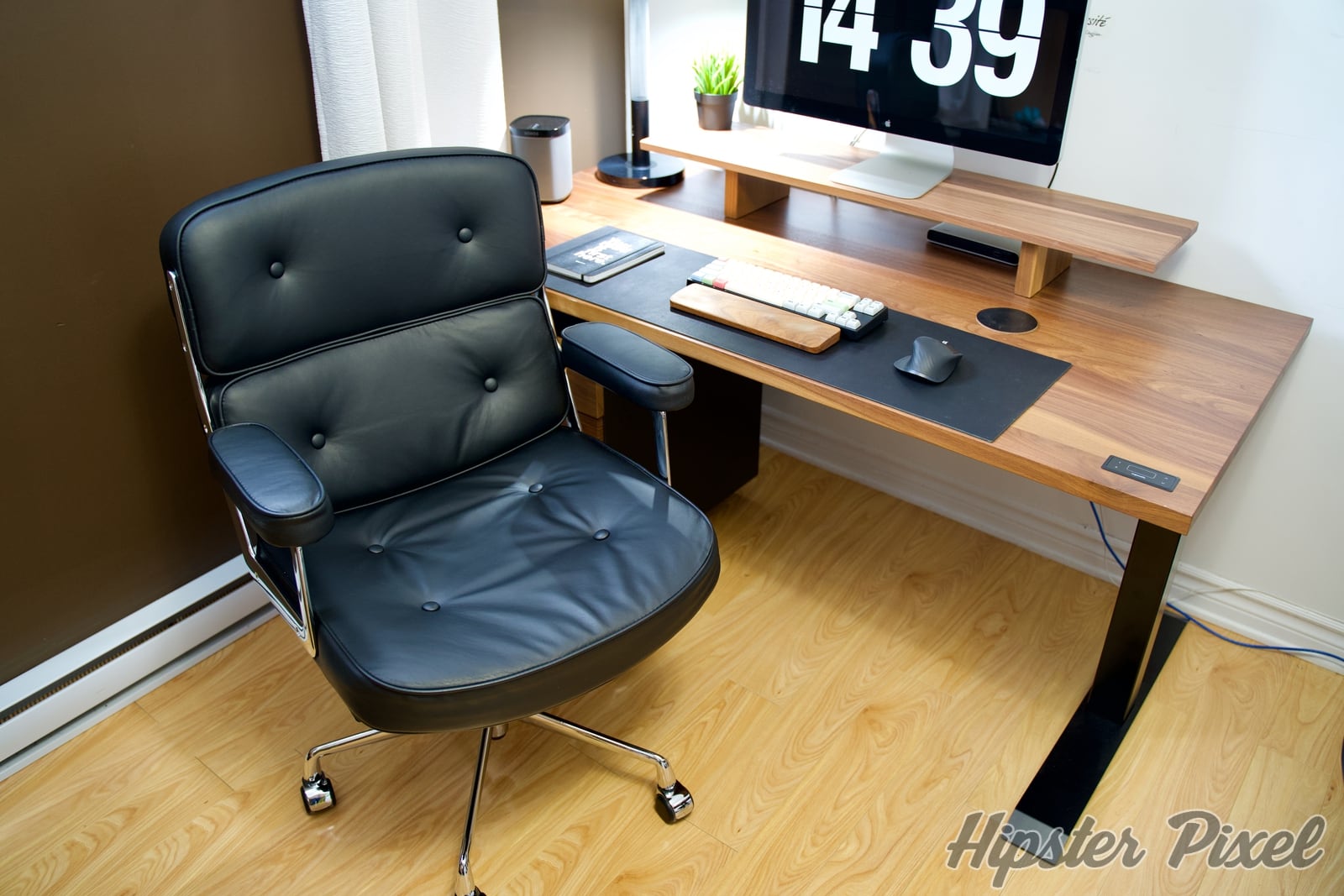 Eames Executive Chair, a Mid-Century Modern Computer Chair [Review]
When looking for a chair the easiest thing to do, and probably the worst, is to get to your local office supplier store and get a cheap chair. Easy-peasy, right? Well, if you are looking to mess up your back and joints sure, go right ahead! The alternative is to buy a high-end computer chair from big brands like Herman Miller or Nightingale. But what if you also want something that has a great design? Something that does not scream GAMER?
Mid-century modern design enters the chat.
The half a century ago, there were designers of the likes of Charles and Ray Eames and Dieter Rams that produced furniture and electronics that were much more modern than other design trends of the times and offer not only pretty objects to look at, but also introduced many design principles and particular design processes.
Being a big fan of Dieter Rams, I even backed the Kickstarter funded documentary Rams, I try to design my home office for 2021 with modern elements but also try to take inspiration in the mid-century modern style. I recently reviewed the Ergonofis Sway Desk, a sit-stand desk made of pure walnut with black accents. So for it I had to find a matching chair that was kept inline with the colour scheme and the overall design.
This is where the Eames Executive Chair comes in. Just like other create creations from the previous century, you can get the real thing currently made by Herman Miller which starts at 4,895 $US. Or you can try your hand at a replica, something that for all intent and purposes looks like the real deal, but only costs a fraction of the price.
There are many replica makers out there, and sadly not all of them are created equal. Some are of an incredible low quality, so I started to research those brands and try to scour the Internet in search of reviews with details. One company stood out of the pack with regards to quality, Eternity Modern.
Thankfully, they have offices in British Columbia, Canada, and can ship their goods all over the country! I decided to get one of their Eames Executive Chair for my office, so let's go over that great-looking chair!
Design
I would say that this is where Eternity Modern got me first, on the look of the Eames Executive Chair. It looks just like the real deal! You have the same design with two back cushions and one thick seat cushion that, just from the pictures, looks very comfortable.
Many of the replicas out there might look great on photos, but once you actually try them, you realize that the leather, fabric and foam are of terrible quality. This was the risk I wanted to take for my chair as I had no way to see before I buy what I would really end up with.
If you really are a good observer, you might notice some very slight difference between the Herman Miller one and the Eternity Modern version. The casters are slightly different, so is the shape of the seat cushion. Just like the real deal, you can adjust the height with a pneumatic, as well as the tilt and tilt tension.
The Eternity Modern version has less customization possibilities as the Herman Miller one, as it only has one type of metal frame, polished aluminum, and six full-grain leather colours to choose from. Unless you have extremely specific colour needs, the six offered normally covers most of what you might want.
The Eames Executive Chair has non-removable arm rests with thick foam padded leather rests that are right at the elbow height for me. The back does not go as high as some might like, no headrest at all, but for me the top cushion fits right on my scapulas.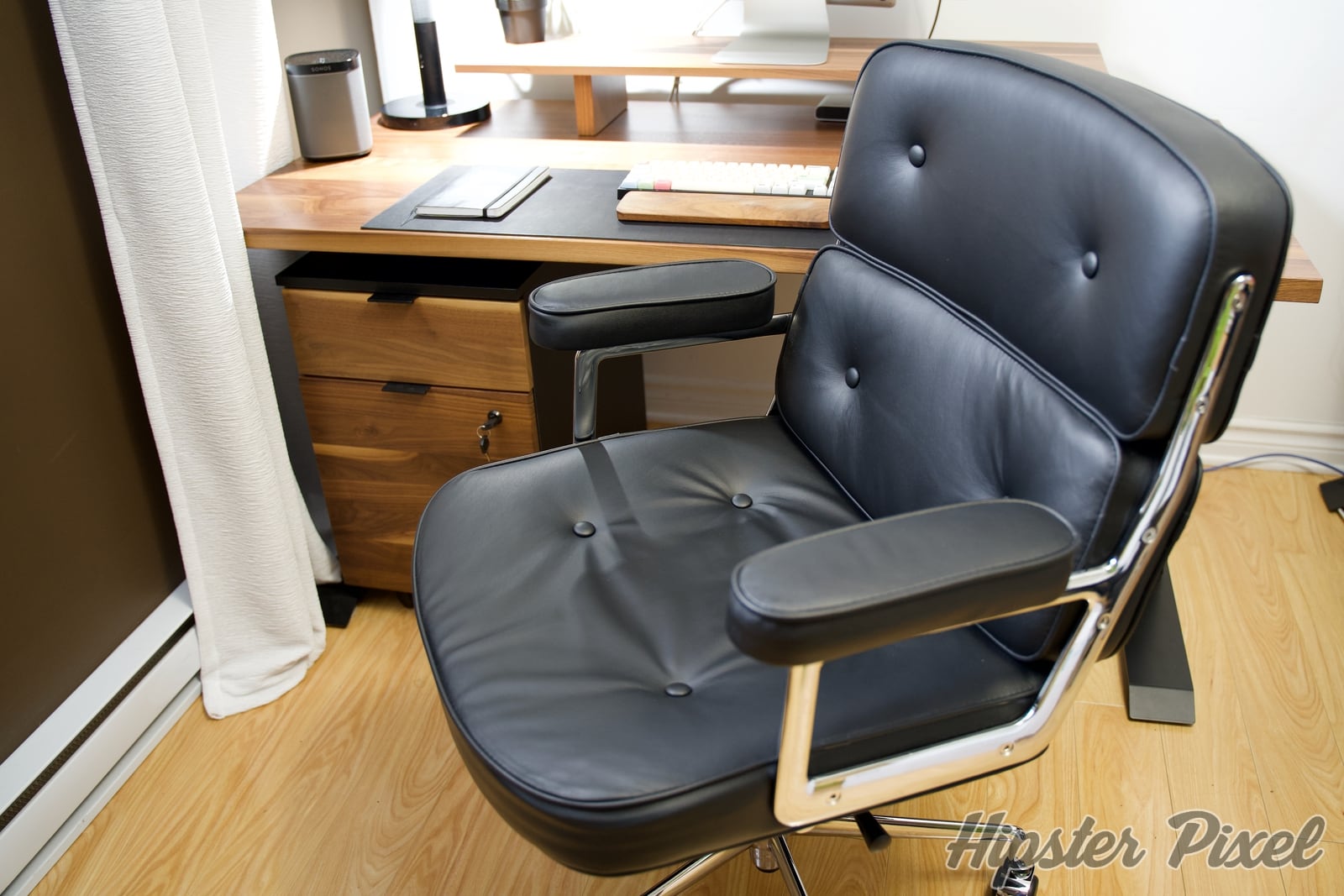 I chose the black full-grain leather as the leather colour, which goes on perfectly with my Ergonofis walnut desk and black accessories on my desk.
Features
Die-cast aluminum and frame with tubular steel column
Genuine leather upholstery
Manual seat-height adjustment
Tilt-swivel mechanism
Tilt lock feature
Carpet casters with chrome hoods
Six colours to choose from
Special option to use your own material
One of the features, which I have not tried, is the possibility to use your own material to wrap the foam cushion. You can contact them and get a preliminary quote on that whole process. If you are working with leather like me and really want to use a specific type of leather, that seems to be something you can do!
Ergonomics
I took a bit of time before publishing my review as I wanted to have many days working from that chair, from early in the morning to late in the afternoon while at the same time slightly changing the various adjustments. In the past, I needed to have the arms go under the desk to be comfortable, and now that I have a sit-stand desk, all of those ergonomic adjustments are so much easier!
I first focus on the chair, lowering it so that my knees are at a perfect 90˚ to the ground and I feel a slight pressure under my thighs so that I feel some support. After that, I can immediately see if the arm rest is useful or not, or needs an adjustment. In the case of the Eames Executive Chair, I can lower my shoulders and rest my arms on the armrest comfortably. I might have preferred them to be 1-2cm lower, but given that they compress slightly, I can tell you that I did not have any pain or muscle fatigue. This is one of the reasons, why I wanted to try the chair for a fairly long period.
The seat cushion not only looks thick, but it's also of a good quality that offers great support. There are holes under the cushion for the air to escape and even after many hours sitting, when I stand up it takes back it's space in a few seconds. The only issue I had was after many long hours sitting on it, I felt two pressure points on both my butt cheeks. Turns out the buttons are where the pressure lies, so after prolonged periods you can have some discomfort if you are on the heavy side like me.
I keep the chair with the tilt turned ON and often time throw myself back when thinking or stretching. Don't forget to stretch regularly! You will need many days of tiny adjustments to get the perfect tension for your weight, but once you dial it in correctly, it's great and easy to go from straight.
Quality
I'm a big fan of leather, and I do leatherwork regularly, so I know my way around good quality leather. This Eames chair does have quality full-grain leather and it shows. You don't have that cheap feeling vinyl-like feeling you get with cheap furniture. This smells, feels and looks quality. I appreciate that, a lot!
The die-cast aluminum frame looks incredibly sturdy and once buffed it's very shiny! I usually go for a more sandblasted aluminum look with my Apple Thunderbolt monitor and MacBook Pro 16-inch , but with Eternity Modern, we currently don't have a choice to swap it for another finish or colour.
Conclusion
Before purchasing this chair, I was worried about the quality of the materials, having never bought any product from Eternity Modern, as well as the mechanical parts not being very sturdy. I got many chairs in the past where you could instantly feel the mechanical parts being badly designed and feel flimsy.
This is not the case with the Eames Executive Chair, all the components feels solid and the material are of very high quality. In an ideal world, you could swap the polished aluminum for brushed or black brushed aluminum and perhaps offer two foam resistance levels for light or heavy individuals as sometimes the buttons are felt after long period sitting.
Overall, I'm very pleased with this chair! The look is incredible, this replica is of incredible value for the money and I feel very good about choosing this particular model and manufacturer. If only I had a bit more space, I would even go for the Eames Lounge Chair and Ottoman replica they offer! This is the chair that introduced me to the whole mid-century modern esthetic years ago. This and a neighbour that had an original Le Corbusion LC4 Chaise Longue with black and white cowhide! I was young and impressed, and that marked me (excuse the cow pun).
I strongly recommend Eternity Modern for all your replica needs, as the prices are much more affordable and you have similar quality at the same time. You might have fewer options for colours or materials, but for saving more than 3,000$ on a chair, I was more than happy with fewer choices.
Review Summary
Eames Executive Chair
Eternity Modern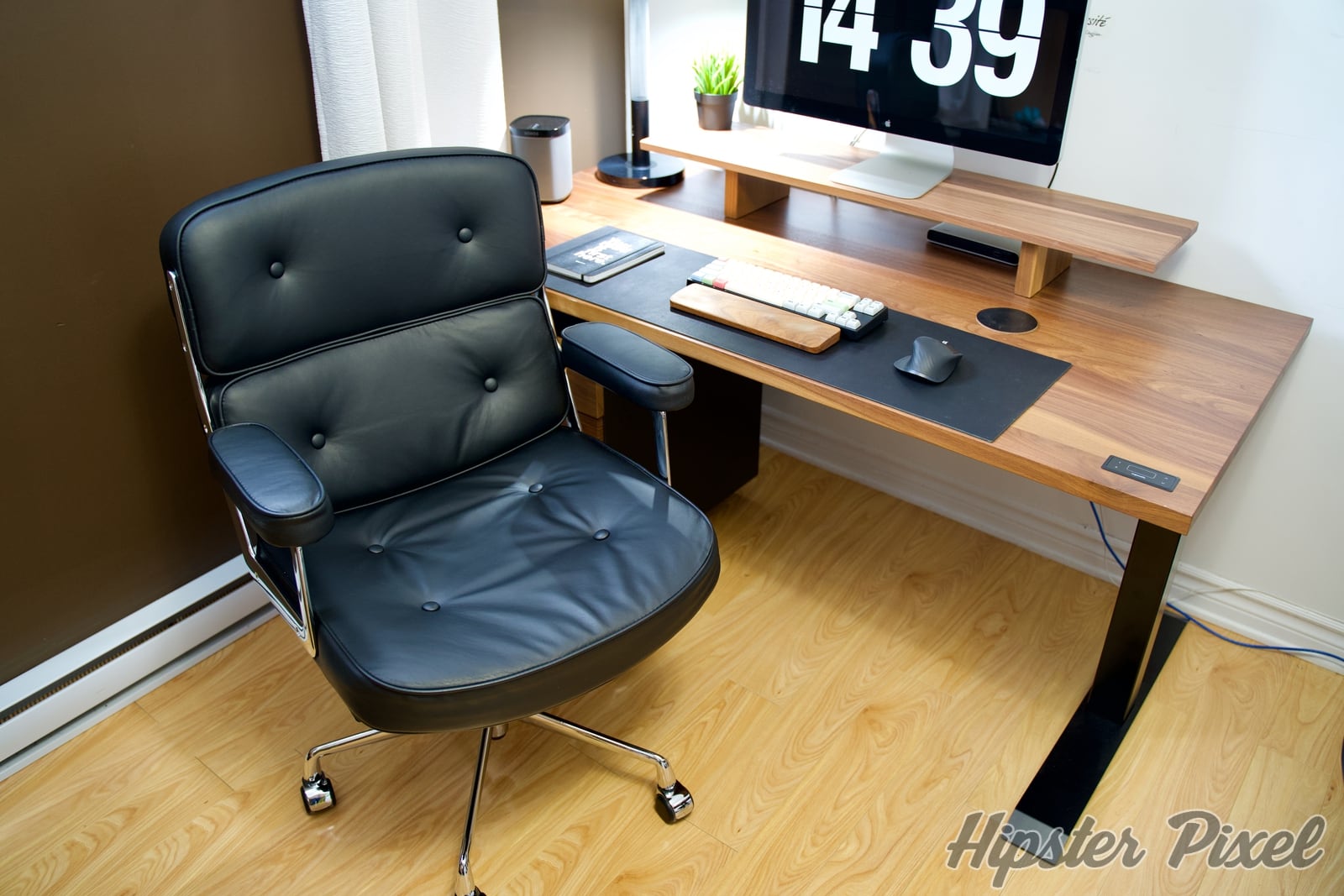 This Eames Executive Chair by Eternity Modern is a mid-century modern office chair that has the looks to kill but not the price tag you might think of!
The Good Stuff
Incredible design
Quality leather
Strong mechanical component
Comfortable
Good price
The Bad Stuff
Seat cushion could be denser