---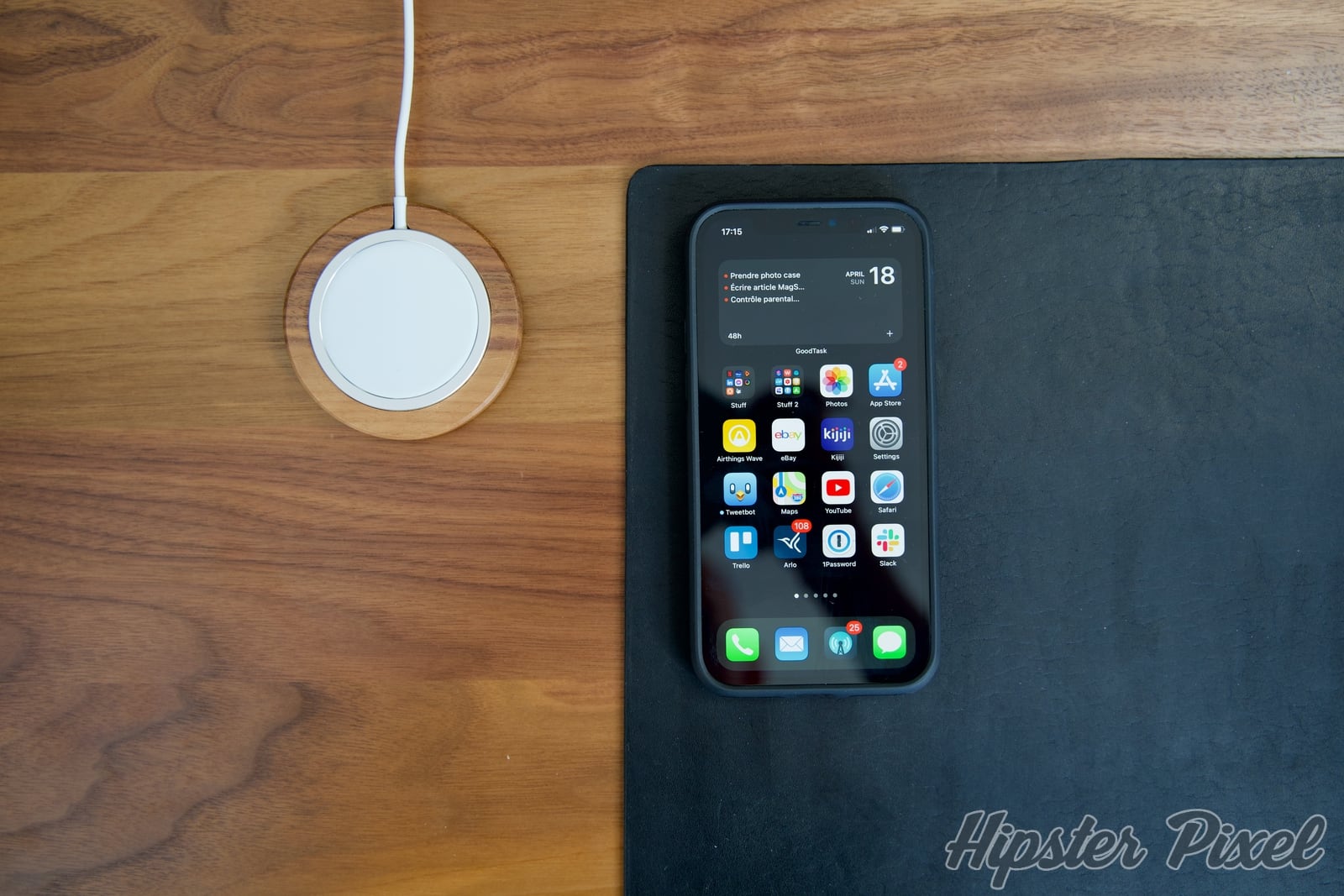 Material MagSafe Dock by Studio Neat [Review]
It is no secret, I'm a big fan of what Tom and Dan from Studio Neat are crafting. I have or have own most of their products since the very first Glif, which I reviewed after backing it on Kickstarter back in 2011! I also rock on my nightstand, the Material Dock with Apple Watch ever since it was released. It even travelled with me to Europe twice!
Recently, they released a MagSafe compatible Material Dock which is a BYOM, Bring Your Own MagSafe. In glorious simplicity, they designed a round walnut holder for the MagSafe puck that has a few design quirks.
Design
Just like the previous model with Qi charging, the Material Dock is first and foremost a round walnut CNC machined piece of wood. It precisely fits the MagSafe charger. It stays snug not only thanks to the precision cutting, but also that famous micro-suction 3M tape both inside and under the puck.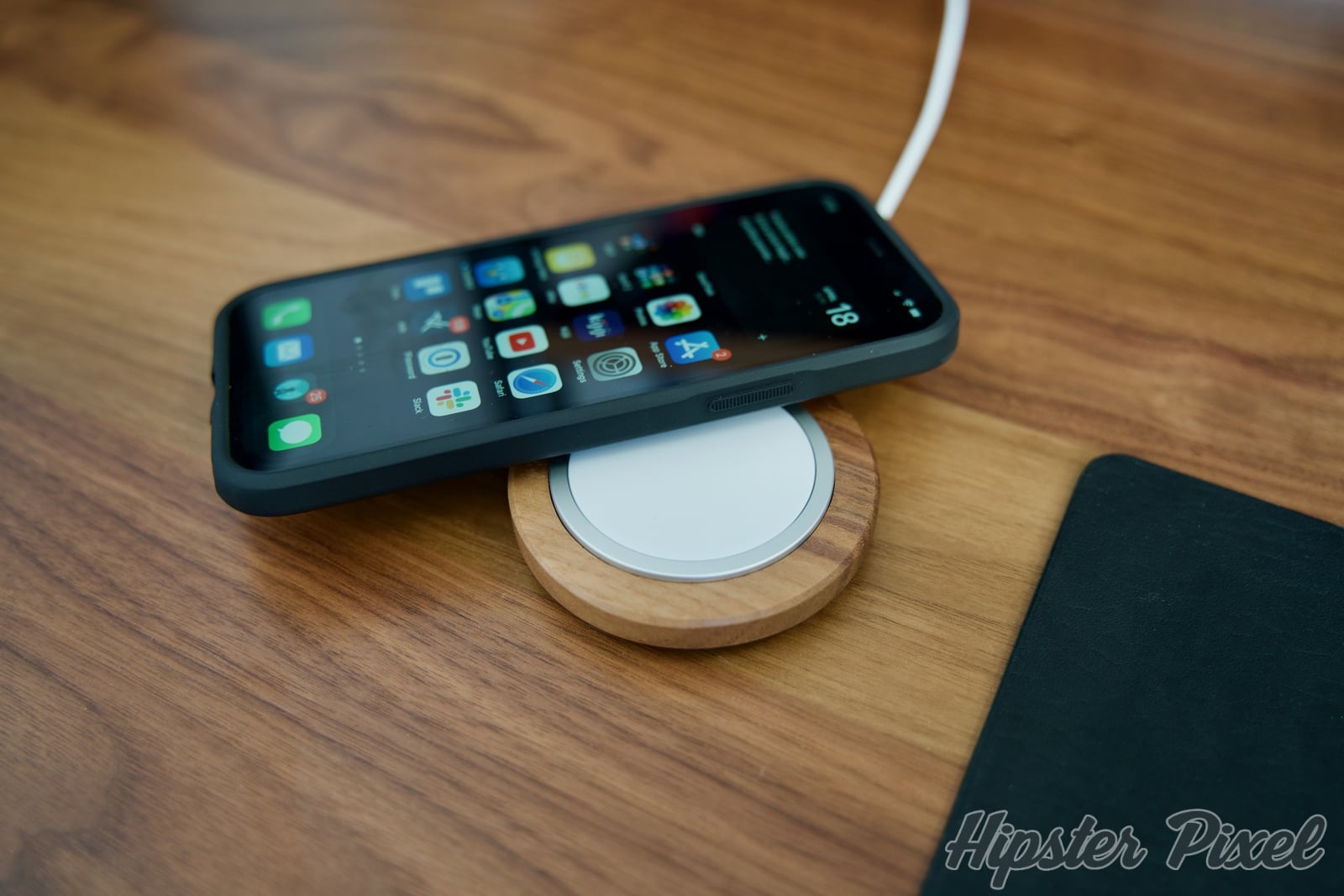 This way it can stick to your desk or nightstand without moving when you remove the phone. You can pull it straight up as if the MagSafe puck was part of your desk.
And if you need to remove the dock? Well, for one you should not pull on the cord as it might damage it since with the 3M suction tape it really holds it in place. There is a hole on the underside where you can push it through. Comes off very easily!
What about removing it from the desk? Well, our wonderful duo thought of everything! There is a small lip right next to the cord where you can put your finger and pull.
Features
Made of Walnut 😍
3M Suction Tape
Precisely CNC'd Piece
Bring your Own MagSafe = 100% compatible
Experience
Well, after rocking this little gizmo for a few weeks, I must say that I was not expecting anything other than an awesome experience. It works perfectly, can be repositioned without any trouble and if you ever need to take it off and use another accessory, it's also very easy.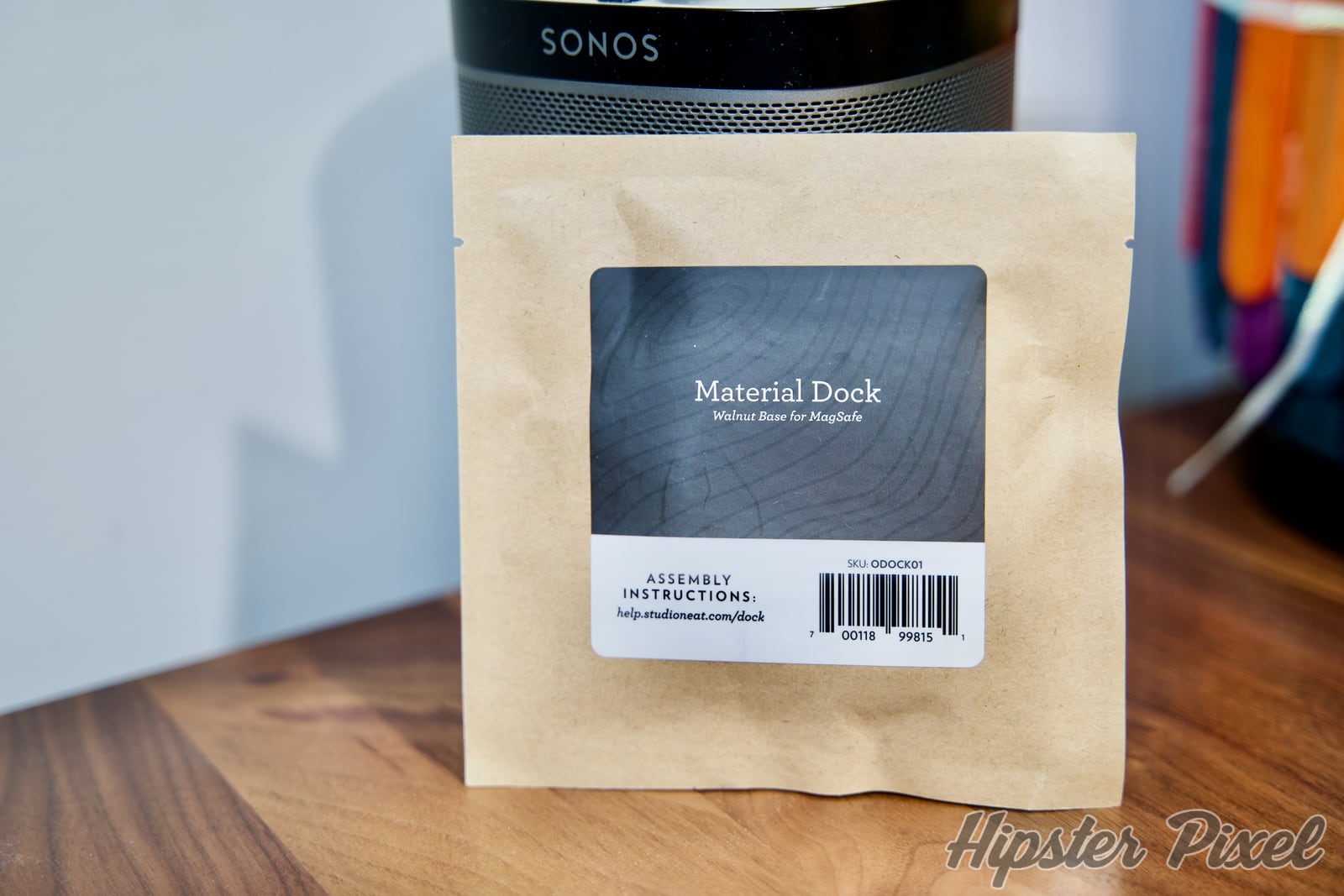 It looks great on both my nightstand and my walnut desk. Now, you start to see a pattern, right? Well, walnut is my favourite wood essence you know :P
The only downside would be that the cord is white and I try to use only black cables with my desk setup since I rock a custom-made veg tan leather keyboard mat, a black leather coaster and a black Dyson LightCycle Morph lamp! But that is not Studio Neat's fault, it's Apple's fault!
I think I will get some spray paint and paint my MagSafe puck… Talking about the puck, you will also need to get a charger for it. Apple recommends the 20W USB-C Power Adapter but this will run you an extra 20$. I personally prefer the Aukey 20W Swift charger that is compatible and works perfectly! Also, it's often on sale for 10-11$!
Conclusion
If you are looking for a minimalistic take on the whole MagSafe for your desk solution, the Studio Neat Material MagSafe Dock is the perfect solution! It's doing its job perfectly and it's designed with very nice functional touches to help you set it perfectly on your desk or nightstand. Pair this with the MagSafe charger and the Aukey 20W Swift adapter and you've got yourself a nice little kit!
I have one more Studio Neat product in my hands with a review to come soon… This one is also a nice fidget toy… 😜
Review Summary
Material MagSafe Dock
Studio Neat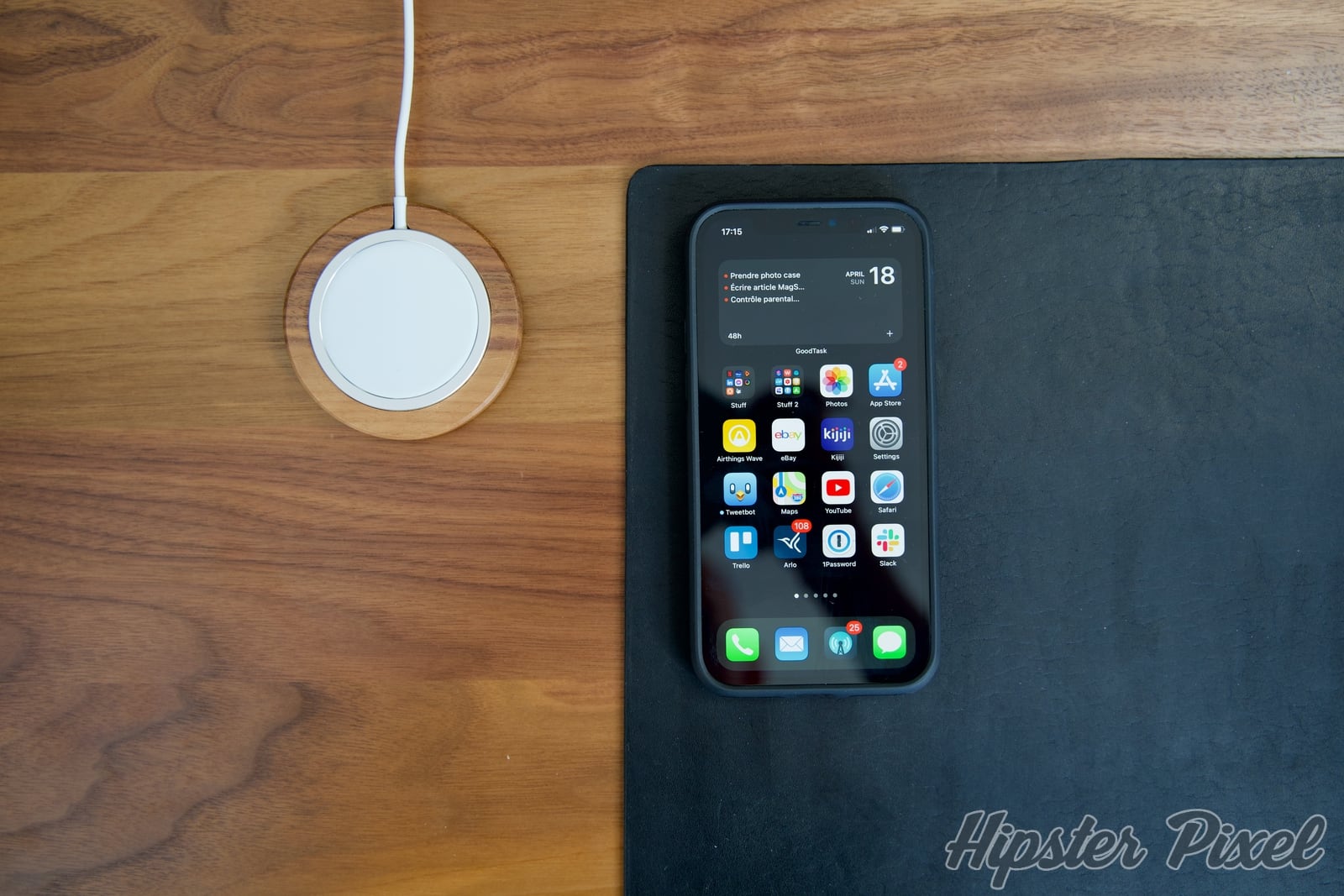 When you want to use a MagSafe charger but need a better solution for your desk, the guys of Studio Neat are they with their Material MagSafe Dock, a minimalist solution with a few quirks!
The Good Stuff
Minimalist Design
Easy to set and reset
Non-permanent micro-suction tape
Precision CNC Machined Walnut
The Bad Stuff