---
Boosted Mini X, a Concentrated Formula? [Review]
After two good generations of longboards with a great collaboration with Loaded, for the deck, and with Orangotang, for the wheels, Boosted is now ready to build from what they learned and come up with their own products built from the ground up! Last summer they finally released a replacement for the Boosted Board, a super fast version called the Stealth and finally two compact commuter boards, the Mini S and the Mini X. I'm focusing today on the Boosted Mini X, a compact board with the Extended Range battery!
This is the format that people were waiting for many years. Some with more courage actually moved the Boosted Board v2 (38-inch length) tech under a Loaded Truncated Tesseract (33-inch in length). Although it's an amazing feat, it's not for everyone's to do. Many commuters actually use the bus or metro during their commute and there is a real need for a shorter board that does not become a hassle to take with you.
The Mini X is the answer to that need, I know it is because I also have this exact need!
Design
This time around, Boosted build their own composite deck instead of relying on Loaded. Given the short length of the board and the size of the battery, sadly this deck cannot flex at all. It's totally rigid and I was afraid that this would become a problem for shock absorption having ridden other boards like the Winboard GT-M8 that was also very rigid. The Boosted Mini X board has a deep dish shape which should really help with handling and agility of the board.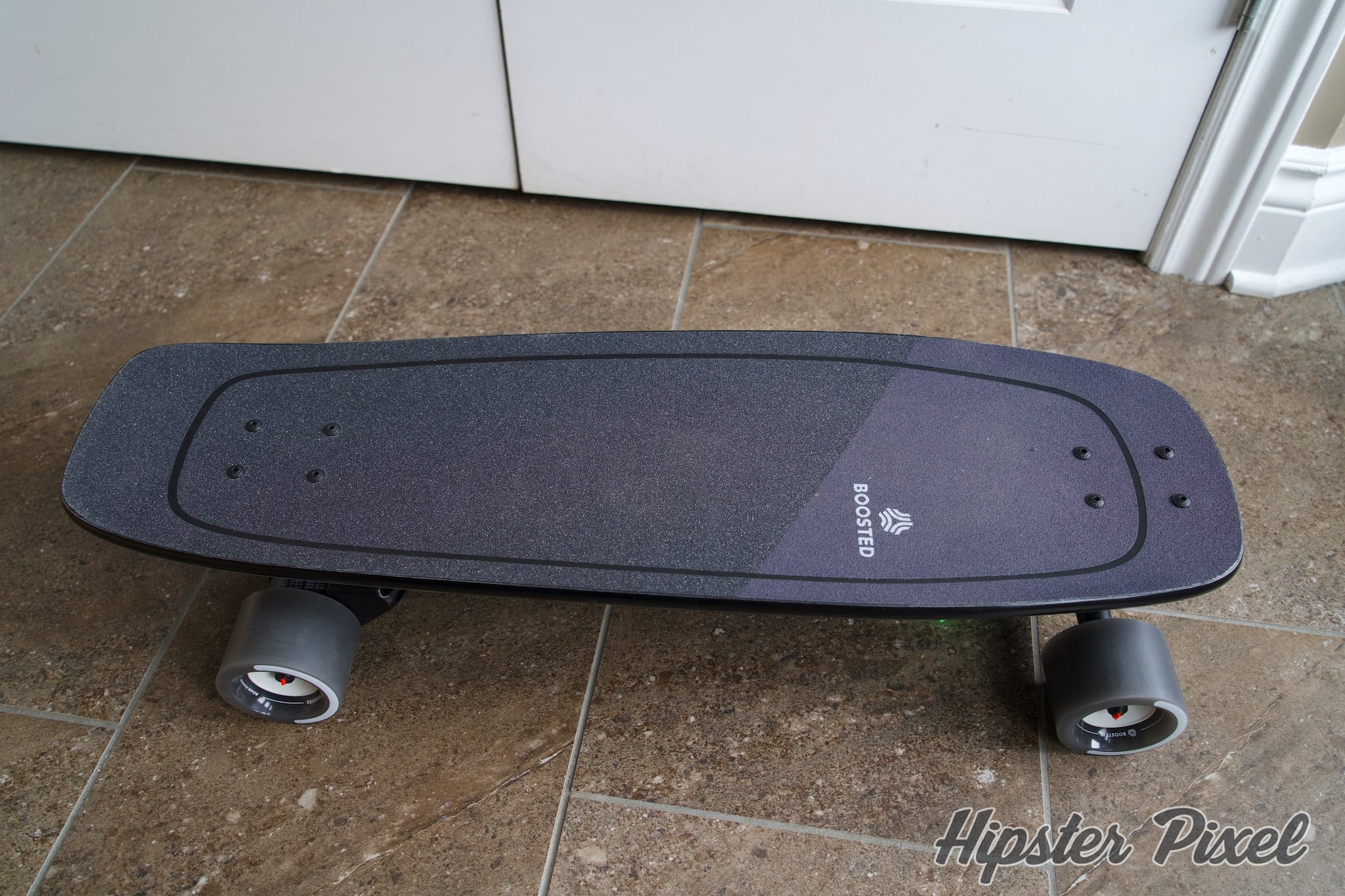 As for the wheels, Boosted once again did their own thing with a brand new PU recipe. Their Lunar 80mm wheels should be smooth enough to absorb some of the road bumps but at the same time, not shred to pieces when riding the hard streets of Montreal.
Finally, the underbelly of the beast has the battery in the front and the electronics right after. You can see that this compact board is actually leveraging almost every single millimetre there is to get. The idea is to squeeze in as much battery as possible to increase the range over the Mini S.
Overall, the Mini X looks amazing! I love the dark colour scheme and I'm happy Boosted tried something different than their signature orange! The design and component choice looks to be of good quality and the whole board feels solid.
Features
20 mph top speed (32 kph)
14 miles of range (22.5 km)
Custom Deep Dish Deck
Custom Lunar 80mm 78a wheels
Custom machined trucks
3 ride modes
The Woes of a Reviewer
Before I jump in, I need to give specifics on the board I got for review. This is a refurbished Mini X. This means that the board was ridden before, it had a few scratches here and there and some of the parts were brand new. I did not have any belt service kit included, only the T-tool, the board and the remote.
After riding about 25km with the board, I started to have belt slippage which is easy to fix, but hard to get perfect. Boosted said to have about 1/2-inch movement on the belt once tighten, but I would prefer they actually sold a tool that separates the motor from the trucks at the exact distance it should be. After fixing this and riding some more, I started to hear a weird noise, turns out that both my motors are shot. I contacted Boosted just like every customer does to test the support and they were fast to respond and after sending them videos they quickly sent me two replacement motors.
They took almost 3 weeks to arrive, thus I had to postpone this review as I had almost no footage of the board for the video review. I finally replaced the motors, which is a real joke to do, really simple and really quick. These boards are well designed!
Performance
Let's go over a couple of key points that should give you a good idea on what the board is and how it behaves. Keep in mind that I'm a 6-feet and 250 lbs (113kg) guy that likes to ride fast!
Some of the comparison will be against the Exway X1 which I've mostly ridden over the last two summer seasons. The Exway X1 can do 24 mph (38 kph) as its top speed and has a range of about 6-7 km in real life at the fastest speed.
Speed and Braking
The very first thing I wanted to try was the Expert mode. I've ridden an Exway X1 at 38-40 kph every day and I wanted to see how the 32 kph of the Mini X would feel against the faster Exway. This Mini X maximum speed is a good cruising speed on a straight road and should be sufficient for most riders that are now crazy like me.
I would love a couple of extra MPH just to help with passing bikers since on my commute I use the bike lane and share it with fast riders that go around 32-36kph sometimes. The Boosted Stealth has a 4 mph (6.5 kph) faster speed and I kind of wish the Mini X had it too.
I don't ride most of my commute at full speed but on the few stretches of straight road not too badly damaged I would have loved to have that sweet 38 kph!
Braking is much better than on any hub motors skateboard I have tried. The motors are powerful and they really help in stopping you quickly. Given my weight, I still need to account for a certain distance before a full stop but what I really like is that the power of the motors allow me to reduce the speed quickly when I need to negotiate traffic, pedestrians or bikers.
Range
This is the part that I was the most afraid of. Given my riding style and my size, I was not sure that the promised 14 miles would be much better than what other boards gave me. The Exway is rated at 10 miles (16km), but at the fastest speed and my commute I can do about 5.5 km and have about 30% left. I can stretch my luck to about 7-8km at most though. Not enough for me to go to work and come back home; so I need to charge at work.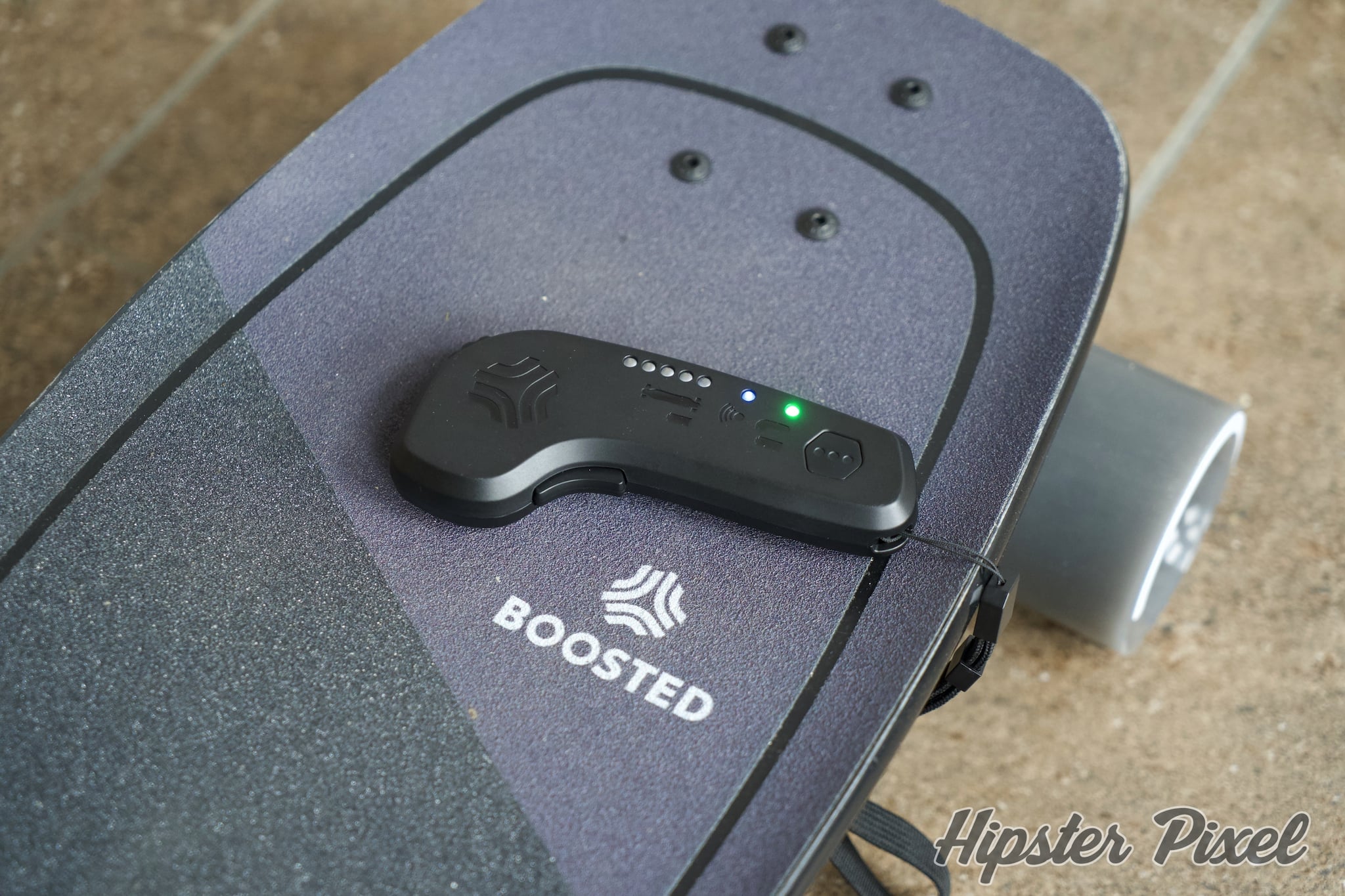 The Mini X is able to get me to work and back and I still have about 30-40% of the battery left, which totals to about 6.84 miles (or 11 km). Not quite the 14 miles, but mind you that this is on Expert mode, I'm heavy and I ride fast and hard. For me, these are great numbers. I can probably double that if I drop in Eco mode if I know I have a long commute ahead.
Torque and Acceleration
This is the clear benefit of having belt motors instead of hub motors, their strength is much greater and thus it allows you to accelerate faster. There is definitely lots of power in that little skateboard and it's really pleasing! I had already tried a Boosted Board v2 in the past and the experience is very reminiscent of it. From a stand still the board accelerates gently for a second and then the real power kicks in so that you are not thrown out.
Once used, this is very easy to ride and I always give it a kick push or two to help with battery life and to get it to its full speed faster.
Riding Comfort
Given that this is a stiff deck, I had memories of the Winboard GT-M8 v2 with its feeling of riding a 2x4 on wheels. I'm glad the Mini X is not like that! It's actually much better than I was expecting. It's not as smooth as a flexi bamboo deck like v3 or the Stealth for sure, but it's much better than I expected! Remember that I ride in Montreal where cracks and pot holes are everywhere, the Mini X really can take this crazy ride to a much more comfortable level. Plus, once you know how to make this better, it can significantly increase the riding comfort.
How to Take the Mini X to the Next Level
I've been researching this topic over the 3 weeks I was waiting for the new motors to arrive, and I'm happy to say that there are a few things you can do to make your Boosted Mini X experience even better.
Adding shockpads will make sure the shocks are even more dampened, this is not an incredible difference, but it does make a significant difference if your roads are bad like ours. For 6$ it's an insta-buy.
The Lunar wheels Boosted made are great but only available in one single size, 80mm. To get a better riding experience, you should consider the Orangatang Caguamas , made of a soft 77a PU, they also have 5mm extra diameter. On the numbers, this should not make much of a difference, but you do get a 6.3% longer circumference, thus adding 1.5 mph to the total speed of 20 mph of the Mini X. This little gain is welcomed, but the overall size of the wheels, that extra 5mm, and the 77a durometer are what makes them absorb even more of the shocks.
Finally, this one is more of a maintenance thing, but I read that the Kevlar clad belts have a longer life expectancy that can go over 1,000 miles. I have not tried that myself, but being heavy and always on Expert mode, I have the feeling my belts are going to be messed up a long time before that. Therefore, this should be an item in your Amazon Wishlist for when they need replacement.
Conclusion
The Boosted Mini X is a great little electric skateboard with enough punch for most and a good enough range to last for a long commute or to and from a shorter one. The quality of the components and the high availability of parts makes this board something that will last and for which you can even customize some parts to allow it to flourish even more for enthusiasts. Shorter board means easier transportation when in a bus or metro and the torque allows a big guy like me to have fun while staying safe with a board that is responsive and fast when sharing the road with bikes and cars.
I really recommend this board to almost everyone, the DIY crew would prefer something even more powerful, but for the regular user, beginner or advanced, this is very high on my list of recommended esk8s! If you ever buy one and end up customizing it, or changing parts of it let me know in the comments as I'm very curious in what ways you make this great board even better!
Review Summary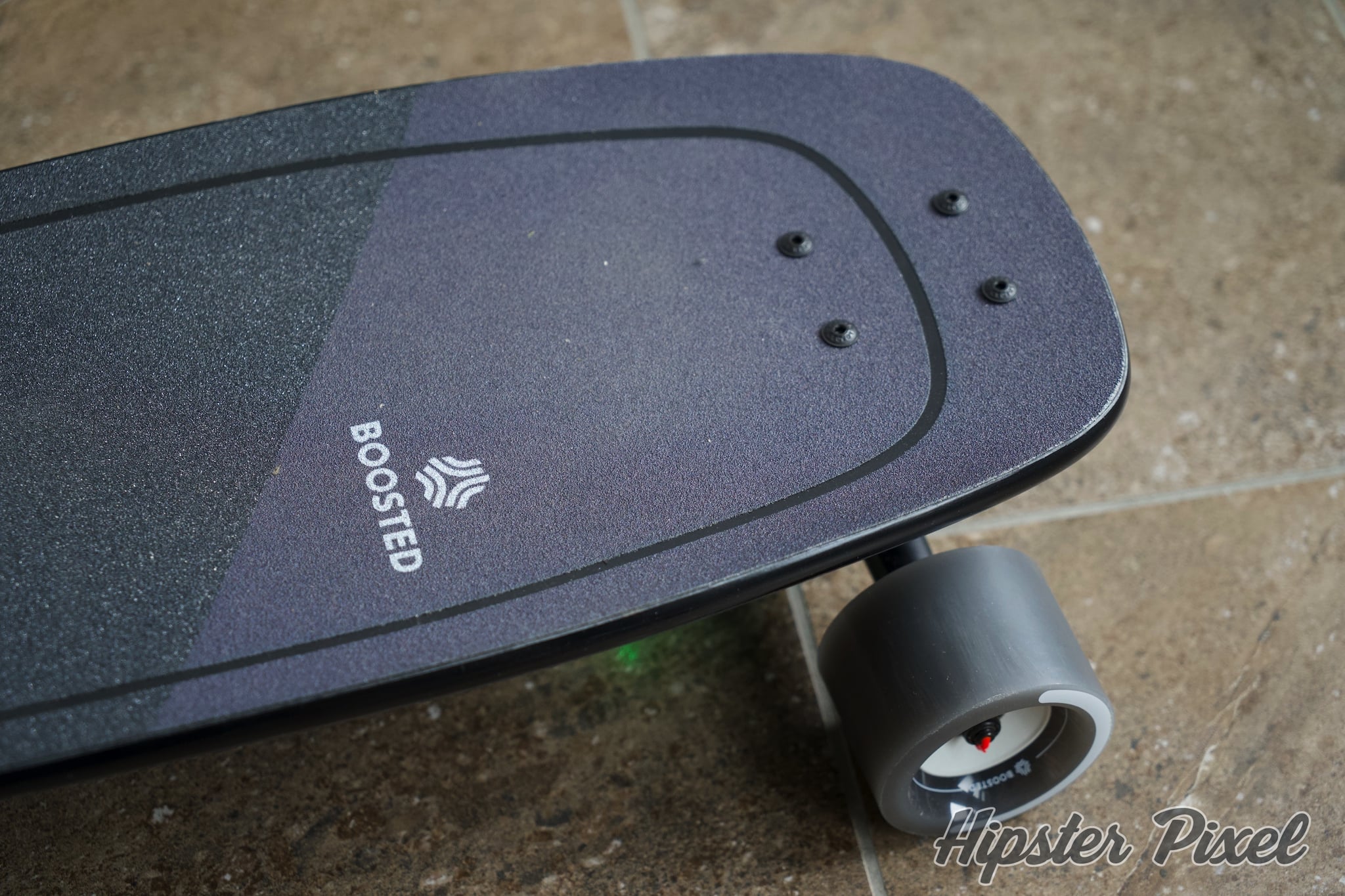 A shorter Boosted Board, is the Mini X a concentrated version of the famous V2 or is it a kiddie board?
The Good Stuff
Design of the board
Quality parts
Great range
Good speed
Support and ease of repair
The Bad Stuff
Wish the top speed was 4-5 mph higher
Expensive compared to other boards