---
Sennheiser Momentum 3, Perfect Marriage of Quality and Noise Cancellation [Review]
After multiple years and multiple pairs of noise-cancelling headphones, I'm happy to see that Sennheiser is still working hard on this type of product! After testing the Sennheiser Momentum Wireless 2 in 2016, I was impressed by the choice of materials, the sound quality and the noise cancellation it offered. Remember that in 2016, you mostly only had the Bose QC35 that did active noise cancellation and the Momentum were like a breath of fresh air since they had a much better sound quality and also offered noise cancelling. Best of both worlds!
Sennheiser recently launched the Momentum 3 , their third foray into the world of impressive audio reproduction, noise cancellation and now with a hint of smart assistant sprinkled on top.
Design
Keeping with tradition the Momentum 3 are still adorned of leather on both the ear cups and the head band. They still offer the same type of metal band slider for adjusting the position of the ear cup and their curly cable that connect both ear cups through the head band.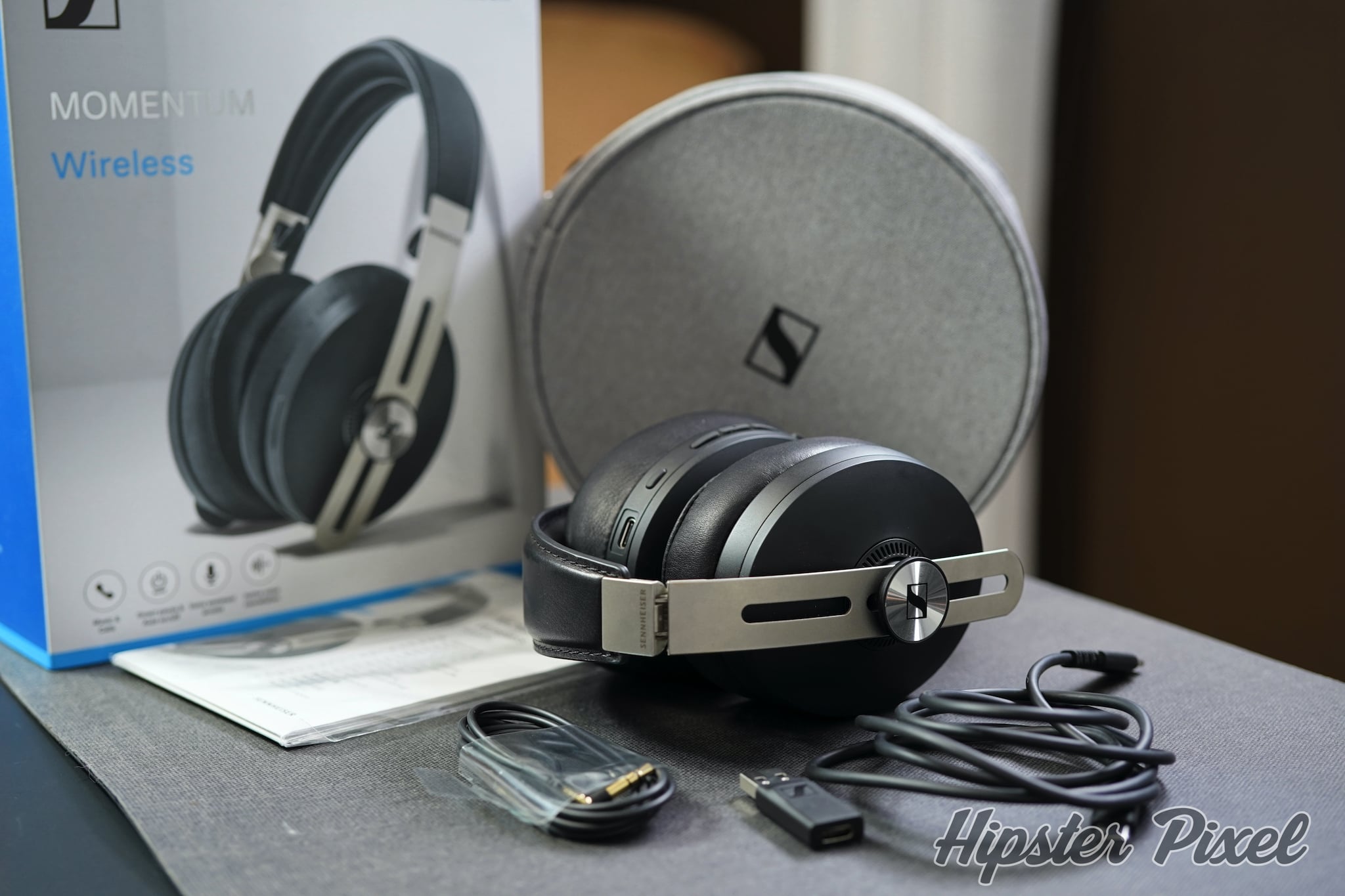 The tested model was the black one, this time around we only have a single colour to choose from. The black leather, matte black plastic and the brushed aluminum make this a killer combo to look at! One feature that I really love, and most people will think it's useless, the L and R are actually printed inside the ear cup in big letter so it's very easy to know how to put the headset on the right way.
The Momentum 3 comes in a nice fabric case for storage and protection, and it comes with a 3.5m audio cable and one USB-C to USB-C cable. There is also a USB-C to USB-A adapter for when you do not have a USB-C port to plug into. You're all set with older tech and newer tech out of the box!
Features
Premium headset and premium sound
Active user configurable noise cancellation
Transparent hearing
Ear cup buttons for control including smart assistant
Integrated Tile for lost items
Samart App
Usability
Before we jump into the sound performance and active noise cancellation, there are a few tricks up the Momentum 3 sleeves that warrant a look. The headset is stored away inside it's own little case and when you unfold them, they automatically turn on. There is no ON/OFF button, just this gesture is enough.
And just like AirPods, when you set them on your head, they resume playing! You heard right, when you put them around your neck or remove them from your head they pause the music and resume when they are back on your ears. It's not just an angle thing, they really are looking for some pressure that tells them they are on your head. Very smart!
And when you are done, and you fold them back on them, they turn off to save battery life. Speaking of battery life, Sennheiser advertises 17 hours of listening time and I can vouch for that. It sure does seem longer than this since they are constantly closing when you store them away. I mainly use them in my commute and they can last a good two weeks if I don't use them during the day or night. It's very impressive.
The right ear cup has all of the controls, which means you can play/pause, increase and decrease volume and now trigger the smart assistant of your phone with a dedicated button. The other 3-way switch there allows you to toggle between noise cancelling, transparent listening or simply passive with all features turned off is located at the top.
I have some trouble moving my finger to locate which button is the play/pause button since they are so thin, I kind of wished they were bigger. The 3-way button is great, though, I can easily hit that and switch the modes.
Since the headset automatically restarts what was playing on your mobile device, I almost never use the side buttons. Just like AirPods, it resumes and pauses when you put them on or off. It's a very pleasant experience!
Audio Performance
When we are using a Sennheiser product, the main feature we are expecting is great audio quality and the Momentum 3 do not fall short of this. Once again, we have great balanced audio that is both clear and has just enough bass so that you feel it appropriately in a bass heavy song. Now, these are not Beats headphones, so you will not have an unbalanced sound with too much bass. I would compare the sound EQ to the Sony MDR7506 with a higher bass and treble response, and a good amount of extra presence. The music feels richer and more engulfing.
To my ears this is far better than the Bose QuietComfort line of products and also, better than the Sony line of noise-cancelling headphones. The Momentum 3 does not disappoint in terms of audio reproduction!
The active noise cancelling has been put through its paces in the subway, bus, walking next to traffic and even next to construction workers. I stopped and listened to my music while the construction workers were making all kinds of noise, some shorts like bangs, others more constant and in all situations they were almost completely gone! Where the Sennheiser algorithm is best is when there is constant humming. I've tried them with low pitch and high pitch humming and in all situations, the sound was completely gone. This was very impressive.
The side effect of all that noise cancellation is that I rarely have to increase my volume over 50-60% to be bathed in awesome music!
I'm not a big fan of the transparent listening, as I'm wearing headphones only when I really want to exit reality and lose myself in music, podcast or a great movie. However, when I did try it on the street I was able to be aware of my surroundings. The sound was very balanced so that I could hear the outside world but not too much such that I wanted to turn it off or lower the "outside world volume". The few times I had to try it, it was better than I expected and also better than other headsets I tried in the past.
Mobile App
As it is the case with most of our devices nowadays, there is a mobile app with quite a few options. The Smart Control app by Sennheiser allows you to pair your device to your phone and set a few key settings. Among them is the level of the noise cancellation. Not everyone finds the same level of noise cancellation comfortable; therefore you can hop into this app and change it to the ideal level.
Same thing goes for the transparent hearing level that you can also configure in the same way. Finally, an EQ allows you to personalize how the headphone sounds to your ears. Love more bass, just raise the lower frequencies. There are also a few other settings that you should at least visit once. You can for example, stop the music when you turn transparent hearing ON and disable Smart Pause when you remove the headset. Not sure why you would like to do so, but to each their own!
Conclusion
Once again Sennheiser is offering an impressive headset with an amazing quality both in the design and material used, as in the feature set it offers. One of the best audio quality paired with a super effective noise cancellation technology, transparent listening and a complete set of user-configurable options that leaves some other headset crying for more. The Momentum 3 headset is worthy of its name and it takes what the Momentum and Momentum 2 offered to an all-new level by pushing the envelope even further.
I sincerely can't find much wrong with this headset. It's comfortable, it's audio performance is top and it's packed with features that you normally find sprinkled on competitor headsets but this time, one headset has them all. I remember being shocked at the quality of the Momentum 2 and I'm happy to report that if you liked them, you will love the latest Momentum 3 headset ! I can't say enough good things about this product, and if you are looking for the perfect marriage of audio performance and noise cancellation, don't look any further!
Review Summary
Momentum 3
Sennheiser electronic GmbH & Co. KG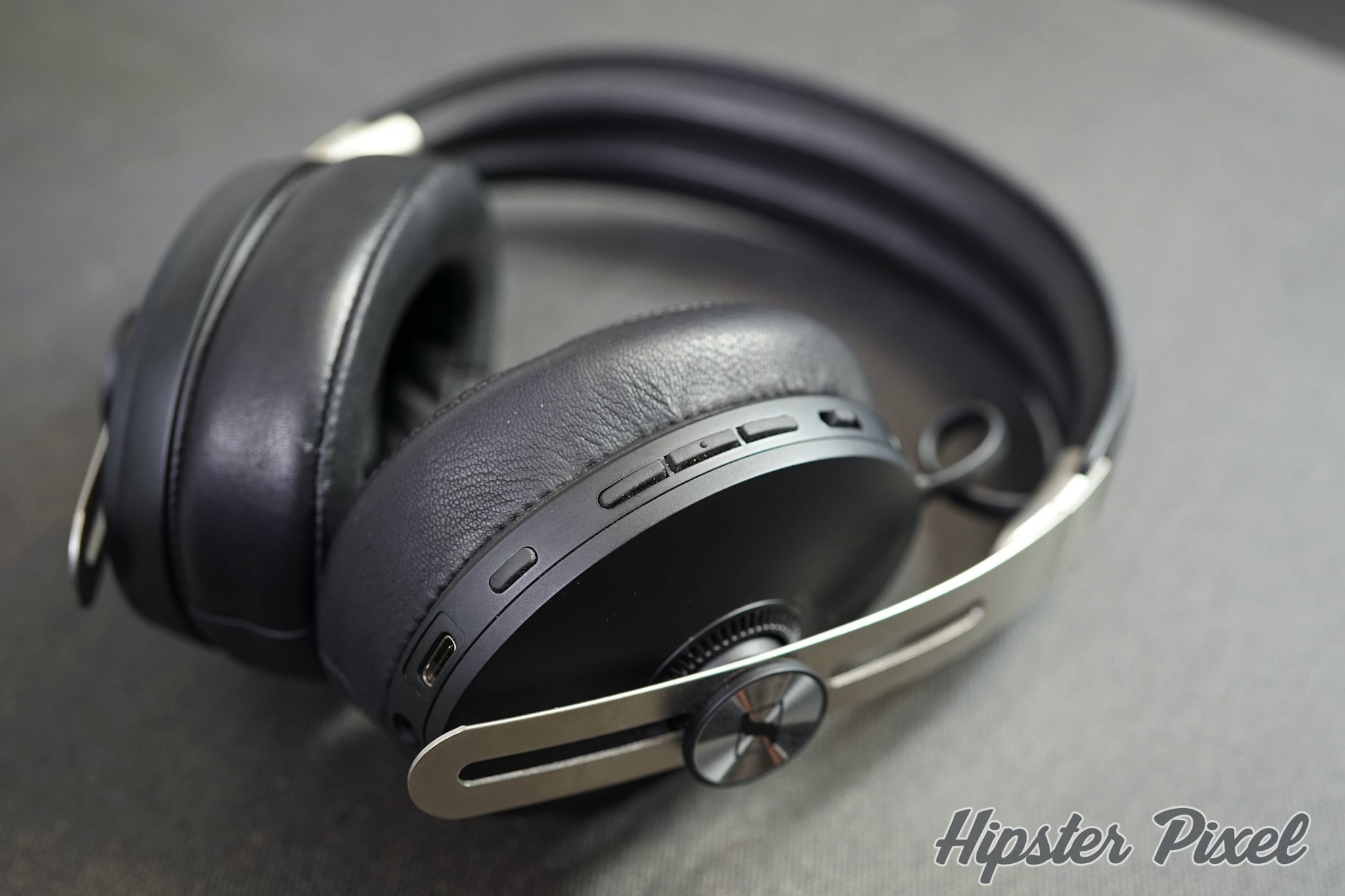 Sometimes you need to choose. But what if you could have it all? Sennheiser is proposing the Momentum 3 as the best audio quality headset with an amazing noise cancellation feature. Is it possible?
The Good Stuff
Impressive audio quality
Best in-class noise cancellation
Effective transparent hearing
Mobile app and many great settings
Great design and quality components
The Bad Stuff
Buttons hard to feel for
Expensive