---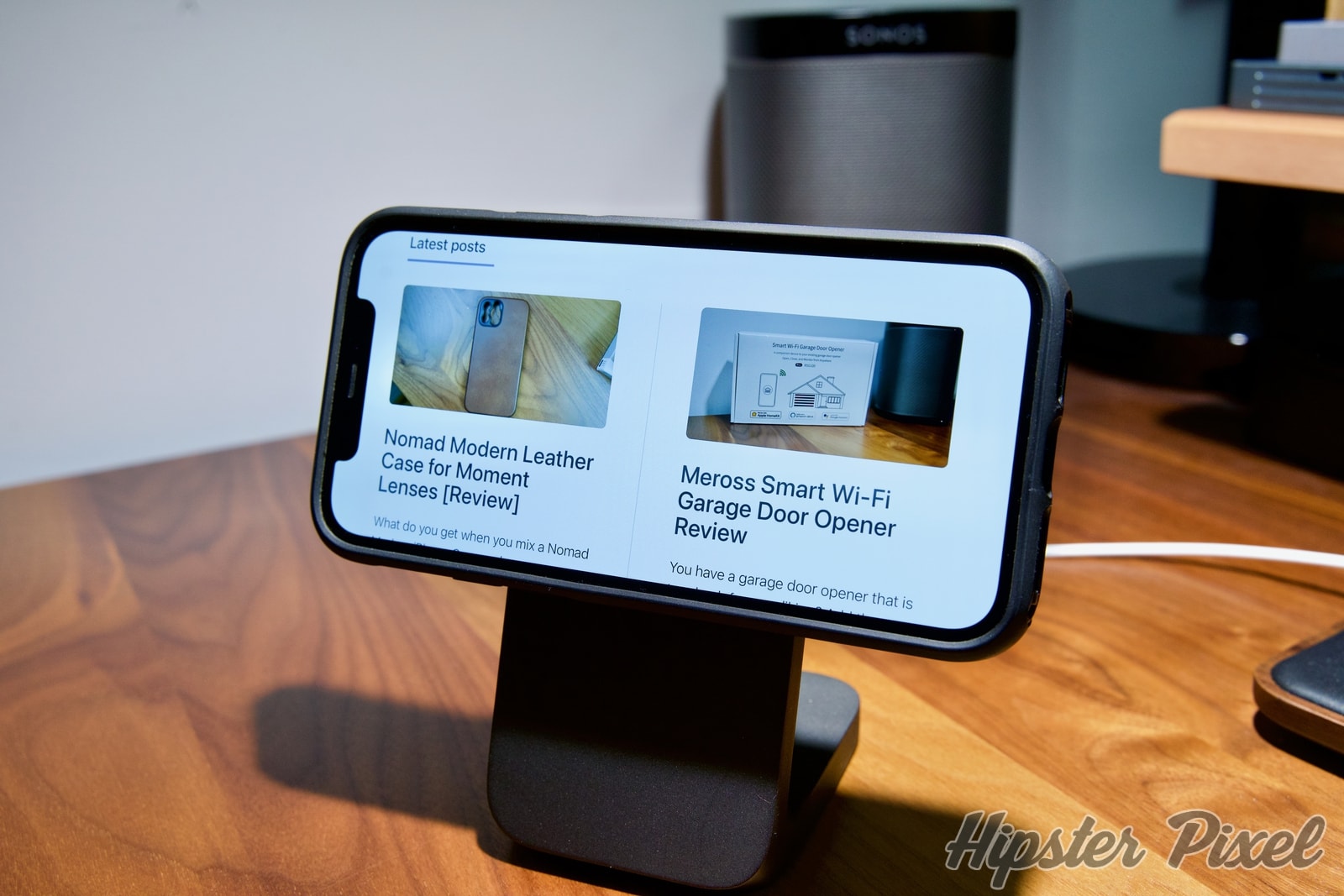 MagSafe Mount Stand by Nomad [Review]
Having MagSafe is very useful, so much so that this is my preferred charging mechanism during the night. I set my phone on the Studio Neat MagSafe Dock on my nightstand and it charges when it finds it useful, usually very late in the night so it's ready by 6AM. Lying flat works great for nighttime charging, but what about during the day? Lying flat is not a great idea, plus MagSafe just by itself is not great as it's very thin and somewhat hard to remove, especially when you have a MagSafe case like the Nomad Modern Leather case for Moment or the Nomad Rugged Case.
Talking about Nomad… they have a solution and it's one I did not often see! The MagSafe Mount Stand is a big, heavy chunky boy of a metal piece! It weighs a ton and it's the perfect companion for your MagSafe Charging puck.
Design
The MagSafe Mount Stand weigh a ton. Not a literal ton, but at 1.31lbs (595g) it's not to be discounted as a flimsy stand. It is resting on a thick rubber pad so believe me it won't move by accident. With this weight and shape, it's very stable on your desk.
It has a big hole in the middle to install your MagSafe puck, and holds it in place with the now-famous microsuction tape that is both temporary and super sticky, and can be washed if ever it becomes dirty or does not stick well enough.
Once installed, your MagSafe puck won't budge and it now becomes an upright standing stand.
Features
Charges in both portrait and landscape orientation
Securely holds MagSafe puck (microsuction)
Heavy design
Works with any MagSafe compatible products
Performance
An upright stand is very important in the context of a desk because not only do you often need to look at your phone, or even interact with it. Lying flat is not a great experience. Standing upright is perfect for those interactions.
Given that it's also charged at 15W, it's great to get a quick top off, or to stay there all day. Aiming for the puck is easy and especially with a case, it's really, really sticking there. It won't fall.
To remove it, if you pull the stand will come with it and fall after being raised about 1-2cm from the desk. If you go case-less, it's releasing it just a bit before but the stand still lifts from the table.
My solution is to push the top of the phone, so that it releases the phone without moving the stand at all. Or you can do the lateral move by sliding to the side, just like I do with the Studio Neat Dock as I don't want to stick it to my wooden nightstand.
If the dock were a little bit heavier, something like 50-75g, perhaps you could pull directly. Maybe a future version of this dock could do this. For now, and for my daily use it's perfectly fine.
What I love the most about this is that we can flip the phone without disconnecting it to put it in landscape orientation. Perfect for watching YouTube in the background, or watching a Live video while working.
Conclusion
Not many desks stand with MagSafe offer this level of flexibility. Being able to use the MagSafe Mount Stand with both Portrait and Landscape orientation, as well as with a single hand really make this a joy to use. For the few people that might just want to pull on the phone, it could have been a bit heavier, but you quickly get used to other ways to remove the phone one-handed without thinking about it.
The colour is great and it looks very sick on my desk! I love the attention to details Nomad put in their products and this has become my definite desk stand and way I charge my phone during the day and interact with my phone. Once again, strongly, strongly recommended!
Review Summary
MagSafe Mount Stand
Nomad Goods inc.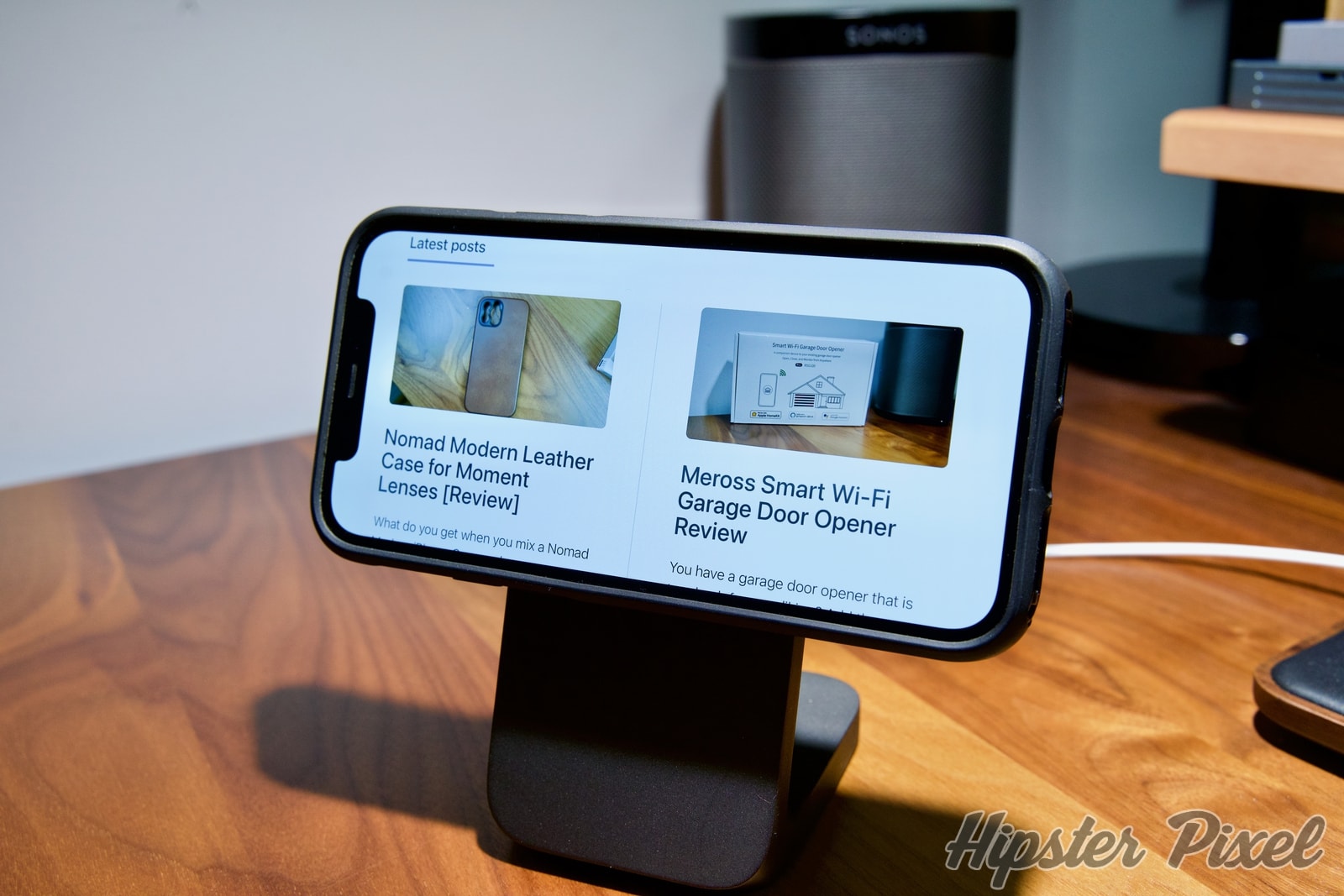 Looking for a sturdy vertical standing stand that also charges for your iPhone? The Nomad MagSafe Mount Stand is heavy and perfect for the job!
The Good Stuff
Quality machined part
Heavy and super stable
Great texture and colour
Precision fit for MagSafe puck
The Bad Stuff
A tiny bit too light for pulling the phone straight
Only one colour (a nice one, but still one)