---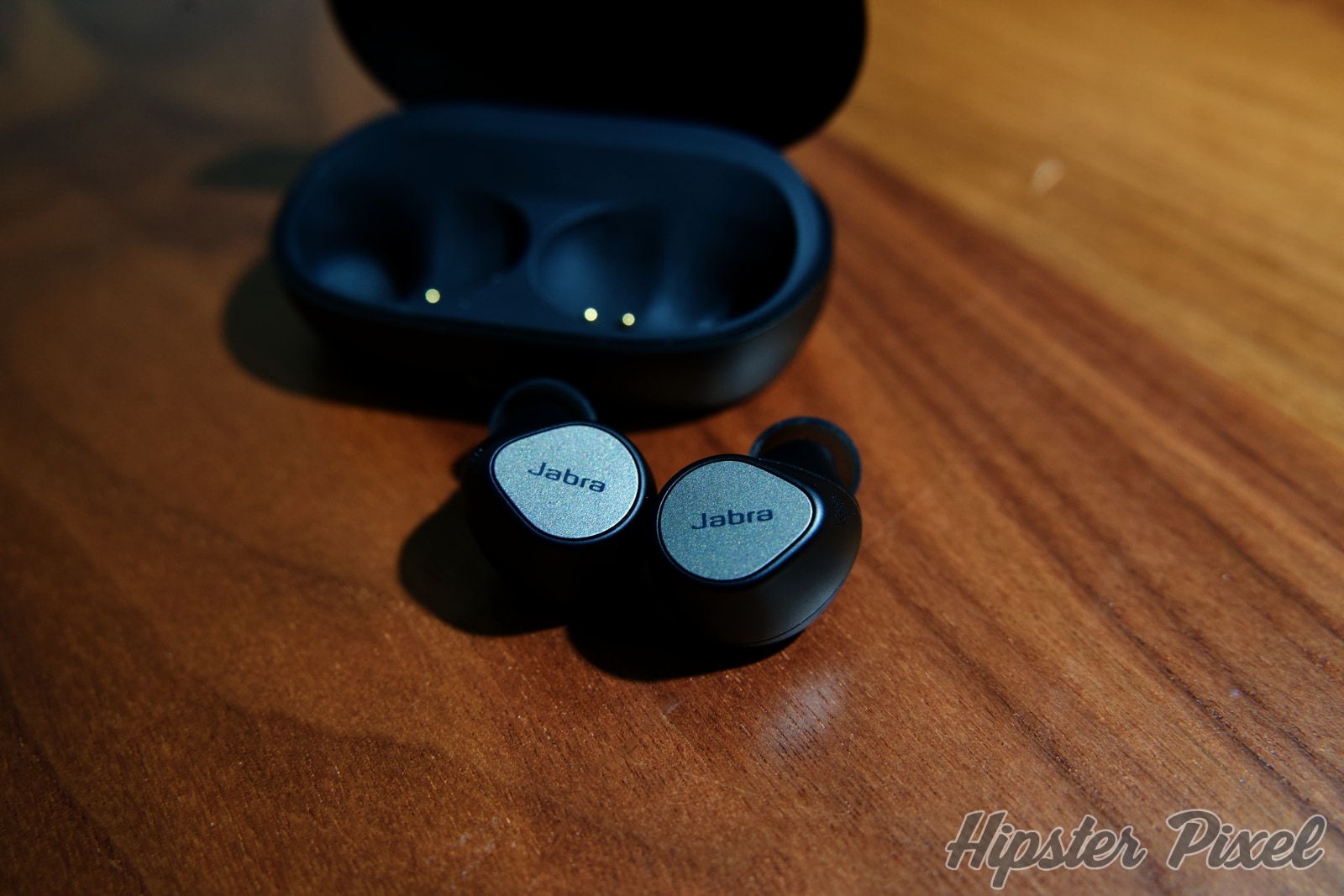 The new Elite Pro 7 are a special product in the sense that they might be named and look like the Elite 75t or the Elite 85t, but they do not have the same specs nor are they geared towards the same type of individuals.
The main feature advertised for the Elite Pro 7 is the MultiSensor Voice technology that allows them to pick up your voice in a much better way by relying on multiple microphones, special noise cancelling tech and even bone conduction to make sure your voice is as clear as it can be. It even has a Voice Pick Up system that gets triggered when wind is detected to isolate your voice on calls.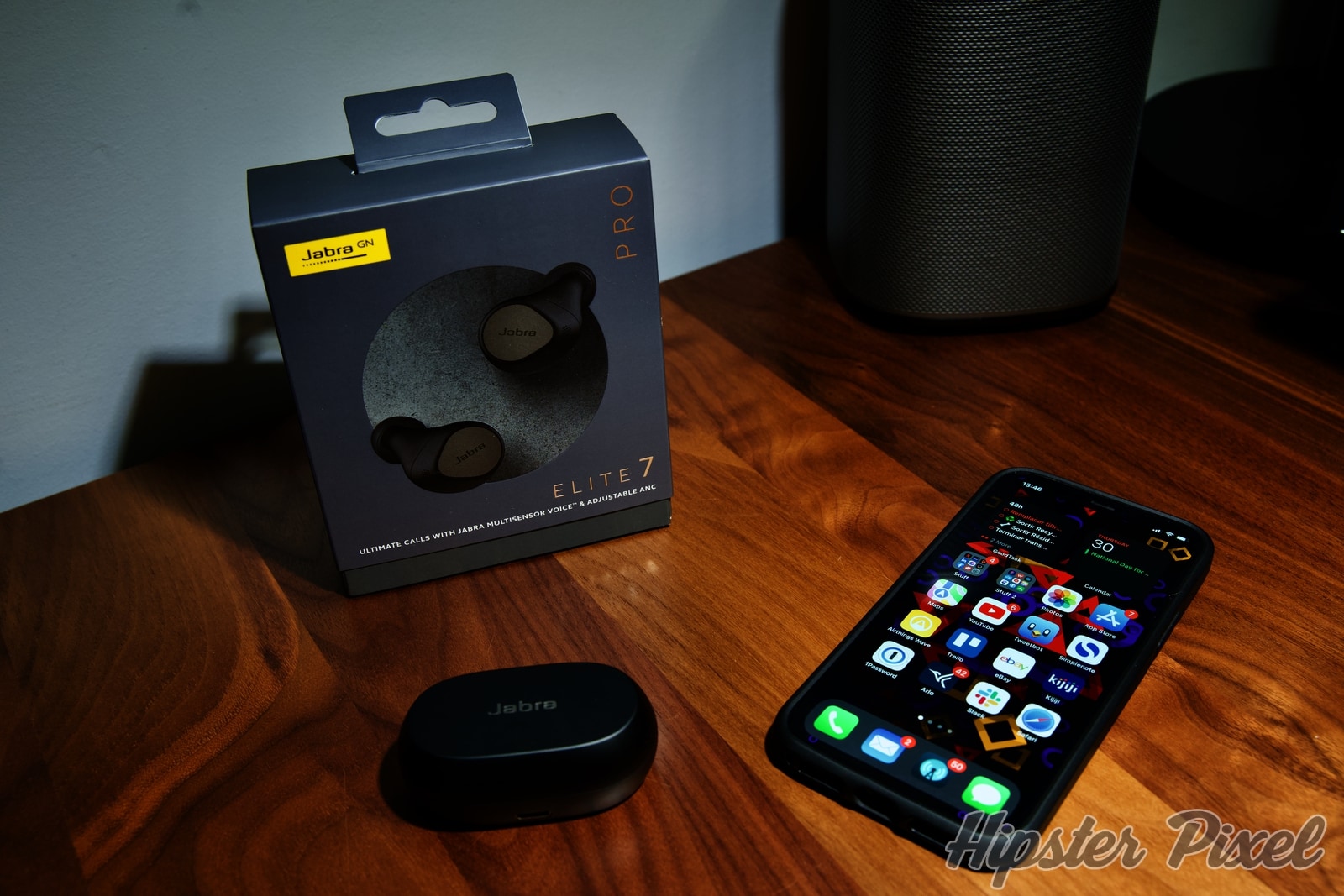 It also touts Active Noise Cancellation, something that I have to come back to in a minute, HearThrough and all the other customization features offered by the Sound+ app.
Design
The case is smaller and lighter than the Elite 85t and still offers great battery capacity, it will just fit better in your pockets. The buds themselves are very similar to previous generations but have a slightly different look to them. You still get the usual flexible tips in three sizes and they do sit and rest comfortably in your ear. But only if that is something you are already accustomed too. The rubber tips are your standard tips so if another pair is not comfortable, these won't be either.
The case has wireless charging and you simply drop them on a Qi charging mat. It also embraces USB-C which is much better than micro-USB.
Features
In-ear design with slimmer case
8h battery life, 30h total with case
5 minutes charging gives you 1h of use
Active Noise Cancelling, HearThrough
IP57 rating (dust resistant, 1m for 30min in water)
Multipoint Switching (2 concurently paired devices) 🆕
2-year warranty
Performance
The initial pairing is very simple, especially if you use the Sound+ app. You are being taken through all the steps to get them paired, but also the app wants you to go over all the features so that you have fully customized your Elite Pro 7 to your particular hearing.
I won't cover the app features in detail here since I already did so in my Elite Active 75t review a while back, so just head over there to get the details!
There are two things here that Jabra is putting forth with this new model. The first is the special array of microphones and bone conduction tech to make your voice clearer. So I've tested this feature out with the Voice Recorder in a few settings. The reference is my home office, a silent room by myself. And then I ran a few ambiance sounds through my Sonos One. This speaker reproduces all types of frequencies and should make for a very good test candidate faking ambient sounds.
Have a listen to the clips. Note that these are recorded with the iOS Voice Recorder therefore they are low bitrate, but they do give a good idea on how you will sound in a call which is even lower bitrate.
Quiet Room
Reference room is my home office with a slight air exchanger sound.
Coffee Shop
Hard Rain
Shopping Mall
As you can see, this is where the Elite Pro 7 really shine! They have no problem at all removing most of the ambient noise and whatever is left does not prevent you from clearly hearing the person speaking. Also note that I was speaking very softly and not shouting like I would probably do in an actual mall.
The second thing being brought forth is the active noise cancellation. I must say that this feature left me on my appetite. I've used many noise cancellation tech over the years from the Sennheiser Momentum (multiple versions) to other Jabra products and it is the first time I actually thought I either had a bad unit or I was missing some software update, so I waited a bit to see if after launch some software update would fix this.
Sadly, it did not. I would barely qualify this an active noise cancellation, even at the highest level. In my house, where I can hear from the office the air exchanger noise, I can barely hear it with the passive noise cancellation made by the rubber tips, but when I turn the ANC ON, I still hear it all the same, I also hear a very high pitch sound on top of it if I don't have any music playing.
I also do things like cutting the grass with the lawnmower, run my Dremel at low speeds or simply have trucks pass by when I'm outside, something that the Bose QC35 and Sennheiser Momentum headphones were able to block very easily. With the Elite Pro 7 I was not able to see any difference at all. It was not even blocking enough of the noise to let me hear my podcast or music.
The sound quality was pretty bad out of the box, thankfully these are the types of earbuds that you can take through a hearing test and also set their global EQ. Therefore, the sound was much better. What we call a sound stage was basically absent at first, making them feel like cheap 20$ earphones, but after proper calibration and EQing they do sound good. Not great, but good. The bass is still less present than the Elite 75t, but overall it was good.
Very recently, they added one feature that I really loved of the Elite 75t, they call it Multipoint. This is the ability of the headphones to pair to two devices simultaneously so that you can instantly switch devices. As it's the case with many, you may use the earphones with your computer and your phone, well, instead of taping and waiting for them to switch, you simply hit play on the second device and the audio pauses on the first one and now plays from the first one.
Conclusion
All of the features in the app, including hearing test, calibration and EQ are working great and really saved the Elite Pro 7 from getting an awful score. It still does not make sense to me to spend 200$ on these. Unless you make so many phone calls that you absolutely need to be heard better because you are constantly in a noisy environment.
I would really think twice about adding ANC features like this one to future products from Jabra. I don't think it warrants the name "noise cancelling," a more appropriate term would be passive noise cancelling because 95% of the noise reduction is made possible thanks to the rubber tips, even if I crank up the ANC to the maximum level.
It's a shame because the battery case is better, and the battery life is also better, and we finally got the Multipoint on this model. I really like the wireless charging so I can just, once in a while place them on my charging mat and I know I will never have empty batteries. I personally would prefer better tips, to increase comfort but I'm not the type of person that loves in-ear earphones so take this with a grain of salt if you like in-ear headphones.
The design is great, from the buds to the case, and it's good to see them embrace USB-C. If you remove the ANC from this product, they are all of a sudden a pretty good pair of earphones. Where this product really shines compared to a lot of other earphones, is when you need to speak to someone in a noisy environment. Their bone-conductor detection and multiple microphones really remove almost all of the ambient noise across all of the frequencies. Making your phone calls, FaceTime calls or simple Message audio clips sound 200 times better than with regular earbuds.
This is not a simple product to recommend, but if you can see yourself benefiting from the Elite Pro 7 strength in the clean voice capture, multi-device support and personalized audio, then it's easy to recommend it to you. However, if you need more of an ANC product, there are other products with a vastly superior noise cancelling effect and I can't recommend the Elite Pro 7 for this type of need.
Review Summary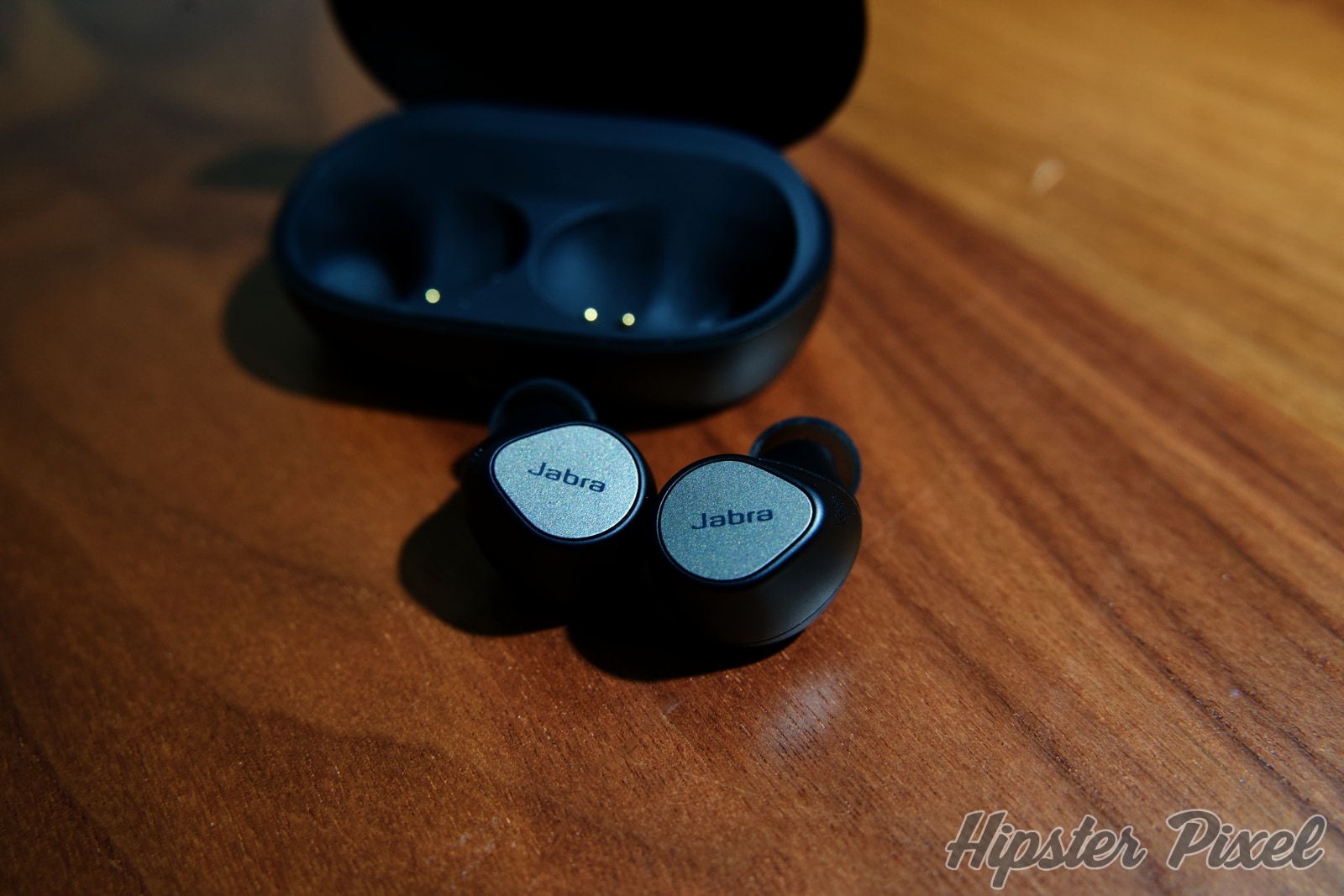 The Elite Pro 7 is a peculiar type of earbuds that offer both the best and the worst in the same package. Quite an interesting product to review.
The Good Stuff
Customized audio profile
Fit test is useful
Voice isolation on calls is amazing
Multi-device switching is great
Battery life is great
The Bad Stuff
ANC is basically absent
Silicone tips are basic