---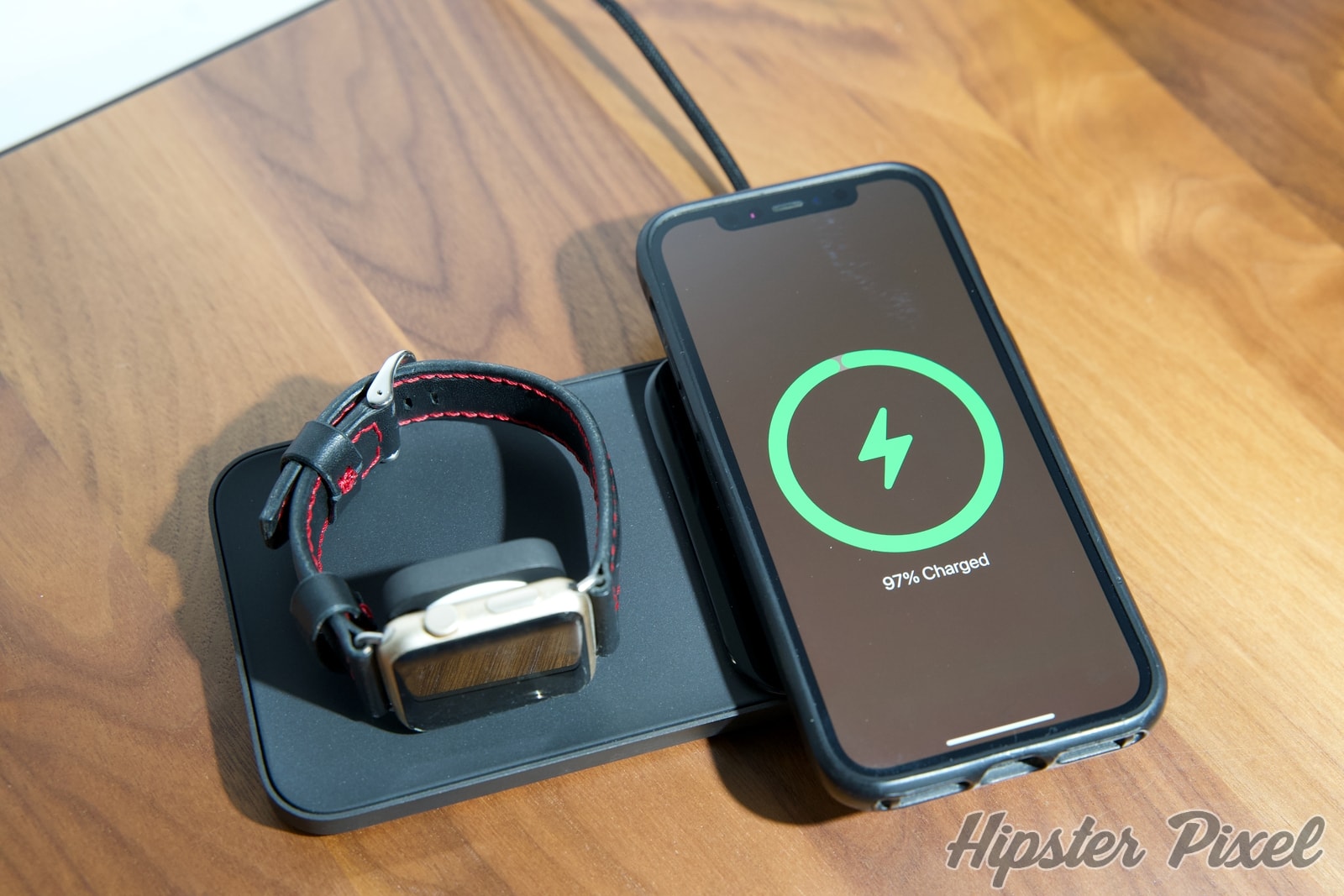 Nomad Base One Max With MagSafe Dock Review
When looking for a desk charger, you now have to take into account multiple purchasing decision as the power requirements are not always easy to grasp. Some chargers need a certain wattage, others need a specific technology like PowerDelivery, others come with a charger in the box, but most of the time you need to BYOC, bring your own charger!
MagSafe made this a bit more complicated as it has specific power requirements to get the full 15W of power to your phone. And if you start adding other things like USB ports or an Apple Watch charger, you end up complicating things a bit more. And did I talk about having to provide your own MagSafe charger puck? It can be a real headache for buyers that are not as tech enthusiasts as we are.
The Base One Max from Nomad tries to simplify this process and make things easier to work with for everyone involved!
Design
The Base One Max offers two main features, the MagSafe compatible charging space as well as the Apple Watch charger right next to it. This means you can charge both your devices at the same time.
The MagSafe section of the charger does not require you to provide your own MagSafe charging puck, it comes with a MadeForiPhone (MFI) approved MagSafe built-in puck offering the ideal 15W fast charging capability.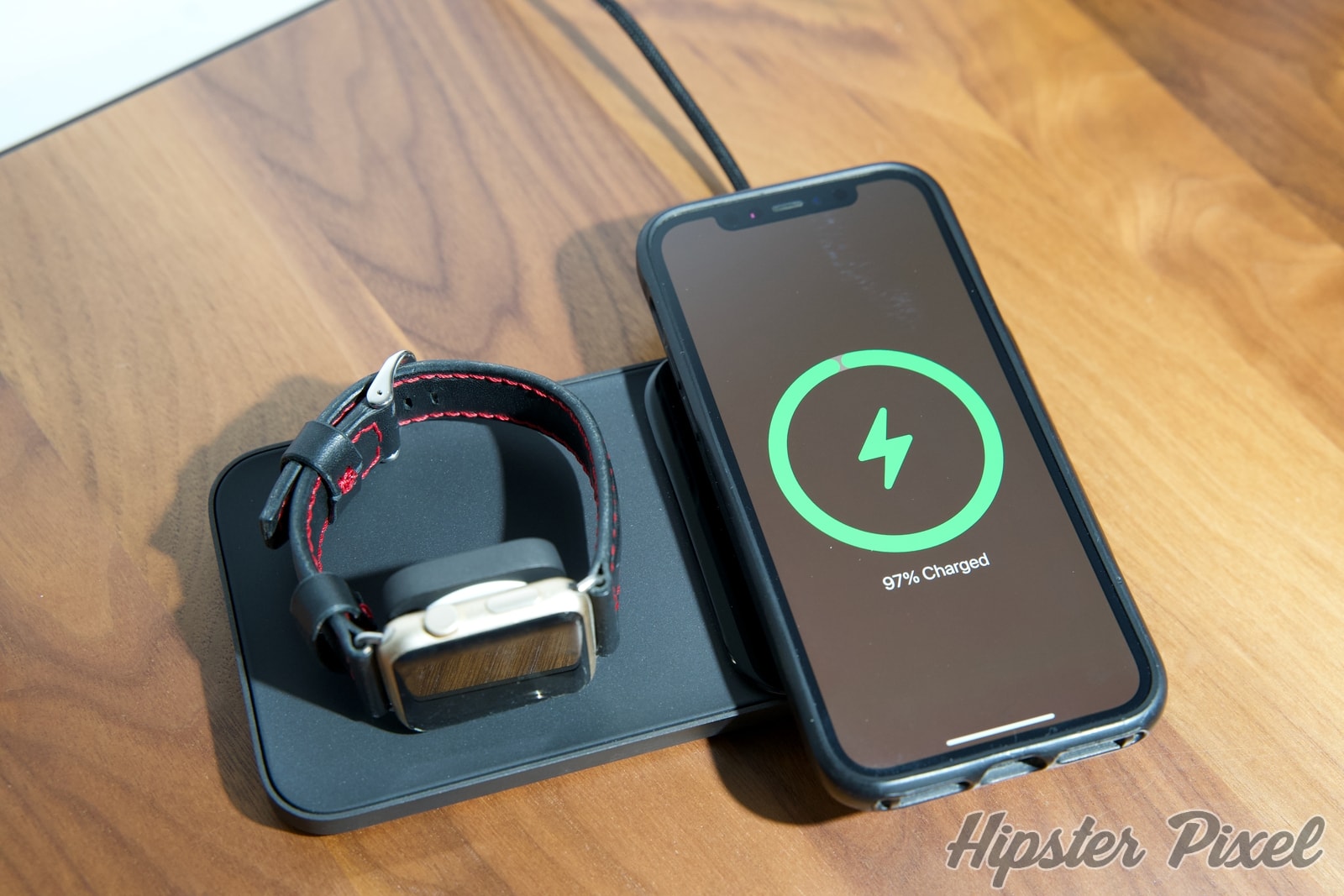 The Apple Watch charger also has its own integrated mini charging puck so you do not need to use your watch cable. This is the part that makes the process much simpler. You only need to provide your own power adapter. Nomad says they don't provide one in the box as people tend to have them already. I would say that is very true for 5W or 15W power adapter, but for 30W it's not necessarily true. As a nerd, I have many of those around me but it's not necessarily the case for everyone as they might have one for their iPhone or watch, but that power adapter might not have the full 30W needed to charger both devices at once.
Nomad offers great 30W GaN chargers that can do the work and are basically the size of the small 5W iPhone charger of days old.
The Base One Max cleverly mixes materials and finishes to not only look awesome but also make sure your experience is amazing! The MagSafe puck is raised so it's easier for you to pick up your phone. This section is covered in glass and offers a nice texture change from the Apple Watch half which has a soft touch material. This makes sure the surface cannot damage your watch since it can come in contact with it. There is ample space for both devices and given that the watch is propped upward, you get the benefit of the Nightstand feature of the Apple Watch (compared to other stands that are lying flat).
Features
Official MFi MagSafe charger
Full speed 15W MagSafe
Qi compatible (AirPods too)
Metal, glass, soft touch design
Requires a 30W charger (sold separately)
Performance
The charging is as promised full speed and works great if you have a powerful enough power adapter. I have not tried to use a smaller, underpowered power charger, though. Stick with the recommended 30W charger (or more) especially if you have both devices often on the charger at once.
The integrated MagSafe puck is strong and allows for a very easy alignment of the device, even in the dark. You only need to be roughly aligned and it will quickly set itself in the right spot. The Apple Watch charger is propped up therefore it allows for the famous nightstand mode that so many people like. You can't close it down, though.
The integrated MagSafe puck is a great idea because very recently if you had one of those MagSafe compatible stand or dock, you usually had to provide both a MagSafe charger (extra 39$US), an Apple Watch charging puck (an extra 29$) and 30W wall charger (another 39$US). A simple and cheap solution suddenly became an expensive hassle worth research to save up on money.
With the Base One Max, all you need to bring is your 30W wall charger. I would prefer it to come packaged in since not everyone has a 30W charger lying around. I did but I'm a nerd. In a year or two, yes everyone will have one but I don't agree with Nomad when they say that everyone already has one. Very recently we were required to get a 15W or 20W chargers for new use cases, and this might be the first time somebody needs a 30W charger.
Conclusion
With its very handsome looks, the Nomad Base One Max is a charging station that will not only be extremely useful to get all your devices charged at once, but also look extremely professional on a desk or on the nightstand.
My son actually stole it from me and he's also very, very happy with it!
I strongly recommend this to anyone looking for the fastest way to charge up your devices quickly before a long day of work. Or simply to have on your desk so that your devices are having a nice space to rest whenever they need to be topped up using the fastest way possible.
I would have preferred the 30W wall charger to come in with the unit, but sadly it does not. Nomad offers a very nice compact 30W charger that is perfect to throw in your cart at the same time. I would not go below that if I were you. I have also tested a 60W wall charger and it works perfectly fine too if you have a more powerful one lying around in a drawer.
Review Summary
Base One Max
Nomad Goods inc.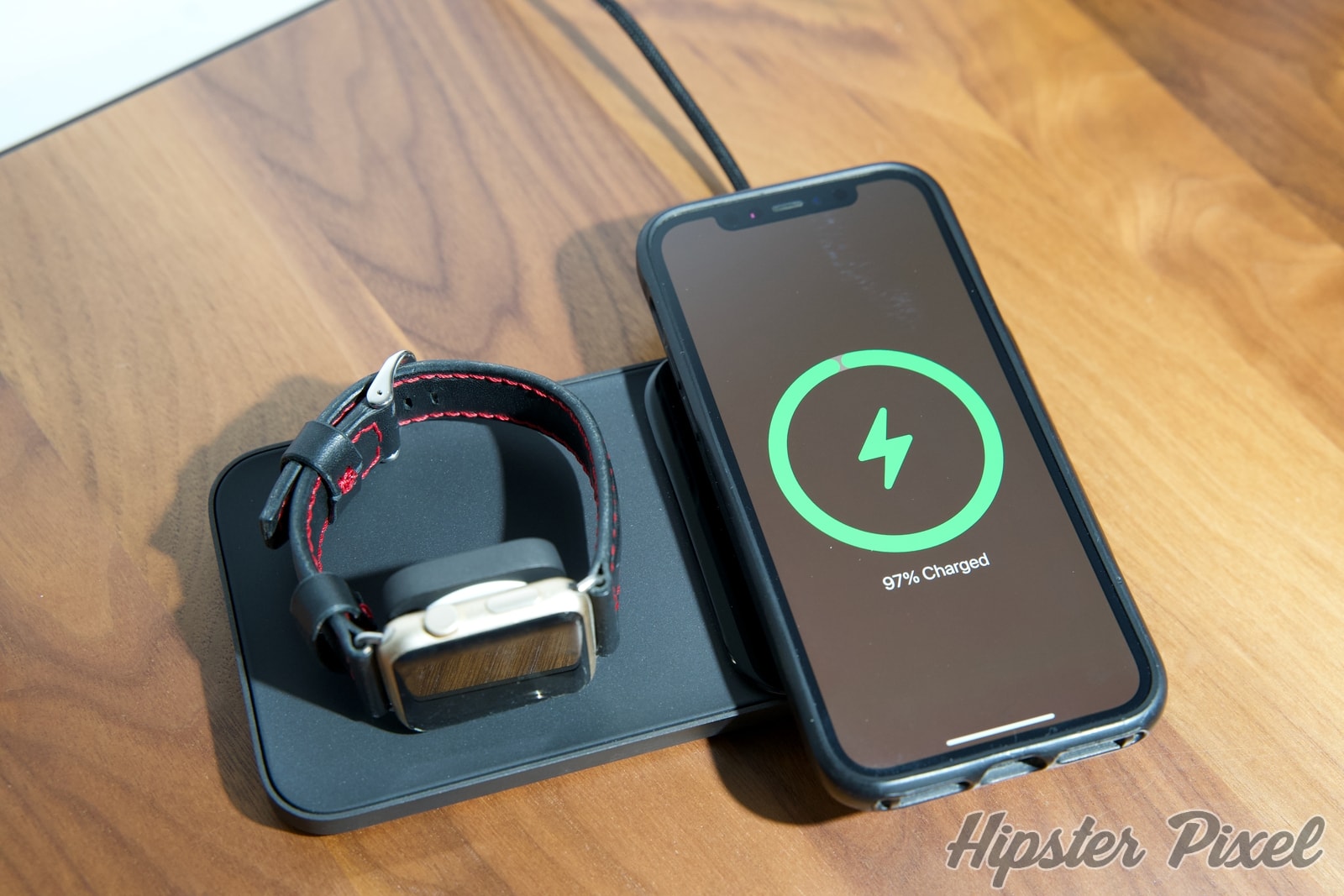 A versatile charging pad that can support both a phone and an Apple Watch, the Nomad Base One Max has solved one major pain point for consumers. MagSafe is built-in!
The Good Stuff
Handsome looks
Powerful charging for two devices
Integrated chargers, no hassle
Fast charging both devices
The Bad Stuff