---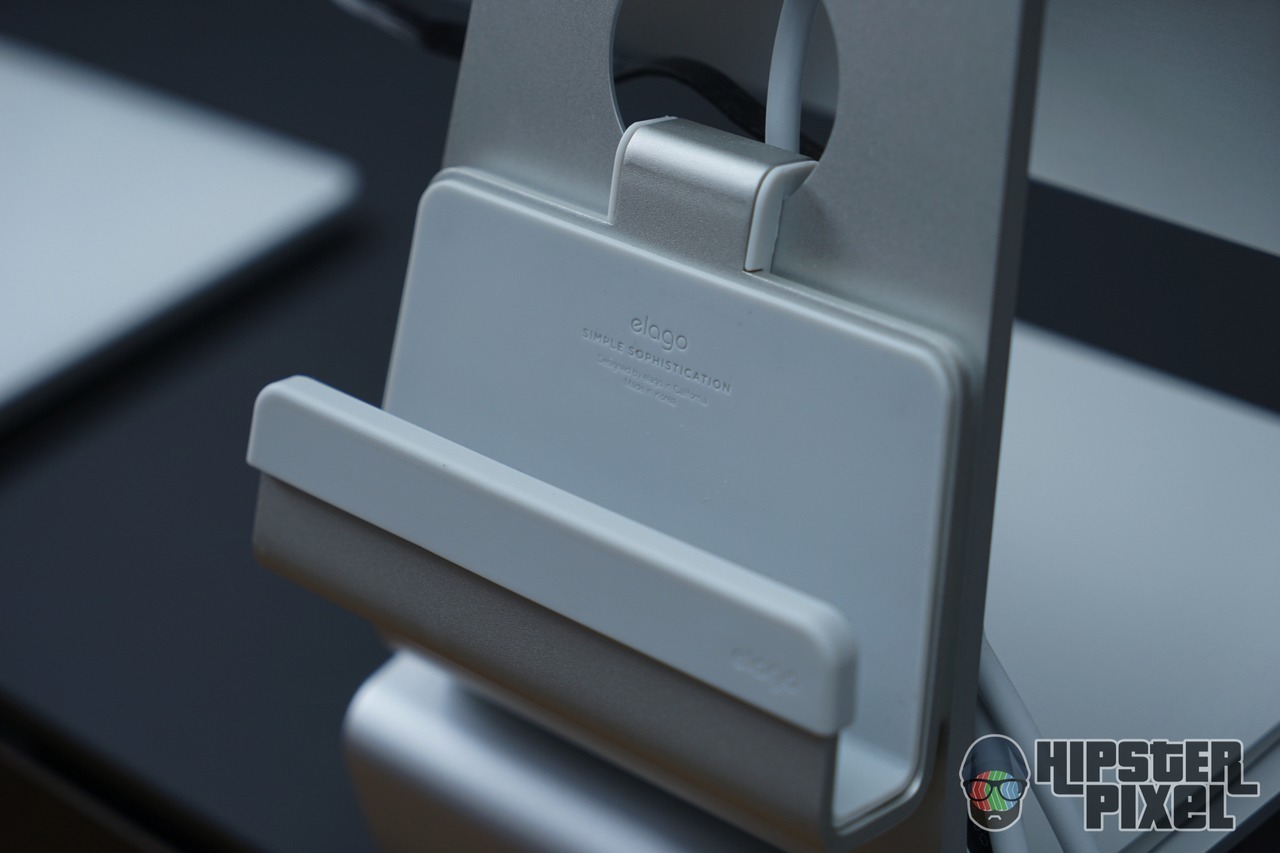 Elago Pro Hanger for MacBook Review
Setting up an office is one of the task Geeks really like to tackle and today we do have lots of choice. If we take a simple-looking element of your desk design, the placement of the laptop, you could think that it is very simple and should go right next to the computer. But what if I said that it could literally vanish?
Elago, an accessory maker with a penchant for original and great-looking designs, have a product that can do just that. The Elago Pro Hanger is a special hold that makes your MacBook disappear when sitting at your desk.
Elago Pro Hanger
The Pro Hanger is, as the name implies, a sort of hanger that is installed in your Thunderbolt Display or iMac foot and onto which you place your laptop computer.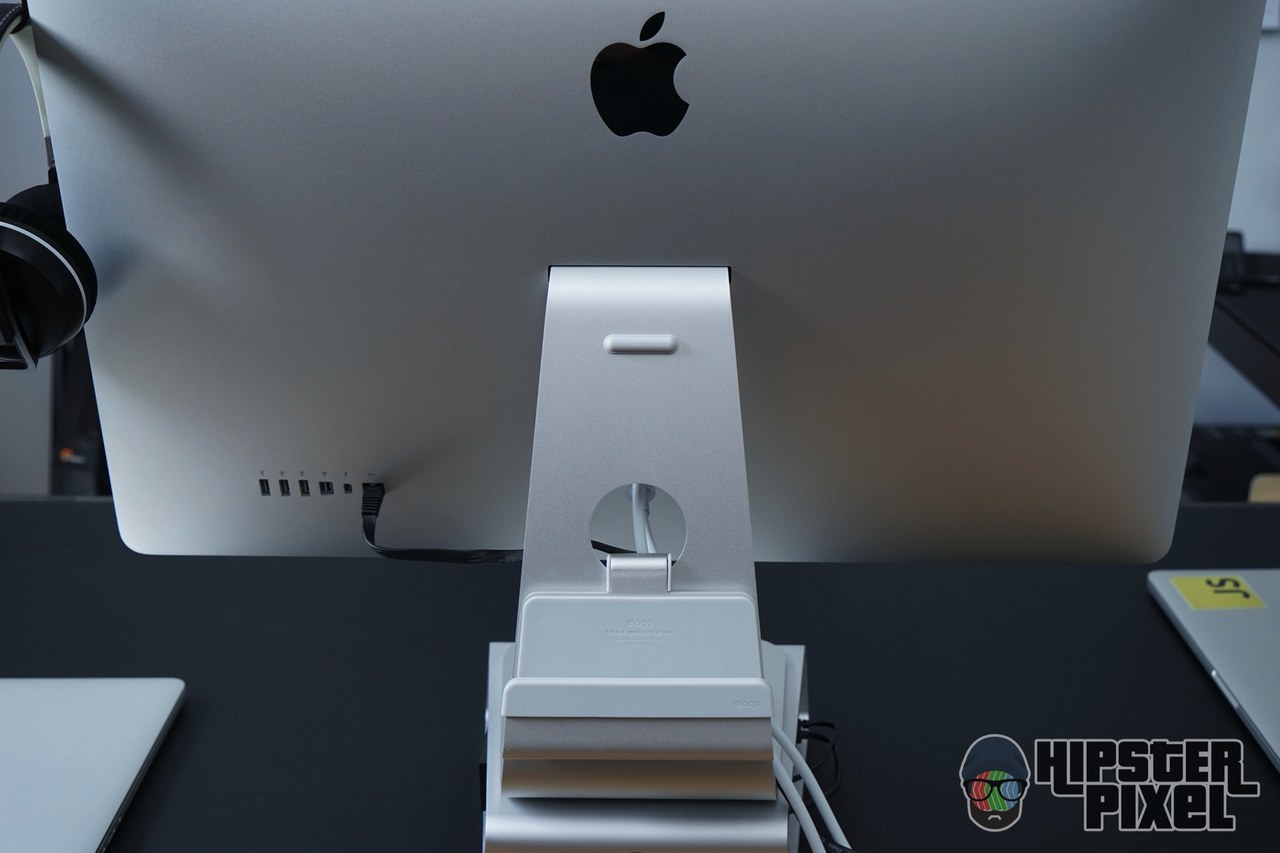 The Pro Hanger is made of the same bead sandblasted aluminum of your Apple products and generously covered in rubber where it matters. Once slide in the hold where your cables normally exit the display or iMac foot, the Pro Hanger is solidly anchored and can easily hold any type of MacBook securely.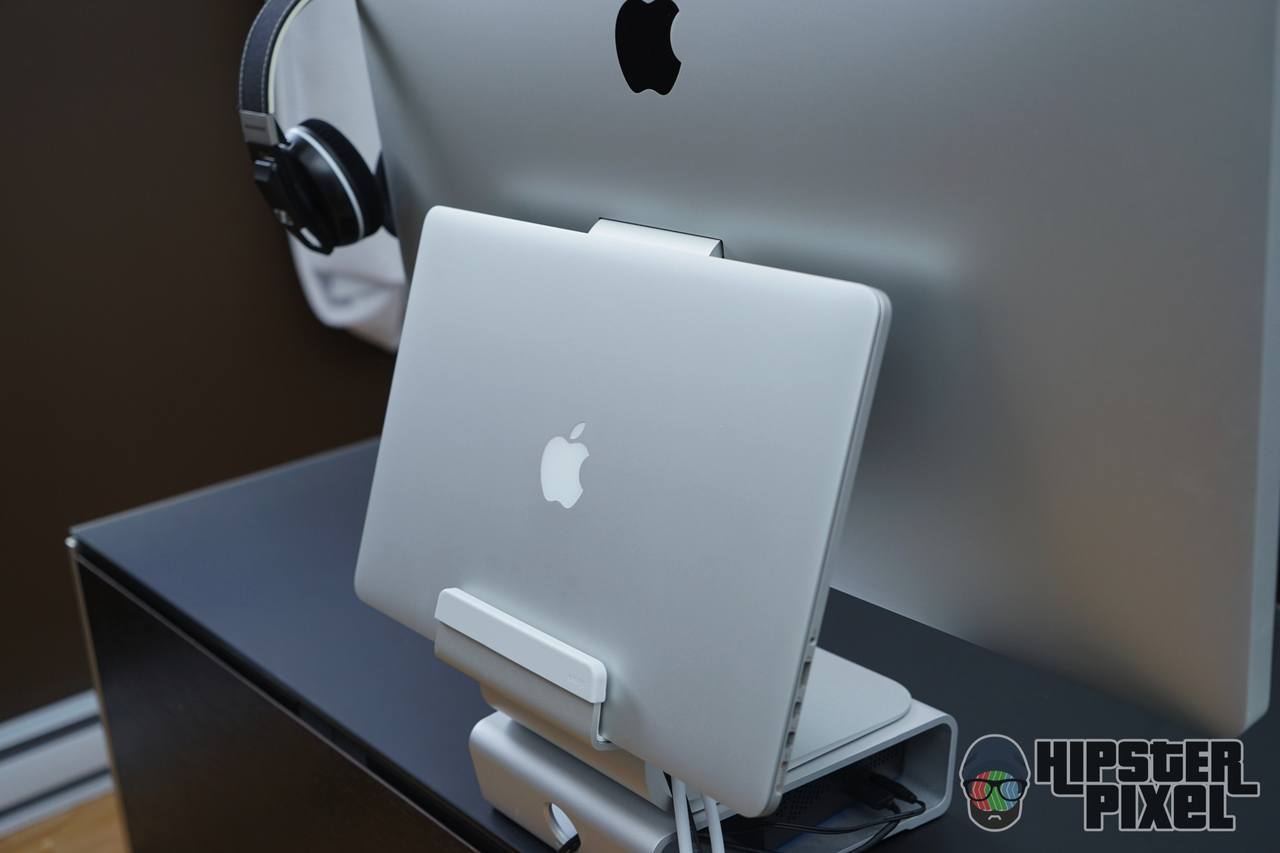 The idea is to rest your MacBook with the lid closed and let it out of your view and more importantly, free your desk from a conventional laptop stand. Thankfully, Mac OS is built to handle being woken up from sleep when you have power connected. A mouse jiggle, or a keyboard type will wake it up instantly so you do not have to remove it and open the lid to wake it up.
The design of the Pro Hanger is very good and matches perfectly the Apple aluminum finish. You know Elago have a great attention to details when you find the small rubber button in the box to stick to your display stand where the laptop rests. This way no friction between two aluminum surfaces!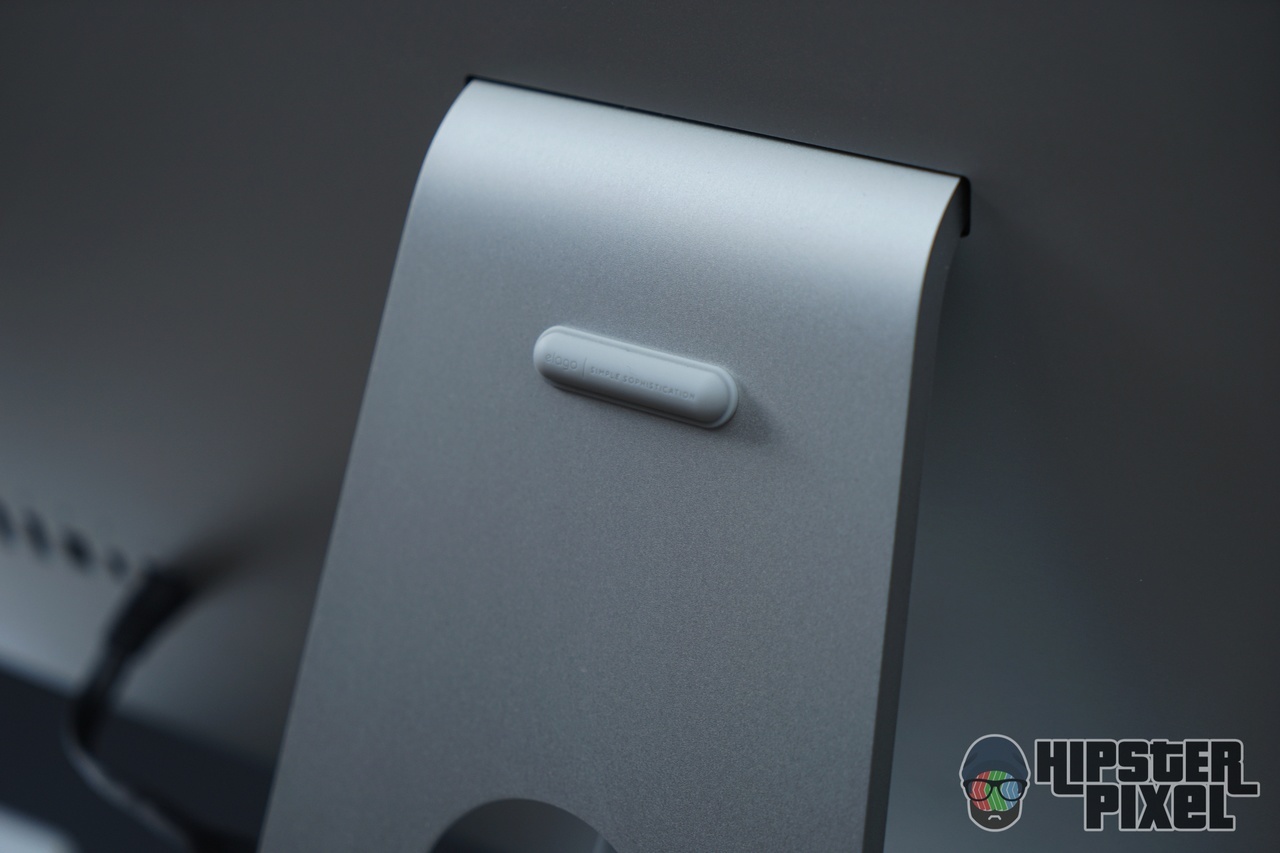 Features
Single piece aluminum design
Mount a laptop or external drive out of your sight
Silicon padding to protect your device
Rubber cushion provided to sit between your device and the aluminum stand
Compatible with iMacs, Cinema Displays and Thunderbolt Display
Daily drivin'
I got the Elago Pro Hanger installed behind my Thunderbolt Display as you can see in the photos. The installation is tougher than I expected and it's a good thing. The hanger is very tightly installed and it will not move. After that, there was a little deception. Looking at the product shots from Elago, you really are expecting the back of your monitor to be nice and tidy. But then, you realize, they don't show the cables in the photos…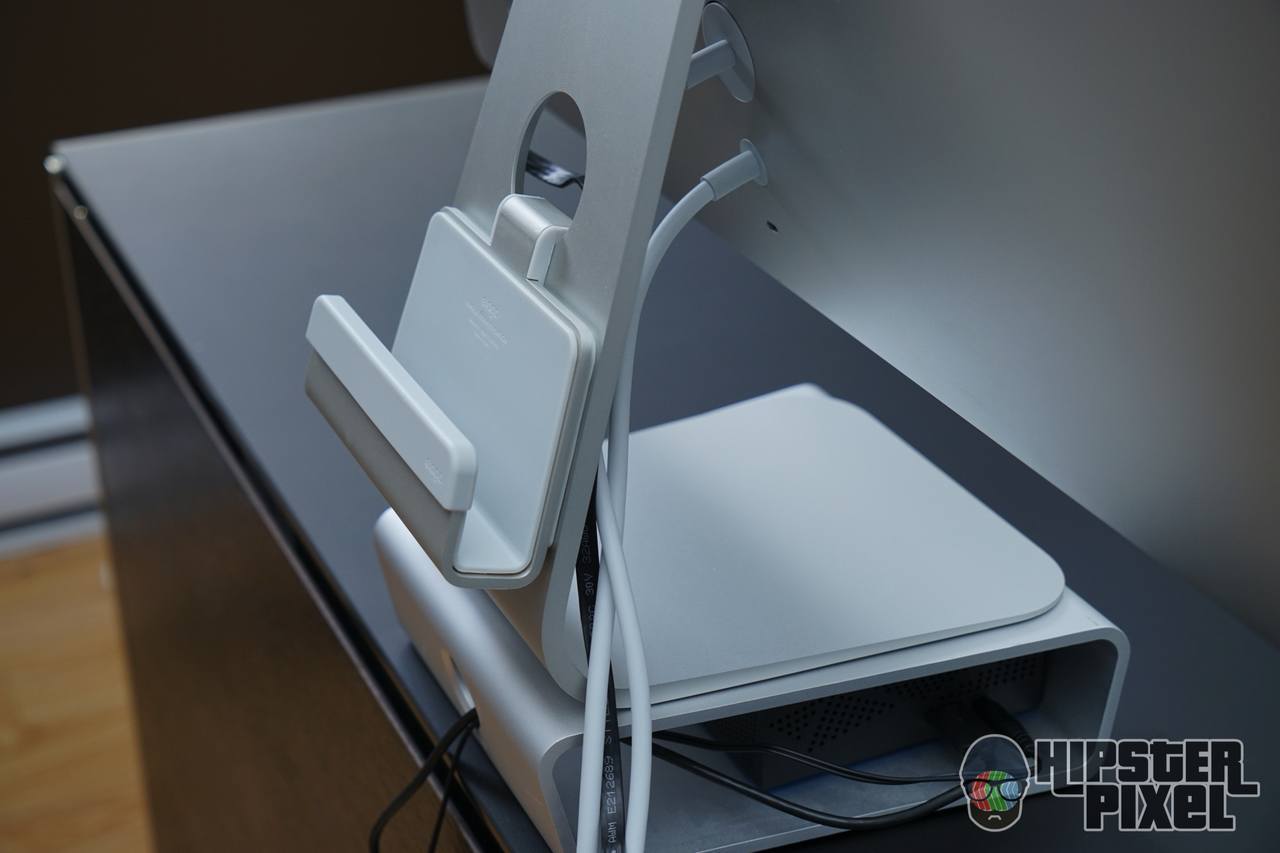 And in real life, you do have at the very least two cables, the Thunderbolt cable and the power cable. Both white and quite thick. I spent about 30 minutes trying to fit the cables through the hold, behind the laptop, through the Elevation Stand (our review), inside-out, outside-in, and all other possibilities. I ended up setting the cables in a way that lets the laptop rest comfortably, but not perfectly straight. For now that will do, but knowing myself, I'm days away from ordering a round white CAT6 cable to match the Thunderbolt Display's white cable 😋
I also had issues with the Elevation Stand, I was not able to fit the monitor's plug through the hole, I would need about 3-4 extra millimetres. I would have been able to pass the power cable right next to the Thunderbolt cable and have an even tidier setup 😜
Can We Make it Better?
Sure! Here's an idea, if the holder had a straight space going across it vertically, we could tuck the cables in that space and have the holder hang on by the sides. Ideally, two spaces for the power and data cable and a third one for the Ethernet would cover 90% of the use cases.
More Pictures!
Conclusion
If you are looking for a great, solid and well thought of hangers for your Macbook that will leave you with more space on your desk and a nicer, more organized setup, well look no further, the Elago Pro Hanger is what you need!
I highly recommend this product as I was more used to the laptop stand but wanted to try something different and crazy 😋 All in all, I realized I don't use the laptop screen as much so a single Thunderbolt Display and multiple Spaces is perfect for my workflow.
You should try it too, a clean and empty desk is always better plus, it's fun to play around with your configuration and try to hide wires as much as possible! 😄
Review Summary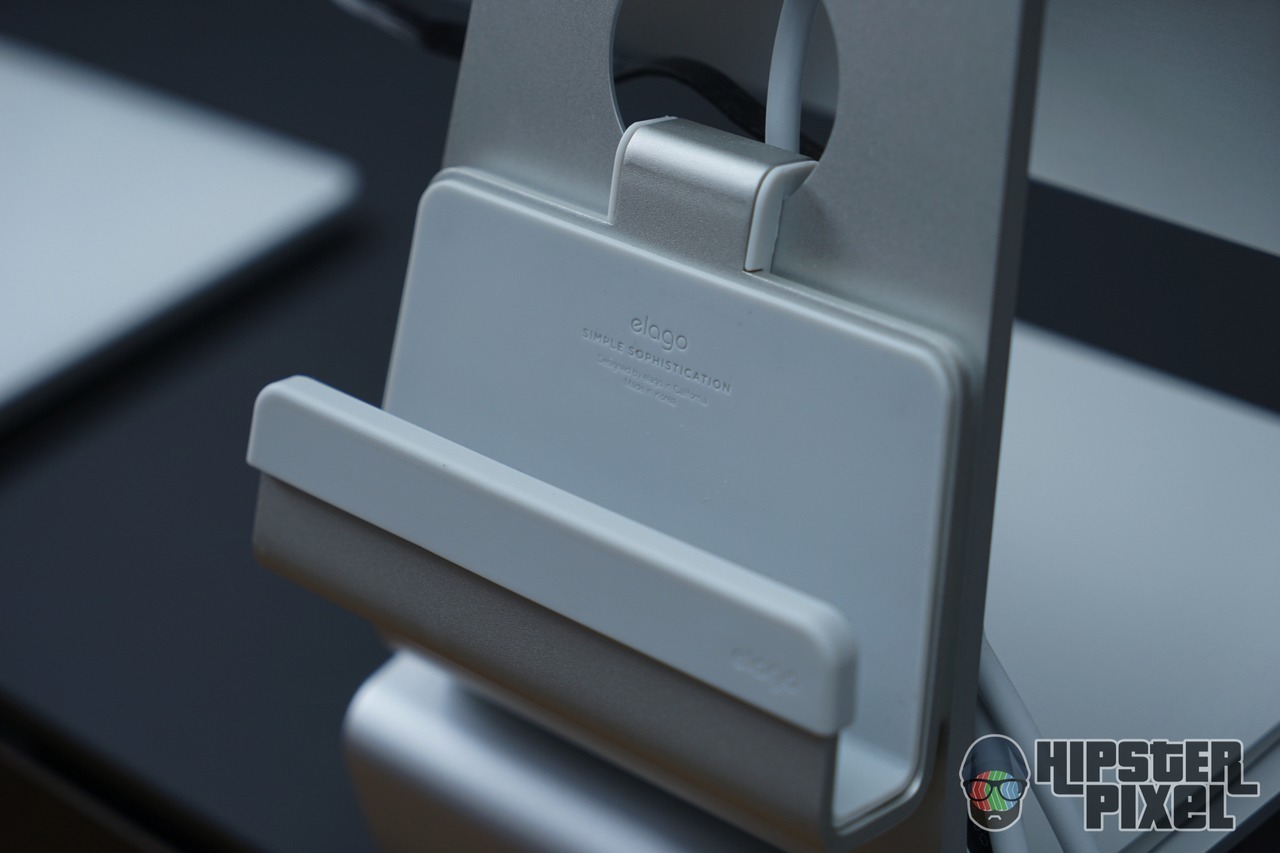 Laptop hanger to go in pair with an iMac or Thunderbolt Display and free your desk!
The Good Stuff
Great design
Solid and secure
Smart way to clear your desk
The Bad Stuff
Requires you to think about wires
Would benefit from having a wire duct